The Top 21 Christmas Love Songs to Play at Your Wedding
Nothing says holiday spirit like mistletoe, snow and a few love songs.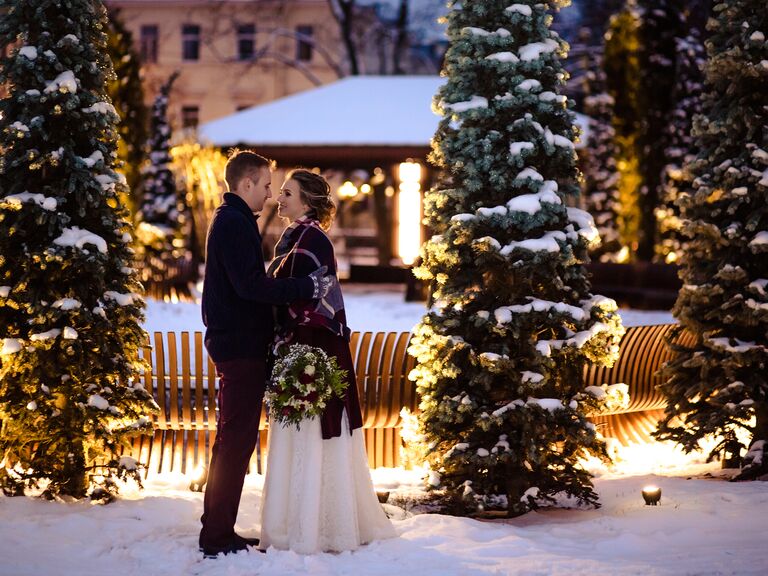 Nikiforova Viktoria / Shutterstock

When is it considered too early to play holiday music? If you're planning a Christmastime wedding, then it's certainly time to grab your significant other for a practice first dance underneath the mistletoe while chestnuts are roasting on an open fire. While Nat King Cole's popular version of this particular holiday song will certainly set the romantic mood, there's a plethora of Christmas music out there for every taste and occasion. From seasonal classics recorded by Frank Sinatra to hit pop singles by artists such as Mariah Carey and Ariana Grande, you really can't go wrong with these Christmas tunes.
Before you and your future spouse start blushing redder than Rudolph's nose, find the perfect wedding band or DJ to perform at your wedding reception. Once you have found the right musical entertainment for your special day, you can ask them to play any (or all) of the following songs (in no specific order).
"The Christmas Song," Nat King Cole
Lyrics you'll love: "Chestnuts roasting on an open fire/Jack Frost nipping at your nose/Help to make the season bright/And so I'm offering this simple phrase/To kids from one to ninety-two/Although it's been said many times, many ways/Merry Christmas to you"
The O.G. classic was written and recorded by Robert Wells and Mel Tormé in 1945, but the version many fans of "Chestnuts Roasting on an Open Fire" listen to during the holiday season is by American singer, pianist and jazz musician Nat King Cole. Whether you are a fan of chestnuts or prefer peppermint bark on Christmas Eve, this wholesome and soothing tune is the perfect slower tune to play on your big day.
"Have Yourself a Merry Little Christmas," Frank Sinatra
Lyrics you'll love: "Let your heart be light/From now on, our troubles will be out of sight/Faithful friends who are dear to us/Gather near to us once more/Through the years we all will be together/If the fates allow"
Another classic Christmas song, "Have Yourself a Merry Little Christmas" was written by Hugh Martin and Ralph Blaine and sung by actress Judy Garland in Meet Me in St. Louis. If you're not familiar with this 1944 coming-of-age film, you may have heard Frank Sinatra's version once or twice on the radio in December. Sinatra's soothing voice will put your wedding jitters at rest as you and your S.O. sway beside your friends and family members.
"White Christmas," Bing Crosby
Lyrics you'll love: "I'm dreaming of a white Christmas/Just like the ones I used to know/Where the treetops glisten/With every Christmas card I write/May your days be merry and bright/Sleigh bells in the snow/And may all your Christmases be white"
If you want to take a break from wedding planning and watch a cozy film, White Christmas (1954) with Bing Crosby, Danny Kaye and Rosemary Clooney is a cult classic that will not disappoint. And you can follow that screening with its musical partner "White Christmas" sung by Crosby. The dreamy song describes an ideal snowy season you are your S.O. can virtually experience by listening to the lyrics, regardless of climate.
"I'll Be Home for Christmas," Bing Crosby
Lyrics you'll love: "Please have snow and mistletoe/And presents by the tree/Christmas Eve will find me/Where the love light gleams/I'll be home for Christmas/If only in my dreams"
Bing Crosby's recording of this classic Christmas song can also be found in his Merry Christmas album. This may be one of the most romantic holiday songs as the lyrics describe someone comforting their partner that they will be home for Christmas. It is certainly a romance and is a must for your Spotify playlist during the winter or wedding planning seasons.
"Winter Wonderland," Dean Martin
Lyrics you'll love: "Sleigh bells ring are you listening/A beautiful sight oh we're happy tonight/Walking in a winter wonderland/Well in the meadow we can build a snowman/Later on we'll conspire as we dream by the fire/To face unafraid of the plans that we made"
Dean Martin's other popular song may make you want a winter-wonderland-themed wedding. Those (silver) bells make a reappearance as a couple spends a day in said wonderland building a snowman, dreaming about their future, and giving each other Eskimo kisses. Talk about romantic.
"Let It Snow! Let It Snow! Let It Snow!," Dean Martin
Lyrics you'll love: "And since we've no place to go/Let it snow, let it snow, let it snow/When we finally kiss goodnight/How I'll hate going out in the storm/But if you really hold me tight/All the way home I'll be warm"
You can't have a winter wonderland without snow. Next up is Dean Martin's jolly tune "Let It Snow". The song describes a cozy fire where a couple stays warm, dreading the inevitable goodbye and exit into the snow. But who says you have to leave once you put a ring on it?
"Blue Christmas," Elvis Presley
Lyrics you'll love: "I'll have a blue Christmas without/I'll be so blue just thinking about you/And when those blue snowflakes start falling/That's when those blue memories start calling"
The song was written by Billy Hayes and Jay W. Johnson but was famously recorded by Elvis Presley for his Rock and Roll Christmas album: Blue Christmas. The King of Rock and Roll may also be the king of love songs. TBD on that last one though as you continue through this list.
"Jingle Bell Rock," Bobby Helms
Lyrics you'll love: "Snowin' and blowin' up bushels of fun/Now the jingle hop has begun/Dancin' and prancin' in Jingle Bell Square/What a bright time, it's the right time/To rock the night away"
Speaking of Christmas rock music, Bobby Helms' famous song "Jingle Bell Rock" is a holiday pump-up song that needs to be including in your playlist. You may know the version included in the iconic movie Mean Girls— this song is about rocking along to the jingle bells chimes, no naughtiness involved.
"Home for Christmas," NSYNC
Lyrics you'll love: "Crossing the ocean with my window view/Thinkin' of the time I spent with you/When I need a friend or a helping hand/I know that you will be there/But you can light the fire/I'm sending out this wire"
Boy bands have a way with Christmas love songs and NSYNC's popular release "Home for Christmas" is the perfect example. The singer is longing to spend Christmas with the one he loves, a common thread in Christmas love songs but NSYNC gives it an '80s vintage feel that makes you want to hold your S.O. close.
"All I Want for Christmas Is You," Mariah Carey
Lyrics you'll love: "I don't want a lot for Christmas/There is just one thing I need/I just want you for my own/More than you could ever know/And I'm just gonna keep on waiting/Underneath the mistletoe/'Cause I just want you here tonight/Holding on to me so tight"
Mariah Carey's famous song is probably already on your Christmas Spotify playlist, but consider this a kind reminder. Carey's hit single is perhaps the penultimate holiday love song for you and your S.O. to listen to (on repeat).
"Santa Baby," Eartha Kitt
Lyrics you'll love: "Think of all the fellas I haven't kissed/Next year, I could be just as good/Santa baby, forgot to mention one light thing/A ring, I don't mean on the phone/Santa baby, so hurry down the chimney tonight"
Performed by Eartha Kitt and written by Joan Javits and Philip Springer, "Santa Baby" received controversial feedback when it was released in 1953. It has been described as a tongue-in-cheek song recounting a woman's extravagant wish list, addressed to the one and only Santa baby. Some may say it's her wish list, others may say it's her wedding registry.
"Last Christmas," Wham!
Lyrics you'll love: "Last Christmas I gave you my heart/But the very next day you gave it away/This year, to save me from tears/I'll give it to someone special/Once bitten and twice shy/I keep my distance, but you still catch my eye/A face on a lover with a fire in his heart/A man undercover but you tore me apart/Ooh, ooh, now I've found a real love"
So, you could just listen to this pop song on Spotify or Apple Music, or you could watch the official music video on YouTube—the latter option is recommended for the full experience. Wham's holiday hit will certainly hit for anyone who has experienced heartbreak around the winter season—but it does have a happy ending.
"Love Is Everything," Ariana Grande
Lyrics you'll love: "The truth is your heart is the biggest gift you can give anyone/It's the gift that just won't disappear/Love who you love, no one can judge/Follow your heart and don't give up/Cause that's what this day's about"
Ariana Grande's 2013 album Christmas Kisses includes the upbeat and sweet holiday song "Love Is Everything." Grande's song will make you want to grab your partner and sing along to the lyrics.
"Wit It This Christmas," Ariana Grande
Lyrics you'll love: "We don't need no mistletoe/We don't need no fireplace/Are you down for some of these milk and cookies/'Tis the season for some love-giving/We don't need the kitchen, we don't need them recipes"
Speaking of Ariana Grande, have you listened to her steamy 2015 release "Wit It This Christmas?" Her catchy lyrics will have you singing along for days, as well as make you feel some kind of way. Not to mention, here is another song to remind you that dancing with your S.O. is more important than making "the kitchen (registry)."
"My Only Wish (This Year)," Britney Spears
Lyrics you'll love: "Last night I took a walk in the snow/Couples holding hands, places to go/Seems like everyone but me is in love/And all I want is one thing/Tell me my true love is near/He's all I want, just for me/We'll be all the love under the mistletoe"
Keeping in the theme of pop Christmas music, Britney Spears' "My Only Wish (This Year)" is a necessary addition to your playlist. Spears' super catch lyrics respond to love songs mentioned above with an added flair that will everyone dancing along in no time.
"Christmases When You Were Mine," Taylor Swift
Lyrics you'll love: "'Cause everything I want is miles away/In a snow covered little town/But there were Christmases when you were mine/When you were putting up the lights this year/Did you notice one less pair of hands?"
Imagine Taylor Swift's song "Mine" but with a layer of snowflakes and a glass of heartache eggnog. Here is another tearjerker BUT Swift's older songs are a must if you are playing love songs and who knows, maybe she will record one of her holiday albums.
"Christmas Tree Farm," Taylor Swift
Lyrics you'll love: "My winter nights are taken up by static/Stress and holiday shopping traffic/In my heart is a Christmas tree farm/Sweet dreams of holly and ribbon/Just being in your arms/Takes me back to that little farm/Where every wish comes true/You remind me of home"
For a more upbeat Swift beat that is equal in its love song quality, "Christmas Tree Farm" will make you consider having your wedding reception in a barn during the winter. The image of a Christmas tree farm in the singer's heart is such a wholesome image that you may forget the one she still loves is not with her in the present. Snuggle under the mistletoe with your S.O. and watch the fire glow as Taylor sings.
"Cold December Night," Michael Bublé
Lyrics you'll love: "Stockings are hung with care/'Cause I'm older now but not done hoping/So please just fall in love with me this Christmas/So kiss me on this cold December night/A cheer that smells of pine/The mistletoe says stand in line/Won't be wrapped under the tree want something that lasts forever/They call it the season of giving I'm here I'm yours"
Michael Bublé is known for some iconic Christmas music. His Christmas album, appropriately titled Christmas, has plenty of goodies for your winter wedding. In particular, "Cold December Night" is Mariah Carey level in its romantic yearning and its original lyrics re-invent December classics.
"Don't Save It All for Christmas Day," Celine Dion
Lyrics you'll love: "Don't get so busy that you miss/Giving just a little kiss/To the ones you love/Don't even wait a little while/To give them just a little while/'Cause holidays have come and gone/But love lives on/A hug is warmer when you're in it/Seasons, reasons, they don't matter/So don't hold back"
Celine Dion's music tends to make you want to weep and hug everyone around you at the same time. This will certainly be the case when listening to Dion's epic love song "Don't Save It All for Christmas Day" which reminds newlyweds that love lives on long past you say "I do." Listen to Dion and don't wait to tell your S.O. that you love them now, tomorrow and forever.
"Mistletoe," Justin Bieber
Lyrics you'll love: "I don't wanna miss out on the holiday/but I can't stop staring at your face/I should be playing in the winter snow/But I'mma be under the mistletoe/Aye, love, don't buy me nothing/'cause I am feeling one thing, your lips on my lips"
The only fever you want to come down with during your wedding season is Bieber Fever. Even if you are not the biggest Bieber fan out there, his catchy song "Mistletoe" from 2011 will put you in the holiday spirit even a decade later.
"Underneath the Tree," Kelly Clarkson
Lyrics you'll love: "Presents, what a beautiful sight/Don't mean a thing if you ain't holding me tight/You're all that I need/Underneath the tree/A heart that's mine completely/Knocked me right off my feet/And this year I will fall/With no worries at all"
While Justin Bieber can be found underneath the mistletoe, Kelly Clarkson can be found underneath the Christmas tree. Her upbeat song from 2013 is the kind of wedding song that will have everyone dancing on the dance floor by the end. Clarkson reminds us of the power and spontaneity of love to knock you off your feet, right underneath the tree where your one true love also happens to be waiting for you.