The Best Bakeware To Add To Your Wedding Registry
The best bakeware to add to your wedding registry, chosen by the pros at The Knot for our 2019 Registry Awards.
Life can be unexpected—you just never know when an intense need for chocolate chip cookies is going to hit. Make sure your home is prepared for any craving life throws your way buy stocking your wedding registry with our best bakeware picks. These essentials will come in handy whether you're a weekly baker with a major sweet tooth or just need to whip up the occasional "I'm sorry I watched Game of Thrones without you" apology cake. It's cool—we've all been there.

In this article:

Best Measuring Cups and Spoons
What better way to kick off a best bakeware list than with the small-but-mighty measurement sets that will ensure your goodies are perfectly risen, perfectly sweet and perfectly proportioned? When it comes to baking, there's often no room for error, which is why we made sure to include only the best measuring cups and precise tools on this list. You can trust us—we have a lot of baker friends.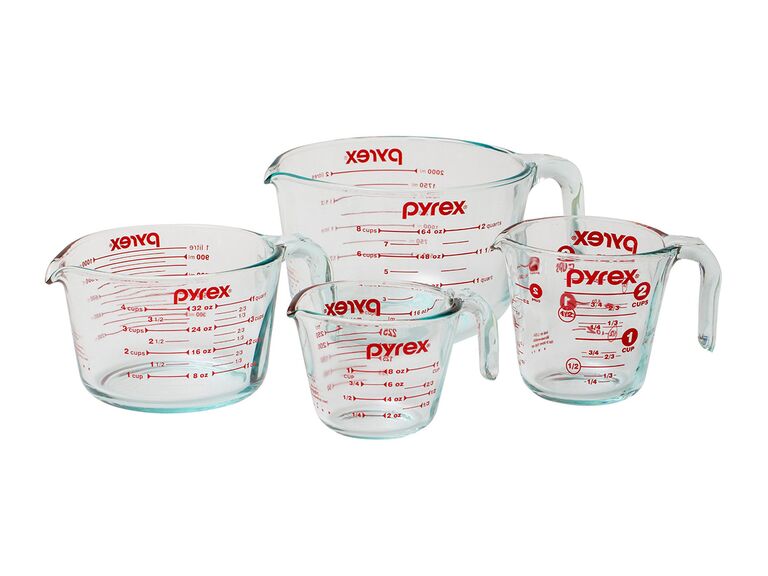 Editor's Pick: Pyrex 4-pc Measuring Cup Set, $25, Wayfair.com

We love having options in the kitchen, which is why we chose this Pyrex set as our pick for best measuring cups. The bundle includes four cups with easy-to-read red annotations in 1-cup, 2-cup, 4-cup and 8-cup capacities. Plus, they're all made from pure Pyrex glass, meaning you can use them for cold or hot ingredients (like melting butter in the microwave) and they don't absorb food odors or flavors.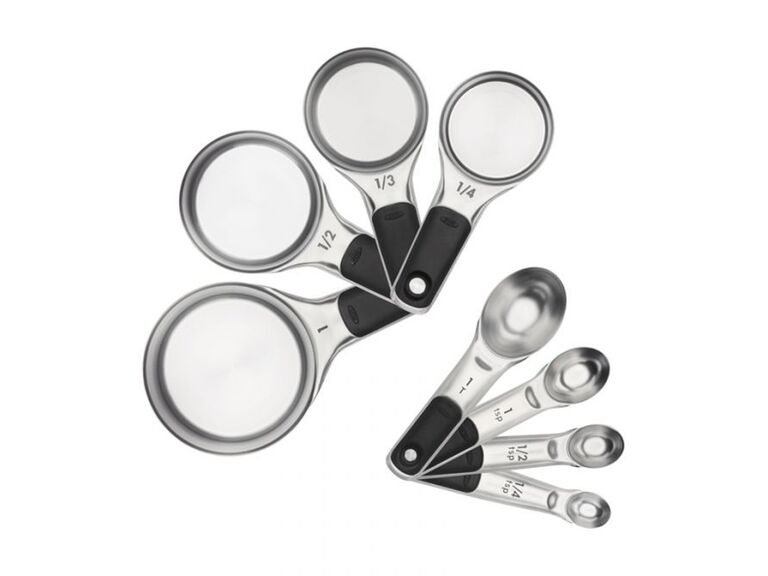 Couple's Pick: OXO Good Grips Stainless Steel Measuring Cups and Spoons Set, $30, BedBathAndBeyond.com
Unless you have a drawer solely dedicated to measuring cups and spoons (hey, you do you), then you've probably experienced the insane clutter they can create when thrown in a drawer with your other baking tools. All of a sudden there are cups and spoons floating around everywhere and it's just mass chaos. Guys, these babies solve that all, which is why they won our couple's pick for best measuring cups. Not only are they simple and streamlined (made from stainless steel, too), but they feature magnetic detailing that helps you keep the whole set stacked neatly for storage. Genius.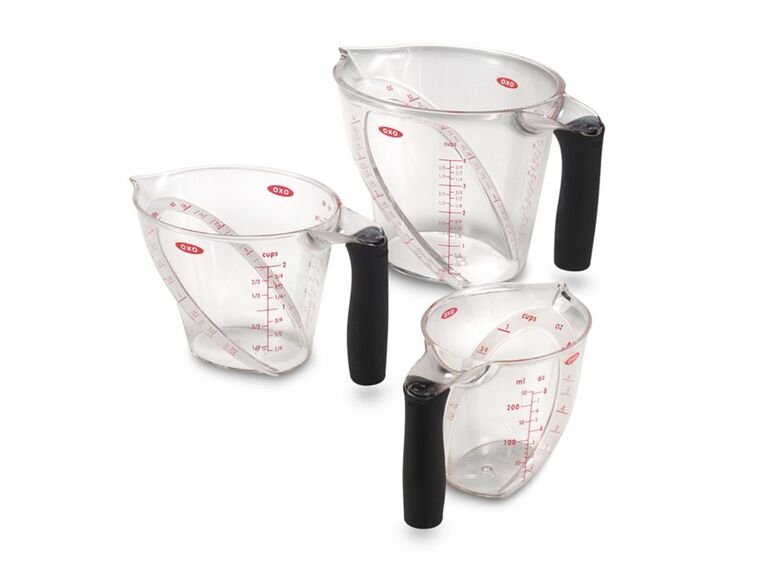 Best All-In-One Measuring Cup: OXO Good Grips 2-cup Angled Measuring Cup, $9, BedBathAndBeyond.com

If you only have the need (or space) for one measuring tool in your kitchen, then this select from kitchen staple brand OXO is the best measuring cup for you. The two-cup capacity means it's well-suited to help you with almost every recipe, and the pour spout translates to less mess in the kitchen. Here's our favorite part, though—it features a patented angled measuring surface within  the cup so you can easily see measurements as you pour from above (without having to bend down or lift the cup so it's eye level). Pretty cool, right?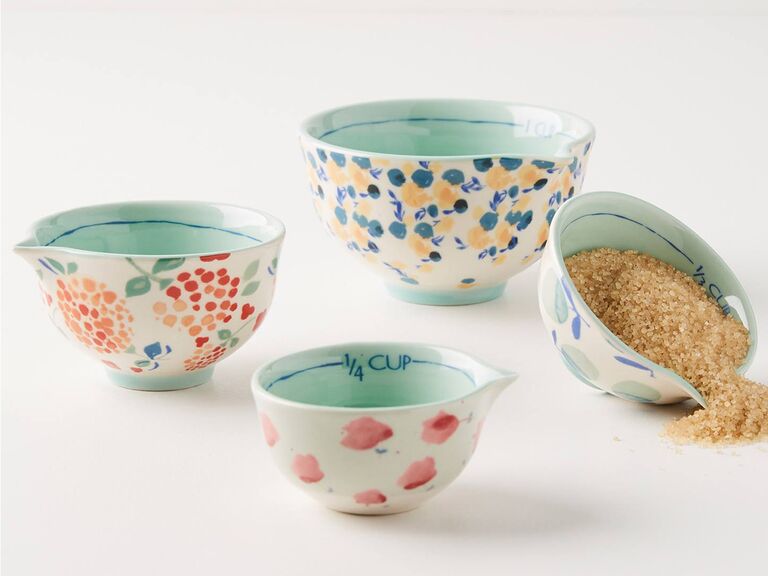 Best Measuring Cups For Display: Anthropologie Delilah Measuring Cup Set of 4, $32, Anthropologie.com
Looking for a way to add some color and pattern to your kitchen? Wish list this charming ceramic set from Anthropologie. We named them the best measuring cups to put on display because of their pretty teal interior and sweet, cheery patterns. They come in 1-cup, ½-cup, ⅓ cup and ¼ cup measurements, so they'll definitely be put to good use, but you can also stack 'em on your countertop for a decorative touch when you're not cooking with them.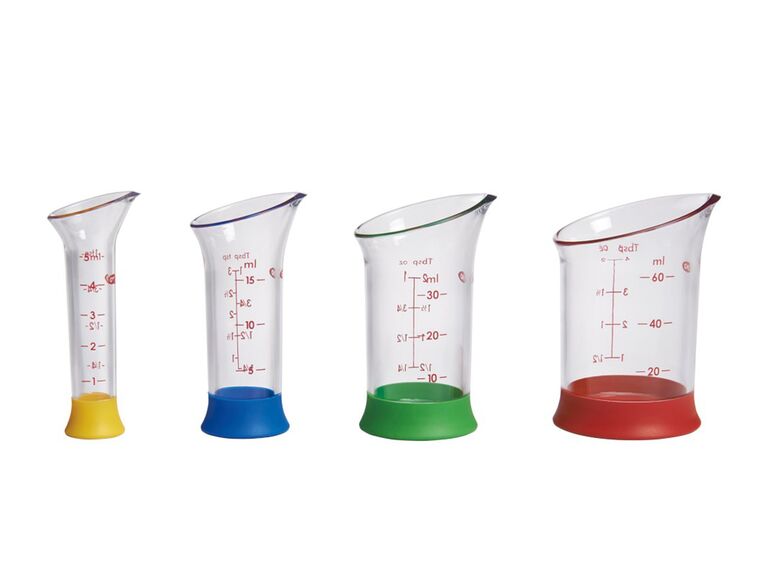 Best Measuring Cups for Small Amounts: OXO Good Grips 4-pc Mini Measuring Beaker Set, $10, Williams-Sonoma.com
Sometimes a recipe will call for a quirky measurement amount that sends numbers spinning in your head. And honestly, who wants to do that much math? Avoid it all with these small-scale measuring beakers from OXO. At first glance they may look better suited to a chemistry experiment than your kitchen, but we promise—if you're a big time baker with a taste for intricate recipes (French eclairs, anyone?), you're going to want these precise pieces on your side.
Best Mixing Bowls
No kitchen is complete without an all-purpose set of mixing bowls. Sure they're great for baking, but you'll also use them as serving, storage and prep pieces. Whether you prefer a set that does double-duty or one that's nearly impossible to spill (really!), we've got the best mixing bowl picks for you.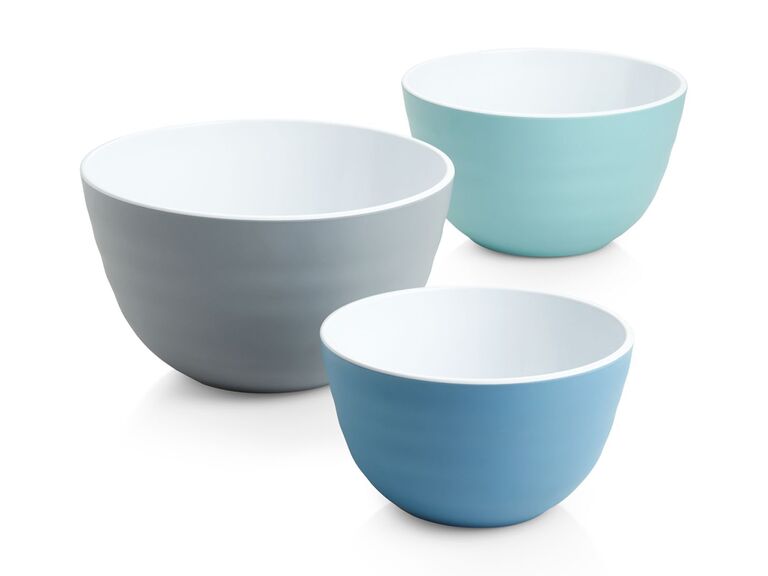 Editor's Pick: Crate and Barrel Destin Melamine Mixing Bowl Set of 3, $40, CrateAndBarrel.com
We hereby give you permission to add something to your registry just because you think it's pretty. After all, looks are what initially drew us to this mixing bowl trio from Crate and Barrel—they're chic shades of blue and grey and look really great in almost any kitchen. But they actually pack in a few smart product hacks, too. First off, they nest within one another, making for easy, space-saving storage. Another perk? They're made of melamine, which is super durable and light, so you won't need to worry about wrestling them down from your highest kitchen cabinet and dropping them.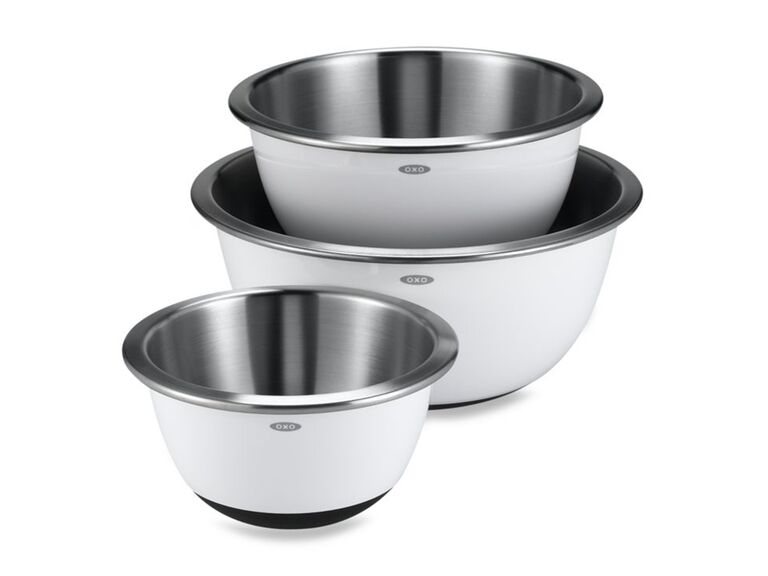 Couple's Pick: OXO Good Grips 3-pc Stainless Steel Mixing Bowl Set, $60, BedBathAndBeyond.com
Consider yourself a klutz in the kitchen? Then our couple's choice for best mixing bowl set is definitely up your alley. The trio includes a 1.5-qt bowl, a 3-qt bowl and a 5-qt bowl, all made from durable stainless steel and plastic, which is dishwasher safe and easily maintains the temperature of hot or cold foods placed inside. But here's the best part—each bowl features a thick non-slip silicone base, so whether you bump it with an elbow or really get into your whisking, the bowl will stay put on your counter.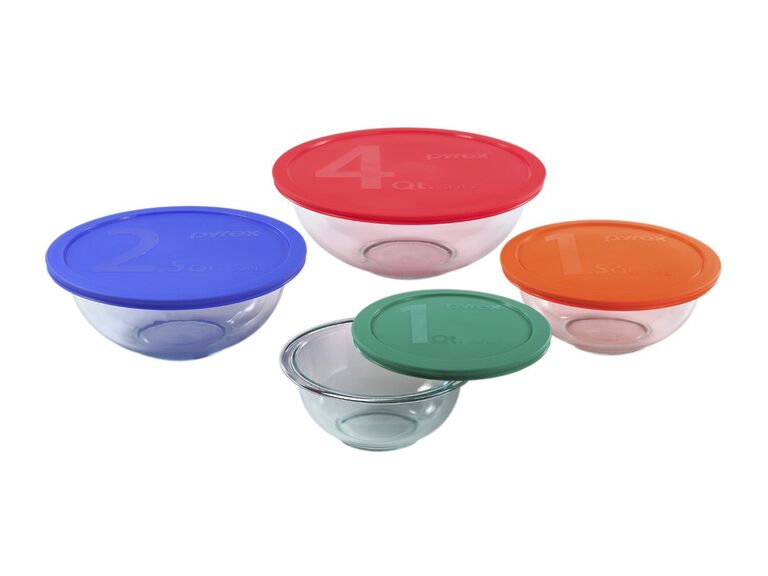 Best Mixing Bowls for Double Duty: Pyrex Smart Essentials 8-pc Mixing Bowl Set, $26, Amazon.com
Pyrex has long been touted as a kitchen staple—chances are, your mother (and even your grandmother) registered for few pieces of their own. Start your own collection off with this 8-pc set, which won our award for the best mixing bowl for double (or let's be honest, even triple) duty. As with all Pyrex pieces, these guys are oven, microwave and freezer safe, so there's pretty much nothing you can't use them for. We love that these come with plastic storage lids, so you can mix, serve and store leftovers all in the same container. Less dishes to wash? We're on board.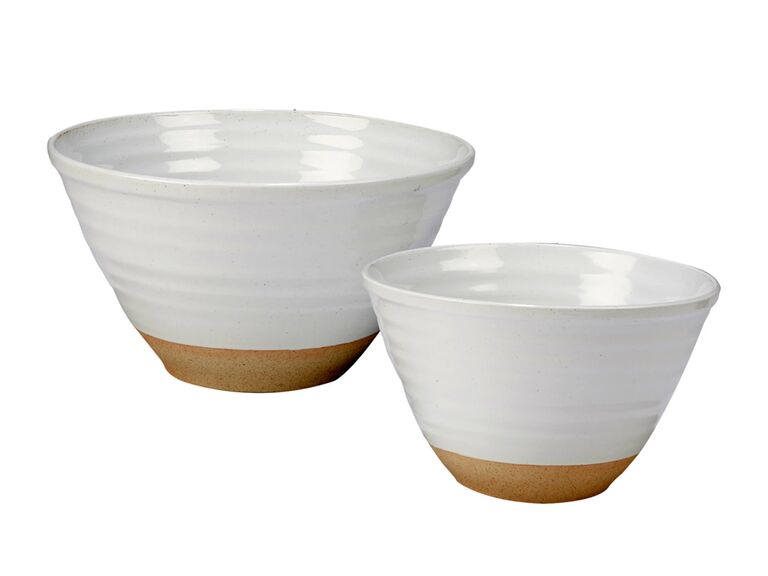 Best Ceramic Mixing Bowls: Certified International Artisan Ceramic Mixing Bowls Set of 2, $60, Amazon.com
If you're on the hunt for beautiful ceramic mixing bowls that look handmade (and way more expensive than they are), you should definitely add this set from Target to your registry. The white glaze mixed with raw ceramic base gives them a very rustic farmhouse vibe—they'd look gorgeous displayed on open shelving in your kitchen. Plus, they're just the right size, ensuring they'll come in handy whether you're scrambling eggs for Sunday breakfast or mixing up cupcakes for Bachelor Mondays.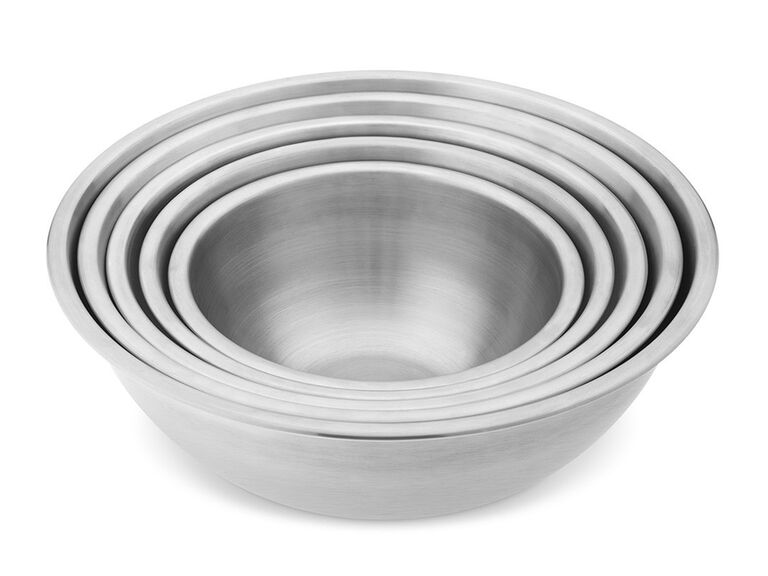 Best Mixing Bowls For At-Home Chefs: Williams-Sonoma Stainless-Steel Restaurant Mixing Bowl Set of 5, $50, Williams-Sonoma.com

Ever get the chance to peek into a pro restaurant kitchen? If so, you've probably spotted a stainless steel bowl set just like this one from Williams-Sonoma. The style is well-loved by professional chefs because it's simple, streamlined and to-the-point. No frills, just thick stainless steel construction that's lightweight but durable. A set of five (ranging from 1- to 5-quart capacities) means you'll have plenty of options when reaching for a bowl to dress a salad, separate out wet and dry ingredients or let bread dough rise.
Best Baking Sheets and Pans
Contrary to popular belief, not all baking sheets are created equal. Some perform better when it comes to crisping up cookies, while others are easier to wipe clean without a Brillo pad as backup. So what's a to-be-wed couple to do? Turn to us, of course—we're about to point you in the direction of the best baking sheets for your needs. Right this way, friends.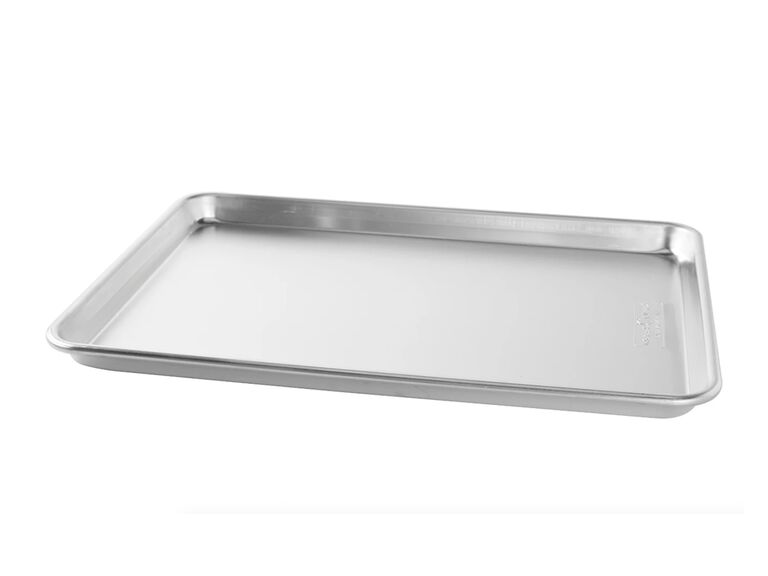 Editor's Pick: Nordicware Naturals Baker's Half Sheet, $23, Wayfair.com
One baking session with this sheet and you'll be a total convert. There's a reason pro cooks and our editors agree Nordicware makes one of the best baking sheets out there. Constructed of natural aluminum, it delivers an even cook every time, whether you're using it to bake up delicate sugar cookies or a spachcocked chicken. Plus, it will never rust or warp, which we can all agree is kind of the most annoying thing ever to happen to baking sheets.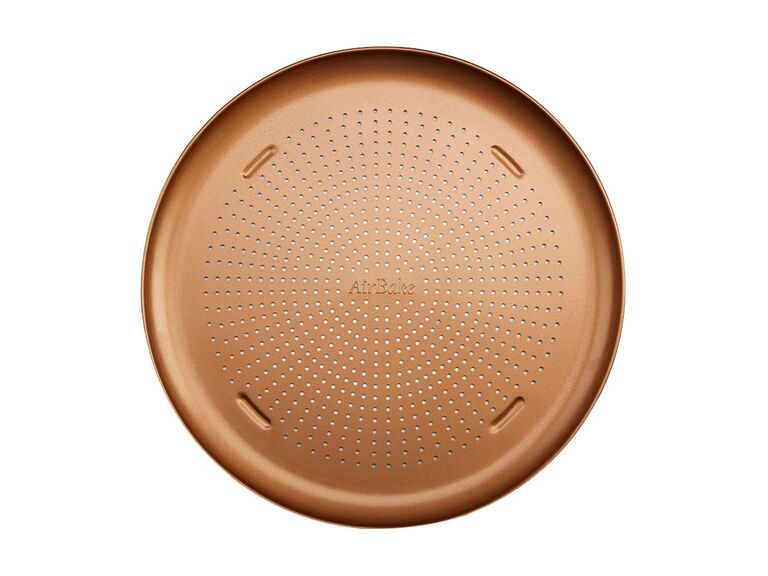 Couple's Pick: T-Fal AirBake Nonstick Copper Pizza Pan, $17, BedBathAndBeyond.com
Good news for all you homemade pizzaiolos out there—you can kiss soggy crust goodbye by adding this inexpensive pick to your wedding registry. Our couple's chose this T-Fal pizza pan as their select for best baking sheet thanks in large part to its perforated base. So what does that actually do you ask? Allow us to drop some knowledge—those little dots you see are actually small crevices, allowing air to circulate evenly under the pizza's crust, resulting in a crispy base to your pie that is just bellissima (*insert Italian finger kiss here*).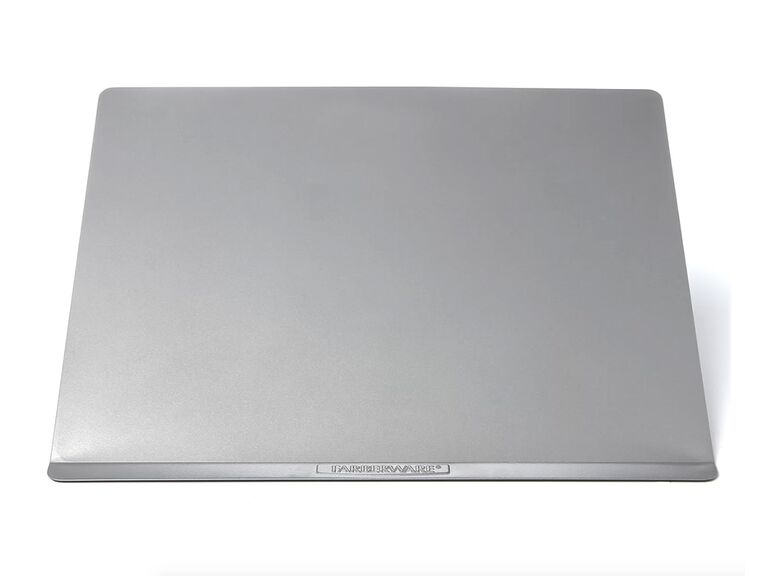 Best Rimless Baking Sheet: Farberware Jumbo Cookie Sheet, $23, Wayfair.com
Rimless baking sheets, like this one from Farberware, are the cookie hack you didn't know you needed. By eliminating that extra edge, you're adding to the airflow around your cookies, ensuring they crisp evenly on all sides and the bottom. This oversized sheet from Farberware is so big, you can use it to cook up to two dozen cookies at once in record time. Once you're done, pop them out of the oven and use the rimless edge to slide them easily onto a cooling rack before devouring them all in one sitting. We're kidding about that last part. Sort of.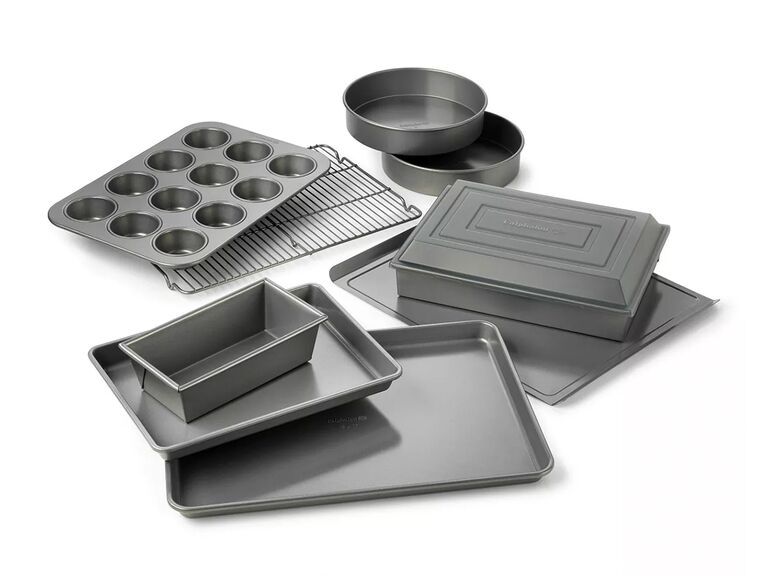 Best All-In-One Baking Sheet and Pan Set: Calphalon Nonstick 10-pc Bakeware Set, $100, Bloomingdales.com
This comprehensive bundle from Calphalon is without a doubt the best baking sheet set to add to your registry if you'll be starting your homes together from scratch. It has everything you could possibly need for a totally stocked kitchen, including a traditional baking sheet, two round cake pans, a brownie pan, rectangular cake pan (with lid), cooling rack, loaf pan and muffin tin. Phew. That's a lot of good stuff—all finished with several nonstick layers, so you'll never lose half of your cake to the pan again.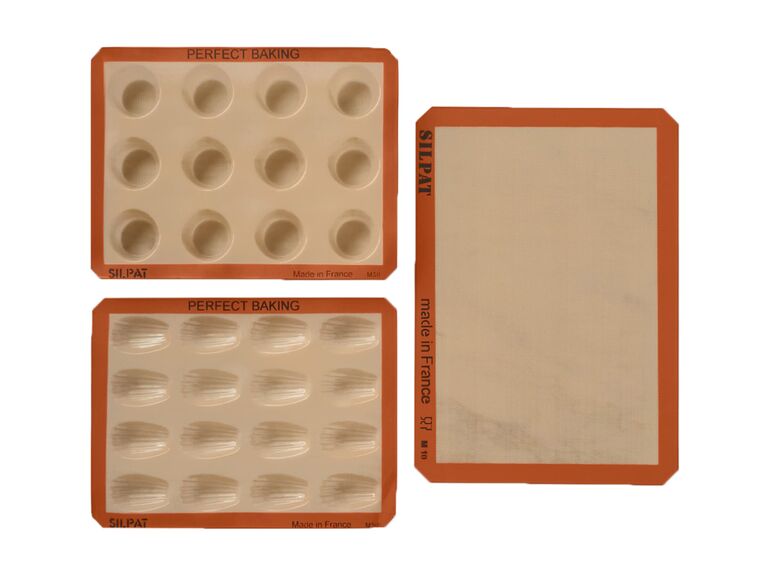 Best Silicone Baking Sheet: Silpat Silicone Ultimate Baking Set, $150, Williams-Sonoma.com
If this is your first encounter with silicone baking sheets, allow us to introduce you. Developed originally by French pastry chefs and beloved for their virtually stick-free surface, these are the best baking sheets you've (maybe) never heard of but should definitely be using. They're actually not "sheets" at all, but instead fiberglass fabric that's been coated with food-grade silicone, which lends an even heat and acts as a nonstick surface. They're dishwasher safe and, perhaps most useful of all, can be rolled up to store practically invisibly in kitchens that are tight on space. This Silpat set, which is exclusive to Williams-Sonoma, comes with a regular sheet, cupcake/muffin liners and a sheet dedicated to the art of the French madeleine. You'll need to use a traditional pan beneath any of these sheets, but they're simple to remove post-bake, making cleanup a breeze.
Best Baking Cash Fund Ideas
One of the best things about getting married in 2019 is the ability to register for anything (and we mean anything!) you want. Here at The Knot, we want to make that as easy for you as possible, which is why we offer Cash Funds. They're a simple way to add the things you really want to your registry and allow your guests to contribute any amount they desire towards your goals. Into baking? Here are some of our favorite cash fund ideas to get you going:
Editor's Pick: A donut crawl around your city
You've added a donut wall to your wedding day dessert spread—so why not add one to your registry, too? Create a cash fund dedicated to trying every delicious fried confection your city has to offer—with maybe a bit of extra money thrown in for a coffee here or there to keep you guys going. Bonus points if you document your sweet trails on Instagram for others to benefit from; we know we're not the only ones always on the hunt for a good donut rec.    
Couple's Pick: A local baking class
Trade in those Great British Bake-off reruns for a date night filled with the real thing. Start a cash fund dedicated to taking a local baking class where you'll sift your way to sweet memories, some new skills and probably a few take-home treats, too. It's never too late to be Star Baker—just ask Mary Berry.
The Knot Gifts Back: Humane Society
Give back on your big day! The Knot Gifts Back is a seamless way to support a charitable organization every time you receive a wedding gift—at no cost to you or your guests. Once you select your choice of 100+ participating organizations, The Knot will donate a percentage of the purchase price of every gift bought off your participating registry to that organization.
Did you know The Knot Gifts Back supports the Humane Society? The Humane Society of the United States fights to give animals a better tomorrow and their Animal Rescue Team is here for the animals who need them today. In 2018, 260,557 animals were rescued and cared for by the Humane Society of the United States and their affiliates.