6 Cuff Link and Earring Pairings for Your Wedding Day
His and hers accessories for you and your partner or lucky members of your wedding party.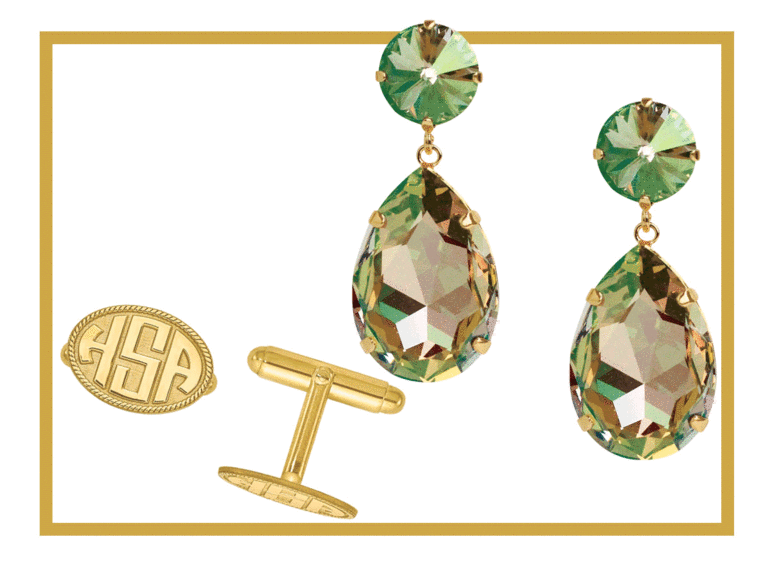 Everyone knows you and your partner are two of a kind. And now that you've found your perfect match, these complementary cuff links and earrings are sure to prove what a dynamic duo you really are. Or consider having your wedding party wear these complementary accessories.
Modern Edge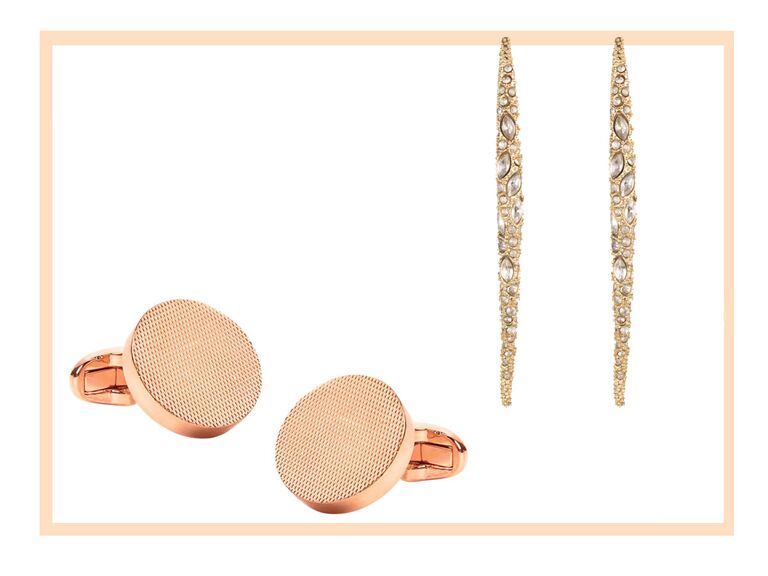 A set of rose gold cuff links is the perfect partner to long, sparkly dangles for any type of occasion.    
Alexis Bittar encrusted spear earring with infinity wire, $175, AlexisBittar.com
The Tie Bar textured dial rose gold cuff links, $20, TheTieBar.com
Crown Jewels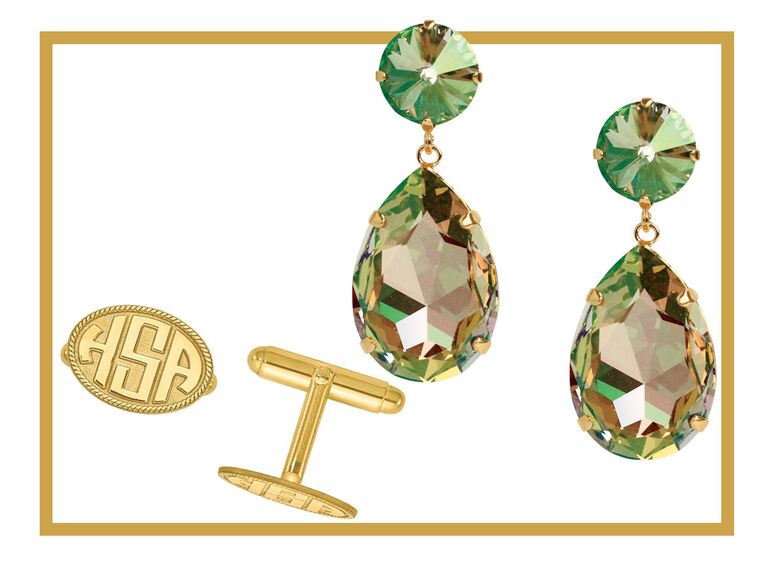 Gift your wedding party with these monogrammed cuff links and drop earrings. Not only will they appreciate the thoughtful gesture, these jewels will look amazing on them in their wedding day attire. 
Olive and Piper Voila drop earrings, $68, OliveandPiper.com
Bed Bath & Beyond twisted border oval initial cuff links, $90, BedBathandBeyond.com
Gold Mine
You'll get compliments for these jeweled complements. Add hints of your favorite precious metal to you and your partner's wedding day style. You'll look like the ultimate power couple. 
Julie Vos petite chandelier earrings, $95, JulieVos.com
Mark and Graham brass rectangular cuff links, $149, MarkandGraham.com
Fringe Benefits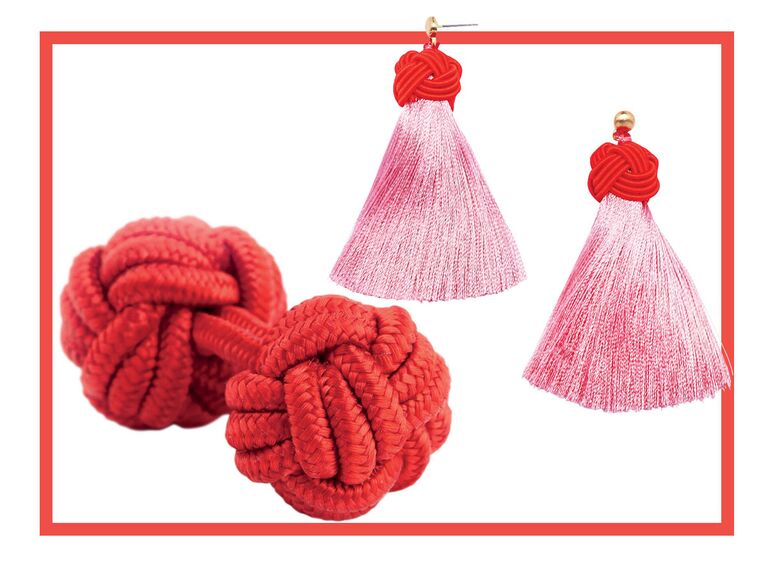 Paint the town red with this bright, festive duo. Remind your friends what a fun-loving couple you are with a simple color-coordinated touch (without being too matchy-matchy). 
 
Heart Hagerty cherry top and peony pink tassel topknots, $54, HartHagerty.com
Thomas Pink classic plain cuff links, $10, ThomasPink.com
Black Magic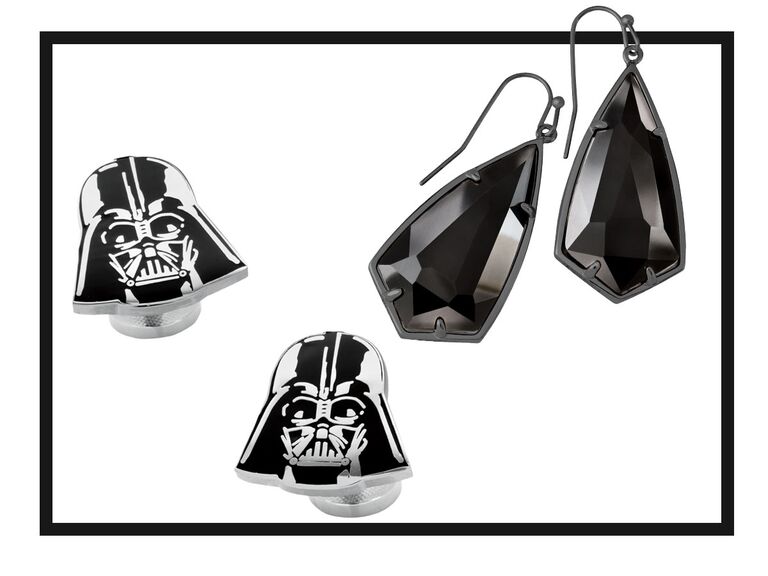 Planning a themed wedding? Dress your wedding party in cuff links from a galaxy far, far away with complementing drop earrings for a wedding that will be out of this world. 
Kendra Scott Carla earrings in black, $70, KendraScott.com
Star Wars Darth Vader head cuff links, $65, CuffLinks.com
Dapper Deco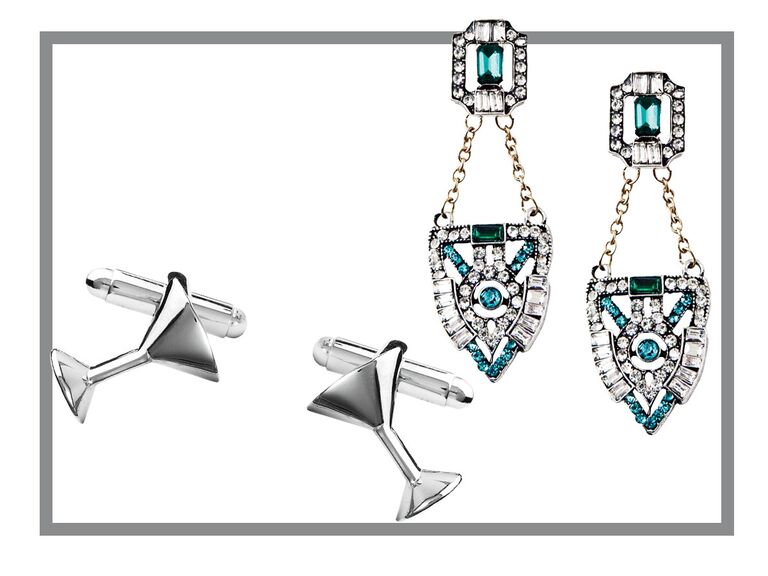 Take a glamorous approach to you and your partner's attire. Match your favorite sparkly earrings with your partner's cocktail cuff links for the ultimate Gatsby-esque pairing. 
T & J Designs deco antique-inspired emerald earrings, $28, TandJDesigns.com
JCPenney Martini Glass cuff links, $30, JCPenney.com