How to Choose Earrings For Your Wedding Dress Neckline
The lowdown on what to wear with high-neck gowns, off-the-shoulder styles and more.
We have included third party products to help you navigate and enjoy life's biggest moments. Purchases made through links on this page may earn us a commission.
Congrats, you've found the dream gown! Now it's time to set your sights on accessorizing and picking the perfect earrings for your wedding dress, neckline included—oh, and have a little fun while you're at it because weddings are stressful enough. Jewelry is the perfect place to play up your personal style and, when chosen carefully, the right earrings can effortlessly elevate any big-day ensemble. We're sure you'll get plenty of input from well-meaning family and friends who have their own opinions about what you should wear. Our advice though? Go with your gut, and be sure to follow these expert styling tips for selecting the best bridal earrings for your wedding dress neckline, aesthetic and gown silhouette.
Before you shop our carefully curated recs, be sure to tune into expert advice from Kyha Scott, Founder and Creative Director of Australian bridal accessory house KYHA Studios, and celeb stylist Raz Martinez, who has styled and accessorized the likes of Pauline Ducruet, Madelyn Cline and Lauren Jauregui.
In this article:
What to Consider When Choosing Earrings for a Wedding Dress
Wondering how to choose what earrings to wear with your wedding dress? There's a lot to keep in mind, from your individual style to your dress neckline and even the weather outside. To make it a little less overwhelming, here's a quick breakdown with some general rules and styling advice to help you make the best decision.
Your Individual Style: "Like anything at your wedding, the most important thing is ensuring your accessories are a reflection of you and your personal aesthetic," says Kyha Scott. "If you have a bold sense of style, a maximalist approach could be perfect, whereas if your eye is typically drawn to sleek, minimal looks, something modern yet pared back could be best."
Your Wedding Gown Aesthetic: And the aesthetic of your wedding, whether that's bohemian, vintage or super sultry. When selecting the perfect pair, you want to be sure your earrings complement—not compete—with your wedding day look. "For example, classic, clean gowns can be styled with a statement earring as they are not competing with beading or lace," notes Scott.
Your Dress's Neckline and Bodice: While we'll go into more detail on this below, the bodice and neckline of your dress play a big part in picking the right earrings for your big day. First, the more fabric across your décolletage, the simpler the earrings should be to avoid distracting from your face, advises Scott. "So high neck, boat neck or long sleeve gowns would all do well with a smaller, simpler style, whereas strapless or v-necklines benefit from a little more drama in styling."
The Silhouette of Your Dress: Are you opting for a timeless silhouette like a streamlined sheath or an a-line ball gown? Or sporting something more modern like a sleek, slip style? To keep the look cohesive, choose earrings that give off the same general vibe.
Your Hair: While a classic bun will let a simple stud (and statement earrings!) shine, big voluminous waves may hide tiny jewelry—which is certainly something to think about. On the other hand, huge chandelier earrings can easily get tangled in loose waves.
Your Veil: Something you may not have considered! If you're accessorizing with a veil and it's detailed, Scott suggests a more pared-back pair of earrings. "With simple, clean veils though, your earrings can be the star of the show."
The Weather: While the weather can be unpredictable, you'll want to take some clues from the venue. "In particular, windy locations (like a beach wedding) can play havoc with a drop earring getting caught in a veil," warns Scott. Or worse, your hair!
Your Overall Comfort Level: This is a BIG one. If your earrings are too heavy, too tight or just don't feel like "you", you're going to be uncomfortable, which is not what you want on your special day. Scott also recommends making sure that earrings are plated in silver or gold to avoid any irritation if you have sensitive ears. Try to take your earrings for a test drive beforehand to get a feel for how they'll feel after a few hours of wear.
Still wondering what earrings to wear with what neckline? Read on for the full breakdown!
The Best Earrings For A High-Neck Wedding Dress
Both Scott and accessory stylist Raz Martinez agree that simple studs are a stunning choice of earrings for a high-neck dress—mostly because they allow the neckline to shine and don't distract from it. "Pearl or diamonds are always classic, and I love the trend of settings that combine pearls and diamonds coming through," says Scott. Do steer clear of a very long drop or chandelier earring that could catch on the high neckline, she advises.
Senia New York Paloma Studs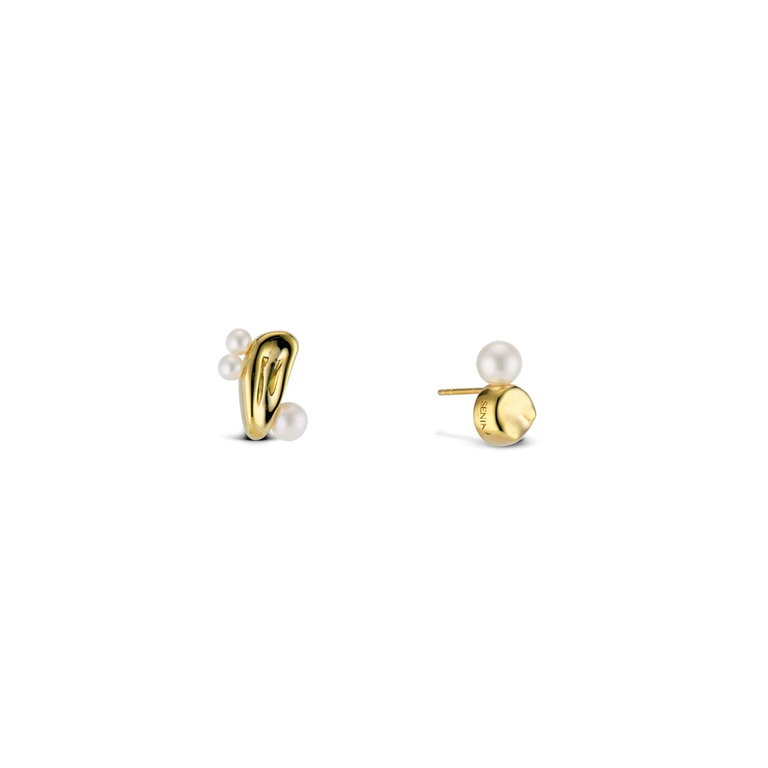 A contemporary twist on the classic freshwater pearls! These earrings are perfect for the modern bride who wants something a bit different but still elegant—and totally on trend for an avant-garde rooftop wedding.
Jennifer Behr Gemma Stud Earrings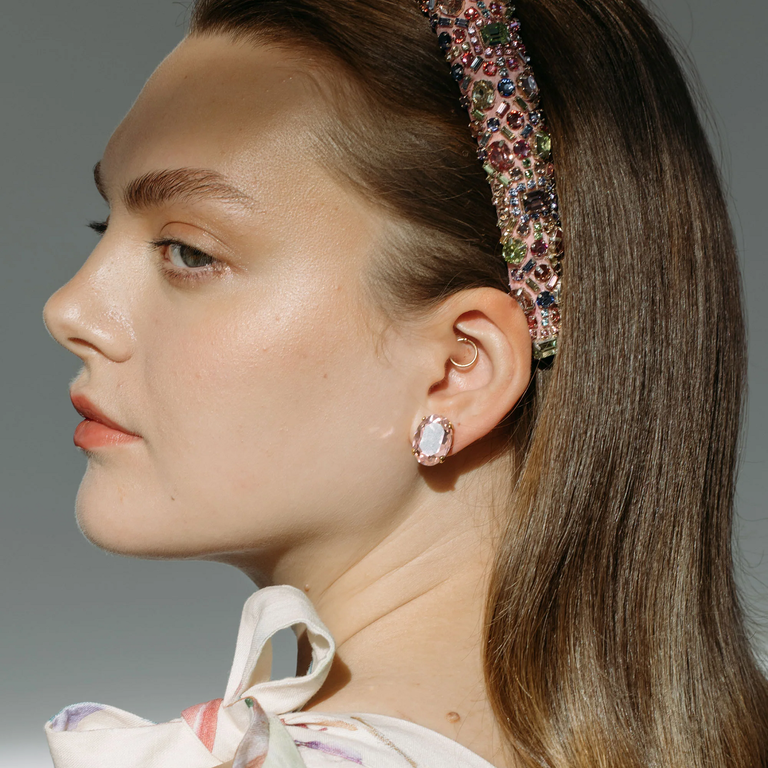 Calling all bohemian brides! These ethereal earrings are made from a sparkling oval cut crystal that looks so gorgeous when it catches the light. They're a great way to add a pop of color to a traditional white dress, and we can totally picture these paired with a flowy empire gown and floral crown.
Mizuki 14k Pearl and Diamond Studs
We love the simplicity of these pretty diamond and pearl studs. Pair them with a classic or vintage-style wedding dress for a totally timeless look.
The Best Earrings For A Sweetheart Neckline Wedding Dress
There's a lot to love about a classic sweetheart (or princess) neckline—it's romantic, timeless and looks good on every body type. Plus, your options are honestly endless when it comes to earrings. "There are no wrong answers with a sweetheart neckline," says Scott. "It's a style that can be accessorized in so many different ways. A stud earring can be understated and let a gown crafted in a more elaborate fabrication do the talking, whereas a drop earring might be the touch of glamor a pared-back gown needs." Martinez personally loves a statement earring for a sweetheart neckline, since your neck and shoulders will be bare.
BaubleBar Selena Earrings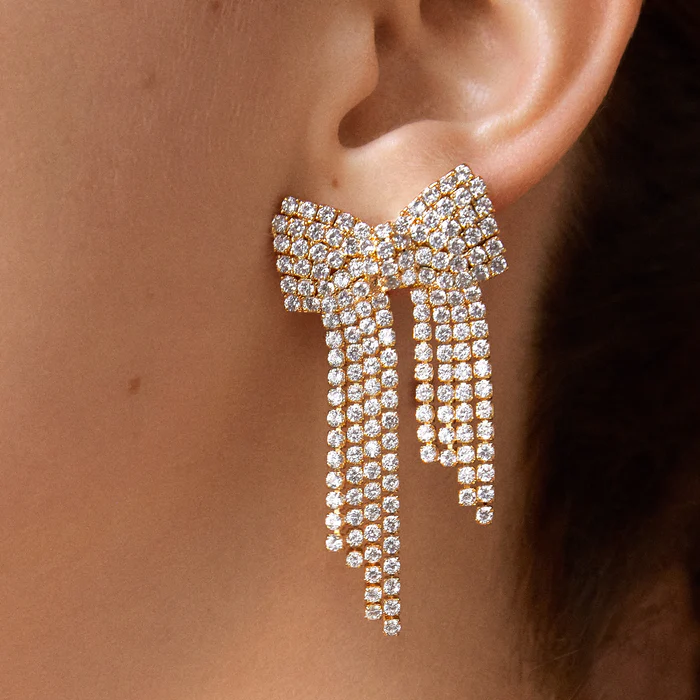 Something sweet and sparkly for your big day. These crystal-fringe earrings feature Zirconia-encrusted statement studs in a beautiful bow shape that's not only fun, but ultra-feminine and a little bit preppy too for the classic Southern bride.
Lele Sadoughi Mother of Pearl Wallflower Button Earrings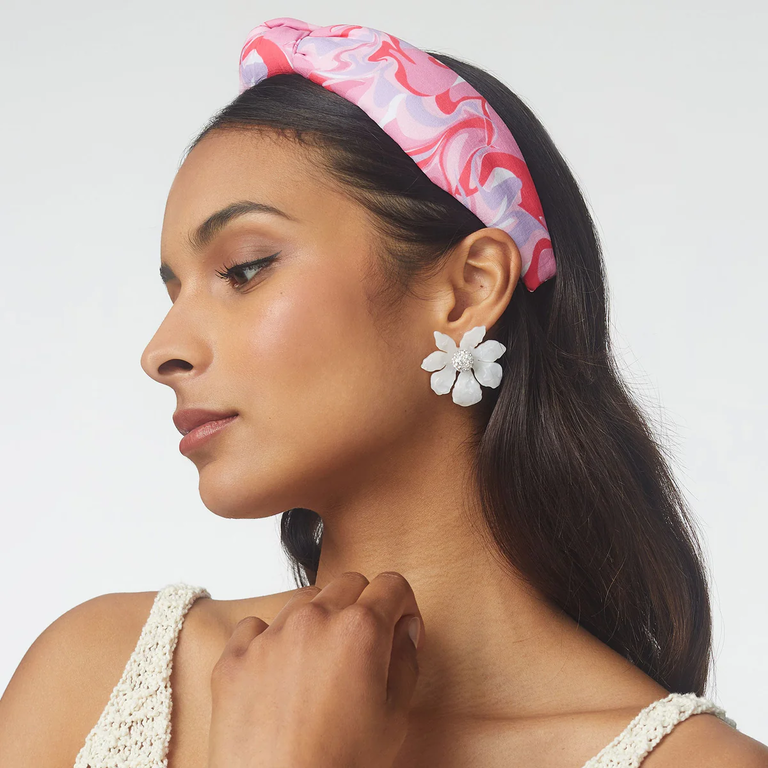 These statement-making, botanical button earrings would work with so many aesthetics, from romantic boho to vintage glamor. They'd really shine at an outdoor spring wedding.
Gas Bijoux Triana 24K Gold-Plate & Crystal Drop Earrings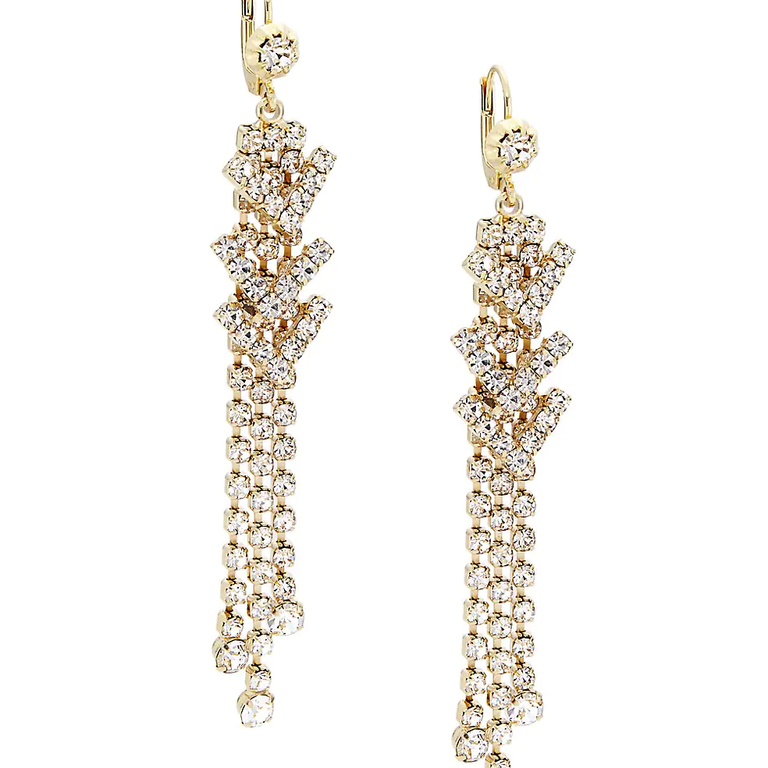 The wow factor you've been searching for. These dramatic drop chandelier earrings look extra glam with a more-embellished gown and chic with something simple.
The Best Earrings For A V-Neck Wedding Dress
V-neck wedding dresses look so stylish paired with a chic and sexy modern hoop. "Hoops have a little length to reflect the lines of the gown, but not so much to be a distraction," says Scott. Simple shoulder duster earrings can also help balance the angular neckline, according to Martinez. Take the plunge with these adventurous wedding dress earrings:
Aurate Oval Swoosh Hoop Large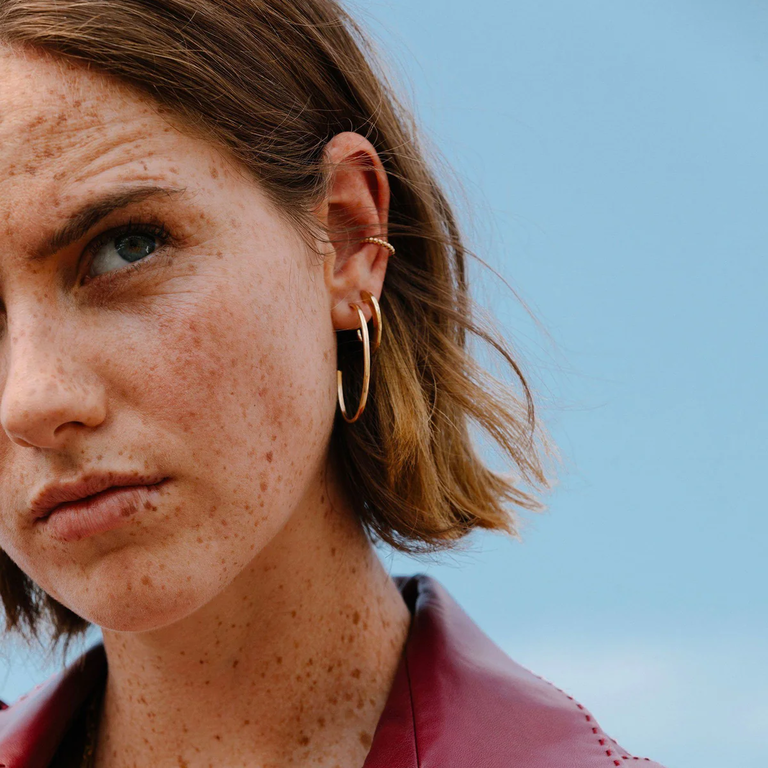 Pure gold, literally. These ethical earrings are a bold choice for a bold bride and lend a modern edge to any V-neck wedding dress. We especially love them with a simple sheath or column silhouette.
Catbird Long Pearl Shower Earring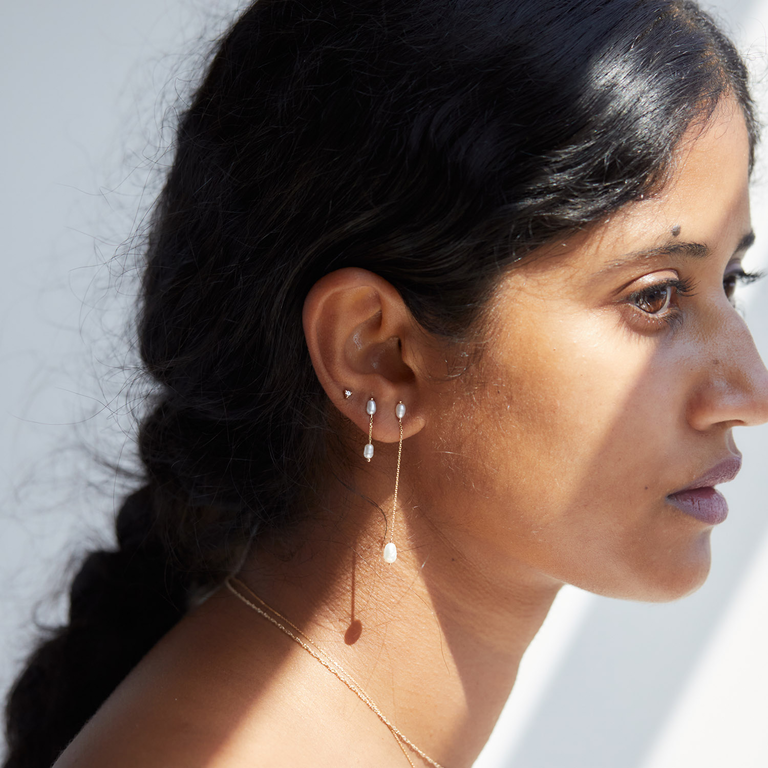 These long delicate pearl and sparkling gold chain earrings are the perfect mix of classic and modern. We can see them pairing beautifully with a traditional lacy V-neck dress or something sheer and sexy.
Rellery Pink Ombre Huggie Earrings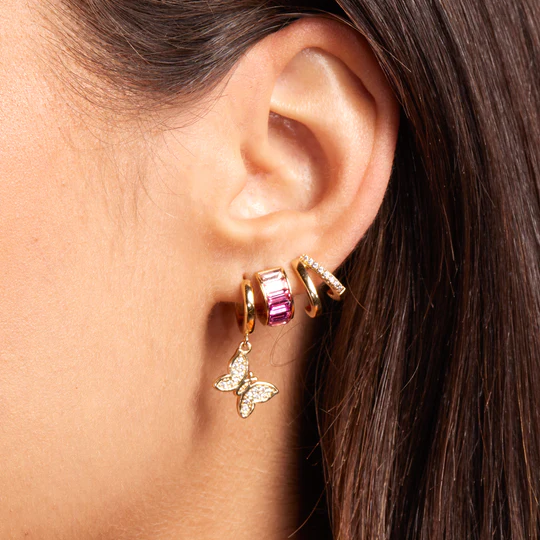 Looking for a cool pop of color? These bold pink bridal hoops get the job done and look fantastic styled with studs, tiny teardrop earrings or other simple hoops.
The Best Earrings For A for One-Shoulder Dress
One-shoulder necklines are all the rage right now, but when it comes to your jewelry, you'll want to keep it simple. Avoid ornate pieces that can fight against the gown's asymmetrical lines, and instead opt for studs or small drop earrings for a one-shoulder dress, suggests Scott. Teardrop earrings can also help add a sense of elegance to this modern neckline, notes Martinez.
Kwiat Drop Earrings with Diamonds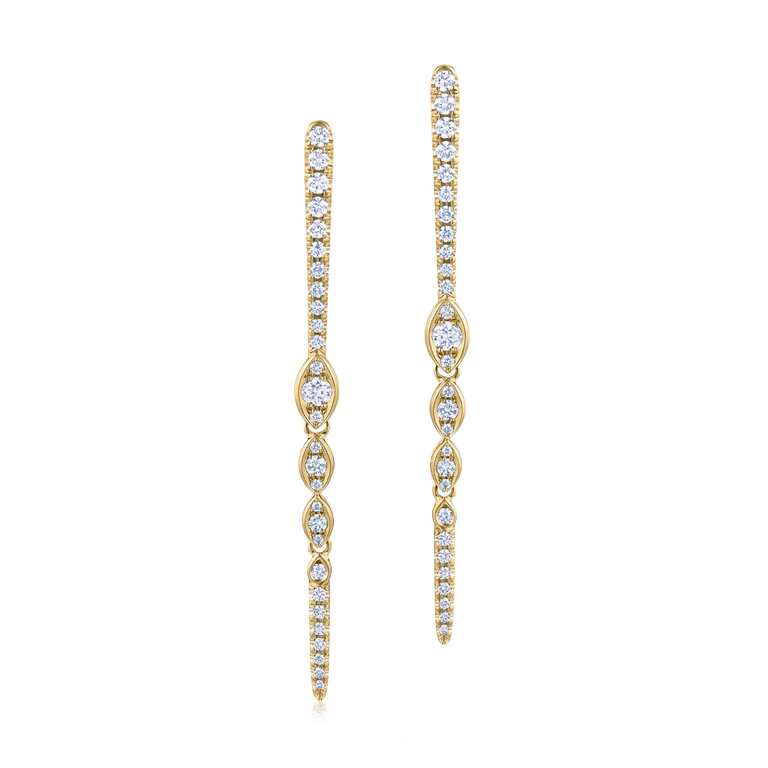 Hello, modern Grecian goddess! These delicate diamond vine drop earrings are made of 18K yellow gold and designed with invisible links for a gentle sway that doesn't twist. They're petite and perfect paired with a one-shoulder style dress.
Vrai Duo Pear Drop Earring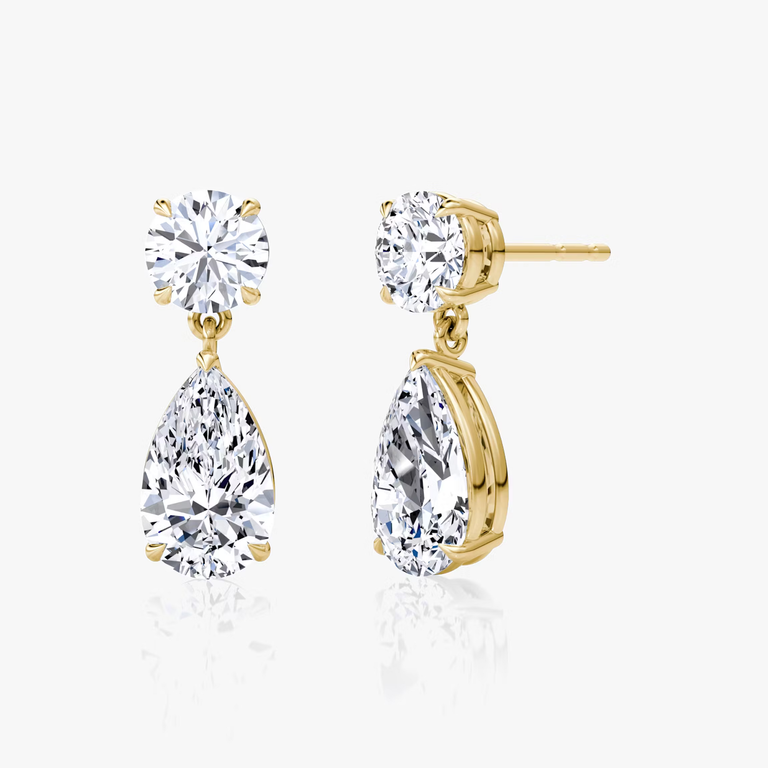 It doesn't get more gorgeous than these timeless duo-drop diamond earrings that feel so fresh for a 2023 bride. We can see them working for almost any aesthetic, from classic to modern, glam and sultry.
I'MMANY London *REAL FLOWER* Grande Amore Rose Petal and Teardrop Pearl Earrings
For the non-traditional bride, these sculptural pearl teardrop earrings—featuring a preserved rose petal in intense carmine—are the wedding day dream. Plus, they're handmade!
The Best Earrings For An Off-The-Shoulder Wedding Dress
"Off-the-shoulder dresses are the perfect canvas for a dramatic earring as, with an open décolletage, they have the opportunity to shine," says Scott. Unexpected ear jackets, ear cuffs and modern crawler earrings are also a major mood.
Mestiza New York Glitzy Piña Earrings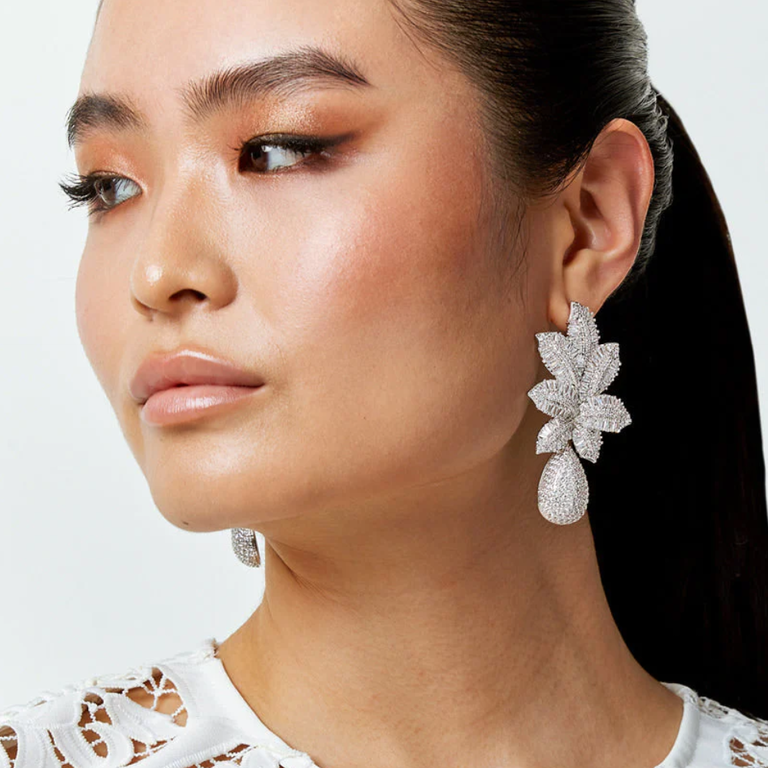 Whimsical, glamorous and the ultimate statement piece. These glitzy earrings are surprisingly light and will ensure you shine bright on your big day. Perfect for the maximalist.
Completedworks Recycled Gold Vermeil Cubic Zirconia Ear Cuff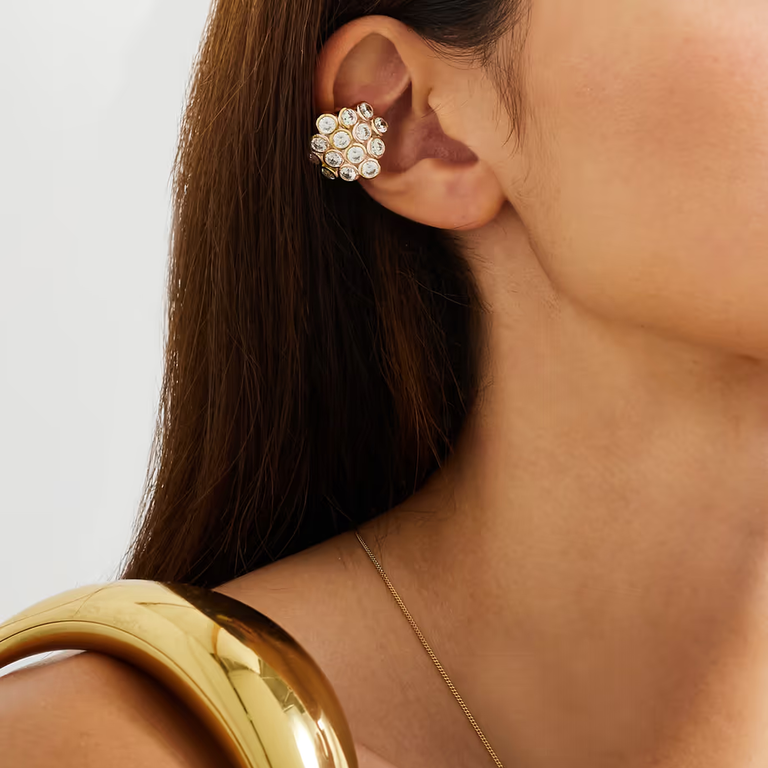 Getting married at a modern museum or in a gorgeous architectural space overlooking the city? This sustainable, geometric ear cuff slips right on (anywhere) for a glamorous look that draws attention to your pretty face.
Mejuri Contrast Pearl Climber Studs
Something different for the minimalist bride. These freshwater pearl climber earrings would look so pretty with a classic updo and wedding gown to match.
The Best Earrings For A Strapless Wedding Dress
Go big, or go home! "A scene-stealing crystal or pearl drop earring, or a statement-making hoop is our go-to for strapless dresses," tells Scott. "Balancing the openness of a strapless neckline is important, so we typically don't recommend small stud earrings." Martinez, on the other hand, loves chandelier earrings with a strapless neckline. If you're rocking a wedding dress with a full skirt (like an A-line, mermaid or ball gown dress), a statement earring up top will help balance out the volume below.
Nadri CZ Pear and Oval Drop Earrings
So glamorous! For an haute-couture look that won't break the bank, these stunning drop earrings are an excellent option—and perfect for the bride who wants to feel like a princess on her big day.
KYHA Studios Westward Pearl Hoop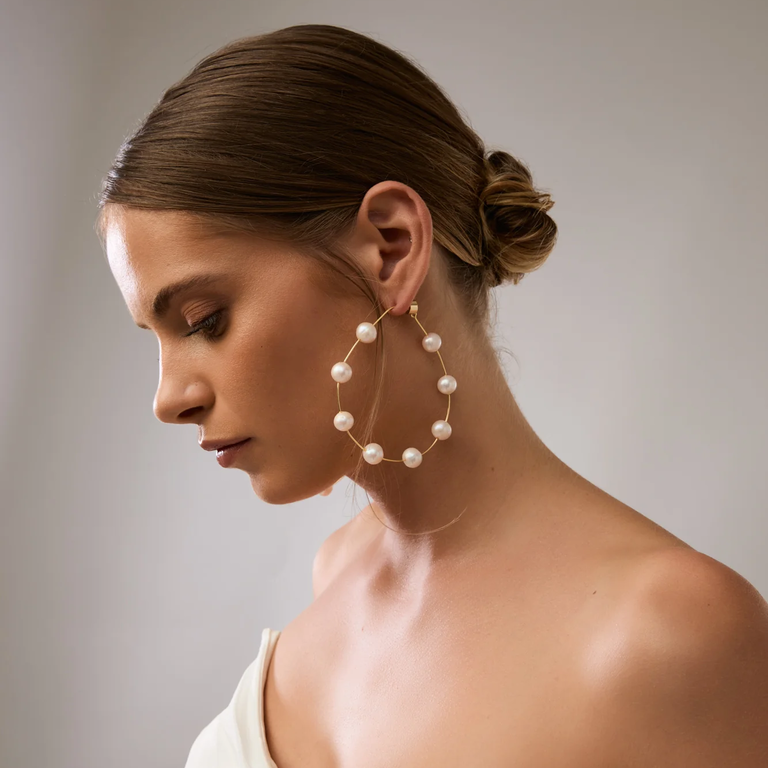 Dare to be different with these wow-worthy pearl hoops that will instantly elevate a simple strapless wedding gown. They're great for the modern bride who still wants a traditional touch.
APM Monaco Festival Leaf Cascade Earrings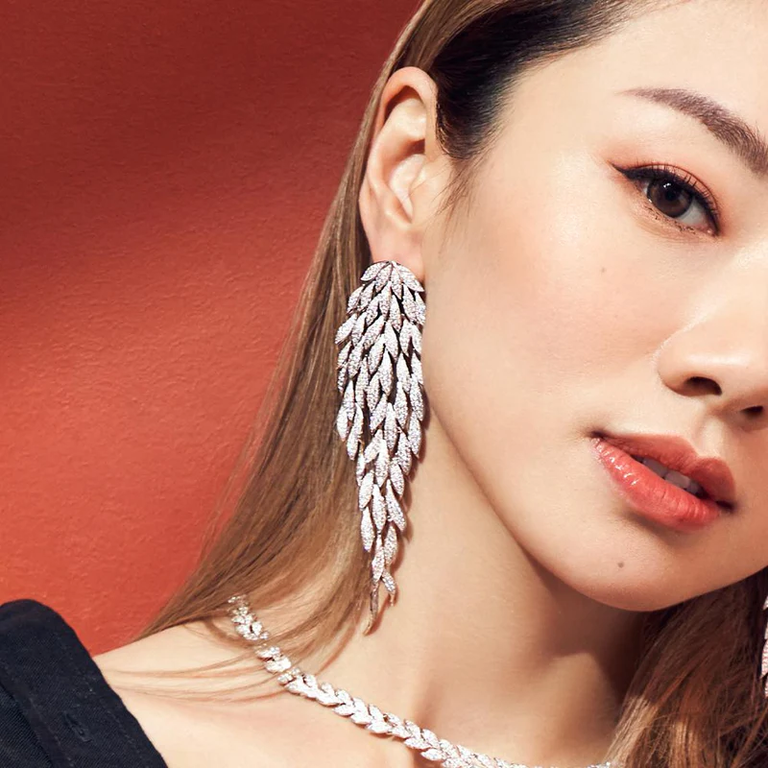 Whimsical brides, where you at? These jaw-dropping (handcrafted!) cascade earrings will take any strapless wedding dress to the next level and would look so chic with a sultry, soft tulle lace dress with an A-line skirt—or a romantic floral lace mermaid gown.