What Is a Wedding House Party? Your Questions, Answered
Keep scrolling to learn more about this unique Southern wedding tradition.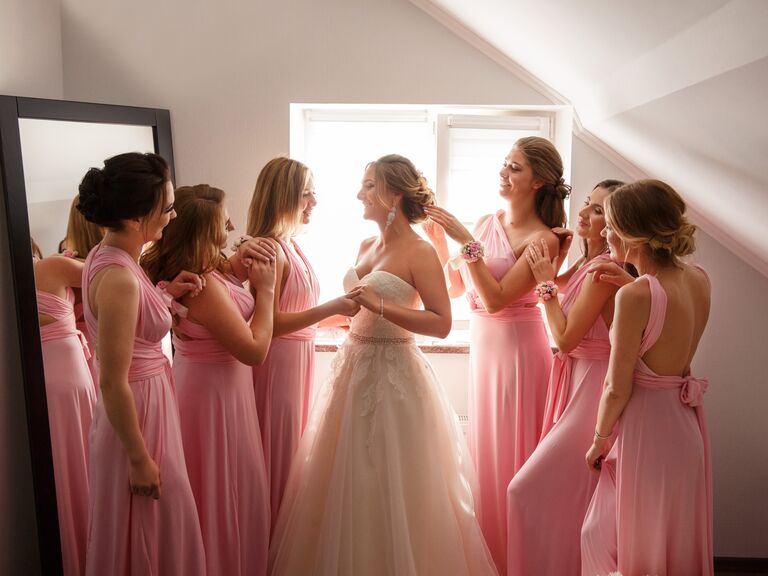 kkshepel / Getty Images
Soon-to-be-wed couples with loads of friends and family members may feel stressed when finalizing their wedding party—as much as you want to include everyone as a bridesmaid, groomsman, bridesman, groomslady, etc., it's often just not possible. And, while having a lot of close loved ones can be a good problem to have, there is a way around it: A wedding house party!
Although wedding house parties originated in the South, they're becoming increasingly popular nationwide, and for good reason. What's more, according to Atlanta, Georgia-based wedding planner Jacqueline Vizcaino of Tinted Events Design and Planning, wedding house parties give couples a chance to "honor those that matter most in there who are not part of the wedding party."
What Is a House Party for a Wedding?
A wedding house party is best described by Vizcaino as "an additional group of family or close friends that the couple wishes to honor but can't be included in their wedding party due to the mere size." She continues, "The house party is a great way to honor all those special people in your life while keeping the bridal party compact, manageable and without compromising on feeling special."
What Is the Difference Between a Bridal Party and a House Party?
St. Simons, Georgia-based wedding planner Emily Burton describes the bridal party as a group of your closest friends (translate: your most intimate circle). Conversely, the house party serves as your entire extended friend group. "The biggest difference in the bridal party versus the house party is the bridal party participates in the wedding ceremony, while the house party does not," she says.
Vizcaino is also sure to note that the wedding house party is "still very involved in other aspects of the wedding," such as helping to plan bridal showers and bachelorette parties, as well as taking photos on the big day." We'll have more on house party responsibilities in a bit.
What Does the Wedding House Party Wear?
The options are endless in terms of outfit inspiration—and there's no true right or wrong. "Typically," says Houston, Texas-based wedding planner Claudia G. de Velasco of A Day To Remember, "the bridal party has a uniform look to indicate their roles, while the house party is [often] in attire complementing the wedding colors or having a uniform look." For example, if the wedding colors are blue and gold and the bridesmaids are wearing gold dresses, the house party may wear blue or a blue and gold pattern.
Similarly, Burton recommends having your wedding house party wear color-coordinated dresses so that "they are recognized as special but not a part of the actual bridal party." Still feeling unsure or in need of even more outfit inspo? We've got you covered.
How to Ask: "Will You Be in My House Party?"
There are many ways to ask, "Will you be in my house party?" as you would with a bridesmaid proposal. Per Vizcaino, these ideas can range from creating personalized invitations, hosting a fun night in or distributing thoughtful gifts.
Additionally, regardless of which way you choose to ask your friends and loved ones to join your wedding house party, Vizcaino recommends taking the time to explain the responsibilities and expectations that come with being part of the wedding house party. That way, you can ensure everyone is on the same page to avoid any mishaps or miscommunications ahead of the wedding.
Meanwhile, de Velasco raises a fair—and compelling!—point. "To take away from the misconception about being in the house party because you didn't make the 'cut,' [for the bridal party] we love for our couples to do something just as special as with the wedding party."
When to Have a Wedding House Party
"The size of your wedding guest list should be a factor in deciding when to involve a house party," explains Vizcaino. For example, if you're having a small, intimate wedding (think: 50 guests or fewer), you may not need a house party.
On the other hand, if you're having a larger wedding (100 or more guests), Vizcaino states that "having a house party can help accommodate those close family members and friends who would like to be a part of the wedding festivities."
Who Is Typically in a Wedding House Party?
According to Vizcaino, your wedding house party can include (pretty much) everyone, ranging from cousins, aunts and uncles to sorority sisters and long-time neighbors. Put simply, she says, "people who wouldn't be considered for the formal wedding party—but who hold a special place in the hearts of the soon-to-be-married couple—can all be members of the house party."
Wedding House Party Duties
When diving deeper into specific wedding house party duties, Vizcaino is careful to note that they're "typically more informal than those of the bridal party." With this in mind, she says that the wedding house party duties can include any of the below:
Attends pre-wedding events (think: showers and bachelorette parties)

Plans, decorates and packs gifts ahead of the wedding

Provides moral support to the engaged couple

Participates in wedding party portraits

Hands out ceremony programs

Gives a group reading during the ceremony

Monitors the guest book and/or gift table

Gives a group toast at the reception

Assist with cleaning and packing up post-reception

Celebrates with the just-married couple during their after-party (assuming there is one, of course!)