How to Save for a Bachelorette Party, According to an Expert
Here's how to save before you rage.
by Esther Lee
If you have an expensive bachelorette party on the horizon, you're not alone. With the continual rise of bachelorette weekends and full en-suite itineraries, many bridesmaids and participants have seen the cost of these pre-wedding parties mature at a steady incline especially in the last decade. A 2019 survey conducted by Credit Karma found that nearly a quarter of Americans have gone into debt by attending a bachelor or bachelorette party, while that number is even higher among millennials (with about 35 percent of participants citing they're at least $500 in debt from a bachelor/bachelorette weekend alone). 
Those invited to these high-priced affairs are oftentimes faced with the reality that bachelorette parties, though memorable and wildly fun, come at an expense. While it's a tricky topic to navigate, especially for wedding party members who want to plan the best weekend, there are several things to ask yourself as you determine how much to spend on a bachelorette party.
"When you spend money on a bachelorette [or anything], you have to think: 'What is this doing for me? And what is it taking away from me?'" says Kathleen Entwistle, a Senior Vice President at UBS and one of Forbes America's Top Women Advisors. "Ask yourself, 'Am I willing to sacrifice what it's taking away from me to participate or to be part of that wedding party?'" Here, Entwistle shares her tips and tricks for ways to save for a bachelorette party—and when it's okay to walk away.
Be Proactive About Saving… Period
"What I would say first is one of the issues that really gets people into financial trouble is being reactive and not proactive," says Entwistle. "Just taking another wedding or another bridal party as it comes and not thinking about it with the big picture in mind is, in short, trouble."
In the case of bachelorette parties, two sides are affected financially: the bride and her wedding party. First, there's the age-old question: Does the bride help pay for the bachelorette party? Traditionally, a one-night out on the town was covered by bridesmaids, but with the trend of bachelorettes becoming weekend destination events, a different financial illustration is being painted. Since costs for a multi-day affair will already be substantial (especially for destination bachelorettes), expecting bridesmaids to cover the cost of the bride's travel, stay, drinks and meals could cause even more burden. It's advised that the maid of honor or the person taking the lead on the bachelorette party understand the financial limitations of the participants while having discussions with the bride about expectations. Communicating that respectively to the crew will help set a better foundation for all parties involved.
If you're in a time period where weddings are abundant, friends are engaged (or soon-to-be-engaged within the next year or two), or you're generally anticipating a wedding—especially if it's your own—assess your financial picture as much as possible and prepare accordingly. "Ask yourself, 'Do I have money set aside to do this? Or am I spending money greater than what I can really afford?'" says Entwistle. "Be more proactive consciously when you're thinking about the money. When you spend the money, you have to think: What is this doing for me? And what is it taking away from me? Am I willing to sacrifice what it's taking away from me to participate or to be part of that wedding party?"
Plan the Itinerary in Advance Too
Why are bachelorette parties so expensive? While there are several factors at play, one reason why respondents of Credit Karma's study went into debt over a bachelor or bachelorette party was because they wanted a novel or once-in-a-lifetime experience (32 percent). This could include a trip to perhaps a far-reaching destination like Ibiza or it can equate to one-off special moments like a sunset boat ride or a formal dinner paired with local wines in Napa. If you plan to do something luxe (which, it's a bachelorette so why not!), consider timing. 
Last-minute reservations and fares will create setbacks for groups who want to partake in unique experiences or wildly memorable ones too like booking a cabana at a Vegas pool party. To be fair to all: Participants should be given the opportunity to plan for these costly, once-in-a-lifetime moments.
"Get ahead of it. Don't wait until the last minute to start planning," says Entwistle. Not only will this cause friction when the hottest restaurant in NYC is completely booked, but it also will add last-minute budget pressure to attendees. Estimate total costs up front and have that honest discussion with the group, so that those who commit know exactly what they're stepping into. "Don't procrastinate," warns Entwistle. "Create an estimated budget and stick to it."
Do Things Family-Style
If anything, bachelorette parties are a great time to lean into group rates. The best model to follow is one of a family vacation. First, narrow down the bride's guest list for this experience and create a poll to lock in the best date. (This should be done months in advance.) Then, the organizer will share a document that includes the budget, the proposed itinerary and more essential planning details. Once everyone agrees upon the rates, the activities and dining establishments, it's time to book everything. If plans shift, make sure to communicate it to the group as soon as possible. 
Overall, great places to save when planning a bachelorette party include housing, dining and libations. For example, booking a home through Airbnb or finding a villa or multi-room suite in hotels are great places to potentially secure better rates. This again means moving sooner than later especially in bachelorette hotspots like Nashville, Chicago or Palm Springs. 
Another way to cut costs is by grocery shopping and cooking meals. Rather than heading out for a daily brunch, why not prep coffee and a light breakfast at home? The same situation applies to booze, which in some cities is just as pricey as the meal itself. Enjoy a few cocktails at home before heading out for the night. Finally, letting the world know the bride is out for her bachelorette party is another option, says one repeat bridesmaid: "Make the bride or the to-be-wed wear a veil or a sash, so that people buy you free drinks."
Do the Math
If after you've gone through all these steps and the bachelorette party is still too expensive, simply go back to the basics and do the math. "You have to think about it this way: If you're making $100,000 annually and your cost is $5,000 to be in a wedding party? That's already five percent of your gross income. And to spend $5,000, you have to make between $7,500 to $10,000 [to counteract that]. It's a very expensive proposition," says Entwistle.
If you're willing to get ahead, the financial expert encourages budgeting through a savings account. "Every paycheck you receive, you could take a certain amount of that money and put it aside towards the bachelorette party budget," she suggests. "When you're spending that money in a lump sum, it's really difficult. But when you spend it in advance, you know what you can or cannot do."
Finally, while credit cards come with perks, there is a wisdom that accompanies the habit of swiping. "I find people get into trouble when they put things on a credit card. They say, 'You know what I'm going to pay for it now and I'll pay it back later.' The next thing they know, they're making payments on these trips they couldn't fully enjoy because it was so expensive," says Entwistle. "Don't say to yourself, 'I'm going to pay this off after the party.' That's usually the kiss of death."
Instead, she suggests setting goals. "You're better off saying, 'I have a couple of friends getting married this year and I want to participate. I think that I can put away X dollars every paycheck into a separate account.' When you do your direct deposit, you can put a percentage into a savings account, which you can designate towards your goal. Build it out over time," she continues. "If you're putting $200 a month aside, after 10 months, you have $2,000. That's enough, hopefully, for a bachelorette."
Pick and Choose the Parties
According to Credit Karma, more than a third of respondents who went into debt to attend a bachelor(ette) were much more conscious about what others thought. About 34 percent of those surveyed said they went into debt because they "didn't want to offend" the person who extended the invitation, while another 27 percent "didn't want my friends to think I was broke."
Meanwhile, nearly one out of every two respondents (46 percent) said they "felt obligated to attend," while another 38 percent of respondents who were in the red after a bachelorette party felt FOMO (fear of missing out) and cited that they went because "all my friends were participating."
"Only commit to wedding parties where you're really close to the person," Entwistle responds. "Try to think about it this way: Is this helping me work towards my goal or is it taking me further away? With anything in life, especially when it comes to your finances, you have to choose you first. It's the old saying, 'Put your oxygen mask on first before you help oters.' If you're not in a position where you can afford to do these things, it's just going to put you in a deeper and deeper hole. You have to take care of yourself first. Know that and own that. Be good to yourself first. Think of it as you're paying yourself first." (In other words, don't say yes to bachelorette distress.)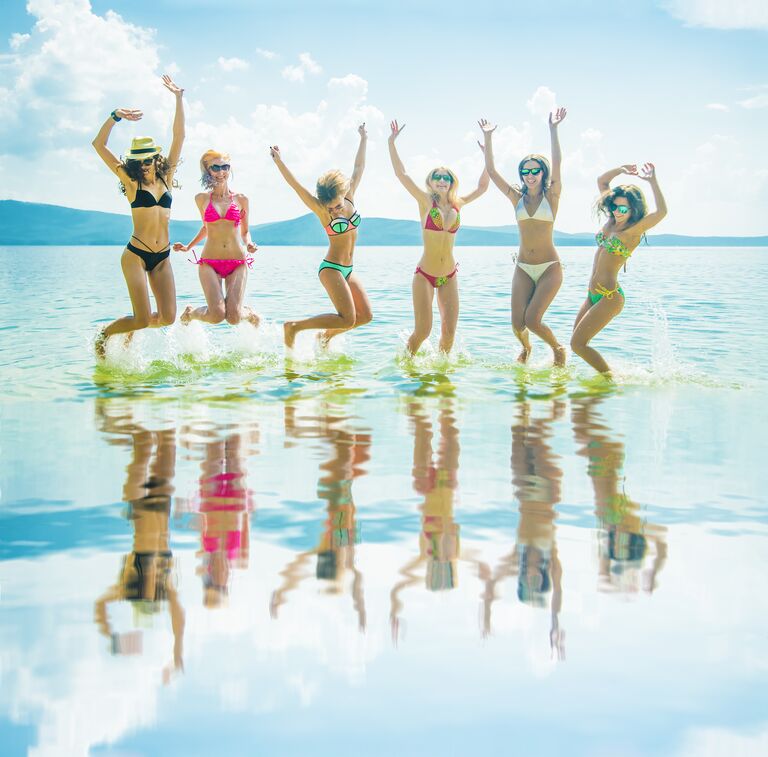 Find Alternative Ways to Celebrate
One way to cut costs is to assess whether you can commit to the entire party or partially attend. Some bridesmaids will express in advance that they won't be able to participate in a certain group activity (an excursion or drinking). In total, make sure to clear partial commitment plans with the crew, especially if finances are a burden. 
Finally, if you're unable to make it, period, after doing the math, there are alternative ways to celebrate the bride or groom. "If you can't get on the plane to Miami or Nashville or all these destinations, perhaps offer to host a little champagne brunch with friends at your home," says Entwistle, who specializes in private wealth management. "There are different ways to work around it. At the end, you have to think about how stressed you'll be when you yourself spend the money? As yourself: Do I have the funds? Am I prepared to spend those funds, or would I celebrate the person in a different way?" 
Having the authentic conversation with your friends is important. One way to position it tactfully is to say something like, "I would love to come, you mean the world to me… It's just so expensive. I don't think I can participate in a way that I can share in that excitement. I'd love to express this in a different way. I'd love to throw you a champagne breakfast at my apartment and honor you in that way."
Be Empowered Yourself
As an advisor who's seen statistics surrounding millennials and spending habits, Entwistle has one key piece of advice for current couples and future to-be-weds. Her thoughts certainly extend beyond the scope of expensive bachelorette parties. 
"For anyone who is getting married or anyone who is thinking about moving towards goals, the most important thing that I want young people to understand is that it's imperative that you understand your own financial picture," she concludes. "Money is power. You have independence, flexibility, and the ability to make decisions in your own best interest. Never let go of your own ownership of you, your choices, your values, your priorities, which includes your money. And that's it."