Emotional Fathers at Weddings Who Will Melt Your Heart
It's the golden rule of wedding videos: When dads cry, we cry.
by Vanessa M. Buenger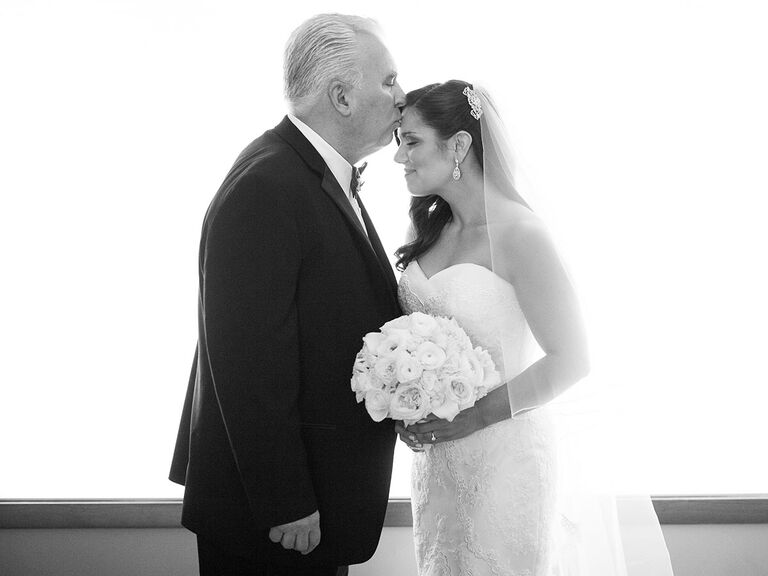 photo by
ANGEL PROJECT PHOTOGRAPHY
Nothing brings on the waterworks like a solid emotional dad moment in a wedding video. Whether he's crying seeing his daughter for the first time, welling up with pride as his son says "I do" or choking up over his sentimental toast—quite simply, dads know just how to make us lose it. These four weddings from Love Stories TV, the place to watch wedding videos, showcase some of the most heartfelt dad moments we've ever seen.
Video by: Films By J
In his father of the bride speech, Marcie's dad shares how he recalled the day Marcie was born when her now-husband Nick came to ask for his blessing. And it's almost too much to handle.
Video by: AJ Ingoglia Films
At the start of Lisette and Jon's wedding video we get a moment alone with the father of the groom. It's a magical few minutes that's hard to put into words, but when you watch their film you'll completely understand.
Video by: Blue Racer Productions
Maggie's dad has perfected the "make you laugh, then make you cry" speech. When he talks about his daughter's teen years you'll chuckle, and when he talks about about Michael joining the family—let's just say you'll lose a lot of mascara.
Video by: The McKellars Wedding Cinema
Father-daughter first looks are on their own different level of emotion. When McKenzie's dad sees her he immediately breaks down. It's an incredible moment we could watch over and over again.
Video by: White Heart Wedding Films
We can't get enough of this sweet father of the bride. He admits he said he wouldn't cry, but the minute he sees his daughter in her dress, he couldn't help but shed a few tears.
Vanessa M. Buenger is the head of growth at Love Stories TV, the place to watch and share wedding videos. Browse its library of curated and categorized real wedding films to get ideas and inspiration for your day. And share your wedding video on LoveStoriesTV.com to inspire others.