35 Unique Wedding Entrance Ideas That'll Wow Your Guests
We've done the creative thinking for you.
Your wedding reception entrance should speak to who you are as a couple, whether you've always dreamed of a memorable flash mob or you envision something a little more low-key. If you're looking for wedding entrance ideas for you and your future spouse, you're in the right place. We've done the planning for you––below, find 35 funny, unique, epic and easy wedding reception entrance ideas that'll wow guests and start your party on the right note. From confetti showers to choreographed dance routines, these ideas will set your reception apart in the best way.
In this article:
What is a grand entrance for a wedding reception?
A wedding grand entrance typically happens at the start of the reception. This is when you and your partner are announced and introduced to your guests as an "officially" married couple. It's common for couples to allow their wedding party members to make their entrances first, so they act as the grand finale. Also, speaking with your DJ or emcee about your name pronunciation and how you'd like to be introduced for your entrance is important so everyone is on the same page.
What are some fun wedding entrance dances?
Your wedding entrance dance can be as silly and spontaneous, or thought out and choreographed as you'd like. Some fun and easy wedding entrance dance ideas are the Two-Step, the Dougie or body roll. And if dancing isn't one of your strengths, look at YouTube or TikTok for helpful beginner-friendly wedding entrance dance ideas.
What is the best music for your wedding entrance?
Base the music you play during your wedding reception entrance on the vibe of your wedding reception playlist or the tone you want to set when your guests initially see you as a newlywed. Still don't know where to start? Then look at this wedding entrance song list that works for any wedding.
Funny Wedding Entrance Ideas
Not everything about your wedding has to be serious. Enter your reception in a way that'll make everyone chuckle with these funny wedding grand entrance ideas.
Organize a High-Five Line
Live your best rock star-inspired fantasy and enter your wedding reception with a high-five line set to a high-energy song. We know guests will love this unique strategy to kick off the celebratory part of the evening.
Ride Together On a Tandem Bike
Tandem bikes are a little difficult to ride at first, but once you get the hang of it we guarantee you'll love it. This happy couple decorated their tandem bike with a wooden "Just Married" sign and a beautiful bouquet with succulents, baby's breath and other blooms.
Jump Out a Huge Wedding Cake
Who said you only had to eat your wedding cake? These newlyweds planned a Vegas-like performance where the bride jumped out of an enormous fake cake at the start of the reception. You can even take this funny wedding entrance idea up a level by getting a replica of your edible wedding cake.
Ride In on Kids' Scooters
Starting your reception with joy and laughter can only mean good things for you and your partner's future. So don't be afraid to get in touch with your inner child and ride into your reception on kids' scooters, like this couple.
Epic Wedding Entrance Ideas
Take your wedding entrance to the next level by doing something that none of your guests will forget. The bigger the better works perfectly for this scenario.
Plan a Glam Grand Entrance
For something memorable and showstopping, turn your grand entrance into a glamorous spectacle. Enter walking down a grand staircase with your initials lit across them for a wow factor. (Bonus points if you can organize a spotlight too.) Plus, a glam backdrop can serve double duty as wedding reception décor for the rest of the night.
Come Down From a Hot Air Balloon
If you and your significant other love adventure, this idea is the perfect one for you. Jump into a hot air balloon after your ceremony for some much-needed private time. Then hop out in front of your reception venue, ready to party.
Start With a Champagne Tower
Champagne towers are a beautiful and glamorous way to serve your bubbles that you and your guests will love. This is also a great photo opportunity so tell your wedding photographer if you plan to do this at your reception.
Walk In With Sparklers
Walk into your wedding reception feeling like a star with this epic wedding entrance idea. We suggest getting cold sparkler machines since there's less risk of anyone burning themselves or anything catching on fire. But first, ask your wedding venue if this type of sparkler is in line with their safety policy.
Do an Ice Skating Routine
Surprise your guests with a choreographed skate routine for your wedding grand entrance. The skating rink can even double as a fun reception activity for your guests. Just make sure you have wedding insurance in case of any slips and falls that may occur.
Enter With a Dancing Parade
Who says you can't parade your love around town? Hire a band to lead a parade between the wedding ceremony and reception. Not only will it keep loved ones entertained and engaged, but it's also a bold way to kick off the reception.
Unique Wedding Entrance Ideas
Try these cool alternative ideas if you want to do something outside the norm. You can steal these real wedding entrances or use them for inspiration.
Step Into the Spotlight Together
These newlyweds walked down a catwalk at the top of a ballroom where they entered their reception. The couple stopped for a cool moment under a spotlight, which their guests loved.
Arrive Under a Confetti Shower
Confetti is always a good idea for your wedding reception. Kick things off with an exciting shower of sparkly or colorful confetti as you and your S.O. join the party.
Enter Dressed in a Cool Costume
Want your guests to feel like they are at a rave? Then play EDM music and show up in a cool LED robot costume as this groom did. The couple even used handheld fog smoke machines.
Start With a Money Dance
Many cultures do a money dance during the wedding reception. The symbolism behind the money dance varies depending on the culture, but at its root, money is thrown or handed to the couple to help them start their financial future. The money dance is typically done to upbeat music and is a very interactive part of the reception.
Walk Through a Curtain of String Lights
Instead of draping your lights, why not create a curtain of string lights for you to walk through? It's a simple decoration but adds elegance to your grand entrance.
Outdoor Wedding Entrance Ideas
If you're planning an outdoor wedding, you can get more creative with your grand entrance. Check out these six fun outdoor grand entrance ideas.
Arrange a Firework Display
If you're planning an outdoor wedding, we love the idea of entering your reception underneath fireworks. It's your special day, so there's no need to wait until the end of the night for a spectacular light show. This is a sure way to make a significant entrance.
Make a Pedicab Wedding Entrance
There's no requirement to walk into your reception. At this bohemian wedding, the newlyweds rode in a pedicab for their wedding entrance.
Arrive at Your Reception By Boat
This couple arrived at their yacht club reception by boat while all their guests watched from the lawn. This is a fun way to enter your wedding as long as the weather is clear.
Ride In on Horseback
If you love horses and have experience riding them, why not incorporate them into your wedding? These brides entered their rustic reception on horseback while still wearing their wedding day attire.
Parachute Into Your Reception
Go extreme for your outdoor wedding entrance by parachuting into your reception. But remember this idea isn't for the faint of heart, so do plenty of research before getting too attached––you want to be as safe as possible.
Show Up In a Vintage Car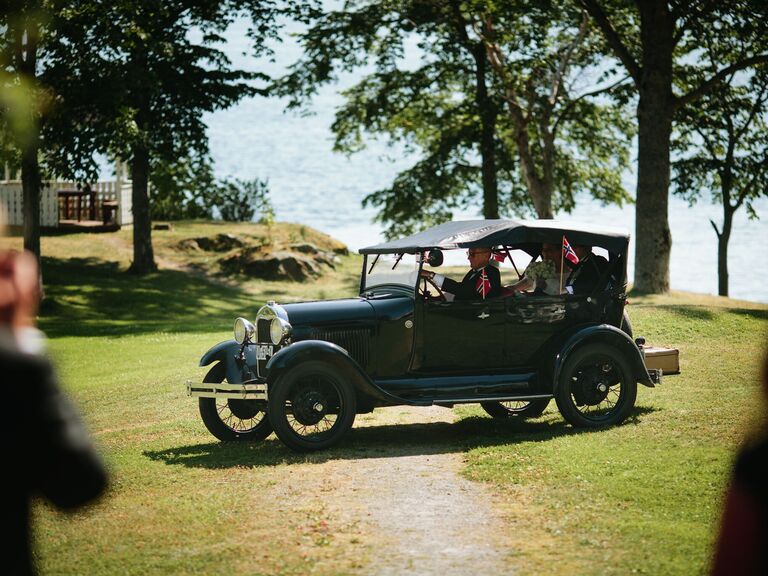 Arrive in style by riding up to your reception in a vintage car, which is perfect for a classic and timeless theme. A vintage vehicle can act as your something old for the wedding too.
Creative Wedding Entrance Ideas
Think outside of the box for your wedding entrance and do something unique to you and your partner's relationship or that reflects your interests. Use these creative wedding entrances from real weddings to inspire you.
Run Through a Paper Banner
Feel like a sports star by running through a paper banner at the start of your wedding reception. Get creative and write your and your partner's names, song lyrics or your favorite quote on the banner.
Ride In on a Rickshaw
You technically don't have to walk (or dance) into your wedding reception. For something totally creative, consider using alternative transportation, like a rickshaw. Keep your mode of transportation nearby to make your wedding getaway just as spectacular.
Walk In Under a Lightsaber Arch
Take a cue from this Star Wars wedding theme and enter your reception under a tunnel of lightsabers. But if lightsabers don't fit your vibe, there are plenty of other lighting options too. Create a charming light tunnel with sparklers, paper lanterns or flashlights.
Enter With Professional Dancers
Aspiring performers, this creative wedding entrance idea is for you. While wedding planning, consider hiring live entertainment to upgrade your big day. Enter your reception alongside professional dancers for an unforgettable moment.
Run Under a Human Tunnel & Confetti Shower
Combine the best of both worlds and have your guests create a human tunnel while throwing confetti. This idea works as a high-energy wedding exit idea as well.
Ring a Church Bell
After you say "I do," literally ring in your new marriage by ringing a church bell. If your ceremony or reception isn't near a church, use small handheld bells to announce your marriage.
Enter Wearing Jerseys From Your Favorite Sport
Show love for your favorite sports team by entering the reception wearing jerseys over your wedding attire. This couple showed love for the Cleveland Cavaliers at their nuptial celebration.
Easy Wedding Entrance Ideas
Prefer keeping your wedding entrance simple? Then we have options for that too. And don't worry. Your entrance can still be grand with these easy ideas.
Head Straight to the Dance Floor
Once wedding guests have gathered in the reception space, use your special entrance to make a beeline for the dance floor to take your inaugural spin as newlyweds. You can have your wedding party members join you after your first dance or peel off to do your parent-child dances.
Enter With Your Wedding Party
Share the spotlight with your bridesmaids and groomsmen before your grand entrance. A choreographed wedding dance will definitely pump up the crowd. Guests will be seriously impressed by everyone's performance skills.
Roll Out the Red Carpet
For this glamorous Hollywood-themed, a red carpet was a must. Pretend you're a celebrity and strut your stuff on a red runner. You can even hand out disposable cameras to your guests to act as paparazzi.
Give a Welcome Toast
If you'd rather break the ice and announce yourselves with a few words, take the mic, a glass of bubbly and give a brief welcome toast. Thank everyone for coming, shout out your parents and raise a glass to love.
Start Off With Karaoke
An easy way to get your guests excited and happy for the reception is by bringing out a karaoke machine. Start singing your favorite karaoke song with your partner, then invite your guests to take the mic.
Cut Your Wedding Cake First
Feeling rebellious? No rule says you can't have cake before dinner. If you're not into a grand spectacle, start your reception by cutting your wedding cake. It's a sweet way to kick off your celebration and get everyone in the party mood (and it doesn't require choreography).
Subtly Sneak In
Low-key couples will love this understated wedding entrance strategy. Everyone's heard of an Irish exit (when you slip out of a party without saying goodbye), so consider this the Irish wedding reception entrance. After taking wedding portraits, quietly join cocktail hour for some face time with your nearest and dearest. (No emcee announcement, spotlights or cheering necessary.) The reception is busy, making it hard to talk to everyone. Take advantage of whatever cocktail time you can to make the rounds and enjoy the party you spent so much time planning.