These are the 25 Most Popular Wedding Gifts, According to Our Data
See exactly what real couples are adding to their registries.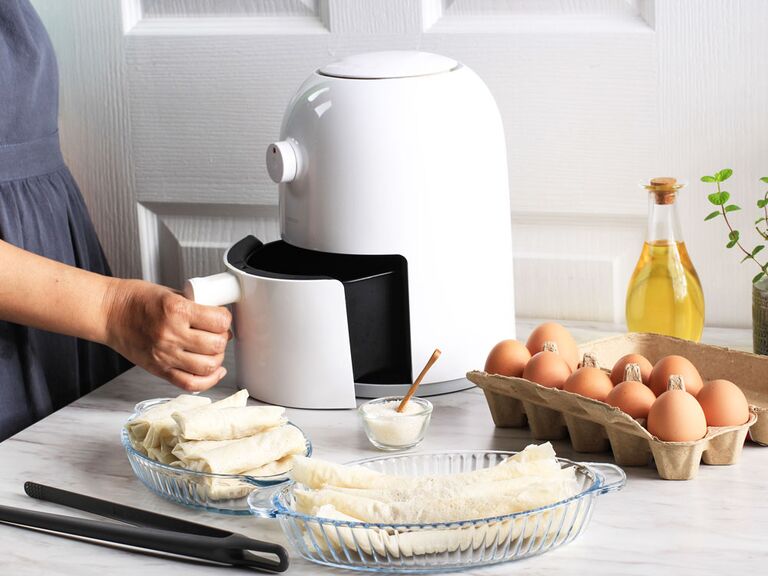 Ika Rahma H/Shutterstock.com
There are wedding gifts, and there are good wedding gifts. Whether you're a to-be-wed in the midst of creating your wedding registry or a guest searching for the perfect present, it can be hard to determine the best of the best. Not to worry: At The Knot, we know exactly what wedding gifts couples want thanks to our real registry data. The Knot Registry Store allows couples to register for any item directly through our website, meaning we have insight into the most popular wedding gifts—and we're breaking it down just for you.
We've scoured our data to determine the top wedding gifts of 2021. In other words, these are the most commonly added gifts to registries on The Knot. This roundup of popular wedding presents is a helpful tool for couples making their registry or guests seeking advice for a great gift. (But if you're the latter, we recommend checking the couple's registry first before browsing elsewhere.) Steal these ideas for your own registry, or use it to guide your shopping choices. After all, these items are tried-and-true picks from real couples, so you can't go wrong with any of these classic wedding gifts. (And for even more inspiration, check out The Knot Registry Award winners for gifts our editors love.)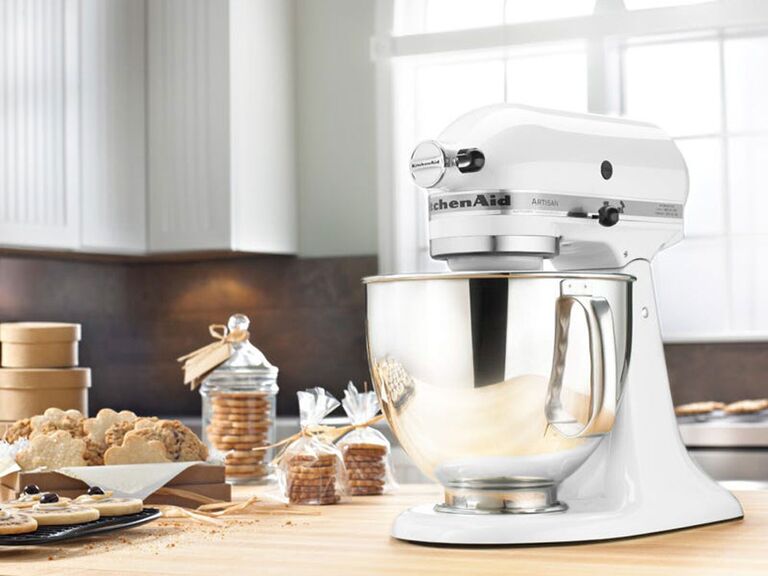 No surprise here. If you predicted that the KitchenAid standing mixer is one of the most popular wedding gifts for couples, our data proves you right. Sure, you might see this kitchen appliance everywhere, but it's for good reason. A standing mixer is a worthy investment, especially for couples who love testing new recipes. Plus, thanks to its wide variety of aesthetically pleasing colors, this model would make a pretty addition to any kitchen.
KitchenAid Artisan Series 5 qt. stand mixer, $400, TheKnot.com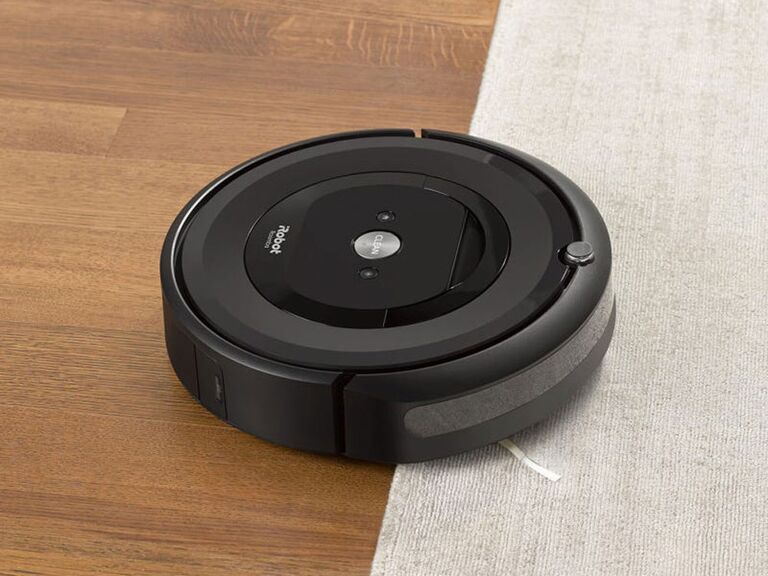 If you dread pulling out the vacuum, a Roomba deserves a spot on your wedding registry. This high-tech cleaning appliance is one of the best wedding gifts for couples (especially pet owners) because it'll get plenty of use. This unit connects to your phone, allowing you to control it from just about any room in your house. When you need a quick clean, just turn it on and let it go—sensors direct it towards dirt and away from obstacles. It's also safe for a variety of surfaces, from tile to carpet and wood floors, solidifying it as one of the most popular wedding presents.
iRobot Roomba E5 WiFi enabled robotic vacuum, $350, TheKnot.com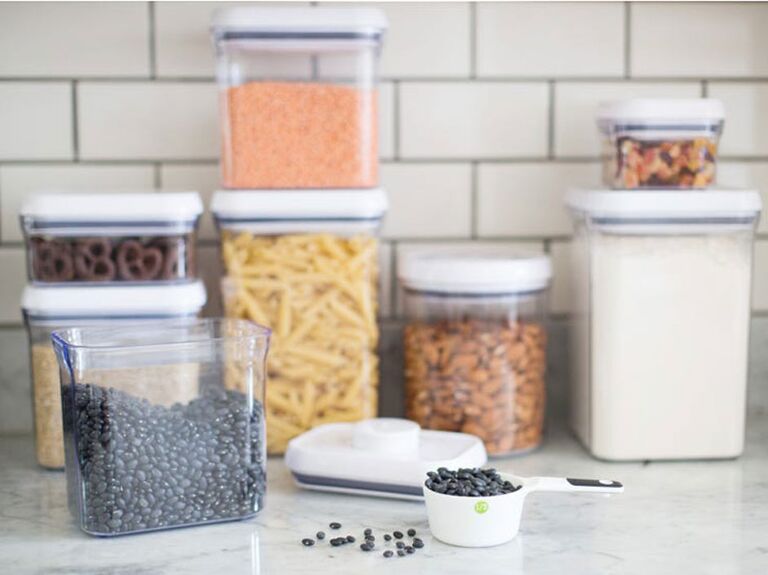 Give the gift of organization with a 20-piece food storage set. These versatile containers can be used in any room, from the pantry to the bathroom or the garage. It's perfect for first-time homeowners looking to build a collection of organization tools. After all, there's no such thing as keeping your newlywed nest too tidy.
OXO Good Grips POP 20-piece food storage set, $100, TheKnot.com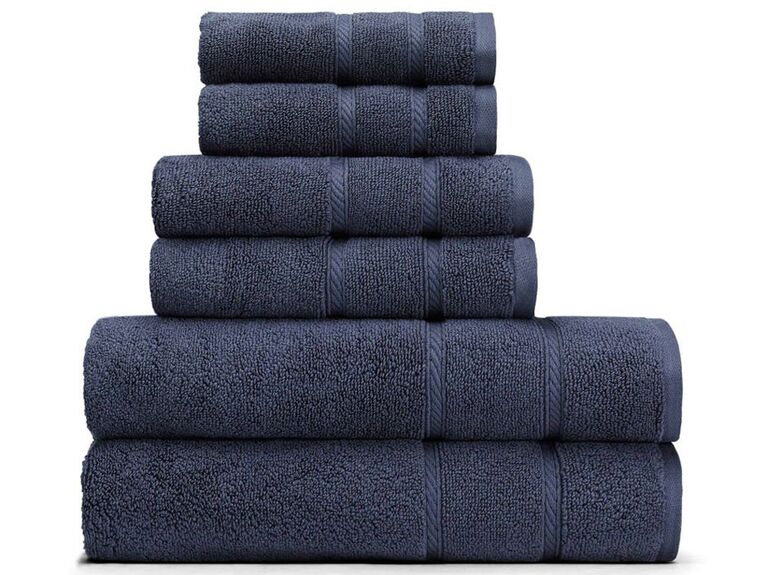 If you're wondering what to get as a wedding gift, you can't go wrong with a fresh set of towels—and couples agree. There's a reason this set is one of the most popular wedding registry gifts. Towels are something couples don't often think of buying on their own, but they're great to have on hand for guests (or to build out an existing collection of bathroom essentials).
Nautica Belle Haven 6-piece bath towel set, $46, TheKnot.com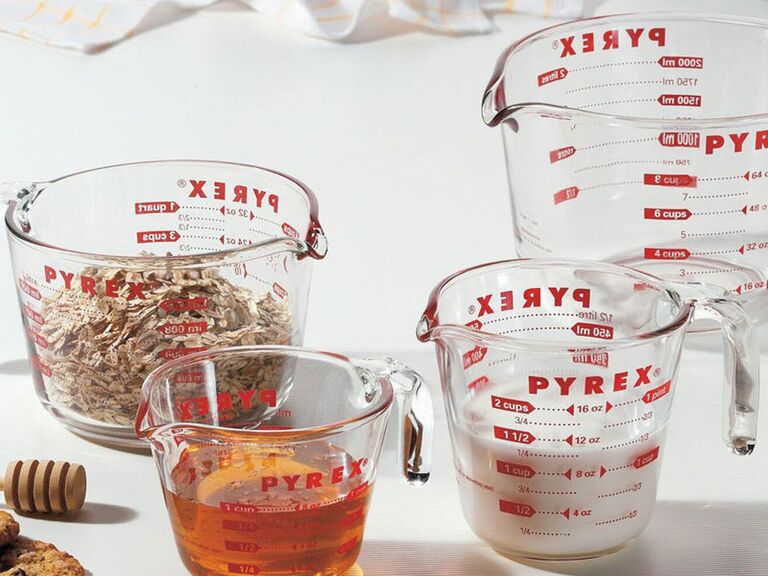 Multi-size measuring cups are something you don't realize you want until you actually need them. Save yourself the frustration of re-washing the same measuring cup over and over by registering for a set of four.
Pyrex 4-piece glass measuring cup set, $42, TheKnot.com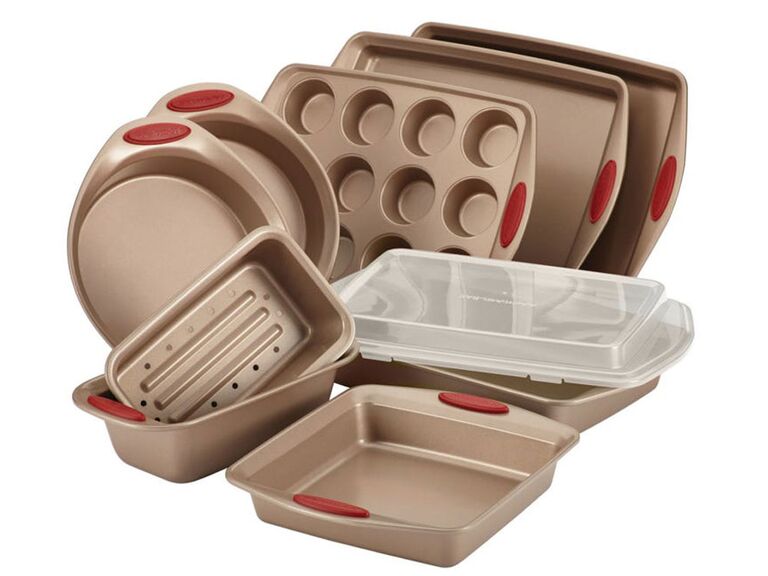 A new bakeware set is always one of the top wedding gifts for couples. Updating your collection of kitchenware can be costly, especially if you and your S.O. have been living together for years. There's no better time to upgrade your tools than when you get married. This set of 10 covers the essentials needed in any kitchen.
Rachael Ray Cucina 10-piece non-stick bakeware set, $80, TheKnot.com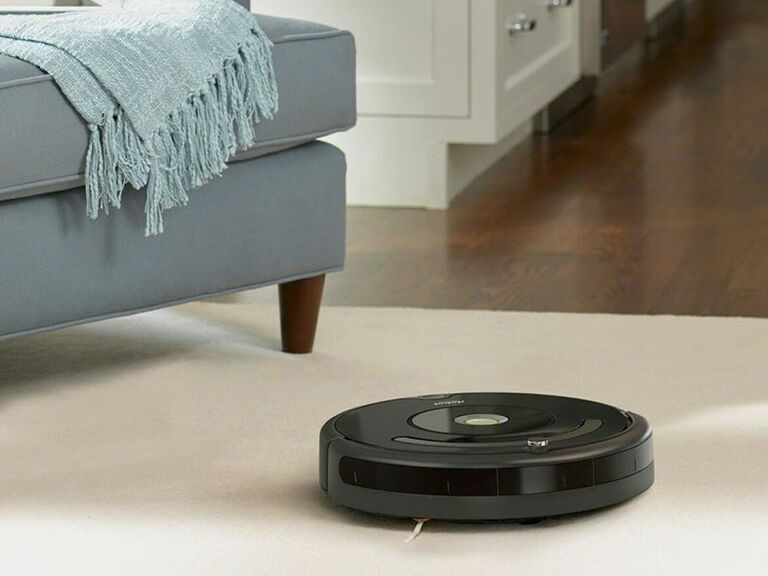 Trendy tech is a good wedding gift for young couples. So, what's the difference between this Roomba and the model listed above? Both have similar benefits and are comparable in size and run time, but customers report that this 675 model runs slightly better on bare floors (while the E5 model performs better on carpet). This option is also slightly more affordable, which is helpful to take into consideration when adding gifts to your wedding registry.
iRobot Roomba 675 WiFi enabled robotic vacuum, $275, TheKnot.com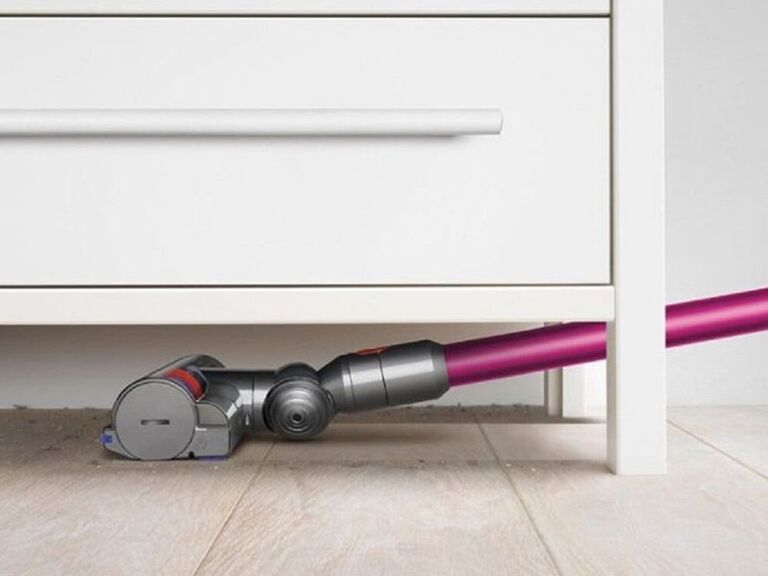 Yes, another vacuum made our list of popular wedding gifts. (It's a fact: to-be-weds love vacuums—like this couple who added 750 vacuums to their registry on The Knot.) This cordless model from Dyson is a great alternative to a Roomba if you prefer taking control, especially for hard-to-reach corners a robot might not be able to access. This bagless vacuum has a swivel head for easy use, and it also transforms into a handheld device too.
Dyson V7 motorhead cordless bagless stick vacuum, $250, TheKnot.com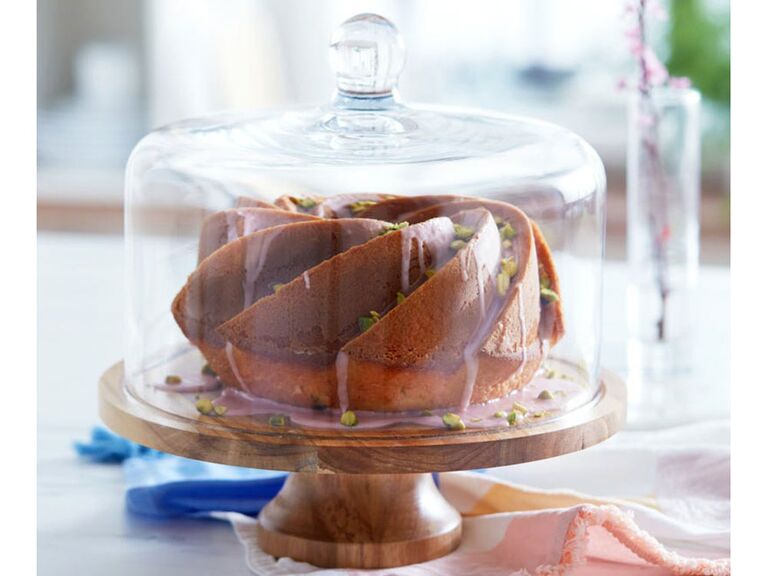 Bakers, take note. This cake dome is one of our most popular wedding presents because, let's be honest, your sweets deserve to be admired given all the hard work that goes into making them. It's a versatile gift too—remove the glass dome and use the wood stand as a charcuterie platter when you have guests over.
Libbey Acaciawood cake dome with lid, $55, TheKnot.com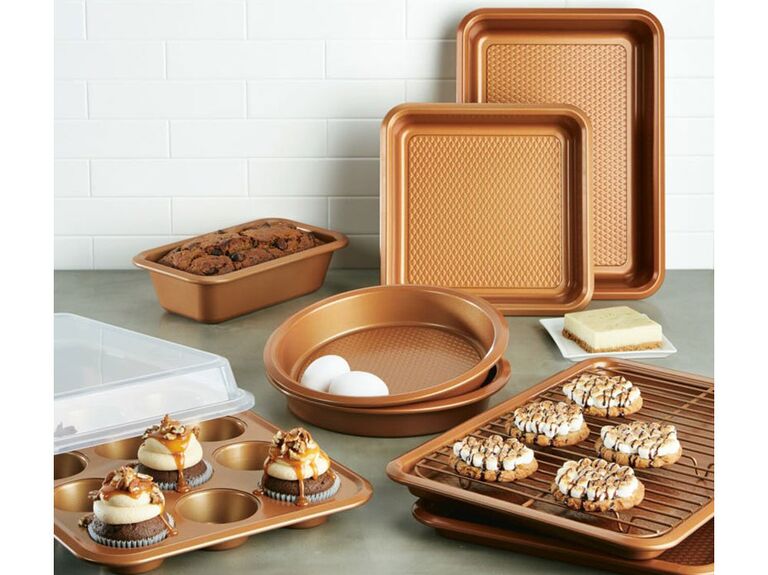 Aesthetics are important to some bakers. If you like having a cohesive kitchen theme, this copper-colored bakeware set will make you want to cook up a storm in style.
Ayesha Curry 10-piece non-stick bakeware set, $90, TheKnot.com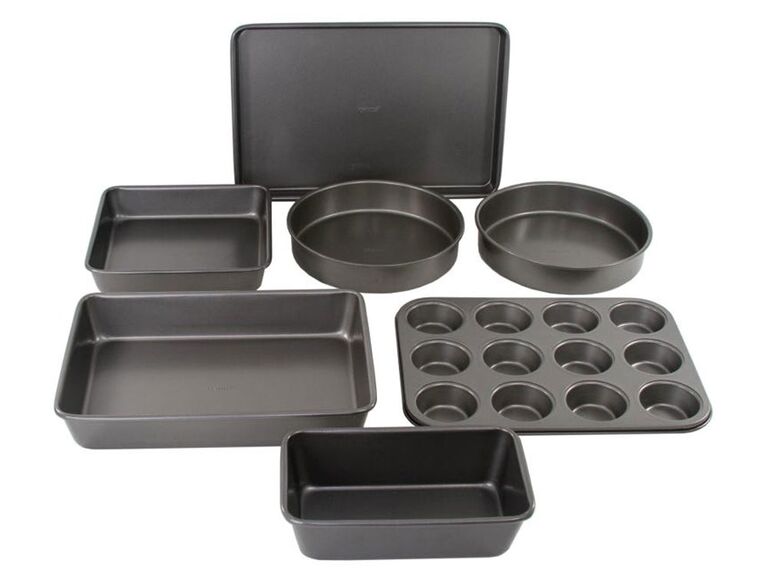 Or, perhaps you'd rather register for a simple set of bakeware tools that get the job done. This affordable collection has everything you need for brownies, cakes, cupcakes, cookies and more—the sky's the limit.
Oneida 7-piece non-stick bakeware set, $60, TheKnot.com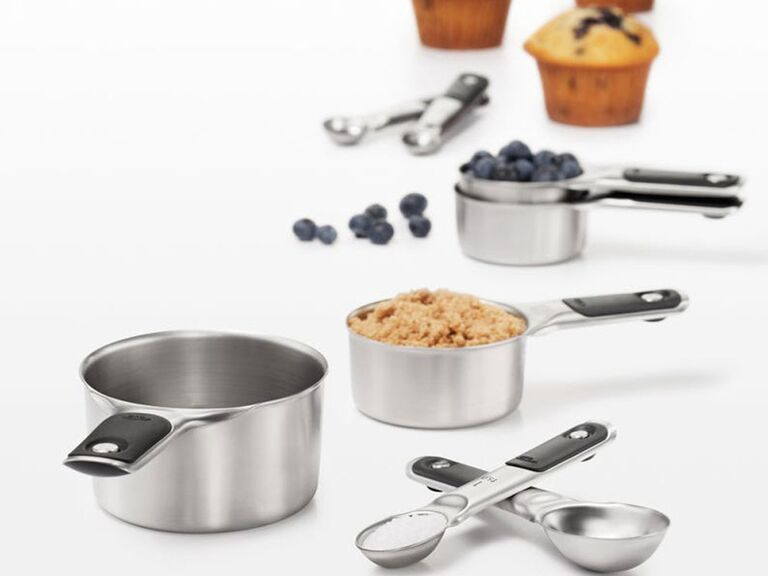 While measuring cups and spoons aren't the most glamorous presents, they're essential for cooking and baking, making them some of the most popular wedding gifts. This eight-piece set will be extremely useful, especially for up-and-coming chefs.
OXO 8-piece stainless steel measuring cup and spoon set, $30, TheKnot.com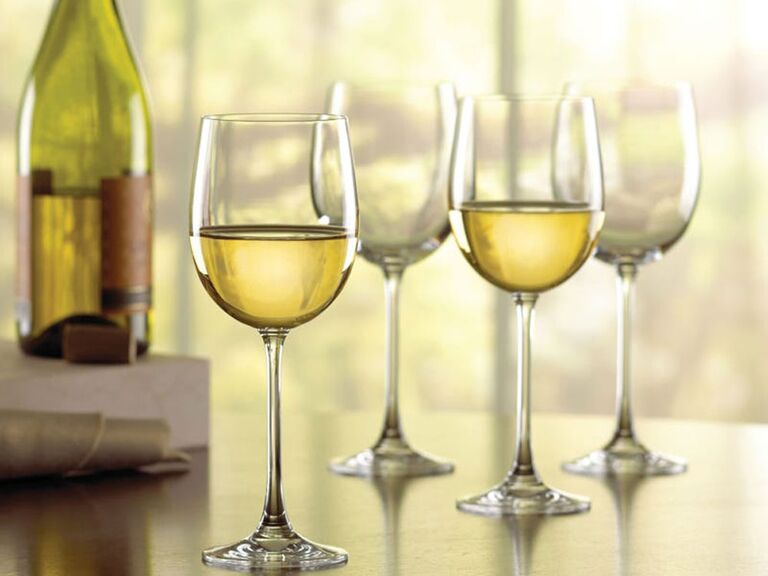 Oenophile or not, nice wine glasses are a must for anyone's home. This pretty set is perfect for those who love hosing dinner parties and holiday celebrations.
Lenox Tuscany Classics chardonnay wine glass set, $50 for 4 glasses, TheKnot.com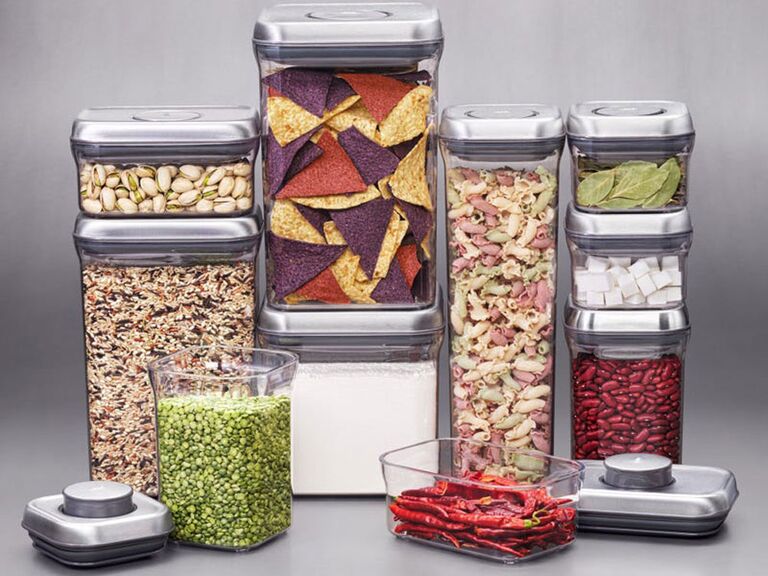 Believe it or not, food storage can be sleek. These steel containers would look great in a modern or industrial kitchen, even if they're not always visible. (Who says the inside of your cabinets have to be boring?)
OXO POP 20-piece food storage set in Steel, $190, TheKnot.com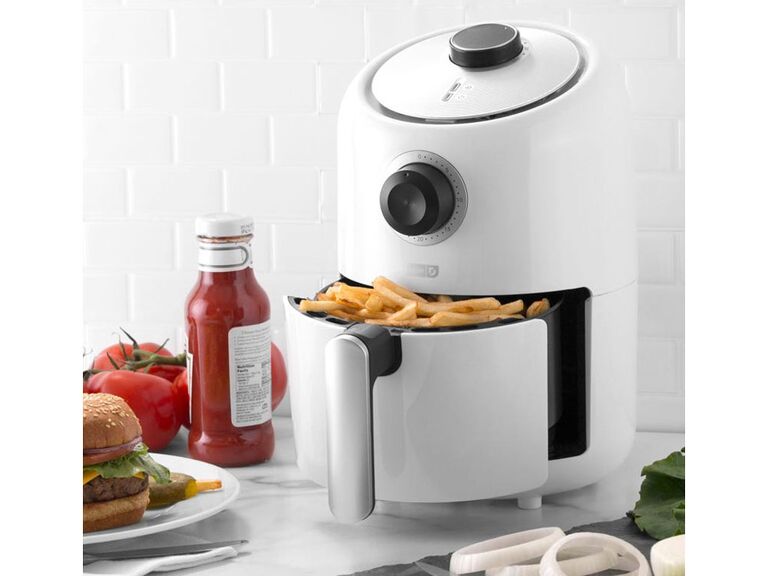 The air fryer is one of the top wedding gifts of 2021. We bet there's someone in your life who constantly raves about their own air fryer, and the obsession is valid. These popular appliances can cook just about anything, from crispy vegetables to homemade donuts. This model is one of the most practical wedding gifts because of its small size. It's ideal for couples with a small living space, or those who don't love the look of cluttered countertops. The variety of colors is an added bonus.
DASH 2 qt. compact air fryer, $55, TheKnot.com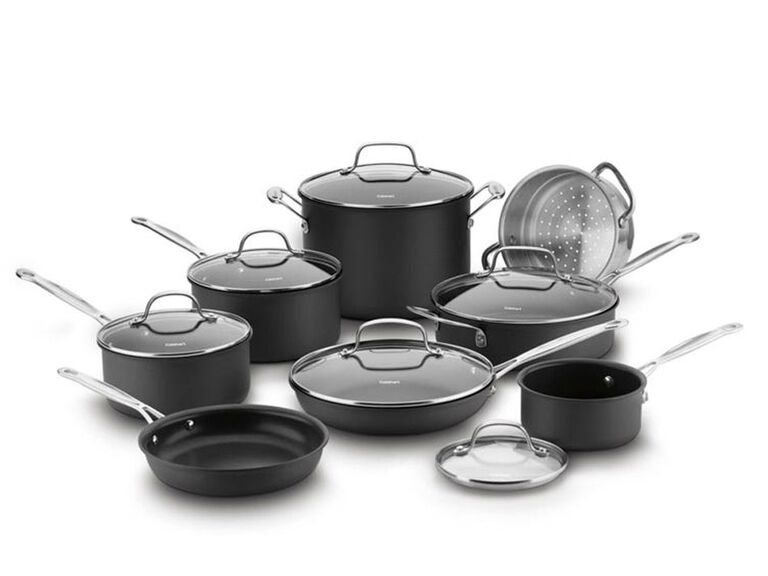 Give the gift of date night at home with a professional set of non-stick cookware. This one from Cuisinart includes 14 aluminum pieces that are stackable and easy to clean.
Cuisinart Chef's Classic 14-piece non-stick hard anodized cookware set, $199, TheKnot.com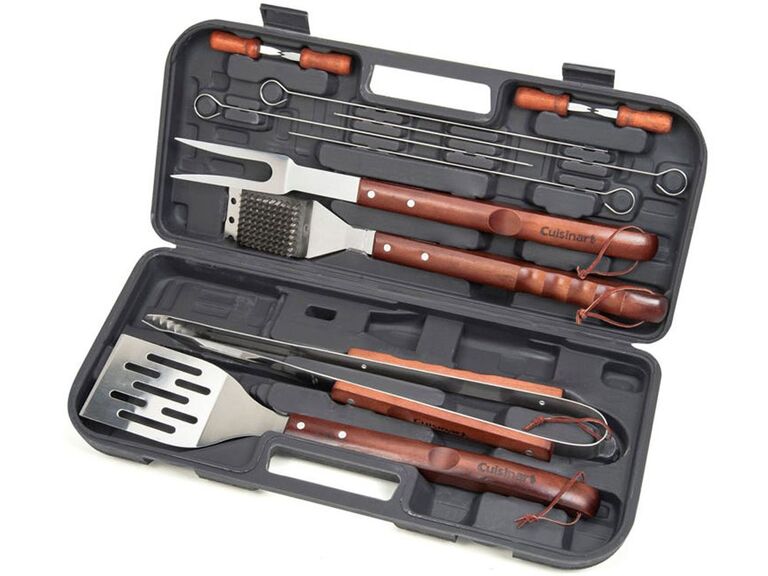 This extensive grill tool set has everything you could ever need for a backyard cookout. The case is also made out of recycled plastic, making it a top wedding gift for eco-conscious couples.
Cuisinart 13-piece grilling tool set, $29, TheKnot.com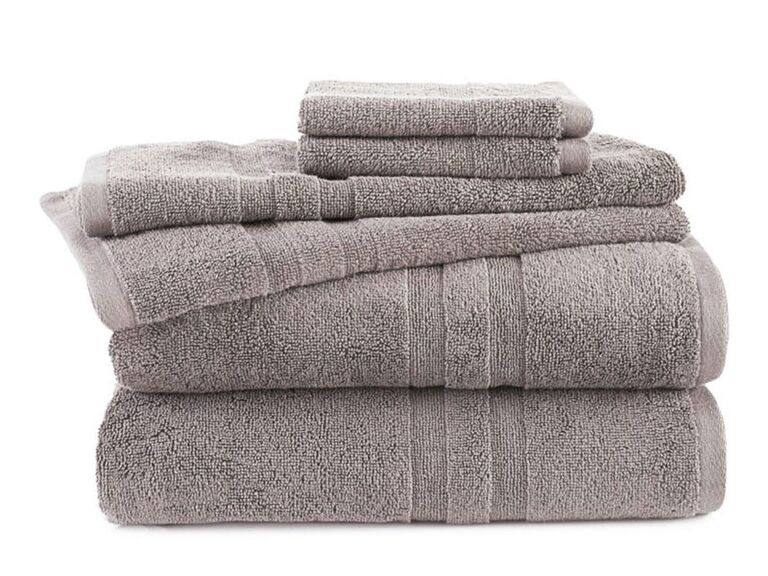 While these towels might look like a normal set, they're actually created with SILVERbac technology. This process integrates silver into the polyester thread, which prevents and eliminates the growth of odor-causing bacteria. This won't wash or wear away in the laundry, and it doesn't affect the feel or performance of the product. TL;DR, this innovative process keeps your linens fresher longer—no wonder it's one of the most popular wedding gifts.
Martex Purity 6-piece bath towel set, $67, TheKnot.com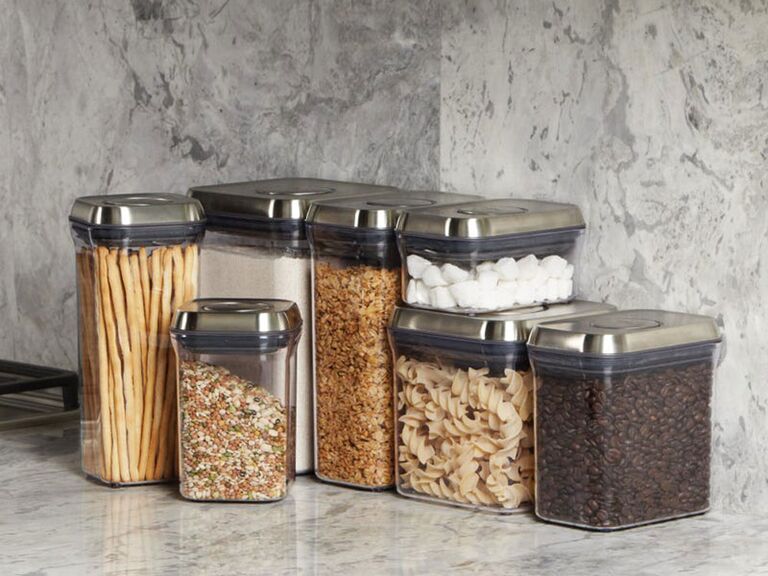 Perhaps a 20-piece storage set is too excessive, especially if you already have a collection started. This smaller set of containers is one of the most practical wedding gift options.
OXO POP 10-piece food storage set in Steel, $100, TheKnot.com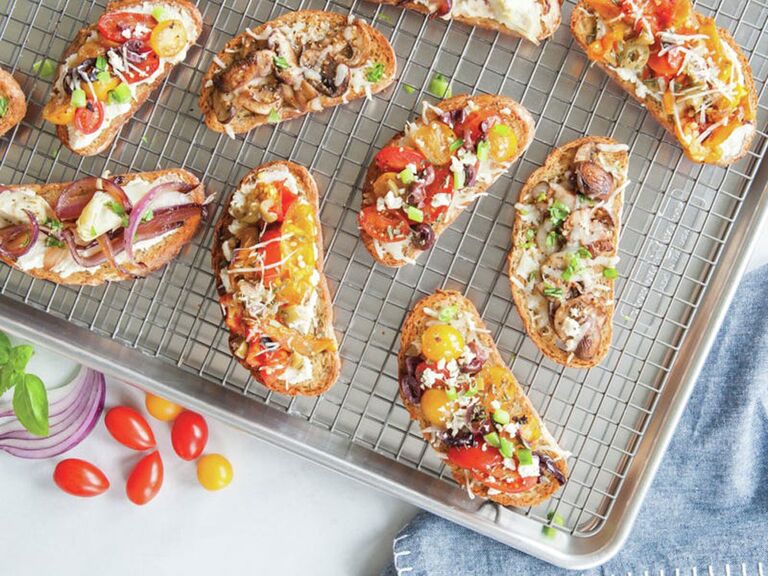 Cooking will be a breeze with this baking sheet and cooling rack. Kitchen tools are always good wedding gifts for couples, but some might already have all the pots and pans they want. A rack set, on the other hand, is something they might not even realize they need.
Nordic Ware Naturals 2-piece baking sheet and rack set, $48, TheKnot.com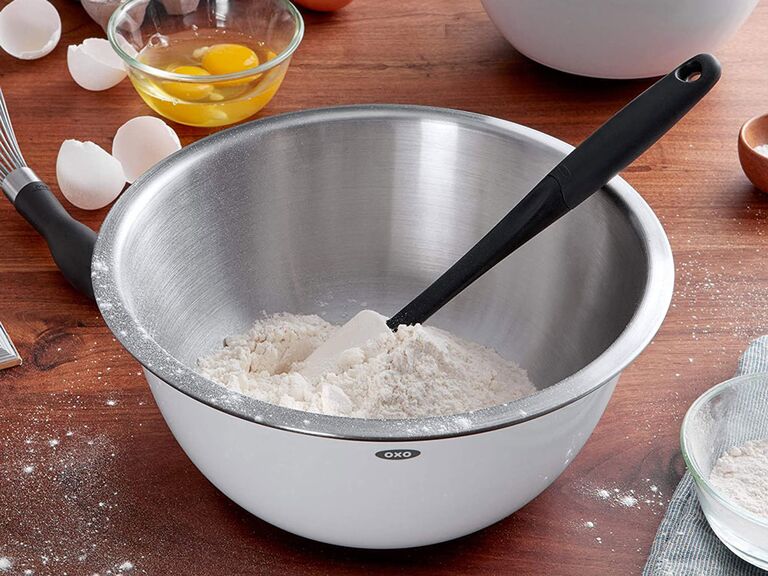 Avoid potential kitchen mishaps with mixing bowls specifically made for multi-taskers. Each bowl in this set has a plastic exterior and non-slip base. (Read: You don't have to worry about a bowl falling out of your grip while you're flipping through a recipe book or stirring another pot.) This sleek design is also dishwasher-safe, making kitchen cleanup so much easier.
OXO Good Grips 3-piece stainless steel mixing bowl set, $60, TheKnot.com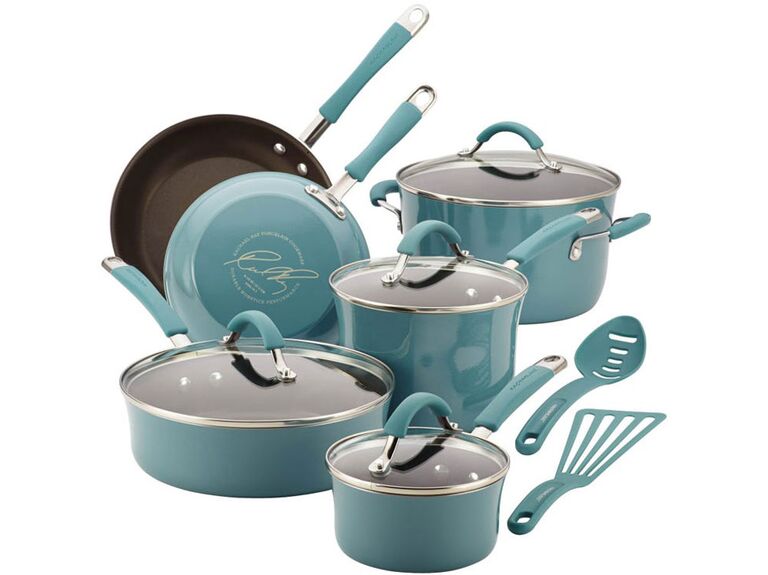 How about cookware in a bold color, like Agave Blue or Lavender Purple? The top wedding gifts of 2021 are all about intentionality. So, if your kitchen is an explosion of color (or you know a couple who loves eclectic pieces), colorful pots and pans are a great wedding gift idea.
Rachael Ray Cucina 12-piece non-stick cookware set, $150, TheKnot.com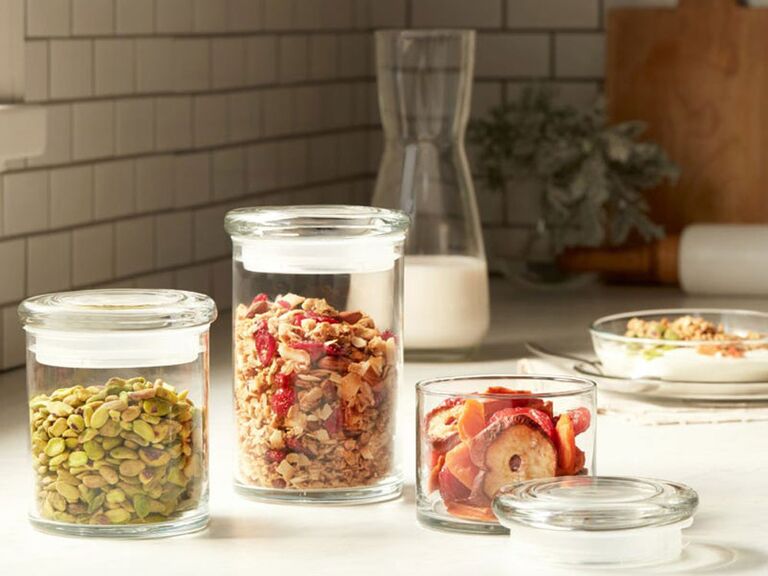 If you're always reaching for sugar or flour, simplify your life by registering for glass storage jars. These colorless containers are great to display on your counters, rather than behind spices and jars in your kitchen cabinets. Your future self will thank you for registering for one of the most practical wedding gifts.
Libbey cylinder 6-piece storage jar set, $27, TheKnot.com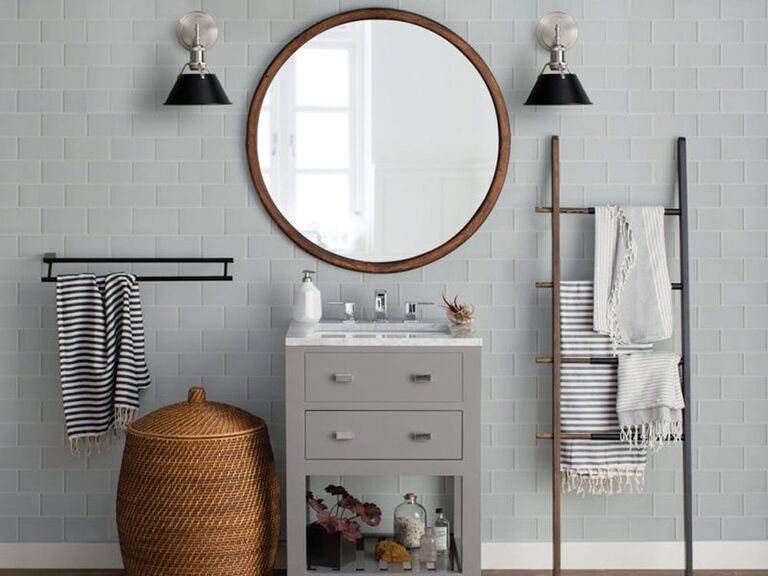 A blanket ladder is a top wedding gift for homebodies. While it's a practical way to store blankets, it can also help make any room feel cozy and inviting. This option comes in three color combinations, and its size can be adjusted depending on the surrounding space.
Umbra Hub 4-bar adjustable blanket ladder, $80, TheKnot.com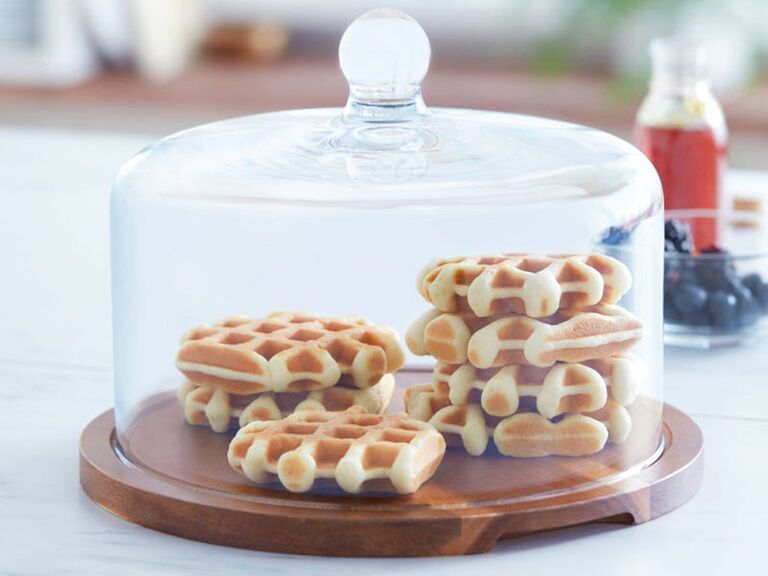 Rounding out our list of most popular wedding gifts is another wood cake dome. Unlike the model above, this wood design doesn't have a stand on the base. Instead, this dome will sit flat on a table or countertop, making it a great wedding registry gift for people who love hosting.
Libbey Acaciawood cake dome with lid, $45, TheKnot.com