11 Must-Have Getting Ready Photos
Don't forget to have your photographer capture these essential behind-the-scenes moments.
Your wedding day begins the moment you start getting ready, and this process always results in some amazing photos, both silly and emotional, you'll be so happy to have. Whether you're toasting to your new adventure or primping for your walk down the aisle, let your photographer know which special moments you want them to capture in advance. Here are our favorite getting-ready snaps you'll want to add to your shot list.
1. Getting-Ready Outfit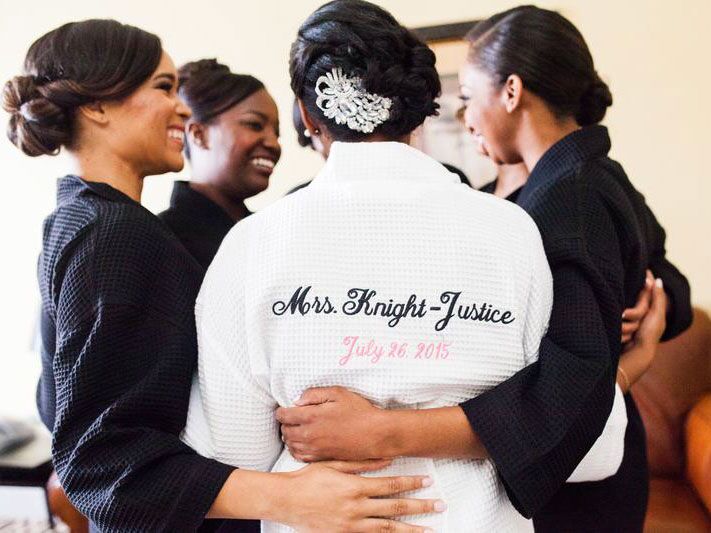 The morning of your wedding signifies the last few hours before you officially get married, and in some cases that means trading your last name for your spouse's or a combo of both. But you don't have to wait until your vows to test drive your new name. A custom bridal robe is the perfect accessory that's both cute and practical. Plan a few moments to pose in your "Mrs." or "bride" robe before you say "I do."
2. Wedding Jewelry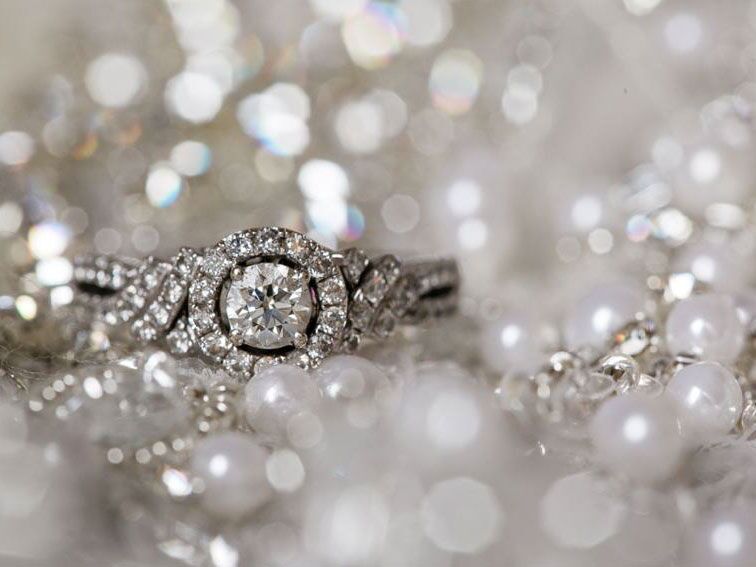 While your photographer is snapping away for your posed portraits, don't forget to have a few close-ups taken of your wedding jewelry, like your engagement and wedding rings, as well
3. Getting Gorgeous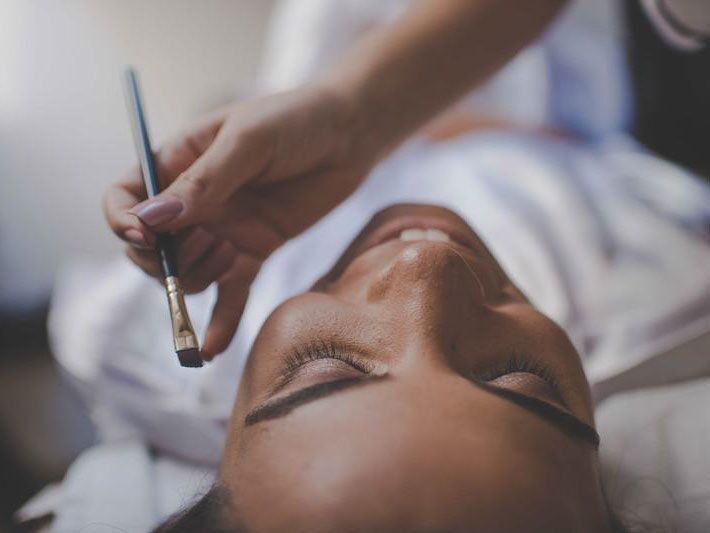 Chronicling your beauty routine is a must when it comes to getting-ready shots.You'll love looking back and seeing you and your bridal party getting glam together.
4. The Love Letter
Many brides and grooms choose to read a letter from their other half the morning of the wedding or while getting ready. It's such an intimate and emotional moment that makes for a beautiful photo shot you can share with one another after the wedding.
5. Wedding Shoes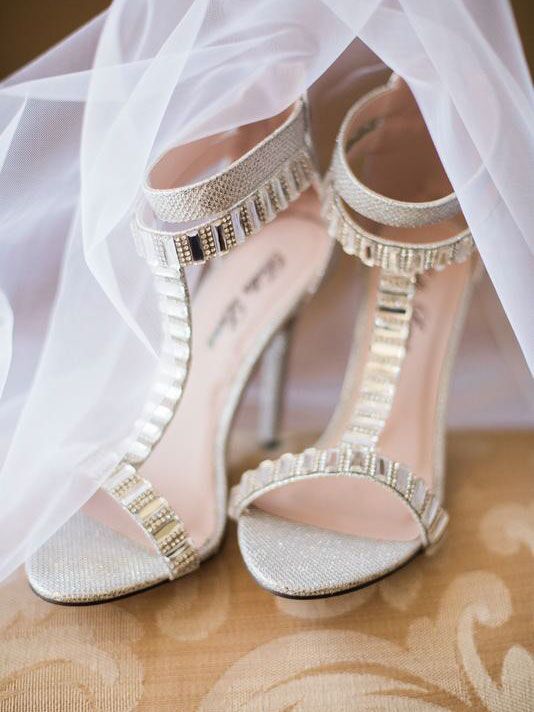 You've probably put just as much thought into your wedding shoes as you did your dress. These gorgeous shoes deserve a moment in the spotlight. Pair your wedding heels with your veil for a pretty still.
6. Little Attendants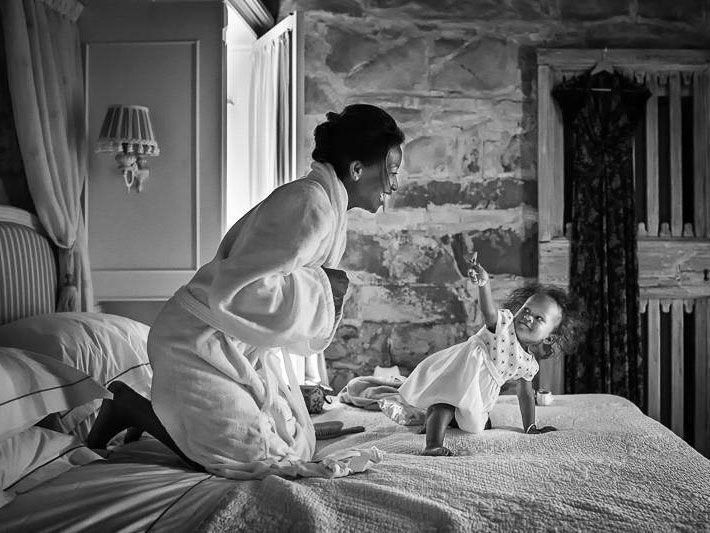 Kids say and do the darndest things! That's why you can always strike photo gold with the little ones in your crew. Have your photographer on hand to capture those cute candids of you and your flower girl or ring bearer while everyone's prepping.
7. The Solo Shot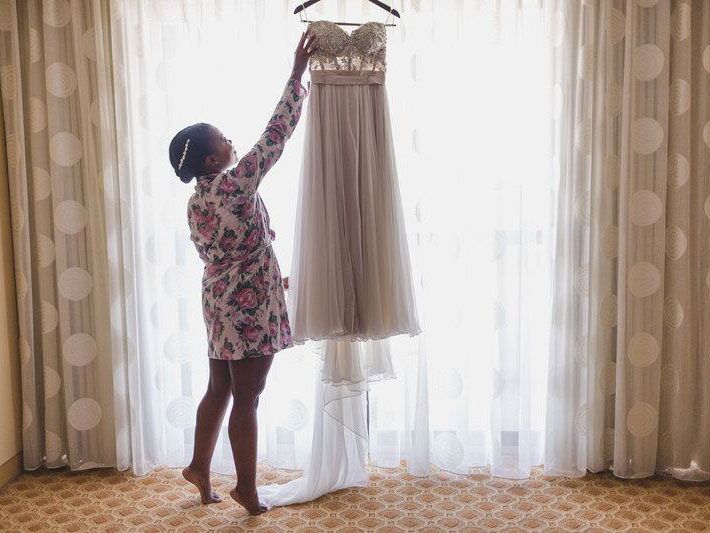 Chances are your bridal suite will be filled with buzzing bridesmaids and other family members, so it might be nearly impossible to get a moment alone. We highly recommend you steal a few minutes away to clear your mind and snap a solo photo with your dress before you finally put it on. You want to commemorate the significance of the moment and the beautiful transformation from almost-bride to bride.
8. Pop, Fizz, Clink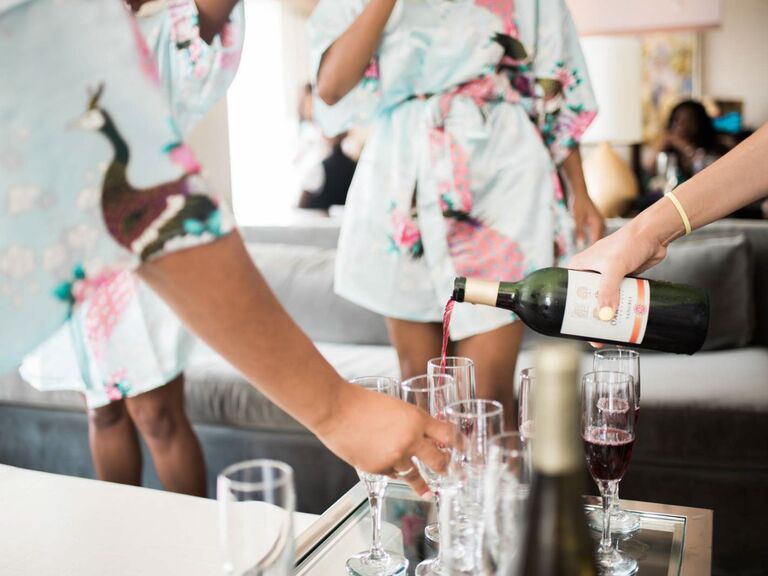 What's a celebration without cocktails? Whether it's flutes of bubbly or your favorite mixed drink, share a toast with your pals in celebration of this amazing day—and make sure your photographer's at the ready.
9. Candid Laughs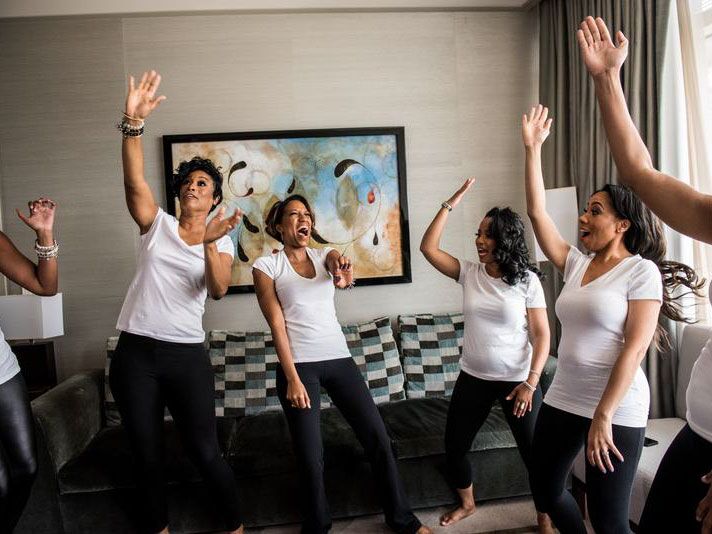 Before your walk down the aisle, some of the best moments will be you and your friends laughing, dancing and having a ball. Get silly and practice your reception dance moves, because you'll love looking back and seeing how much fun everyone had before the wedding.
10. A Moment With Parents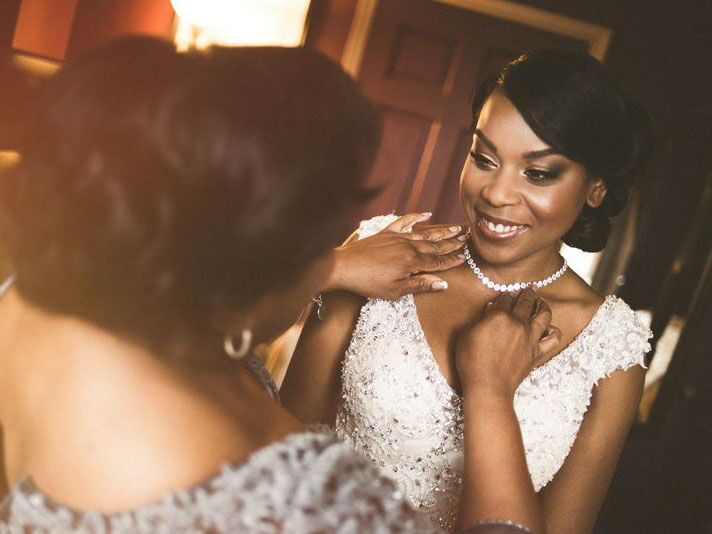 Chances are you'll be filled with emotions, and you'll want the people who know you best within arm's reach. Whether it's your mom, dad or another close relative, take a moment to sneak away for a quiet minute with your special loved one. It will make for beautiful photos you'll cherish for years to come.
11. Bridal Party First Look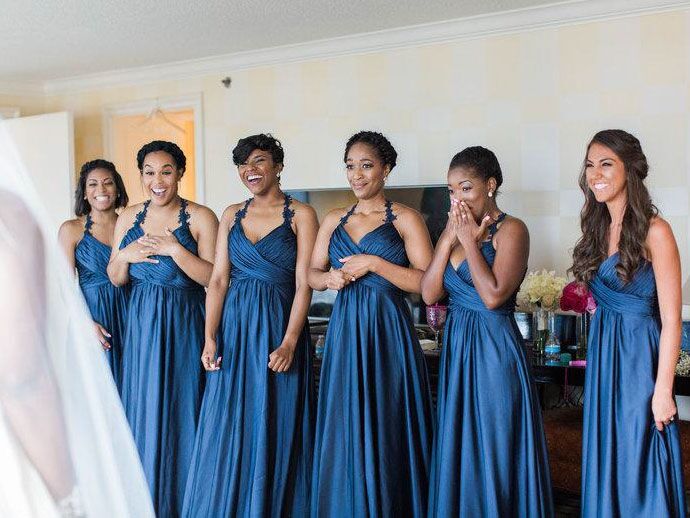 Your partner isn't the only one waiting to see you in your wedding attire. Doing a first look with your wedding party is the perfect opportunity to capture that unforgettable reveal. Make sure your shooter gets their reactions, which will obviously be epic.
​BlackBride.com​ is the longest running, go-to wedding website and resource for multicultural brides. With a unique focus on the stylish, modern bride-to-be and wedding enthusiasts, the site features inspirational content and real love stories, to not only help brides plan their dream wedding, but also provide support for "After the Aisle" to help couples stay married. BlackBride.com also features a Bridal Suite of top-notch, fully vetted wedding vendors from around the country.