24 Bridesmaid Robe Alternatives Your Crew Will Love
They're perfect for gifts and getting-ready photos.
We have included third party products to help you navigate and enjoy life's biggest moments. Purchases made through links on this page may earn us a commission.
When it comes to bridal party gifts and getting-ready photos, it's no secret that we love a good set of bridesmaid robes. But truthfully, there are so many other adorable options out there, we just had to round up a few of our favorites. So whether you want something customizable and cheeky or floral and fashionable, we've found alternatives to bridesmaid robes your party will want to wear again and again.
In this article:
Bridesmaid Flannels
If you're having a rustic fall or winter wedding, cozy matching bridesmaid flannels are one excellent way to go. Here, check out our top picks that your bridesmaids will love to snuggle into.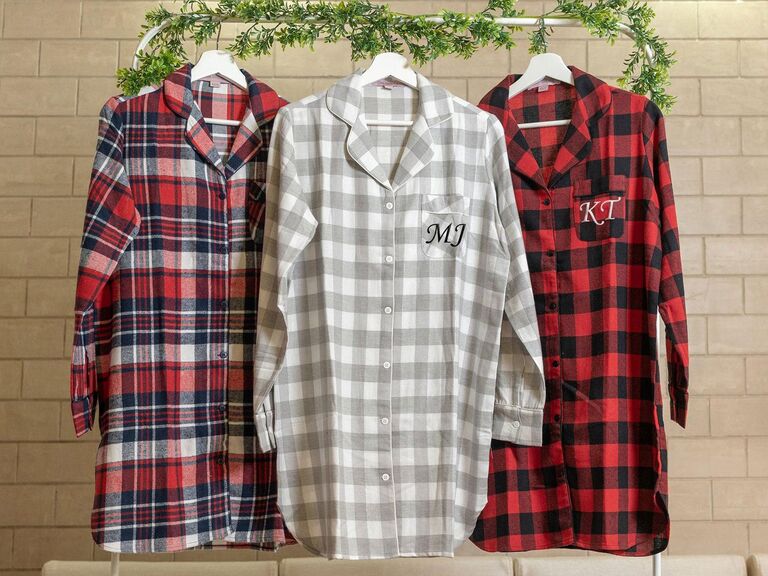 These oversized plaid flannel shirts feature a sweet monogram detail on the front pocket and come in a range of different colors.
Blush Brides Co flannel bridesmaid plaid sleep shirt, from $33, Etsy.com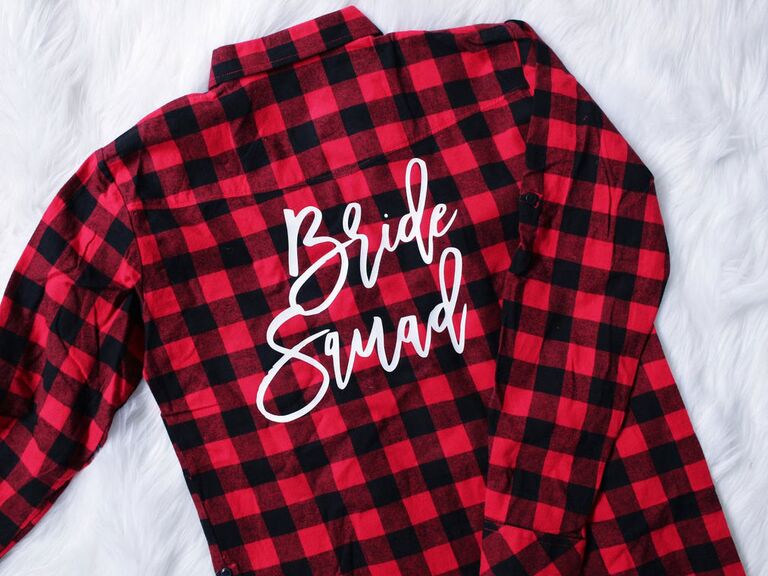 Your crew can pose in style with these coordinating "bride squad" bridesmaid flannels.
Keep Life Simple Design Bride Squad flannel shirt, from $45, Etsy.com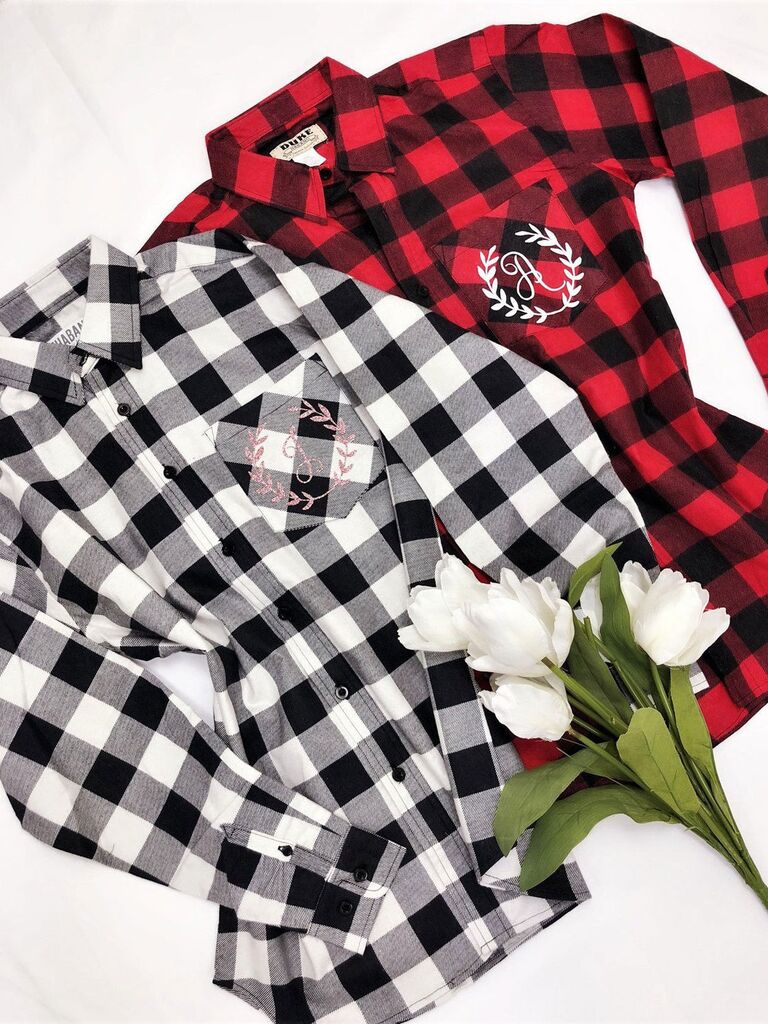 The only thing better than the cute monogram design on these flannel bridesmaid shirts? The fact that this Etsy store sells them in bundles for your whole wedding party!
Totally Brides flannel bridesmaid getting-ready shirt, from $37, Etsy.com
Bridesmaid Button-Down Shirts
Customized bridesmaid button-down shirts are such an easy (but special!) way for you to elevate your getting-ready photos. We've picked some of our favorites that they'll be psyched to wear.
A personalized button-down shirt is playful, comfy and adorable in photos.
The Knot Shop personalized embroidered casual bridesmaid cotton button-down shirt, $27, TheKnotShop.com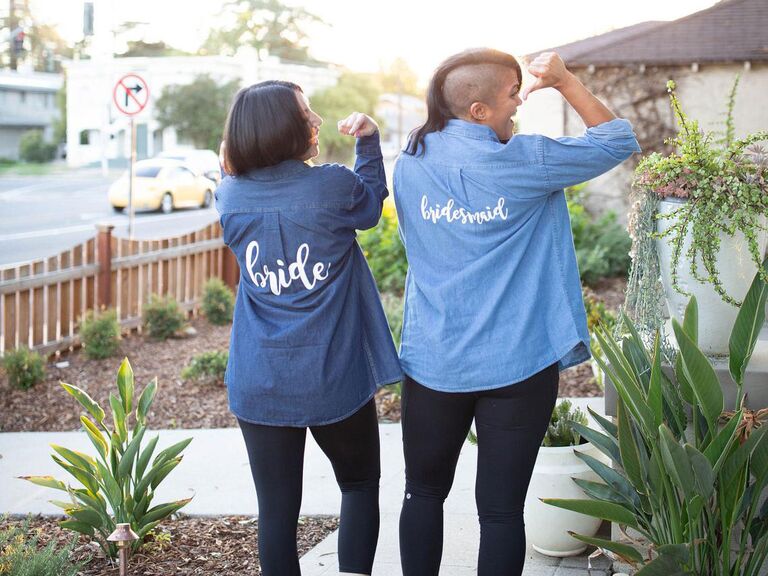 This monogram denim button-down is something that your bridesmaids can layer for the bachelorette party and beyond. Snag one for yourself too!
Keep Life Simple Design bridesmaid gift button-up chambray shirt, from $34, Etsy.com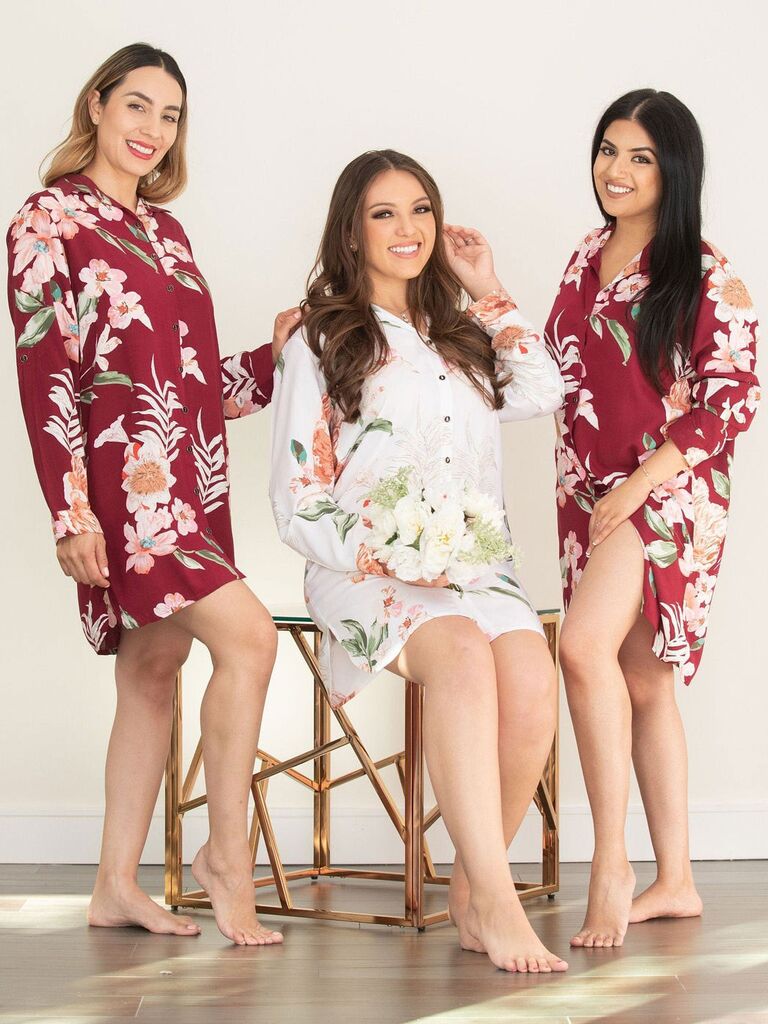 These oversized button-downs will be so easy to change out of once your bridesmaids are ready to put on their wedding day finery.
Totally Brides floral button-down bridesmaid sleep shirt, from $26, Etsy.com
Bridesmaid Pajamas
Everyone can appreciate a pair of comfy and cute PJs—we have a whole roundup of bridesmaid pajamas, after all! There are so many different options for you to consider, from satin shortie sets to bridesmaid nightshirts. Here are just a few options.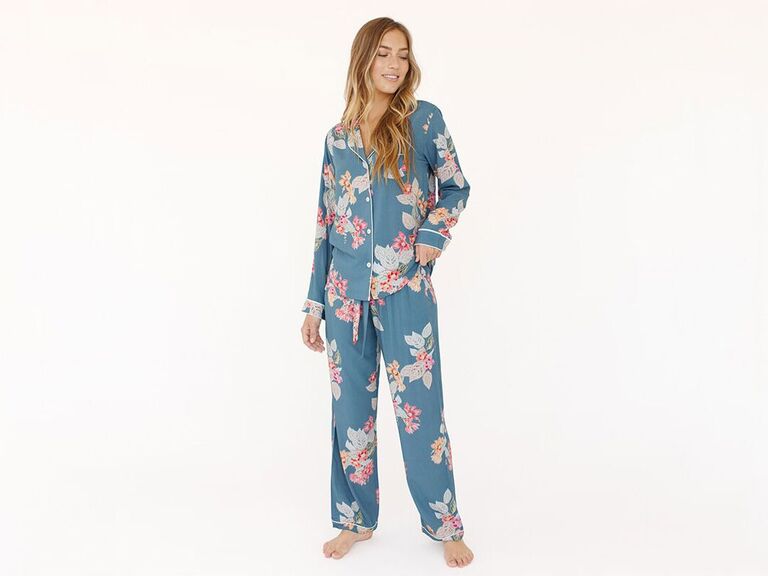 These floral pajamas are perfect for chillier weather, or maybe a sleepover bachelorette party?
Plum Pretty Sugar long sleeve PJ set in Boheme, $76, PlumPrettySugar.com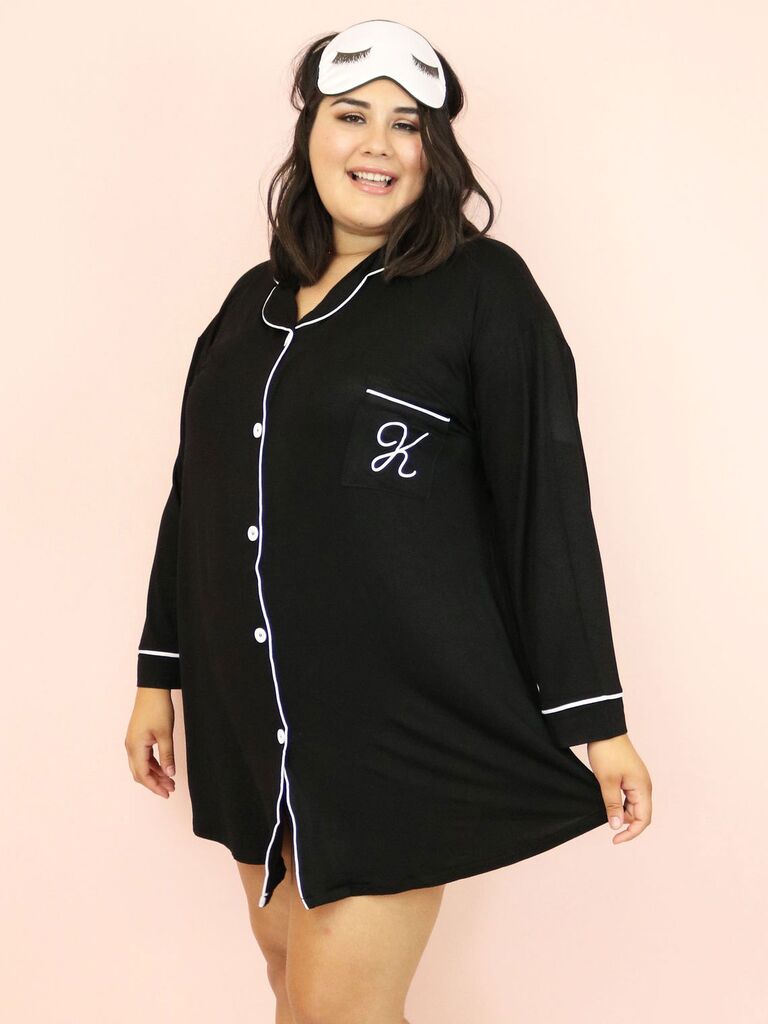 We love the contrast piping on this monogrammed (and ultra-comfy) bridesmaid sleep shirt.
Mod Party plus-size monogram bridesmaid button-down sleep shirt, from $27, Etsy.com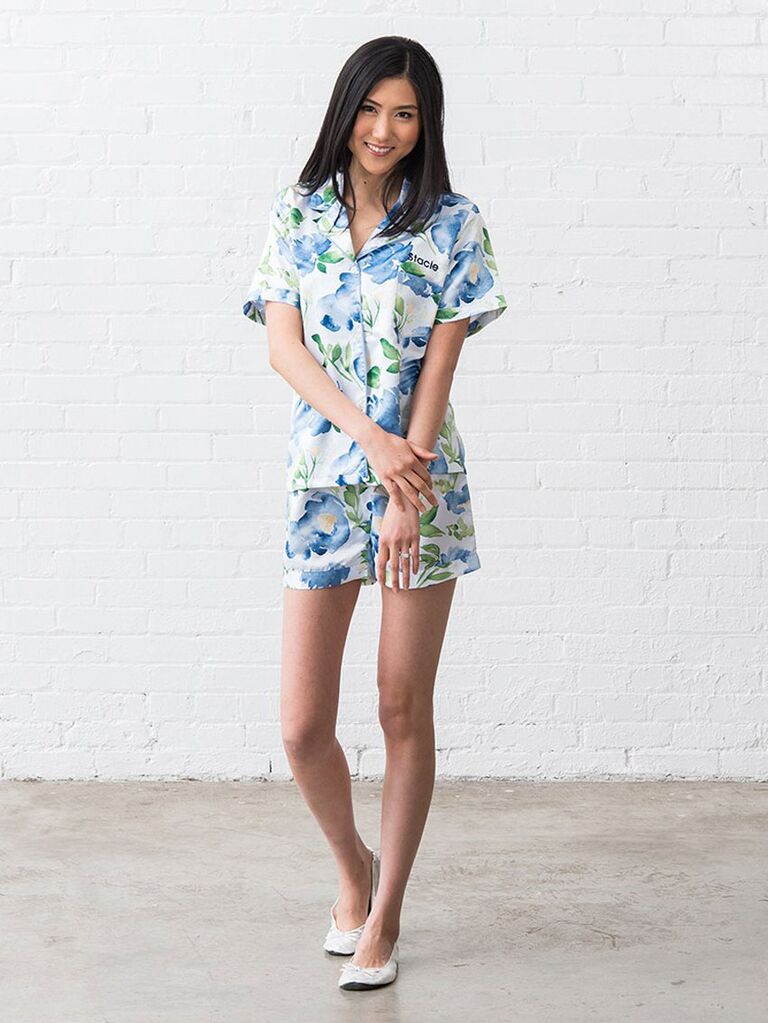 This is a set your bridesmaids will reach for long after the festivities are over.
The Knot Shop personalized satin pajama sleepwear set, $29, TheKnotShop.com
Oversized Bridesmaid T-Shirts
We don't need to tell you how easy it is to relax in an oversized T-shirt. They also make great alternatives to bridesmaid robes, since they're easy to change in and out of without disturbing hair and makeup. There's just so much to love about them.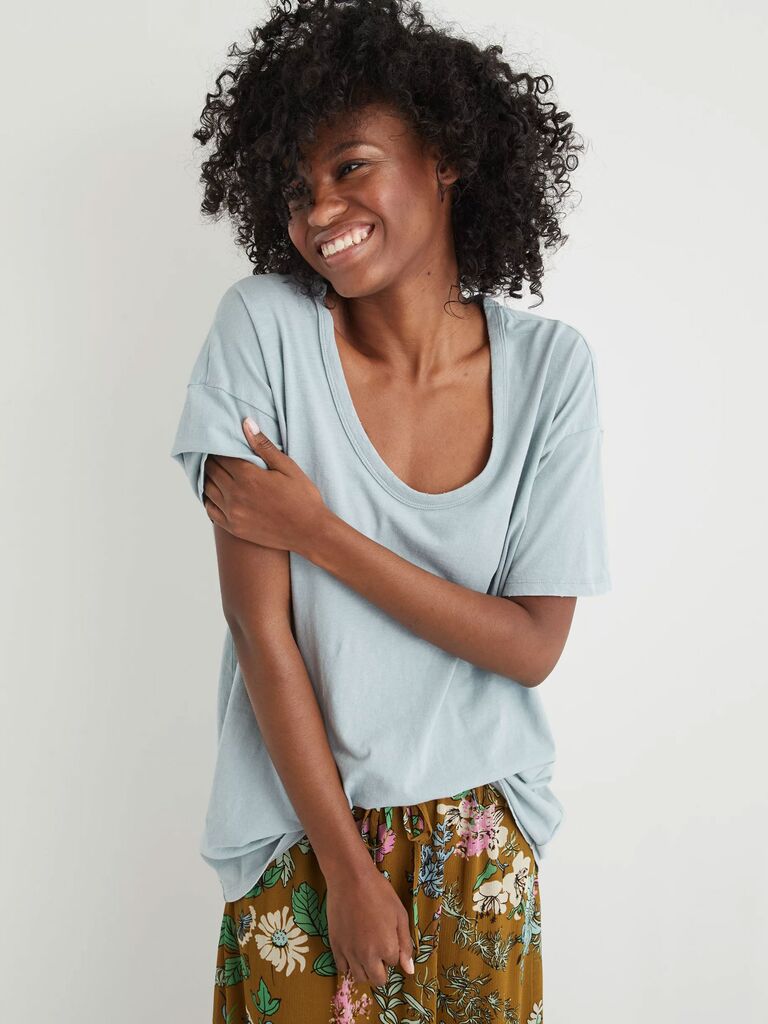 This super-soft T-shirt comes in so many colors, you're sure to find one that fits your wedding's theme. Even better? The wide neckline makes it a breeze to pull on and off!
Aerie boyfriend Voop oversized T-shirt, $25, Aerie.com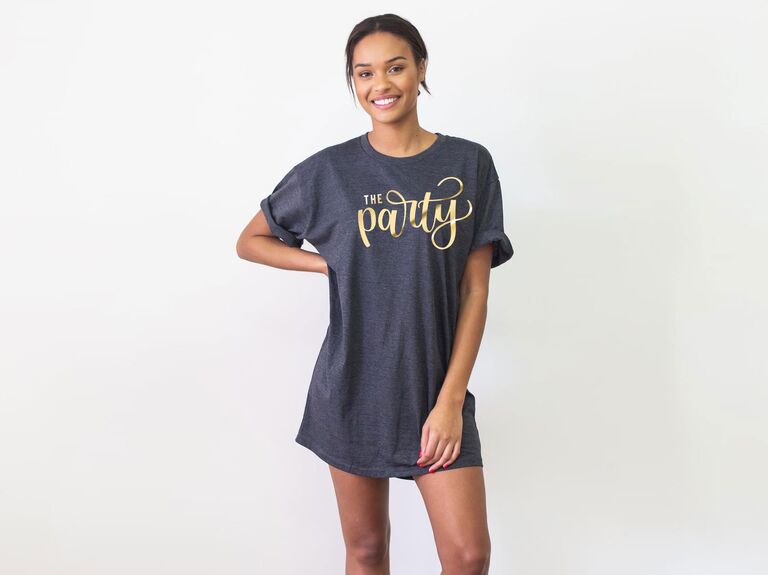 This oversized bridesmaid tee is nearly a dress, so you won't even have to worry about the rest of their outfits.
Rose Gold Rebel The Party bridesmaid pajama shirt, from $19, Etsy.com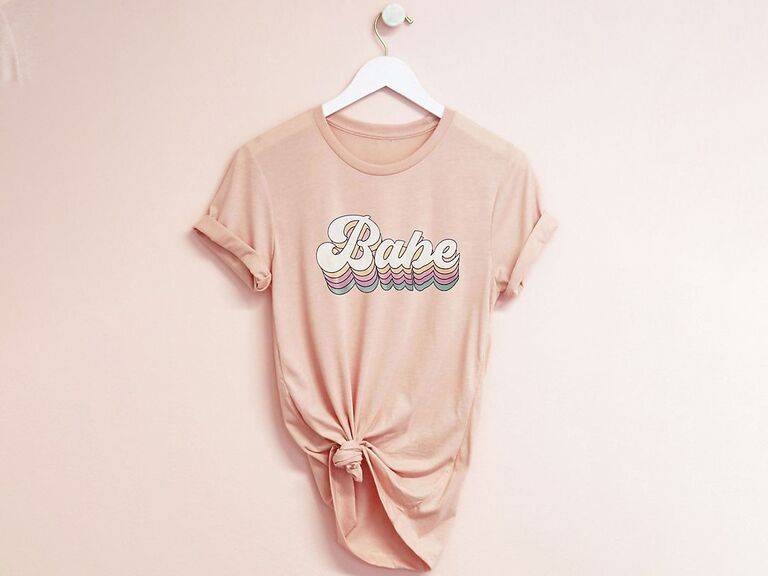 You and your bridesmaids will love how these tees look in photos. How fun is that retro twist? Size up for a baggier fit.
David's Bridal retro-style Bride Babe semi-fitted jersey T-shirt, $25, DavidsBridal.com
Bridesmaid Hoodies and Sweatshirts
Keeping with the cozy theme, why not opt for a customized hoodie or sweatshirt as an alternative to bridesmaid robes? It's an easy way to show your party you appreciate them, all while giving them something they'll reach for whenever they get cold postwedding.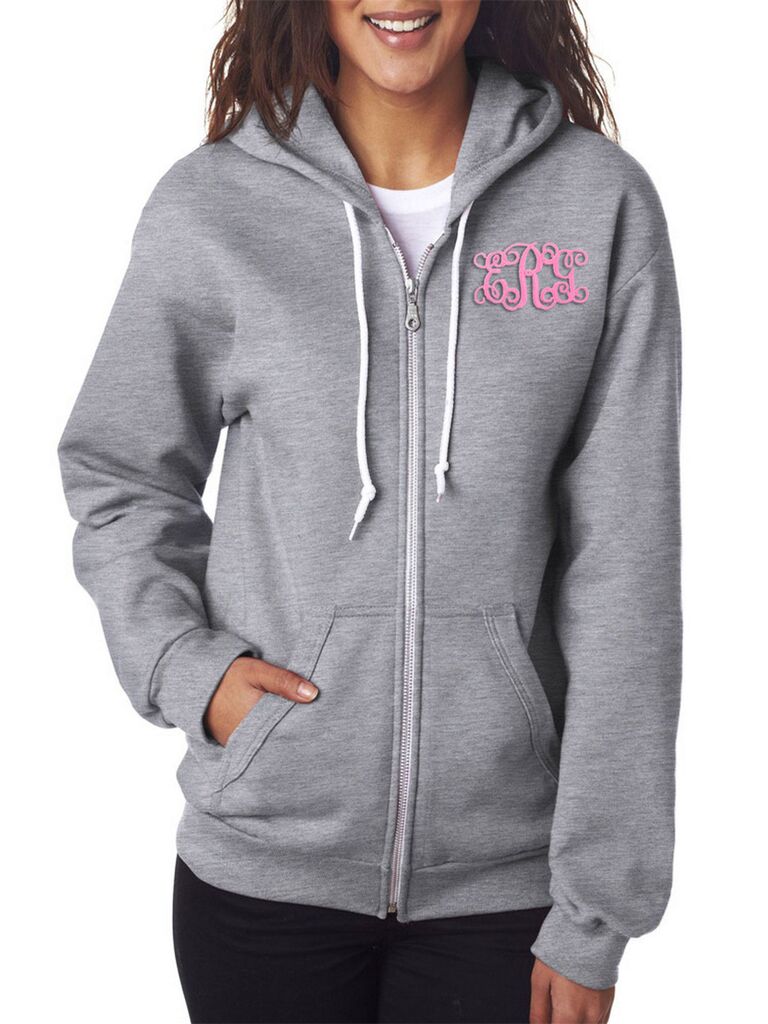 Perfect for winter weddings, a stylish oversized bridesmaid hoodie will look playful and feel cozy.
ISellTShirts monogram zip hooded cotton fleece jacket, $33, Etsy.com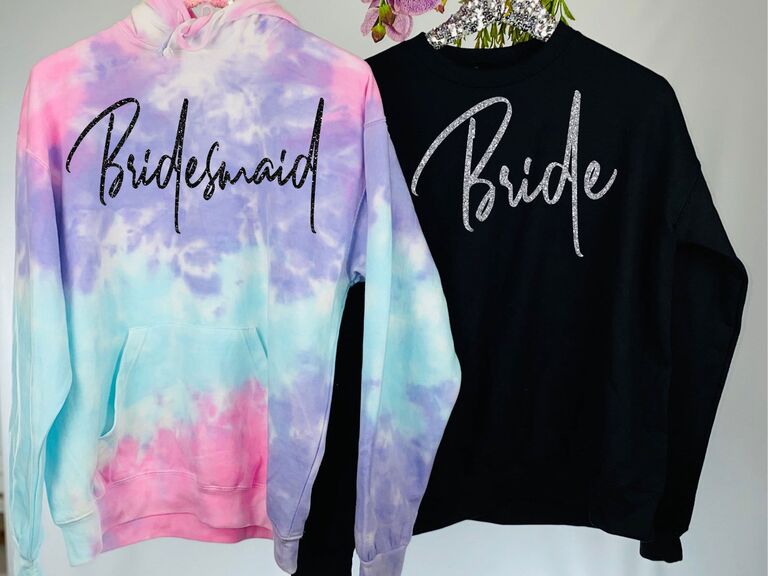 Your party will appreciate this on-trend addition to their loungewear wardrobes.
Bells and Balloons tie-dye bridesmaid hoodie gift, from $19, Etsy.com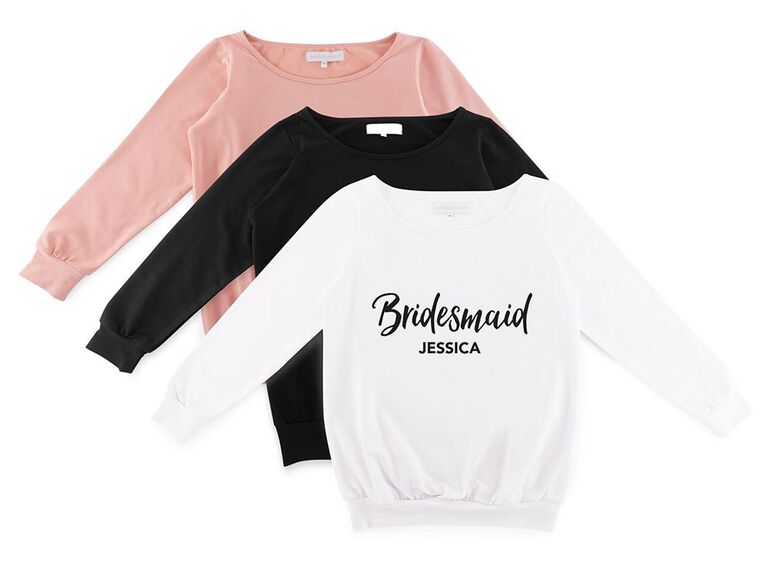 A customized bridesmaid sweatshirt is perfect for the person who wants something to cuddle up in. The wide, oversized neckline is an added bonus for getting ready.
The Knot Shop personalized bridal party wedding sweatshirt in Bridesmaid, $22, TheKnotShop.com
Bridesmaid Sweatpants and Leggings
Mix comfort with coordination by having your party wear matching bridesmaid sweatpants and leggings. They'll thank you for it.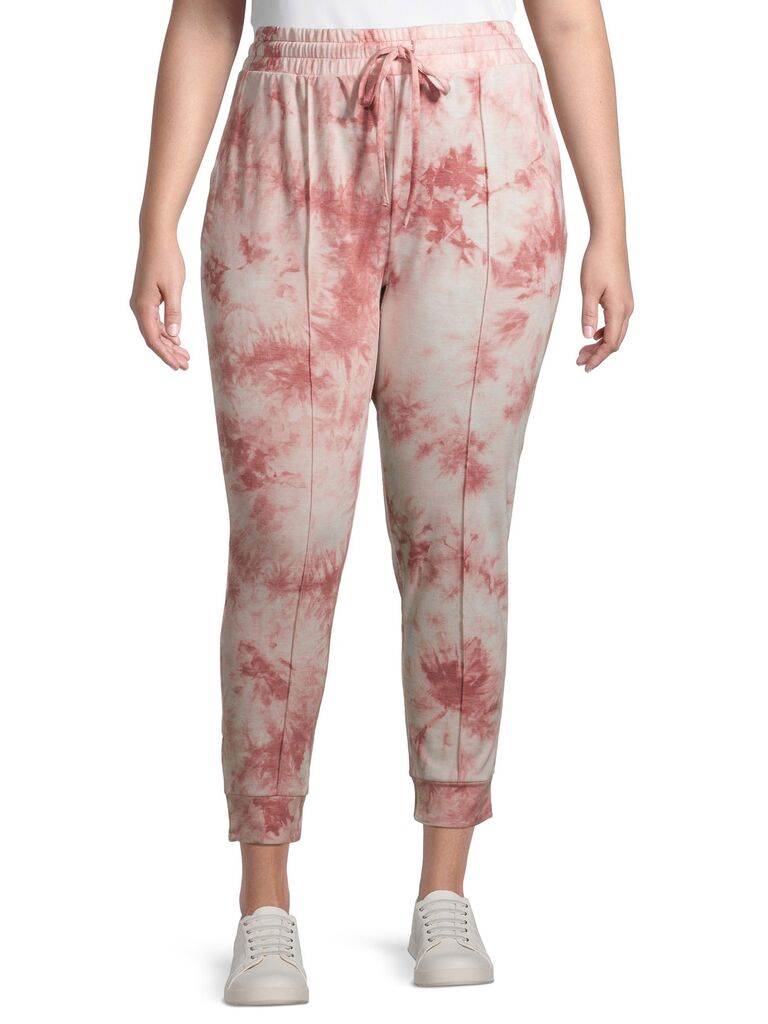 Matching sweats are photogenic and fashion-forward, and we can't get enough of this tie-dye print.
Como Blu plus-size athleisure tie-dye joggers, $15, Walmart.com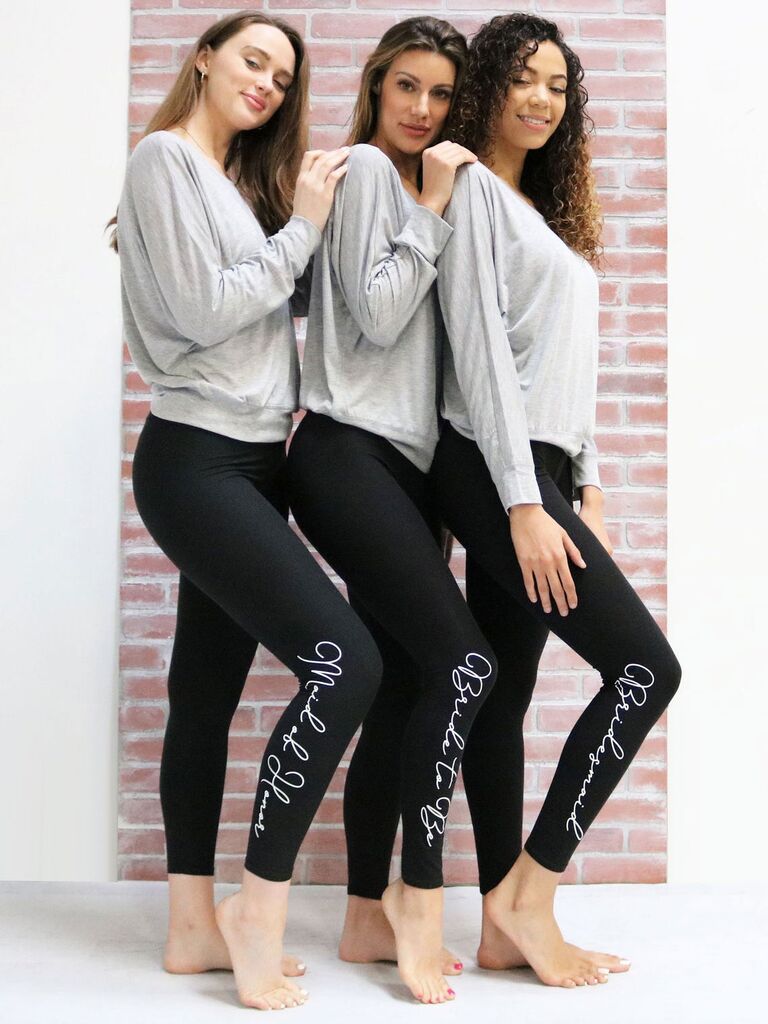 These customized bridesmaid leggings can be worn with pretty much any top, and your party will still look cool and put-together.
Mod Party bride and bridesmaid leggings, from $20, Etsy.com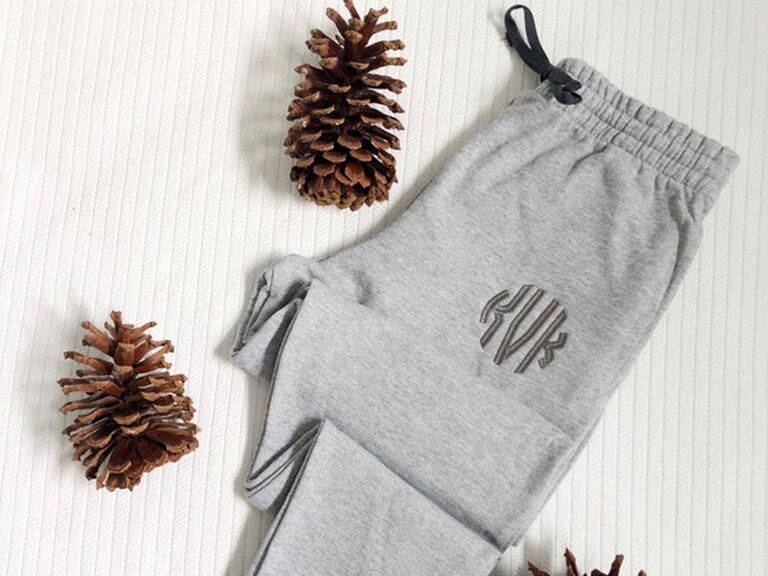 The subtle monogram detail on these sweatpants gives them a special touch. Meanwhile, the fleece lining makes them so cozy, your bridesmaids may never want to take them off.
SEmbroideredBoutique monogrammed lounge sweatpants, $27, Etsy.com
Bridesmaid Shorts and Boxers
Bridesmaid shorts and boxers are great for lounging on the morning of the wedding with a glass of something bubbly in hand. These comfy alternatives are some of our favorite getting-ready outfits that aren't robes.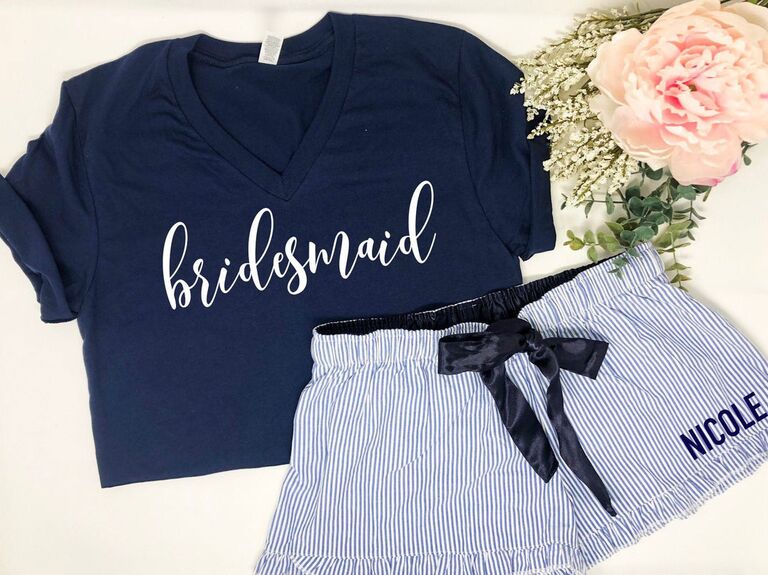 We love these classic striped bridesmaid shorts on their own or paired with the matching V-neck tee.
Up2ournecksinfabric personalized bridesmaid gift, $29 for the shorts or $57 for the full set, Etsy.com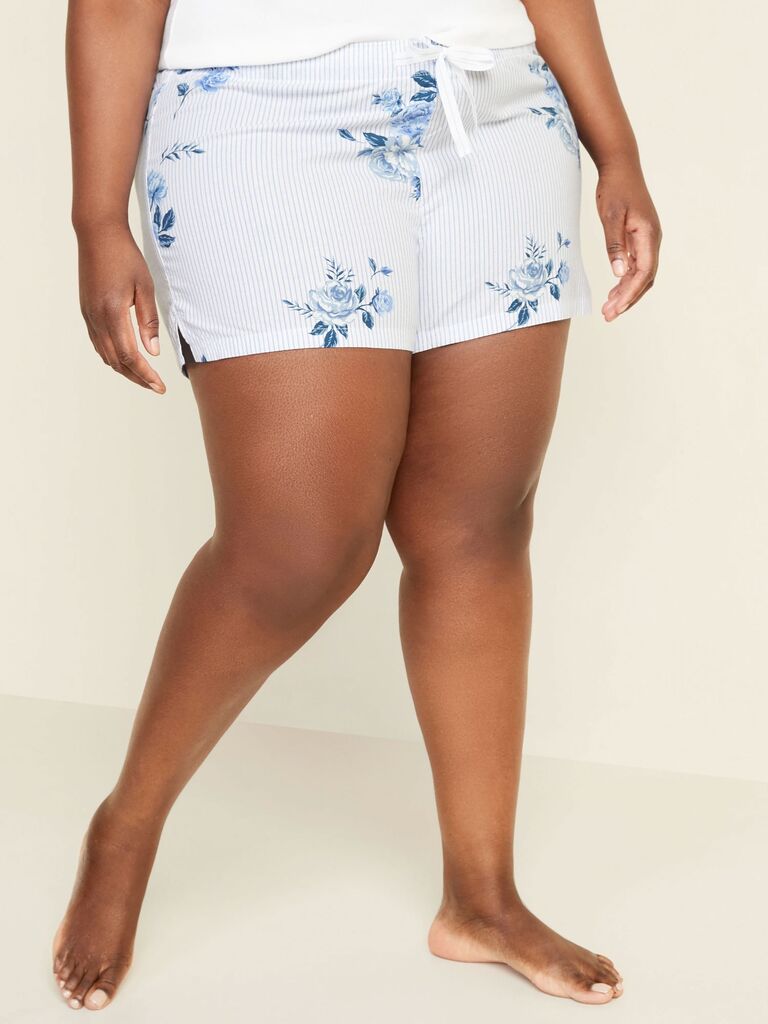 Any shorts in a cute print will be a hit and look fabulous in photos (your friends can pair them with matching plain tees).
Old Navy printed plus-size poplin pajama shorts, $16, OldNavy.com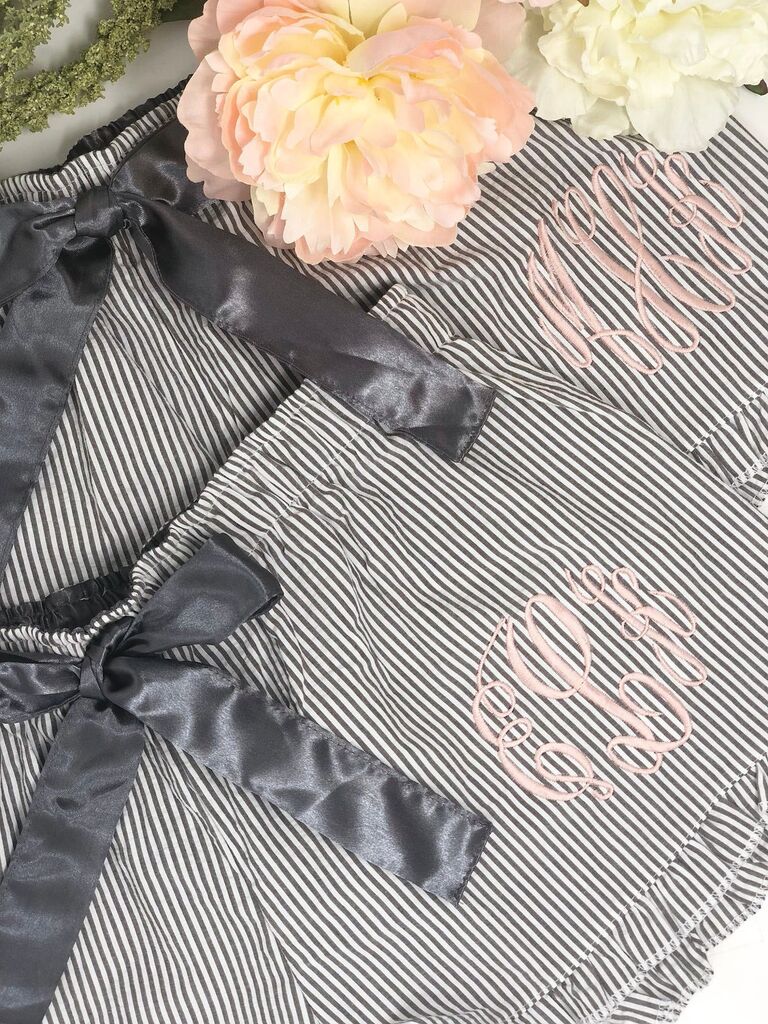 Your crew will adore that these ruffled boxer shorts are personalized and comfortable.
Lovey Dovey Designs by Us monogrammed bridesmaid boxer shorts, from $18, Etsy.com
Bridesmaid Rompers and Jumpsuits
Rompers and jumpsuits are effortlessly stylish, which is why they're becoming more and more popular alternatives to bridesmaid robes. These are just a taste of what's out there—check out our bridesmaid romper roundup for even more fresh ideas.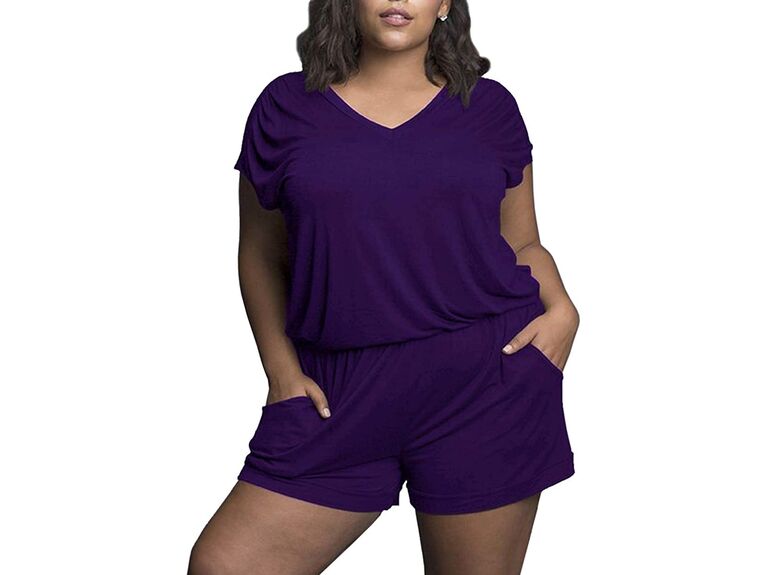 This plus-size romper comes in a few different styles, including with full-length pants or without sleeves.
Yskkt plus-size casual romper, from $19, Amazon.com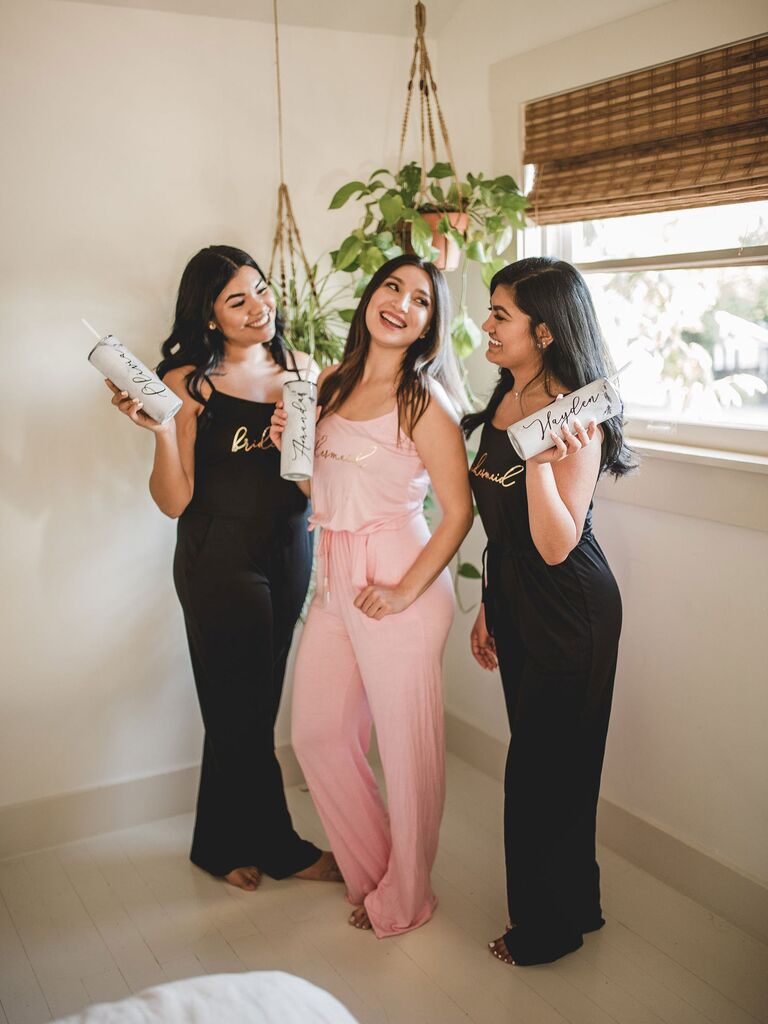 Your bridal party is sure to appreciate these soft romper-style pajamas that are available in a whole host of colors.
Keep Life Simple Design bridesmaid jumpsuit, $57, Etsy.com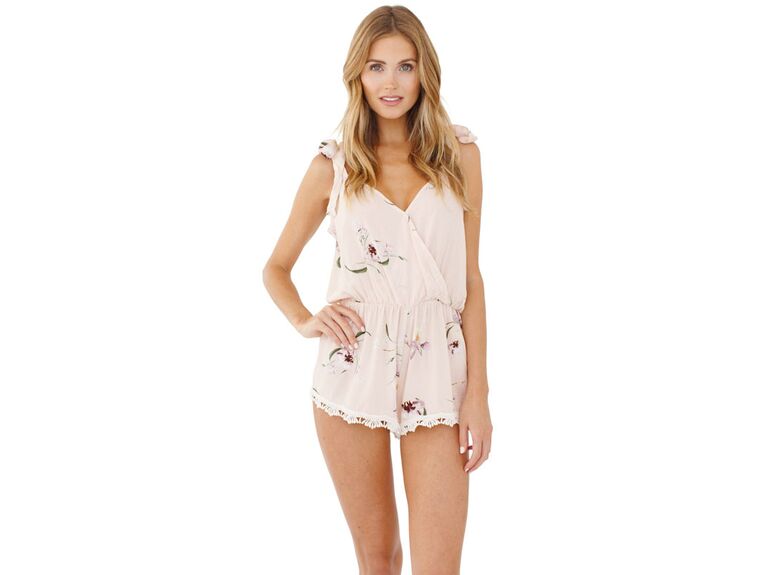 This pretty floral romper can also work as a coverup for the pool or beach, giving your bridesmaids so many ways to wear it before or after the wedding.
Plum Pretty Sugar Yorelight romper in Peony Sea, $49, PlumPrettySugar.com