How to Start Your Wedding Dress Search
Expert advice straight from the pros.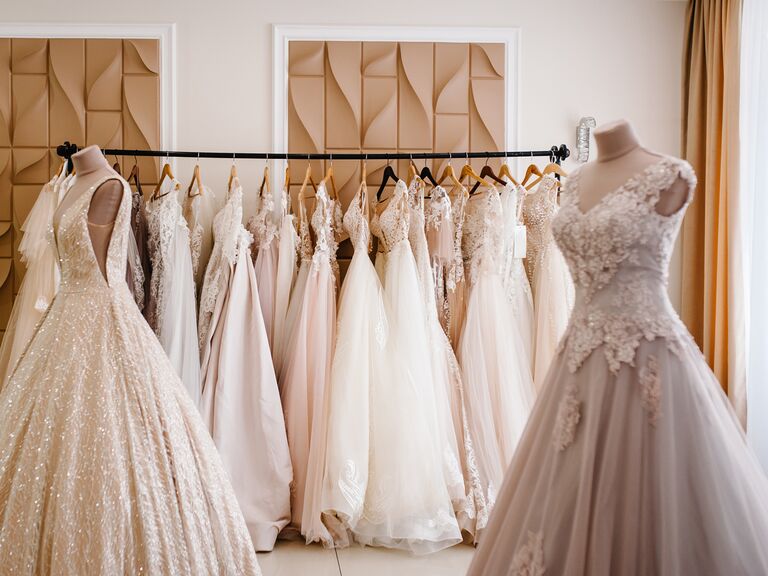 Shutterstock
If you're in the throes of wedding planning, you're likely familiar with all of the choices you have to make. From guest lists to stationery to venues to food, there are many options—and your wedding outfit is no exception. If you're not sure where to begin the wedding dress search or you're overwhelmed by all of the wedding dress styles, not to worry. We tapped experts in the wedding gown industry to get their advice on the matter. Read on to learn the best ways to start your wedding dress search.
1. Establish Your Budget
As with most wedding decisions, it's best to create a budget for your wedding outfit before you seriously start your wedding dress search. Designer Steven Birnbaum says knowing your budget will save you any potential stress (or heartbreak) down the line. "There is nothing more frustrating than falling in love with a gown that is way beyond what you can afford," he says. If you end up finding a wedding dress that's over budget, work with a designer or a bridal consultant to find a similar style that's within your price range.
2. Browse Online
Looking for wedding dress inspiration? Turn to the internet—Pinterest, Instagram, bridal salon websites or online galleries—to get an idea of what you like (and what you don't like), says Addie Reese, senior consultant at Mira Couture in Chicago. "While photos of dresses can be quite different from seeing the dresses in person, at least the bride will have an idea of details or necklines that catch her eye."
3. Don't Limit Yourself to White
Here at The Knot, we believe your wedding should reflect your unique personality. So if wearing white doesn't sound appealing to you, look into colorful options instead. If you're going for a more romantic look, consider a blush or pastel-colored wedding gown. Or rock a bright, bold color if you're hoping to make a statement on your wedding day. Toss the rulebook and wear whatever makes you feel confident and happy—it's your day, after all.
4. Prioritize What's Important to You
If you're clueless about the wedding dress style that's right for you, not to worry. Rather than focusing on the silhouette, Birnbaum suggests compiling a list of wedding day details that matter the most to you. "Some wedding gowns can be very heavy, and certain styles might restrict your movement," he says. "If dancing the night away is important to you, keep this in mind." (Read: if you love to get down on the dance floor, a beaded, skin-tight, mermaid dress might not be the best option for you.)
5. Think About Your Personal Style
If you have absolutely no idea where to begin your wedding dress search, start by thinking about what you already like to wear. What do you feel your best in? If it's your little black dress, then a form-fitting silhouette like a mermaid, trumpet or sheath might work the best best for you. If it's your favorite pair of jeans and a classic white tee, maybe a looser A-line gown is a better fit. While your wedding day is the perfect opportunity to dress up more than usual, you can't go wrong sticking to things that make you feel confident and happy. "Your wedding dress should reflect your personal style and taste," Reese says. "Your partner is marrying you for who you are, so be yourself."
6. Look to Your Venue for Inspiration
Your venue is an excellent place to look at for some wedding day outfit inspo. For instance, if you're having a laid-back beach ceremony, something light and flowy (like an A-line, slip or sheath) might work best. Alternatively, an elegant ballroom wedding might lend itself more to a glamorous ball gown or a dramatic mermaid dress. However, Birnbaum says that it's best not to get too wrapped up in your venue. "This is your day, and you can feel free to do whatever you want," he says. "There is nothing crazy about a beautiful ball gown on the beach as long as the styling and fabrication work."
7. Think Outside the Dress
Not much of a dress person? Not a problem. There are tons of options when it comes to dress alternatives. Achieve an ultra-formal wedding day look by donning a pantsuit in place of a traditional dress (coincidentally, pants are a major 2020 wedding dress trend we've predicted). If you want to show off your playful personality, consider a wedding jumpsuit or romper.
8. Work With an Expert
Whether you know exactly what outfit you want or you have absolutely no idea, we'll always recommend talking to a pro before you buy your wedding dress. They're experts in the industry, and they can use their knowledge to help you find your dream wedding dress. "Brides come in entirely clueless as to what they want more times than not—and that's OK," Reese says. "That's what bridal consultants are there for." Talk to a bridal consultant or a designer about your style, your preferences, your nuptials (and your budget of course), and they'll help you find the perfect wedding day outfit.
9. Keep Your Shopping Squad Small
Wedding dress shopping can be confusing enough as it is, so bringing a bunch of people means bringing a bunch of other opinions to juggle. In fact, Reese says bringing too many people to your first appointment is a common wedding dress shopping mistake. "When you start searching and start shopping, don't bring an entourage," Reese says. "First time shopping can be overwhelming, and adding a ton of people into the mix."
Birnbaum agrees, suggesting that brides consider going to their first bridal appointment alone. That way, you'll get a feel of what you like rather than what your crew likes.