What Movies and TV Shows Get Wrong About Wedding Dress Shopping
Like that Bridesmaids scene.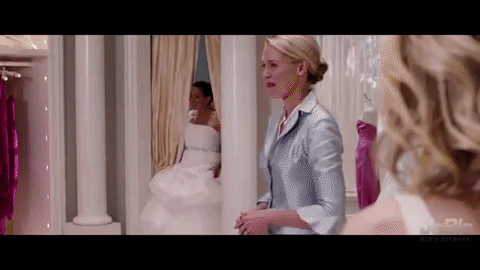 giphy.com
If you're getting ready to buy your wedding dress, you've probably started thinking about booking a few bridal salon appointments. To help to-be-weds with what to expect while wedding dress shopping, we've debunked some common myths often shown in movies and tv shows.
While on-screen couples can serve up inspiration, it's important to remember that they're not real. (Read: they often depict certain myths that aren't true for dramatic effect.) For example, almost every wedding dress shopping scene involves a bride looking for a white gown. But the truth is, you can wear whatever you want to your wedding. We've rounded up all of the things movies and tv shows get wrong about bridal salon appointments so you know exactly what to expect while wedding dress shopping.
You Don't Have to Wear White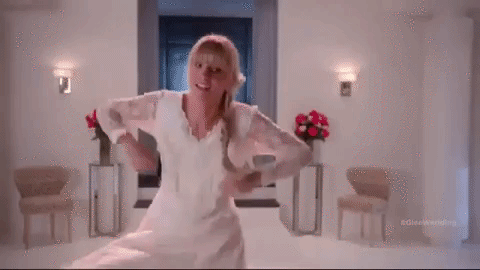 While Brittany and Santana chose to wear white for their adorable barn wedding, other to-be-weds don't need to. Pick a color that makes you feel happy and confident. "A bride's wedding attire should be a reflection of their personality and personal taste," says Addie Reese, senior consultant at Mira Couture in Chicago. "If that means a hot pink ball gown, then so be it!"
You Don't Have to Get a Dress Either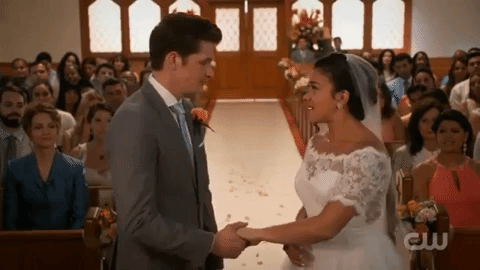 Jane looked absolutely stunning in her long wedding gown, but to-be-weds don't need to wear a dress. Your wedding day outfit should reflect your unique style and personality. Luckily, bridal salons offer many different options so you can find the right fit for you, says Lisa Fuhrman, Kleinfeld bridal consultant. "Pant suits, rompers, jumpsuits, cropped tops, short dresses, feather and fur may be part of the wedding outfit—there are no rules."
You Should Get Out of the Dress If You Feel Ill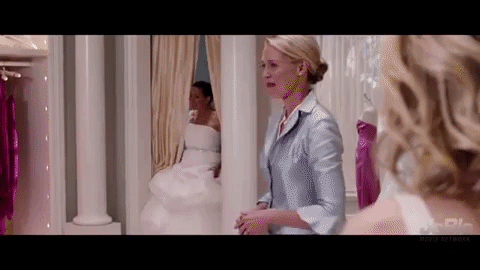 In an unforgettable wedding dress shopping scene, Lillian and her friends all fall severely ill with food poisoning during the wedding dress appointment. The best thing to do is to tell your consultant and try to get out of the dress ASAP so that you can take care of yourself. While Bridesmaids takes feeling ill to the extreme, Reese says many brides feel overwhelmed or discouraged while wedding dress shopping.
"Take it easy! Drink some water and make time for lunch," she says. "Some brides feel the need to cram eight appointments in one day, which is unnecessary." She advises scheduling two or three appointments a day.
The Dress Doesn't Have to Up the Ante of The Wedding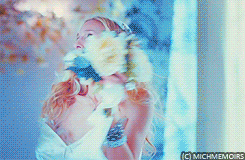 In Sex and the City, Carrie switches out her low-key vintage store dress for an equisite designer ball gown. After getting a grander dress, she believes the rest of the wedding needs to be grander too. This leads to them booking a fanicer venue and inviting hundreds of people. But Ariel Gutowicz, BHLDN brand stylist, says that's not the case. "Your gown budget does not need to dictate the formality of the wedding," she says. "We have worked with brides who opt for a cathedral-length veil at city hall, and others who choose to walk down the aisle in an ivory jumpsuit. Choose a style that make you feel like the best version of you, and the rest will fall into place."
Tailoring Takes a While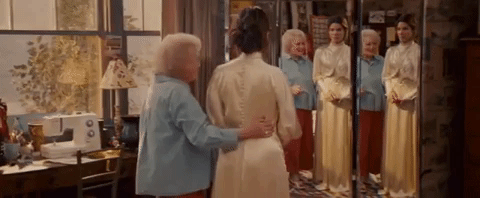 When Margaret and Andrew agree to get married in Andrew's family barn, Gammie offers the family wedding dress to Maragret. The dress doesn't fit very well, but Gammie promises she'll tailor it to perfection. While seamstresses can turn fittings around quickly, it usually takes a while for alterations to get done. "We always suggest to begin alterations as close to the wedding as the bride is comfortable, but typically around two months prior to the wedding," Reese says.
You Shouldn't Talk About Discount Stores in Salons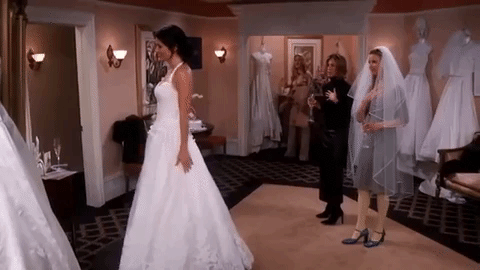 Monica brings Rachel and Phoebe with her to the bridal salon, but lets them in on a secret. She's only trying the dresses on at the store, and then she's going to get it at a discount store. Rachel accidentally tells the owners of the store about the discount store, which makes for a super awkward situation. While brides should get the dress that's right for them, it's best not to talk about your plans during your appointment. Reese adds that many boutiques price their dresses at the minimum required price by the designer, or it's rare to find the dress any less expensive elsewhere.
Consultants Will Typically Help Diffuse Any Tension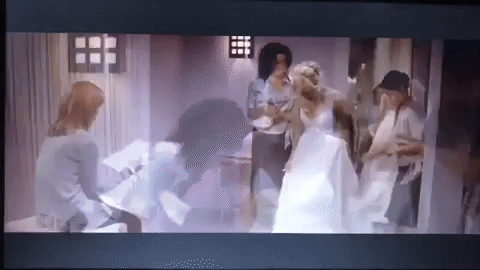 When Jane and Tess get into a huge fight over their mother's wedding dress, the consultant silently remains in the room. But Gutowicz says consultants are usually trained to navigate multiple opinions in a group during the appointment. Her best advice is to lean on your consultant when an argument arises. "If things are overwhelming, your stylist can guide you back to the fitting room for a quiet moment to take a deep breath and gather your thoughts."
Reese adds usually a consultant will also try to mediate the discussion. "When an opportunity arises for me to be of help, I try my best to make everyone at ease."
Customers Don't Black Out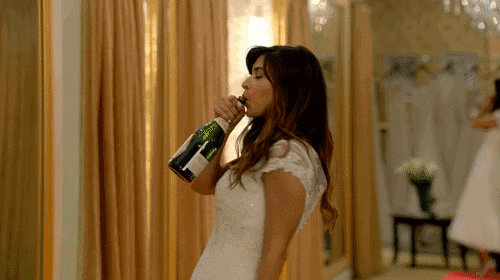 When Cece goes wedding dress shopping with Winston in New Girl, they both drink so much champagne that they don't even remember which gown they chose. Reese says Mira Couture has never had this issue before. "While this is a celebratory experience and champagne is always welcome, we find that the bride and her group are more focused on finding the bride her dream dress."
Sample Sizes Usually Don't Fit Perfectly
In terms of what to expect while wedding dress shopping, this one is huge. Liv looks absolutely stunning while trying on her Vera Wang ball gown, but Reese says it's not very common for sample sizes to fit really well. "Rarely do sample gowns fit anyone to perfection." Rather than getting caught up in how it's fitting, concentrate on the other details of the dress (silhouette, neckline, detailing) and make a decision from there. Remember that after alterations, it will fit perfectly.