The Best Groom Tuxedo Ideas by Wedding Venue
Whether you're getting married under the stars or the roof of a historic building, we'll help you figure out the perfect tux for your wedding venue.
We have included third party products to help you navigate and enjoy life's biggest moments. Purchases made through links on this page may earn us a commission.
While preparing for a wedding a groom's tuxedo ideas will be influenced by everything from personal taste to, crucially, the wedding venue. Good news: any groom who's decided to wear a tuxedo to their wedding is already set to look the best they've ever looked. Tuxedos are the most formal of formalwear for a reason, after all. They ooze debonair and classic cool, immediately helping you channel your inner James Bond (and we're talking early Connery, not the late-era Roger Moore ones). However, tuxedos are not a monolith. They all share the same basic elements (satin lapels, worn with dress shoes, etc.) but the tuxedo you choose for your big day isn't going to be one-size-fits-all. Believe it or not, the type of wedding venue you choose is going to play a part in what sort of tuxedo you rock. The tux you wear to an indoor wedding isn't the one you'd wear to an outdoor wedding, and if you're walking down a beachfront aisle you'll want a different tuxedo than the one you'd wear to a church ceremony. The key to nailing your formal look on your wedding day is to draw the right cues from your venue.
For a Banquet or Ballroom Wedding
Banquet and ballroom venues are some of the most popular these days, making up about 20% of weddings. These venues tend to have an elevated vibe, so this is the perfect time to lean into a more formal side of tuxedos. Consider a waistcoat, a cumberbund, or even opting for a white-tie dress code with tails for your tuxedo.
Versace Men's Tuxedo
If you're trying to go all-out with your tux, really, go all-out. Fashion juggernaut Versace's take on a classic tuxedo will bring all the high-society energy you're looking for to your wedding day look.
For a Farm, Barn, or Ranch Wedding
On the other side of the spectrum, we have farm, barn, and ranch weddings. These tend to have a far less formal dress code and often take place outside. For one, you're going to want to make sure you go for a lighter wool (tuxedos are always made of wool blends) if the outdoor setting and season in which your wedding is taking place warrants it. This is the right venue for a slightly less formal tux. Leave the waistcoat and cumberbund at home, and maybe even consider subbing out the bow tie and high collar on your dress shirt for a more standard dress shirt collar and a black straight tie.
J. Crew Ludlow Slim-Fit Tuxedo
Farm, barn, and ranch weddings are generally not black-tie affairs. Take advantage of that with a navy tux like this stunner from J. Crew. Not only does their classic Ludlow provide a pointedly un-stuffy look, but at this price point you don't have to sweat the dry cleaner bill if it leaves the barn with tell-tale signs of good time.
For a Historic Home or Building Wedding
Getting married in a historic home or building? Go with a shawl-neck tuxedo. Venues like this tend to have a cozier vibe than others. Shawl-neck tuxedos aren't any less formal than their counterparts but sort of match that energy, giving the impression of a practiced host inviting loved ones into their space.
Todd Snyder Italian Shawl Collar Tuxedo
Todd Snyder remains one of the most reliable brands in menswear. Their shawl collar tuxedo is as great a testament to this as any: featuring perfect proportions, a fine Italian wool blend, and excellent black and white contrast, it's the exact sort of vibe you want to bring when you walk down the aisle at a home or historic building.
For a Beach Wedding
A tuxedo on the beach? Stranger things have happened. I generally don't advise dressing down tuxedos, but if you plan on wearing one to your beach wedding I think you're probably not looking to dress it down to begin with. For starters, make sure you're going with a lightweight wool tuxedo (unless you anticipate the beach being chilly) and may want to deviate from black (blue is a great call here, leaning into the waterfront element). This is probably a good time to go with a more stripped-down tux as well, so leave the waistcoat and cumberbund in the closet.
For a Garden Wedding
The vibe of a garden wedding can skew homey or formal. Guys looking to aim for the former should go with a simple variation of a tux (standard-length notch lapels, a plain tux-friendly dress shirt). This is also a setting in which you may want to try a different-colored tux, be it an earthy burgundy or a deep blue.
Garden weddings can also be an opportunity to stunt like a Jane Austen character's love interest. If you're aiming to channel your inner Mr. Darcy, go all out with wide peak lapels, a waistcoat, a real capital-T Tuxedo. Regardless of which path you choose for this one, a garden wedding more or less necessitates a tuxedo be paired with a good boutonniere.
Oliver Brown White Tie Evening Tails - Black
For those looking to go white-tie for a garden wedding, look no further than Oliver Brown's take on a classic tux and tails. It'll have you looking your white-tie best at a price that's semi-formal at most.
Pronto Uomo Modern Fit Notch Lapel Tuxedo
If a pared-down look is more your vibe, Pronto Uomo's take on the navy tuxedo is the way to go. It's an elegant look that'll pair well with the outdoor setting.
For a Religious Institution Wedding
If you're getting married in a religious setting, like a church or synagogue, you should make sure a tuxedo is appropriate attire—not all places of worship may welcome a tux. If it turns out a tuxedo is allowed, you should skew conservative with this one. Keep it black, keep it simple, keep it traditional.
The Black Tux Notch Lapel Tuxedo
The Black Tux's notch lapel tux is simple, tasteful, and looks great on anyone. As an added bonus you can rent it (with all necessary accessories included!) if you don't feel like it's pertinent to keep a tux in your closet.
For a Boat or Yacht Wedding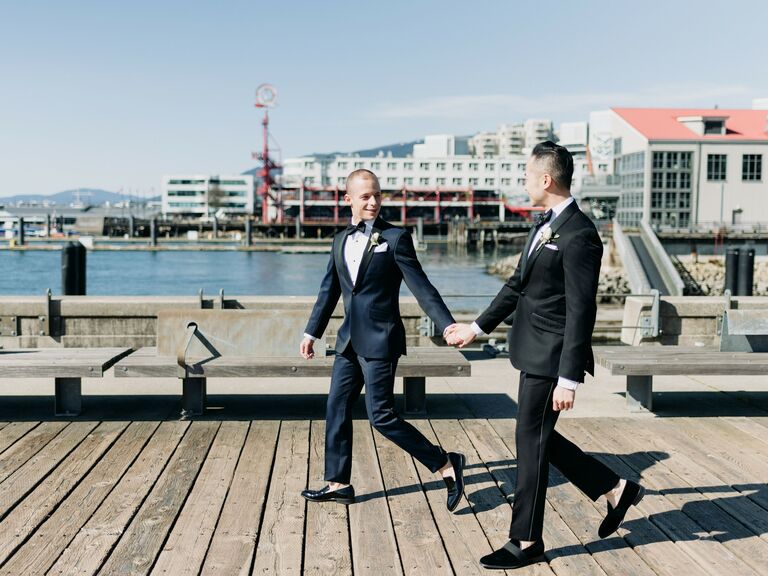 There's no actual law stating that if you're getting married on a boat you have to wear a blue tuxedo—but we think there should be. You're on the water. This is the time and place to lean in with a nautical navy, just saying. And if blue isn't your color, a white or creamy off-white dinner jacket is going to make you look like you spend every weekend on a yacht.
The Black Tux Light Blue Shawl Tuxedo
Coming in a cool marine blue, The Black Tux's boat-friendly take on the shawl-collar tux will have you looking your best on the high seas or just off the dock. I especially love how thick the lapels are–they bring a ritzy vibe that you absolutely want to channel if you're tying the knot on deck.
For A Legal Institution Wedding
There's no real dress code for grooms going the courthouse route. The only question you have to ask yourself is what you want to see yourself wearing when you're looking back on the photos ten years from now. You can go simple, dress it all the way up, or meet somewhere in the middle. Just make sure you're matching whatever level of formality your partner is adhering to!
Jos. A. Bank Slim Fit Paisley Dinner Jacket
If there are no rules there's no reason to not go big for a courthouse wedding tux. Jos. A. Bank's plum paisley dinner jacket is all the right kinds of eye-catching with its unique print and color scheme. You'll look back on those photos decades later with pride in your fit. Pair it with simple black trousers and a nice black dress shoe.