30 Clever and Creative Groomsmen Proposal Gift Ideas
Here's how to pop the *other* question.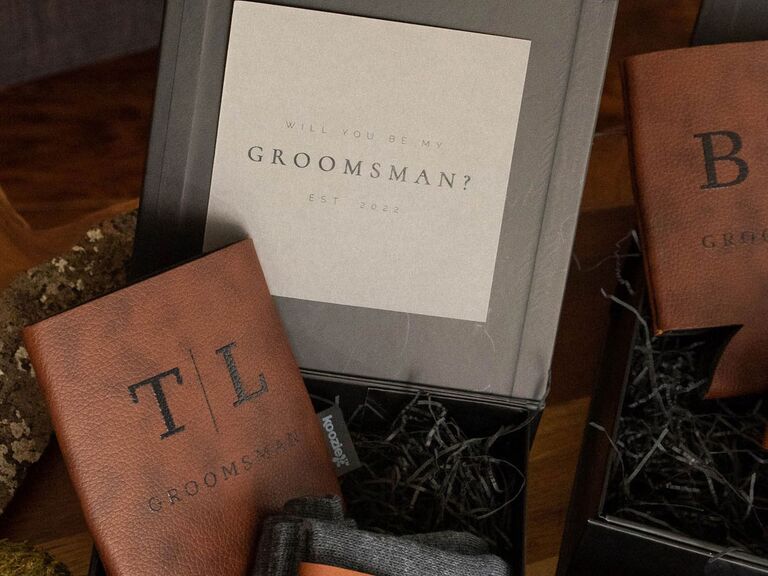 We have included third party products to help you navigate and enjoy life's biggest moments. Purchases made through links on this page may earn us a commission.
We have included third party products to help you navigate and enjoy life's biggest moments. Purchases made through links on this page may earn us a commission.
Deciding who you want to include in your wedding party is only half the fun. Next, you get to let them know they've officially made the cut! Of course, you should always ask before you start assigning out groomsmen duties, which is where an awesome best man or groomsman proposal comes in. Nowadays, to-be-weds are coming up with clever ways to ask their groomsmen or groomswomen to join the ranks, from thoughtful proposal boxes to gifts engraved with the words: "Will you be my groomsman?" And while you can definitely still call or text your crew to pop the question, we think this is way more fun. Keep reading for editor-approved gift ideas that'll make asking your groomsmen, groomswomen or best person a unique and memorable experience.
Groomsmen proposal gifts in this article:
Groomsmen Proposal Boxes
"Will you be my groomsman?" sounds even sweeter paired with an entire gift set of goodies. If you rarely get a chance to go all out on gifts for your crew, these groomsmen proposal boxes are perfect. We've found options for everyone, from the golfer to the amateur mixologist.
Vintage-Style Groomsmen Proposal Boxes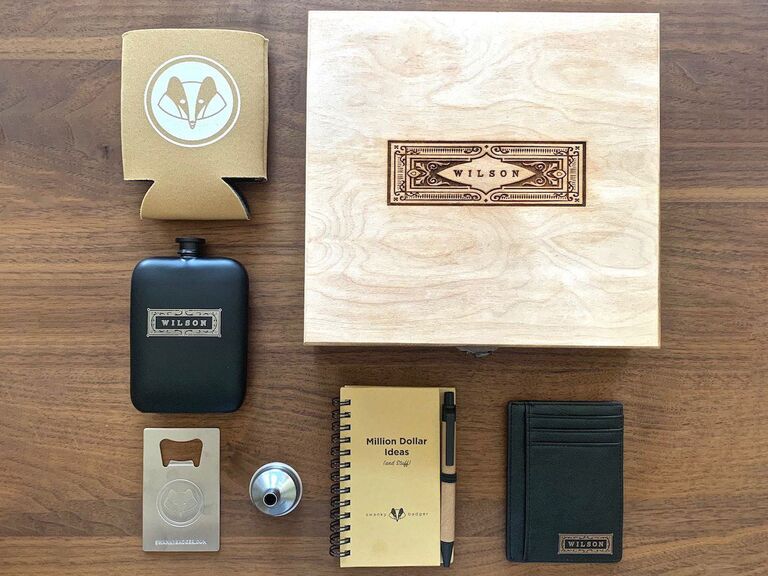 If you're looking for a luxe gift box that's chock-full of goodies, this is it. The birch plywood box is laser engraved with each groomsman's name on the outer lid. Inside, they'll find a 7-ounce stainless steel hip flask (and a funnel), a slim leather wallet, a notebook for "million dollar ideas" (pen included), and a credit card bottle opener. Just pick up a sweet groomsman proposal card and you're good to go.
Mailable Groomsmen Proposal Boxes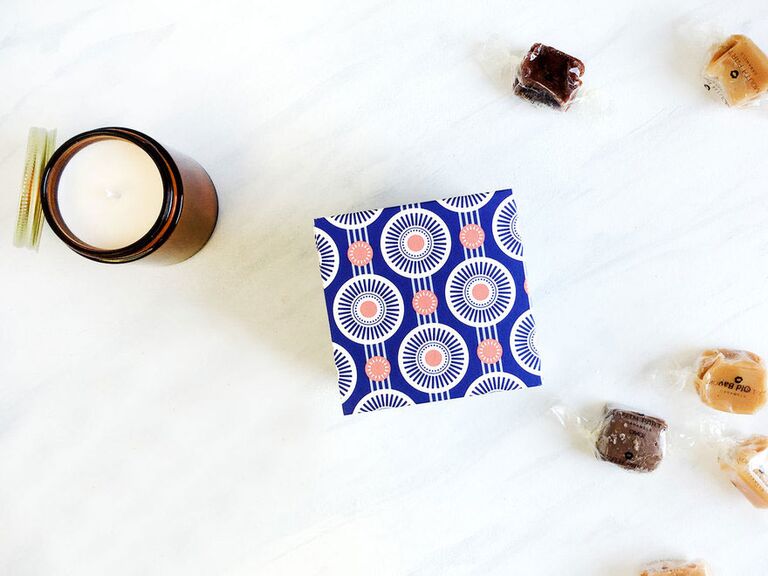 Not sure how to ask a groomsman who lives far away to be in your wedding? Send him a Greetabl gift box. These fold-out boxes have space to include the all-important question, as well as photos and a pocket-size present. Fill it with artisanal caramels or a mini jar of sriracha sauce for the foodie in your wedding party lineup.
Practical Groomsmen Proposal Boxes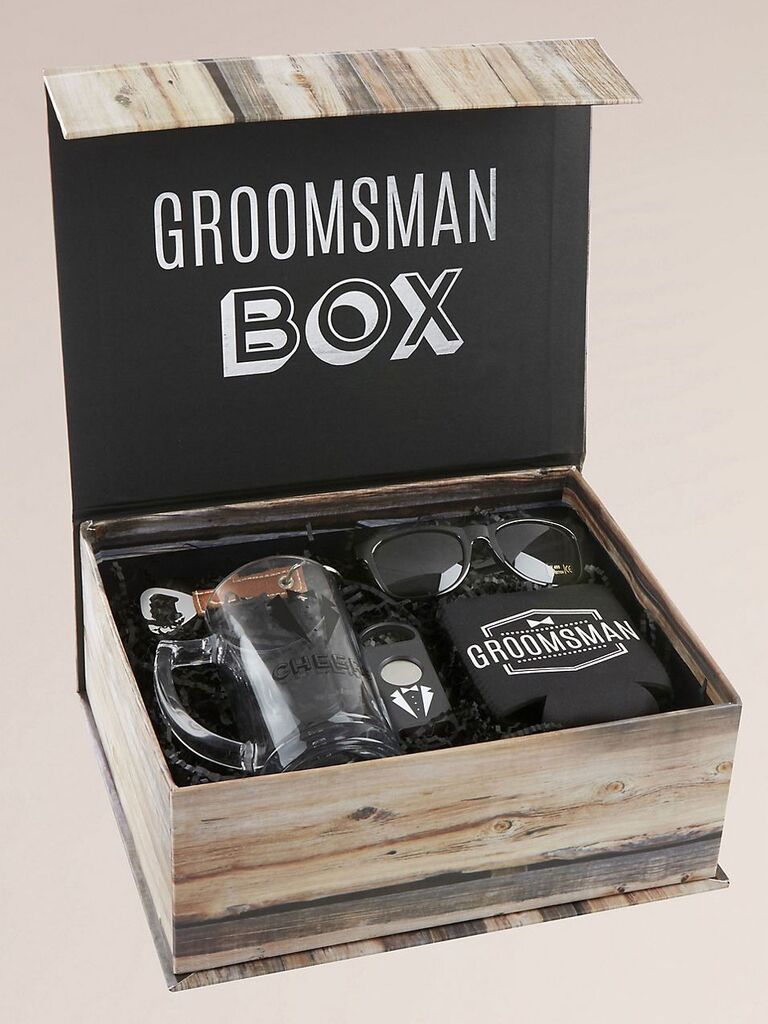 How's this for a groomsmen proposal idea? Each box is stocked with stuff that'll easily get them through the celebrations to come. There's a beer mug, sunglasses, a bottle opener, a can koozie and a cigar cutter—bachelor party essentials, basically. Plus, it all comes neatly packaged in a rustic gift box.
Personalized Groomsmen Proposal Boxes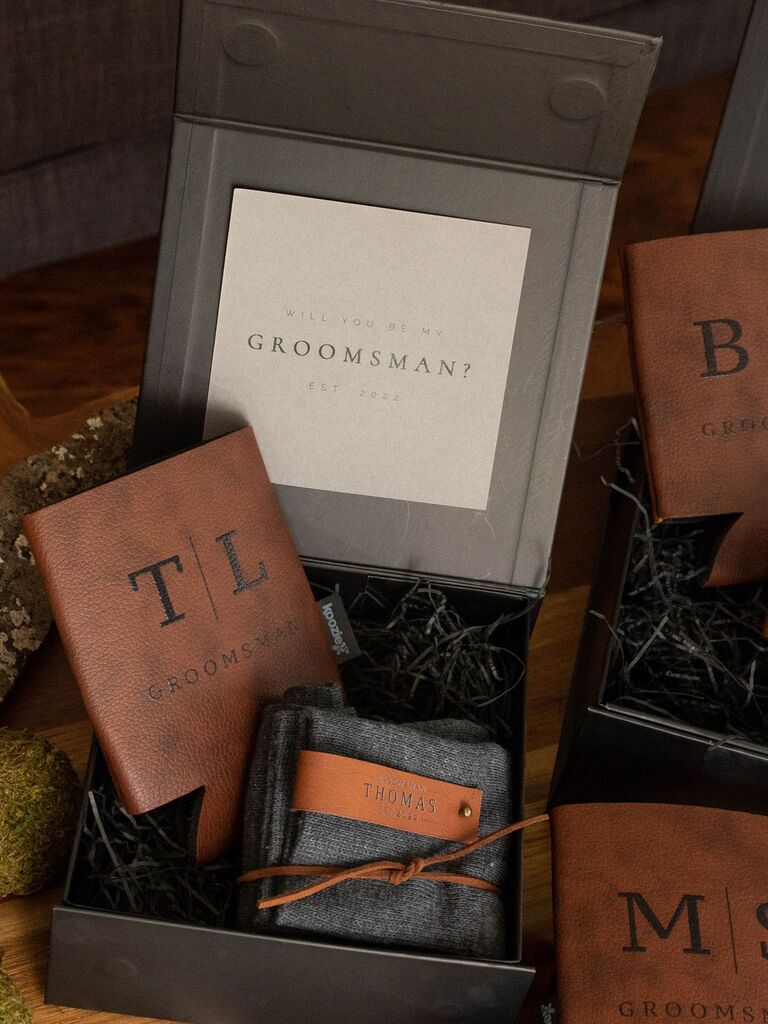 Your groomsmen-to-be will feel like royalty from the moment they spy their names on the outer lid of this fancy proposal box by Established Co Gifts. Inside, there's a personalized pair of socks and a monogrammed drink koozie. There are lots of variations available for the insert card, so you can adjust the wording to suit your recipient. That means it's not just suitable for groomsmen—it works for groomswomen, ushers, ring bearers and the best man or woman too.
Drinkware Groomsmen Proposal Boxes
This groomsmen proposal box idea is perfect for your old college roommate or favorite drinking buddy. They'll receive a pair of monogrammed shot glasses and a gunmetal hip flask personalized with their name, wedding title and the year. Your friend will be prepared for a celebratory sip anytime, anywhere. The best part? It comes sealed in a wooden crate with a laser-etched crowbar, meaning he'll have to get it open before he gets his gifts!
Golf Groomsmen Proposal Boxes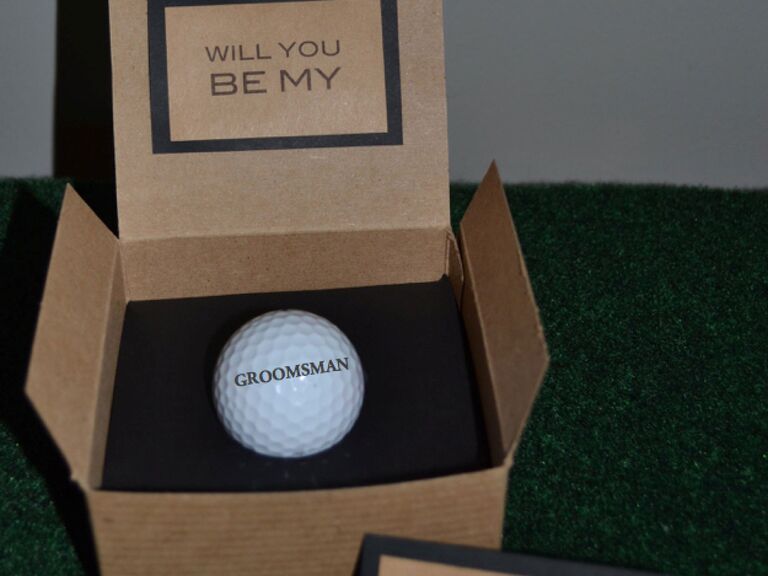 This "will you be my groomsmen?" gift includes a customized golf ball inside a box that (hilariously) says, "let's par-tee" on the lid. If you're planning a separate best man proposal, there's also a "will you be my best man?" box. It's a super-thoughtful proposal idea if you bonded over the classic sport.
Formal Wear Groomsmen Proposal Boxes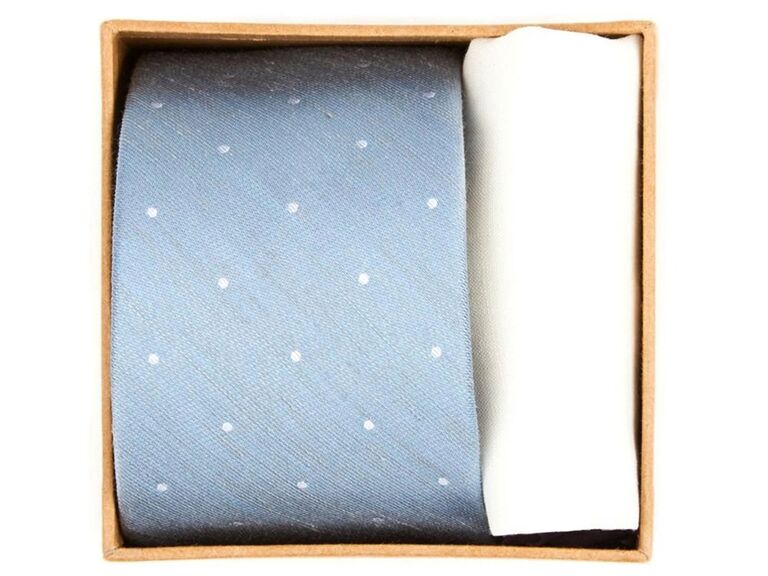 Your wedding party members will need to look their best for all the wedding-related events about to fill their calendars. Help them beef up their formal wardrobe with groomsmen proposal boxes including a stylish tie and pocket square set. All this mini gift box needs is a card or invitation that gets the message across.
"Team Groom" Groomsmen Proposal Boxes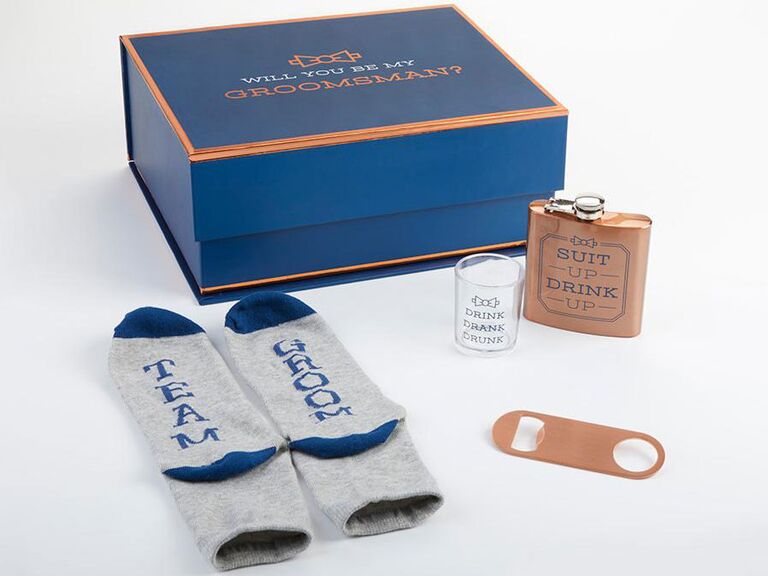 This box makes a serious statement all on its own thanks to the cool blue and copper color palette. For extra convenience, the question at hand ("will you be my groomsman?") is printed right on the outer lid. Inside, your crew will be treated to Team Groom socks, an acrylic shot glass, a copper-hued hip flask and a matching bottle opener.
Cocktail Groomsmen Proposal Boxes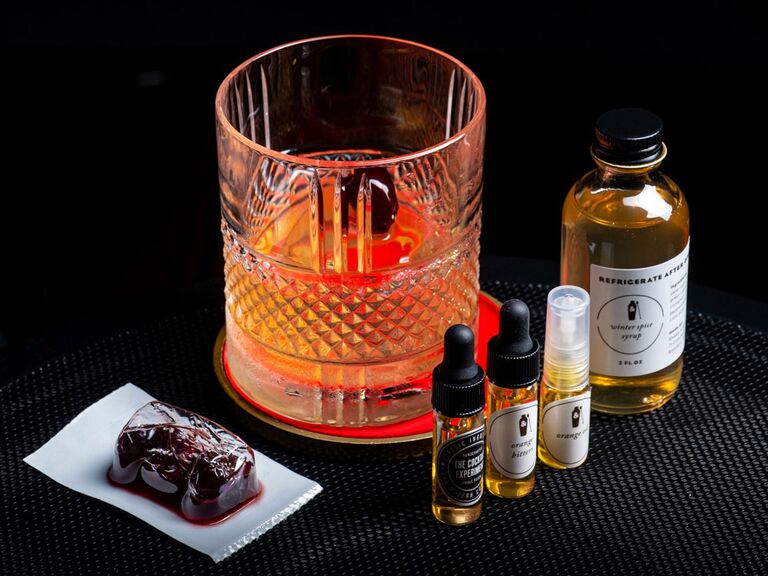 For the guy who loves to mix his own drinks, consider turning this set from Shaker & Spoon into a groomsman proposal box. The kit includes all the ingredients to craft his very own Homestead Old Fashioned (bar the alcohol). All that's needed to complete the gift is a bottle of rye whiskey.
DIY Groomsmen Proposal Boxes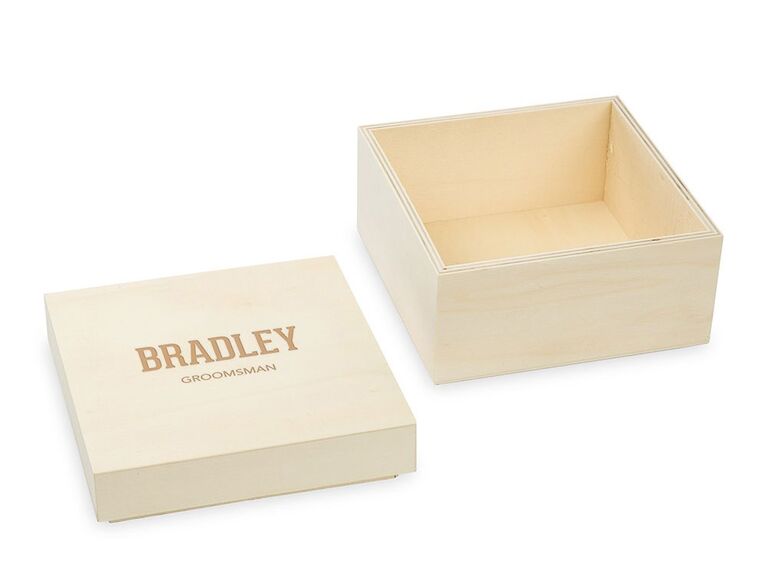 Last but not least, don't be afraid to curate your own groomsmen and best man proposal boxes if that's more your style. Your crew will appreciate the care and effort you put into personally tailoring your gifts to their tastes. Need some ideas for what to include in your groomsmen boxes? Keep reading—we've got plenty of gift inspiration to come.
Groomsmen Proposal Gifts
Of course, you can also opt for standalone groomsmen or best man proposal gifts. These presents are still undeniably impressive and the perfect keepsakes for this unique moment.
Baseball Bat Mugs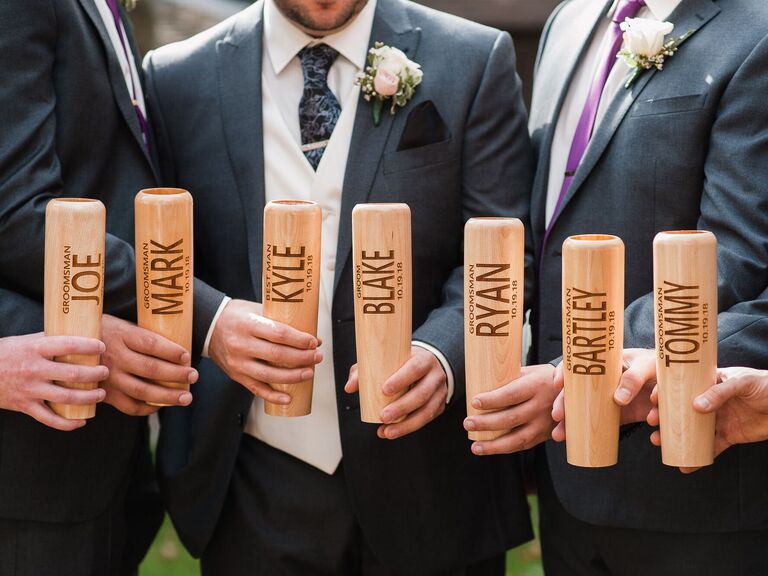 These mugs are made from baseball bats—yes, baseball bats! How cool is that? Get each one engraved with a personalized message, like—you guessed it—"will you be my groomsman?" This is a great, go-to groomsmen proposal gift for a group of major sports fans.
Custom Dress Socks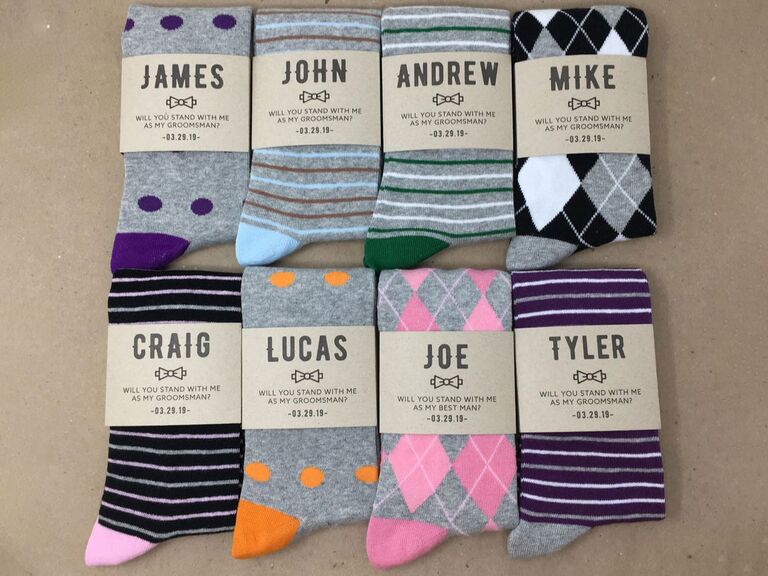 Cold feet? Not a chance with these groomsmen proposal socks. Each pair comes with a personalized label that asks, "will you stand with me as my groomsman?" Choose from a mix of colors and prints. Bonus points if they wear them on the wedding day.
Delicious Meat Bouquets
We have plenty more ideas of how to ask your groomsmen or best man to be in your wedding party. Why not go the humorous route? The traditionally romantic bouquet gets a masculine twist with this array of exotic jerky. Any meat lover will gladly accept a jerky bouquet (and anything else that comes along with it—like a spot in your groomsmen lineup).
Engraved Wooden Watches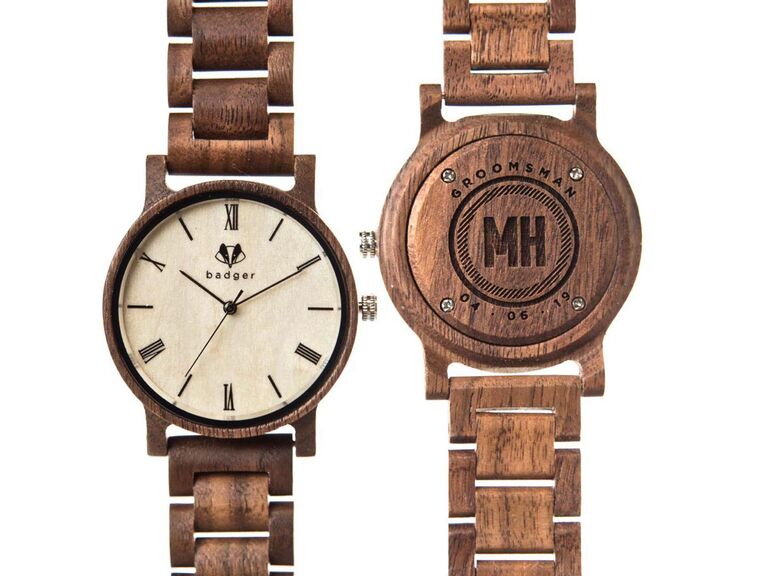 Watches make for excellent groomsmen invitation ideas, since they're both practical and keepsake-worthy. Your crew can wear these personalized timepieces for your wedding and beyond. Each one is crafted from sandalwood and engraved with their wedding title, monogram and the date of your special day on the back.
Funny Can Coolers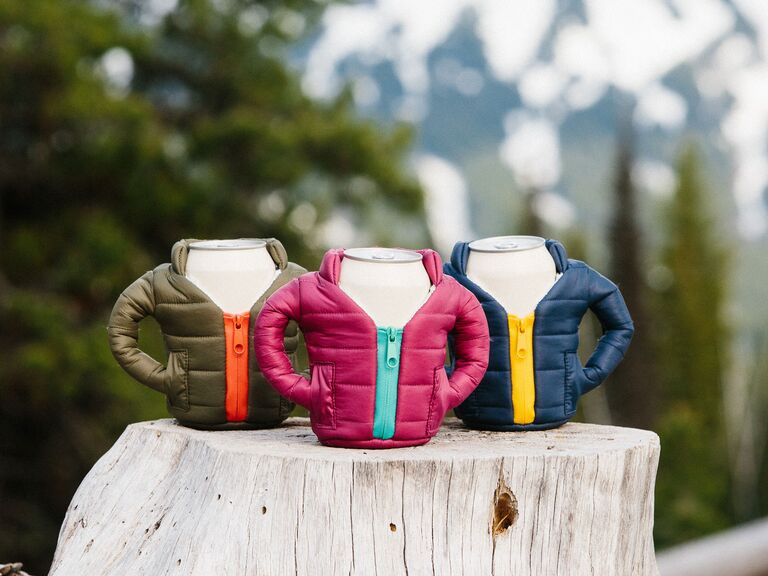 As far as gifts for asking your groomsmen go, these ones are pretty hilarious. These very lifelike puffer jackets are designed for keeping canned beverages cool. Two layers of thermal insulation will help to keep their drink cold (and their hands warm and dry). Pair the miniature jacket with a six-pack of your friend's favorite drink for a cool and casual groomsman proposal. It's the perfect way to toast your unique friendship.
Groomswoman Camping Mugs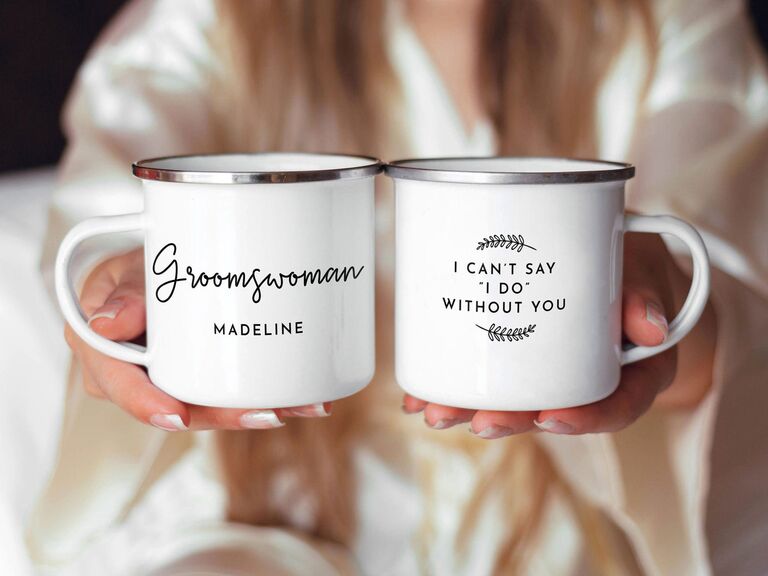 Wedding party drinkware doesn't have to be booze-related. Rustic types and coffee drinkers alike will appreciate these insulated camp mugs. This groomswoman mug will nudge her to get energized for the wedding festivities to come. Throw in a bag of her favorite craft coffee for an extra-impressive groomsmaid proposal.
"Will You Be My Groomsman?" Puzzles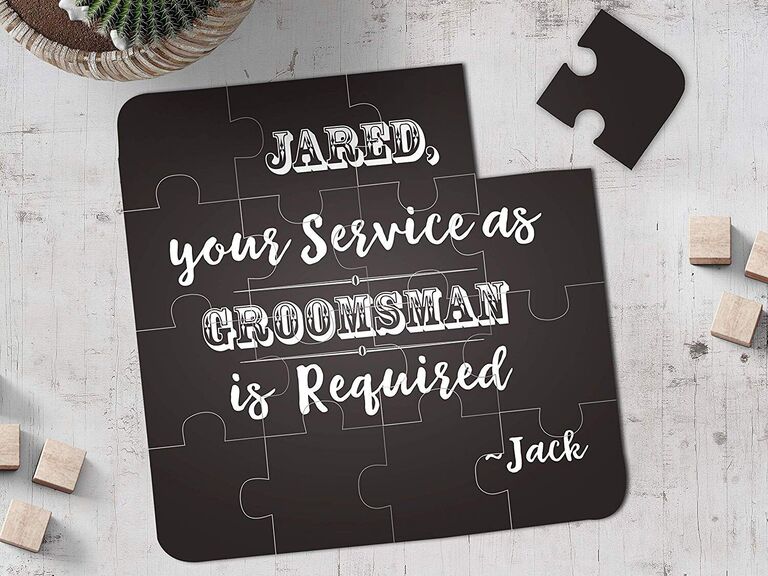 Think outside the box with these personalized groomsmen proposal puzzles. Send the pieces to each guy for him to put together and uncover the message: "[Groomsman's name], your service as groomsman is required - [groom's name]." It's easily one of the most creative ideas for asking your groomsmen the million-dollar question.
Custom Pocket Watches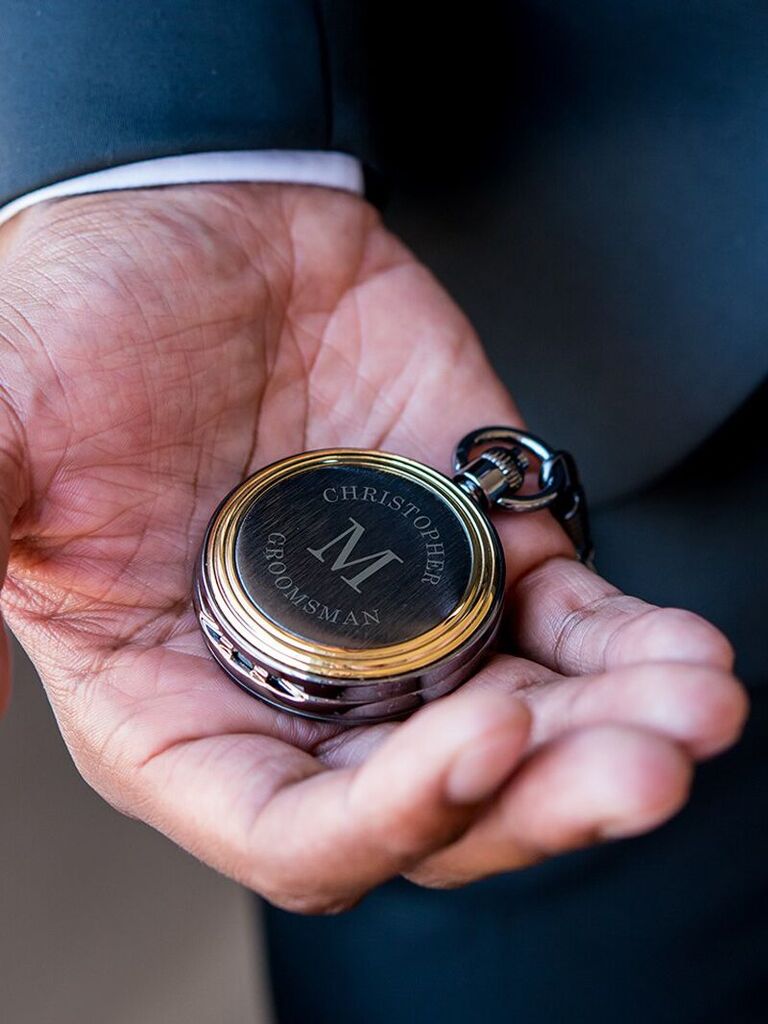 Your buddies have been your support system around the clock, which makes these personalized pocket watches subtly symbolic. They will feel extra-dapper carrying the monogrammed timepieces on the big day.
Travel Toiletry Bags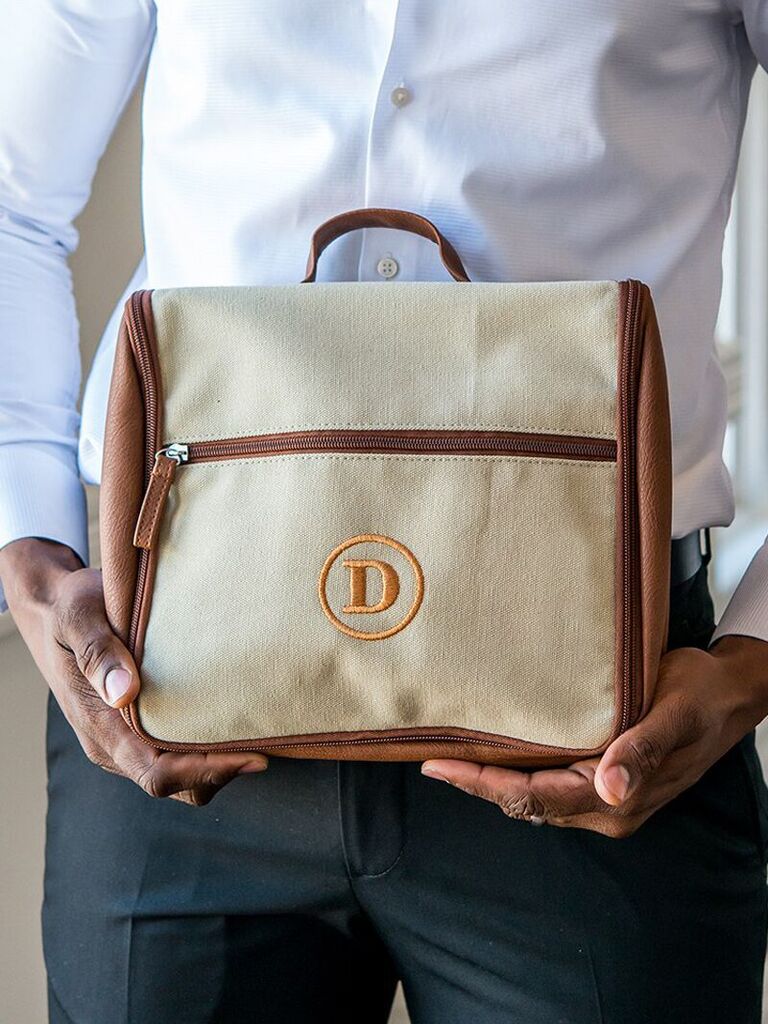 Some of the best groomsmen proposal gifts are the most useful—especially when the big day rolls around. Get them prepped for the getting-ready suite with these cool, personalized dopp kits. If you want to go the extra mile, pick up a few travel-size grooming essentials to tuck inside.
Unique Monogrammed Cuff Links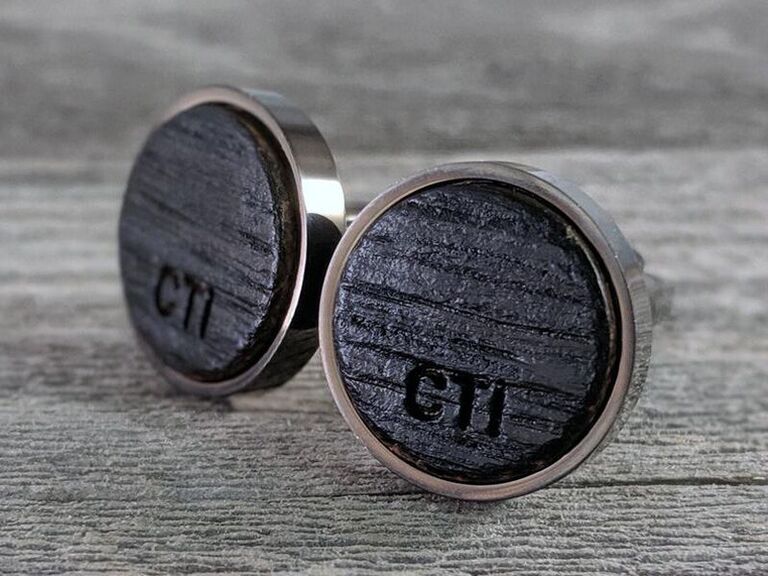 Cuff links are classic groomsmen gifts, but these stand out from the pack. That's because the wooden accessories are crafted from bourbon barrels. After all, groomsmen proposal gifts should be as special as the occasion.
Personalized Fishing Lures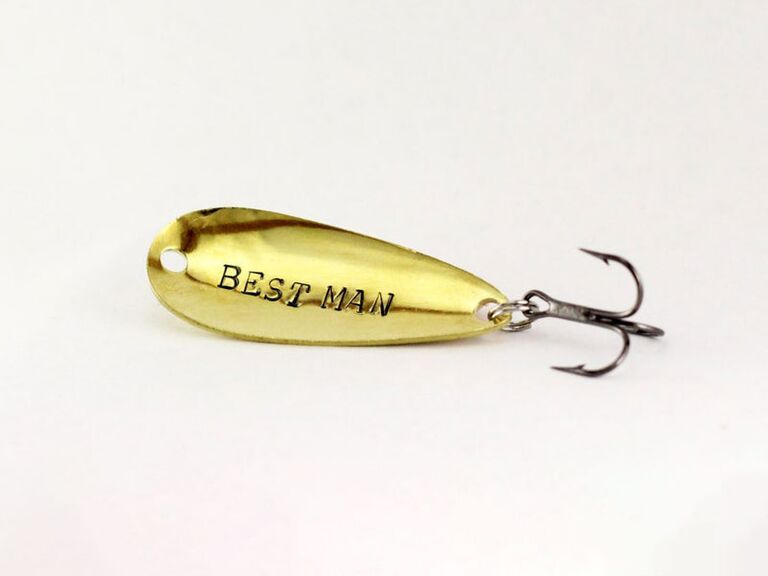 Honor his hobbies with your best man proposal gift. You can use this engraved fish hook on your next trip to the lake together. Or, for a sweet best man proposal idea, invite him to the lake first and hand over your gift while you're there. It'll be a nice opportunity to properly let him know why you want him to be your top guy on the big day.
Custom Pocket Knives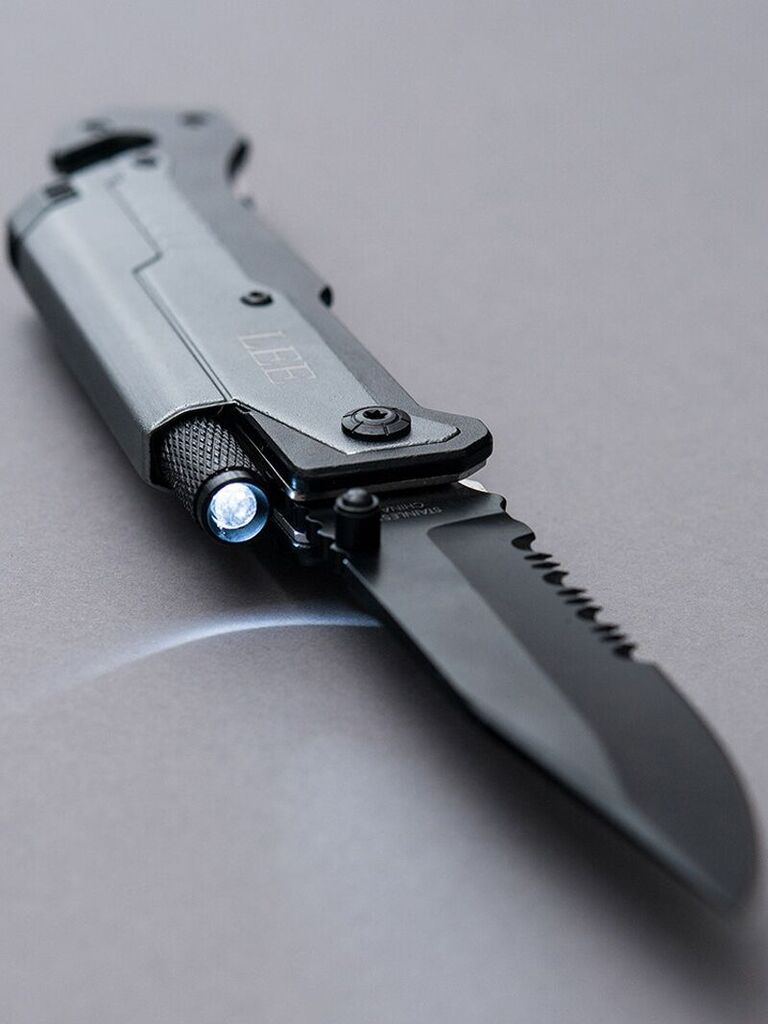 They'll feel prepared for anything with this handy survival knife, which comes with a fire starter and LED flashlight. This groomsmen proposal gift screams "camping bachelor party."
Unusually Tasty Toothpicks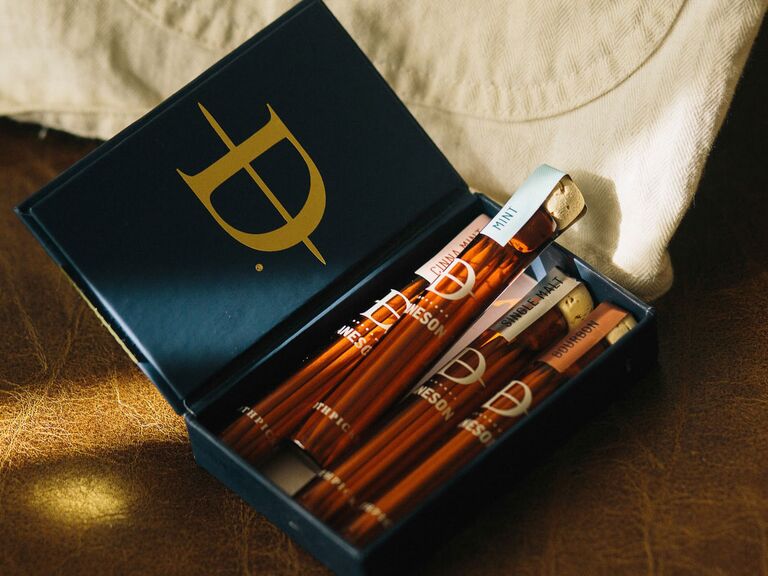 Try asking your best friend to be a groomsman with this unique gift: a set of flavorful toothpicks. The elegantly packaged set includes four different flavors of infused toothpicks, including bourbon, mint, single malt and cinna mint. This unusual groomsmen invitation gift will leave a refreshing taste in his mouth after every meal.
Funny Beer Mugs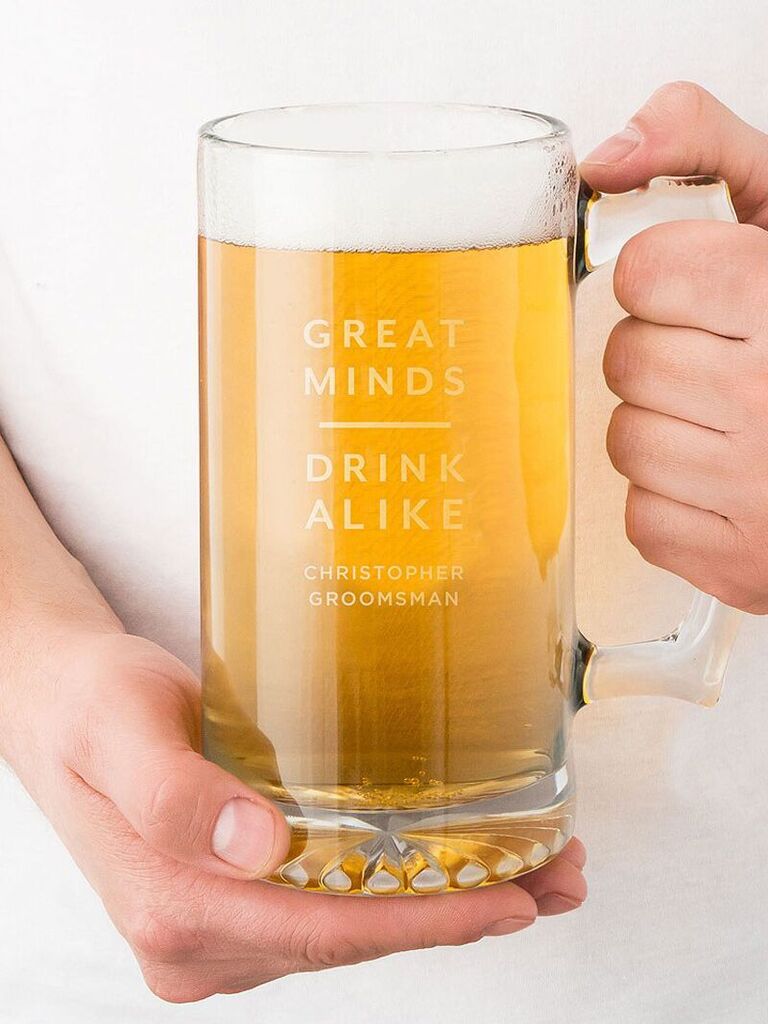 Maybe you express your love with your sense of humor. If that's the case, try these fun "great minds drink alike" beer mugs for a funny groomsmen proposal—because only the greatest made it into your wedding party.
Playful Patterned Ties
Want to really wow your future groomsmen with a cool proposal present? Let them know it's time to suit up with a fancy silk necktie complete with a whimsical pattern. Choose between a lobster, duck, elephant or rocket ship print for your sharp-dressing best friend.
Personalized Weekender Bags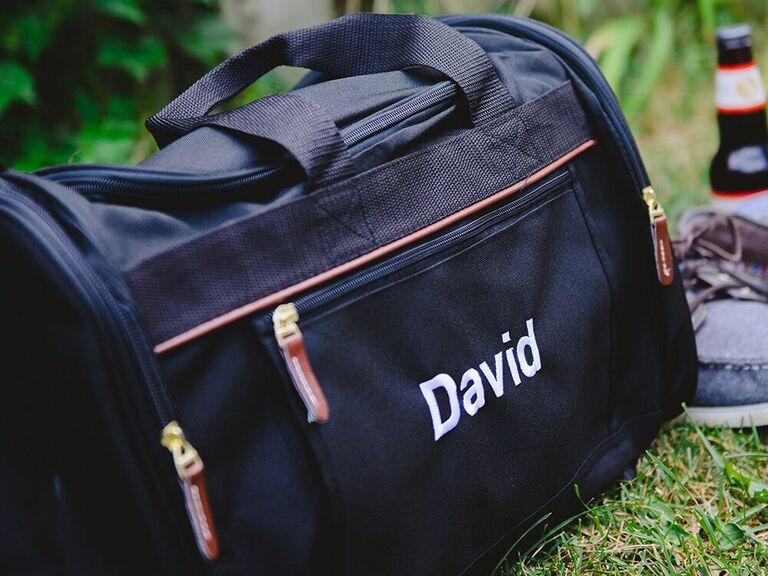 These custom duffels will come in clutch for the bachelor party and even for transporting stuff on the wedding day. There are 15 different thread colors to choose from for the personalization. Choose the one that best matches your wedding colors or pick hues that reflect your loved ones' personalities. To finish, gift the bags with cards that ask the gents to join you on your "next big adventure."
Homemade Proposal Cookies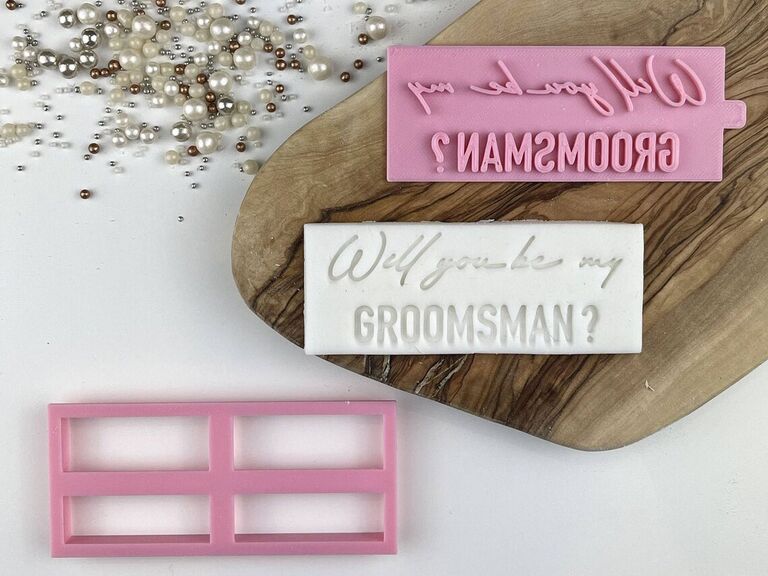 Nothing says "will you be my groomsmen?" quite like a batch of cookies stamped with that exact question. This stamp and cookie cutter set makes baking your own groomsmen proposal cookies a breeze. Give your sweet treats a personal touch by incorporating you and your soon-to-be spouse's favorite flavors.
Sleek Cigar Cases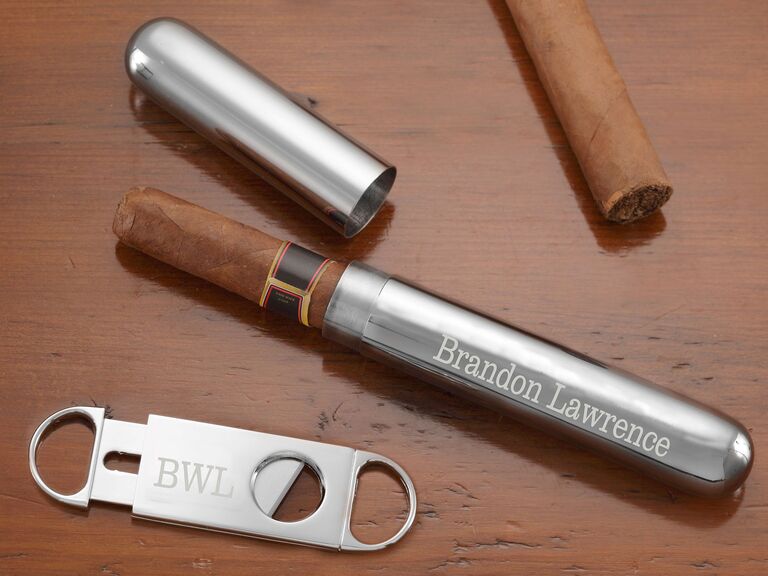 If you're looking for creative ideas for asking your groomsmen to stand by your side, let the past inspire you. For decades, gentlemen have been gathering to smoke cigars and enjoy one another's company. Invite your crew to do just that, then give each of them their own engraved cigar case and cutter. These personalized gifts will get you on their good side before the wedding planning assistance gets serious.
Luxe Grooming Products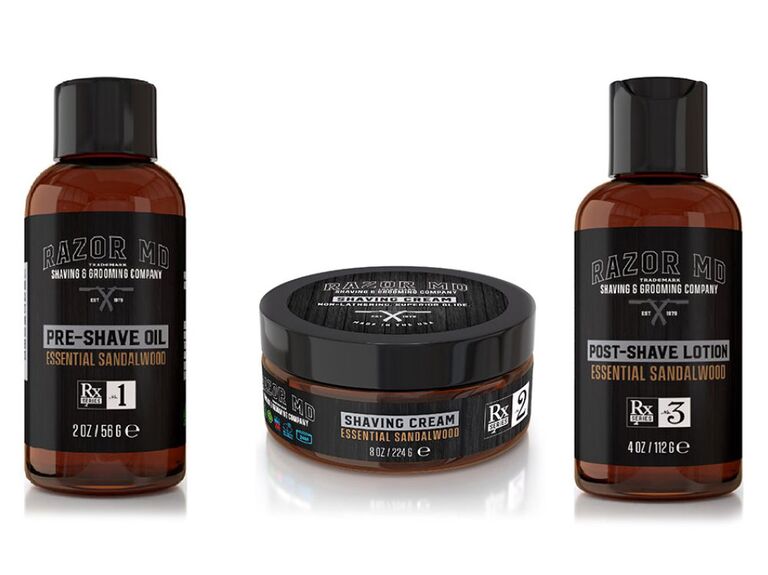 Everyone will want to look their best on the day you say "I do," your groomsmen included. Gift your guys a set of pre-shave oil, shaving cream and post-shave lotion so they have everything they need for a clean, smooth face on the big day. The travel-size kit is especially fitting for bachelor party travel or a destination wedding. Pair it with a card that reads "will you be my groomsman?" so they know exactly what it's for.
Custom Golf Balls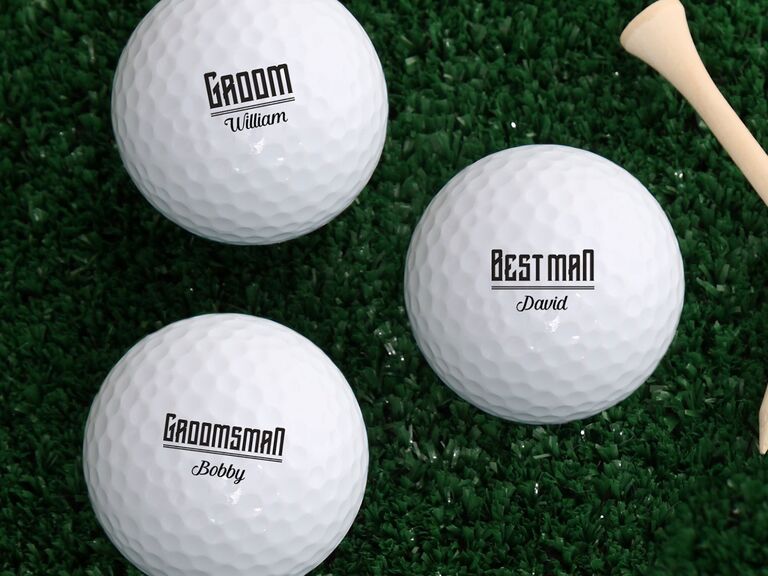 Wondering how to ask the guys to be your groomsmen? Invite them out for a round of golf and whip out a box of personalized golf balls for each person. These Callaway Warbird Plus balls come in a set of three printed with the name and wedding title of your choice.