How to Plan a Chinese Wedding in the US That Honors Your Culture
Include a mix of traditional and modern elements or lean fully into Chinese wedding customs with these expert planning tips.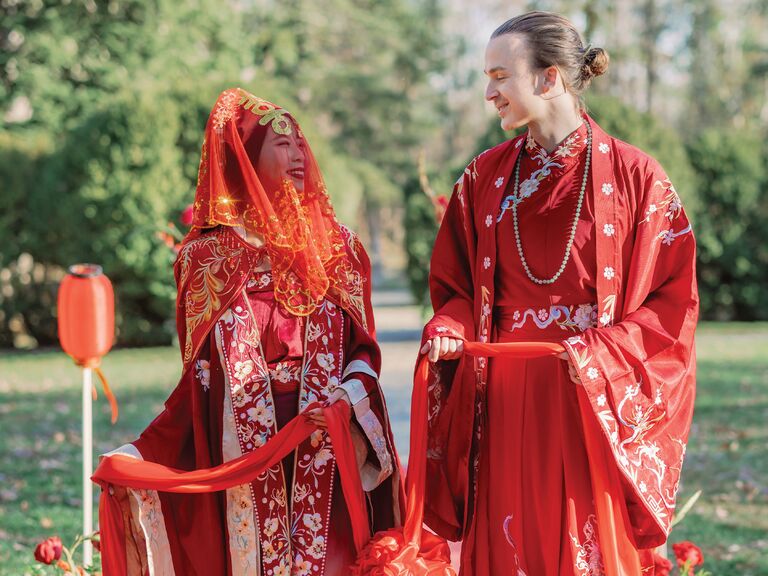 Incorporating your culture into your wedding day is a lovely nod to your heritage, as well as a unique way to make your celebration stand out. If you want to honor your Eastern background, you'll need to know how to plan a Chinese wedding. Chinese wedding traditions include a lot of symbolism that is deeply rooted in tradition. That includes the color red, auspicious numbers and the phoenix and dragon. When planning your day, it's important to hire a team of vendors who are familiar with Chinese weddings. Check out The Knot Vendor Marketplace to find an amazing team of vendors in your area who will help you incorporate Chinese traditions into your celebration. We spoke to Xiaoqi Li, destination wedding photographer and lead photographer at Xiaoqi Li Photography in Charlottesville, VA, to get all the details about how to plan a Chinese wedding in the US.
In this story:
How Long Does It Take to Plan a Chinese Wedding?
The time it takes to plan a Chinese wedding varies as much as planning a Western wedding. While the average wedding takes about 15 months to plan, it's possible to significantly shorten that timeframe. "A very traditional Chinese banquet wedding can be planned on timelines as short as four months, for example, if booking at an inclusive venue," Li said.
Average Chinese Wedding Cost
Similar to the wedding planning timeline, this can also vary. According to The Knot Real Wedding Study, the average cost of a wedding in the US is $30,000. This average is about the same for couples planning a Chinese wedding in the States. Li said this cost would not include the tea ceremony. "Since this [ceremony] is typically held at a family's home and for a smaller group (immediate family and limited extended family), there's usually not a huge cost to this."
Who Pays for a Chinese Wedding?
"The groom's family pays for the main wedding expenses, such as the ceremony and dinner banquet," Li said. There is also traditionally payment given by the groom's family to the bride's family, but this is more common in China than in the US. "I think it just varies by family to what extent this is still practiced."
How to Plan a Chinese Wedding
Incorporate a few or all of these Chinese wedding traditions into your celebration. From auspicious dates to your reception playlist, here's what you need to know to create your Chinese wedding planning checklist.
Consult Family About Auspicious Dates
Before you book your venue and solidify your wedding date, consult with your family on auspicious dates. "Wedding dates are always chosen very carefully in Chinese culture based on lucky numbers and/or astrology," Li said. "Couples may also enlist the help of an astrologer or matchmaker to find the perfect auspicious date."
Traditionally, the number eight is considered lucky in Chinese culture. Another popular option is two as it represents double the joy. "Conversely, four is considered the most unlucky number and is avoided at weddings and in life all around. The number is pronounced sì, which sounds similar to sǐ, the word for death (死). Three (三) is typically considered an unlucky number in the context of weddings. The number is pronounced sān, which sounds similar to sàn, the word for separate or break up (散)."
It's also important to know venues get booked quickly on popular dates. "This is even more noticeable for banquet halls due to the importance of auspicious dates."
Gift the Dowry Cake
In Li's experience, most of her couples opt for a Western wedding cake that you'll see at most US wedding receptions. Chinese couples can also ask their baker to make a traditional dowry cake prior to their wedding celebration. The dowry cake, or marry girl cake, is sent to the bride's parents from the groom's family before the wedding as a promise that the groom will marry their daughter. What is in a traditional Chinese wedding cake can vary, but often includes a sponge cake filled with lotus seed paste, red beans, mung bean paste or other flavors. The cake can also include auspicious colors, symbols and numbers.
Choose Your Chinese Wedding Attire
Traditional Chinese attire is red with patterns in the material or embroidery. In Chinese culture, red symbolizes joy, luck and happiness. The two most commonly seen dress styles are the qipao (or cheongsam) and the two-piece qun kwa (or qungu). In many Eastern cultures, white is symbolic of death and not traditionally worn to Chinese weddings. Pink is also avoided because it represents divorce (a combination of red and white). "However, this is rarely followed strictly or even at all in modern wedding planning," Li said. "White Western wedding dresses and modern qipao styles that are white can be found. East Meets Dress is a popular modern Chinese dress designer that incorporates traditional elements into modern designs, such as white qipaos and qipaos with a gown on the bottom half."
Select Your Wedding Invitations
Incorporate traditional designs in your Chinese wedding invitations. This can include the double happiness symbol, phoenix and dragon or a gold floral motif. Include accents of red or a fully red background for a traditional look. Seal your invitation, RSVP card and other information in a vibrant red envelope that will stand out within a stack of mail.
Include Chinese Symbols in Your Decor
Talk with your Chinese wedding planner about including traditional symbols throughout your ceremony and reception. "Certain animals are commonly shown in pairs on wedding attire and décor," Li said. "The most popular are dragons (typically male) and phoenix (typically female). The dragon for the male signifies wealth and good fortune, while the phoenix for the female represents renewal of life and grace. When together these two animals represent happiness, love and prosperity." Traditionally, these symbols are described only in cis-heterosexual couple orientations. There are no popular guidelines for how LGBTQ+ couples might adapt the symbols. However, Li suggests including both energies for balance regardless of gender identity.
Hire a Caterer Familiar With Chinese Wedding Food
Carry the symbolism into the Chinese wedding food served at your reception as well. One popular dish is lobster and chicken, which symbolize the dragon and phoenix and also includes vibrant red from the lobster. Roast duck is also a great option and is a symbol of fidelity as ducks usually mate for life. Other options include scallops that represent fertility, noodles to symbolize longevity, and whole fish as a wish for the couple's marriage to remain intact throughout their lives.
Create a Chinese Wedding Playlist
Once you book your DJ or band, provide them with a list of Chinese wedding songs to include during your ceremony and reception. This can include traditional folk songs and modern dance tunes as a nod to your heritage. Mix them in with current Western hits, or create a complete playlist of Chinese songs.
Play a Chinese Door Game
This fun Chinese tradition takes place the day of the wedding before the ceremony. During this tradition, the groom arrives at the bride's house to take her to the wedding but is greeted by her protective wedding party instead. Before he can enter, he is challenged with answering difficult questions, performing a physical feat (jumping jacks, one-arm push-ups, etc.) or buying his way inside with money tucked into a red envelope. Create a modern spin on this tradition by coming up with your own game for the groom to play.
Honor Tradition With a Wedding Blessing in Chinese
Ask your Chinese wedding officiant to include a traditional wedding blessing during your ceremony. One popular wedding blessing in Chinese is bǎi nián hǎo hé, which wishes you a happy union that lasts for 100 years. If you and your partner were brought together by fate, you can include tiān yuán qiǎo hé which means the two of you were destined to be a couple.
Make Your Day Unique to You
Whether you want to incorporate many Chinese traditions in your wedding or select just a few, at the end of the day it's your wedding. Create a celebration that is unique to you and your partner. "As much as they may want to, this can be harder for some couples to follow–like Chinese couples who feel strongly about respecting the wishes of their elders and incorporating their heritage," Li said. "So, if this advice doesn't resonate with the challenges you're facing with your Chinese family or families, it's okay. Whatever balance you find is okay."