Here's What You Need To Know Before Making A Wedding Candy Bar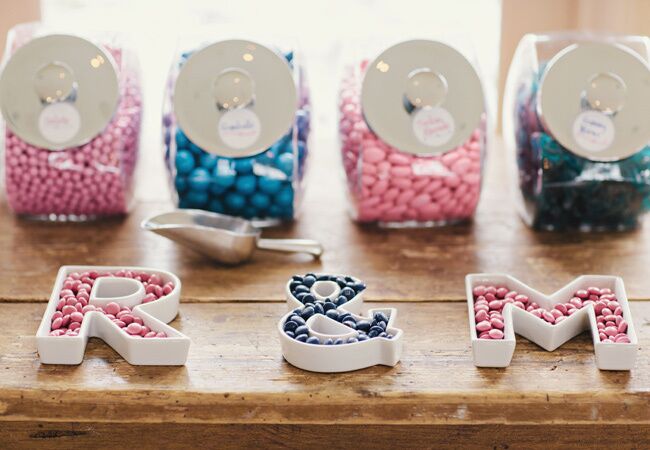 Clean Plate Pictures
We don't have to tell you how much fun candy bars are (and they make a pretty awesome photo op, too!), but pulling off a beautiful display is not as easy as it looks. We reached out to candy and dessert bar experts for tips on how to create an amazing wedding dessert and candy bar. Here's the scoop straight from the pros for making your own sweet display!
Q. How much candy should I buy?
A. Stock at least 1/4-1/2 lbs of candy per guest. "Some [guests] will take less and some will take more, so it all evens out," says Lisa Blackler, owner of Lisa's Candy Buffet. Even if you don't think your friends and family are likely to go overboard on the candy, Madeleine Ernest, founder of Pretty Sweet Candy Buffets, recommends stocking the bar anyway. "I've had clients say, 'Well I don't think the older adults will take it or the men won't take it,'" she says. "They may bring it home to the kids or grandkids, so plan accordingly."
Q. How do I keep the candy buffet from looking messy during the reception?
A. The easiest way to keep a candy buffet neat and stocked is to hire an attendant. "If the wedding is going to be held in a banquet facility, you can ask them to assign one of the staff to man the table, keeping it neat and refilling the jars as needed," says Madeleine. If an attendant isn't available, consider only offering the candy bar at the end of the night as your guests exit.
Q. Where do I start when it comes to design?
A. The most important rule is to keep your candy bar cohesive with a theme or color scheme. "My pet peeve is when people just throw some jars on a table and call it a candy bar," says Lisa. "It [the candy buffet] has to be visually captivating. I love when guests say it looks so pretty they don't want to touch it. That's when I know the job was done right."
Q. What kind of candy should I pick?
A. As long as you have a mix of flavors and treats, anything goes. Make sure you take into account any guest allergies, and either leave those candies off the list or make sure they're clearly marked. Another factor Madeleine cautions to consider: the temperature. Melting can be an issue in warmer seasons, so either keep your candy buffet in air conditioning or choose candies that won't be a soupy mess by the end of the night. The season can also inform the type of candy—for example, cinnamon and pumpkin favorite treats work for fall while tart lemon and citrus candies are perfect for summer.
Q. How do I decorate the candy buffet without spending too much on decor?
A. An easy trick from the pros? Flip the escort card table into the candy buffet after your guests are seated. Lisa suggests using the escort card table for the candy bar later on in the evening so that you can reuse any floral arrangements or decor.