How to Throw the Absolute Best Bachelorette Party in Houston
Everything's bigger (especially the parties) in Texas.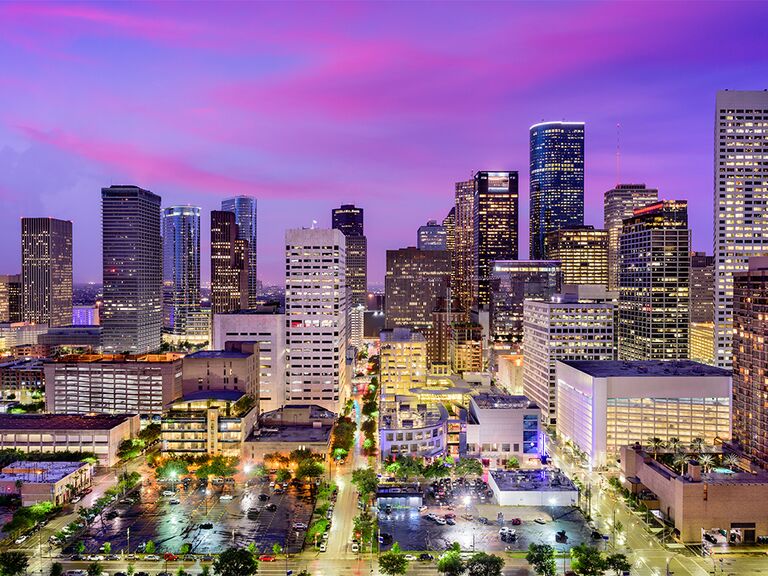 Sean Pavone / Shutterstock
We have included third party products to help you navigate and enjoy life's biggest moments. Purchases made through links on this page may earn us a commission.
Planning a bachelor or bachelorette party presents a unique kind of challenge, especially if it's a destination bachelorette party. You want the bride to be content, the bridesmaids to be hydrated, and the group to experience a getaway that will live up to every expectation that comes with a Houston bachelorette party. As more couples migrate to the Lone Star State, the City of Houston is becoming one of the bachelorette party hubs of the South. Here's how to plan the absolute best Houston bachelorette party for any group of best friends.
In this article:
Why Have a Bachelorette Party in Houston?
Houston offers something for every wedding party, whether it involves a spa getaway or a night at a dueling piano bar. If you haven't visited Texas before, you should know the city is surrounded by water. The waves of Galveston Beach welcome entire bridal parties before a hearty brunch at Hearsay on The Strand.
Downtown Houston is commonly dropped in music references. Enjoy a swanky night out in the Galleria neighborhood by starting with dinner at The Post Oak and heading to Club Tropicana for salsa dancing. After a night out, groups can still break a sweat in the city. Cap off the whole bachelorette weekend with a session at one of the country's largest bouldering gyms or by kayaking along the Bayou.
What Are Some Houston Bachelorette Party Ideas?
For the Low-Key Bachelorette Groups
Lately, many brides are looking to take a more relaxing route for their bachelorette party. Houston offers incredible day spas, yoga classes, cabins and beachfront stays if the trip is focused on recharging before getting hitched.
Book a Wine Tasting
Toasting the bride with a glass of red is a marvelous way to celebrate this season in her life. Explore a local winery in Houston like Sable Gate Winery, Erma Rose Winery or Haak Vineyards and Winery.
Enjoy a Spa Day
Nothing says "rest and relaxation" like a spa day full of massages, pedicures and sauna time. Unwind luxuriously with a trip to Houston's finest spa, Houstonian Trellis Spa. Or pamper yourself and the bride-to-be with custom nail art at Polish Parker and Roe. As any self-care expert will tell you, it's important to hydrate after spa treatments. End your spa day with a pressed juice at the EarthCraft.
Visit a Museum
Houston is, believe it or not, well-regarded for its art scene. Get lost in contemporary artistry at the Houston Center for Contemporary Craft. Enjoy a timely exhibit at the Museum of Fine Arts, or immerse yourself in the Houston Museum of African American Culture.
For Party Hoppers
If you want to coordinate something a bit more sexy and traditional for a bachelorette party, Houston has no shortage of nightclubs, bars, fancy restaurants and other hot spots to make it a memorable experience for every participant.
Book a Pole Dancing Class
Unleash hilarious antics through group pole dancing. In Houston, talented dancers can learn pole-dancing tricks at Revolve Pole Studio, The Pole Experience and Twisted Fit.
Go On a Themed Bar Crawl
Bar hopping seems like a go-to bachelorette option no matter the city. Add a unique theme (Risky Business, Schitt's Creek, Real Housewives) and take over the best bars in town. If you go to Moxie's, you must try their signature margarita. The moody and dark lounge H Bar is a must-go for a bar crawl on the more posh side (especially those seeking Miami vibes).
Organize a Pedal Party
If you're unfamiliar, the pedal party is the new party bus. Participants pedal a trolley while they drink, socialize and blast music. Pedal parties have become a popular choice because bachelorette parties can see the city, stay in a group setting and blast a playlist. Houston offers many options, including Pedal Party, Houston Bike Bar and Houston Pedal Bar.
For the Adventurers
Indulge in Water Sports
Houston allows for an amazing experience on the water. Go kayaking on Buffalo Bayou, sunbathe on the East Beach or rent a yacht for a classy moment on the water.
Explore Local Sights
Houston vegetation is classified as temperate grassland, giving it a rich backdrop of beaches, prairies and forestland. For a peaceful environment, we recommend The Houston Arboretum (a 155-acre nature sanctuary) located west of Downtown Houston. If you want to feel like you're in a rainforest (and snag amazing pictures for social media), head over to Bayou Bend Gardens or get lost in nature on a group hike with the girls.
Glamp
Glamping is a great option for the bachelorette party that desires quality time. Share stories and get out of the city by staying at places like HipCamp or GlampingHub. Airbnb also has plenty of options.
Where Should I Stay in Houston for a Bachelorette Party?
Best Houston Bachelorette Party Hotels
The Post Oak Hotel in Uptown Houston offers luxury, sophistication and prestige. The property is the only Forbes Five-Star Hotel and Spa in Houston, and Houston's only AAA Five-Diamond destination. Consider dining at ultra-feminine Bloom & Bee or pampering the bridal party at the sleek spa.
Hotel ZaZa is a five-star boutique hotel located just steps away from the Houston Museum of Fine Arts. While newlyweds will love the romantic 'Casa Blanca' room, bloggers recommend the 'Rockstar Suite' for the red carpet experience.
If the bride-to-be is uber-feminine or simply appreciates the kitschy, campy and unique, a stay at Sara's Inn on the Boulevard has to be a top pick for the bridal party. Just a few miles from downtown, this family-owned whimsical wonderland is a destination of its own.
Best Houston Bachelorette Party Home Rentals
Experience cottagecore with your group of besties in this historic Museum District home. At 1,800 square feet, there's plenty of room, a gorgeous patio and scenic deck too.
If your bachelorette party rental wish list includes waterfront views, a spacious kitchen, and a private pool, you don't need to look any further. This retreat-style home sleeps ten and sits on the San Jacinto River.
For groups by the beach, an oceanfront view is a must. We love this home in Surfside, Texas, which is a one-hour drive from the city. It's a calm and relaxing option for groups who want to unwind with a slower pace for the weekend.