These Are Hands Down the Best Wedding Gifts to Give Your Boss
Congratulate your boss on tying the knot with one of these appropriate picks.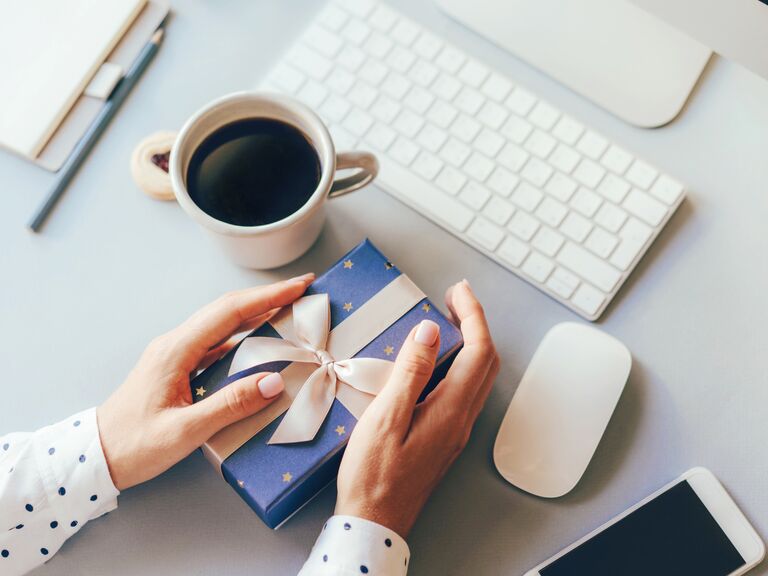 Ilona Titova / Shutterstock
We have included third party products to help you navigate and enjoy life's biggest moments. Purchases made through links on this page may earn us a commission.
Finding the right gift to congratulate a coworker who is tying the knot can already be tricky—so where do you start when it comes to buying a wedding gift for your boss? Whether you're stuck on how much to spend, what to buy or all of the above, we're here to help. Figuring out the right gift depends on a few different things. For starters, you'll want to take your relationship with your boss into consideration. Another really important factor is whether or not you've been invited to the wedding, which can affect how much you should spend and if you should buy something from the registry. Keep reading to learn our top etiquette tips for buying your work superior a wedding gift, plus our suggestions for what to get.
Etiquette Tips for Buying Your Boss a Wedding Gift
As we mentioned already, the amount you should spend on a wedding gift for your manager, supervisor or coworker depends on a few things. If you're invited to the wedding and have been working with them for a while (think: a year or more), it's safe to assume you're more than acquaintances. In this case, it's appropriate to spend between $75 and $100 on a nice gift. If you've been working together for less than a year and you don't feel close with your boss on a personal level, it's acceptable to spend a little less. It's also important to keep in mind that a wedding gift isn't mandatory if you aren't invited to the actual event. In any case, you should only spend as much as your budget comfortably allows.
Didn't receive an invite to the nuptials? You're still welcome to pick out a small gift to congratulate your boss, but keep in mind that splurging on something super expensive might send the wrong message. The last thing you want is to make them feel uncomfortable for not including you on the guest list. A nice bottle of bubbly is more than enough to mark the occasion. (And if you're really set on getting your boss something more expensive, see if any of your coworkers are interested in contributing to a group gift or gift card.)
Our Favorite Wedding Gift Ideas for Any Boss
Ready to start shopping? We're sharing the best wedding gifts to give your boss, whether you're attending the ceremony or cheering them on from the sidelines. These thoughtful picks are sure to impress your manager, mentor or supervisor.
A Bottle of Bubbly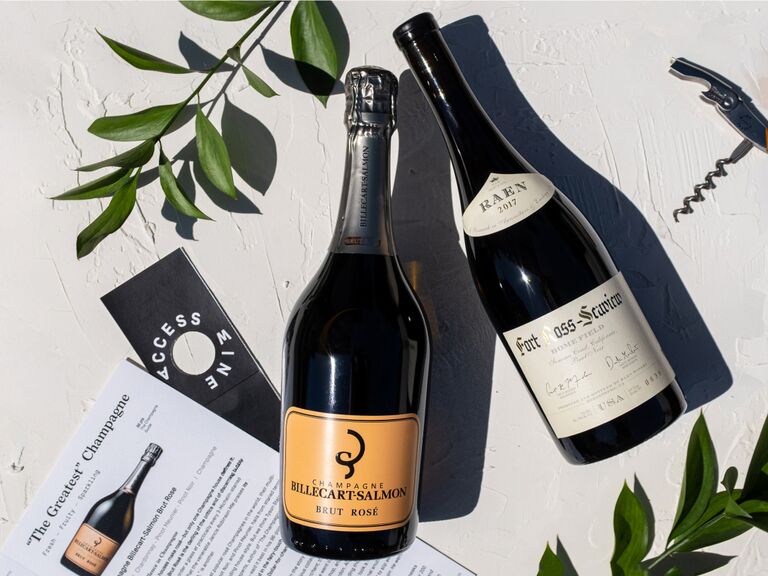 If you're not invited to the wedding but still want to give your boss a gift, a celebratory bottle of wine or champagne is a great option. Pick out some vino, stow it in a nice wine box or bag and it's ready to hand over the next time you see them.
Convenient Coffee Maker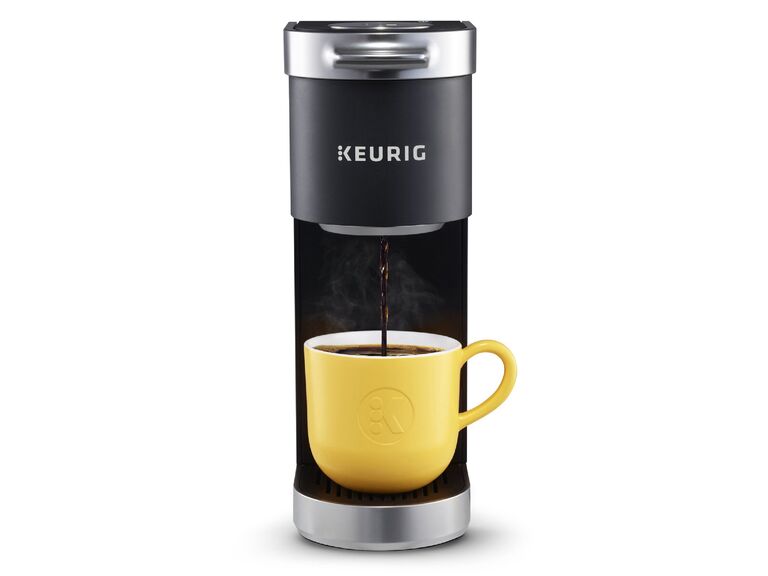 Attending the nuptials and not sure what to get? If your boss and their future spouse have a wedding registry, it's best to select something from there. Choosing a present from the couple's registry ensures that you're definitely getting something they want or need. It's also a nice idea to select a gift that gives a nod to your relationship. If your boss always comes in with a hot cup of joe in hand, this mini coffee maker will be a welcome addition to their home (or desk!).
Personalized Picture Frame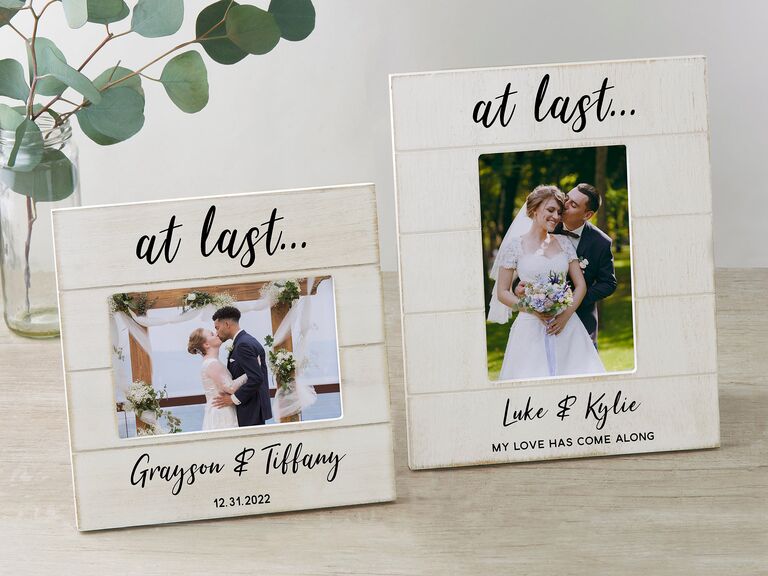 A nice photo frame is a sweet gesture that certainly doesn't feel over the top. Have this one personalized with your boss and their new spouse's first names and wedding date for an extra-special present. After all, they'll need somewhere to put those gorgeous new wedding photos.
Sleek Mouse Pad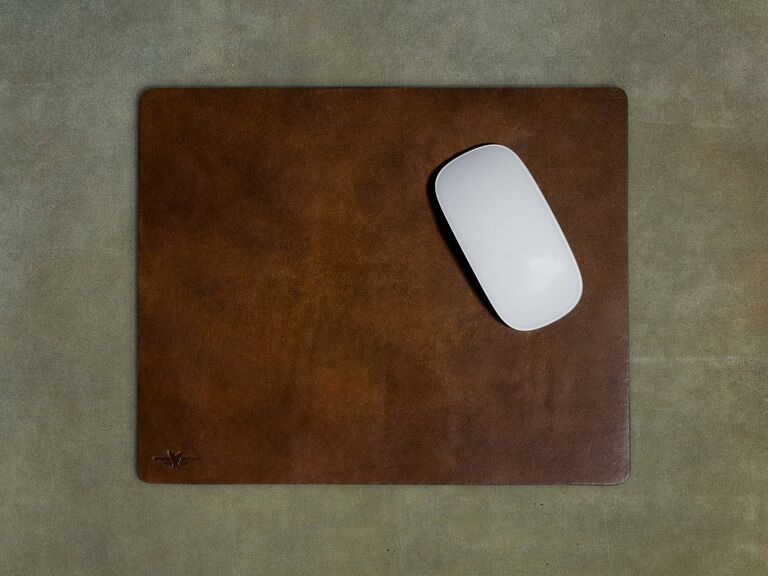 Picking out an appropriate wedding gift for your boss can be difficult, especially if a lot of the couple's registry items have already been snapped up. Instead of guessing at what they might need or want in their home, how about buying something for your boss' work area? This high-quality leather mouse pad will instantly level up their office aesthetic.
Group Gift Card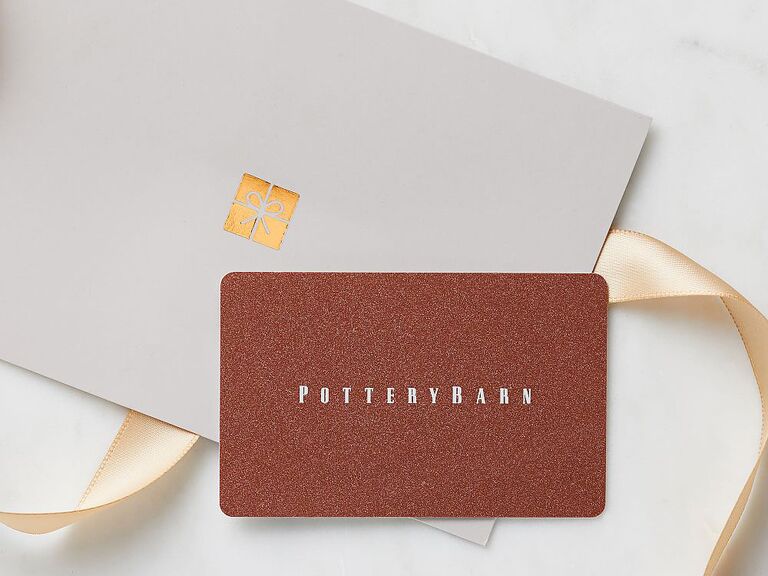 Gift cards make for some of the best wedding gifts for any boss, especially if your coworkers want to chip in as a group. There are lots of great retailers that sell both physical and digital gift cards online. We're big fans of Pottery Barn, West Elm and Williams Sonoma if the couple will be furnishing a new home together.
Fancy Whiskey Stones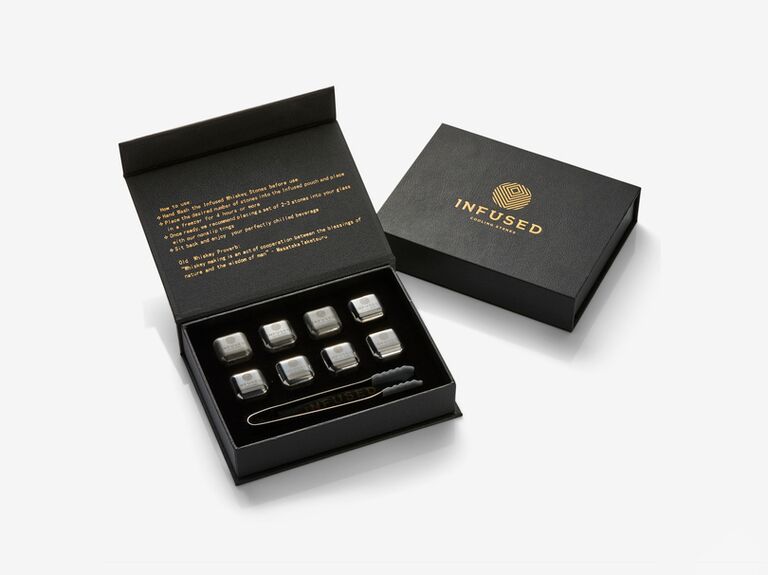 If you happen to know your boss' drink of choice is a smooth scotch on the rocks, these whiskey-infused chilling stones will be their new favorite thing. The stones will keep any whiskey at the perfect temp without taking away from its signature taste.
Champagne-Scented Candle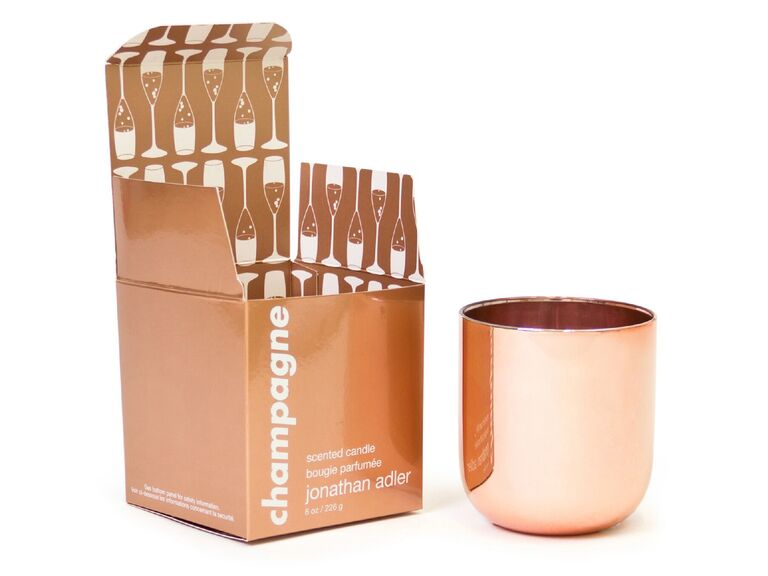 Here's another appropriately small present for anyone who isn't overly close with their boss or didn't receive an invitation to the wedding. Candles are always a great gift idea, but this one really takes the cake as a wedding present thanks to its celebratory champagne scent.
A Bright Bouquet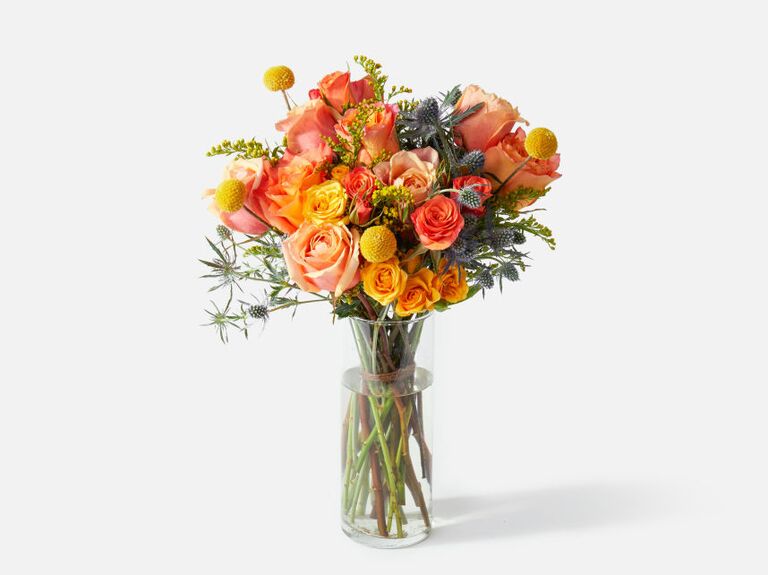 A flower delivery is another simple-but-sweet wedding gift for a manager or boss that'll always be appreciated. Opt for something bright and colorful to nail the celebratory vibe, like this stunning arrangement of orange roses and golden craspedia.
Elegant Toasting Flutes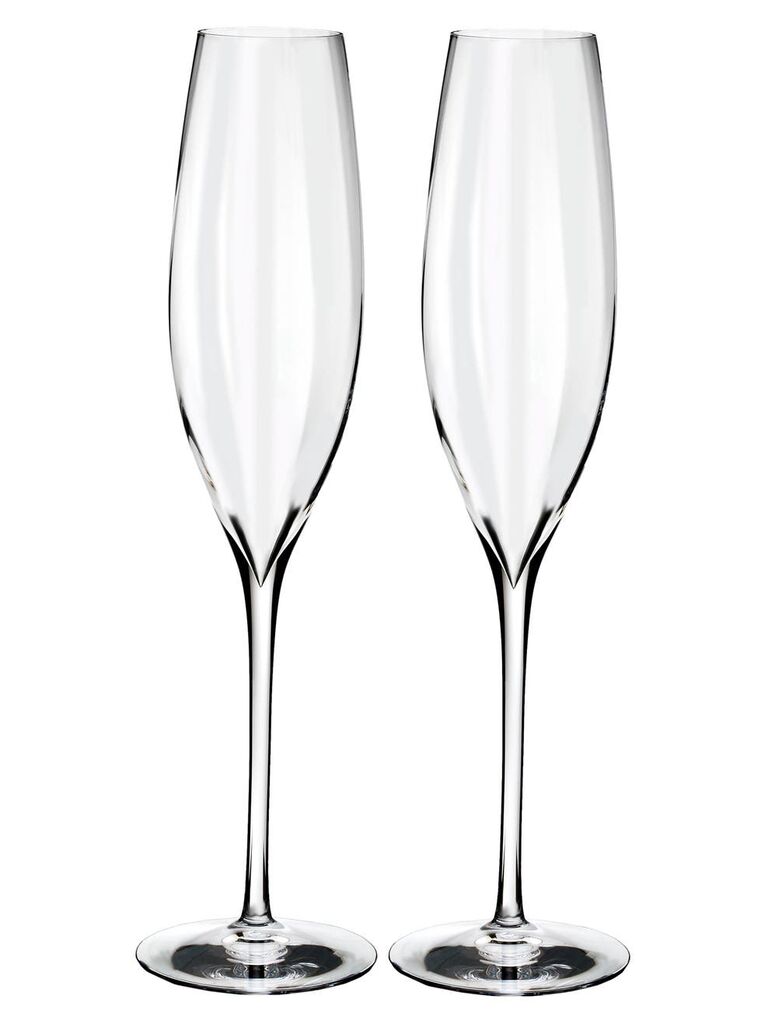 A set of Waterford crystal champagne glasses will serve the newlyweds well on pretty much every milestone still to come. If you're not 100% sure of your boss' style when it comes to homeware, go for something classic and minimal like these stunning flutes.
Sentimental Newspaper Print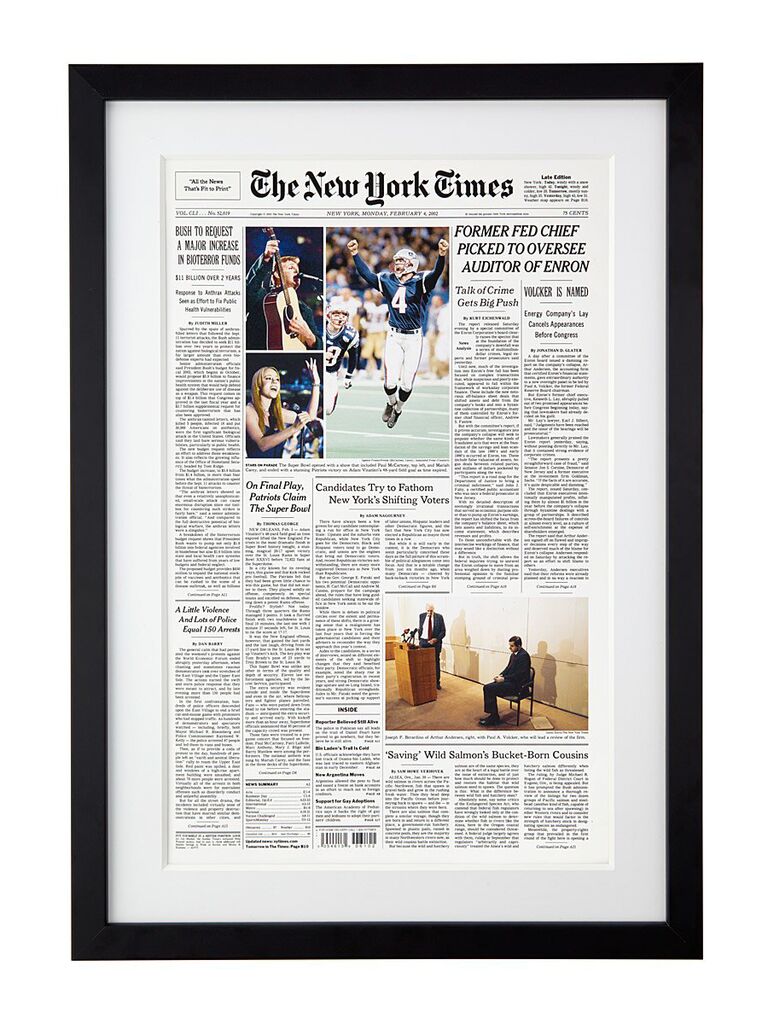 Got a boss who starts every day with the morning paper? A reprint of the New York Times front page from their wedding day is a thoughtful keepsake that might just make them tear up.
Miniature Gift Box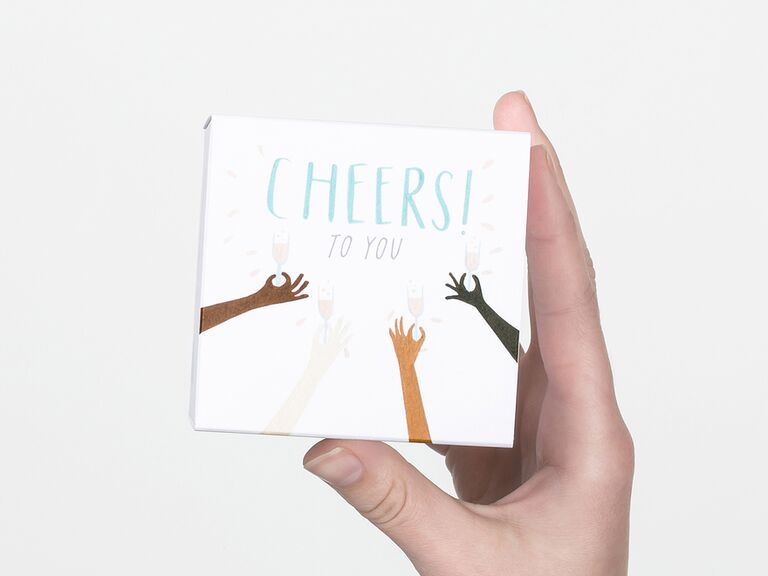 When it comes to small tokens, Greetabl is the place to go. Include a personal note to your boss expressing your well wishes inside the cute fold-out gift box. Then, finish it off with a pocket-size present of your choosing. Stick with something small and on-theme (think: champagne-flavored candy) or go down the practical route with a gift card to one of their favorite stores.
Travel Decanter Set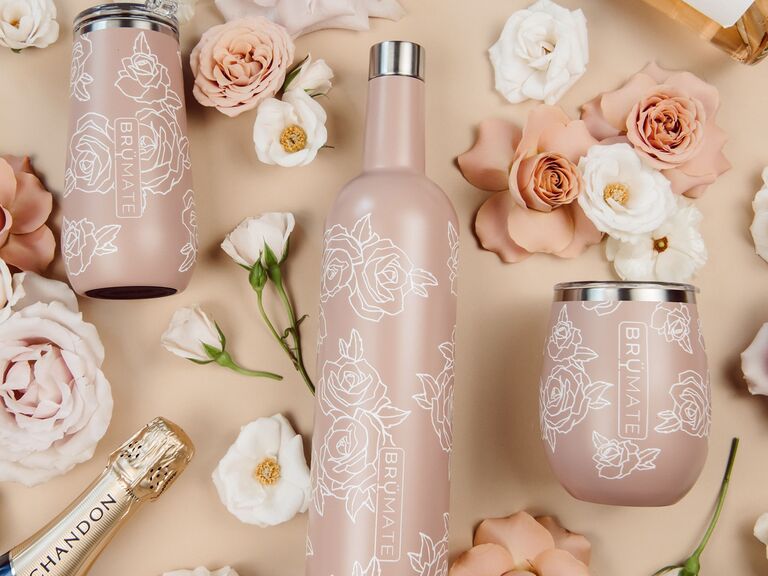 If your boss is on the go a lot for work, an insulated travel wine decanter and tumbler set will be put to use almost immediately. They won't leave for their honeymoon without this gorgeous floral drinkware, and it's something they can use again long after the wedding. (Psst, you can also find whiskey glasses and martini tumblers if that's more their speed.)
Celebratory Food Box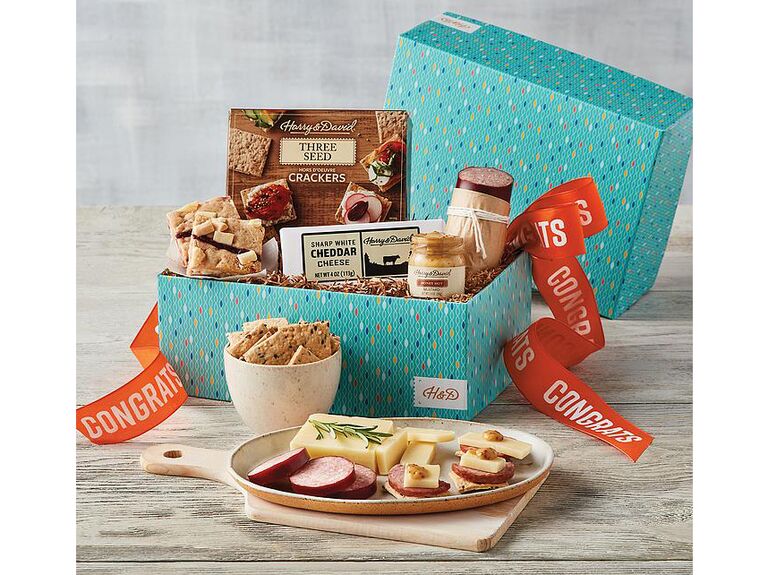 Who doesn't love getting a gift basket chock full of fancy edible goodies? This is easily one of our favorite wedding gift ideas for any boss who's known to dabble in making charcuterie boards during their free time. It includes a delicious selection of sweet and savory treats they'll be glad to dig into with their new spouse.
Engraved Cutting Board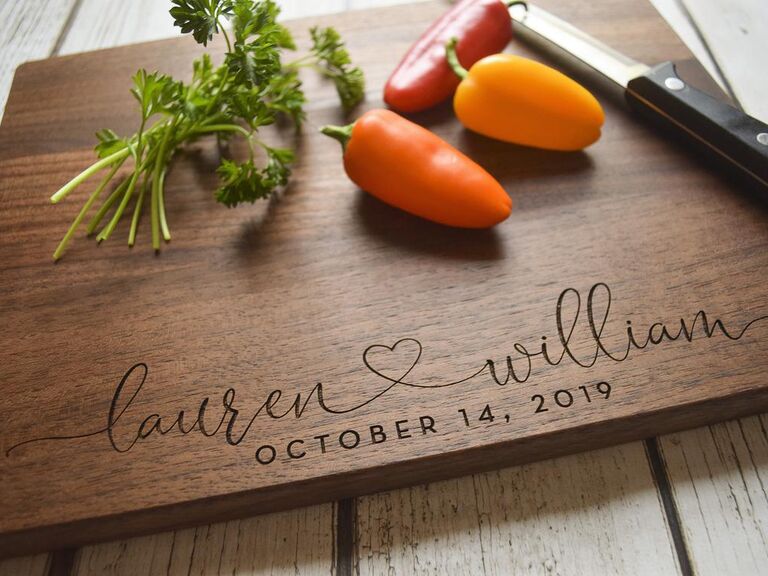 Speaking of charcuterie, a personalized cutting and serving board engraved with the newlyweds' names and wedding date is a sweet keepsake they probably don't have yet. Custom gifts like this one are a great option if you don't have access to the couple's registry, since you'll avoid accidentally picking out a duplicative present.
Seasonal Decor Subscription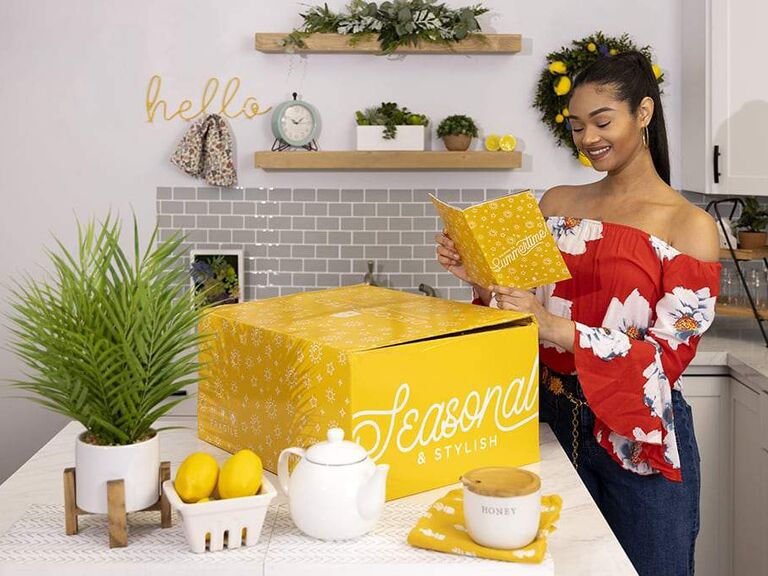 If you're planning on teaming up with your coworkers for a work shower or wedding gift, here's another unique gift card idea. Homebodies and bosses who love upgrading their space will appreciate a gift card for this home decor subscription service. Members receive a seasonal box of decorative furnishings and accents four times a year.
A New Office Mug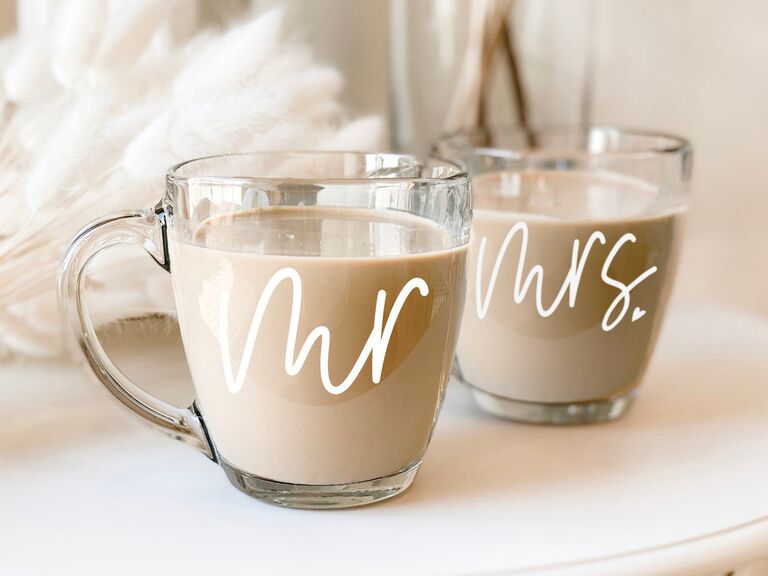 Honor your boss' brand new (or reinvigorated) title by gifting them a new coffee mug for the office adorned with "Mr." or "Mrs." You can buy them separately or as a cute matching mug set with their preferred titles for both of the newlyweds to enjoy.
Delicious Dessert Cocktails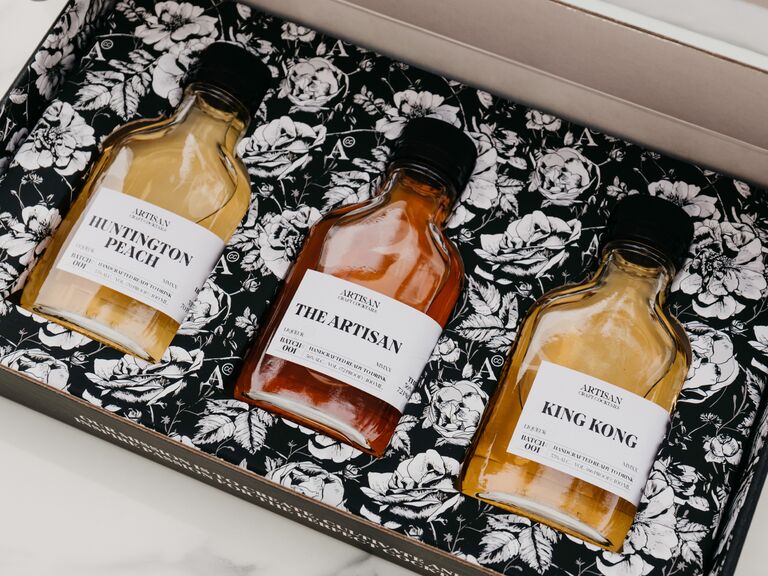 Wine and bubbly aren't for everyone. Why not help the newly married couple raise a toast to their milestone with a selection of unique, ready-to-sip cocktails instead? The gift set features three different recipes to explore, including Huntington Peach, The Artisan and King Kong.
Custom Flash Drive
If you're not invited to the nuptials, a small wedding gift for your boss is more than enough to congratulate them. Techies will love this personalized wooden flash drive to help them keep important work documents (or wedding photos!) safe in style. Hand it over with a meaningful greeting card to say congratulations.
Gourmet Chocolate Truffles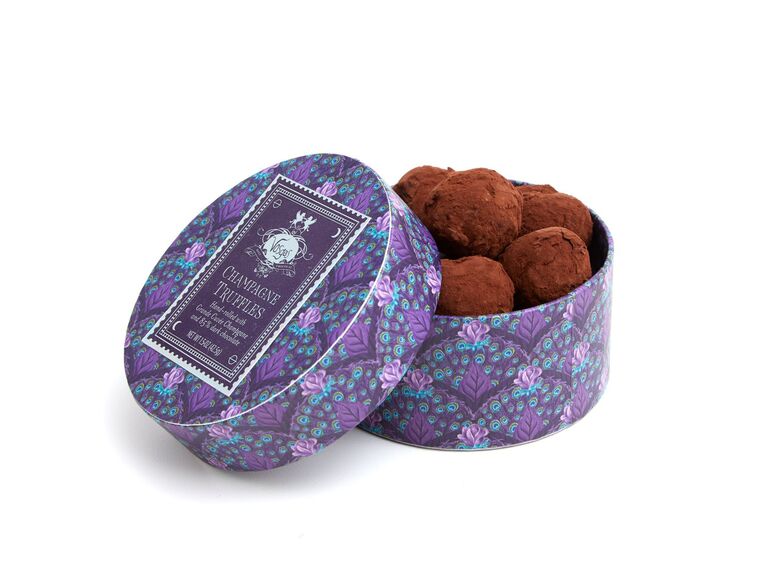 Sometimes the perfect gift is as simple as a box of chocolates. Made from decadent dark chocolate and Krug Grande Cuvée champagne, these delicious treats should be reserved for only the most special occasions.