Don't Forget Your Camera at These 16 Stunning Waterfall Honeymoon Spots
Who says you can't go chasing waterfalls?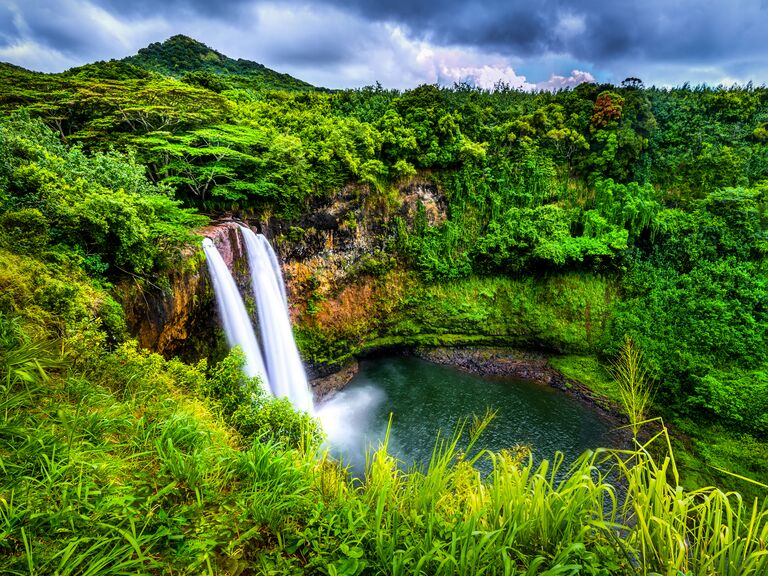 Mohamed Selim / Shutterstock,Location: Wailua Falls, Kauai, Hawaii
The perfect honeymoon combines relaxation with excitement. Add in incredible natural beauty, and you have the recipe for an unforgettable trip. That's why some of the best honeymoon destinations we've found involve an excursion to visit a waterfall.
You can go both near and far to discover these majestic waterfall honeymoon destinations. Explore astonishing waterfalls right here in the US, or venture across the world to beautiful beaches in Africa, Europe, Australia and Asia. You'll connect with the Earth—and your boo—while taking in the unspoiled grandeur created by Mother Nature.
These 16 waterfall honeymoons are an amazing adventure to kick off your life as newlyweds. Take a look.
1. Burney Falls, Shasta County, California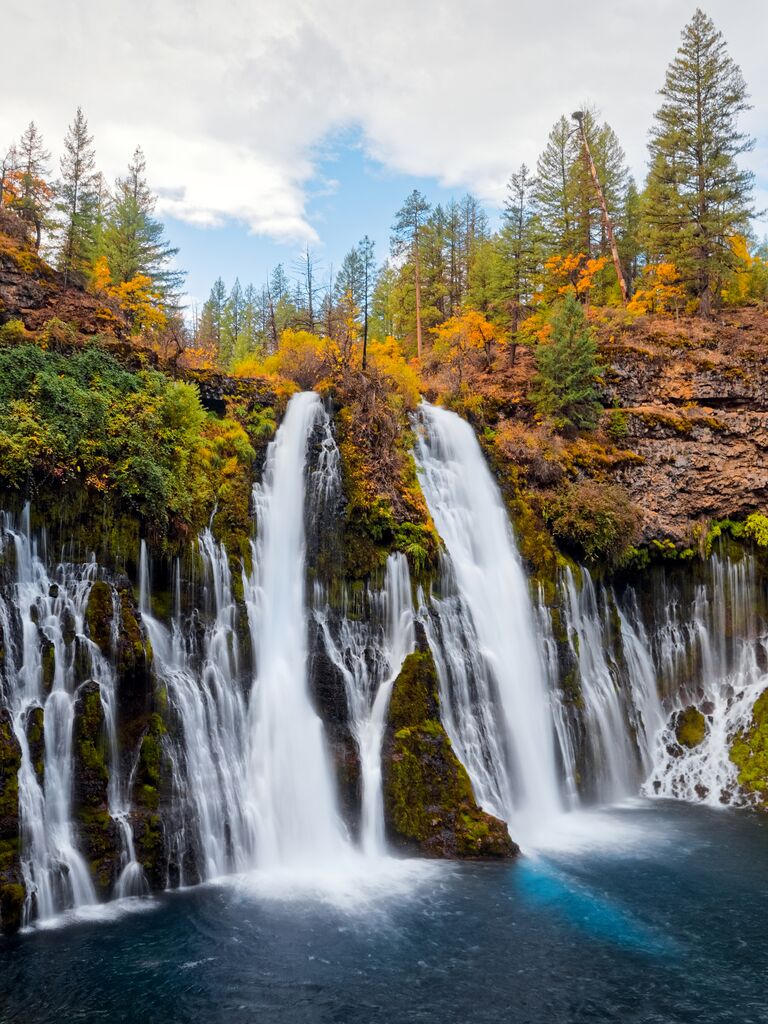 Want to see the spot President Theodore Roosevelt dubbed the Eighth Wonder of the World? You can visit the Northern California evergreen vista that is Burney Falls just for the day and do the 1-mile hike around the Burney Falls Loop Trail to experience what's known as the "weeping wall" waterfall.
Take a brisk plunge into the water at the base of the falls or swim around chilly Lake Britton if you need a pick-me-up. Outdoorsy newlyweds can camp within the McArthur-Burney Falls Memorial State Park, hike a portion of the Pacific Crest Trail or go on a two-day waterfall-chasing road trip throughout the Golden State.
2. Niagara Falls, Ontario, Canada
You can visit from either the New York side or the Canada side, but many waterfall aficionados will tell you it's the view from Canada that provides the most dramatic vistas of the Horseshoe Falls, which you'll instantly recognize as the iconic Niagara panoramic shot. It's no surprise this natural wonder (and the largest waterfall in North America) was once dubbed, "The Honeymoon Capital of the World."
You can spend time visiting the falls, then make your way around the 50 wineries that surround Lake Ontario. Book a reservation at one of the standout restaurants or spend time relaxing at one of the nearby luxury spas for the ultimate honeymoon experience.
3. Bridal Veil Falls, Telluride, Colorado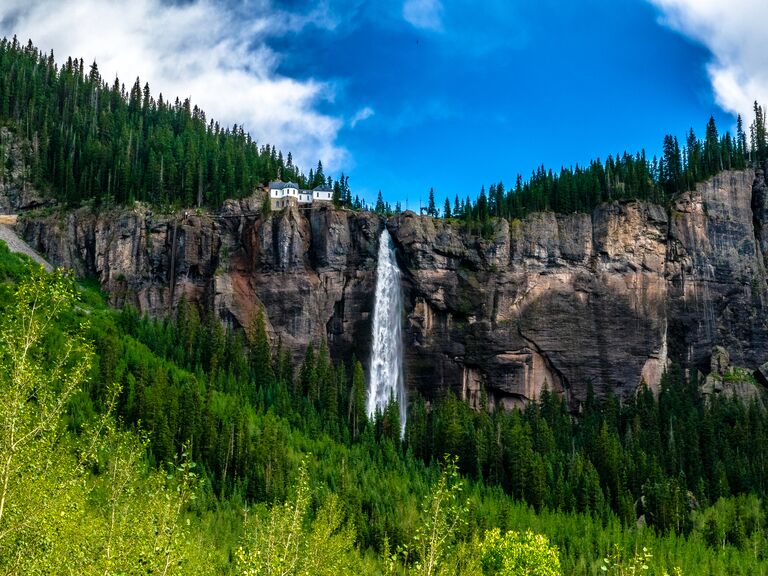 Colorado's 365-foot free-falling waterfall provides year-round beauty. Visit in the summer for the perfect Colorado weather with warm days and cool evenings, or make a winter trek to marvel at the cascading water, frozen in time. It's a moderate 1.8-mile hike to the top of the falls. When you're not on the trails, Telluride offers myriad activities to keep you busy, as there are countless art galleries and restaurants. Depending on when you visit, you could time your honeymoon with the Jazz Festival, Film Festival or world-renowned Bluegrass Festival.
4. Shoshone Falls, Twin Falls, Idaho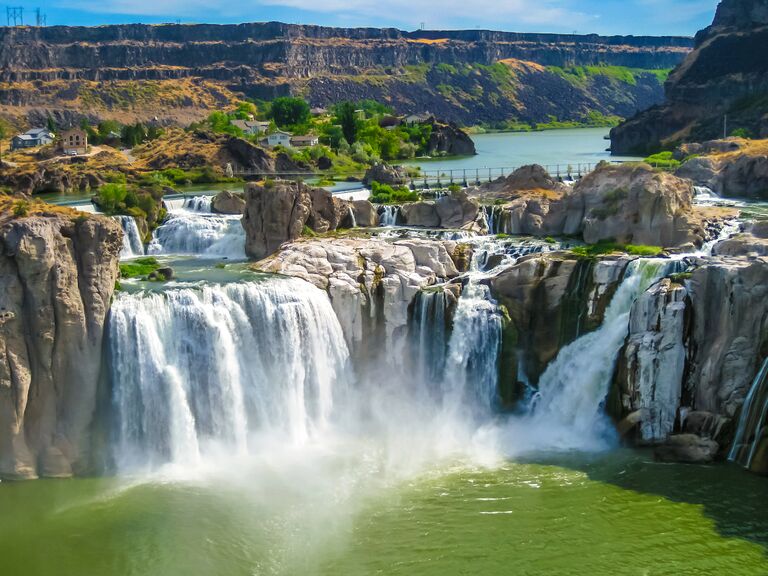 Known as the "Niagara of the West," the 1,000-foot-wide Shoshone Falls puts on its most exciting show for visitors during the spring, when snow melt runs off the mountains in a fascinating display of waterworks. For the adventurous honeymooners, Shoshone Falls provides the opportunity not only to appreciate the falls from afar, but to swim, paddle-board and more, all within the shadow of the mighty waterfall.
You're close enough from both Boise and Sun Valley to make Shoshone Falls part of a larger Idaho road trip—or a quick day trip.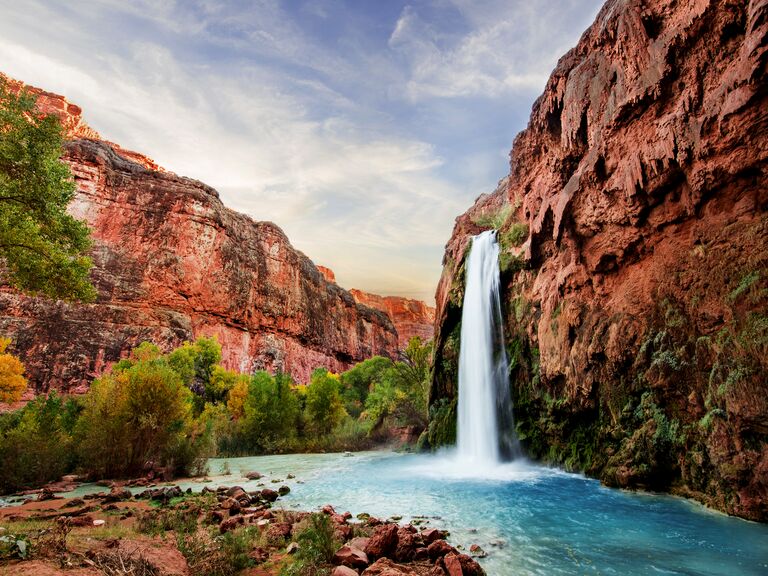 From February to November, the remote Havasu Falls is a dazzling destination for honeymooners looking to find a far-flung adventure. Hikers are required to obtain a permit from the Havasupai Indian Reservation to visit Havasu Falls, and the trip will involve at least one overnight on the reservation, as well as bringing in everything you'll need for your stay. But the view of the turquoise waters juxtaposed against the red desert clay is worth the effort, particularly for those looking for an outdoorsy honeymoon.
6. Wailua Falls, Kauai, Hawaii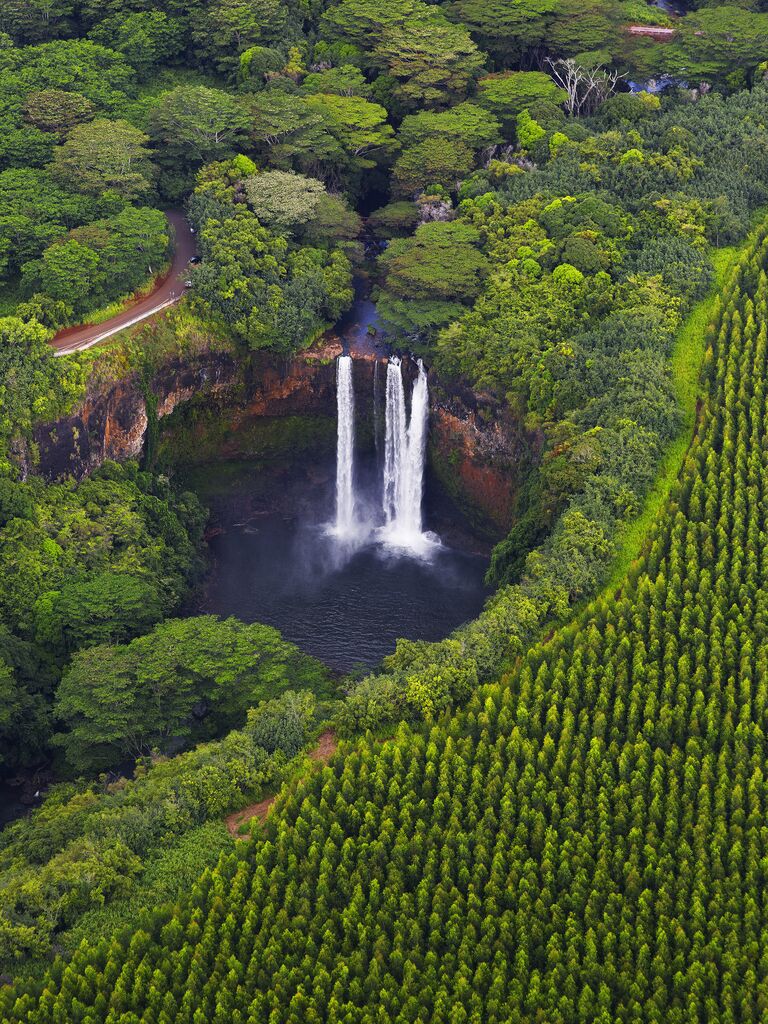 Kauai, or the "Garden Isle," is one of the wettest places on the globe, which means you could spend your entire honeymoon checking out its many waterfalls. However, if there's one to top them all, it's Wailua Falls.
You'll spot Wailua Falls as soon as you pull off the road, but take the time to get out of the car to witness it up close. It's worth getting up early to see its most extraordinary show of nature—when the morning sun hits the mist from the falls, visitors are delighted with a gorgeous rainbow display.
An added bonus: Kauai is a quieter option than Maui and other Hawaiian islands, and a romantic choice for newlyweds looking for a secluded getaway.
7. Helmcken Falls, British Columbia, Canada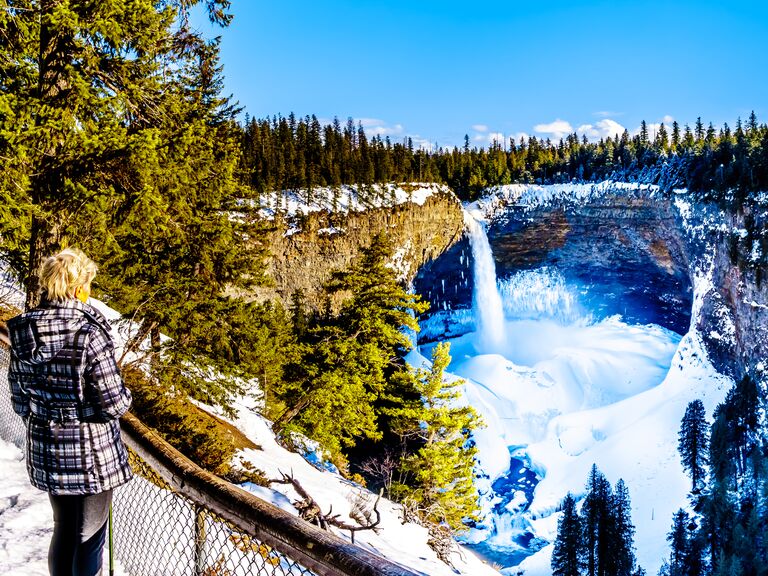 To see the jaw-dropping Helmcken Falls in British Columbia, you can hike the 5-mile Helmcken Falls Rim Trail, a trail that is accessible for hikers of all skill levels. But, if you're seeking an up-close and personal look, you can brave the Helmcken Canyon Route, an unmaintained trail better suited for only the most experienced hikers.
You can include Helmcken Falls as part of a larger Jasper National Park honeymoon, where you explore the abundant wildlife, book a boat ride, go kayaking on its glassy turquoise lakes and bask in the beauty of your natural surroundings.
8. Gullfoss Falls, Iceland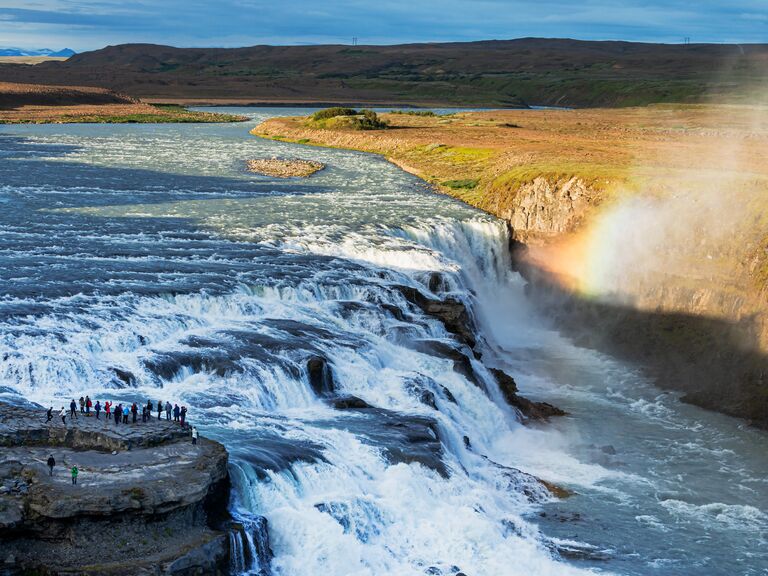 When you think of an Iceland honeymoon, you'll likely picture soaking in hot springs, road tripping across otherworldly landscapes, whale watching in the frigid waters and, of course, marveling at awe-inspiring waterfalls. In fact, Iceland's waterfalls are so good that we had to include two on this list.
The first is Gullfoss, or "The Golden Waterfall," fittingly named for a waterfall that you'll find along the Golden Circle. As you road trip around this 140-mile ring, you'll also see the Geysir geothermal area and the Thingvellir National Park. There are paths that take you close enough to the waterfall to need a rain jacket to stay warm, and you'll quickly realize the power of the Hvítá River that feeds it.
The Golden Circle is doable as a day trip from Reykjavik, though if you prefer to take in the sights over several days, you can rent a camper or book one of the few small boutique hotels along the route.
9. Seljalandsfoss, Iceland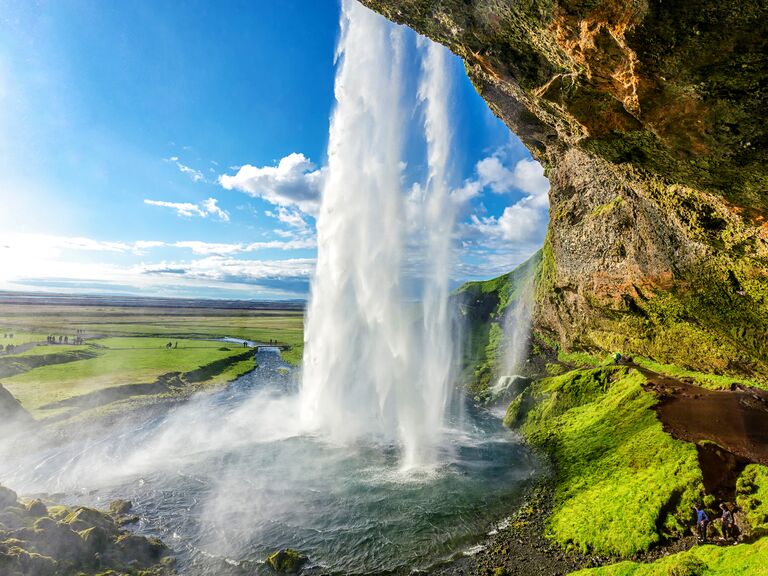 Along the Ring Road, one of Iceland's other popular road trip routes, you'll meet several waterfalls, but a perennial favorite is Seljalandsfoss. If you visit during the "warmer" months, you'll feel as if you've been instantly transported into a Lord of the Rings movie. The gorgeous landscape is a vivid green and the waterfall seems too stunning to be real.
One of the coolest parts? It's a short walk off the road and you can go directly behind the waterfall for a unique view of the force of the water. Be prepared to get wet and make sure your camera is waterproof.
10. Iguazu Falls, Brazil and Argentina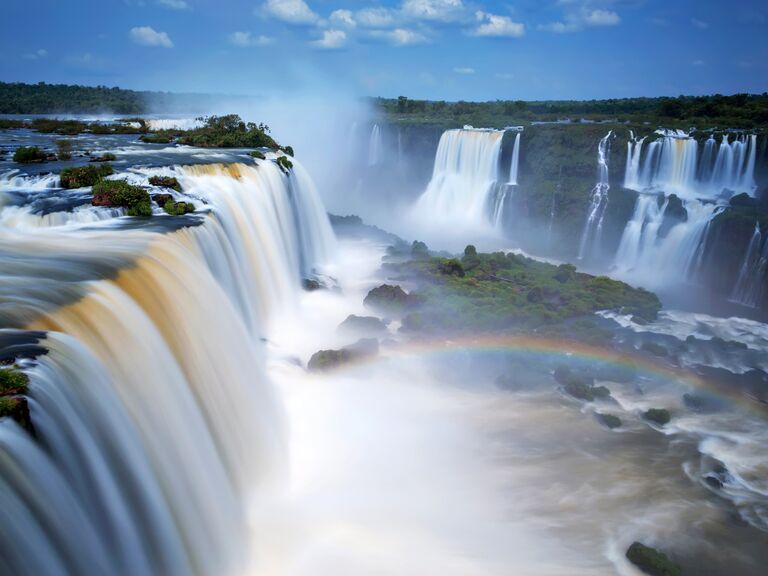 Dividing Brazil and Argentina, and forming the largest waterfall in the world, Iguazu Falls actually consists of 275 different falls. Tourists come from all over to visit this gargantuan series of falls, with access points available in Brazil, Argentina and Paraguay (each country has an airport nearby).
The water flows into a narrow canyon called Devil's Throat, which is one of the most remarkable attractions throughout this natural wonder, and there are various walkways that allow you to witness the strength of this waterfall without trekking through the forest. You can also take overhead helicopter rides for a truly thrilling view.
11. Plitvice Lakes National Park, Croatia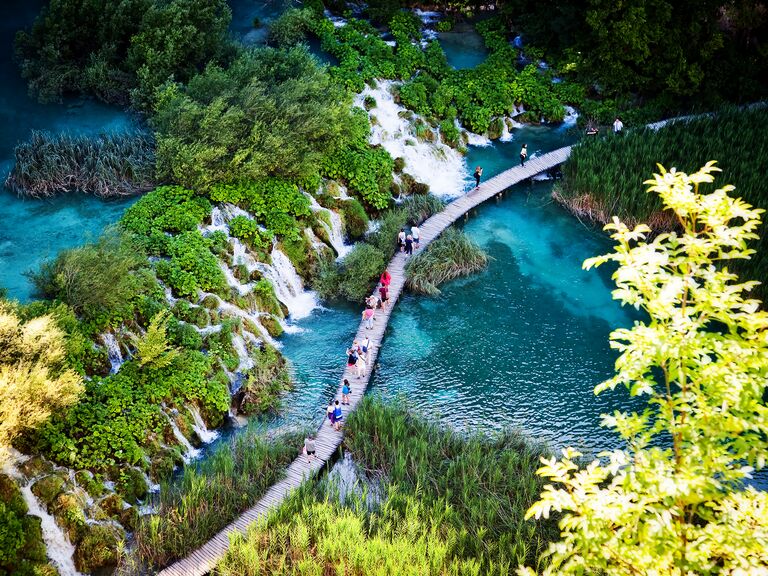 You'll feel as if you've been transported to a different world when you venture into Plitvice Lakes National Park, a UNESCO World Heritage Site. Covering 30,000 acres, this park consists of upper and lower lakes that are connected by turquoise waterfalls that appear to have sprung out of a fairy tale.
You'll discover trails both long and short, enough to keep you on your feet exploring all day long. Or, you can take a train or boat ride throughout the park or even book a horseback riding tour. This is a magical place where you'll find an incredible diversity of flora and fauna, but steer clear of bears, wolves and other impressive creatures hiding in the woods. Stay at a hotel nearby to give yourself ample time to experience and explore this one-of-a-kind place.
12. Valle delle Ferriere, Amalfi Coast, Italy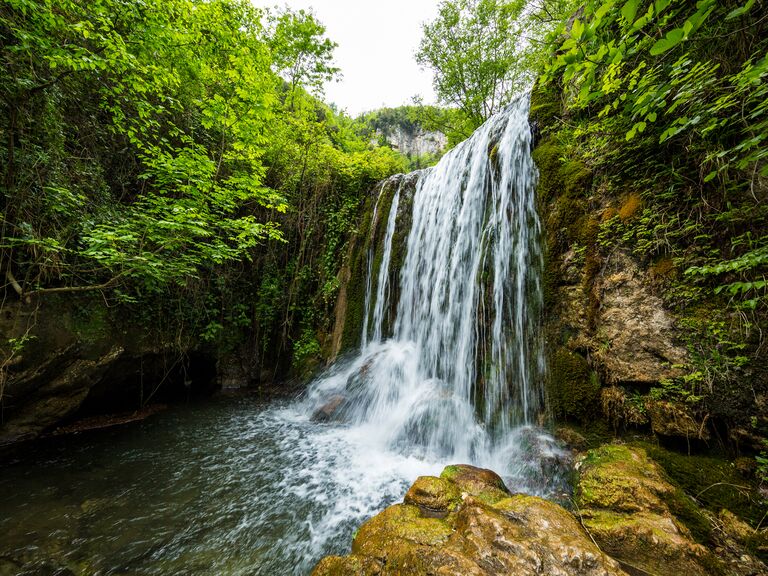 An Amalfi Coast honeymoon sounds like a dream, right? This beautiful area in the Campania region of Southern Italy is known for turquoise blue waters and afternoons spent leisurely sipping Aperol Spritzes while looking out for your next fabulous celeb sighting.
But just off the picturesque coastline lies another honeymoon adventure waiting to be found. The Valle delle Ferriere takes you off the beaten path to a microclimate within the region, filled with forest, ferns and a brilliant waterfall. It's an exquisite surprise in an area known for warm waters, relaxing boat rides and a sophisticated beach-town vibe rather than hiking through the woods.
13. Ouzoud Falls, Morocco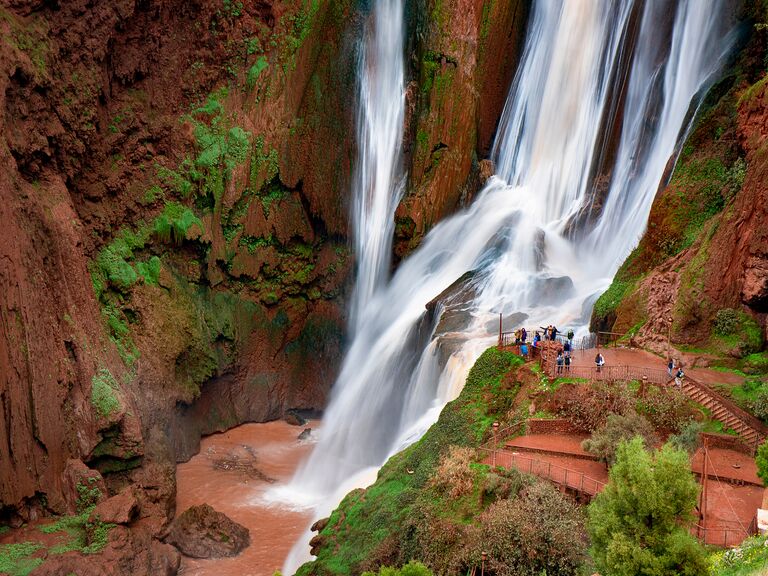 If you're planning a Moroccan honeymoon, you probably have an itinerary full of exploring souks (marketplaces), eating mouthwatering Moroccan cuisine and taking in the desert landscape. But one thing you might not expect is a day trip to visit a breathtaking waterfall—the second highest on the entire continent of Africa.
Book a day trip from Marrakech and take a boat ride to Ouzoud Falls, an incredible waterfall ascending high out of the desert landscape, filling the surrounding area with lush vegetation. During the warmer months, the water rises to pleasant temperatures, perfect for taking a dip.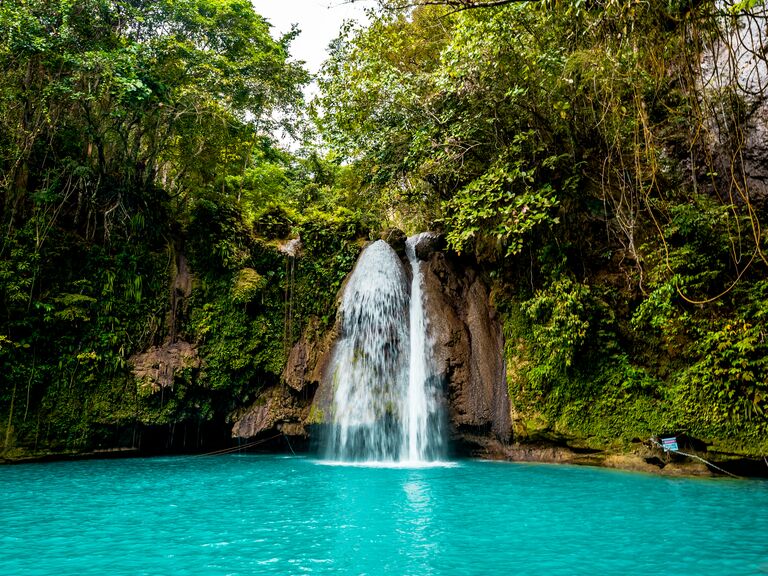 Pools of emerald-green water beckon as you make your way through the natural lagoons formed by Kawasan Falls. This unbelievably beautiful site is located off a jungle trail, deep in the mountains of Barangay Matutinao outside Cebu. You can make your way to the falls via motorbike, but you may want to dedicate at least one night to staying in the cottages in the area.
If you're the thrill-seeking sort, you can dare yourself to jump off the multiple 15- to 30-foot plunges throughout the falls. When you start craving sun and salt water, make your way back to the white-sand beaches of Cebu to finish out a romantic honeymoon in the Philippines.
15. Victoria Falls, Zimbabwe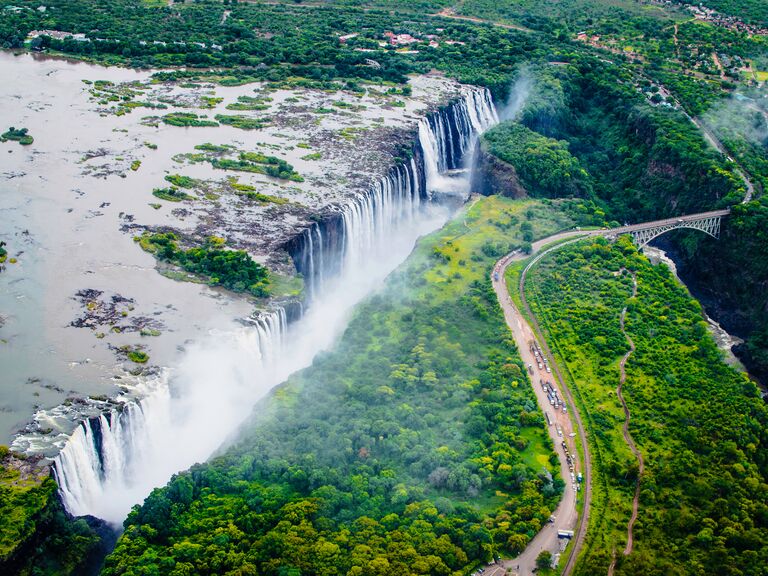 A UNESCO World Heritage Site, Victoria Falls is worthy of spending three to four days of your African honeymoon. You may have a safari already planned, but trust us, you won't want to miss this monumental marvel. Visit from February through May to witness the full breadth of the curtain of falling water that Victoria Falls is known for, and plan on sharing your space with wildlife, including giraffes, elephants and antelopes. Adrenaline junkies can dive into activities like bungee jumping, zip-lining, taking a hot-air balloon ride and whitewater rafting on the Zambezi River.
Spend at least one evening watching sunset settle in over the falls, putting on a spectacular show of vibrant pinks and purples. Then, plan to stay in one of the best hotels you'll find on the planet: the unique and elegantly rustic safari camps that dot the area.
16. Buccaneer Archipelago, Australia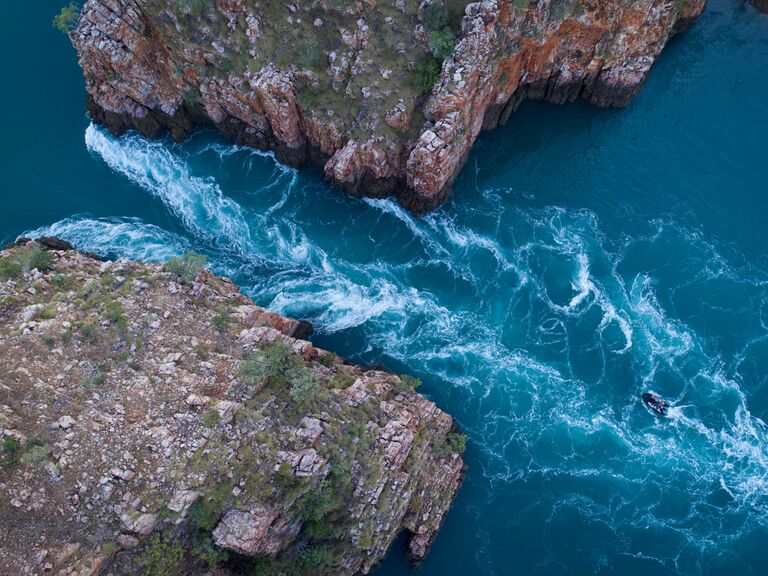 A trip to the land down under is a dream honeymoon for many. Snorkeling through the vivid coral reefs of the Pacific Ocean, checking out the nightlife in Melbourne and hitting some of the best golf courses in the world may all be on your agenda. But make sure you don't forget a visit to Western Australia, home of the Buccaneer Archipelago and the Horizontal Waterfall in Talbot Bay.
What is a horizontal waterfall, you ask? It's when forceful tidal movements rush between cliff passages, creating an intense flood of water. It's something you won't find almost anywhere else in the world, and you'll get the most impactful view from high above in the air. It's a can't-miss experience for your Australian honeymoon.