A Romantic Honeymoon Under the Tuscan Sun
This picture-perfect Italian region will seduce food, wine and art lovers alike.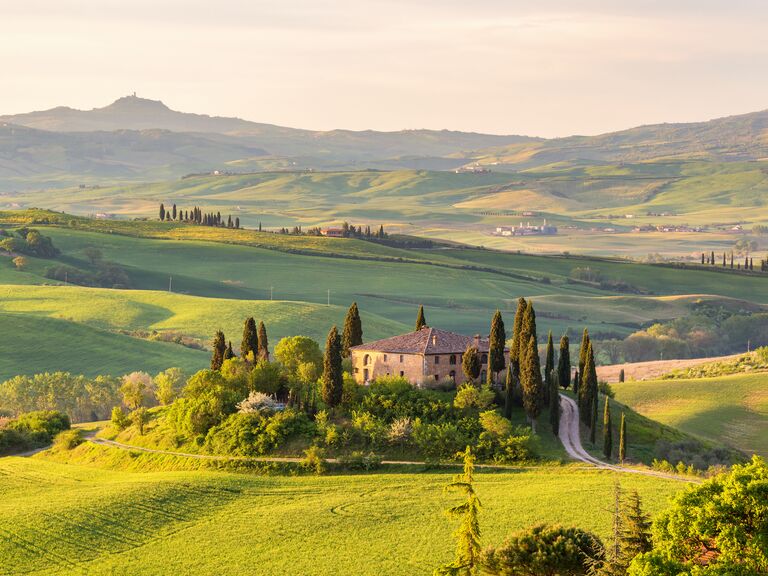 Getty Images
Rolling green hills dotted with perfectly preserved medieval towns. Cypress-lined lanes through vineyards and olive groves. Scenery this picturesque is begging to serve as a honeymoon backdrop.
For food- and wine-loving couples, a Tuscany honeymoon is the ideal destination for a perfectly romantic getaway. By visiting vineyards and taking hands-on cooking classes, newlyweds can experience food and wine close to the source, says Amy Siegal, a New York City-based travel advisor with Valerie Wilson Travel.
It'll appeal to art lovers, too—fans of Renaissance art will relish Tuscany's many museums and iconic art, says Sridevi Chandra, founder of Storybook Getaways.
Ready for your romantic Italian adventure? We thought so.
Is Tuscany Good for a Honeymoon?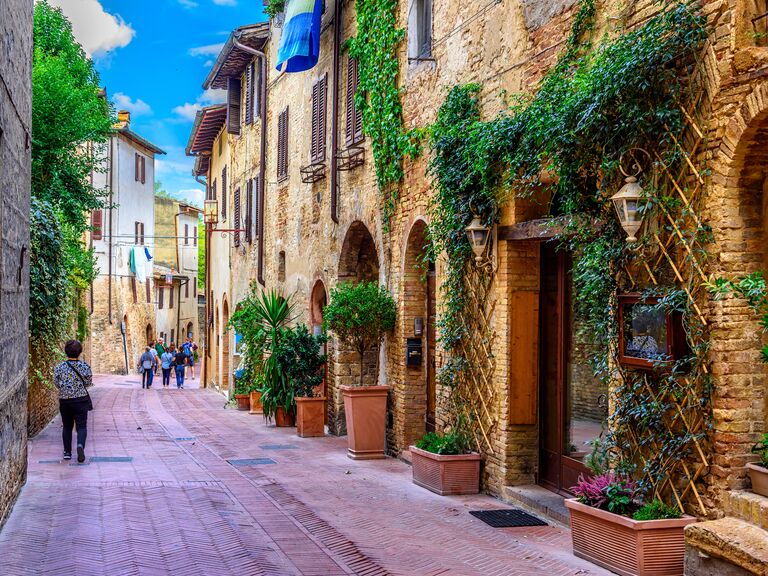 Medieval towns, charming villages, museums, vineyards, farms, quiet beaches—you can find them all here, Chandra says. Along with gorgeous scenery and historic sites, couples can experience top-notch cuisine and wine, plus photogenic and amenity-rich hotels and resorts. And newlyweds looking to relax after a busy wedding-planning period can kick back at thermal spas with mineral springs, Siegal says.
Pros of a Tuscany Honeymoon
This Italian region offers breathtaking scenery plus stellar hotels and restaurants. For a balance of city and country, couples can spend their days sightseeing and shopping in Florence and their nights relaxing with a nightcap at their serene Tuscan hotel, say Kara Bebell and Harlan deBell, co-owners of The Travel Siblings.
Tuscany is also an ideal base from which to explore other cities, such as Bologna or the region of Umbria. Easy to access, newlyweds can fly directly into Rome from several US cities, including New York, Boston, Chicago, Atlanta, Dallas, Miami and Los Angeles, Chandra says. From Rome, they can take a local train to Florence, then hire a driver to take them to Tuscany or hop on a direct train to Siena. Alternatively, newlyweds can fly into Pisa or Florence.
Cons of a Tuscany Honeymoon
Honeymooners who want to walk out of their hotel and be in the center of the action might not relish time in Tuscany, Bebell and deBell say. "The majority of the best, most luxurious Tuscan hotels are in the country," they say, adding that going on vineyard tours and dining out will involve quite a bit of travel time.
"While driving is always an option, the expense to rent a car and buy insurance and gas can become an unexpected budget suck," they say. "And the region of Tuscany, while beautiful, can be confusing for drivers who aren't used to the area. Many roads are long and winding without street markers."
Another potential downside is the lack of vibrant nightlife, says Travis Dedmore, a trip designer with Reco. Don't expect bustling clubs and bars like you'd find in Rome or Milan, she says.
The Best Times of Year to Go on a Tuscany Honeymoon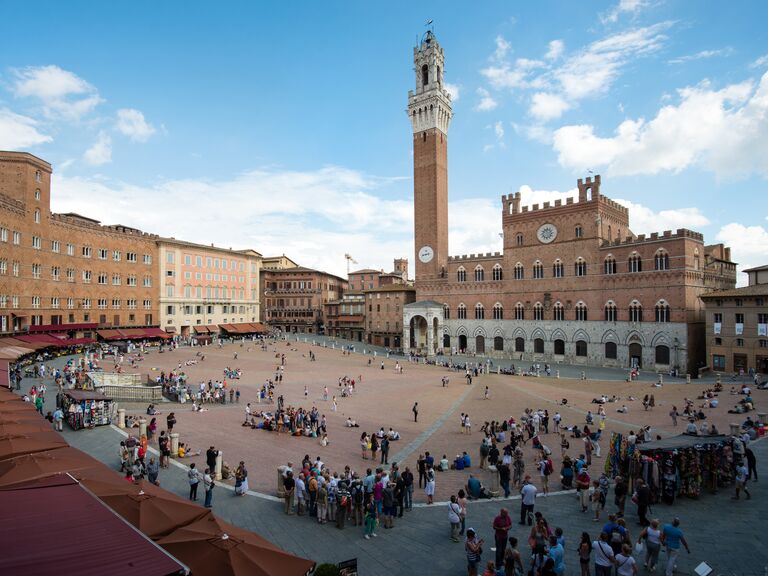 Tuscany is a year-round destination. That being said, it's ideal to visit during the shoulder months, especially September–October and April–May, Dedmore says. During those times, couples will experience pleasant weather with fewer crowds. In the late summer, expect heat, higher rates and larger crowds. If you go then, book a hotel with air-conditioning and a pool, Chandra suggests. Although winter means smaller crowds and lower rates, the downside is shorter days and less sightseeing time, she says.
Consider scheduling your trip around your interests and annual celebrations. Oenophile couples might want to come during harvest season, Siegal says, while truffle aficionados will want to visit in November for the San Miniato White Truffle Fair. In the spring, newlyweds can time their visit around the Maggio Musicale (May Music Festival) in Florence or the Prato Beer Festival in Prato, just 30 minutes outside of Florence. The summer months are rich in medieval festivals, such as Il Bravio delle Botti, a barrel-rolling race that's held in August in Montepulciano.
Places to Visit in Tuscany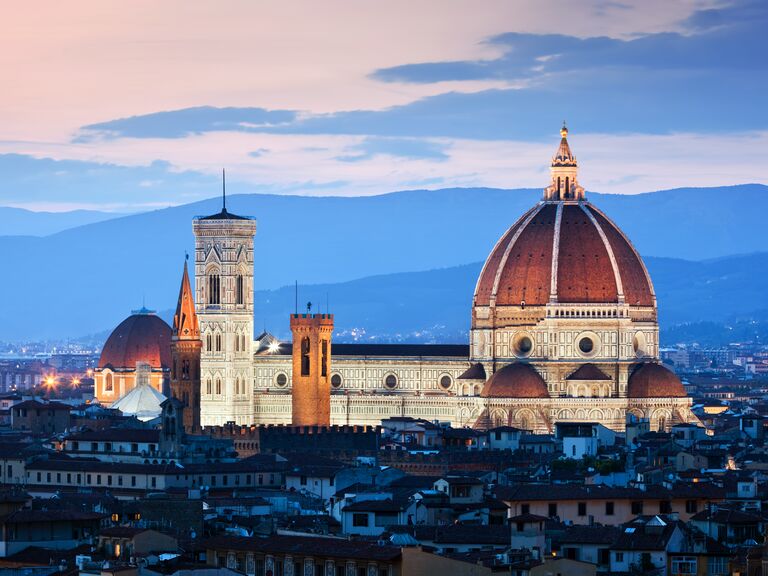 Honeymooners should balance time in the Tuscan cities—Florence and Siena—with explorations of charming small towns and the bucolic countryside.
Florence
The capital of Tuscany, this bustling city is the ideal start to a Tuscan itinerary, Siegal says. "Starting here gives visitors a sense of the country and region before they explore smaller towns," she explains.
Over two or three days, couples can visit its many museums, including The Uffizi Gallery (for iconic Renaissance art by da Vinci, Michelangelo, Titian and Botticelli). Don't miss Michelangelo's "David" statue, as well as more contemporary draws, like top-flight shops and textbook-perfect gelato. For a boat tour reminiscent of Venice, step aboard a barchetto (gondola) that cruises the Arno River, suggests Chandra. Or, sip an aperitivo while passing underneath the famed Ponte Vecchio, an arched bridge built during the Middle Ages.
Siena
This quaint medieval city features gorgeous architecture and a piazza that rivals the major centers of Italy, say Bebell and deBell. Check out the Duomo, a Gothic cathedral with unforgettable fresco paintings. Try to time your visit around the Palio di Siena, a pageant-filled traditional horserace held in the city's iconic main square, Piazza del Campo, on July 2 and July 16 each year.
Cortona
Made more famous by Frances Mayes' bestselling book Under the Tuscan Sun, this town draws international visitors, expats and artists, say Bebell and deBell. With a small and manageable city center, it's home to a wealth of small restaurants and beautiful shops selling handcrafted jewelry, cashmere, pottery and more.
San Gimignano
This well-preserved medieval village, with tall towers and charming alleyways, is the quintessential Tuscan hill town. Spend an afternoon admiring the architecture.
Val d'Orcia
Since 2004, this area south of Siena has been designated a UNESCO World Heritage Site. Picture rolling hills dotted with castles, farmhouses, vineyards and fields of grain and sunflowers. Medieval villages in this area include Montalcino and Montepulciano, both acclaimed for their wine.
Lucca
Visiting Lucca feels like stepping foot in a fairy tale, say Bebell and deBell. The "storied and elegant Renaissance town" boasts a historic city center with cobblestone streets and cafes. Try to visit during the summer music festival.
Greve
This small town lies in the heart of Tuscany's Chianti region, acclaimed for its wine. Don't miss butcher-gourmet shop Antica Macelleria Falorni for fresh cured meats, cheeses and gelato, suggest Bebell and deBell.
Things to Do During a Tuscany Honeymoon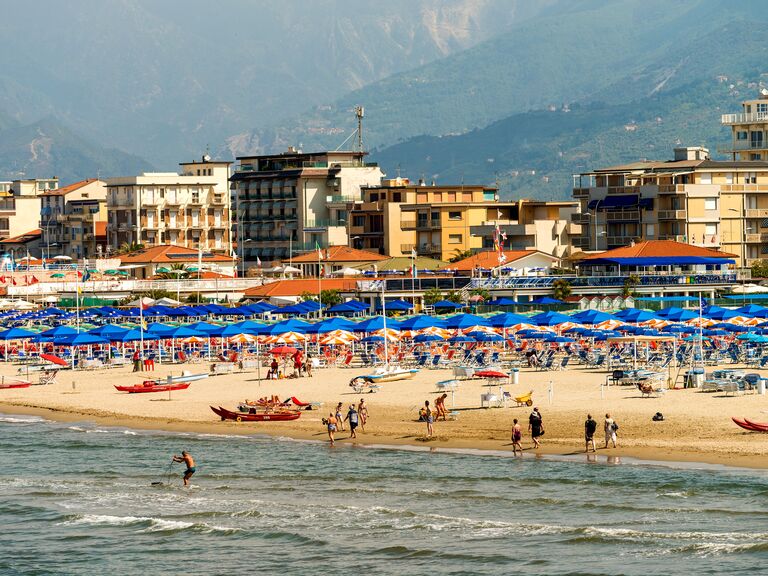 Hunt for Truffles
"Truffle hunting is an ancient tradition in Tuscany," Chandra says. Book a truffle tour to search for these pricey mushrooms, which grow singly or in clusters near the bases of trees.
Taste Olive Oil and Wine
Tuscany is renowned for its Brunello di Montalcino and Chianti Classico red wines, say Bebell and deBell. Sample vino at small family-owned wineries and larger facilities with restaurants and bars. Many winemakers also grow olives and bottle their own olive oil, they add. Along with a wine tasting, book an olive oil tasting and pick up some bottles to ship home.
Take a Cooking Class
Learn how to prepare Tuscan dishes, such as pappardelle cinghiale (pasta with wild boar ragu), panzanella (tomato and bread salad) and ribollita (bean and bread soup).
Go Shopping
Tuscany is filled with countless artisanal shops, say Bebell and deBell. While the town of Arezzo is known for gold jewelry, Scarperia is famed for its long history making knives.
Get a Spa Treatment
Since the days of the Etruscans, Italians have soaked in hot springs known for their therapeutic thermal waters, Chandra says. The largest and best-known spa in Tuscany, Montecatini Terme, is located between Lucca and Florence.
Head to the Beach
"Tuscany isn't particularly known for beaches, but the small seaside city of Viareggio changes that notion," say Bebell and deBell. "Honeymooners can take a day trip there, rent a chair or cabana, and relax on the public beaches."
While Dedmore recommends the beach towns of Piombino and Portoferraio, Chandra suggests Maremma, a coastal area bordering the Tyrrhenian Sea. "It features a variety of territory, including blue sea, long beaches, black rock, hills covered with woods, marshes, flat lands, green hills and natural thermal baths," she says.
Best Hotels in Tuscany for a Honeymoon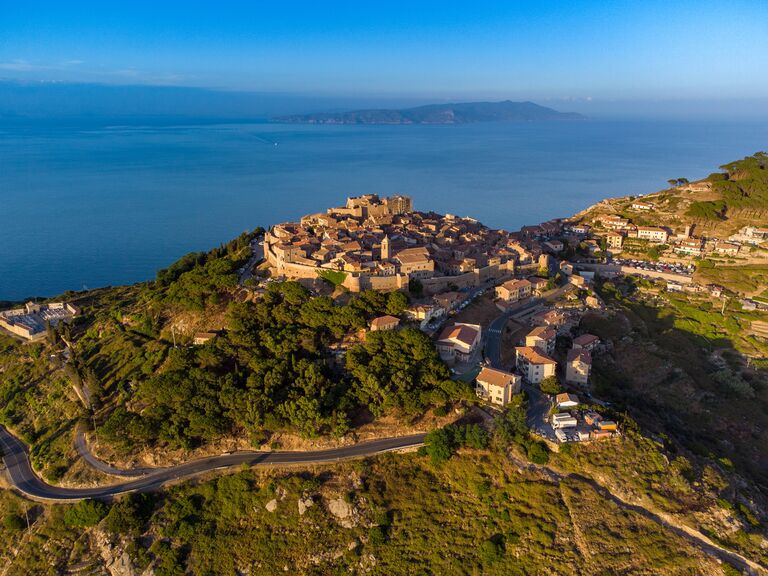 Stay at the private home of Sting and his wife, Trudie Styler, in the Chianti region. The 800-acre property south of Florence includes a 16th-century villa, six guesthouses, and organic vineyards and olive groves. On site, couples can fish and swim at the lake, bike, hike, horseback ride, take cooking lessons and vineyard tours, taste wine and get spa treatments.
Located on one of the oldest estates in Tuscany, this property in the Val d'Orcia region offers standard rooms or a private villa with its own pool and pool house. Couples can dine at one of the four restaurants, get a spa treatment at the wellness center, and experience a wine tasting at the on-site winery.
Opening in January 2022, this property in the Val d'Orcia region offers individual suites and villas, beautiful gardens, and a restaurant emphasizing local ingredients.
The Uffizi Gallery and the Duomo are just a short walk away from this Florence hotel, which features an 11-acre private park and a spa complete with an outdoor pool and a whirlpool.
Part of Relais & Chateaux, this sprawling estate sits between Florence, Siena and Cortona. Honeymooners can choose between suites and traditional farmhouses. With activities like wine tastings, truffle hunting, cooking classes, yoga, tennis and mountain biking, couples might find no reason to leave.
Set on more than 700 acres, this resort is decorated with a mix of frescoes and modern touches. Newlyweds can take advantage of the hotel's Michelin-starred restaurant, La Torre, and the Shambala spa. Florence and Siena are just a short drive away.
Set amidst rolling hills in the Maremma region, this retreat offers stylish accommodations, an 18-hole championship golf course, a spa, and mineral-rich thermal springs.
For an aristocratic take on rural life, stay at this 4,200-acre property near Siena and San Gimignano. Set amidst rolling hills and olive groves, the 10th century estate includes a pool and spa.
This secluded boutique hotel about 30 minutes from Siena features a farm, a vineyard, a spa and private gardens. The infinity pool offers views over the Valle Serena.
What to Pack for a Tuscany Honeymoon
"This isn't a destination for heels or delicate footwear," say Bebell and deBell. "Exploring Tuscan hill towns, vineyards and estates can take a toll on your feet. Pack comfortable walking shoes or European-chic sneakers."
When it comes to attire, they recommend taking a page from the Italians' style book and packing fashionable sunglasses and basics like button-down tops, quality T-shirts and sweaters for layering. For cool nights dining outdoors and traveling from the airport to the hotel, they suggest a pashmina or cozy cashmere throw.
"Shoppers, you've been warned," they add. "Pack a collapsible duffel to bring back your treasures, and don't forget a bottle protector for any wine purchases."