The Complete Guide to a Florence Honeymoon for Amore
The Duomo, Italian leather goods and the world's best gelato await in Firenze.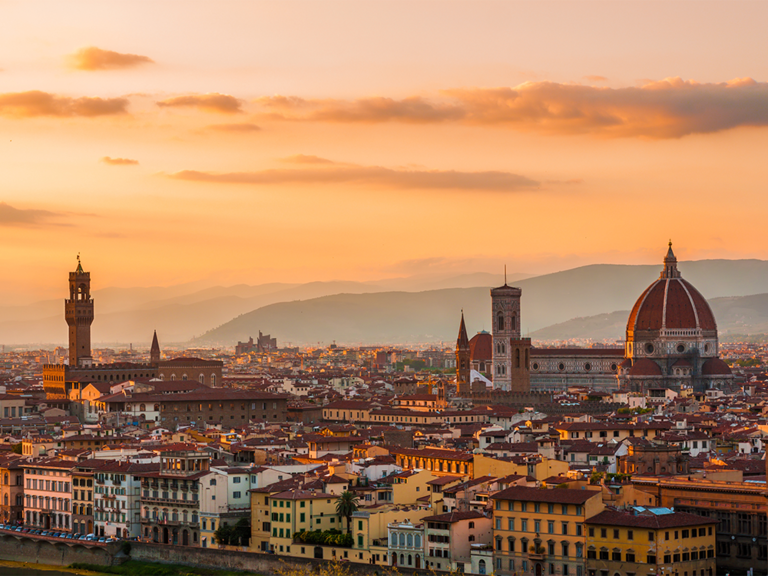 Gurgen Bakhshetyan / Shutterstock
With its terra cotta roofs, Italian leather market and Renaissance masterpieces, Florence (Firenze in Italian) is known for both its present beauty and rich history. The capital of the Tuscany region in Central-Northern Italy has inspired movies and served as the locale for star-studded destination weddings. For that reason, a Florence, Italy honeymoon awaits especially for history- and art-loving couples.
Is Florence Good for a Honeymoon?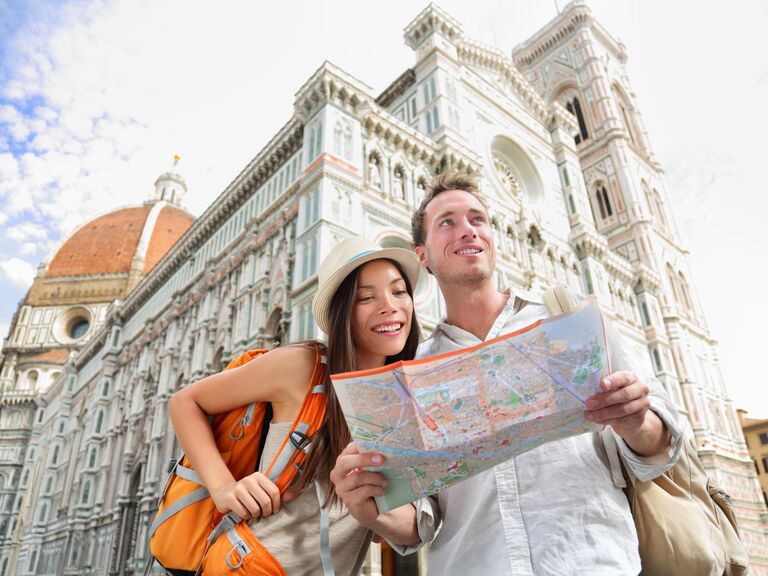 "Florence is the ultimate "'art city,' full of Renaissance treasures," says Diana Hechler, President of D Tours Travel, a member of Ensemble Travel Group. Newlyweds who dream of viewing iconic works of art and architecture will relish this destination's cultural offerings. They'll also appreciate the city's beauty, thanks to its piazzas, churches, bridges and elegant streets virtually unchanged since the 1500s.
Pros of a Florence Honeymoon
Due to its sweeping architecture and romantic ambiance, Florence is already conducive to a honeymoon abroad. "The Renaissance history here is colorful and dramatic and full of famous names like Michelangelo and Dante," praises Hechler. Plus, the shopping and food and wine are world-class. "When even the 'vino de tavola,' or table wine from a carafe is yummy and inexpensive, you know you're in a good place," she adds.
Since cosmopolitan Florence is the gateway to bucolic Tuscany, couples can combine urban and rural experiences, says Gary Portuesi of Authentic Travel.
As an added plus, the city is relatively easy to access. Couples can fly into Milan, Rome or Pisa. From Milan or Rome, they can catch another flight to Florence or take the high-speed train. Direct flights from New York to Pisa are sometimes available, and the drive from there is only an hour, says Simone Amorico, co-founder of Access Italy.
Cons of a Florence Honeymoon
The city center is off-limits to cars without a special permit. So consider renting a car after you leave to avoid hefty fines. Also be aware that Florence is a relatively small city, making it an ideal three- or four-day start to a larger trip throughout Tuscany or other parts of Italy, such as the Amalfi Coast or Cinque Terre. Since Florence gets very crowded during June and July, consider avoiding summers.
The Best Times of Year to Go on a Florence Honeymoon
Come to Florence in the spring or fall, suggests Portuesi. Bear in mind that late fall and winter can be rainy and colder. Peak summer is also chaotic as the historic city is often teeming with tourists.
Places to Visit in Florence
The Uffizi Gallery
Visit this 16th-century museum to see Renaissance masterpieces by Leonardo da Vinci, Botticelli and Raphael.
The Galleria dell'Accademia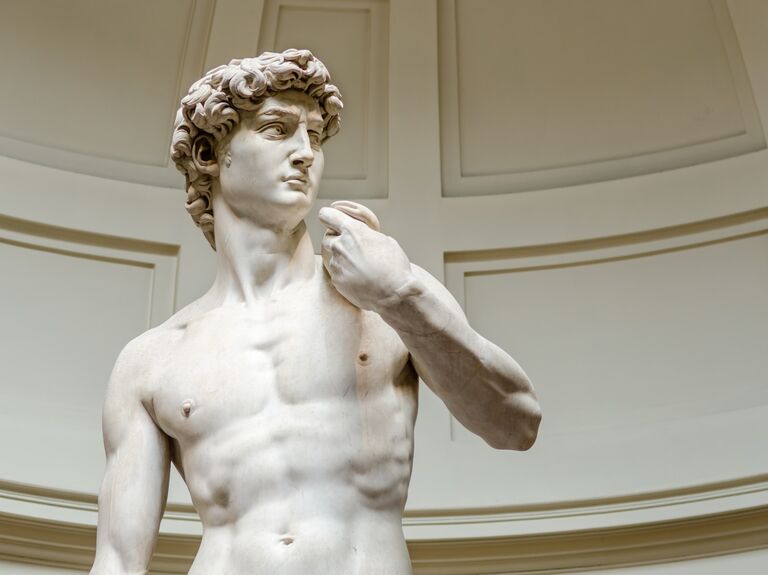 Come here to see Michelangelo's iconic "David" statue, the epitome of Renaissance art.
Palazzo Pitti
On the left bank of the Arno River, this museum once served as the home of the Medicis, the most famous Florentine family. Take in paintings, frescoes, costumes and other art and artifacts.
The Duomo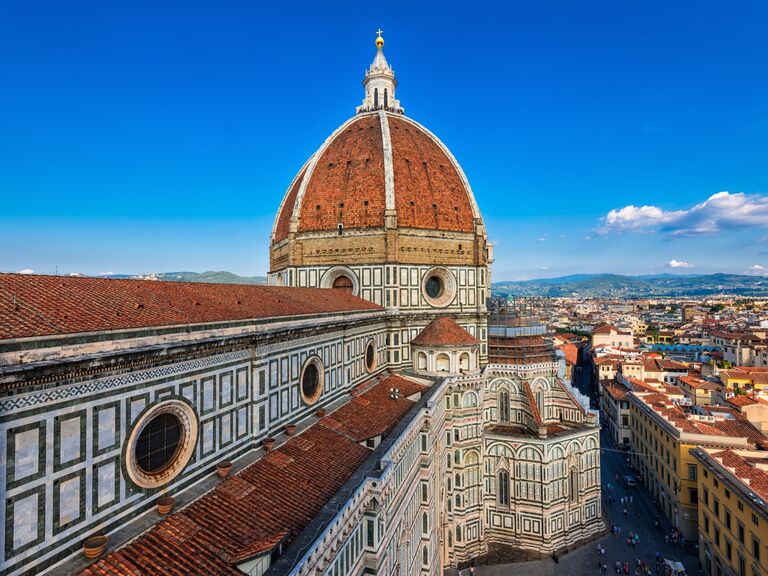 This cathedral with its massive tiled dome characterizes the Florentine skyline. Designed by Brunelleschi, it resembles another key component in weddings: the cake.
Piazza del Duomo
In this large square in the heart of Florence, couples can observe the Cathedral of Santa Maria del Fiore (whose dome was designed by Brunelleschi) and Giotto's Campanile (bell tower).
Ponte Vecchio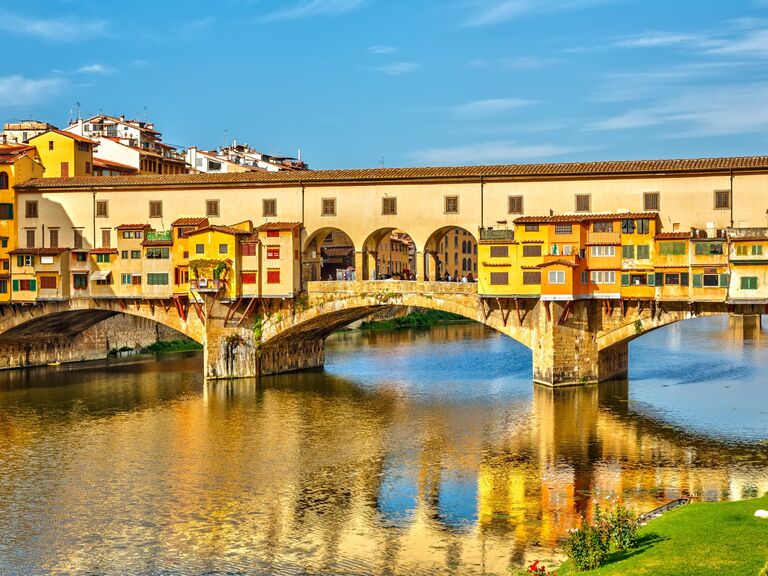 "Old Bridge" in Italian, this famed medieval arch bridge traverses the Arno River and is an iconic sight.
The Palazzo Vecchio Museum and Tower
On Piazza della Signoria, this site offers history and art fans a triple threat of Roman ruins, medieval architecture and Renaissance chambers and paintings.
Museo Salvatore Ferragamo
To see 10,000 shoe models created and owned by the late Italian shoe designer, visit this fashion museum. The site also details a brief history of leather goods in the region.
Mercato Centrale
Foodies can pick up lunch from the many stalls devoted to artisanal eats and wine, including bread, cheese, charcuterie, chocolate, gelato and pasta.
Boboli Gardens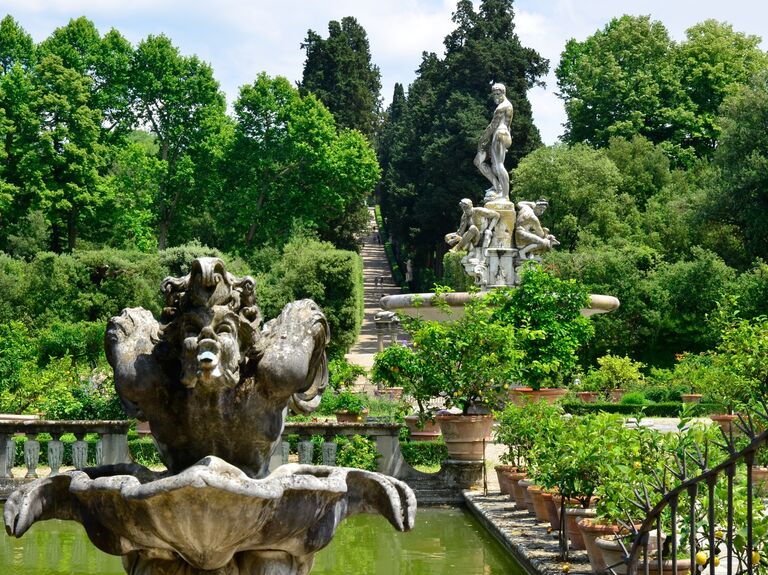 Stroll through this historic park, which opened to the public in 1766. Originally designed for the Medici family, these Italian gardens inspired European courts.
Piazzale Michelangelo
In the evening, head to this square in the Oltrarno district for views over the city, suggests Hechler. Sip an aperitivo at one of the cafes as you watch the sunset.
Nearby Towns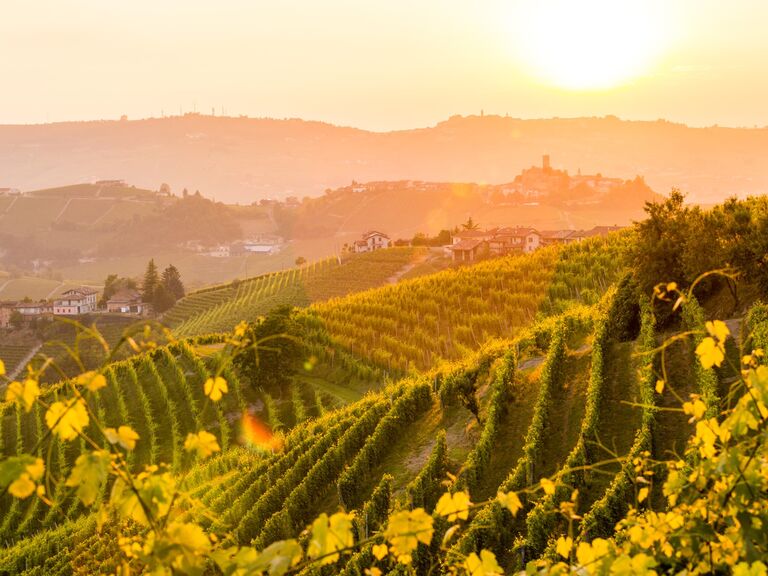 Explore Tuscany, especially nearby Chianti wine country, recommends Portuesi. Don't miss the stunning hilltop town of San Gimignano (spend time lunching and wine tasting at Fattoria Fugnano, he suggests). In Fiesole, take in the views of Florence from above.
Things to Do During a Florence Honeymoon
Stroll Aimlessly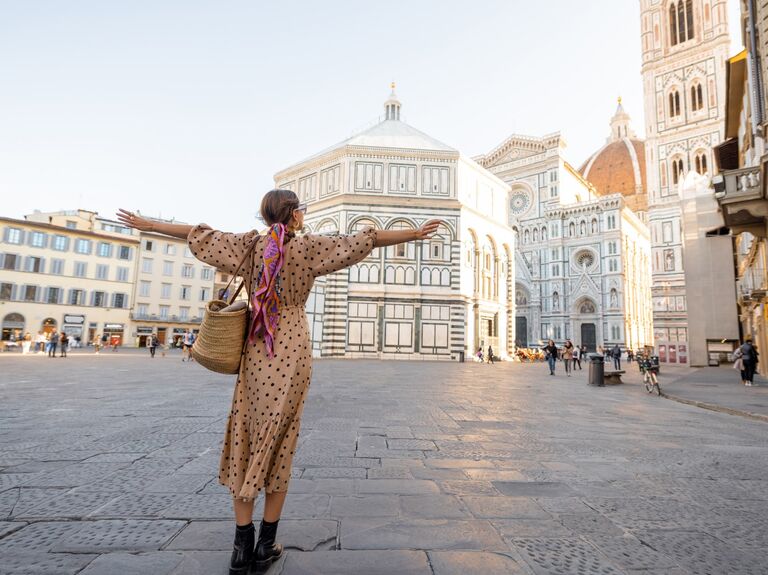 "Florence is a lovely city to get lost in," says Portuesi. "The historic center is fairly small. The city invites the visitor to spend time on its windy streets and discover authentic shops, local artisans, along with mom and pop restaurants."
Take a Guided Tour of the City Center
The historic center of Florence is a UNESCO World Heritage Site. To understand its past, learn from local experts, suggests Hechler. "The story of Florence and its people is dramatic," she says. "With murder plots, political intrigue and the roles of the Catholic Church and popes."
Shop for Leather Goods
Seek out artisanal leather products or custom-made jewelry, counsels Portuesi. Head to Antica Farmacia Santa Maria Novella for skincare products dating back to Dante's time and to Dr. Vranjes Firenze for diffusers with scents made from local ingredients.
Enjoy a Culinary Experience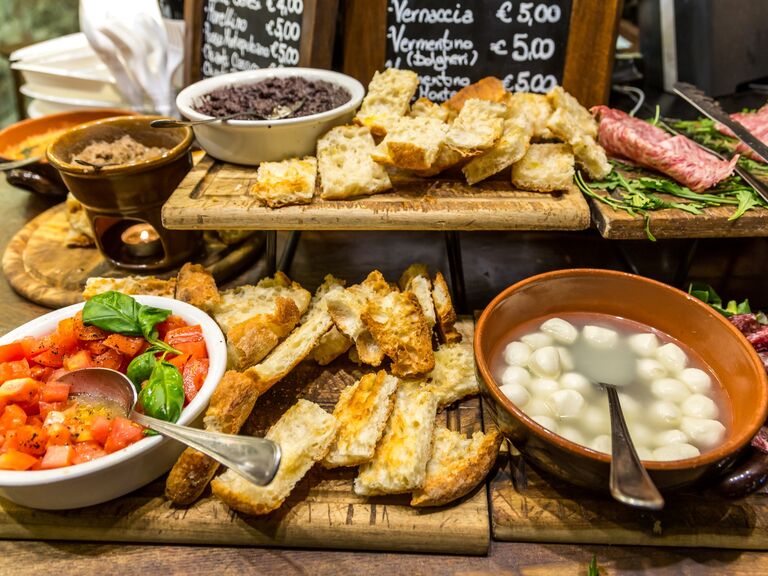 Take a cooking class and learn to make Tuscan specialties, like pappardelle al cinghiale (pasta with wild boar) or bistecca alla Fiorentina (Florentine steak). Cap your meals with gelato, of course.
Best Hotels in Florence for a Honeymoon
In the shadow of the Duomo, this beautiful hotel pays homage to Renaissance architect, Brunelleschi, says Hechler.
A member of the Rocco Forte hotel group, this grand hotel on Piazza della Repubblica is a few minutes' walk to the major sites. "It's swanky, intimate and very Florentine," says Portuesi.
Stay at this resort on the banks of the Arno, a short distance from Florence's historic center. The 19th century villa includes a garden, heated pool and spa.
This boutique hotel on the Arno River provides views of the river and Ponte Vecchio.
Reserve a frescoed suite in this 16th-century villa surrounded by a large private garden.
Near the train station, this boutique Florence hotel on a quiet plaza features friendly, helpful staff, says Hechler.
Near the church where Michelangelo is buried, this boutique hotel features design and great service, says Hechler.
At this enchanting spot, you'll feel as if you're the guest of a noble family in their Florentine palace, says Portuesi.
Just 20 minutes from the center of Florence, this luxurious resort includes a building designed by Michelangelo.
What to Pack for a Florence Honeymoon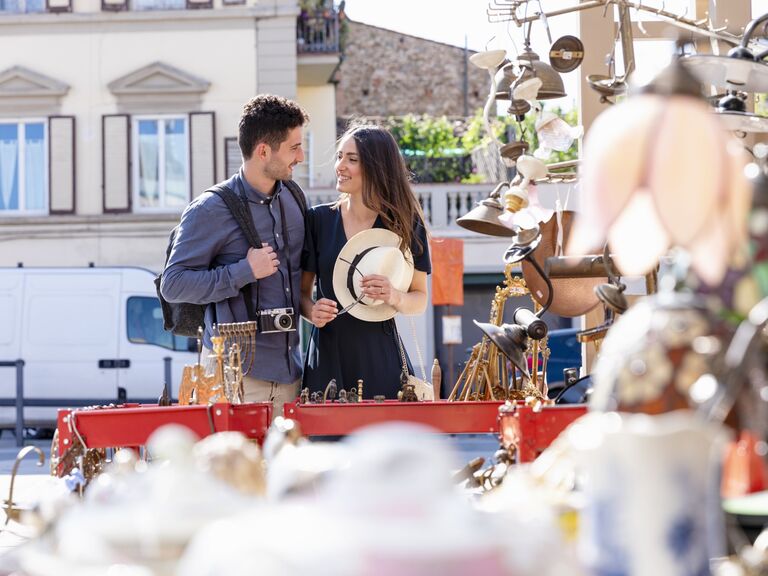 "Casual daytime attire is perfectly acceptable for visiting museums and shops, but in the evening, dress up a bit and bring your best Italian style to the dinner table," suggests Portuesi. Don't forget to tote flat shoes and wedged heels for evenings out. Across Italy, this will serve you well. "There are lots of cobblestones and high heels will be difficult for serious walking," says Hechler.