Plan Your Ultra-Luxurious Lake Como Honeymoon
Honeymoon like a high roller in this scenic northern Italian region.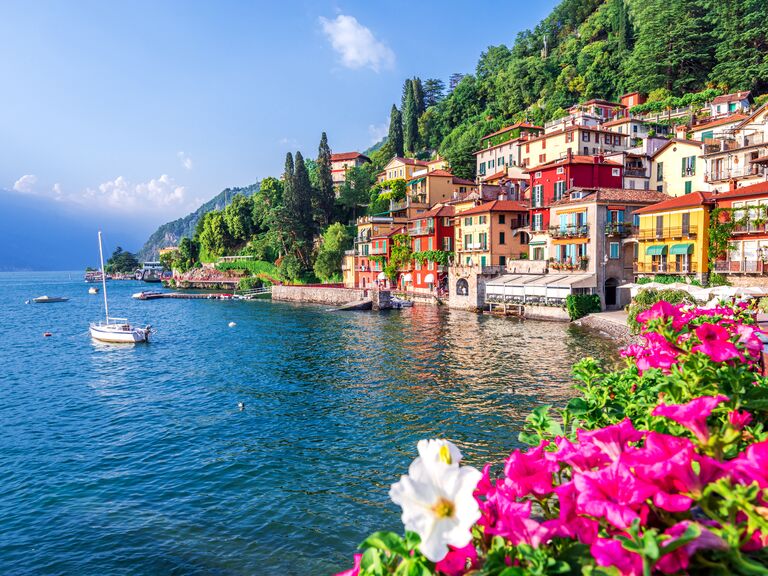 cge2010 / Shutterstock
Sipping an aperitif with your sweetheart on a terrace overlooking a sparkling lake. Strolling through ornate Renaissance and Art Nouveau villas and gardens. Dining on buttery risotto and pistachio gelato after a day spent cruising on a boat. If this all sounds like a dream, a Lake Como honeymoon is for you. Head to this upscale resort area 25 miles north of Milan for your perfect romantic getaway to Italy.
Is Lake Como Good for a Honeymoon?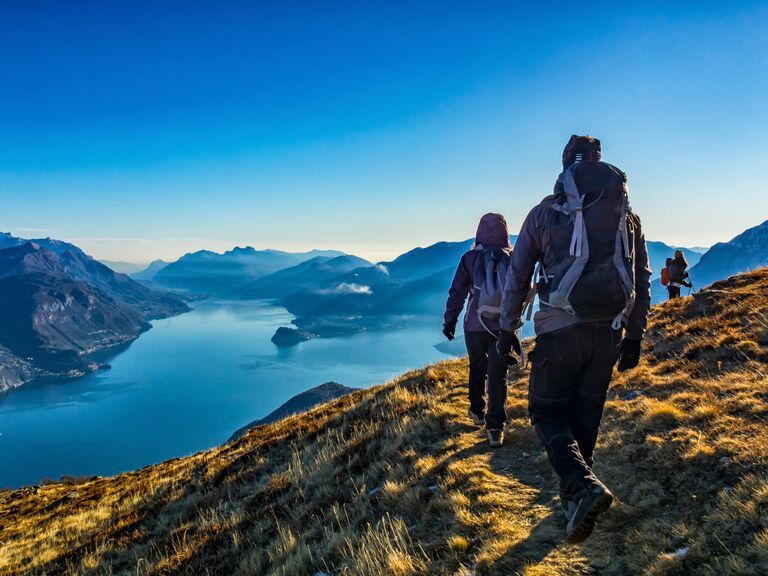 Set at the base of the Alps and centered around the famed Lake Como (Lago di Como in Italian), this region in Lombardy is the postcard-perfect honeymoon destination. "Not only does it have majestic views from every part of the lake, but there are so many beautiful places and towns to see on the lake's three different branches," says Ashley Gallo of Royal Travel and Tours. "There's no shortage of quaint villages to get lost wandering around in."
Lovers of history, design, art and luxury will appreciate the ornate villas and gardens, while foodies will savor the rich Italian cuisine. Active couples can keep busy by hiking, biking, swimming, boating, windsurfing or shopping.
Pros of a Lake Como Honeymoon
Thanks to its walkable villas and gardens and extensive water sports, Lake Como offers active couples a wealth of ways to spend the day. Since it's a resort area, it's also an ideal place to relax, whether newlyweds wish to book a spa treatment, laze around in the pool, or sunbathe during a boat ride.
Couples who want to explore Northern Italy and Switzerland (it's less than a three-hour drive to the border) can begin or end their trip in Lake Como. Fortunately, the area is easy to access. Just fly into Milan Malpensa International Airport; from New York, you can book a direct flight. The car ride from the airport to Lake Como is a mere 40 minutes. Newlyweds can also take the train from Switzerland to the Como San Giovanni station.
Cons of a Lake Como Honeymoon
Especially in the summer months, Lake Como can get crowded. Also bear in mind that prices tend to be quite high, plus ferry rides between the lake's various resort towns can take up to two-and-a-half hours.
The Best Times of Year to Go on a Lake Como Honeymoon for Good Weather
Gallo recommends visiting between March and October. In the spring, the mountaintops are still snowcapped and the gardens abloom, say Reco trip designers Matteo Della Grazia and Daniela Mencarelli. In general, summers can be hot and crowded, Gallo says. If you can, try to avoid the middle two weeks of August, when the area is at its busiest.
Places to Visit in Lake Como on a Honeymoon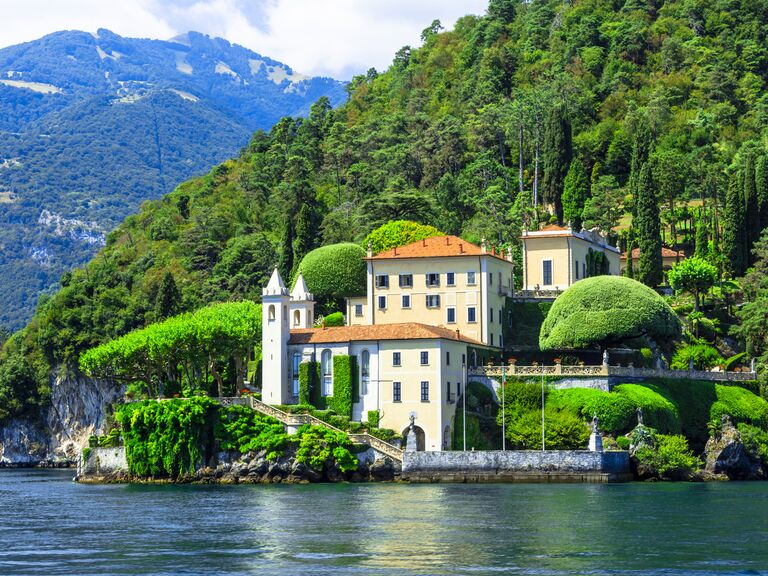 Bellagio
This famed resort town sits at the intersection of the lake's three branches. Also known as "the pearl of Lake Como," Bellagio features narrow streets, extensive shopping and restaurants with panoramic views.
Como
Spend time exploring this city's Gothic cathedral, Renaissance architecture and charming shops. For the most stunning views, take the funicular railway from the city center to the mountain town of Brunate—known as the "balcony" of Lake Como—for breathtaking views of the town and lake, recommend Grazia and Mencarelli.
Villa Balbianello
Immortalized in several films, this mansion in Lenno offers majestic views plus a stunning collection of art and sculpture, Gallo says.
Villa Carlotta
A must-see for art and flower enthusiasts, Gallo says, this manse (clergy house) boasts extensive gardens and a museum filled with masterpieces.
Things to Do During a Lake Como Honeymoon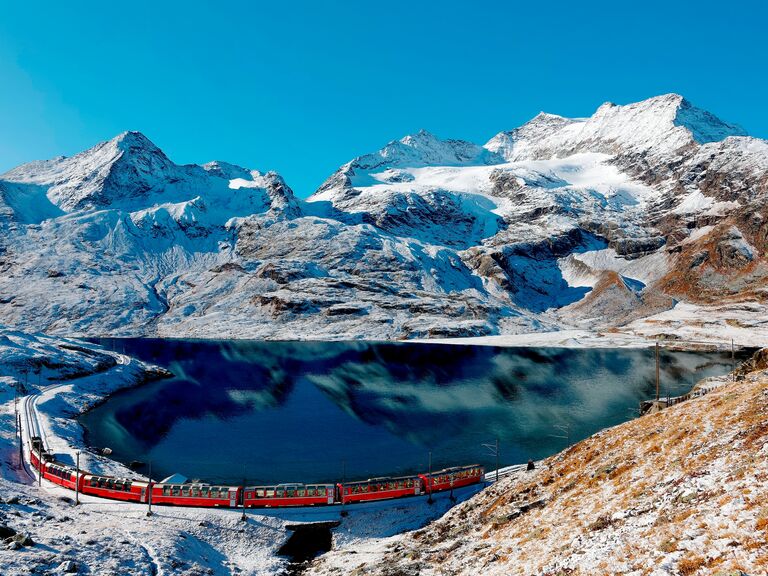 Go on a Boat Ride
Hire a private boat for the day, Gallo says, and take in picturesque views while you swim off the side (in the summer). Disembark at some of the charming fishing villages along the shore, including photogenic Varenna.
Take the Train to Switzerland
Buy seats aboard the panoramic Bernina Express train into Switzerland, recommend Grazia and Mencarelli. Traverse through the glaciers and alpine lakes of the Bernina Mountains to the luxury resort town of St. Moritz.
Indulge in Italian Cuisine
Dine at the Michelin-starred La Locanda del Notaio, which offers one of the best views on Lake Como, say Grazia and Mencarelli. To learn how to prepare classic dishes of Italy's Lombardy region, such as pumpkin tortelli, polenta and veal osso buco, take a cooking class.
Best Hotels and Resorts in Lake Como for a Honeymoon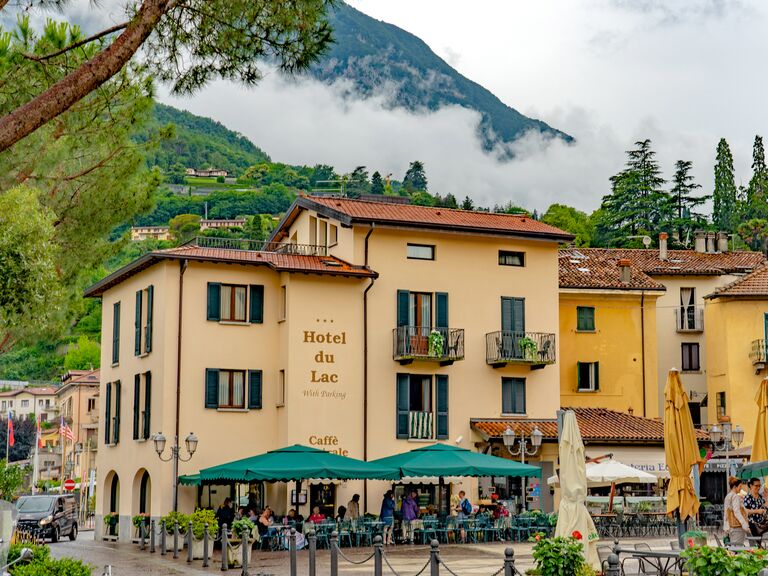 Along with lake and mountain views, this luxe spot features a sculptural vertical garden, a Michelin-starred restaurant and stellar concierge services. Honeymooners might wish to splurge on the new penthouse suite, with walnut ceilings, stone walls and decor by a Milan-based designer.
A five-star lakeside resort, this elegant property built in 1873 boasts a private dock, a pool and a spa.
This century-old hotel is home to three swimming pools and some of the choicest views of the lake, Gallo says.
Built in the 16th century, this former summer residence of a cardinal was turned into a luxury hotel about 150 years ago. Surrounded by 25 acres of gardens, the old-world property includes a floating pool.
Featuring the most stunning and serene decor, this five-star hotel offers a garden and a floating pool. Reserve seats on the terrace when dining at the lakefront restaurant.
Locate right on the shores of Lake Como in Bellagio, this family-run hotel offers a rooftop bar and a continental breakfast.
This family-owned, 19th-century villa includes an on-site restaurant. The boutique hotel also offers private gardens and a spa with multisensory showers, a Turkish bath, a sauna and a pool.
Check in to this elegant hotel built in 1900, and you won't regret it. Centrally located near Como's famed promenade, it's within walking distance of the historic city center, top-notch shopping and the public ferry, say Grazia and Mencarelli. For a splurge, book the Bianca Suite, which features a flat-screen TV and a Dolby Surround Sound stereo system.
What to Pack for a Lake Como Honeymoon
Bring super comfortable shoes for all the walking you'll be doing, Grazia and Mencarelli say. Pack a wet suit if you plan on venturing into the cold lake waters, and dress stylishly for dinner. Also, remember to bring a bathing suit, a hat, sunglasses and a jacket, since it can be cool on the lake during the morning and evening, Gallo says.