Exclusive: How Bachelorette Kaitlyn Bristowe's Engagement Ring Was Designed
"Each prong is set with three diamonds to represent Jason and Kaitlyn's journey: their past, present and future."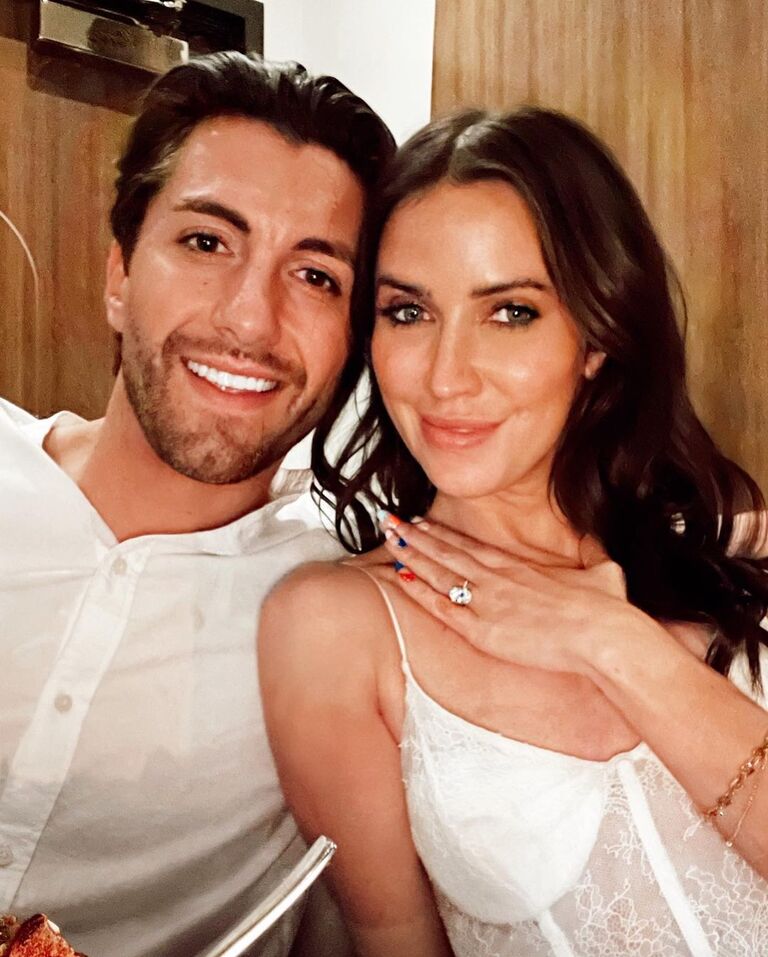 Jason Tartick / Instagram
Kaitlyn Bristowe's engagement ring from Jason Tartick reflects just how much she's seen and adored by her future husband. A little over two years of dating, the Bachelor Nation couple announced their engagement on May 11, during what was disguised by Tartick as a "podcast taping."
Of course, the future groom came prepared with an equally surprising sparkler, one that is simple yet stunning: a 5-carat oval-shaped diamond on a rose gold band. The jeweler of choice, Paris Jewellers, shares a close connection to Bristowe's roots as the business is located right outside of her hometown in Canada. "My sister Trang and I are huge fans of Kaitlyn (she's from our hometown of Edmonton)," says Chau Lui, the co-owner of the company, tells The Knot. "We had actually previously worked with Kaitlyn on a campaign and supplied her with some special pieces for Dancing With the Stars. For her mom's birthday, we created a special necklace, under Kaitlyn's direction. Once I connected with Jason in our first call, it went phenomenally and we are so honored he chose us."
Kaitlyn Bristowe's Engagement Ring From Jason Tartick
"I had an idea of the kind of cut she wanted, but other than that, it was kind of just, like, go," Tartick previously told Entertainment Tonight. "They are great owners and they put so much effort into [making it]. They even took designs from Kaitlyn's dresses, and red carpets, to see what she likes, like working lace in."
"Jason wanted the ring design to be original, something only for them, and completely Kaitlyn, meaning that her edgy style was incorporated," Lui continues. "When I first spoke to Jason about designing this ring, his respect and love of Kaitlyn really radiated through. He was set on an oval diamond." Here's how the ring details came together.
How Kaitlyn Bristowe's Ring Was Personalized
The Vietnamese-Canadian jeweler explains how the diamond cut is incredibly important especially for an oval shape stone. "That's what gives it its brilliance," explains Lui. "Kaitlyn is such a light and we wanted her diamond to emulate that. The ring was designed in Edmonton, Kaitlyn's hometown, and was made with certified Canadian gold."
Then, the experts infused the ring with personality. "Kaitlyn has such a fun and edgy style… I noticed that on many special occasions, she chose to wear lace so I thought it would be very fitting of her personal style to include intricate lace-inspired details in the ring," Lui notes. "Kaitlyn's ring was crafted in rose gold, with platinum prongs. Each prong is set with three diamonds to represent Jason and Kaitlyn's journey: their past, present and future. All of the diamonds were handpicked."
How She Reacted
Bristowe, for her part, said she had "zero" idea a proposal was even on its way. Nevertheless, she said she's obsessed with the oval-shaped ring. "I love it, it's perfect. I've been staring at it all day," she added. "Luckily I got my nails done the day before, but these are some funky nails!"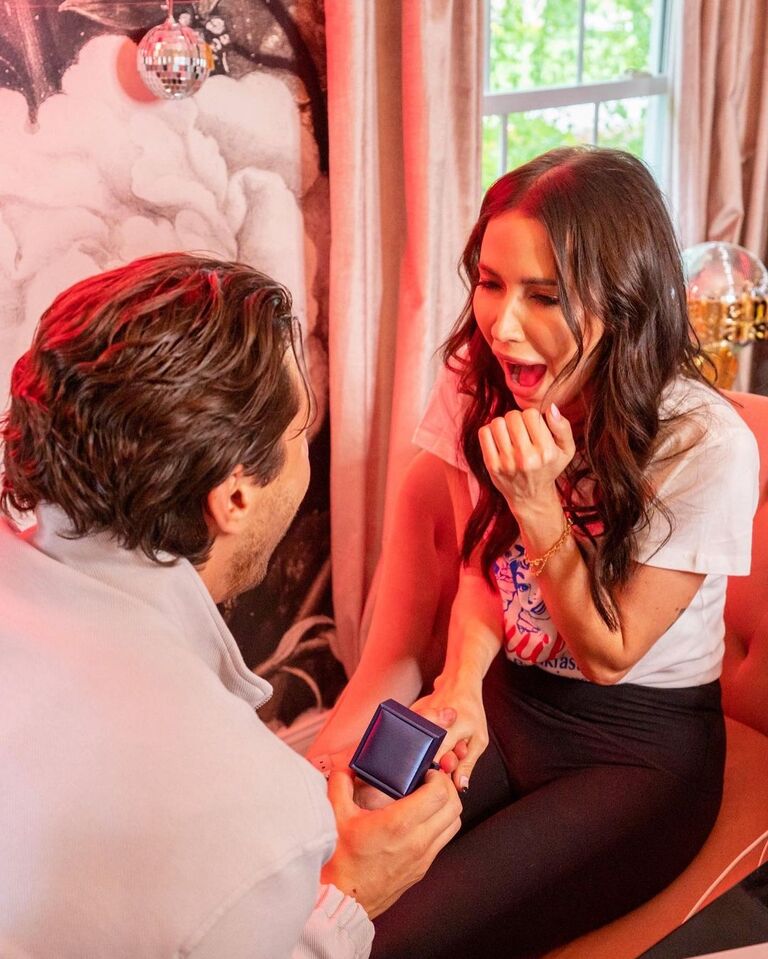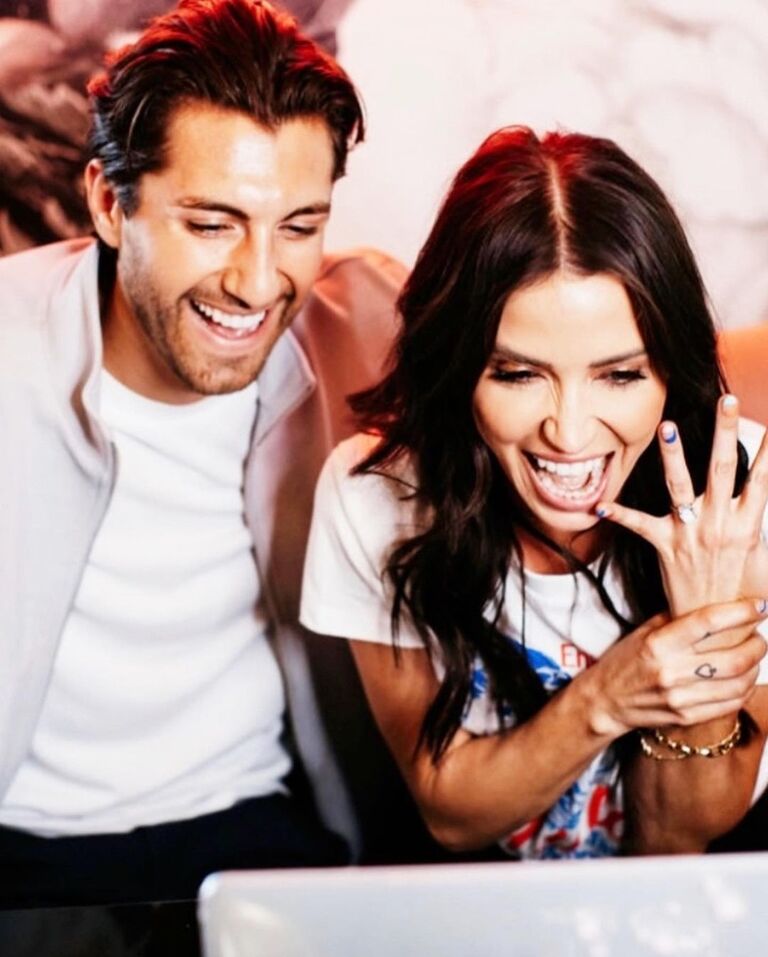 Why Kaitlyn's Ring Is Right on Trend
According to Lui, couples are returning to classics with distinctive, personalized touches that best represent their story. "More couples are selecting yellow gold over the traditional white gold or platinum," says the jeweler. "We've seen yellow gold rise in popularity in all other jewelry categories."
In addition, classic cuts like round and oval diamonds with solitaire settings remain popular. "Adding details such as a hidden halo for that extra sparkle from all angles, while still letting the center diamond be the focal point [is another trend]," says Lui.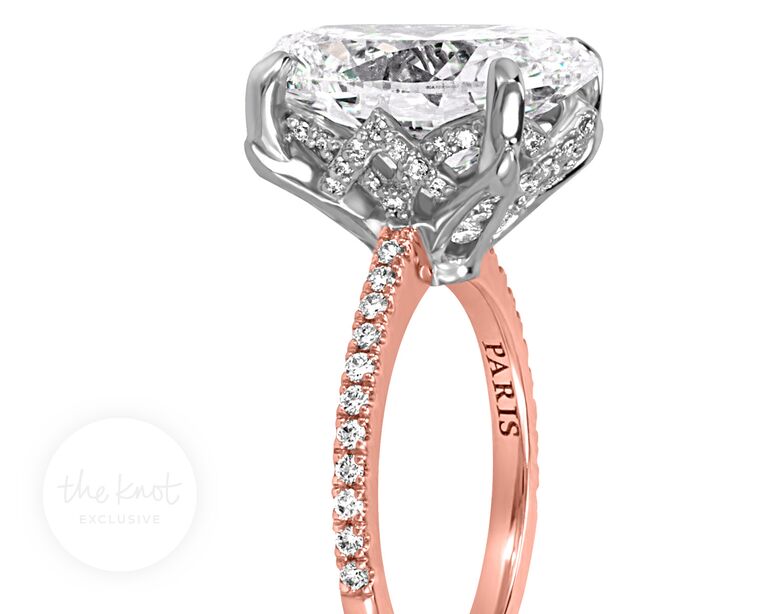 Globally, the Meghan Markle effect continues. "Three-stone engagement rings are very popular as it's timeless and classic. This style is romantic and can symbolize a couple's past, present and future," explains Lui. "Also, the three-stone engagement ring gives a couple [even more] opportunity to put their own personality and twist on it."
Kaitlyn Bristowe's Engagement Ring From Shawn Booth
The piece from Tartick had a stark difference from the engagement ring she had when Bristowe was with Shawn Booth. Bristowe's previous ring was designed by resident Bachelor franchise jeweler Neil Lane. The 3.5-carat diamond (reportedly valued at $150,000) was set atop a twisted platinum band and also featured a halo.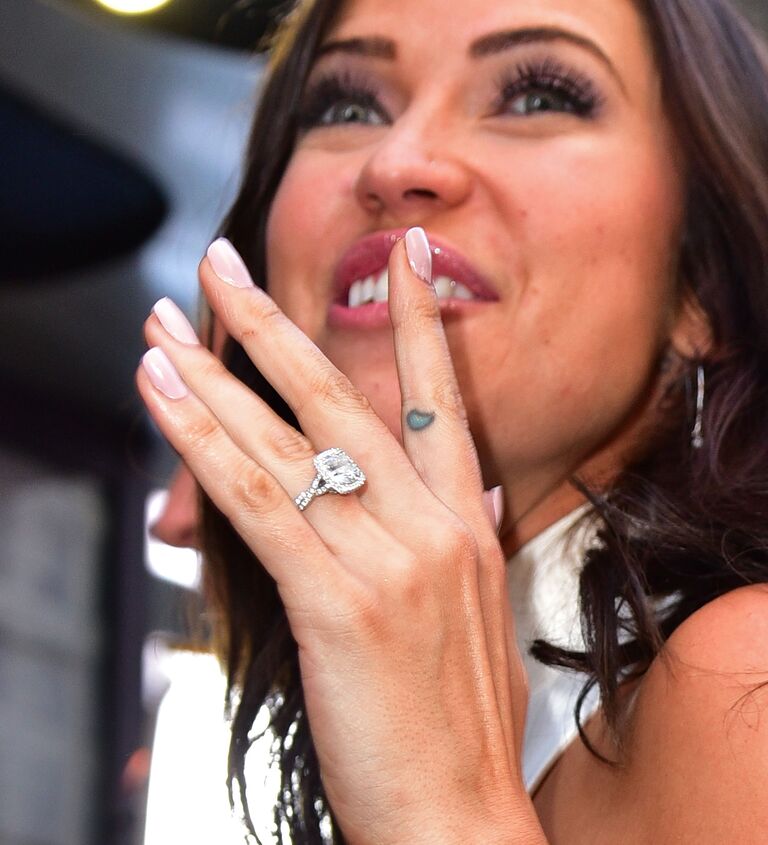 According to People, Lane knew the sparkler was Bristowe's dream ring; she'd always wanted a round stone. And she got just that with her brilliant-cut ring surrounded by 160 pave diamonds. "I created this ring for her and I was thrilled when Shawn picked it," Lane told the outlet. "He knew what he wanted. Shawn was raring to go. He knew they had a powerful connection and he seemed certain she was the love of his life. He just knew he was the one."