Bachelorette Kaitlyn Bristowe and Jason Tartick Are Engaged
The proposal podcast is out and his words were so sweet.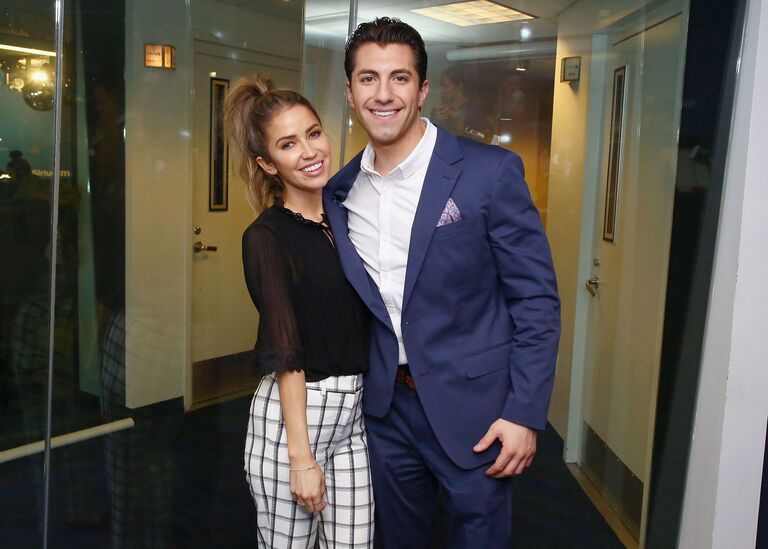 Astrid Stawiarz / Getty Images
Former Bachelorette Katilyn Bristowe and Jason Tartick are engaged and planning a wedding. The couple of over two years revealed their relationship status update in mid-May, then later unveiled the recording of her podcast during which he proposed.
"It was everything I could have asked for," Bristowe, 35, told Entertainment Tonight about the big reveal. "The words that came out of his mouth were insanely beautiful. We've never locked eyes like that in our lives. We were holding hands, so intense, and I was listening to his every word, but still blacked out."
Both Bristowe and Tartick took to Instagram to share photos from the sweet moment. "Don't pinch me," the former Bachelorette expressed, while her future husband added: "Choosing your forever is the most important decision in the world, @kaitlynbristowe you made that decision so easy! Love you to death and forever."
How Jason Tartick Proposed to Kaitlyn Bristowe
Tartick popped the question with a 5-carat ring during a taping of Bristowe's podcast, Off the Vine. "Jason's like, 'Kaitlyn, we're not doing a podcast.' And I'm like, 'You forgot to hit record, didn't you!'" Bristowe told ET. "He was like, 'No, this is something else,' and he got up and I saw him bring out a ring box from the drawer."
During the taping, which was revealed a few days after the proposal announcement, Tartick chats with Bristowe before unexpectedly launching into his proposal. "Your strengths are my weaknesses and my weaknesses are your strengths," he says as his voice cracks. "Through all this craziness, we've only come closer and [grown] stronger, and I don't ever want to live another day without knowing you're not in my life forever. You're the best thing that's ever happened to me."
Bristowe naturally, in typical Kaitlyn fashion, started freaking out. "Holy sh—!" she exclaims as he then asks: "Kaitlyn, will you marry me?"
"I did not see that coming," she screams.
"I was trying to be present but I was so overwhelmed, and I was so embarrassed because I was wearing a T-shirt that said, 'Tequila for Breakfast,'" she reflected to ET. "I was like, 'This feels very on brand, but also very inappropriate!'"
Kaitlyn Bristowe and Jason Tartick's Love Story
Both members of Bachelor Nation, Tartick and his future wife met in October 2018, during a recording of her podcast. At the time, Bristowe was close to ending her relationship to season winner and fiancé Shawn Booth. Tartick, meanwhile, had just appeared on Becca Kufrin's season of the Bachelorette.
A few months later, they were an item. The couple currently resides together and co-parents their dogs, Pinot and Ramen. Ever-assured about their future together, Bristowe thought at times that she should be prepared for a proposal from her boyfriend. "Every time I'm like, 'Oh my, God. Is today the day?'" she told Us in a separate interview. "I'm probably going to ruin the day because I'm going to be like, 'Oh, here it comes! I know this is it!'"
Bristowe previously noted that she didn't want to get engaged in 2020, though she and Tartick were in it for the long haul. "We're on such a good path," Bristowe previously told Us Weekly. "[It's] the healthiest relationship I've ever been in and [an engagement] just feels like the natural next step."
In fact, the two were so assured in their relationship that Bristowe knew Tartick was the one a year into dating. They even moved into a Nashville pad together during COVID. "I told him I don't want to [have a] quarantine engagement," said the Bachelorette alum. "[I want] a little more romance than just at the house."