12 Kali Uchis Love Songs to Keep Your Guests on the Dance Floor
The Colombian-American artist has plenty of hits perfect for the big day.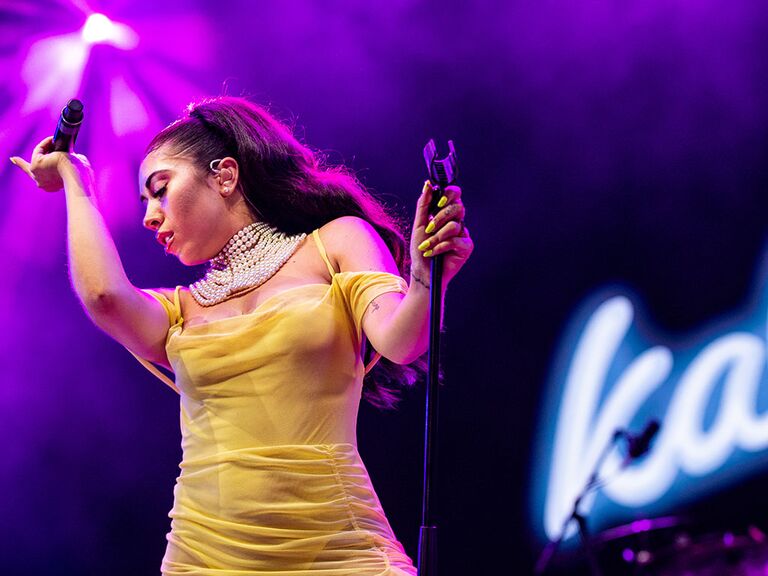 Ben Houdijk / Shutterstock
Some people know which love songs they're going to play at their wedding well before they've even met their future partner. Wedding songs can be a highlight of your big day as they set the tone for the event. Kali Uchis' love songs are a staple at weddings and if you've landed here, you may be considering using some of her music on your wedding day.
The Colombian-American singer-songwriter made her debut in 2012 when she released her mixtape Drunken Babble. Since then, she's released several singles and collaborated with renowned artists like Snoop Dogg, GoldLink, Tyler, the Creator and Major Lazer. Here are 12 love songs by Kali Uchis you can share with your DJ or live band to add to your wedding-day playlist.
"Melting," Por Vida
Lyrics you'll love: "When you're around, my insides turn inverted/My blood starts to rush when I see your doorman/I know you're nearby and I know your purpose/Take one look at you, you're heaven's incarnate/What is this spell, baby? Please show some mercy"
Released in 2015 and produced by Dawn Golden, Alex Epton and Diplo this is a song you may want to play during the first dance. The song has a slow tempo and could be a song to help you reflect on the love you and your partner share.
"Love Between," Red Moon In Venus
Lyrics you'll love: "Love between two human beings/Can be so wonderful, wonderful/Where would you like to spend eternity?/If I bring you into my world, you'll never wanna leave/If you take away my air, how am I supposed to breathe?/Tell me, why would we be here if this ain't meant to be?"
Love Between is one of Uchis most recent songs, released in 2023 and produced by Josh Crocker. This masterpiece is track number four on the singer's most recent and highly anticipated album Red Moon In Venus. It's another ideal candidate for a wedding reception that can be played after the first dance. It's a soft and soothing melody that gives you a '70s vibe.
"Telepatia," Sin Miedo (del Amor y Otros Demonios)
Lyrics you'll love: "Quién lo diría/Que se podría hacer el amor por telepatía/La luna está llena, mi cama vacía/Lo que yo te haría/Si te tuviera de frente"
If you need a song to play to get the party started, this might just be it. This is one of many of Kali Uchis Spanish songs that can help add some diversity to your playlist. This sultry song released in 2020 is about long-distance relationships and gained popularity because of its success on TikTok. Telepatia also got Uchis her first #1 song on the Latin Pop Albums chart and gave her a first leading song on the Billboard albums chart too.
"Get You," Freudian
Lyrics you'll love: "Through drought and famine, natural disasters/My baby has been around for me/Kingdoms have fallen, angels be calling/None of that could ever make me leave/Every time I look into your eyes I see it/You're all I need/Every time I get a bit inside I feel it"
This song is by recording artist Daniel Caesar but features Uchis. It was released in the year 2017 on his album Freudian. The song is a reflective one where Caesar and Uchis reflect on life, love and past relationships. If you choose to play this song during your wedding, it could be a romantic reception choice that gives your guests all the feels.
"After The Storm" (feat. Tyler, The Creator, Bootsy Collins), Isolation
Lyrics you'll love: "The sun'll come out/Nothing good ever comes easy/I know times are rough/But winners don't quit/So don't you give up/The sun'll come out/But we've been struggling endless days/Someday we'll find the love/'Cause after the storm's/When the flowers bloom"
"After The Storm" is an uplifting and empowering song about the realities of love and life, featuring artists Tyler, The Creator and Bootsy Collins. It may help guests get their bodies moving during the after party. This is a relatable song most people may be able to connect with whether they're in love or not.
"Fue Mejor" (feat. SZA), Sin Miedo
Lyrics you'll love: "El precio de tu amor lo pagué (Lo pagué)/Si cuando te perdí me encontré, eh (Eh, eh)/Lo siento, mi camino cambié (Cambié)/Pero para bien (Para bien)"
Award-winning artist SZA features on this track and adds some soul to it. This is the first collaboration by the ladies and it was released in 2020 alongside a music video featuring rapper Don Toliver. This is relatively slow compared to other love songs by Uchis, so may be best for during the send off or getting ready to call it a night.
"See You Again," Flower Boy
Lyrics you'll love: "You live in my dream state/Relocate my fantasy/I stay in reality/You live in my dream state/Any time I count sheep/That's the only time we make up, make up/You exist behind my eyelids, my eyelids/Now, I don't wanna wake up"
See You Again is another collaboration between Tyler, The Creator and Uchis released in 2017. Uchis features on the song, gracing it with her melodious voice. This is a more upbeat Kali Uchi song that can be played on the dance floor. This could be a good tune to play during cocktail hour when guests are socializing.
"Desafinado," Minions: The Rise of Gru (Original Motion Picture Soundtrack)
Lyrics you'll love: "Love is like a never ending melody/Poets have compared it to a symphony/A symphony conducted by the lighting of the moon/But our song of love is slightly out of tune"
If you're an Amy Winehouse fan, you may love this track by Kali Uchis. Desafinado is a love song created for the Minions movie, The Rise of Gru. It is a song guests can slow dance to and couples can connect with. It may also be one the newlyweds will want to lock eyes and dance to.
"I Wish You Roses," Red Moon In Venus
Lyrics you'll love: "Ooh, never thought I would be without you/I wish you love, I wish you well/I wish you roses while you can still smell 'em/With pretty flowers can come the bee sting/ (Ooh, never thought I would be without you)"
While we always want love stories to have fairytale endings, sometimes they don't . That doesn't mean you can't reminisce on the loving moments you shared with a partner and wish them well. In "I Wish You Roses," that's exactly what Uchis is doing. This may be another song worth playing at the end of your wedding reception when guests are winding down. If you like the idea of mixing up your playlist to include a variety of love songs, then consider this tune.
"Lottery," Por Vida
Lyrics you'll love: "You're the only one I see/Yeah, we had issues/Can we dismiss those?/If to you I am indebted, don't expect you to forget it/But it's only gonna stop us if we let it"
This song is from the artist's debut EP released in 2015. In Lottery, Uchis is pleading with her lover to put their issues aside so they can be together. The start of a marriage is a good time to remember things won't always be easy, but if you want to be together, you find middle ground. You could ask your DJ to play this number during cocktail hour or as guests dig into their food.
"Flight 22," Por Vida
Lyrics you'll love: "You're the only one I see/Yeah, we had issues/Can we dismiss those?/If to you I am indebted, don't expect you to forget it/But it's only gonna stop us if we let it"
If you listened to Uchis' debut album Isolation, you've probably heard this song, which features air travel imagery, before. It's another good track to play during cocktail hour or during dinner.