Who is NFL Star Kirk Cousins' Wife, Julie Hampton?
Meet the woman who stole the quarterback's heart over 10 years ago.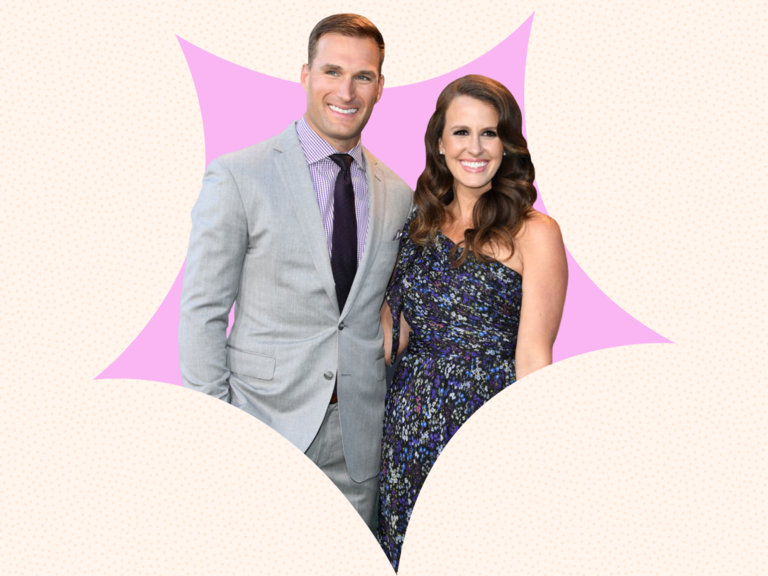 Photo: Getty Images,Design: Natalie Romine
Whether you're a dedicated sports fanatic or a casual watcher, it's hard not to get invested in the personal lives of players you see on your TV every week. Such may be the case for Kirk Cousins, a quarterback for the Minnesota Vikings. The 34-year-old athlete has been in the NFL since 2012, when he was selected in the fourth round of the draft. Although Kirk Cousins has yet to make it to the Super Bowl, he stands out for his endearing personality and commitment to his family, as seen in the 2023 Netflix docuseries Quarterback. So, who is Kirk Cousins' wife?
The athlete, who has also played for the Washington Commanders, is married to Julie Hampton, who appeared in the show too. The couple has been together since 2012, and they share two sons. Here, we break down what you need to know about Kirk Cousins' wife, their marriage today, and the details of their 2014 wedding.
Who is Kirk Cousins' wife? He's married to Julie Hampton.
Kirk Cousins and Julie Hampton met in 2012 when they were introduced by a mutual friend.
Kirk Cousins proposed to Julie Hampton at the Capitol building in Washington D.C. in 2013.
Kirk Cousins and his wife Julie were married on June 28, 2014, in Georgia. They currently have two sons together, Cooper and Turner.
Who is Kirk Cousins' Wife? Meet Julie Hampton
NFL quarterback Kirk Cousins is married to Julie Hampton. Although her husband is a public figure, Julie tends to keep the details of her life out of the spotlight. We do know that she was born in Georgia and attended college at the University of Georgia.
Julie was introduced to Kirk—who was born in Illinois and went to college at Michigan State— by a mutual friend in 2012.
Inside Kirk Cousins and Julie Hampton's Relationship Timeline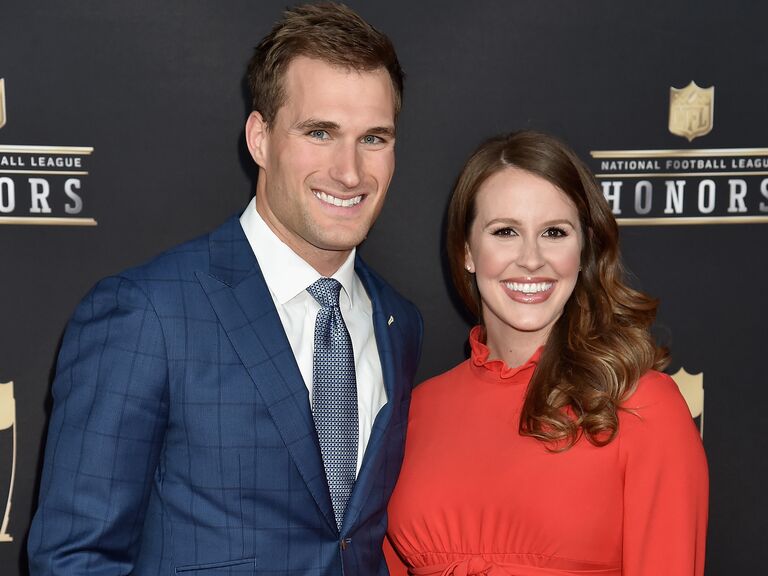 2012: Kirk Cousins and Julie Hampton Meet
According to The Washington Post, a family friend introduced Kirk Cousins and Julie Hampton in 2012.
November 2013: Kirk Cousins Proposes to Julie Hampton
The following year, Kirk Cousins announced on Twitter that he popped the question—and Julie happily accepted! Thanks to his friend Bill Huizenga, a Michigan congressman, Cousins proposed on the balcony of the Speaker of the House's office in the Capitol building.
In conversation with The Washington Post, Cousins opened up about the emotional moment. "I was extremely nervous," he recalled. "On the way down driving the car, as we got close to the Capitol building, I was holding her hand and she goes, 'Why are your hands cold and sweaty?' I said, 'I don't know,' but I knew it was because I was super nervous." Luckily, he was able to maintain the surprise by telling her that they'd be attending a tour of the Capitol building.
Hampton documented the engagement on Instagram, writing, "Kirk proposed to me on 'America's Front Porch' this afternoon! I cannot wait to spend my life with the man of my dreams! Thank you for the support, prayers, and love! We are so excited to see what God has in store for us!"
June 2014: Kirk Cousins and Julie Hampton Get Married
Kirk Cousins and his wife Julie Hampton's wedding day took place on June 24, 2018. The nuptials took place in Atlanta, Georgia. In photos shared from the big day, we can see that the bride wore a strapless lace wedding dress with a sweetheart neckline and a veil, while the groom opted for an ivory suit.
Ahead of their one-year anniversary, Julie shared a snap from the reception, revealing that their first dance was set to "Young, Dumb, and In Love" by Mat Kearney. On their actual anniversary, she wrote, "Happy Anniversary to us! Absolutely the best year of my life! I thank the Lord every day for giving us the beautiful gift of marriage!"
September 2017: Julie and Kirk Cousins' First Son Is Born
Just over three years after their wedding, Julie and Kirk Cousins' first son, Cooper, was born in September 2017, as confirmed by a statement shared on Twitter by the Washington Commanders.
2018: Julie and Kirk Cousins Launch a Charitable Foundation
In October 2018, the couple announced the launch of their joint organization, the Julie and Kirk Cousins Foundation. In a message written on the website, Cousins wrote, "Julie and I are passionate about generosity and using what we have been given to impact the world around us. The Bible says in Luke 12:48, 'From everyone who has been given much, much will be required; and from the one who has been entrusted with much, even more will be expected.' We are grateful for the privilege to play in the NFL, but also believe we have a responsibility to manage well what we have been given, and to be generous with it."
March 2019: Julie and Kirk Cousins' Second Son Is Born
The Cousins family grew once again in 2019 with the arrival of the couple's second son. "Turner Cousins! Welcome to the world, little buddy," Cousins captioned the Instagram announcement. "Mom and baby are doing great, and Cooper is already loving his new role as a big brother!"
2022: Julie and Kirk Cousins Buy a Golf Course
Continuing their charitable efforts, Julie and Kirk Cousins purchased a Michigan golf course in 2022 with the hopes of using it to give back to the community. "Our family recently purchased the Clearbrook Golf Course from our friends and longtime owners, Jim and Candy Jeltema," they said to the Holland Sentinel. "We want to invest in this great community, and we see this purchase as an opportunity to do just that, maintaining the life of a golf course that has been in place since 1926."
2023: Julie and Kirk Cousins Appear in Netflix's Quarterback
Kirk Cousins appeared in the 2023 Netflix docuseries Quarterback, alongside Patrick Mahomes and Marcus Mariota. The eight-episode production shared a behind-the-scenes look inside the lives of the three stars throughout the 2022-2023 football season. Kirk Cousins' wife appeared in a handful of scenes throughout the show, giving an inside look at their life off the field—in fact, it was revealed that Cousins takes Tuesdays off solely to spend time with his family. In one particularly sweet moment, the two can be seen going for a walk in their neighborhood. Cameras also captured the athlete bringing his son Cooper into the locker room after a win so he could enjoy a few snacks.
In July 2023, Quarterback was renewed for a second season on Netflix, though it's unclear if Kirk Cousins (and his wife) will appear again.