10 Whimsical Garden Wedding Ideas 'Bridgerton' Fans Will Love
These expert-approved tips will make your big day look like a fairytale in real life.
There's an undeniable sense of magic that comes with hosting an elegant garden wedding. From flourishing blooms to fancy finger food and crawling greenery, garden weddings are synonymous with all things romantic and whimsical. If you're obsessed with Bridgerton or you have a soft spot for classic fairytales, an outdoor garden wedding might be right for you. And, thanks to Netflix's hit period drama, as well as the high-class regencycore aesthetic trend that's taking over TikTok, romantic garden weddings are having a serious moment—and we coudn't be more obsessed.
While picking a theme for your wedding day isn't necessary, it can be helpful as you work with your team of vendors to solidify your event design. And if you can't get enough of this ethereal style, we're breaking down everything you need to know about throwing a garden-themed wedding. Here, you'll find expert-approved ideas and planning tips to ensure your whimsical wedding theme is one guests will never forget.
Book an Elegant Wedding Venue
After you set your budget, one of the next wedding planning tasks to complete is securing a venue. The best location for a garden-inspired wedding is, of course, a garden, but this isn't your only option. In fact, there are plenty of venues that offer the essence of a botanical garden even if there's not one available near you—you can even recreate the look of a garden setting indoors. "People assume a garden wedding has to be outside, which is somewhat true," says celebrity wedding planner David Tutera. "But, you can also create this look in an interior environment as well. A garden-themed wedding is not supposed to feel manicured, overproduced or over-designed. It needs to feel like you just showed up to a beautiful garden experience."
To start your search, go to The Knot Marketplace to find venues near your wedding location. While you can search for gardens, thematic venues also include ballrooms, open-air courtyards, estates, historical homes or even vineyards. "A vineyard offers beautiful views and vistas, which are a perfect backdrop for wedding photos," explains Nichole Cooper, Director of Sales at The Allison Inn & Spa, a vineyard in Oregon.
You can also create a gorgeous garden wedding in your backyard by dedicating part of your budget to rentals. "If you can't find a venue that speaks to the theme, look for anything with an open air space that you can decorate from scratch," says Rachael Burnosky, Senior Sales Associate at Alpine Events Rental Company. While most garden wedding venues will have natural charm, you can create the look of a lush, flowering lawn with the help of your florist, wedding planner and additional vendors.
Decorate With Greenery and Lush Florals
When it comes to garden wedding decor, it's all about the floral design. To make your venue look like it was pulled from an episode of Bridgerton, allot a large portion of your budget to wedding flowers, towering centerpieces and greenery. "Floral decoration is key for creating a romantic atmosphere," says Maureen Desfontaines, Groups & Events Sales Executive at The Ritz Paris. "For instance, couples may choose to have peonies or sweet peas in the springtime or hydrangeas and roses during the summer." Adds Tutera: "The garden wedding concept is all about dripping greenery and vines, so flowers are always incredibly important." He recommends styling your venue with blooms like wisteria, lavender, garden roses, ranunculus, peonies, lisianthus, anemones, sweet peas and dripping amaranthus. For a boho spin on the garden wedding theme, consider weaving in wispy wildflowers and clusters of grassy palms to your arrangements as well.
In addition to fresh flowers, woven greenery will give your venue the ethereal, whimsical vibe that's often associated with garden weddings. "For those who want a bolder floral presence, a free-standing arbor adorned with flowers and greens is an option," says Andrea Cochrane Tracey, historic site manager of the Carlyle House Historic Park in Alexandria, Virginia. "Decorating the backs of chairs for guests and the wedding party is another way to add accents of flowers and greens."
You can also get creative with the display of your blooms. While Burnosky suggests adding a greenery wall to your venue as a statement installation, Cooper adds that hanging florals from the ceiling will encourage guests to look up. "Hanging flower arrangements are a beautiful touch during dinner and reception events," she explains.
Use a Pastel or Monochrome Color Palette
Selecting wedding colors is essential for keeping your decor in line with the garden theme. The palette for a whimsical garden ceremony should be mellow and soft—pastel hues of pink, lavender, blue and green are all appropriate choices. "Avoid colors that are too strong or vibrant," warns Tutera. "If you want your event to feel young and fresh, color tones should be taken in a very specific direction. Focus less on printed fabrics and more on softness through lighting and florals."
For a modern alternative, consider following a monochromatic color scheme. This trending idea saw a spike in popularity thanks to Bridgerton's release in late 2020, and it's here to stay for the foreseeable future. Not only will a monochrome palette make a bold statement, it'll allow guests to focus their attention on lavish floral and greenery installations instead of mixed colorways and patterns.
Transform Your Venue With Draping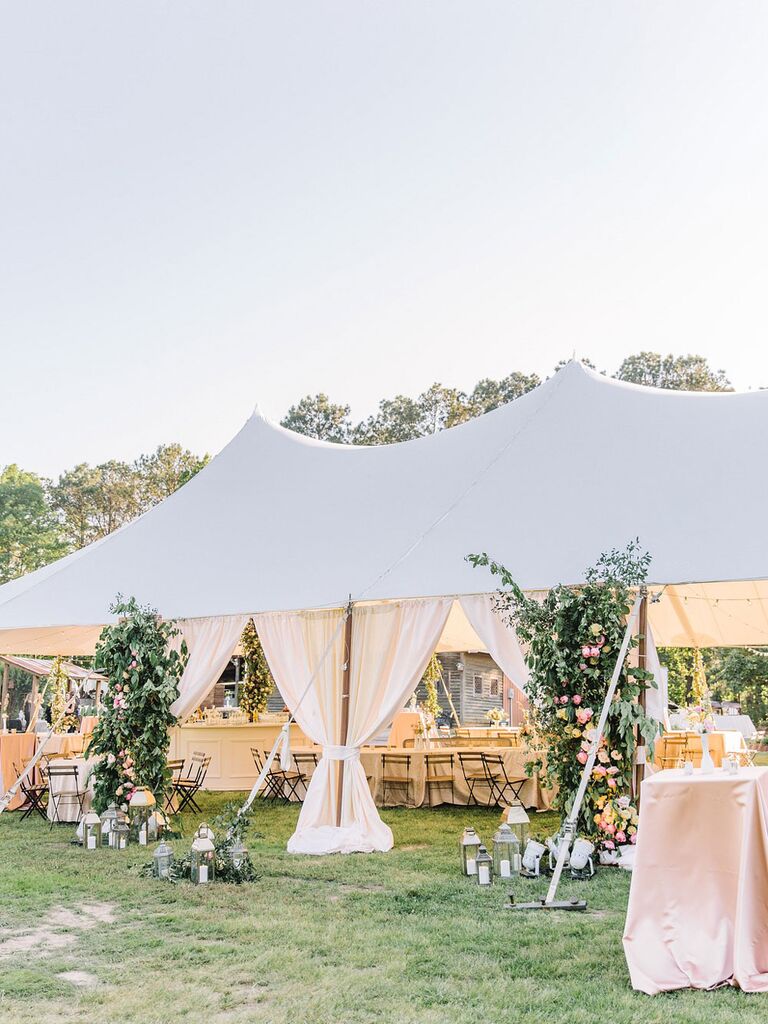 To give your garden wedding venue an intimate makeover, consider draping your space with gauzy fabric in light shades of ivory or blush. "You can transform any space with draping," explains Burnosky. "Fabric adds a whimsical, elegant vibe to any location, and it's a particularly easy way to decorate a tent setting."
For a trendy grandmillennial vibe, consider drapes that have a barely-there floral or chinoiserie pattern. "A textured sheer fabric that has a small print of rose petals is great to include," explains Tutera. Not only will draping give your event space or outdoor wedding tent a complete makeover, it's an easy way to create an intimate atmosphere without going overboard on decorations.
Set the Mood with Lighting
In addition to florals and draping, lighting is one of the easiest ways to drastically change the overall look of your wedding venue. Create a warm, cozy ambiance by adding clusters of candles of varying heights around your ceremony and reception space. "Candles add a dramatic element to any setting, particularly a garden venue," says Tracey. Or, if your venue doesn't allow open flames onsite, you can achieve a similar look with battery-operated string bulbs. "Small fairy lights tucked into ceiling decor or centerpieces will create a whimsical, ethereal vibe," Tutera explains.
Serve a Tea Party-Inspired Menu
When you think of a garden-themed wedding, you probably think of afternoon tea. Because of this, your romantic garden gathering should have a thematic menu with elegant finger sandwiches, crudités and hors d'oeuvres, tea and, of course, bubbly. "A lot of people associate a garden wedding with high tea," says Tutera. "Tea and champagne should definitely be infused into your menu. And, when working with your caterer, incorporate thoughtful ingredients into recipes to make the experience even more interesting."
If you're not sure what kind of ingredients to use, use your wedding venue—as well as local restaurants and farms—for inspiration. Couples that choose to get married at a venue that supplies its own food will have the option to offer guests a hyper-localized food experience. "Our onsite garden inspires our wedding event menus," Cooper explains. "Our culinary offerings often showcase homegrown items like colorful heirloom tomatoes, fresh lavender and savory rosemary, to name a few."
As for your wedding cake, work with your caterer to create a flavor palette that's anything but predictable. (We love the idea of fusing unique tastes like lavender and mint or lemon and amaretto.) And in keeping with your garden wedding theme, don't forget to offer a spread of alternative desserts too, like fruit tarts with local berries or scones and pastries from a nearby bakery. Infusing your menu with local fare is a great way to support small businesses, but it'll also personalize your nuptials so that it highlights the best your wedding location has to offer.
Get Creative with Cocktails
When it comes to wedding reception beverages, you can't go wrong with champagne at a garden party. But beyond that, consider offering a few custom cocktails in pastel shades that match your color palette too. Paying attention to small wedding details like this will make it look like you thought of absolutely everything for your big day. "We recommend serving rosé or sparkling wine cocktails or mocktails garnished with edible flowers," Cooper explains. "The pastel colors of these beverages will add to the overall aesthetic of the garden ceremony, and they're particularly refreshing on a summer afternoon."
Use Antique Serveware
While the menu is one of the most important aspects of your wedding day, the way it's presented is just as crucial. "The way you serve food is also a key consideration to keep in mind, because it'll elevate the experience," Tutera adds. To follow through with your garden wedding theme, look for place setting rentals that have antique patterns, brass or gold hues and unique shapes that'll stand out among centerpieces and place cards. Finish your table settings with vintage glasses and whimsical napkin rings. While these might seem like small details, together they'll create a stunning visual experience that'll wow guests from the moment they take their seats until they finish their last bite of cake.
Invest in Signage
Elegant signage is one wedding trend that won't go away any time soon. While signs help direct guests from the wedding ceremony to the reception, they're also a great way to carry out your theme too. Look for signage that features swooping calligraphy, floral motifs and pastel colors with minimal gold accents. And, to go above and beyond, look for signs in fonts and colors that match your wedding invitations, escort cards and ceremony programs as well. Having a clear and cohesive theme across all paper goods and stationery will amplify your garden wedding theme.
Set a Thematic Dress Code
Finally, you can't host a garden wedding without inviting guests to come dressed to the nines. Think of garden wedding dress code attire as a cross between boho and casual glam—guests should be dressed comfortably, especially if they'll be outside, while keeping in mind that a garden setting calls for elevated outfits. "I suggest following a semi-formal attire, especially since you'll likely be outdoors for the ceremony," says Cooper. "Tea-length dresses, floral prints, patterned bowties or pastel dress shirts are all appropriate attire options."
While intentional event design is the best way to carry out a garden-themed wedding, inviting guests to come dressed appropriately in garden party attire will make the day feel even more memorable. Plus, loved ones will appreciate the opportunity to dress as though they're stepping into a magical fairytale for the day.