11 Gorgeous Garden-Inspired Wedding Ideas
You don't need a green thumb to bring these budding details to life.
by Carrie Anton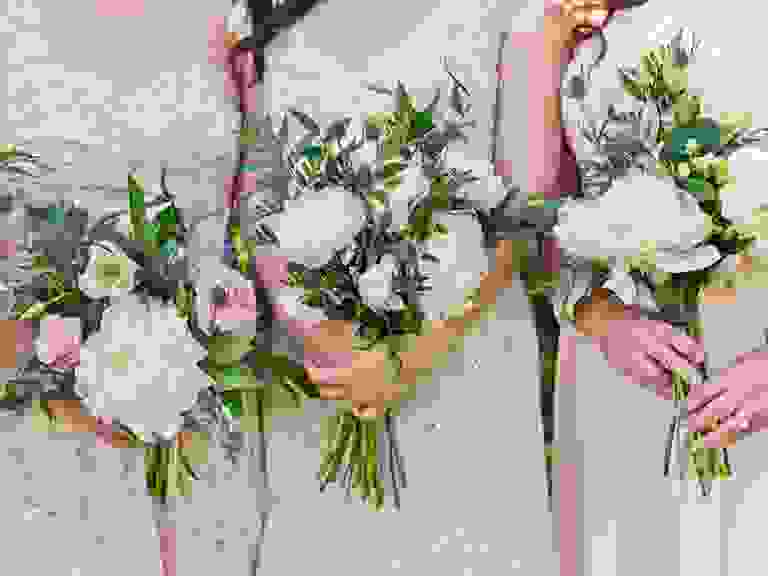 Chelsea Brown Photography
If you've always dreamed of a garden-style wedding, bouquets, floral crowns and centerpieces might not be enough blossoms for you. To really watch your garden theme grow, here are 11 pretty ways to ensure that every detail of your wedding's in bloom.

1. Botanical Beauty
No matter what the weather is outside, botanical gardens offer a beautiful backdrop for your engagement photos.
2. Showered in Flowers
The garden glory doesn't have to wait for the wedding day. Plant the seed in the parties leading up to your event.
3. Blooming Bridesmaid Dresses
Instead of solid colors, add floral patterns to give a garden-inspired look to your girls.
4. Tiptoe Through the Tulips
A spray of flowers on your shoes adds pretty pops of color beneath your gown.
5. Garden Groom
Your groom and his guys can sport a neck full of flowers with a tie covered in buds.
6. Plant a Quick Kiss
Before exchanging your vows, capture your first looks inside a lush greenhouse.
7. Winding Vines
Add style to your ceremony aisle with trailing greenery and bright blossoms.
8. Petal Pushers

Cones of flower petals make for the most romantic ceremony and reception exits.
9. Spring Drink
Serve your cocktails with ice cubes filled with edible flowers for a unique cordial.
10. A Place to Plant Your Guests
When you create the illusion of an outdoor reception with an indoor garden or greenhouse venue, you won't have to worry about rain.
11. Send-Off Seeds
Send guests home with a gorgeous garden gift they can plant and enjoy for springs to come.