15 Lingerie Party Invitations for a Cheeky Celebration
You'll really have a blushing bride on your hands.
We have included third party products to help you navigate and enjoy life's biggest moments. Purchases made through links on this page may earn us a commission.
There are plenty of new-ish prewedding celebrations to honor the bride and their lover. One of the most playful new arrivals is the ever-spicy lingerie shower. It's part shower, part bachelorette and a whole lot of fun. If you're planning a flirty fete, don't forget the matching lingerie party invitations. These on-theme cards can help set the right tone, so whether your bride-to-be is partial to minimalist black intimates for the boudoir or has a thing for babydolls in Day-Glo hues, the invitation should match their vibe.
But before we share some of the most fitting correspondence for the occasion, we should note that there isn't a huge variety of specific lingerie shower invitations out there, since they're still a rising trend. That said, romantic colors, lace patterns and seductive script are all hallmarks of an on-point lingerie party bid—getting the vibe across in a more subtle way. Although we do have a few cheeky options that could be too sexy for the fridges of family members and friends—if that's the energy you're looking for. **Wink wink.**
P.S. It's common for hosts of lingerie parties to include the bride's sizes somewhere on or with the invitation as a guide for guests when they shop—whether on the main card itself or one of the inserts. But be sure to check with the bride beforehand to see how she's most comfortable distributing this info.
1. Cute Corset Lingerie Party Invitations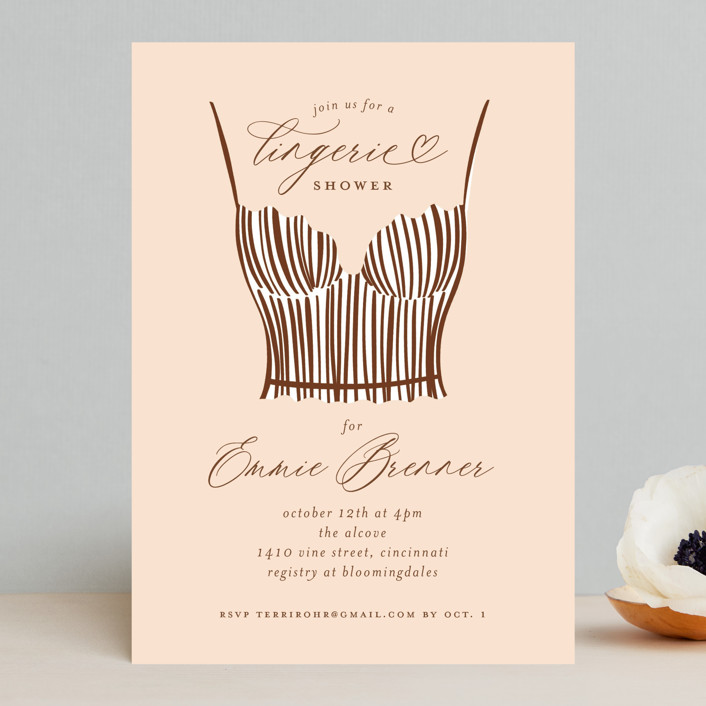 Lingerie showers don't have to be as wild as a bachelorette party and this chic invitation—adorned with a hand-sketched corset—proves it. The interplay between italic and script font is feminine and modern, and the heart-shaped flourish following the "e" in lingerie is perfectly on-theme. And how cute is that bridal shower insert add-on? We love the idea of having each guest come prepared with a date night idea.
2. Pancakes & Panties Lingerie Party Invitations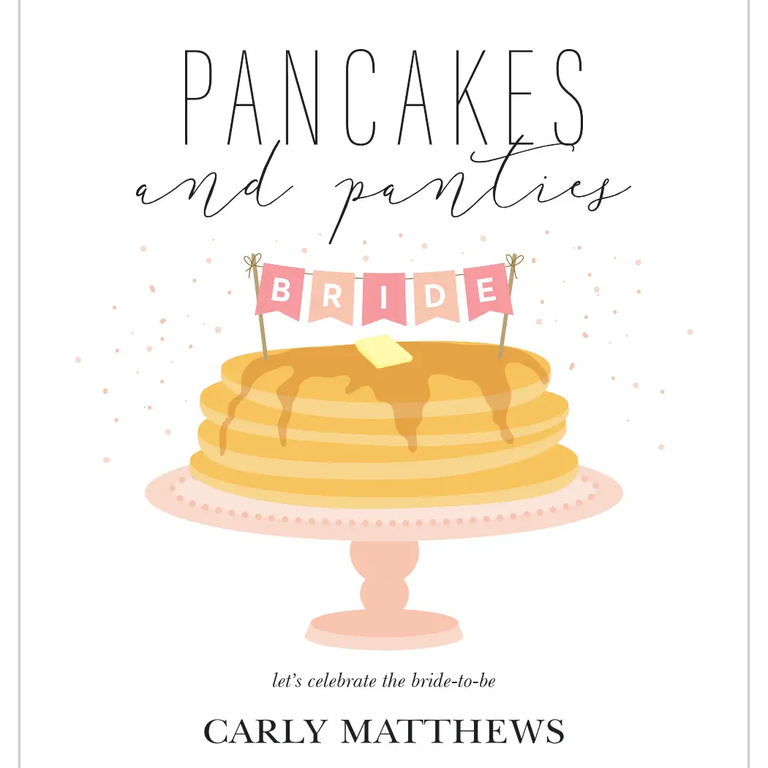 Another idea for your lingerie party theme: pancakes and panties—how delicious! Here, your party specifics are provided beneath a cake plate stacked with syrup-topped flapjacks. And you have the option to personalize with a bunch (or should we say brunch?) of colors and fonts to match your fave person's wedding palette.
3. Lingerie and Libations Printable Lingerie Party Invitations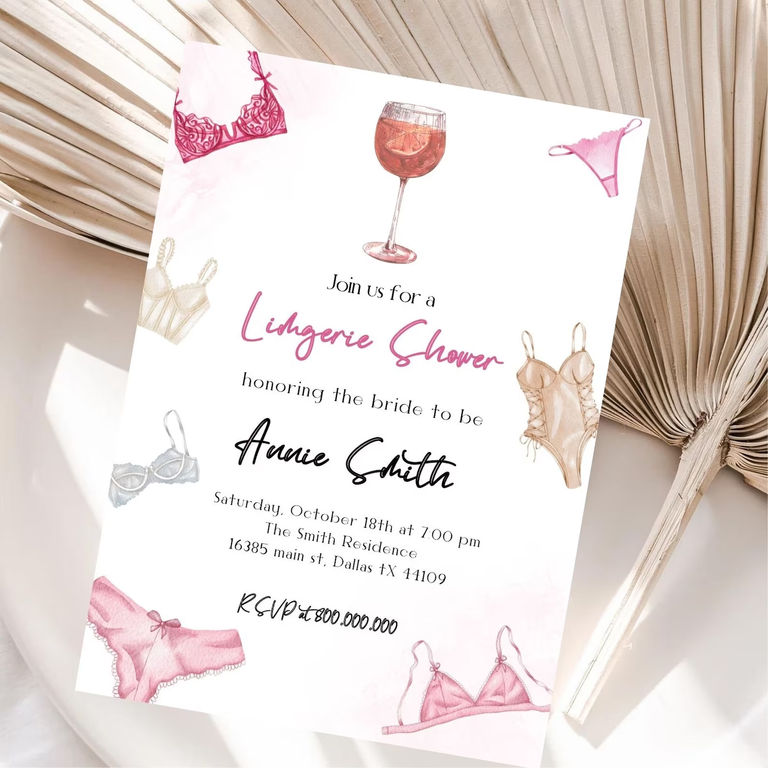 There's no better pairing than pretty panties and a nice glass of wine to celebrate the bride. With this instant download, you can purchase, save the files, edit with your party's particulars in Canva and then head to print before sending to your guest list. Can we also just say we want every lingerie piece displayed on these lingerie shower invitations?
4. Jewel Tone Lingerie Party Invitations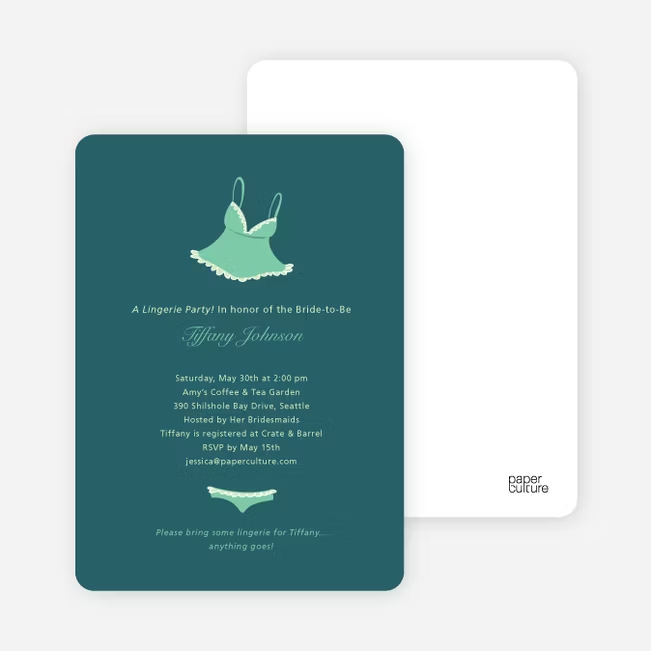 Jewel tones are sexy, aren't they? Because with this petite 6'' x 4'' card, you can choose among four of them (teal, plum and maroon, plus a pretty turquoise) and then get started on your customization. All of your party details are delicately outlined between a nightie top and undie bottoms—along with a call to action for your invitees: "Bring some lingerie for the bride-to-be, anything goes!"
5. Floral Digital Lingerie Party Invitations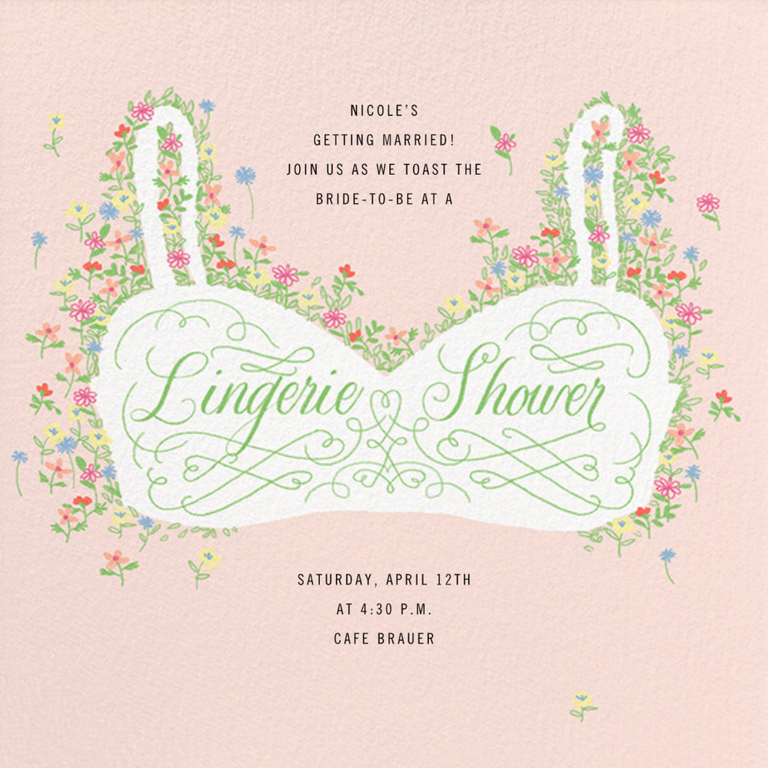 Lingerie showers deserve just as pretty an invitation as their traditional counterparts. And the beauty is coming through loud and clear in this blush-pink square card. "Lingerie Shower" is scripted in green and embellished with filigree detail, all inside a bright-white bralette overflowing with florals. It's giving "Bridgerton" charm, but the typewriter font is refreshingly modern as well. Since it's digital, you can track RSVPs and even include registry links for guests to buy something they know the bride will love. Pricing is in "coins," which are sold from packages of 12 for $25.
6. Rustic Botanical Printable Lingerie Party Invitations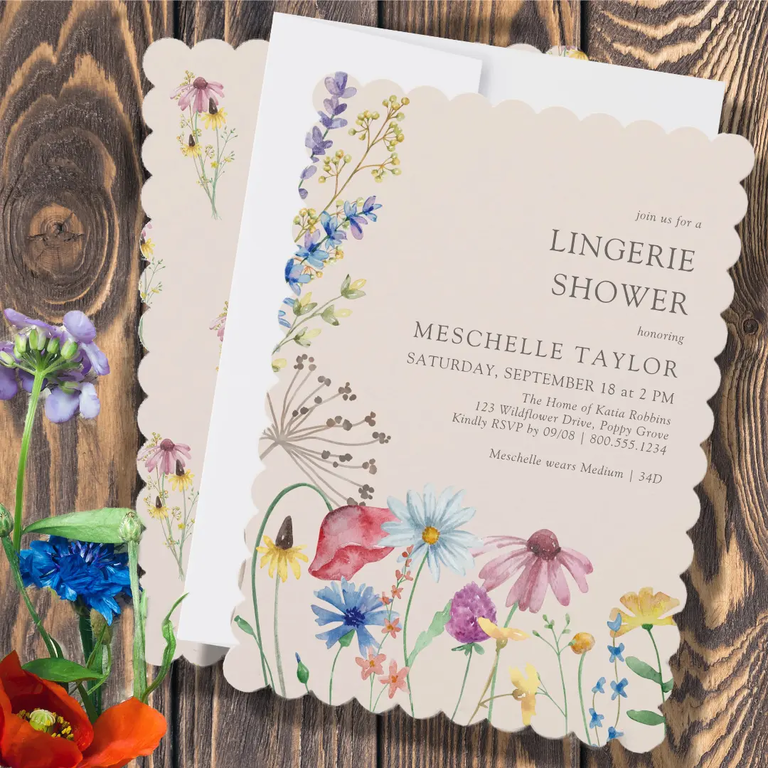 We're already imagining the soiree that springs forth from this girly bohemian-garden theme (please say you'll have bud vases of daisies, poppies, buttercups and cornflowers). Here, the who, what, whens and wheres are flush to the right side in classic, yet elevated typeface. And since it's an instant download, you can either print it and send the snail-mail way or forward it to the bride's friends and family over text. It's a design guests will happily hang up.
7. Blue Printable Lingerie Party Invitations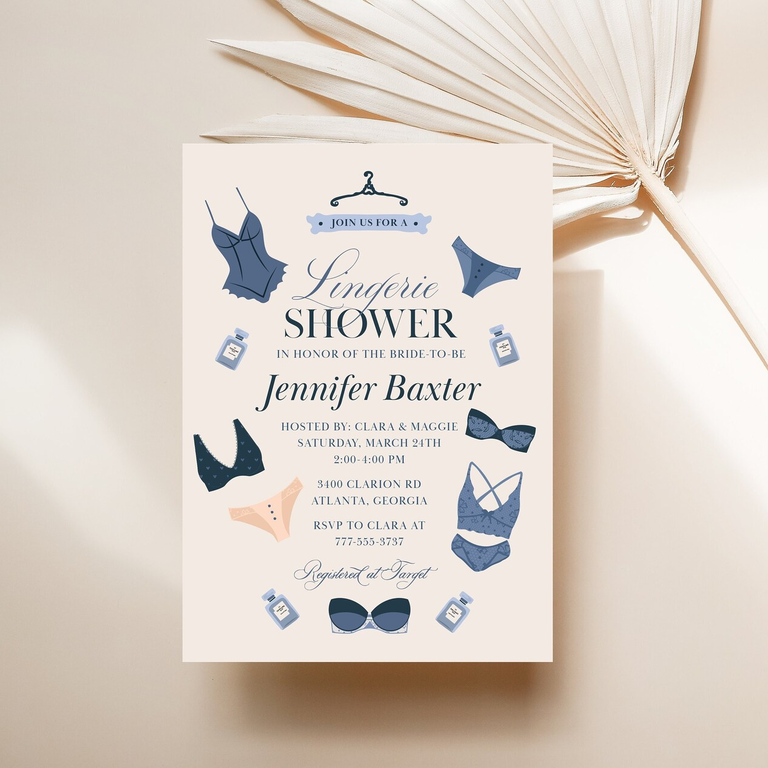 Lingerie parties aren't just a call for wedding night and honeymoon intimates. Nope! They're also a great get together for bridesmaids and those closest to the bride to put the finishing touches on her bridal trousseau. As such, this sweet digital download has your party details encircled by appropriate gift ideas—lingerie, perfume, hangers to have on hand in the bridal suite, even their something blue.
8. Funny Tequila Lingerie Party Invitations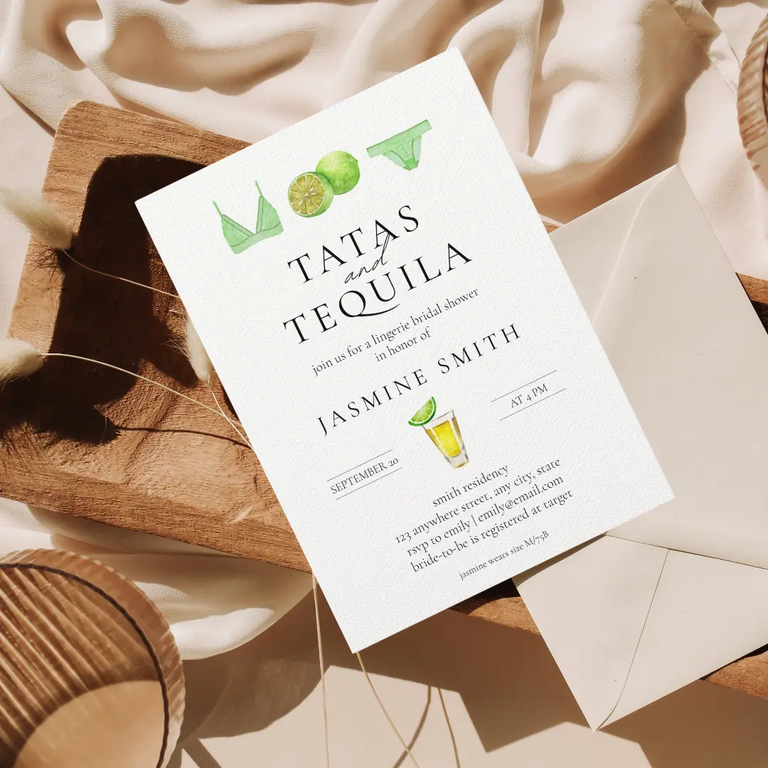 Speaking of anything goes, if your bride prefers a good marg over a cup of tea, then you'll want a lingerie shower invite that speaks her language. This one pairs clean, modern typography with bold and juicy depictions of limes, lingerie and a golden shot of tequila. And it's not afraid to "go there" with the bodacious theme of the day: tatas and tequila.
9. Black Lace Digital Lingerie Party Invitations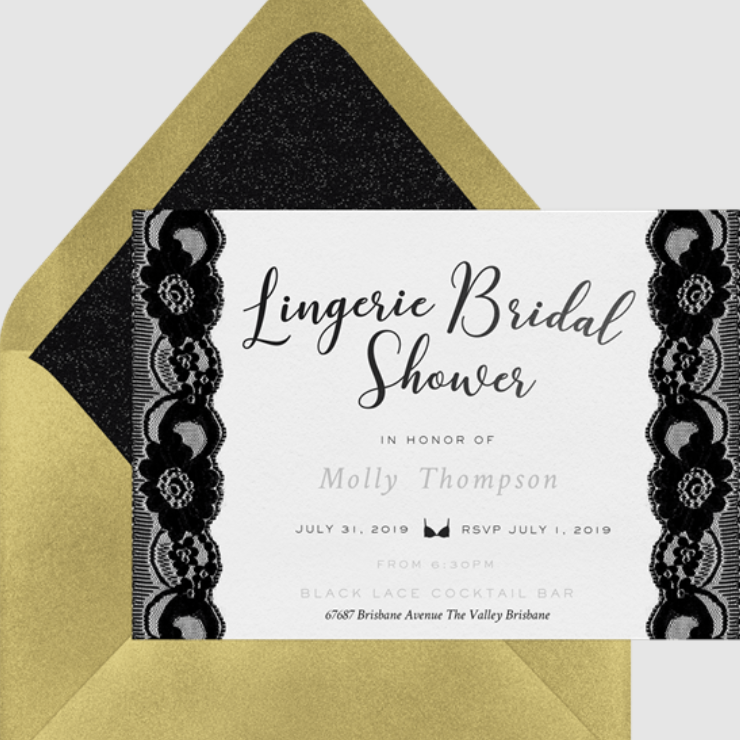 The stylish black lace detail on this elegant invitation need not go to waste. It'll inspire guests to don their sexiest LBDs to this lingerie bridal shower. So, add in your guest of honor's name and choose a color combo that befits their confident countenance (we're obsessed with the black and magenta mashup)—you'll have RSVPs flooding in in no time.
10. Naughty or Nice Printable Lingerie Party Invitations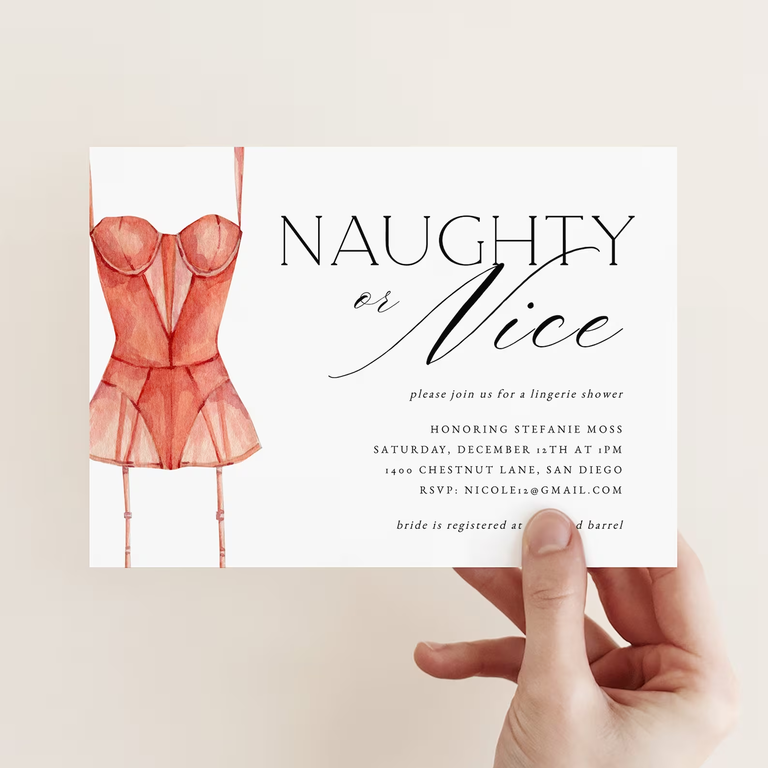 This horizontal template showcases a stunning set of coral lace lingerie beside a "naughty or nice" marquee. Everything is customizable, of course, but we love the pluful range of fonts. Plus, the watercolor look of the lingerie is so classy.
11. Underthings Digital Lingerie Party Invitations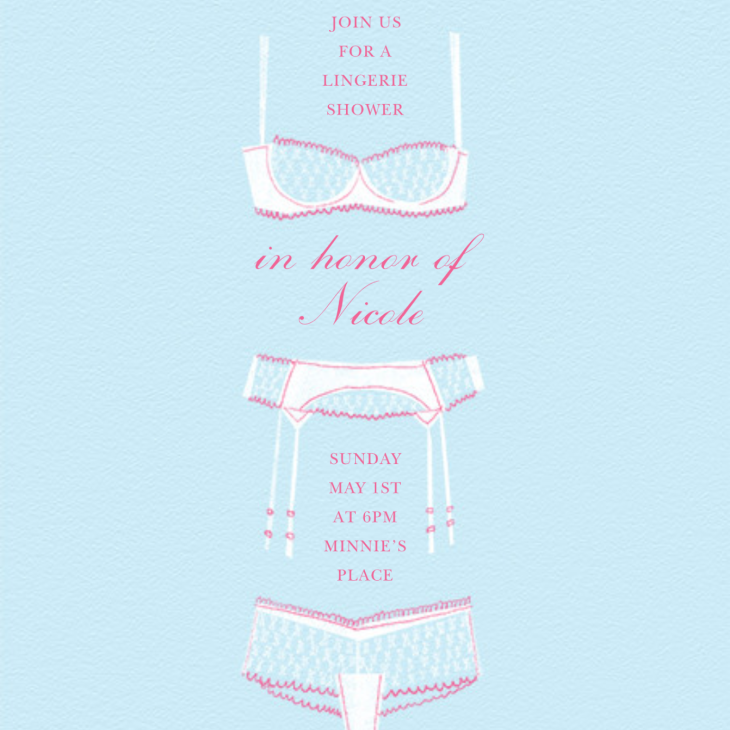 In the hot pink, blue and white colorway, this playful lingerie party invitation is a true Barbiecore original. The details of the day are peppered between three flirty pieces of lingerie and—even though you can already update the card's text, style, envelope, stamp and backdrop—you can also add additional text boxes wherever you want them (for an additional fee). The coolest thing about this digital send is how far and wide you can go with it—via email, text message or a shareable link you can paste and post anywhere.
12. Black and Coral Lingerie Party Invitations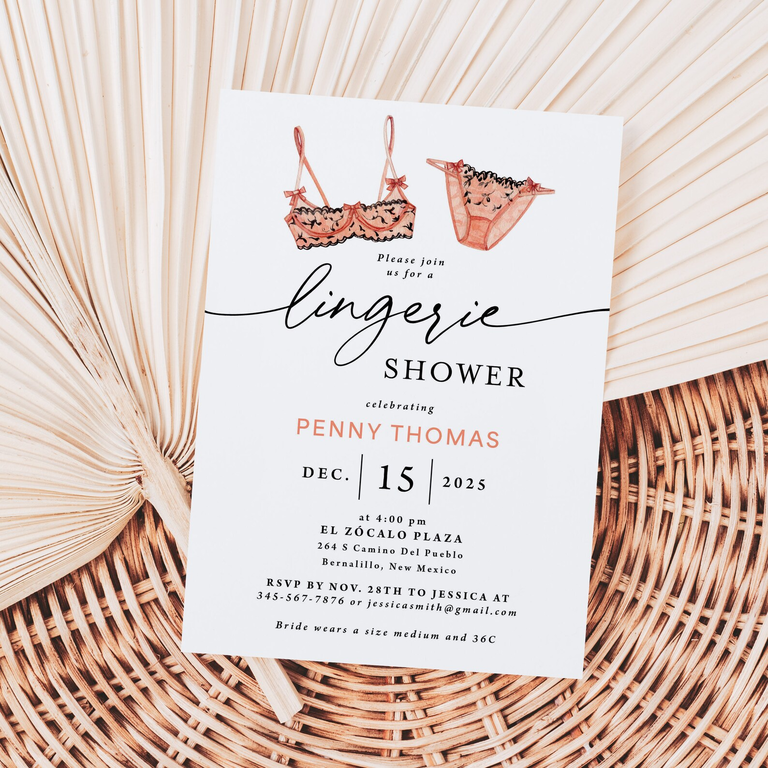 Minimalism makes sense for a lingerie shower, doesn't it? And this stripped down template has our full attention. Drop in your day-of details beneath that gorgeous black-and-coral balconette set.
13. Misbehavior Digital Lingerie Party Invitations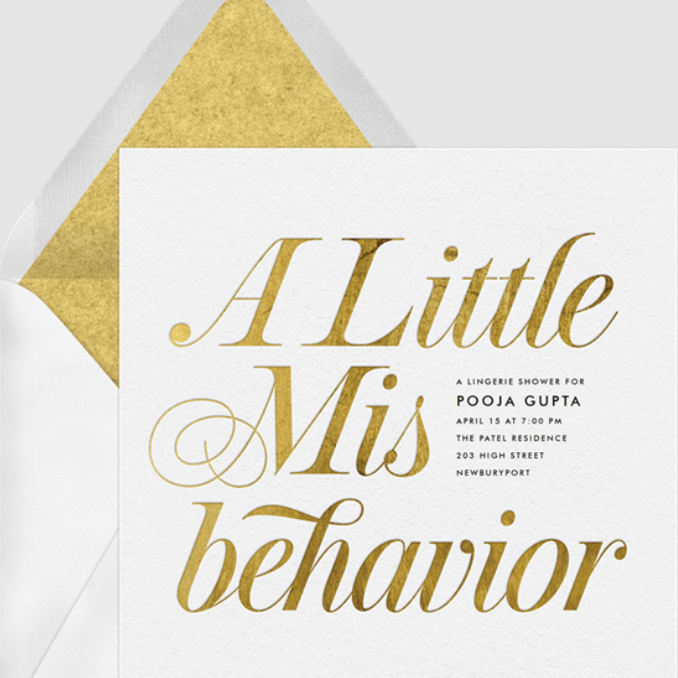 Great for a bachelorette, but just as good as a lingerie shower invitation. The gold metallic "A Little Misbehavior" text hints at the naughty-but-nice time the bride-to-be and all of their guests are in for. Bustier silhouettes are nowhere in sight, though, which might be a much safer choice for more conservative brides. If you'll be hosting, do some recon just to make sure she's a willing participant!
14. Pajama Party Lingerie Party Invitations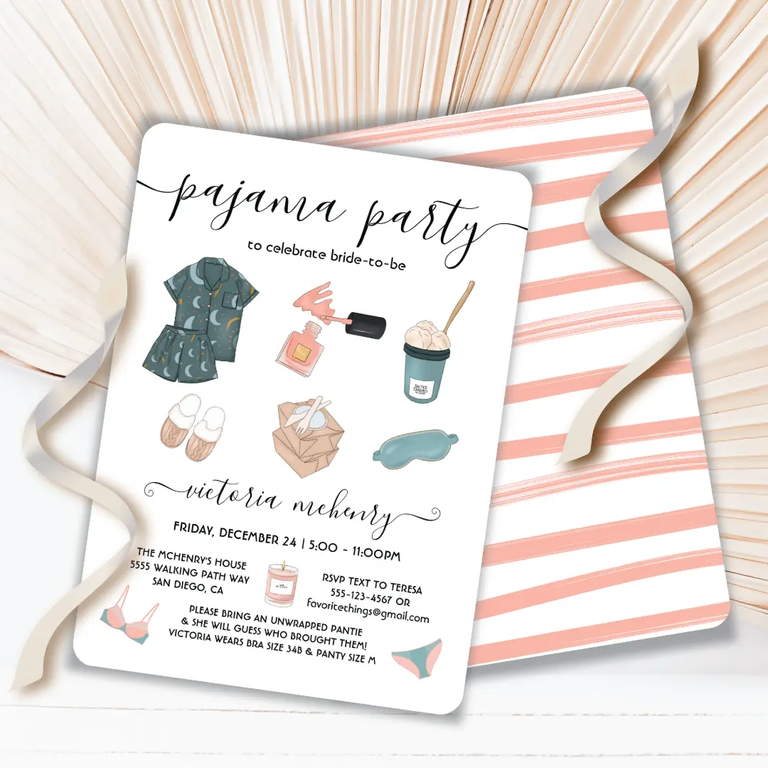 There's truly nothing better than an old-school pajama party. But now that you're adults, you can upgrade from soda to spritzers and bring silky lingerie for the guest of honor instead of a Limited Too shortie (it was the 90s…). As for your invite? You can't go wrong with something that literally paints a picture of how the night will go—just edit the design with your details and the bride's sizes.
15. "Ooh La La!" Digital Lingerie Party Invitations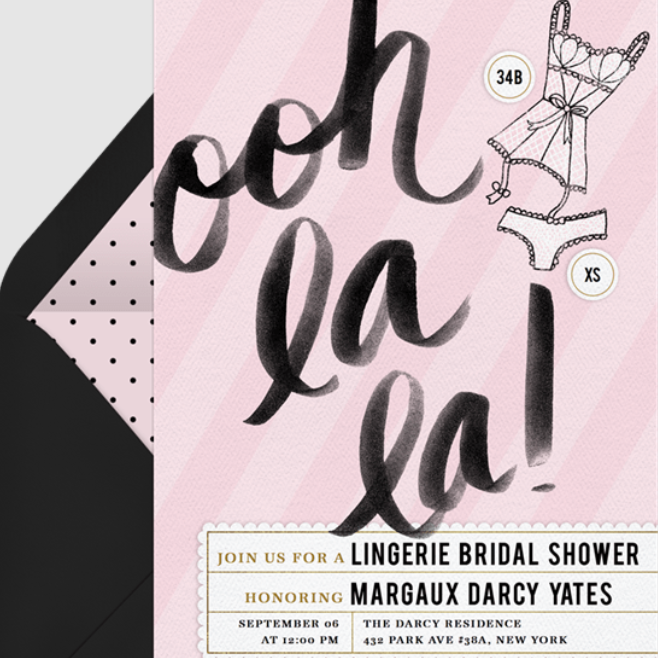 This black, white and pink emailable lingerie bridal shower invitation has a vintage lean that feels a little promiscuous and a little pinup-ish, but it all works. Guests will enjoy the animation that slides the invite out of the polka dot envelope liner and then they'll get a taste of what's in store for them. We can already hear the collective "ooh la la" as they read aloud the details surrounding your Paris-style soiree. If you can add "bring a pair of panties for a couple cream puffs" somewhere, you have our full support.