21 Sexy Lingerie Bridal Shower Gifts They'll Pack For The Honeymoon
Start the honeymoon early.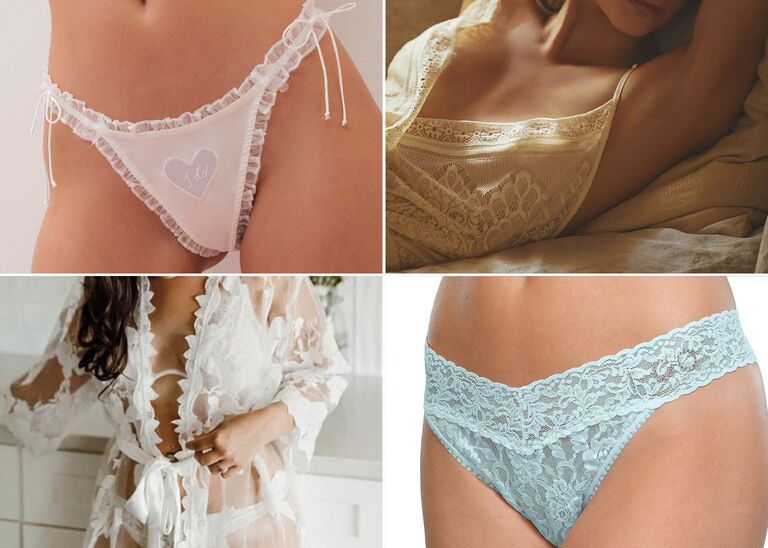 Photos, clockwise: For Love and Lemons, Anthropologie, Journelle, LuvYou3000
We have included third party products to help you navigate and enjoy life's biggest moments. Purchases made through links on this page may earn us a commission.
Modern bridal showers are getting even more fun with the trend of bridal shower gift themes, especially if the theme is a lingerie party. Rather than showering the bride with housewares and newlywed essentials, this party focuses on all things sultry and seductive. Looking for unique lingerie shower gift ideas? The emphasis should be put on sexy bridal shower gifts, as it's mostly likely what she'll be pulling out for her honeymoon and postwedding date nights. She'll want to dress to impress her partner, especially as they bask in married bliss. Every bride is unique, which is why you'll want to consider her personal style and even wedding theme when looking for perfect lingerie party gifts.
With everything from lacey matching sets to silky slip dresses, you can't go wrong with the classics. Or, if you want funny lingerie shower gifts, consider snagging some kinky truth or dare cards to encourage the newlyweds to go outside their comfort zones. If you're still not sure what to buy for a lingerie shower, you've come to the right place. We—the experts—have done the digging for you to find some of the most unique and praise-worthy gifts the bride in your life will be squealing with excitement over. Take a look below to find our favorite picks that'll earn you the title of MVP-gift-giver at your next lingerie shower.
1. Lace Two-Piece Set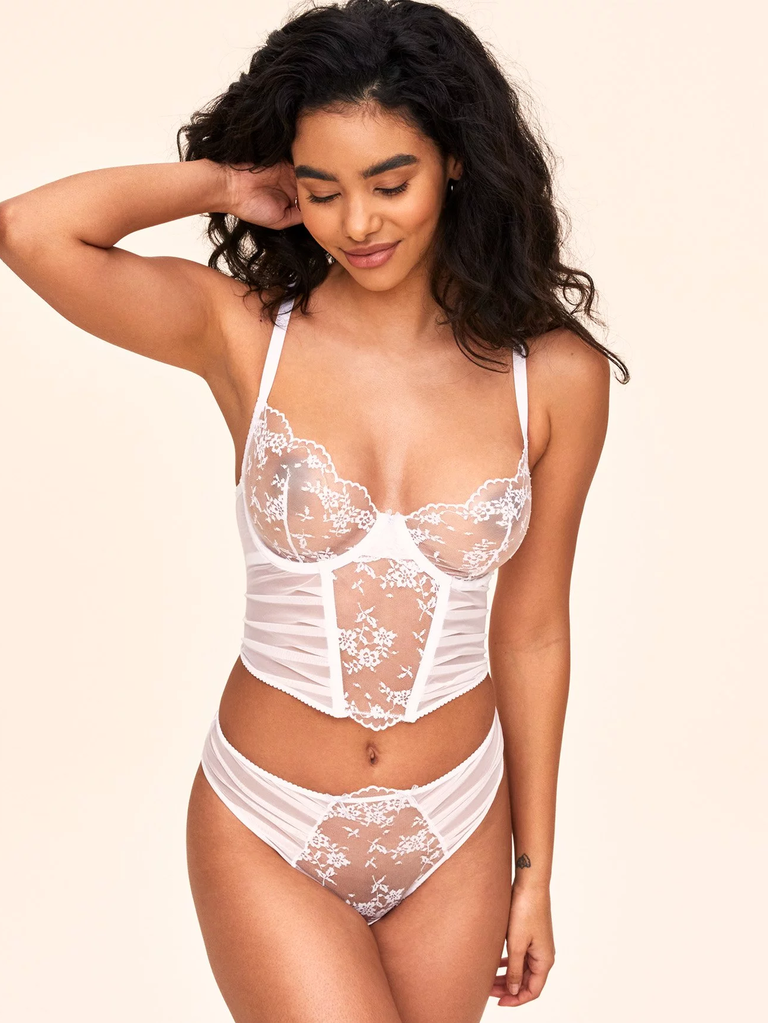 There's nothing more classic than a matching set she can sport on her wedding night or during the honeymoon. Featuring a bustier top and matching panties, each one is patterned with elegant lace and made of a silky material she won't want to slip out of. It's even versatile enough to sport under a dress or jeans.
2. Short Slip Dress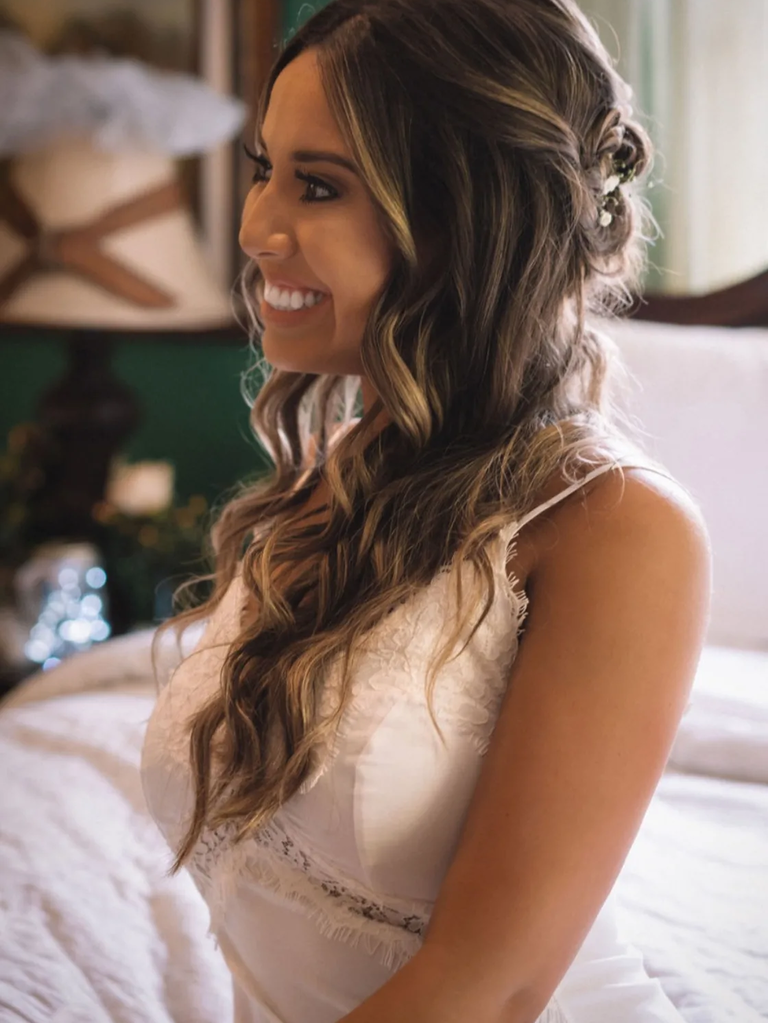 Surprise the bride with something she can easily slip into, like this lacey mini dress. Extra bonus if you can snag it in white to make her wedding night a sultry one. It'll even come in handy postwedding, as the soft and breathable fabric will make it an excellent piece of sleepwear.
3. Stay-Up Stockings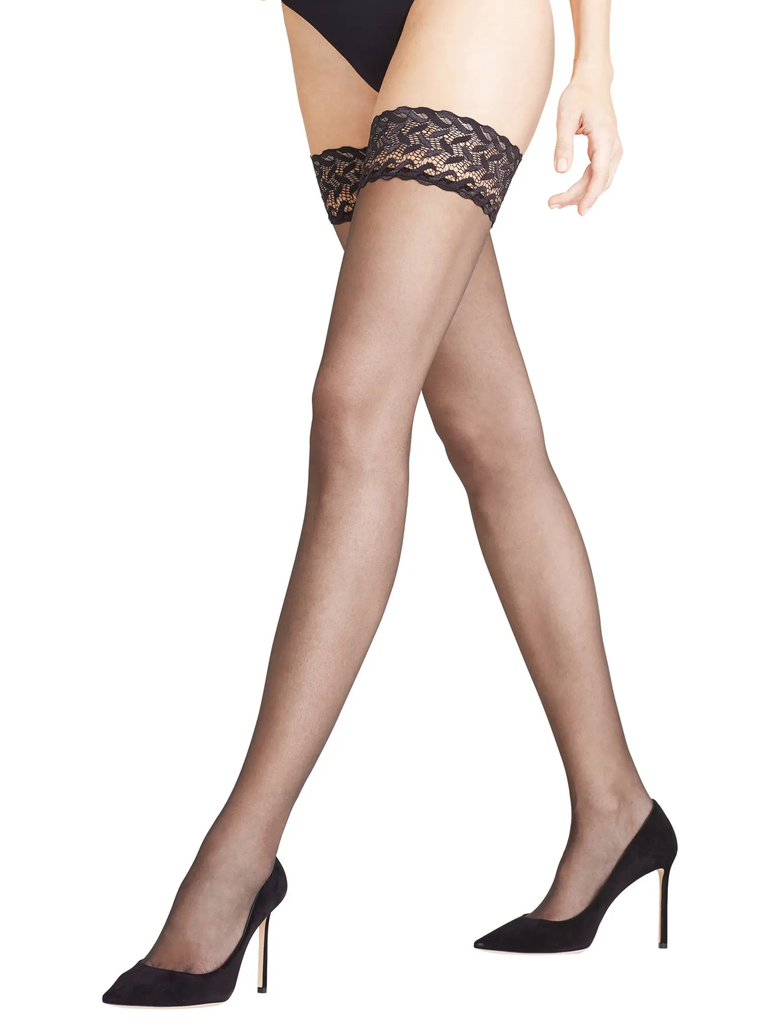 While fishnet stockings may be your first thought, there's nothing more timeless than a pair of stockings. These are thigh-high and were made to stay up, so she can pair them with that silky slip or two-piece set to make the honeymoon extra spicy. Plus, they're handy enough to pair with skirts and dresses when she'd rather skip the tights.
4. "I Do" Thong
Stay on theme with some lingerie she can slip on underneath her wedding dress—a fun surprise for her partner to find. Grab it in white or make it her "something blue," if she's a traditional bride. And the bedazzled "I do" adds just the right amount of glam, so her ring finger won't be the only thing sparkling. It's too good of a bridal shower gift.
5. Bridal Panty Pack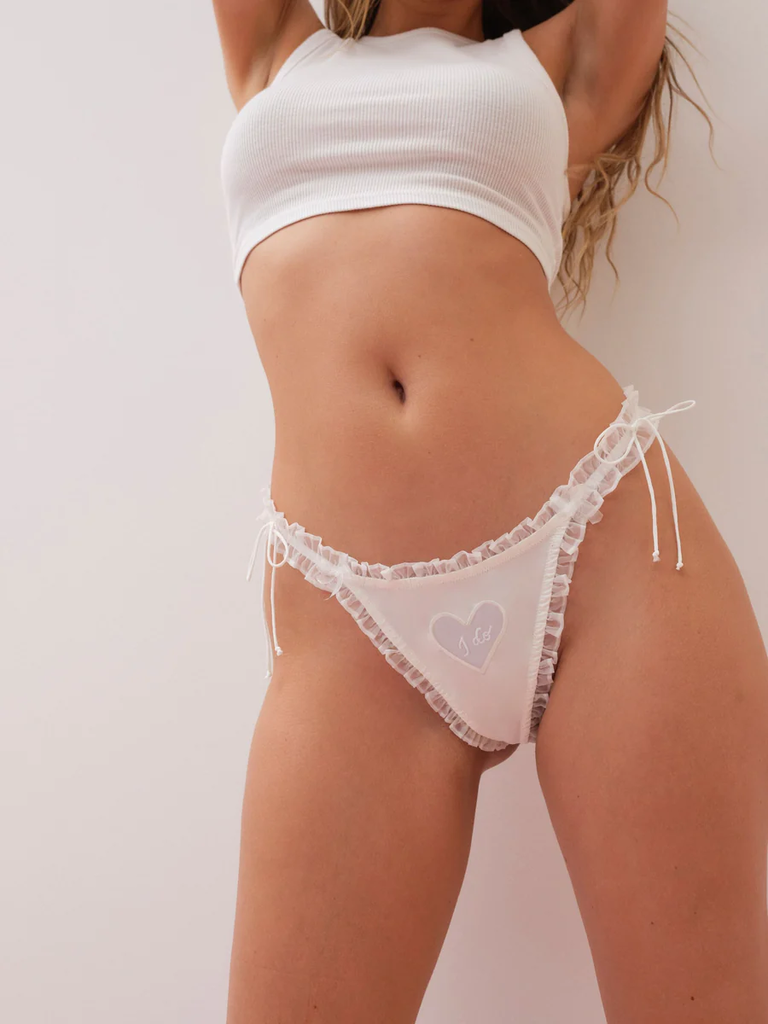 Why have one one spicy pair of wedding undies when you can have three? This pack of wedding-themed panties is so cheeky and whimsical—we just adore it. Lace, ruffles, ribbons and tulle; we couldn't ask for anything more.
6. Ivory Suspenders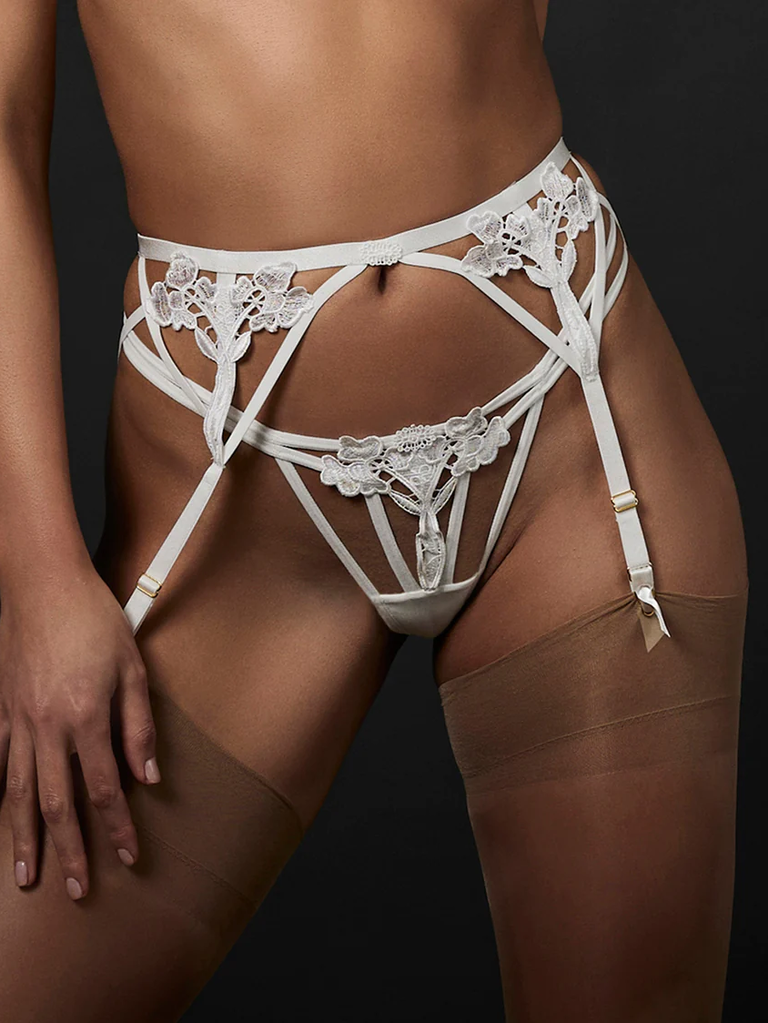 Help the bride keep her stockings up in the most graceful, yet seductive way. These suspenders are an essential for adding flair while preventing her from adjusting her stockings all night. Keep it bridal by snagging them in a crisp ivory shade and prep her for her wedding night.
7. Sheer Lace Bodysuit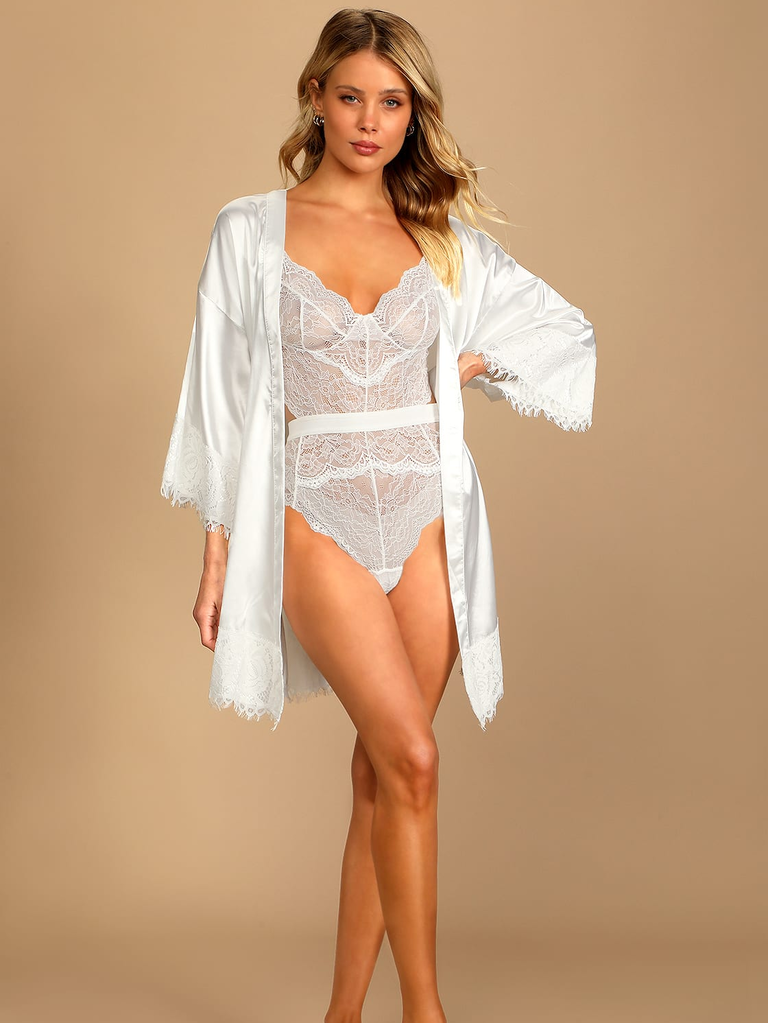 Give your bestie an all-in-one fit that can peek underneath her bridal robe on her wedding night or honeymoon. The lace design features a gorgeous scalloped neckline, which—when combined with the open back—adds so much allure. She can also sport it after her wedding paired with some jeans and a leather jacket for an edgy night look.
8. Balconette Bra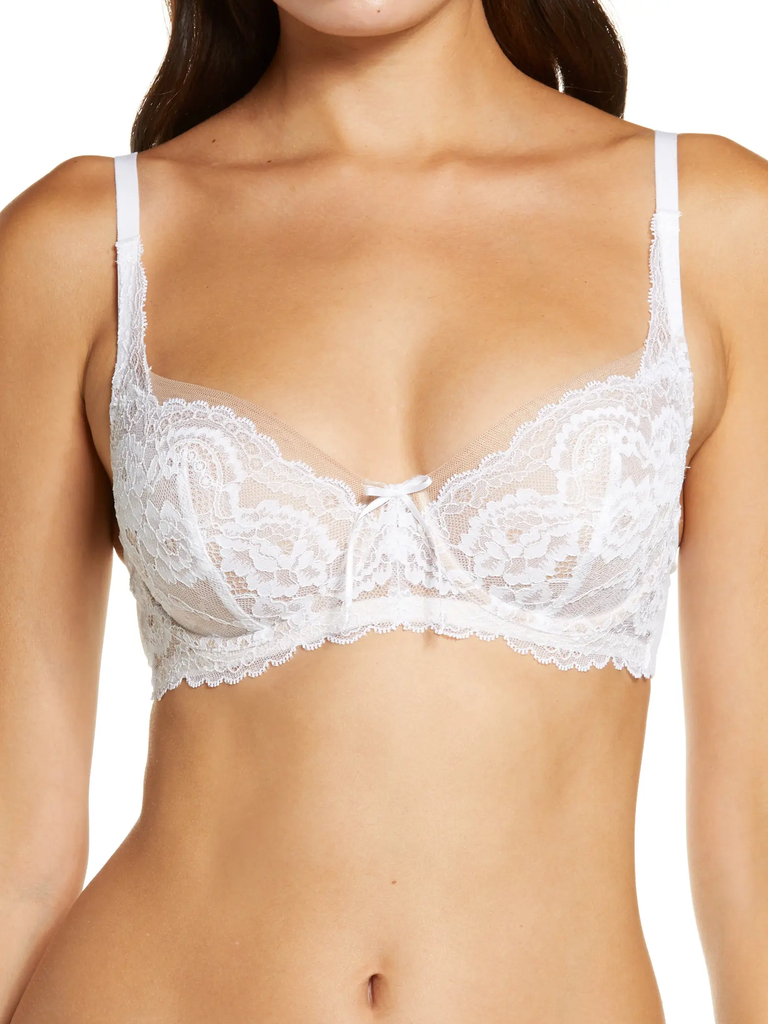 You can't skip this classic, yet essential piece of lingerie. This balconette bra comes in the perfect bridal white shade that features a captivating lace material. Whether she saves it for slipping on after her vows when she and her boo are alone or wears it under her wedding dress, the bra will keep her supported and comfortable, thanks to its underwire demi cups.
9. Bridal Robe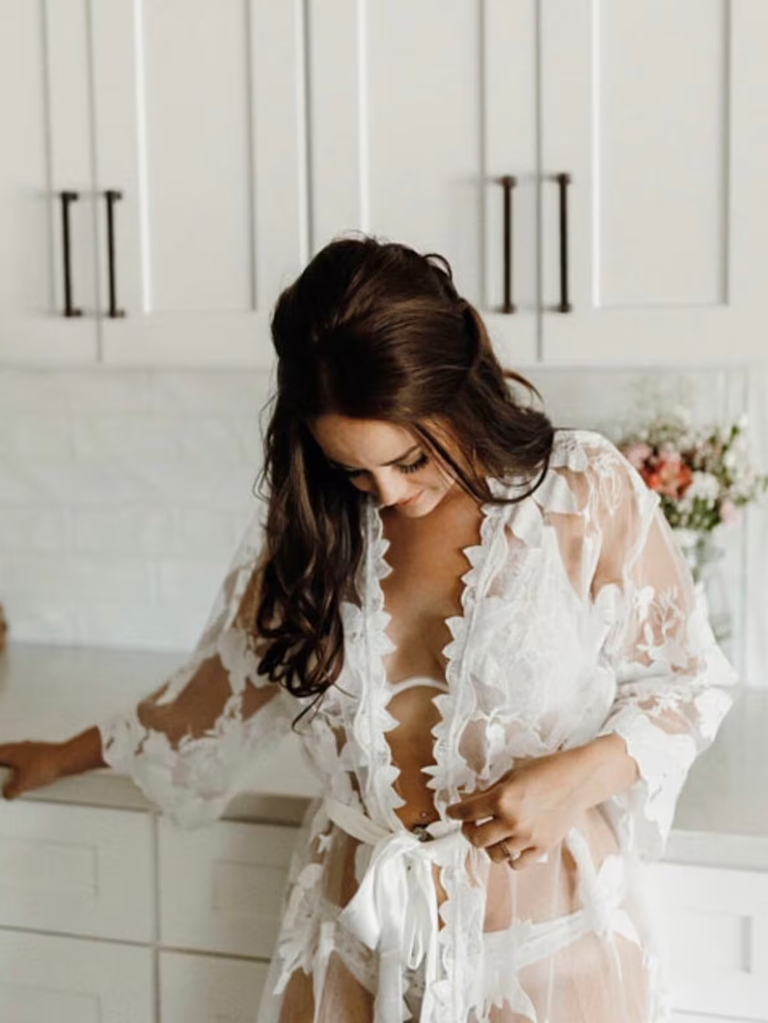 Add a sweet and sexy piece to her lineup with this boudoir robe that's perfect for using even after she says "I do." The bride can sport it as she gets ready on the day of the wedding, then use it to cover some lacey lingerie on her honeymoon. The sheerness will provide an added level of sexiness her and her partner will be praising.
10. Lingerie Gift Box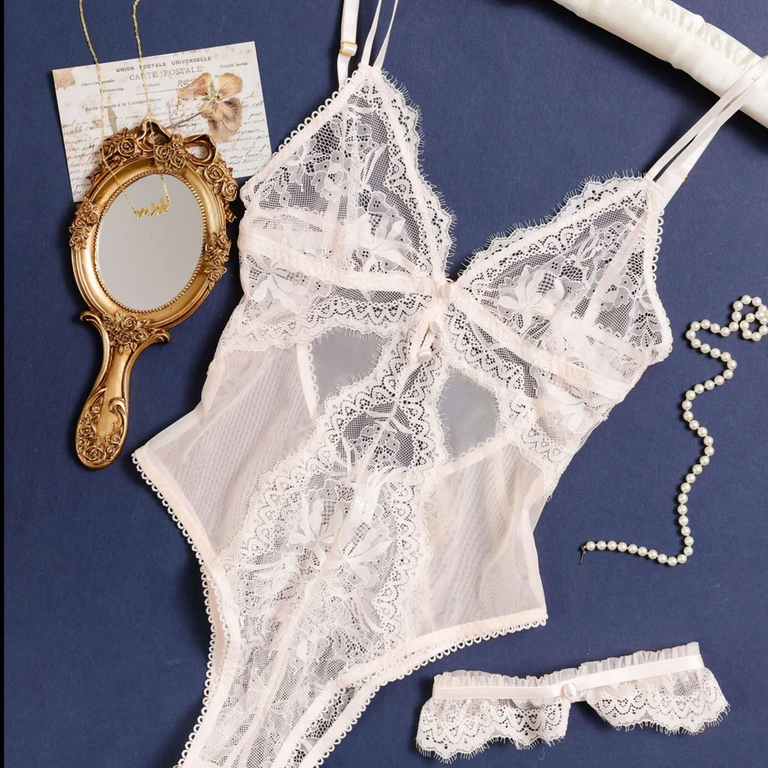 Consider this a box of romance-igniting supplies for a lingerie shower gift, as this bundle comes with a mix of lingerie and supplies to get her honeymoon ready. Each bundle includes a teddy or romper of your choice, bling wipes, a dice game and a full-size bottle of bedroom-approved lubricant. Plus, it even comes all wrapped up with a customizable greeting card for easy gifting.
11. Bridal Romper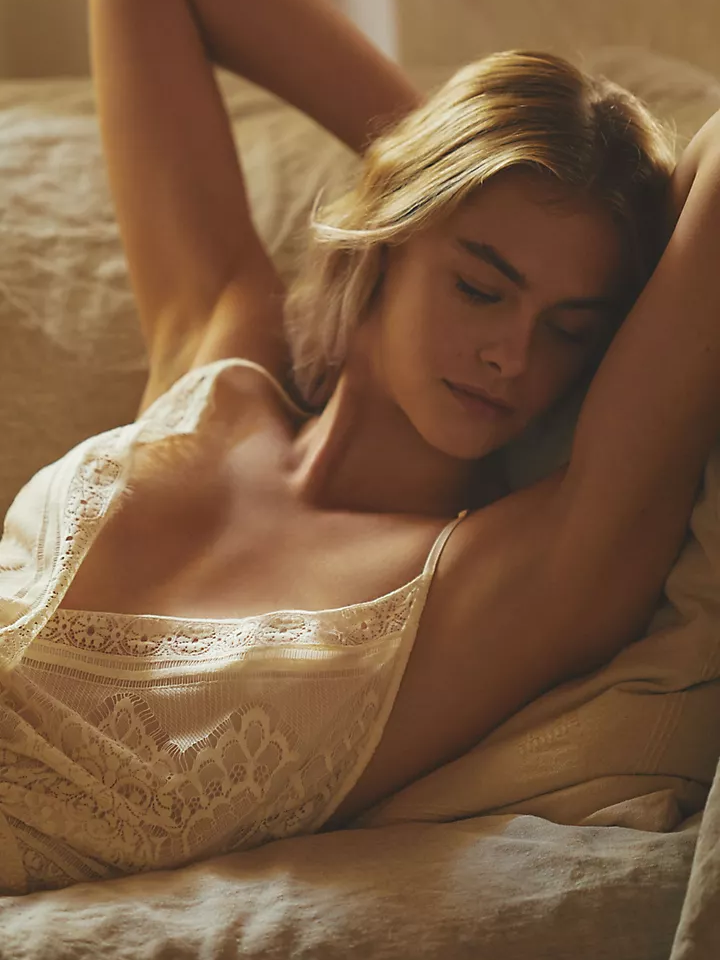 Give your bride-to-be a romantic romper she'll want to slip on as she preps to walk down the aisle. It combines a soft silky material with ravishing lace details she'll be excited to show off to her love after their nuptials. What's even better is how easy it is to put on—just pull it up and she's got an instant romance-inspired 'fit.
12. Lace Chemise with G-String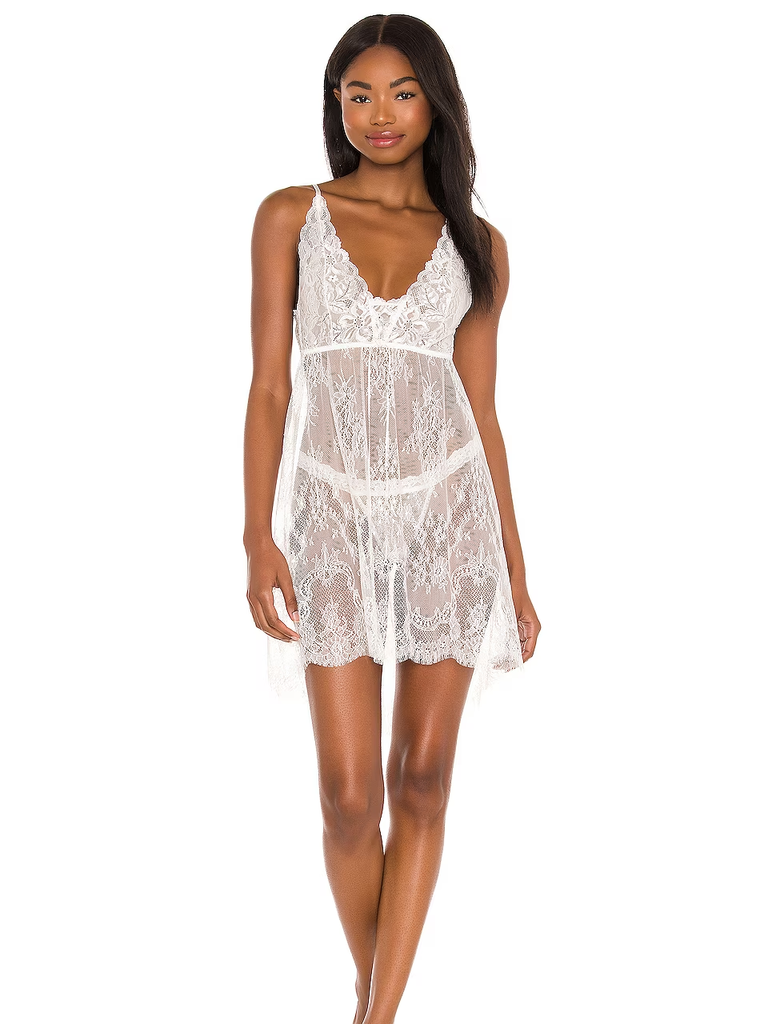 Ring in her married bliss era with a tantalizing set she'll be anxious to show off to her husband, wife or spouse. The set includes a sultry lace chemise with a sexy matching G-string to tie it together. The look can easily be worn in the future, too, when she's looking to get spicy with her partner after a date night. Consider your question of what to get for a lingerie party—answered.
13. Flirty Short Set
When it's time to catch some Z's, have your bestie bride do it in style. This matching sleep set not only boasts a flirty style, but has a soft satin material to swaddle her in comfort. She can pack it in her suitcase to take on her honeymoon for some cozy seductive vibes.
14. Satin Garter Belt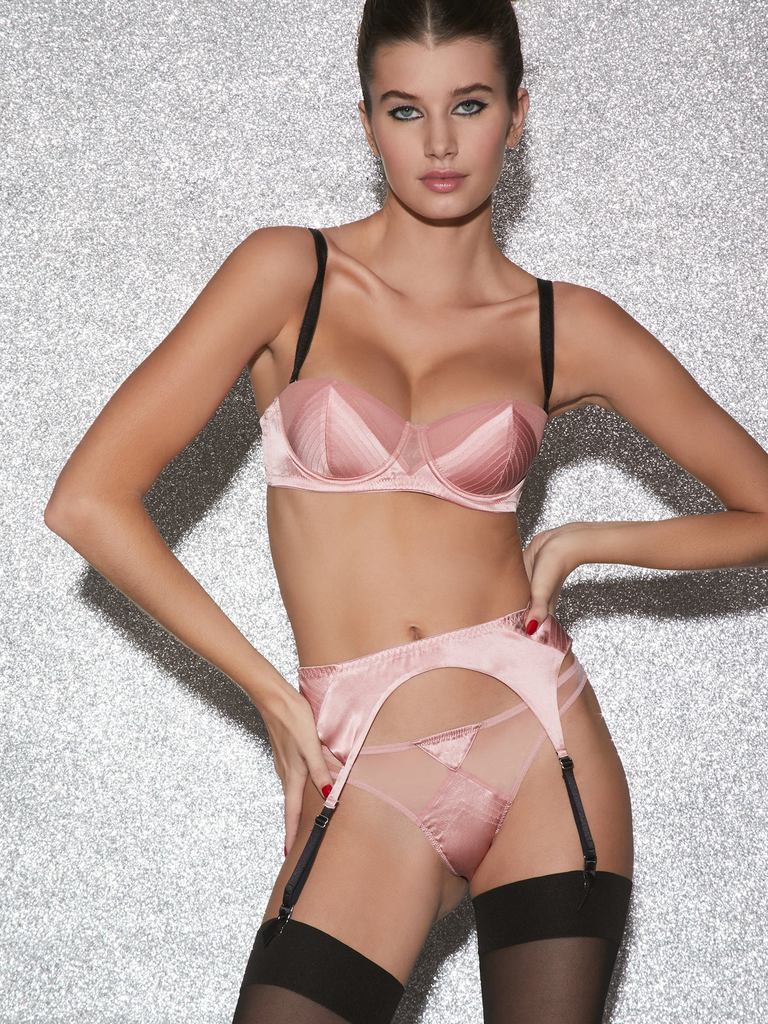 This sultry garter belt comes in the prettiest blush and black, which means it'll go with everything (or not too much). It's made from silky satin with top stitching detail, so it'll be comfy under a dress or skirt. It's giving classy, Parisian vibes, no?
15. Luxe Bra and Panty Set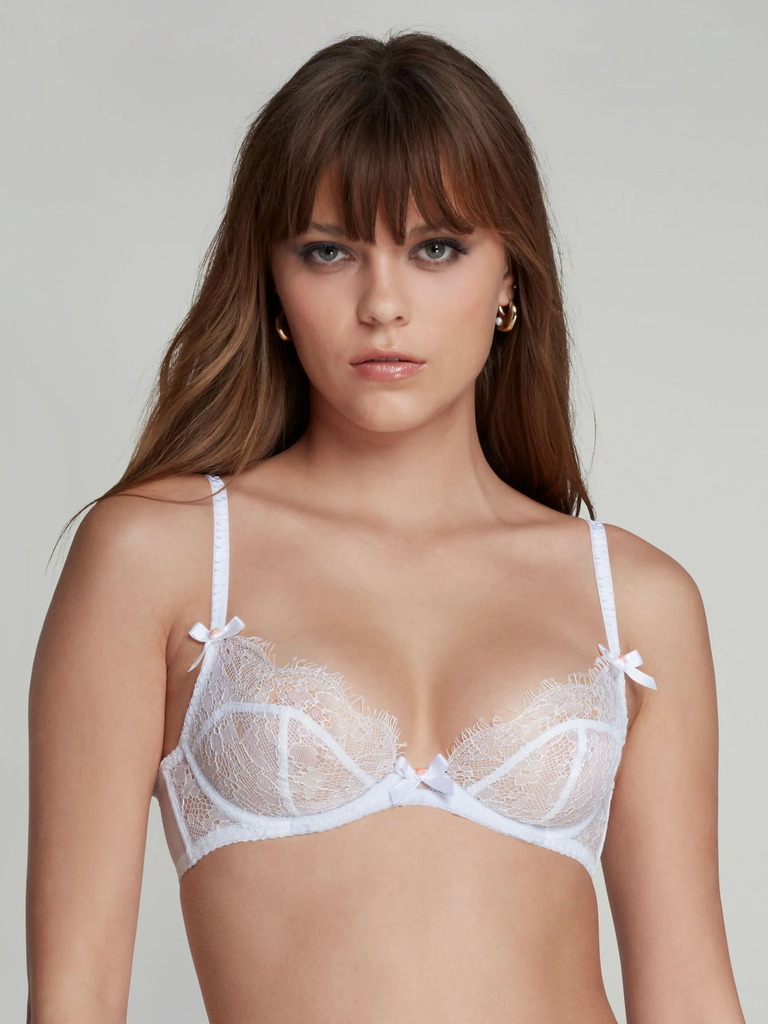 If you're going in on a gift as a group, an expensive bra and panty set is one of the best lingerie shower gifts. We love the playful lingerie from Agent Provocateur—especially this best-selling bridal bra, featuring French seams, bitty bows and the most sophisticated lace. Scoop up the matching panties here for $125.
16. Massage Candle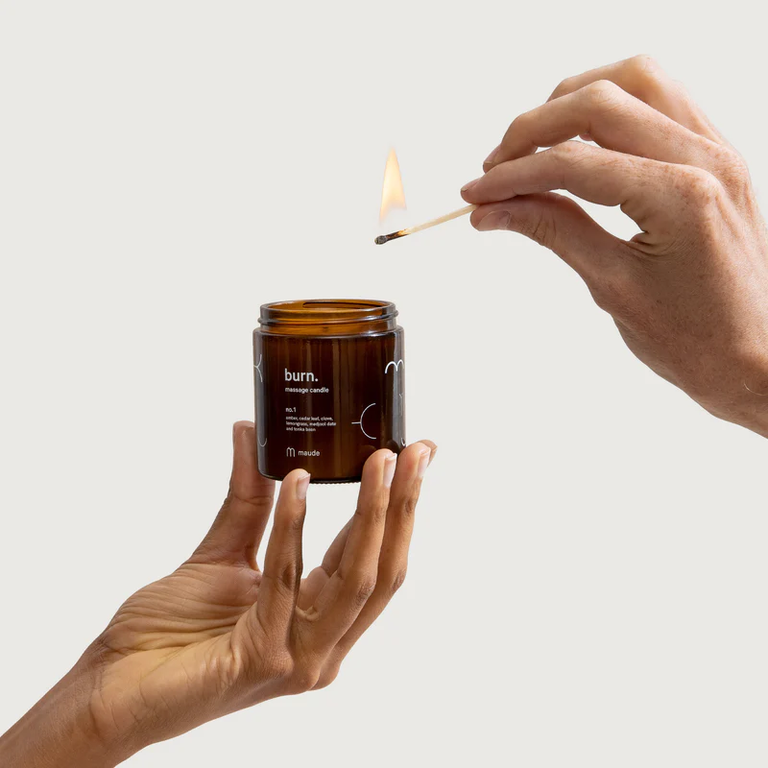 Inspire some physical intimacy between the soon-to-be married couple with this two-in-one candle you can easily pair with a sexy panty or robe. After it's lit, the flame will melt the wax into a smooth, slick oil that the two can enjoy slathering onto each other for a relaxing massage. Just tell her to make sure the wick is fully burned through before applying the hot wax to skin.
17. Kinky Truth or Dare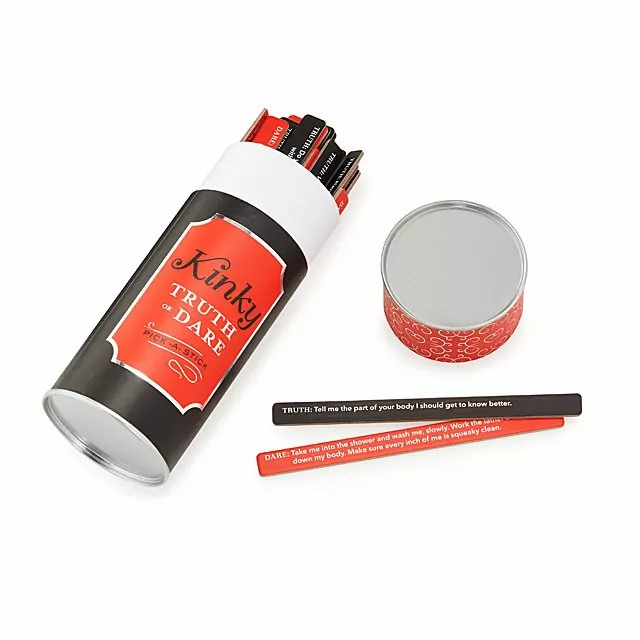 Another great small item to pair with a larger bridal shower lingerie gift, this game takes the traditional truth or dare concept and gives it a suggestive twist. During each round, a stick will be drawn and they'll have to choose between a truth or dare that'll feature a tantalizing prompt. It's safe to say this interactive game will really help set the mood.
18. Lingerie Bag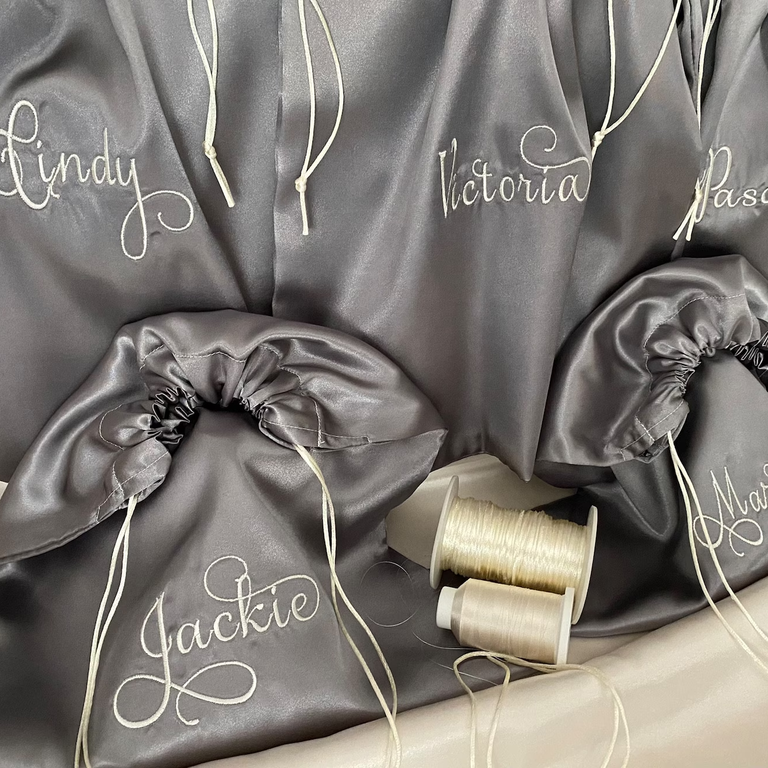 Keep her sexy pieces intact and pristine with a cute and handy bag she can pack in her suitcase. The lightweight bag is designed in a satin-like material that's gentle on silk, satin, lace and more. Plus, you can personalize it with their name and the color of your choice.
19. Furry Handcuffs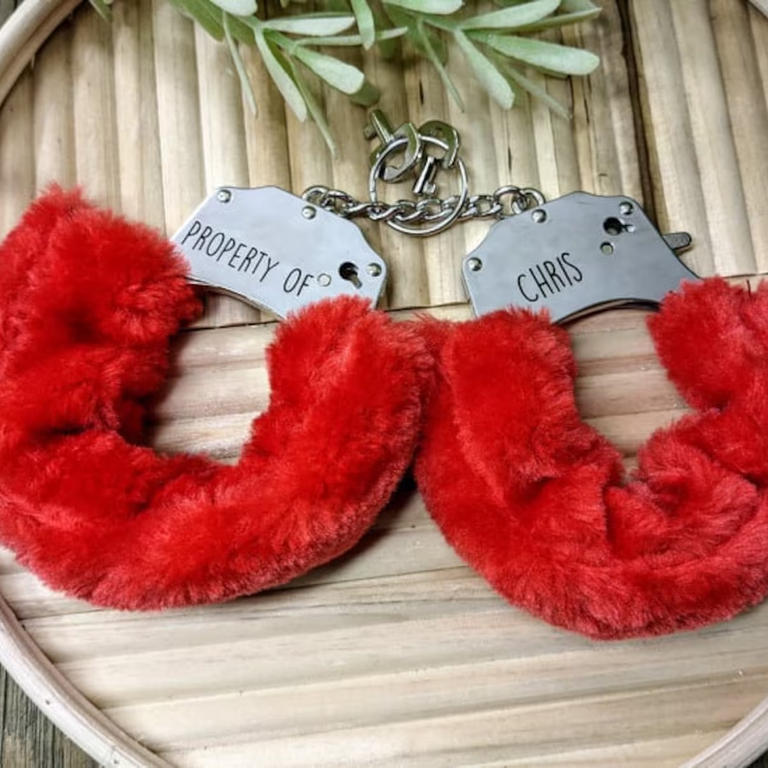 If your bride-to-be bestie is a fan of funny gifts, surprise her with these fuzzy handcuffs. It can encourage her and her loved one to get intimate, while having lighthearted fun. Plus, she can save them for her wedding night when she has some private, alone time with her partner.
20. Multipurpose Lip Gloss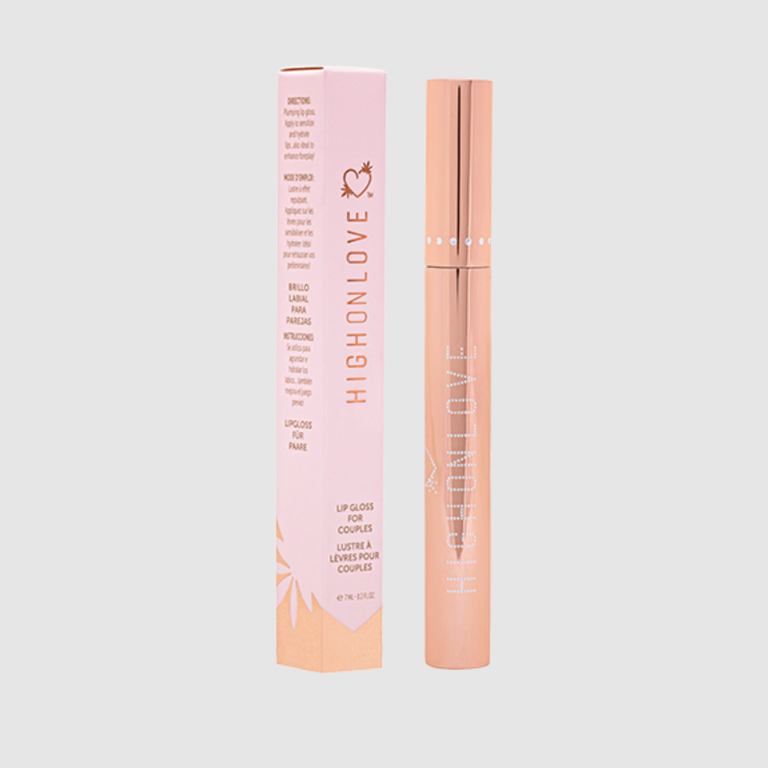 This isn't your ordinary lip gloss. It will provide the traditional glossy results with plumping and hydration for the ultimate kissable lips. But it can also be used to stimulate other more-intimate areas making them extra sensitive, which makes this a saucy gift the bride and her partner can enjoy.
21. Botanical Massage Oil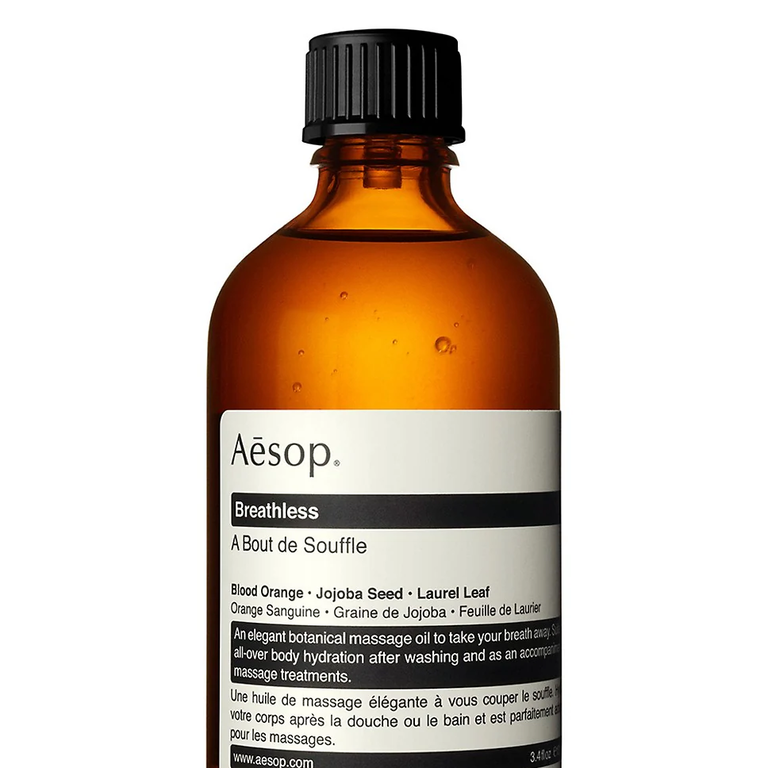 When we think of sexy gifts you can't skip out on, sensual massage oil is at the top of the list. It'll encourage the couple to try out some physical intimacy in a new way using a soothing oil that features notes of citrus and wood. Plus, who doesn't love a relaxing massage?