These 10 Massage Candles Will Add Some Fire to the Bedroom
To quote Jim Morrison: "Come on, baby, light my fire."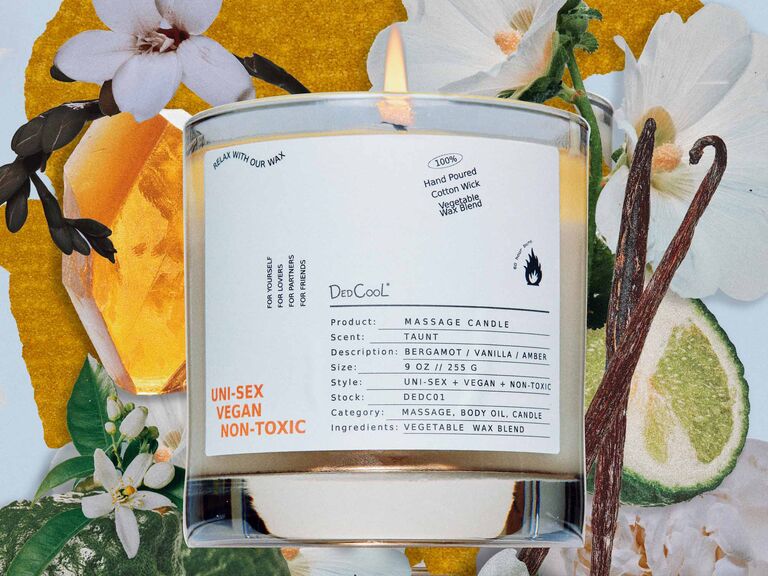 We have included third party products to help you navigate and enjoy life's biggest moments. Purchases made through links on this page may earn us a commission.
There are so many reasons why you'd want to add some extra fire to your bedroom romps, but if role play and sex toys aren't quite your jam, you can still make things extra sensual with massage candles. And if you're wondering: What is a massage candle? We've got you covered. Not to be confused with the relaxing candles massage therapists burn during a session, massage candles melt into a pool of body oil as they're heated, ready to be used as a pleasurable prop during intimate sessions with your partner (or alone—treat yourself).
Massage candles are typically crafted from soy or beeswax blended with a variety of skin-nourishing and enlivening agents—like all-natural oils, organic shea or cocoa butter as well as hydration-rich, skin-soothing vitamins. The melting temperature of massage candles is just slightly higher than the average body temperature, so once the candle is lit, melts and gets blown out (allowing the wax to cool), the resulting liquid is safe to pour over the body. The tingly and warming sensation leaves you feeling hot and bothered in the best way possible.
The best massage candles set the mood for Valentine's Day festivities, exotic engagementmoons, honeymoon hideaways, anniversary celebrations and at-home date nights. We've burned the midnight oil to put together a list of body massage candles that smell intoxicating, create ambiance and build anticipation, making for an unbelievable experience with your special person. Like moths to a flame, you're going to want to shop these for your next sexy night ASAP.
1. DedCool 01 "Taunt" Massage Candle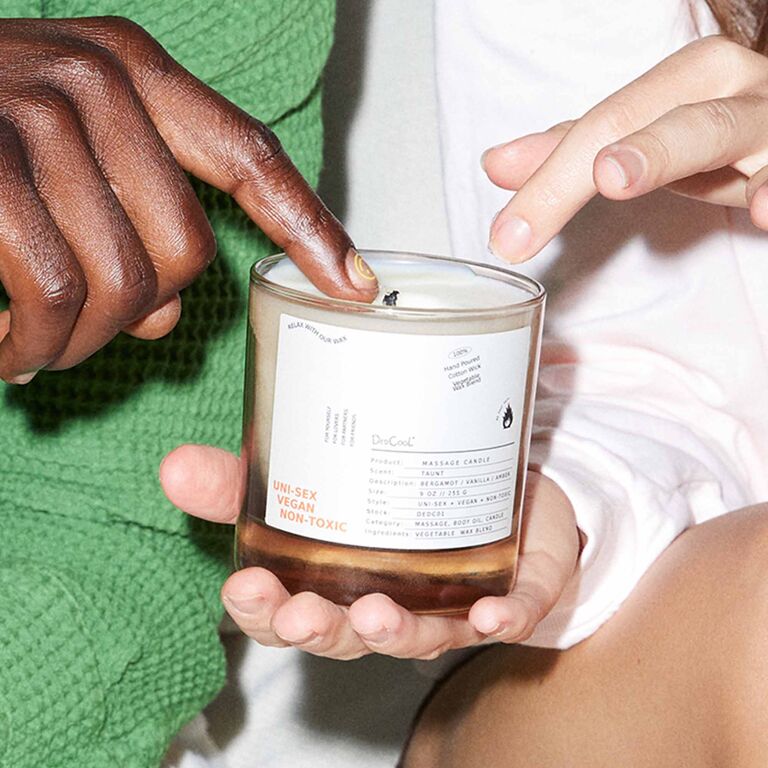 This romantic candle is composed of a hand-poured vegetable wax blend with a cotton wick. It showcases top notes of bergamot and fresh dew, floral and cassis middle notes, and bottom notes of vanilla and amber. After you've burned it for a spell and blown out the flame, just wait until the wax has cooled down—then use it as a sultry massage oil. The infused apricot, coconut, aloe vera, vitamin E and jojoba oils—as well as the shea butter—are all amazing for the skin. Just make sure you don't apply it to your private parts or use the oil as a lubricant.
2. NEOM Real Luxury Intensive Skin Treatment Candle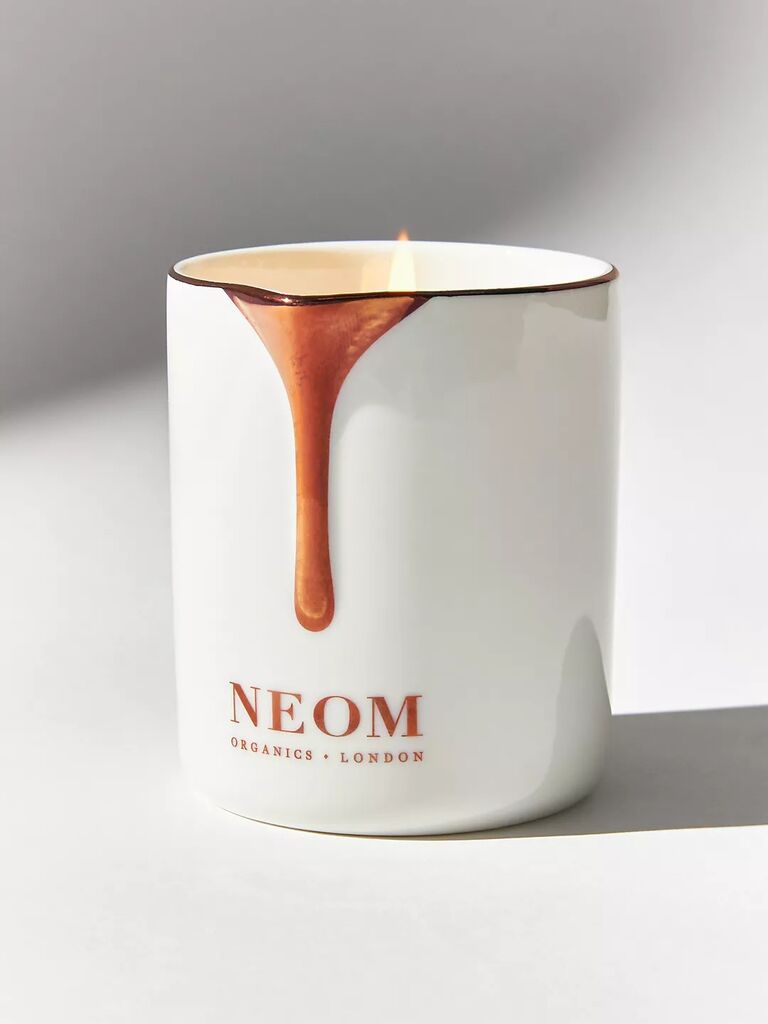 Some massage candles are more pleasure-focused than others, but we're into this NEOM candle because it doesn't have to be all about the foreplay. The beauty of this massage wax candle is the carefully chosen blend of essential oils that contribute to clarity, calm and relaxation. If you've had a long, exhausting day, you can light the candle and await a zen experience scented with English lavender, jasmine and Brazilian rosewood. After just 20 minutes, simply drizzle its warm oil onto your skin and massage it in for spa-like renewal. We love this choice if you or your partner needs a reason to disconnect from the stresses of work, family, whatever.
3. Maude Burn Trio Massage Candle Gift Set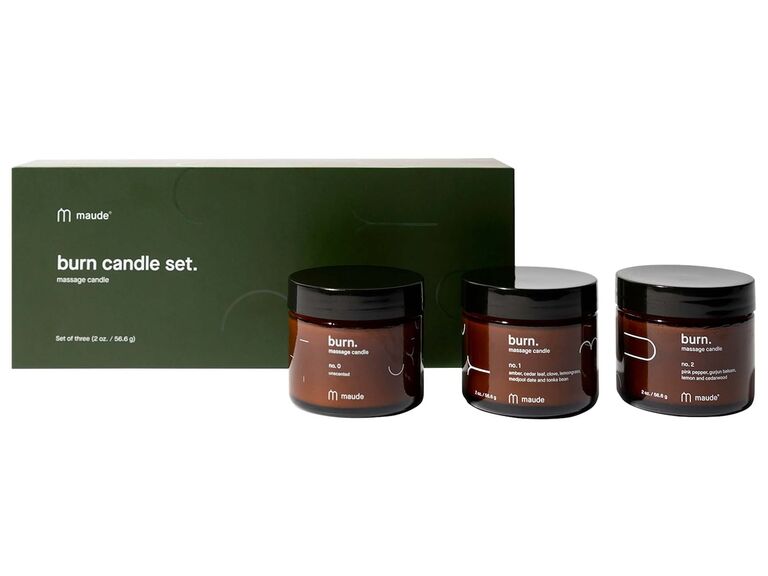 The only thing better than one massage candle is three. This trio of hand-poured massage candles is made with lead-free cotton wicks and cruelty-free ingredients. And with a low melting temperature, the soy wax can be safely poured onto the skin. The cool thing here is the variety, as you and your playmate can each find your fave: Burn No. 0 is fragrance-free; Burn No. 1 is bonfire-inspired with warming notes of amber, cedar leaf and lemongrass; Burn No. 2 gives Sunday morning, breakfast-in-bed coziness, with bright notes of pink pepper, gurjun balsam, lemon and cedarwood. The jojoba oil is the real rockstar, though, full of skin-healing vitamins that moisturize and soothe dry areas. So, as long as you're getting turned on, your skin is "getting some," too.
4. Black Cake Zodiac Horoscope Massage Candle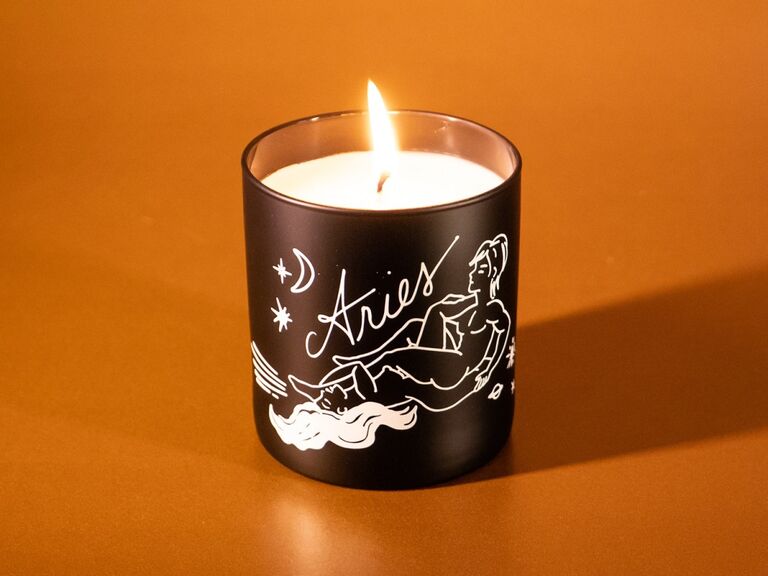 Sometimes fanning the flames (in a good way, that is) in the bedroom just needs a little help from the stars. This sultry, celestial candle is crafted with coconut and soy wax, natural oils and a romantic fragrance. Plus, its zodiac sign-adorned, hand-illustrated glass cylinder is stunning. Each of the 12 candles align with a different sexual position that's the astrological sign's karmic match. So fun, right? Talk about a great just-because surprise for your sweetheart.
5. Kiki de Montparnasse Lotus No. 9 Massage Candle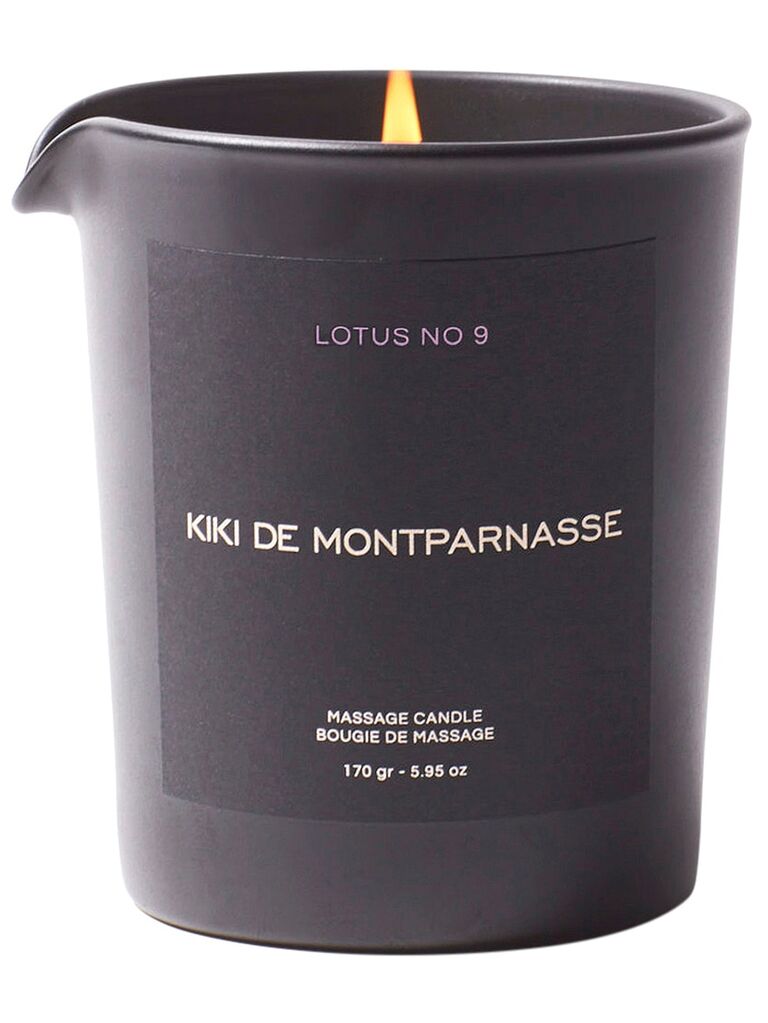 The subtle fragrance of Japanese lotus makes this massage candle the epitome of luxury. It'll make your boudoir smell sexy and elegant when it's lit, then your skin will get some of that floral-scented goodness once you blow out the flame. The oil will feel warm, but not too hot, so you can settle in for a relaxing evening. (And you can rest even easier knowing that this candle is cruelty-free and made with 95% natural ingredients.)
6. Summary Candle to Body Oil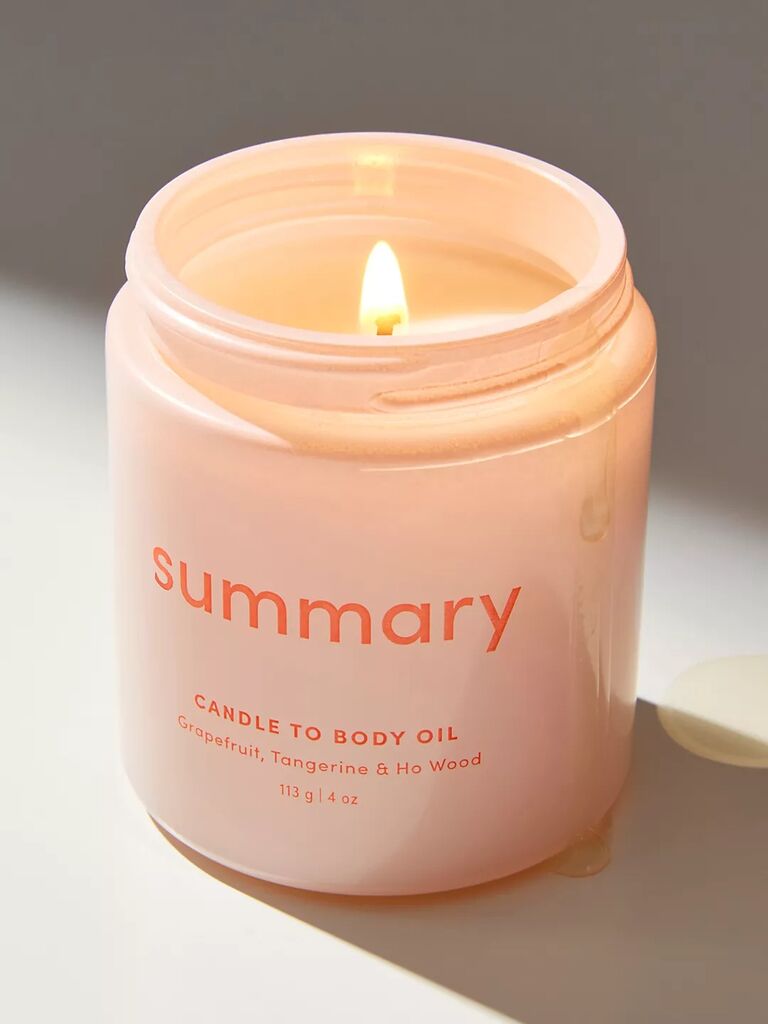 Going to the spa isn't always an option, but you can make your home your sanctuary with this softening massage oil candle. It's specifically formulated to melt down into a soothing body oil ideal for hands, cuticles, pulse points and dry patches, so it makes for a great self-care session. It's got natural oils, waxes and anti-inflammatory arnica extract as well as a fresh grapefruit-tangerine scent—so relaxing. Whether you want to harness its chill vibes on your own, or plan a Friday night in with Champagne, face masks, rom-coms on repeat and your ride-or-die there to do it all with you, you have our full support.
7. Good Clean Love Cocoa Mint Massage Candle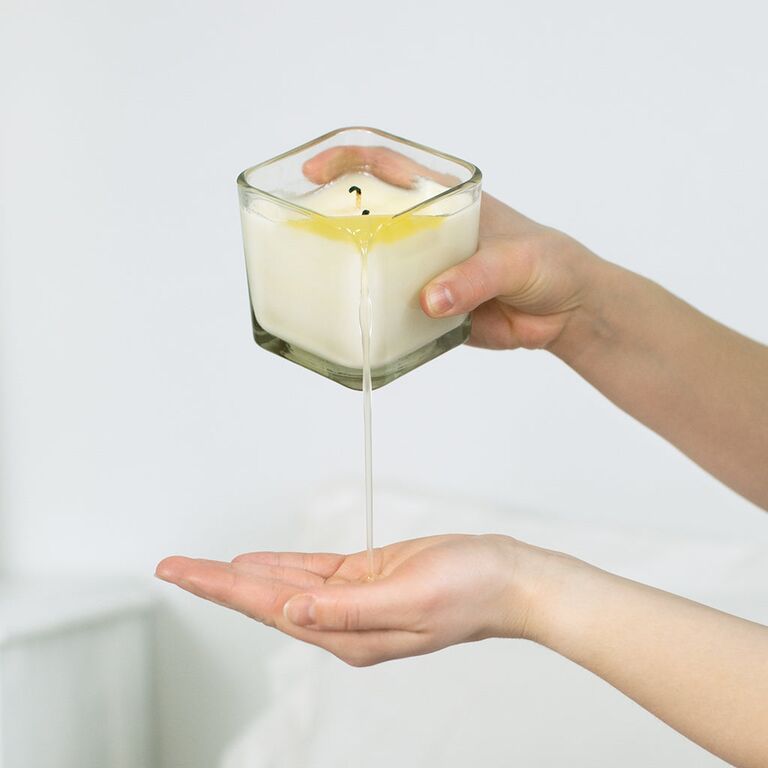 Chocolate is one of the greatest aphrodisiacs of all time, so of course we'd have a cocoa-inspired candle somewhere on our list. This clean-burning pick brings skin-nourishing organic oils and a love potion-esque blend of essential oils together in a mosaic of cardamom, peppermint and amber. Like the other massage candles, this one comes with easy instructions: You light the wick, then let the candle burn for 30 or so minutes until a pool of velvety wax gathers. From there, it's massage bliss.
8. CBD Daily Massage Oil Candle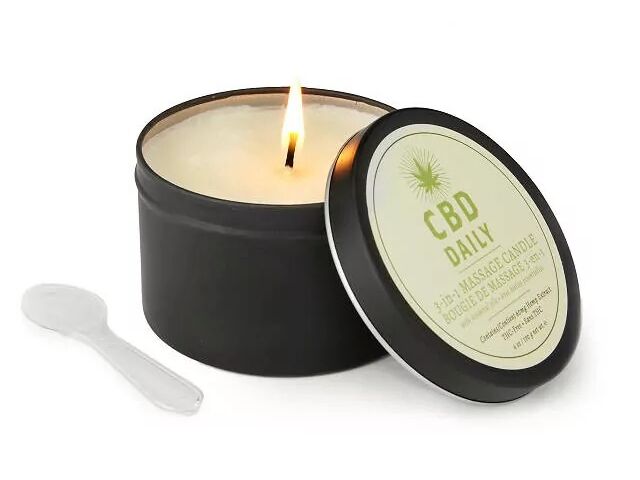 We've covered how to use CBD at your wedding, but what about after? Billed as an all-natural candle with a soothing secret, this candle's massage oil can be rubbed into your face, feet (perfect following a night of dancing) and everything in between. And with full-spectrum CBD, the body oil is said to have antioxidant and anti-inflammatory benefits, which means it's good for treating dryness, soreness, irritations and even sunburn. Hello, honeymoon hero! Pack it in your suitcase and whip it out once you've returned to your room for the day.
9. MELONY Natural Edible Soy Massage Candle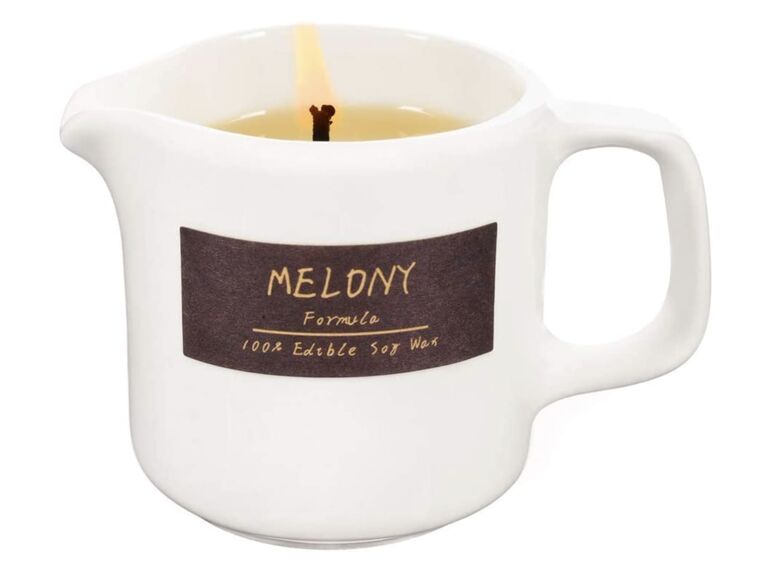 This smokeless, natural soy candle is on our list for a number of reasons, starting with its deeply moisturizing properties. Essential oils are everything for your skin, so when you can pour them on (made easier with this candle's handle and convenient spout), your body gets a whole lot softer, smoother and more radiant after every sesh. The slightly sweet coconut fragrance overwhelms you in the most wonderful way, calming your nerves and balancing your mind and body for everything that's to come. The cherry on top: The soy wax is edible—do with that what you will!
10. OpenMity Tantalizing Tropics Massage Candle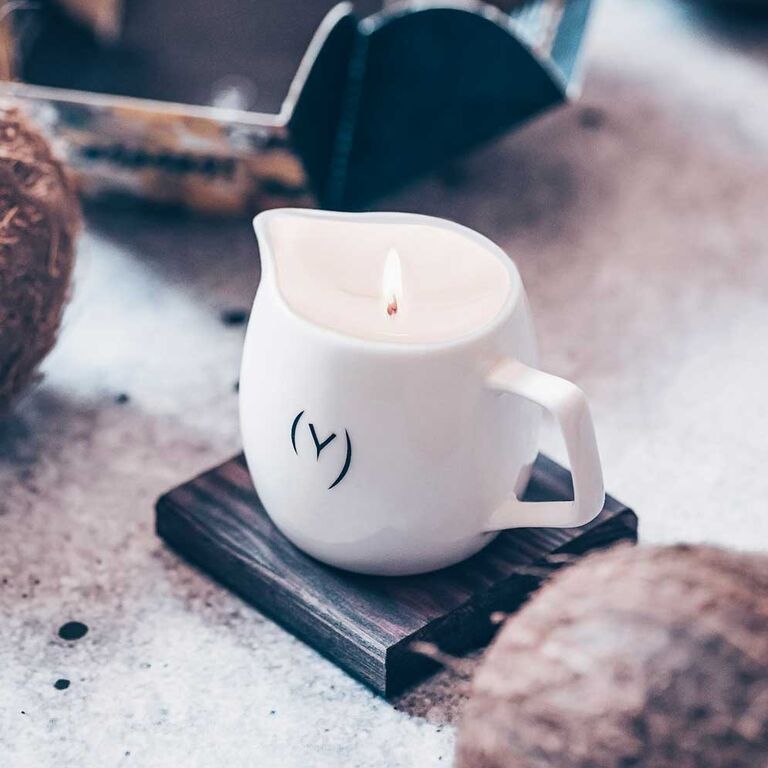 If you want a reminder of your last romantic vacay, this kissable massage candle is just the trick. Obviously, the "kissable" part of this candle's name means that the oil you're lathering bae with is safe to taste and swallow, but we're even more excited about the stay-put wooden pad that comes with the candle. When things are getting hot (and slippery), you won't have to worry about oil spilling all over the place.