7 Ways to Include CBD in Your Wedding
Ease your pre-wedding jitters or double down on having a chill wedding with help from CBD.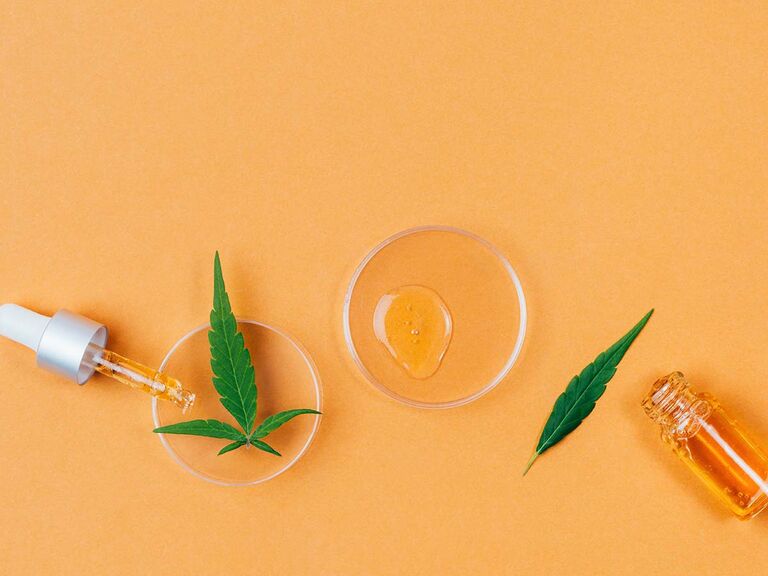 Anna Efetova/Getty Images
We have included third party products to help you navigate and enjoy life's biggest moments. Purchases made through links on this page may earn us a commission.
Undoubtedly, CBD is having a moment. In the last few years, we've seen it dominate cocktail and dinner menus, watched celebrities host CBD-themed parties, and witnessed its sales balloon well over a billion dollars.
But what's behind all the buzz? CBD, or cannabidiol, is a phytocannabinoid widely regarded for its calming effects. It's found in medical marijuana, but CBD lacks the THC, the component that gets a user "high." Reported benefits include alleviating anxiety, improved sleep, and pain reduction. Today, 1 in 3 Americans have tried the substance. It's become a staple for those who want to relax, cope with a range of illnesses, or prefer an alternative to marijuana.
As with most hot trends, CBD has carved out a space in the wedding industry. Rebecca Pope, the owner of Chicago-based Something Profound Weddings, has been a part of the evolution. Her company offers wedding packages that include Cannabis/CBD Curation. "More and more venues, vendors and couples are opening up to the idea of working and celebrating with recreational substances in addition to or instead of alcohol," she says. "It's important to fully understand the city, county and venue rules around the purchasing, transportation, serving, consumption, and disposal of substances before signing contracts or making assumptions."
So how far can CBD go? Couples indulge in CBD self-care treatments, and wedding guests enjoy favors with an added boost. If you're hoping to have something new at your wedding, consider one of the seven ways to include CBD on your big day.
Introduce CBD into your makeup and skincare routine.
Getting ready for your wedding can be nerve-wracking. Likely, you want to feel confident in every decision you make, right down to your selection of fragrance and makeup. Introduce a sense of ease and comfort into your routine with products infused with CBD.
If you have time to invest in an updated routine, consider introducing CBD gummies into your hair care regimen. CBD can help soothe a scalp, regulate oil production, and help with anti-inflammatory goals. Other studies and reports have suggested that CBD can help hair growth, hair loss due to stress, and damage prevention.
Incorporate CBD into your wedding skincare routine through lip balms, cheek and lip balms or cooling mists. Makeup products that use CBD can help alleviate acne redness, help with psoriasis, and add a sense of calm to your wedding day. Thomas Waters, an event coordinator at The Renaissance in Richmond, Virginia, shares, "Makeup can clog pores or even irritate the skin. Too much can really throw your skin into a damage-control mode where it becomes red, blotchy, irritated and even sets the stage for acne outbreaks. CBD fights a lot of that off. It's a natural stress reliever, and it works on stressed-out skin, too!"
For a complete list of the best CBD products for pre-wedding self-care, check out our list here.
Gift your wedding party with CBD treats and treatments.
Over the last several years, we've witnessed wedding parties getting showered just as much as the newlyweds. Build your groomsmen or bridesmaids a luxurious box filled with all the relaxation and peace CBD can achieve with curated gift sets like those from Equilibria, Botanica CBD, Charlotte's Web and Dram Apothecary. Of course, be sure that your crew is into CBD (or at least open to trying it!) before gifting them with these products.
Design the perfect cake with a special ingredient.
Developing, designing and tasting the perfect wedding cake can pose quite the dilemma for any couple—no matter how large the sweet tooth is. Between layers, flavors and aesthetics, there is plenty to consider.
Why not consider adding a particular ingredient if you need to take the edge off? CBD as an edible offers plenty of added benefits for guests. The safe ingredient allows your wedding guests to destress, promote synergy in the crowd, and remedy any aches and pains caught on the dance floor.
Before you go concocting any recipes in your parents' basement, consider reaching out to a pro. Many bakeries like The Hemp Doctor are introducing CBD into their recipes. Be sure to contact your preferred cake baker to learn about their options related to CBD.
Many couples are ditching the traditional wedding cake for a full dessert menu—but have no fear, CBD can be added to just about anything sweet. Diane Kolanović-Šolaja of Dee Kay Events in Howell, New Jersey, shares, "Why not incorporate CBD-infused gummies throughout your wedding? They are tiny, sweet and delicious. You can add them to your dessert bar or even have a bowl and a sign at the bar. Or, if you are making a welcome gift for the hotel, add a CBD-infused, post-hangover gumdrop. All of these will be greatly appreciated by your guests!"
If you do opt to include CBD in your wedding desserts (or any edible aspect of your big day), be sure to include signage letting guests know about the special ingredient, and provide CBD-free options for guests who aren't interested in partaking.
Host a wedding spliff bar.
If you're hosting a wedding where most guests enjoy CBD, dream up the perfect spliff bar for your wedding. Crystal Marie Young of Crystal Marie Events in Detroit, Michigan, shares, "One way to elevate the sophistication of CBD that doesn't require smoke is to infuse a percentage of the food, desserts or beverages with the substance. If the venue does permit smoking, especially in outdoor spaces, you could create a designated section to indulge, much like you would a cigar bar. Clients may also just opt to send guests off with wedding favors, like CBD pre-rolls (rolled with organic hemp paper), edibles such as brownies, popcorn or infused products such as topicals and tinctures."
Pope suggests, "Pre-rolls [are] the ultimate way to serve substances is to feature a budtender who can recommend a product based on the guest's desired experience. Alternatively, consider infusing your ceremony with a couple's first toke!" Buh-bye cigar and whiskey, hello pre-rolls and puffs.
Level up your open bar with a CBD-infused cocktail.
Take your love for CBD to the bar. Kolanović-Šolaja says "CBD mocktails are becoming a thing, and I am here for it! For the guest who does not drink alcohol or even those that do, a CBD mocktail may be the hit of your party. By taking a CBD oil and mixing it with a simple syrup, you magically have an entire menu of "mocktails" that can give your guest a sense of belonging and relaxation all at the same time." And if you're not an expert, no problem. "By hiring a knowledgeable and experienced CBD bartender, you will be able to provide some delicious alternatives for all of your guests. It's a great new trend that I look forward to!"
If you're unclear of what cocktail should cut, consider the following 'tried and true recipes:
Send guests off with a unique party favor.
Whether or not you infuse calming CBD within your entire wedding day or not, you can send your guests off with a 'secret potion' that can cure a hangover, post-wedding anxieties and any aches and pains from the dance floor.
Your guests could sail away with a batch of infused marshmallows, post-party face oil or vape pens. Bonus tip: Create a cute video of you and your soon-to-be marriage partner demonstrating how to use the party favor post-wedding.
Give your bouquet an added lift.
One of the most unique ways to incorporate CBD in your big day? The flowers. Doyin Fashakin of Doyin Fash in Houston, Texas, shares, "One unexpected & creative way we've seen CBD incorporated at weddings is in the floral decoration. Couples are including cannabis into their wedding centerpieces, the bride's bouquet and the groom's boutonniere to improve the overall feel and ambiance of their wedding. The benefits of CBD on the wedding day are great, and we don't see this trend going away anytime soon."