Mismatched Bridesmaid Dresses Are the New Way to Make Your Bridesmaids Stand Out
by Simone Hill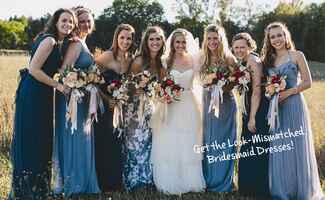 photo by
E.C. Campbell Photography
It's easy to fall in love with the look of mismatched bridesmaid dresses, but pulling it off is a whole other story — especially when it comes to mixing colors. So we rounded up some examples of real bridal parties that rocked mismatched colors to give you some direction when you're shopping for bridesmaid dresses. Done right mismatched bridesmaid dress colors can make your bridesmaids stand out, and lets each bridesmaid find a color that they like and that works best with their features. And when your bridesmaids like what they're wearing they'll rock their dress more confidently and that will show through in the photos. Read on for tips on how to pull off mismatched bridesmaid dress colors!
Shades of Mint Mismatched Bridesmaid Dresses
If you're obsessed with one color in particular then dressing your bridesmaids in slightly different shades of the same hue like bride Olivia did!
From the album: A Rustic Barn Wedding in Rodale Institute in Kutztown, PA
Dusty Hued Mismatched Bridesmaid Dresses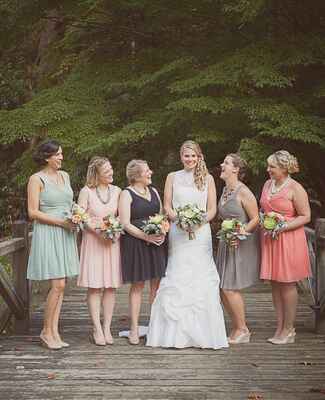 By having each bridesmaid wear the same dress in a different muted hues like mint, blush, pewter and cobalt and neutral accessories Kate's bridesmaids look coordinated and put-together.
From the album: A Romantic Garden Wedding at a Private Residence in Newtown, Connecticut
Jewel Tone Mismatched Bridesmaid Dresses
Ashley picked jewel tones for her bridesmaids, but this look can work with any color family including pastels and metallics!
From the album: A Maclay Gardens Wedding in Tallahassee, FL
Mixed Gray and Silver Mismatched Bridesmaid Dresses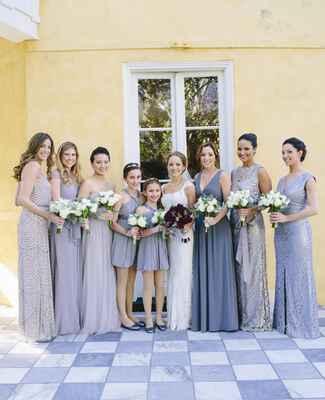 Think texture too. Details like lace and sequins added an extra unique element to Dana's bridesmaids' silver and gray mismatched look.
From the album: A William Aiken House Wedding in Charleston, SC
Neutral Mismatched Bridesmaid Dresses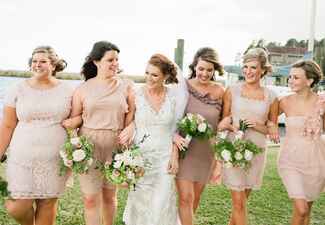 You really can't go wrong with a mix of neutrals like taupe, eccru, blush and champagne. They work with just about any color palette and can feel fancy or casual depending on the fabric and dress length you choose.
From the album: An At-Home Wedding in Belhaven, NC
Shades of Purple Mismatched Bridesmaid Dresses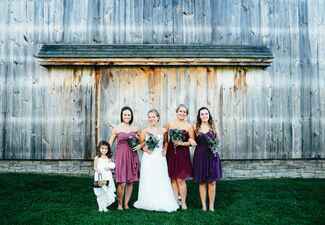 Another way to pull off the one color done different ways is to choose multiple shades (in this case purple) across the color spectrum from light to dark. We love the look of Courtney's bridesmaids who wore lavender, plum and eggplant.
From the album: A Historic Barns of Nipmoose Wedding in Buskirk, NY
Shades of Blue and a Coordinating Print Mismatched Bridesmaid Dresses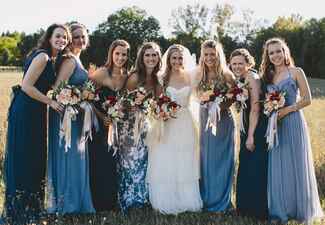 Katie's maid-of-honor stood out in a print that incorporated all the shades of blue worn by her other bridesmaids.
From the album: An At-Home Wedding in Ludington, MI
Want more? Of course you do!
> 7 ways to make your bridesmaids stand out
> Match your bridesmaid's dress to your wedding dress