How to Make a Wedding Vision Board (And Why You Need One)
Manifest your dream wedding into a reality.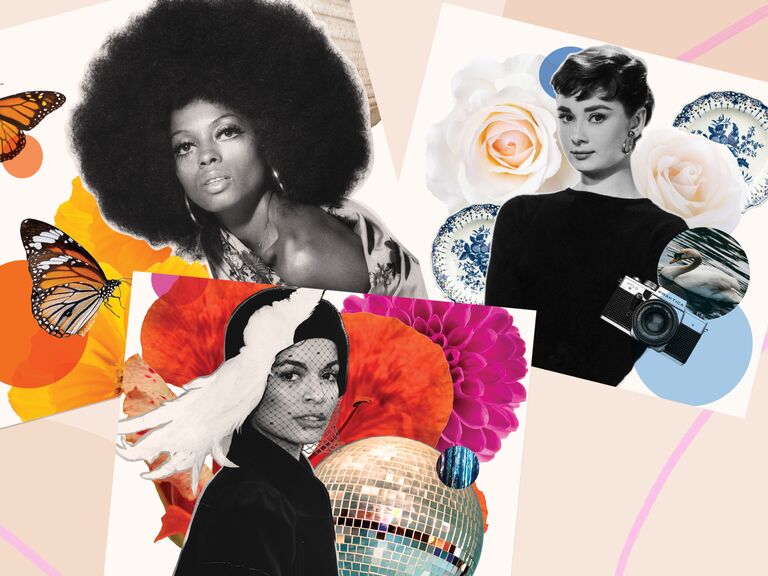 Getty Images/Design by Tiana Crispino
After the post-engagement butterflies have settled and reality sets in, it's time to start wedding planning. The first step: create a wedding vision board to figure out exactly what you do and don't like. It's the best way to form a solid game plan before you start picking out flowers, attire or even a venue—and prevent yourself from getting overwhelmed by too many choices. Your wedding vision board (also known as a wedding mood board) will help you organize all of your thoughts and ideas in one place, which your vendors will thank you for down the road. Plus, it's a way to test the waters of wedding planning without actually having to commit to anything just yet. (See also: The latest issue of The Knot Magazine, which is full of inspiration and practical ideas to get your creative wheels turning.) Wondering what to do next? Here's how to make a wedding vision board and what to look for when you're gathering inspiration.
In this article:
What Is a Wedding Inspiration Board?
A wedding inspiration board or wedding vision board is a collection of items that encapsulate the aesthetic and vibe of your wedding day. When you put all of your ideas side-by-side, it's easier to distinguish what works together and what doesn't, which will help the rest of your decisions fall into place. If you believe in the law of attraction (the notion that good thoughts attract good outcomes), your vision board will help you manifest a wedding that feels totally you by mapping out your ideal day.
Your board can include photos, magazine clippings, color swatches, fabric samples or any other objects that resonate with you. It can be an actual board with tangible objects (think old-school bulletin boards), or a virtual creation, like a Pinterest board or Canva illustration. You can even create a digital wedding mood board on The Knot—just start by taking our Style Quiz to find your recommended color palette, wedding stationery and inspirational photos.
The point of creating a wedding vision board is to gather visual examples of all of your ideas in one place and then narrow it down to what really inspires you. A wedding moodboard or vision board is also super helpful when conveying your ideas to a team of wedding vendors, because you'll be asked frequently for examples of what you like. The phrase, "A picture is worth a thousand words" rings true here—it's one thing to describe what you envision for your wedding day, but real-life examples of what you're trying to achieve will eliminate confusion and help your vendors bring everything to life.
How to Create a Wedding Vision Board
Ready to start having a little bit of fun? Here's how to make a wedding vision board step by step.
1. Choose your canvas.
The first step when making your wedding vision board is to decide if you want to use a physical or digital canvas. If you enjoy crafts and working with your hands, we love the approach of using a cork board with push pins and thumbtacks to piece all of your ideas together and move things around as needed. Creating a tangible mood board also comes in handy for physical items you want to add, such as fabric scraps, pages torn from magazines or paper samples. When it's time to meet with vendors, you can bring the board itself or simply snap a few photos. On the other hand, a digital vision board may feel more seamless and easier to share—plus, you can instantly save ideas that you come across while browsing the internet, which is helpful if you want to bookmark specific vendors or product pages.
You can make multiple inspiration boards for different wedding categories, such as stationery, fashion and decor, but we'd recommend bundling everything together into one board for the best flow and cohesiveness.
2. Collect everything that inspires you.
When you first start making your wedding vision board, don't worry about picking ideas that do or don't "work" together—just start saving things that speak to you. It can be tempting to crank out the finished product in just a few hours, but we recommend slowly gathering ideas from a range of sources over the span of a few weeks. This will help you figure out what you subconsciously gravitate toward rather than whatever is most appealing or available at the moment.
Look at photos from travel blogs, browse through fashion magazines, visit an art museum, stop by the flower section on your next grocery store trip or scroll through your camera roll to find anything that sparks a feeling. Don't get caught up on what is or isn't trendy, and remember that inspiration can come from anywhere, even if it's not strictly related to weddings. Maybe you come across beautiful skincare packaging with an example of a font or color palette you'd love to use. (Add it to the board!) It doesn't all have to make sense just yet—trusting the process is all part of the approach. There will be time to curate everything when you're finished gathering ideas.
3. Look for a common theme.
Once you've added a few dozen ideas to your wedding mood board, take a step back and try to pick out the recurring elements. Is there a specific color that keeps showing up? Or a certain type of flower or decor detail that you've saved over and over again? Look closely for patterns, similarities and an overarching theme throughout your ideas, then make a list of the recurring details to get a few buzzwords that describe your style. You might be surprised by what you find.
4. Edit and organize your ideas.
To make sure that your wedding vision board is well-curated and intentional, challenge yourself to remove some things. That's right—eliminate a few of your ideas. To quote Coco Chanel: "Before you leave the house, look in the mirror and take one thing off." The same concept applies to your wedding vision. If there are too many things going on, your inspiration board might overwhelm you (and the vendors you work with) rather than help you hone in on a cohesive design or theme.
Start by removing anything with a duplicate, such as two similar versions of a wedding dress or near-identical examples of place settings. Aim to only include things on your wedding mood board that you genuinely love—anything you're on the fence about gets the boot. And remember that the end goal isn't to create exact replicas of the ideas you save, but rather to find your overall style and vibe.
5. Share your wedding inspiration board.
Give yourself a round of applause for working so hard on your vision board. Now, it's time to share your ideas with your vendors, especially those who will have a hand in the visual details of your wedding day, such as your planner, florist and photographer. You can add or remove some ideas here and there, but you should generally avoid making drastic changes to the vision board once you've shared it with your wider circle. And when in doubt, don't be shy about asking your vendors' opinions. Their professional input can be a huge help if you're torn between ideas.
Wedding Mood Board Ideas
Nothing is off-limits when it comes to creating your wedding inspiration board—we think that if you like it, you should include it. Most importantly, it's okay to use a mix of wedding and non-wedding ideas for your vision board (especially when thinking of unique ways to personalize your day). Still not sure where to begin? Try these ideas.
Color Palettes and Patterns
Using paint chips or fabric swatches might seem like an old-fashioned way to figure out your wedding color scheme, but both options can be helpful in your initial planning stages. Head to a local home improvement or craft store to browse through wallpaper samples, paint colors and upholstery fabrics and see what "speaks" to you. Most stores will let you purchase samples for a small fee.
Decor and Interior Design Details
Wedding decor trends often stem from whatever is trending in everyday interior design. When you're trying to nail down your style for the wedding day, home decor can be a great place to get ideas for wedding rental furniture, color palettes, tabletop details and more. Spend an afternoon flipping through interior design magazines or rewatching movies with amazing interior sets (hello, Nancy Meyers style) to pick up some unexpected ideas.
Fashion Runways and Red Carpets
We've got you covered when it comes to wedding dress trends and wedding dress code basics, but you can also turn to celebrity fashion and couture runways to inspire your wedding wardrobe. Even if you don't end up replicating the actual looks, including outfit inspo on your wedding mood board will help you determine whether you're going for a classic approach or breaking the mold with fashion-forward attire.
Typefaces, Fonts and Logos
Whether it's a box of matches from a trendy cocktail bar, a motivational quote you found while scrolling through Pinterest or an envelope with handwritten calligraphy, interesting examples of paper products and graphic design can also go on your wedding vision board. You can use these to inspire your wedding invitations and other stationery items, like bar signage, place cards, menu cards or a custom wedding monogram.
Locations or Settings
Do you envision your wedding taking place outdoors in a flower-filled garden or an upscale ballroom? Add photos of places you love to travel and locations that inspire you—whether that's the beach, the mountains, the city or something in between—to set the scene for your wedding mood board. It's a helpful step if you're deciding where to get married and struggling to choose a type of wedding venue.
Flower Arrangements
Flowers are one of the best ways to showcase your wedding style, color palette and aesthetic. Include examples of arrangements on your wedding inspiration board to help translate your vision to your florist. Photos of English gardens and wildflowers convey a laid-back, countryside vibe, while dark red roses and crystal vases are more luxurious and dramatic.
Real Wedding Photos
Take a look through our Real Wedding galleries to find ideas from other couples and figure out what you love. The best part? You can instantly save each photo to your own wedding vision board on The Knot by clicking the small heart in the upper right-hand corner. Your favorites will be organized by category, and you can edit them anytime (and even upload your own ideas) to a shareable vision board.
The Knot Magazine
We saved the best for last. Call us biased, but we'd argue that The Knot Magazine is a prime source for wedding vision board inspo. Every issue is filled with ideas you can incorporate into your special day, plus helpful tips to support you through the planning process. When you're finished flipping through the latest issue, cut out your favorite pages or photos and pin them up on your vision board.