How to Make an Inspiration Board for Your Wedding
We know the struggle of making an inspiration board (so many pretty things!). Here's how to do it right.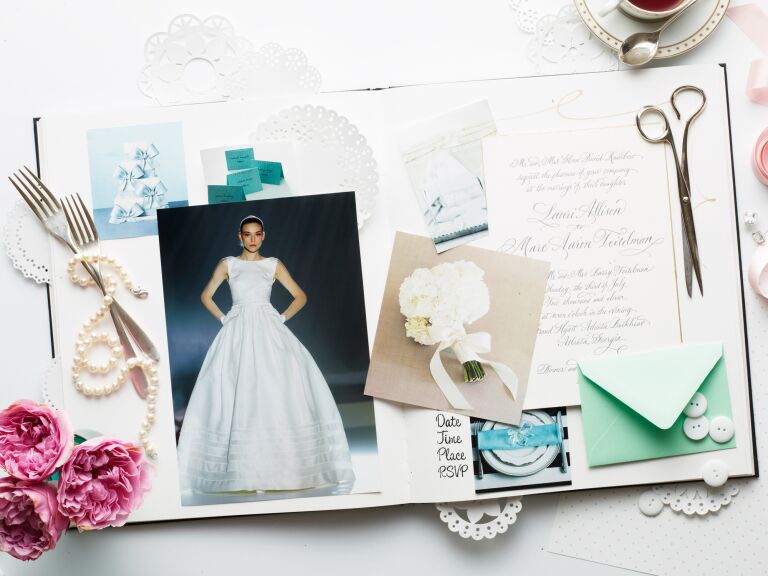 Tara Donne
Congratulations—you're engaged! Once all the butterflies settle and bridal magazines (including The Knot, of course) take over your coffee table, that's when the wedding planning starts to get serious. Before you know it, the questions start rolling in: Do you have a color palette picked out? What's your theme going to be? Semiformal or black tie? It's enough to overwhelm a to-be-wed, but don't let it! First, take a breath.
If your wedding vision is a little all over the place, one of the best ways to gather your thoughts and create a clear game plan is with an inspiration board. And no, we're not talking about that Pinterest wedding board you've been pinning to since college. We're talking about a game-time inspiration board that will help all your wedding pros work together to bring your vision to life. Here's what you need to know and how to start.
How can an inspiration board help with wedding planning?
Whether you're a DIY couple or working with a professional planner, it's important to have visuals of what you like, from fonts to fabric swatches. When you have one clear road map, all the decisions you have to make really fall into place (like a domino effect, if you will). And since you'll be working with a lot of different vendors, like florists and caterers, you'll be asked frequently for examples of what you like. That phrase "a picture is worth a thousand words" rings true when you're trying to explain your idea of rustic elegance.
What should go on a wedding inspiration board?
You can make different inspiration boards for different things, like one for stationery items (invitations, ceremony programs, place cards) and another for bridal fashion (gowns, veils, accessories), or bundle everything together. You'll know pretty quickly what works for you. At first, just start collecting images that speak to you. Then, edit—and edit again. Narrowing down your images (no more than two to three photos of similar details) will help you hone in on your vision and make decisions much easier. Here are some elements to help get you started:
color palettes and patterns
stationery
type faces (and logos, if you're interested in sporting some monogram motifs)
fabrics (table linens and drapery)
cakes and desserts
flower arrangements
fashion (bride, groom, bridesmaids and groomsmen)
favors
signature cocktails and catering
Did you know you can create a digital inspiration board on TheKnot.com? Take a look through our Real Wedding galleries. Each photo has a small heart in the upper-right-hand corner that you can click on and it will be saved for later in your "favorites." You can come back to the ones you really like, click on the whole wedding album, and boom! The vendor information will be right there.
When is the board "done"?
To make sure it's well curated, challenge yourself to take things off of it. That's right—eliminate a few of your ideas. To quote Coco Chanel: "Before you leave the house, look in the mirror and take one thing off." The same thought applies to your wedding vision. If there are too many things going on, your inspiration board might overwhelm you (and the vendors you work with) rather than help you hone in on a cohesive design or theme. Remember: For your wedding day, you only need one or two really special, personalized details—and they're sure to be noticed and appreciated. Have too many and they risk getting lost. Once your edit is done, take a step back and try to pick out three recurring elements.
Once you start taking photos off you can see what a difference it makes to pare images down. Consistant patterns will start to reveal themselves, like venue decor, stand-oout colors and flower choices. Did you just decide on your wedding theme and color palette? You're darn right you did!
So, how do we know so much about inspiration boards?
Because we use them too! Any beautiful photo shoot you've seen in our magazine's pages started with a mood board full of color palettes, fabric swatches and hand-drawn illustrations. Then, when the concept starts coming together, we edit the heck out of it. We're just like you!