10 Things to Do on the Morning of Your Wedding
Don't miss these special moments.

To make sure your wedding day runs as smoothly as possible, these are the 10 things you should make time for on the morning of your wedding day.
1. Relax
Rise and shine! It's the morning of your wedding and as queen for the day, it's time to give your to-do list to your trusted bridesmaids and wedding planner. That means no jumping out of bed and scrambling to make a ton of phone calls and checking in on every detail. After months of planning, meetings, fittings and tastings, you've earned yourself a day of pampering, so relax and enjoy.
2. Release and Reflect
Now that you're completely relaxed, it's time to get still, reflect and invite some positive energy into the atmosphere. This is a great time to take a few deep breaths and release any anxiousness you may be feeling. You may want to say a prayer with your family or bridesmaids, meditate, or just sit still and be present in the moment before the whirlwind of activities begin.
3. Have a Good Breakfast
If you happen to be getting ready in a resort or hotel, indulge in a breakfast spread delivered right to your door, or have food delivered from a nearby restaurant. It's okay to have a hearty breakfast, as you probably won't be having your next meal until your reception. You should also hydrate plenty so you'll be refreshed throughout the day.
4. Play Your Favorite Songs and Dance
It's time to turn on your getting-ready playlist. Create a mix that includes your favorite feel-good songs that'll keep the energy high and set the mood for a fun-filled day. Spending time singing and dancing with friends is the best cure for wedding day jitters that may arise.
5. Practice Your Vows
If you've written personalized vows to share on your wedding day, you'll want to rehearse your heartfelt words before your walk down the aisle. Take a few minutes to recite your vows in a mirror, making sure to look up from your note cards every so often and imagine speaking directly to the love of your life. Practicing your vows makes for a smooth delivery once you're at the altar.
6. Organize Your Wedding Accessories
Before you start getting ready, you'll want to make sure all of your accessories are laid out in advance. Make sure your wedding shoes, veil and jewelry are all accessible to the photographer so they can capture detail shots before you slip into your gown. Having your accessories laid out will make for a seamless getting ready process.
7. Share a Toast With Your Girls
What's a celebration without champagne? Grab your favorite girls and raise a glass to friendship and a beautiful new journey. This special moment with your friends also makes for great photos, so play it up for the camera and have fun while your photographer captures your good side.
8. Don't Sweat the Small Stuff
As with any major life event, things don't always go as planned. However, don't let minor mishaps ruin your wedding day. Keep a smile on your face and focus on the big picture—you're getting married and no unplanned hiccup can ever be more important than that.
9. Flaunt Your New Last Name
Who said you have to wait until after the ceremony to share your new last name? Give your new Mrs. status a test drive by wearing a personalized robe or cute tank, perfect for lounging around in your bridal suite.
10. Unplug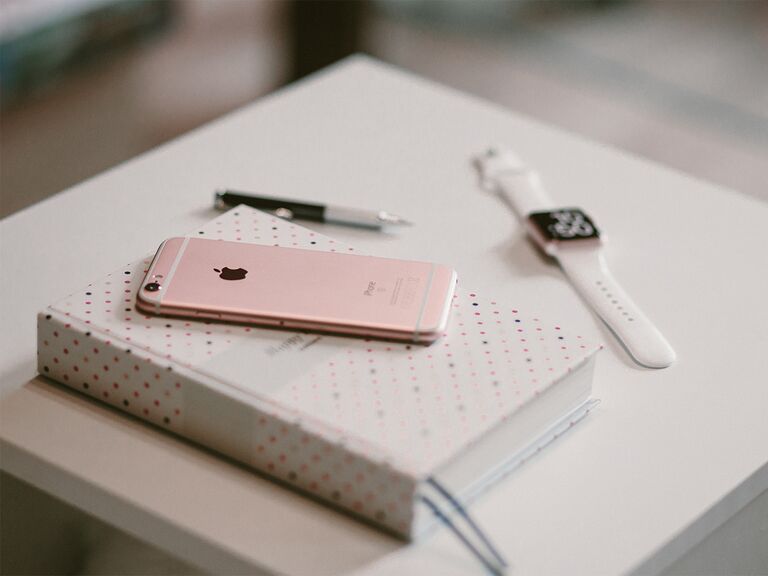 On any other day, it'd be perfectly normal to be glued to your phone, scrolling through Instagram and liking your favorite photos. But on your wedding day, it's time to disconnect from social media and be in the moment. Hand your phone over to your maid of honor and try not to think about how many likes you're going to get once you upload your first wedding photo.
BlackBride.com is the longest running, go-to wedding website and resource for multicultural brides. With a unique focus on the stylish, modern, bride-to-be and wedding enthusiasts, the site features inspirational content and real love stories, to not only help brides plan their dream wedding, but also provide support for "After the Aisle" to help couples stay married. Blackbride.com also features a Bridal Suite of top notch, fully vetted wedding vendors from around the country.