A Nautical Nantucket Honeymoon for Seafood and History Lovers
For beaches and lobster with a side of sophistication, visit this island in Massachusetts.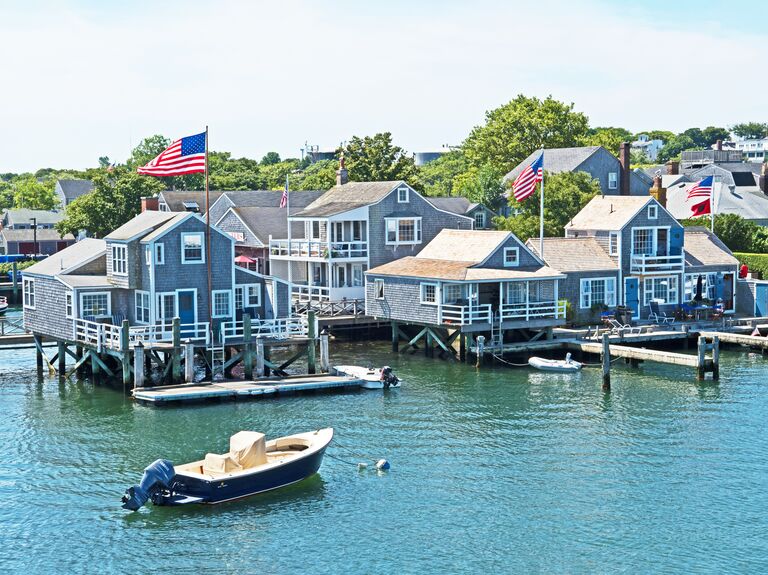 Mystic Stock Photography / Shutterstock
Thinking about a Nantucket honeymoon? Historic cedar-shingle buildings, cobblestone streets, lighthouses and wharves comprise this tiny, romantic island located 30 miles off the coast of Cape Cod, Massachusetts.
Visitors can experience firsthand how Nantucket preserves its heritage as a 19th-century whaling hub. And after days spent biking or relaxing on one of the island's many beaches, honeymooners can visit cosmopolitan boutiques and restaurants in Nantucket Town.
Ready to plan your romantic getaway? Here's everything you need to know.
Is Nantucket Good for a Honeymoon?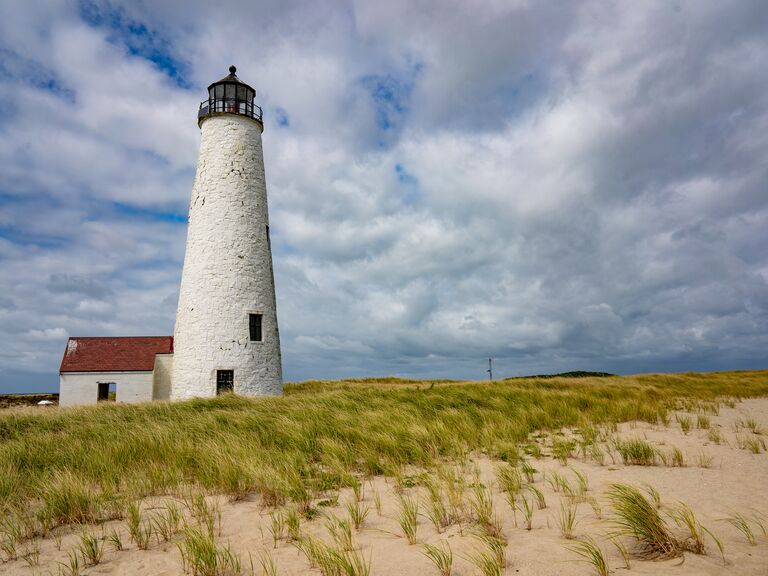 A mere 14 miles long, Nantucket is a manageable destination for a week-long trip. "You can easily travel from one end to the other and have a full Nantucket experience in a few days, making your time on the island as leisurely as you'd like," says Fallon Lieberman, Luxury Travel Advisor at Protravel International.
Despite its small size, the island boasts 10 beaches, meaning each day can be different. To balance out the "no-frills, casual destination," as Lieberman describes it, newlyweds can dress up and dine at acclaimed seafood restaurants in the evening.
Pros of a Nantucket Honeymoon
Nantucket is a wonderfully peaceful and romantic spot. Spend a few days soaking up the sun at one of the island's beaches. Then, get your heart pumping by biking around the island or sea surfing. For some history, take in Nantucket's well-preserved architecture.
This New England destination is easy to access by ferry or plane—the flight from New York City is a mere 30 minutes, Lieberman says. There are many nonstop flights to the island airport (ACK) from New York and other East Coast destinations, she says.
Couples can also take a ferry from New York City, Boston and towns on Cape Cod like Hyannis and Harwich Point. If you'd prefer to drive and have your car on the island, know that the car ferry books up months in advance.
Although Nantucket is more convenient for couples from the East Coast, newlyweds from farther away shouldn't rule it out. "Just coordinate a day or two on either side of the journey—for example, a pre- or post-honeymoon night stay in Boston," say Kara Bebell and Harlan deBell, co-owners of The Travel Siblings.
Cons of a Nantucket Honeymoon
"The biggest con to this destination is that it's seasonal," says Emma Hunt-Bauman, contributing travel advisor at KK Travels Worldwide. "The best time to visit is during the summer months for the best weather. All other times of the year would be too cold to truly enjoy the fabulous beaches."
As a result of peak demand in the warm months, car rentals tend to sell out quickly. "It's best to book your getaway to Nantucket far in advance due to high demand the closer you get to summer," she says.
Also, be aware that Nantucket isn't ideal for budget travelers. "During the summer, flights and hotels can be cost-prohibitive and the prices for drinks, food and entertainment will be steep," Bebell and deBell say.
The Best Times of Year to Go on a Nantucket Honeymoon
Although summer is the ideal time to visit Nantucket, it's also the busiest, Hunt-Bauman says. Consider coming at the end of August or in September, when it tends to be a bit less crowded, Lieberman says.
You can also time your visit around one of the island's 10 annual festivals, including the Daffodil Festival in April, the Wine Festival in May, or the Book Festival in June, Hunt-Bauman says. If you venture to the island on the Friday after Thanksgiving, you can experience the annual three-day-long Christmas Stroll in historic downtown. Shops and restaurants open back up and outfit their storefronts with twinkling lights.
Places to Visit on a Nantucket Honeymoon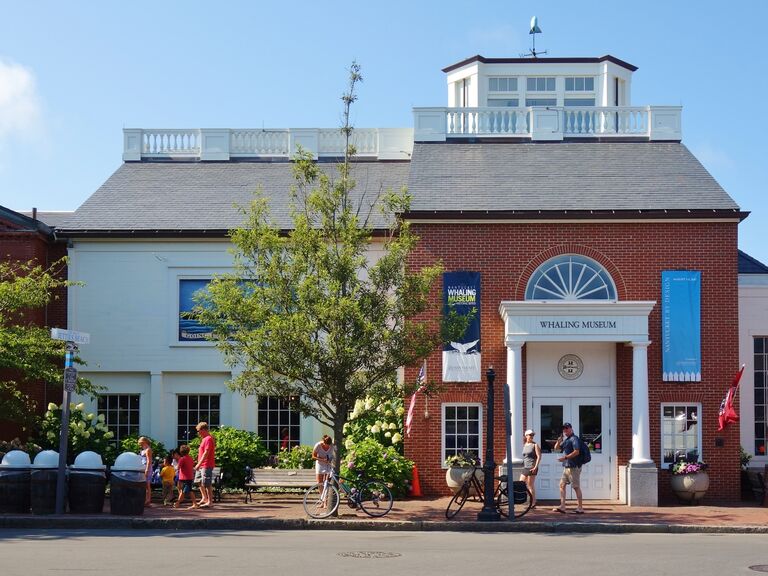 Nantucket Whaling Museum
"This museum brings Nantucket's 19th century whaling history to life," say Bebell and deBell. "Couples can easily spend an afternoon uncovering artifacts, discovering art and admiring beautiful harbor views from the rooftop."
Cisco Brewers
Tour the facilities to see how this popular spot in the main town brews its beer. Then, relax at one of its three bars and listen to live music.
Siasconset
The island's other town shouldn't be missed, Lieberman says. Head to what the locals call "Sconset" before sunset to stroll the Sconset Bluff Walk and visit the Sankaty Lighthouse, dating back to the 1800s. While in the tiny photogenic town, pick up ice cream or homemade chocolate treats at Sconset Market.
Coskata-Coatue Wildlife Refuge
For more than 200 acres of dunes, white-sand beaches and the historic Great Point Light, visit this unspoiled area. The lighthouse is open to the public from May to October.
Things to Do During a Nantucket Honeymoon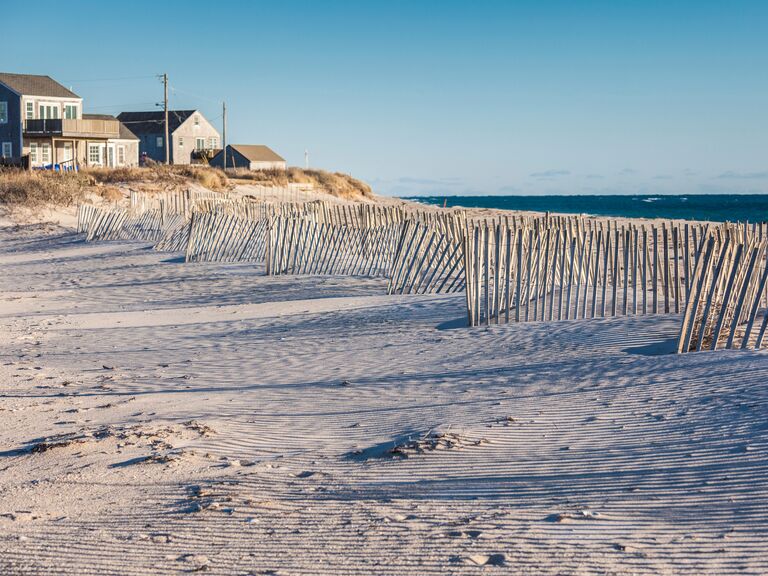 Dine Out
Nantucket is known for its top-notch restaurants. Enjoy lobster, clams and more at Straight Wharf Restaurant (for a laid-back prix-fixe menu), Black Eyed Susan's (for pancakes), 167 Raw Nantucket (for lobster rolls, swordfish sandwiches and tuna poke), Bar Yoshi (for sushi), Cru Nantucket Oyster Bar and Galley Beach. The latter is, "the most romantic spot on the island, where couples can dine right on the beach," Hunt-Bauman says.
Bike
Cars are allowed, but honeymooners will want to explore the island by bike (or on foot), say Bebell and deBell. Nantucket offers 30 miles of bike paths and three bike trails in Madaket, Surfside and Sconset.
Go to the Beach
Couples can choose from 10 beaches, including Jetties Beach, Surfside Beach, Cisco Beach and Miacomet Beach. Lieberman recommends Starbuck Beach in Madaket, which she says is relatively untouched and less crowded.
Board a Boat
"Life in Nantucket is on the water," say Bebell and deBell. "Honeymooners can book excursions through their hotel concierge and enjoy a day of sailing complete with lunch and something bubbly on board." Another option is a whale-watching excursion.
Best Hotels in Nantucket for a Honeymoon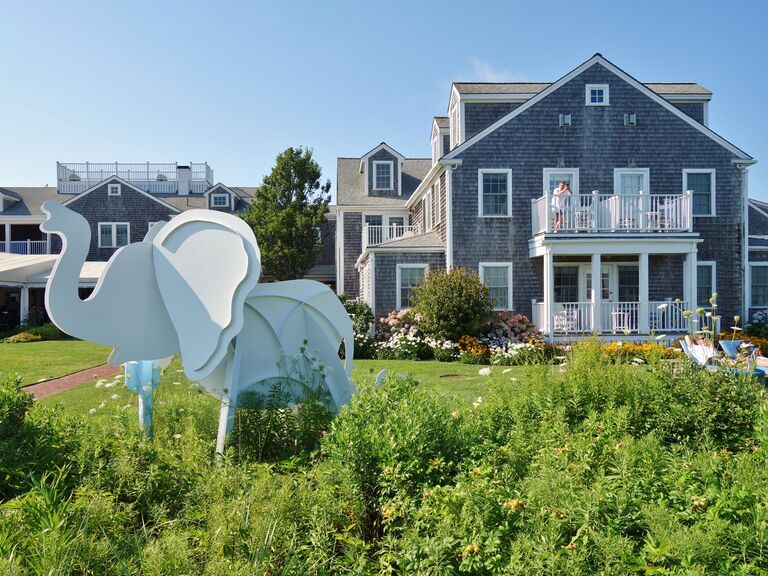 The only Relais & Chateau property on the island, The Wauwinet is situated between two private beaches on the northeast end of the island, 9 miles from Nantucket Town. The adults-only property offers bikes, tennis courts, kayaks, paddle-boards and activities, including cooking classes, boat rides and lobstering excursions.
Topper's, the AAA Five-Diamond New England seafood restaurant, features the largest wine list on the island, with 1,400 bottles. "Don't miss cocktails on their iconic lawn for gorgeous sunset views," Lieberman says.
Located within walking distance of Nantucket Town, this historic property with flower gardens and a pool is on the edge of Nantucket Harbor. "The garden cottages are especially perfect for honeymooners because they provide a cozy respite and privacy with coastal New England decor," say Bebell and deBell.
In addition to Brandt Point Grill (known for its killer Lobster Bloody Mary, Lieberman says), guests can take advantage of the spa, bikes, boat rides and complimentary shuttle service to the nearby Jetties Beach and Steps Beach.
Opened in August 2020, this boutique Nantucket hotel with 14 guest rooms is a short walk to Nantucket's Main Street. Situated in a Federal-style mansion built in 1833, it offers deluxe king rooms with botanical walk-in showers. The hotel can arrange a private sailing experience for couples, too.
What to Pack for a Nantucket Honeymoon
"Leave your heels at home due to the island's cobblestone streets," says Lieberman, who also suggests bringing bathing suits, a sunhat, sundresses, jeans and linen attire. Pack a sweater for chilly nights, plus flip-flops and sneakers, adds Hunt-Bauman. In terms of style, she says New Englanders love white jeans and Lilly Pulitzer.
"A crisp white button-down is the perfect dinner shirt and beachside coverup, say Bebell and deBell, who also recommend packing neutral sweaters, leather sandals and plenty of sunscreen.