What to Look For in a Dress for the Stepmother of the Bride or Groom
We've got etiquette tips and shoppable picks.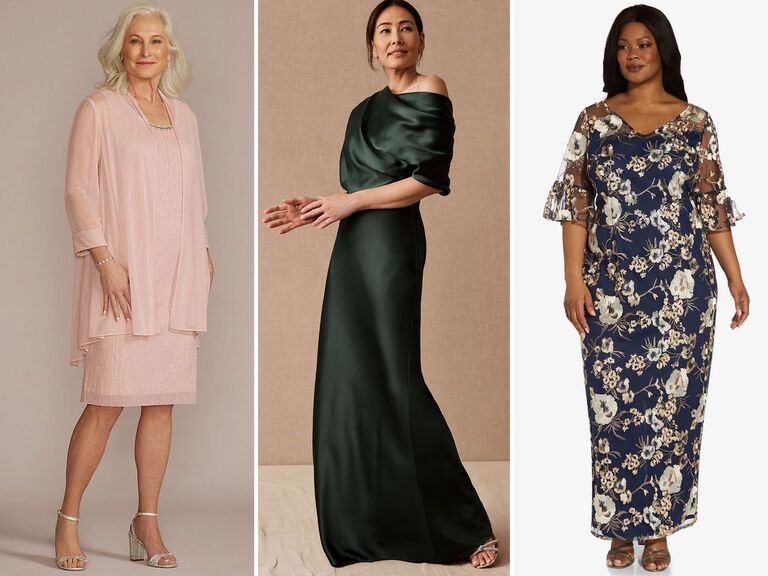 We have included third party products to help you navigate and enjoy life's biggest moments. Purchases made through links on this page may earn us a commission.
Celebrating a stepchild's wedding is an exciting time for the whole family, and as their stepparent, you'll want a wedding day outfit that lives up to the occasion. But buying a stepmother-of-the-bride or stepmother-of-the-groom dress may not seem quite as straightforward as shopping for your typical wedding guest attire. Ultimately, it depends on your relationship with your stepchild, the role you play in their life and the couple's wishes for their special day. Need help deciphering the stepmother-of-the-bride or -groom dress code ahead of the celebration? You've come to the right place. We've got the lowdown on stepmom outfit etiquette, as well as stylish outfit ideas you can shop now.
In this article:
What Should the Stepmother of the Bride or Groom Wear?
Communication is key when it comes to choosing an outfit for your stepchild's wedding. If you played a parental role in their upbringing, the bride- or groom-to-be might be happy for you to wear a similar outfit to the MOB or MOG. That said, if your stepchild's mom is also an important figure in their life, it's important to respect her wishes too. If wearing a similar outfit to the mother of the bride or groom causes upset or tension, it might be best to tone down your attire as stepmom and wear something on par with other loved ones attending the nuptials instead. Dress etiquette for the stepmother of the groom or bride isn't set in stone. Ultimately, it's something each family should figure out for themselves.
How to Choose a Dress as Stepmother of the Bride or Groom
Whether or not you're following traditional MOB or MOG dress etiquette, we've got a few tips to help you choose the perfect wedding guest attire. There are three essential elements to take into account: the venue, the season and the formality. Let the setting and season inspire what kind of colors, prints and silhouettes you consider. For example, a garden wedding in the spring or summer invites romantic, floral styles in dusty shades of pink and blue. On the flipside, a winter wedding at a castle or estate calls for floor-length formal styles in rich hues such as emerald and burgundy. The venue will also give a clue as to how formal the wedding will be, but the couple may provide a specific dress code on their invitations or wedding website.
Once you've got a few options in mind, the next thing to think about is comfort. Your stepchild and their new spouse will want you to enjoy every moment of their wedding day (which gets a lot more difficult if you've got a zipper digging into your side or an itchy neckline). If you're ordering an outfit online, leave enough time to try it on and return if necessary. It's worth taking the time to find something comfortable so you can fully immerse yourself in the occasion.
The Best Dresses for the Stepmother of the Bride or Groom
Ready to start shopping? We've rounded up 18 classy stepmother-of-the-bride dresses for casual dress codes, black tie weddings and everything in between. Read our styling tips to make putting together a stunning outfit even easier.
Elegant Lace Midi Dress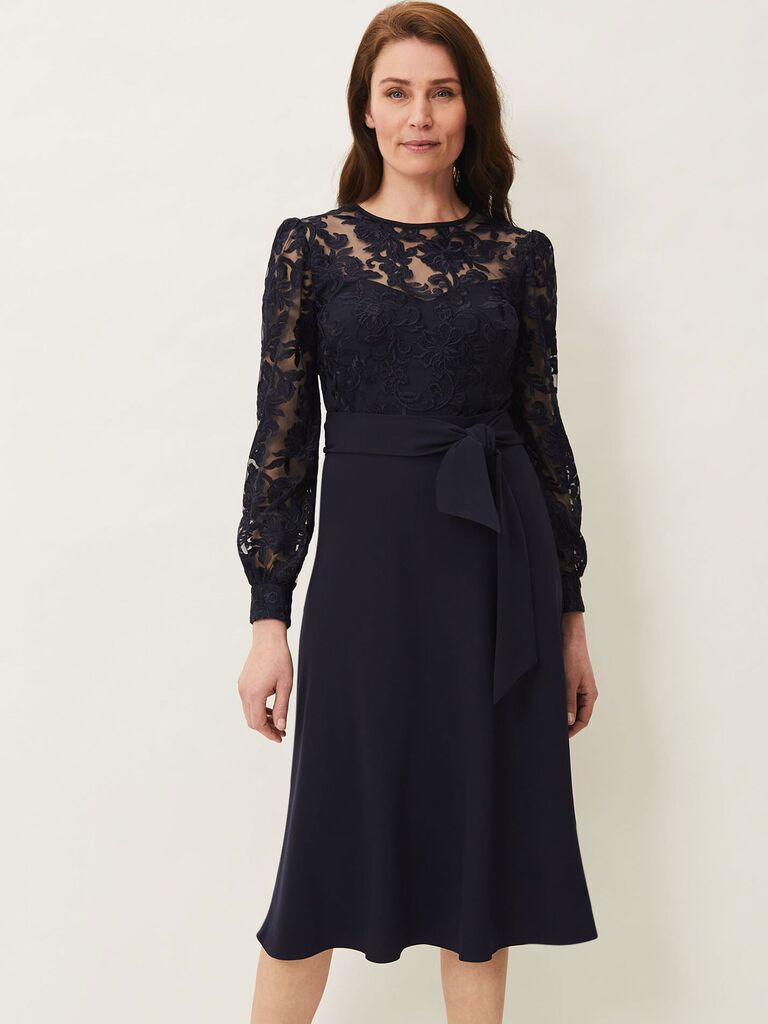 Although navy is a darker hue, it doesn't have to be reserved for formal events. This versatile color is a popular choice for all kinds of weddings, all year round. Since the dress has a shorter hemline dropping just below the knee, it feels more suited to a semi-formal celebration. The tie waist and lace bodice add a bit of flair to this otherwise understated outfit choice.
Glittery Floor-Length Gown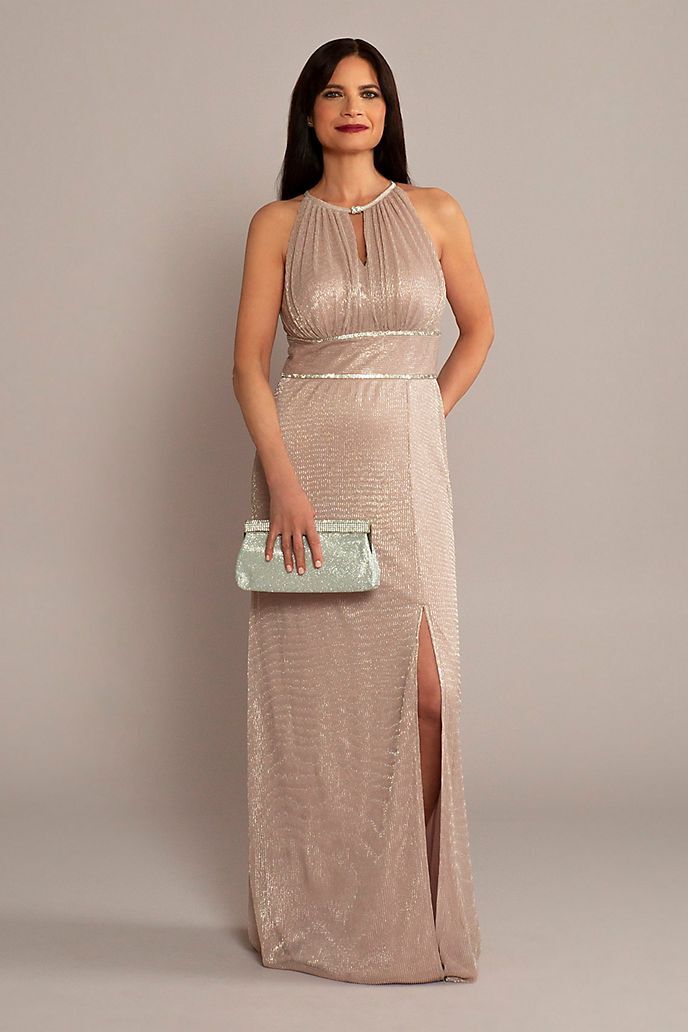 If you've got the go-ahead to wear a similar outfit to the MOB, feel free to choose something that stands out a little more, like this sparkly, floor-sweeping gown. It's also a stunning dress for a stepmother of the bride or groom attending a black tie wedding.
Classic Chiffon Midi Dress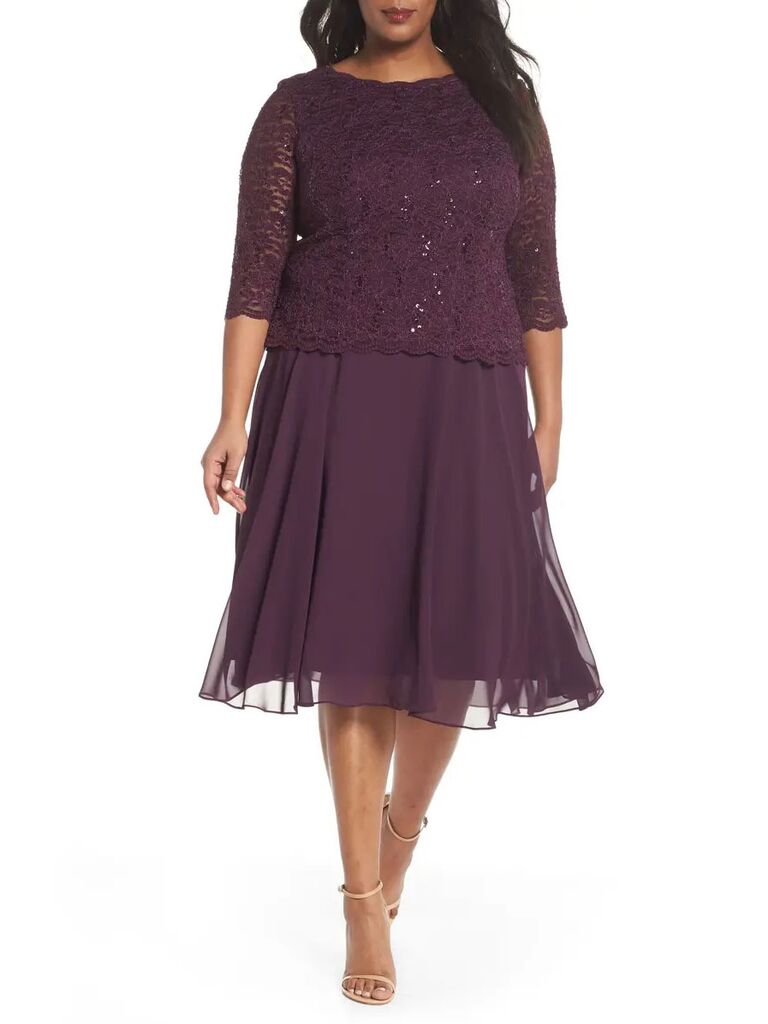 Looking for something in-between subtle semi-formal and all-out black tie? Check out this beautiful cocktail dress. The rich plum hue is ideal for weddings in the fall and winter. The faux two-piece silhouette makes it look like you perfectly styled your own coord set, but really it's all one piece (clever, right?). The bodice is complete with sparkly sequins and the skirt is made from flowy chiffon—it really is the best of both worlds.
Vibrant A-Line Cocktail Dress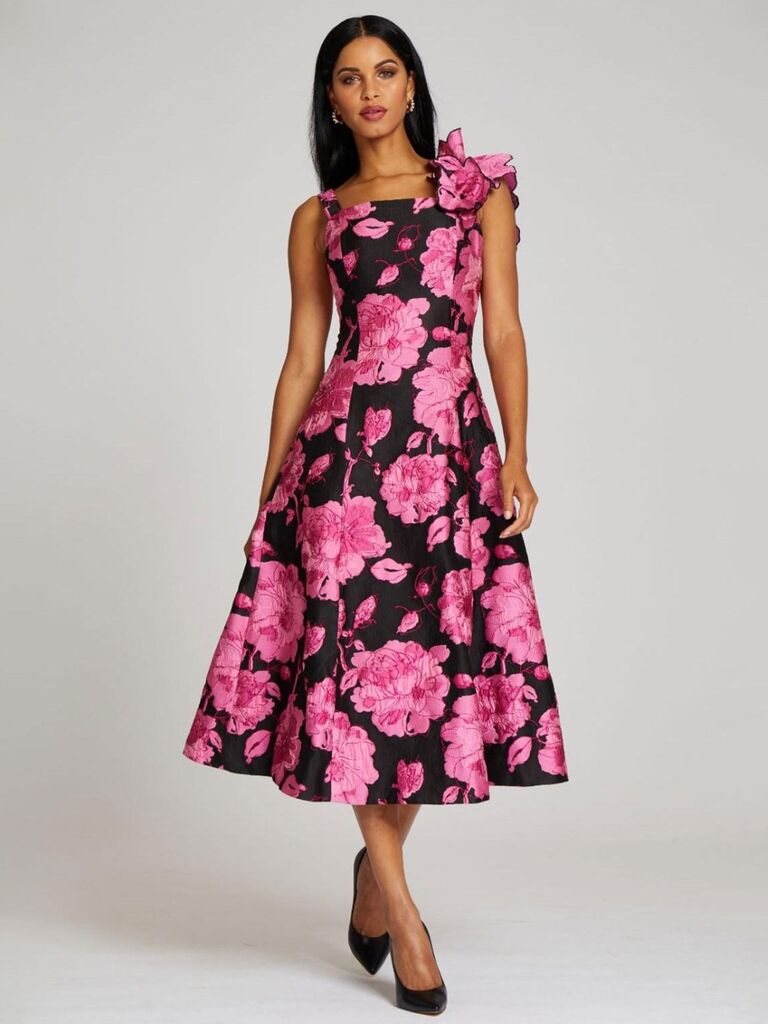 Wondering if the stepmother of the bride or groom can wear a floral dress? Short answer: absolutely! Floral wedding guest dresses will always be a crowd favorite, but there are a couple of things to keep in mind if you're shopping for one as stepmom of the bride or goom. Since you'll be posing in family photos, opt for a print that's not too loud or busy as this could clash with what other members of the family are wearing. Since this dress just features two block colors, it's eye-catching without commanding too much attention.
Intricately Beaded Cocktail Dress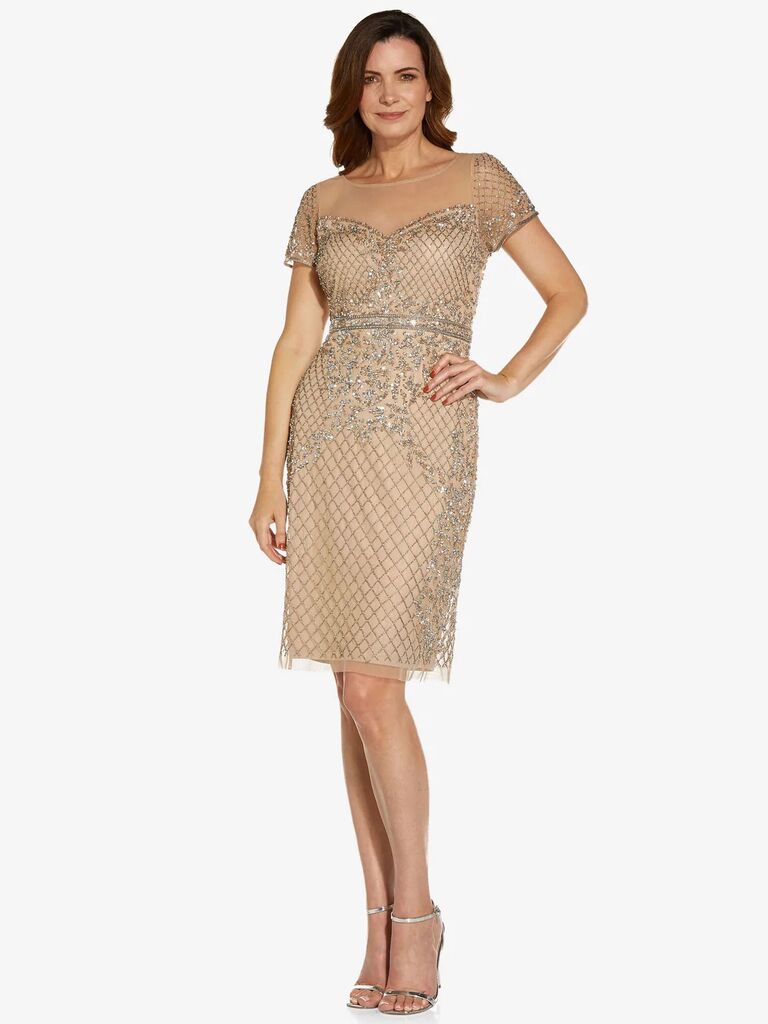 Prefer neutral hues like champagne? Try this stunner on for size. The monochrome hue makes it suitable for a semi-formal affair, but you can easily zhuzh up the look to make it work for a cocktail celebration either. Elegant hand beading and pattern work means it looks even more impressive in person.
Metallic Pleated Formal Gown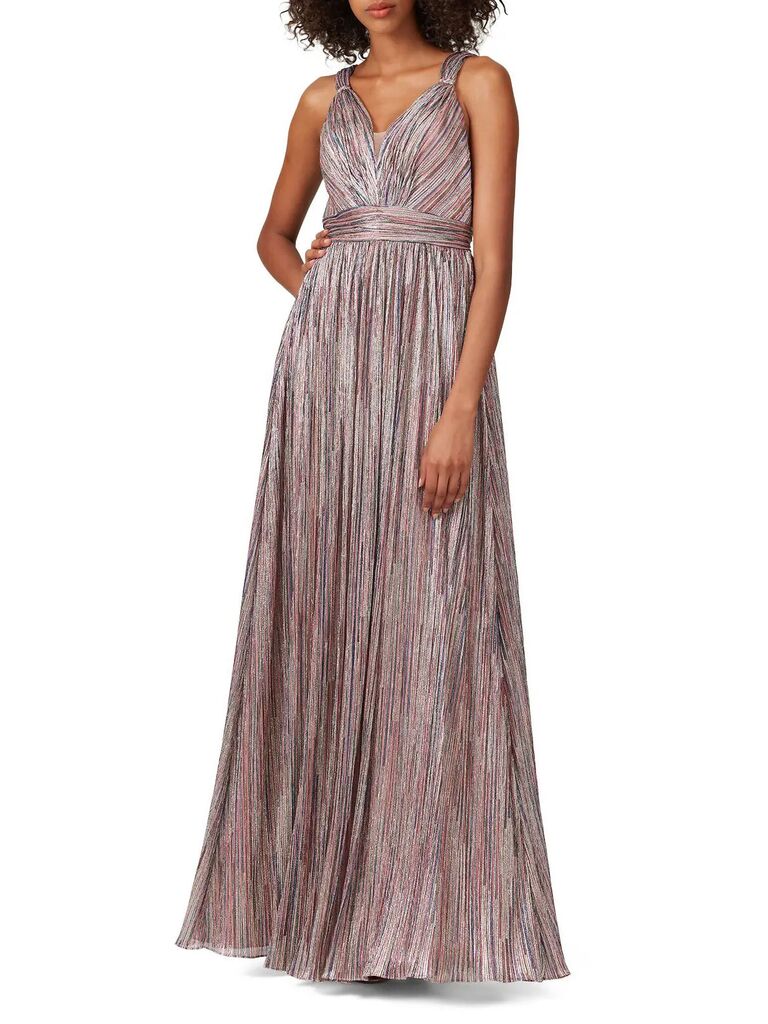 Nail the Greek goddess vibe in this black tie-worthy gown. The cool metallic hue is super unique (and just imagine how great it'll look under the lights on the dance floor). Unsurprisingly, a dress this impressive doesn't come cheap. Luckily, you can save your hard-earned dollars (or spend them on an extra-nice wedding gift) by renting this gown from Rent the Runway instead of buying it.
Pretty Blush Midi Dress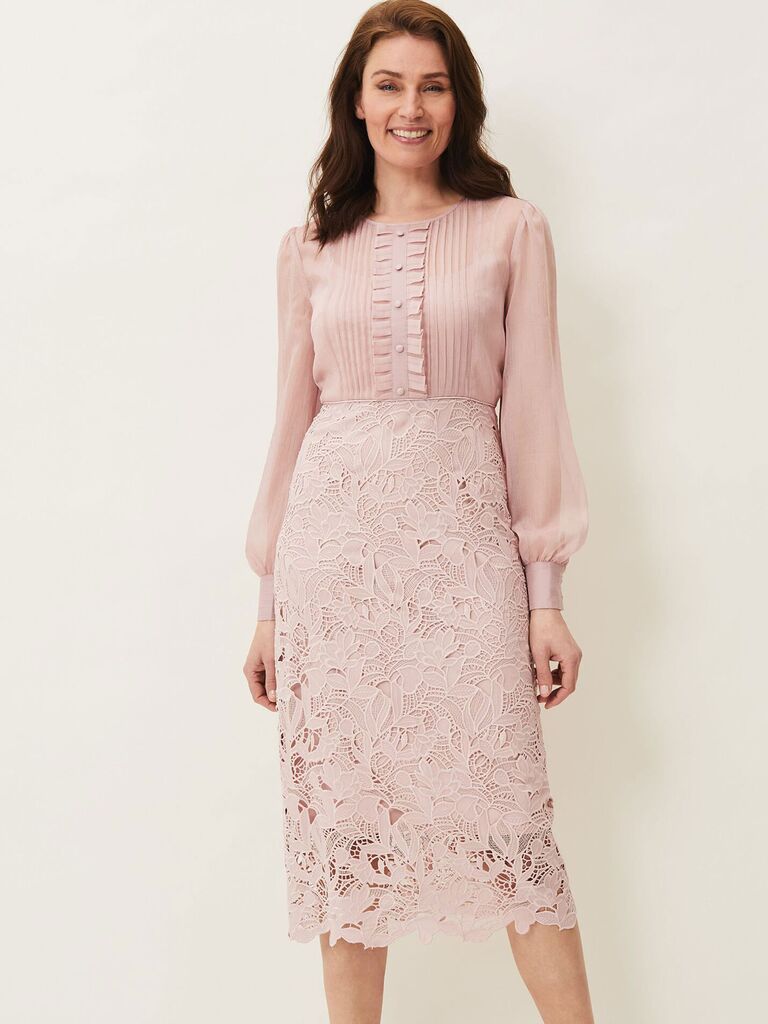 When it comes to stepmom-of-the-bride and -groom dresses, there are options for every style. If you feel more comfortable in clothing with fuller coverage, look for something with long sleeves, a high neckline and a skirt that falls below the knee. This pretty chiffon and lace dress checks all those boxes (and it's stylish to boot).
Sophisticated Strapless Ball Gown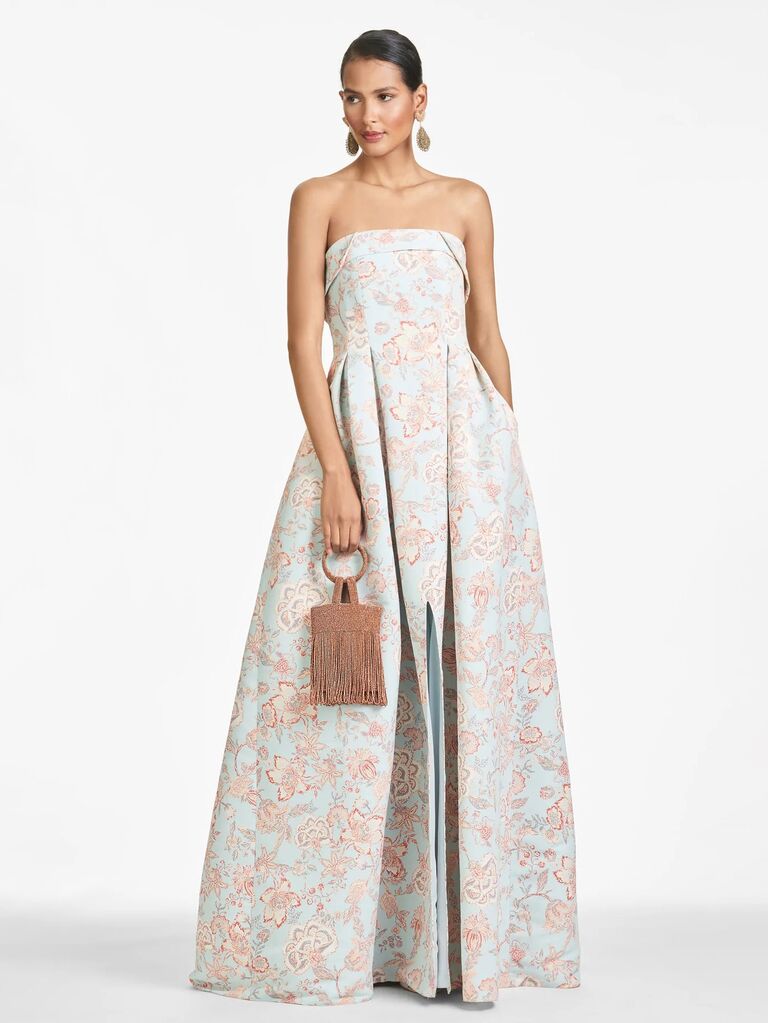 This breathtaking gown is suitable for both moms and stepmoms of the happy couple at a formal wedding. The muted florals add a unique element that won't take over when you're standing next to the newlyweds. The strapless neckline provides ample opportunity to show off some fine jewelry or let your hair down.
Classy Textured Sheath Dress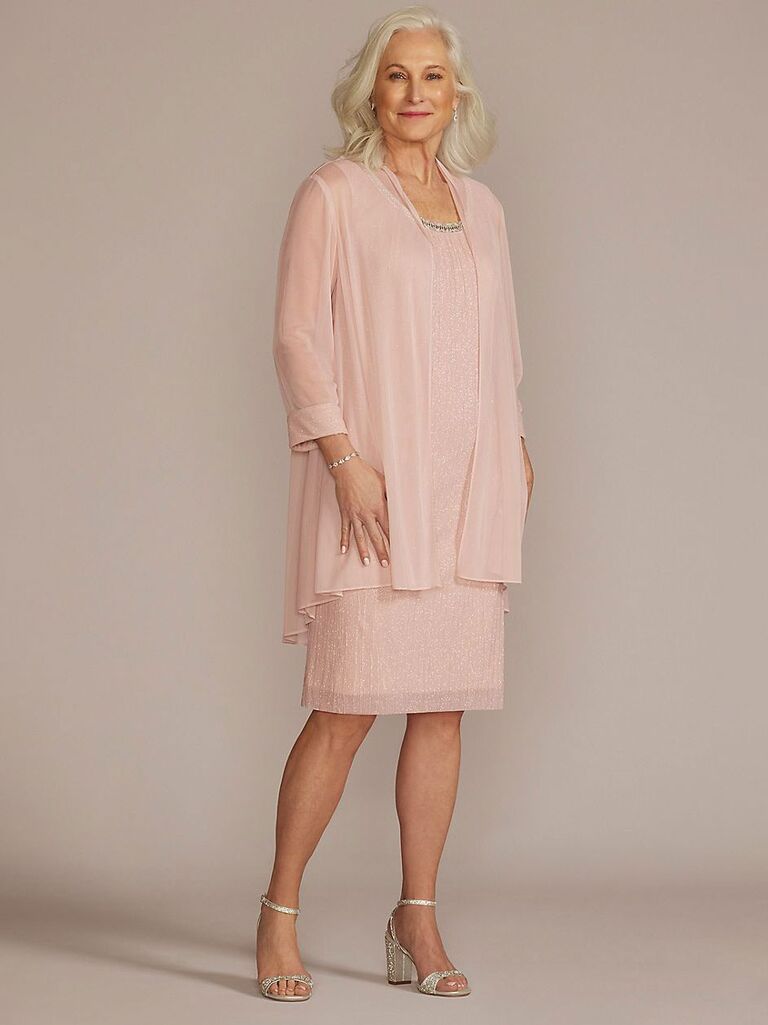 Create the ultimate semi-formal ensemble by adding shoes, jewelry and a clutch in a complementary silver hue that matches the beading on this attire's neckline. The dress comes with a coordinating lightweight jacket, giving you two looks in one—score.
Eye-catching Sequin Midi Dress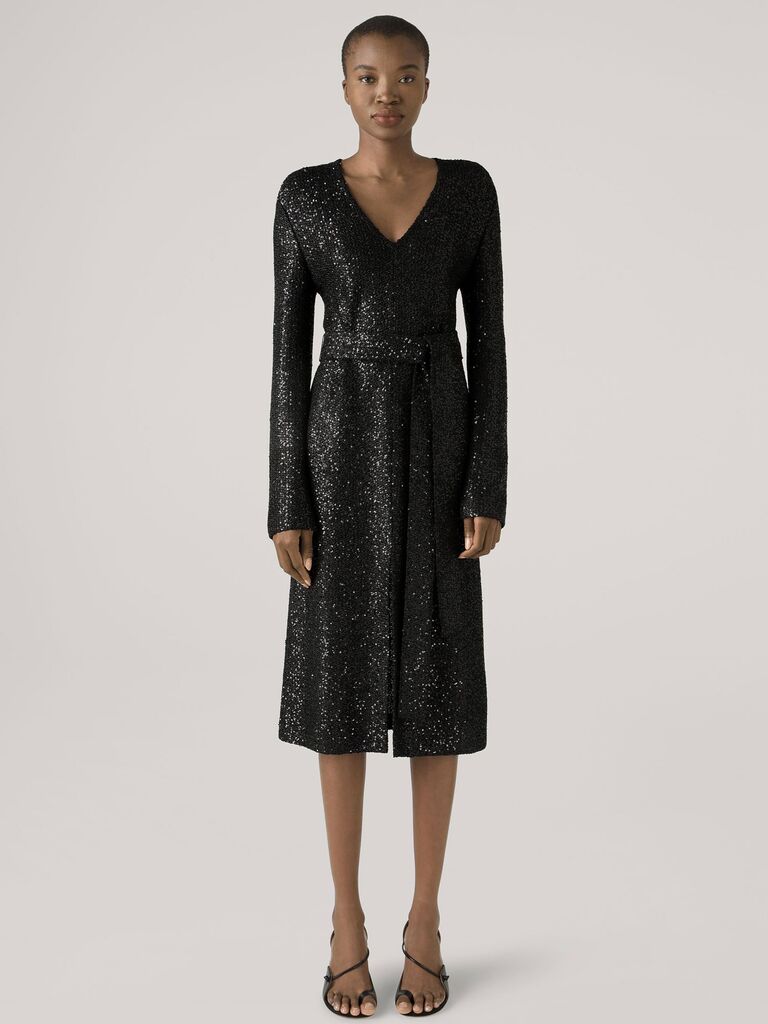 Another frequently asked question: Can the stepmother of the bride or groom wear black? While this classic color has been avoided by wedding guests in the past, nowadays it's perfectly acceptable to wear black to a wedding. In fact, many guests prfer to pick up LBDs (read: little black dresses) due to their versatility. This sequin-covered midi is easily rewearable, especially during the holiday season.
Modern Wide-Leg Jumpsuit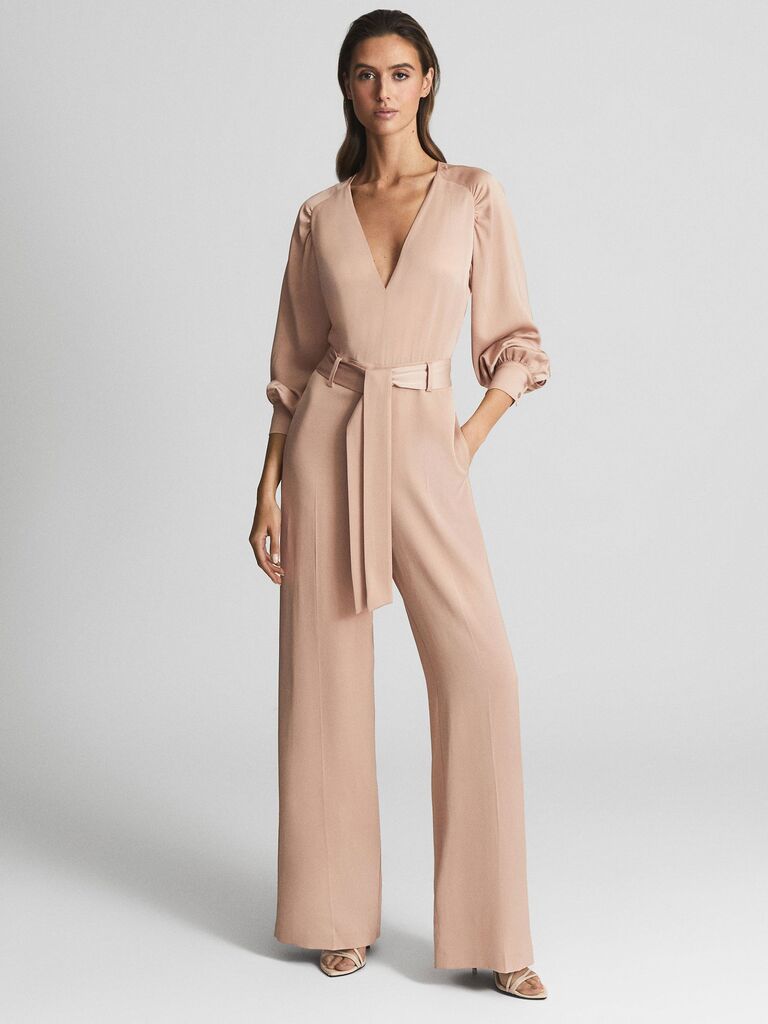 There's no reason you have to wear a dress as stepmom of the groom or bride. Jumpsuits and pantsuits can be just as gorgeous, and there are plenty of options that work for a formal celebration. Exhibit A: This streamlined wide-leg jumpsuit with pretty cuffed sleeves and a figure-defining tie waist. Stick with the blush hue unless the happy couple has specifically requested guests to wear white.
Versatile Navy Maxi Dress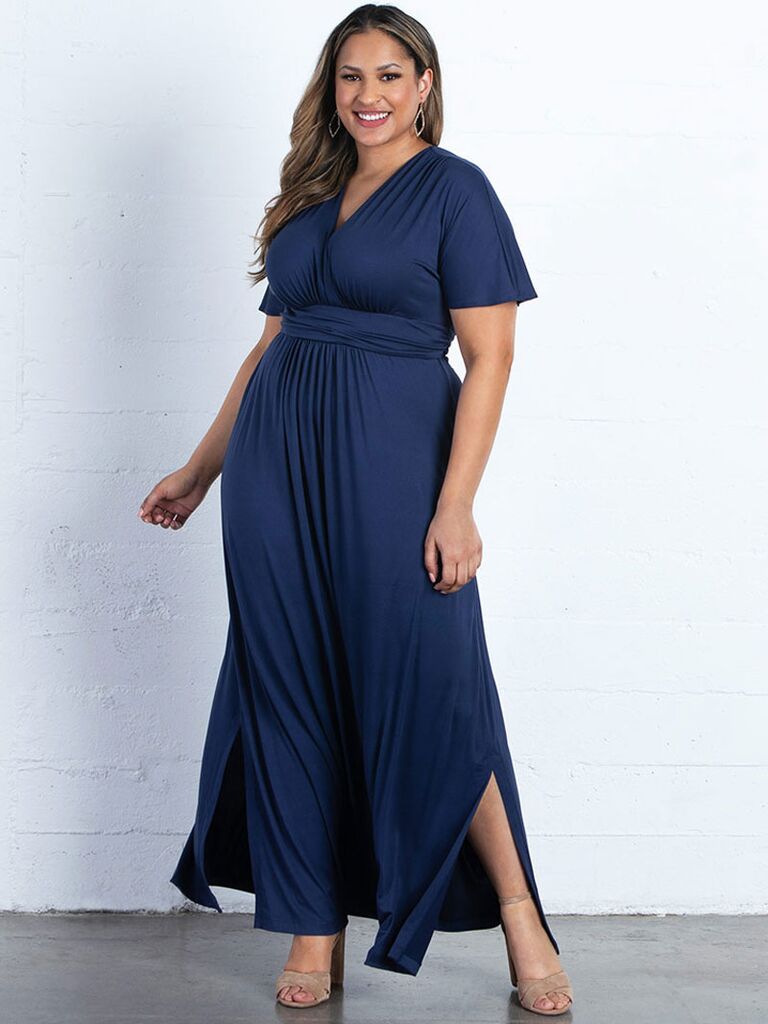 Worried about your budget for attending the wedding? Your dress doesn't have to be a one-time deal. You can make it an investment by choosing something that's easy to rewear for future special occasions. Here's another navy stepmother-of-the-groom or -bride dress that'll be a valuable addition to your closet. The breezy silhouette is accented with subtle side slits, pleating and an accentuating waistband.
Sleek Satin Colum Gown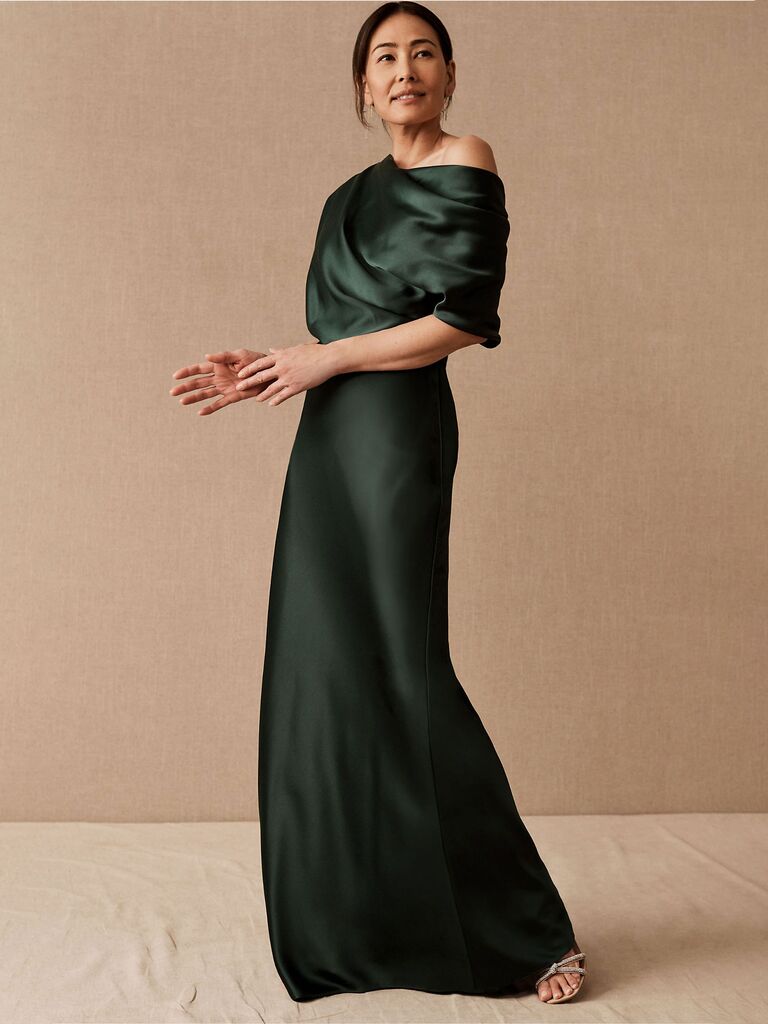 Black tie wedding? We hear you. This floor-length column dress drapes flawlessly over your silhouette while offering plenty of coverage (aside from the cheeky off-the-shoulder detail on one side). The dark green hue will stun at a formal evening wedding at any time of year, but it's especially on-theme in the later months.
Colorful Lace Cocktail Dress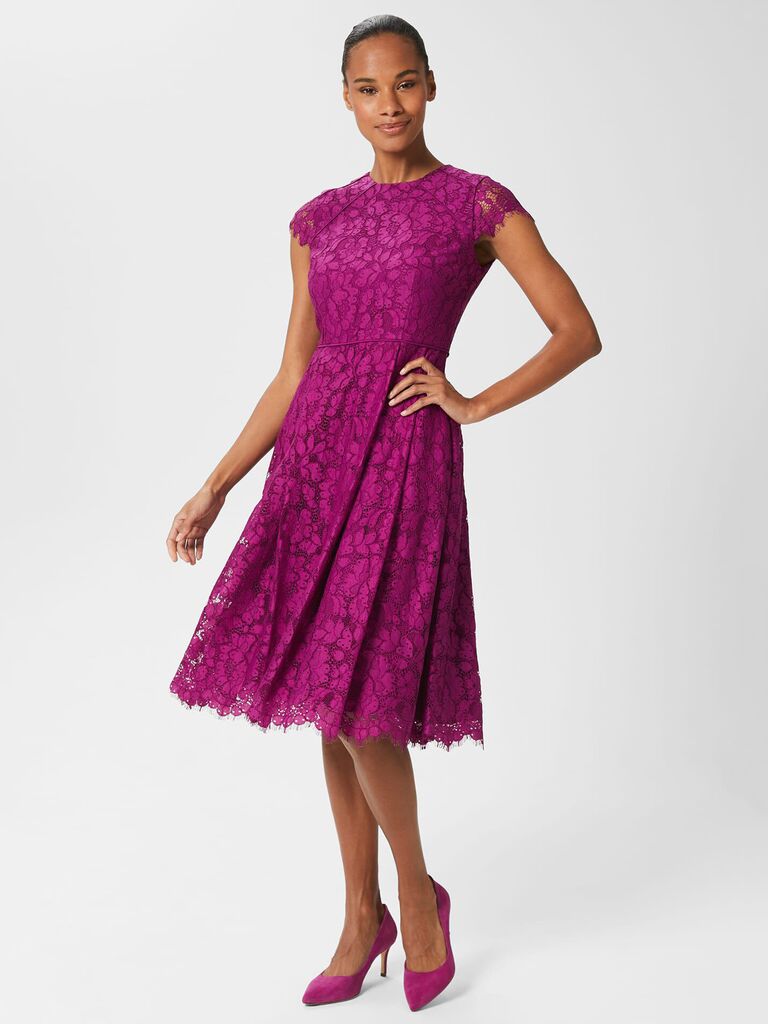 Don't shy away from bright colors. If ever there was a time to don a fun, celebratory hue, it's at your stepchild's wedding! This flirty shift dress is a nice transitional piece from summer to fall thanks to the purple berry hue. The delicate cap sleeves and eyelash lace trim bring a romantic vibe.
Cute Knee-Length Dress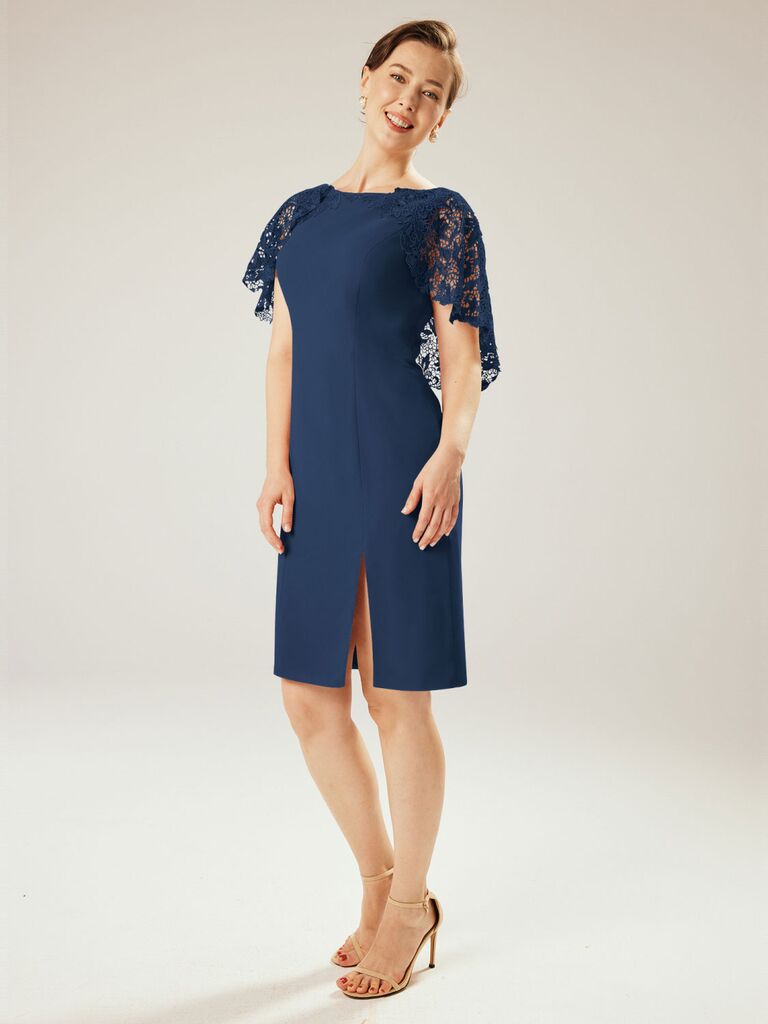 Looking for something simple yet chic? This short column dress is made from lightweight chiffon and has a modest bateau neckline and delicate lace draped over the arms and back. It could work as a semi-formal or casual stepmother-of-the-bride or -groom dress. For a casual wedding, swap out heels for flats and choose fun, colorful pieces of jewelry instead of formal fine jewelry.
Cheery Floral Ankle-Length Dress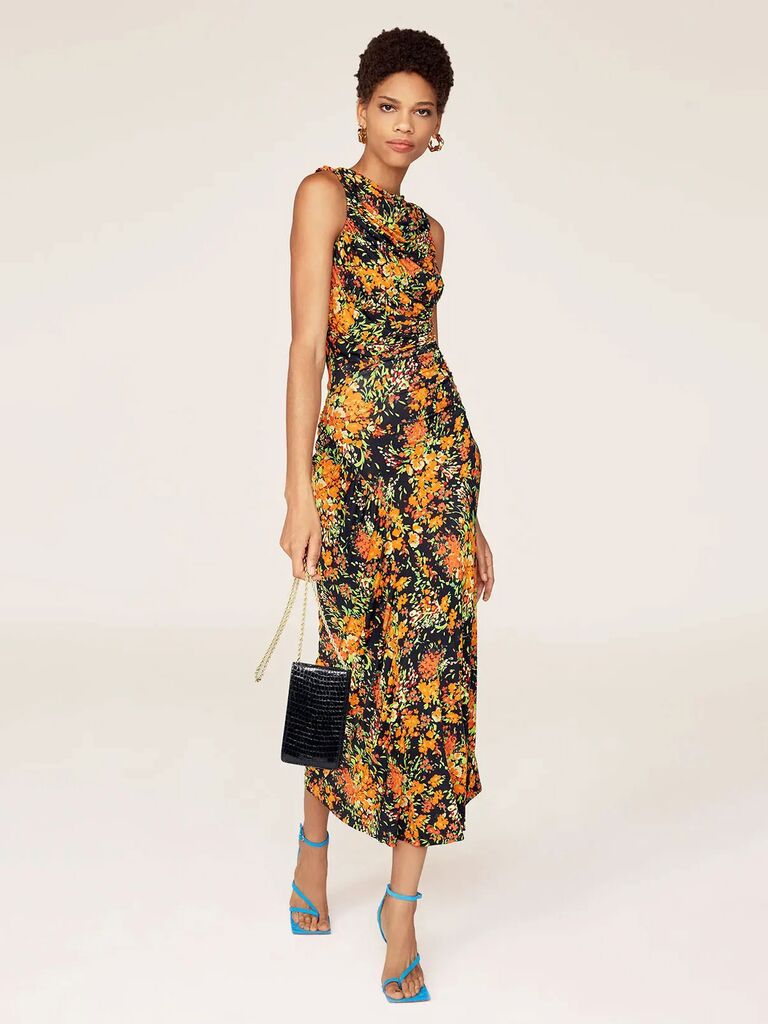 Your stepchild tying the knot is a joyous occasion, and nothing screams "joy" quite like bright sunshine-y hues of orange and yellow. This stylish ankle-length dress has just that, in the form of a striking floral print splashed on a black background. Wear statement accessories for a cocktail wedding or stick to classic black heels and fine jewelry for a formal celebration. It's available to rent from Rent the Runway, making it a more eco-friendly option too.
Floral Embroidered Formal Gown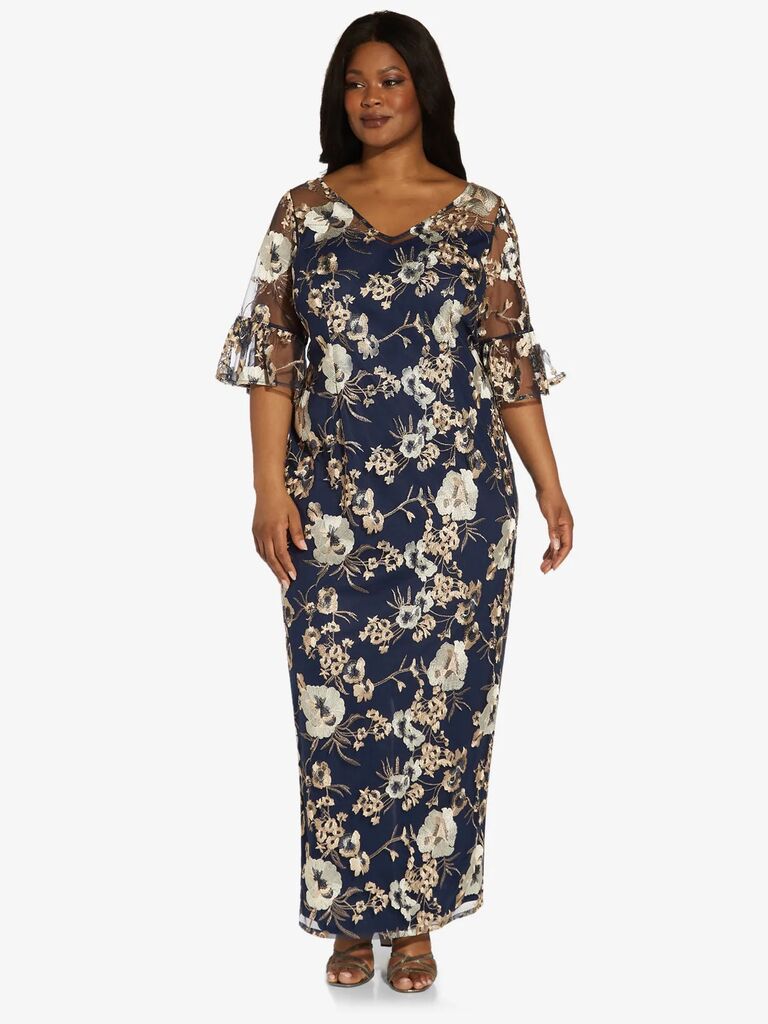 Here's a beautiful plus-size dress for the stepmother of the bride or groom attending a formal garden wedding. The embroidered florals feel oh-so-romantic, especially when paired with airy flared-cuff sleeves. You've heard of a fairy godmother, now get ready to be their fairy stepmother for the day.
Flowy Chiffon Knee-Length Dress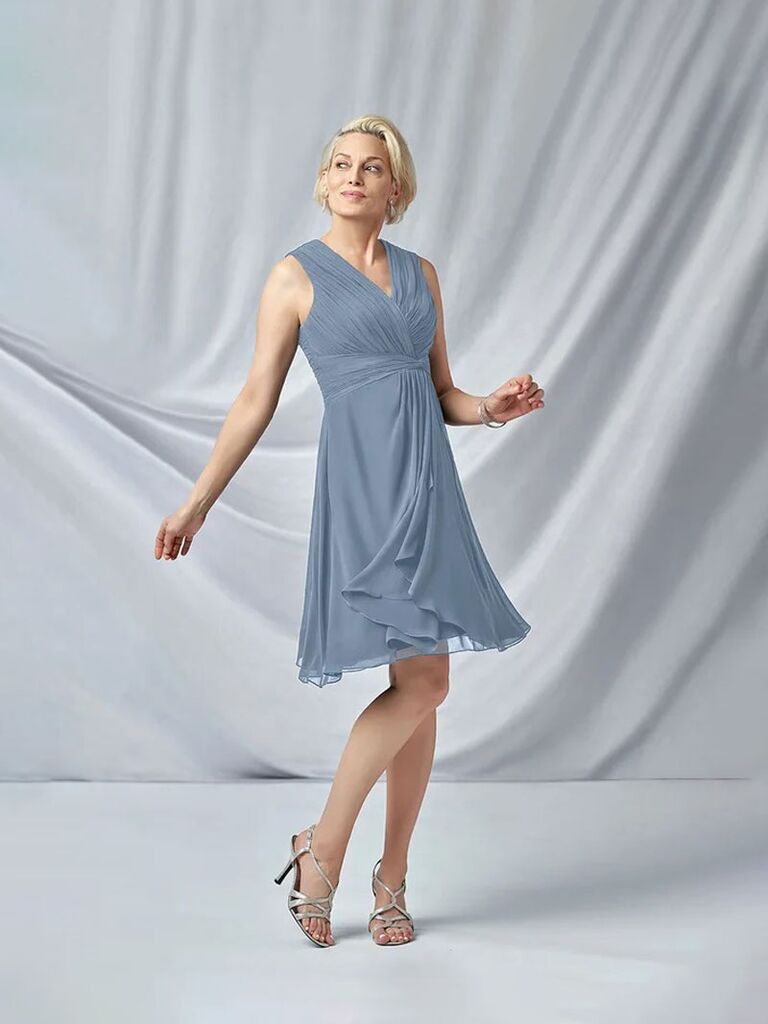 There are lots of places to shop for wedding dresses for the stepmother of the groom or bride online. If you need something that's a little more tailored to your needs, Azazie is the place to go. The site offers custom sizing free of charge (as well as a range of inclusive pre-measured sizes, if you're in a hurry). Plus, you get to choose from a huge variety of colorways, so finding one that perfectly suits your style or skin tone is easy.