Wedding Invitation Wording: New Ideas
Think that wedding etiquette rules are outdated, especially when it comes to wording your invitations? Check out our list of new ways to word them.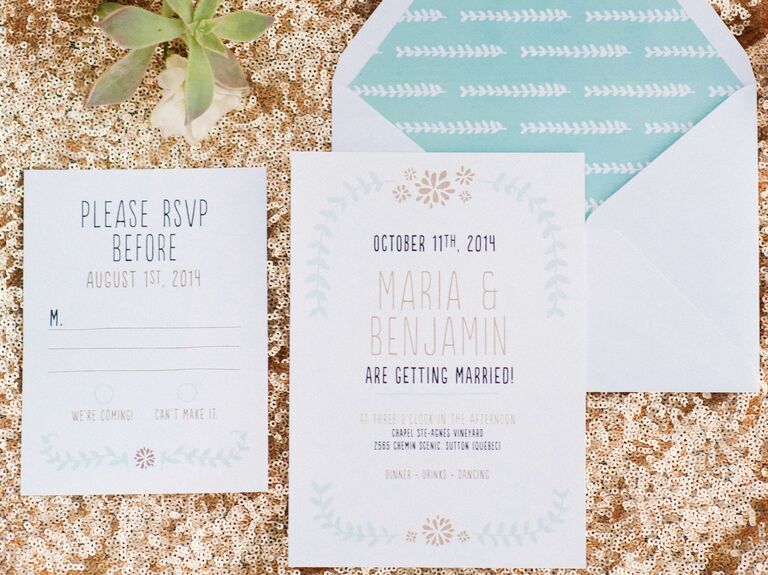 Photo by
Elle Photography
There are hundreds of ways to address an invitation. The most important thing to remember is to include the full names of the bride and groom, the names of those hosting the event, and a "request line" -- however formal, casual, or cool that may be. Now that you've learned how to word a wedding invitation, you can bend these rules to make your wedding invitation reflect who you are as a couple. Here are a few examples of what brides and grooms across the nation are doing today to put a small twist on the traditional.
Not-So-Proper Parents
List the parents names without the proper surnames; it almost seems archaic to address everyone as a Mr. or a Mrs.
Jason and Eliza Miller
request the honor of your presence
at the marriage of their daughter
Katie Lynn
to
Robert Luke
son of
Randall and Meredith Richards
Relaxed Request Line
Alter the "request line" to suit the style of your wedding. Many couples not marrying in a religious institution or marrying in a very casual setting, pen their invitations with "pleasure of your company."
Jason and Eliza Miller
request the pleasure of your company
at the marriage of their daughter
Katie Lynn
to
Robert Luke
son of
Randall and Meredith Richards
Really Relaxed Request Line
Other couples are forgoing the traditional "honor of your presence" or "pleasure of your company" altogether and are opting for a more relaxed and festive "request line."
Jason and Eliza Miller
invite you to share and celebrate
the marriage of their daughter
Katie Lynn
to
Robert Luke Richards
Couples Come First
Many couples who are hosting the wedding alongside their parents, choose to eliminate their parents' names and save space with a simple suggestion of their financial help and loving support.
Katie Lynn Miller
and
Robert Luke Richards
together with their parents
request the pleasure of your company
at their marriage
For couples entirely hosting the wedding themselves, parents names are not included on the invitation. However, it is important to remember to thank each set of parents for their support with a toast at the reception.
Katie Lynn Miller
and
Robert Luke Richards
invite you to share in their joy
as they exchange marriage vows