Unique Wedding Invitation Wording Ideas That Will Make Your Guests Smile
Dare to be different.
We have included third party products to help you navigate and enjoy life's biggest moments. Purchases made through links on this page may earn us a commission.
There are still many traditional wedding stationery rules out there, but at The Knot, we believe every part of your wedding should reflect who you are—including your wedding invites. If flowery, formal language doesn't fit your vibe as a couple, consider using unique wedding invitation wording instead. The casual language will capture who you really are, and get guests excited to attend your wedding.
Not only will unique wedding invitation wording make your guests smile, it'll also clue them in on what to expect. A stationery suite filled with cheeky or laid-back language will signify to your guests that the event will likely be more relaxed than other black-tie weddings they've attended. Plus, a creative pun could give them more insight on the wedding venue itself. (If you're hosting a beach wedding, for example, we encourage you to seas any opportunity to use a witty pun!)
In this article:
Small Ways to Make Your Invites Feel Unique
If you're looking to make your wedding invites feel slightly more casual, make a few subtle swaps. For example, using "a.m." or "p.m." instead of "o'clock" for a laid-back feel. Or, instead of saying you "request the honor of your presence" to your guests, simply invite them to celebrate with you. You can also make changes to the host line, like not including titles or full names. Additionally, you can use numerals for the wedding date instead of spelling it out (i.e. "2020" instead of two thousand twenty). All of these details will make the stationery more personalized to your special day.
We also love the idea of using unique wedding invitation wording because it shakes up old-school layouts. For example, if you're paying for your own wedding, there's no need to include your parents' (or guardians') names. Additionally, you don't need to label yourself as "Ms." or "Mr." if you don't feel comfortable doing so. Pro tip: If you're searching for a gender-neutral title, consider using "Mx." Using unique wedding invitation wording means you get to decide the rules.
Continue bucking tradition by using unique wedding invitation designs to complement your laid-back language. Use bold, bright colors or an eye-catching pattern. Looking for even more personalization opportunities? Get a custom illustration done of the two of you. (Psst: illustrations are a major stationery trend for 2021.) Your guests will appreciate the extra time and care you put into making your stationery look and feel like you.
Using unique language doesn't mean other wedding invitation etiquette should be completely ignored. You still want to make sure you're sending out your save-the-dates early to give your guests the opportunity to block off your wedding day in their calendars. You'll also want to send out your invitations eight weeks before you say "I do" (more if you're hosting a destination wedding).
You'll also need to include all of the necessary information on your invitations: your names, the date and time of the wedding, and the venue's address. We also recommend including your dress code and wedding website URL so your guests are fully prepared for the big day.
Other than that, feel free to do whatever you want with your wedding stationery. Include a light-hearted joke in your save-the-dates or a cheeky pun on your RSVP cards. But we especially encourage you to get creative with your wedding invitations, as they contain all of the information your guests need. (Psst: The Knot Invitations allows you to completely customize the text on your invitations so they reflect exactly who you are.) To help get you inspired, we put together a few unique wedding invitation wording templates. See some of our favorite ideas, below.
If The Couple Is Hosting the Event
Most traditional wedding invitation wording examples assume that the bride's parents will be hosting the marriage of their daughter. But that's not the case for many couples—whether neither person identifies as a bride or if the couple is paying themselves. In fact, more and more couples are paying for their own nuptials. If you and your partner are going to be covering the costs for the event, you have total control over your wedding stationery. Take advantage of that with unique wedding invitation wording that will get your guests excited to participate in the merriment. Use laid-back language, cheeky jokes or witty puns. For a more casual approach, skip your middle names and use your first and last names (or just your first names).
Relaxed Request
Many couples are forgoing formal phrases like "honor of your presence" or "pleasure of your company" and opting for something more relaxed and festive.
We'd love nothing more
Than you by our sides as we exchange vows
Rosalie Anne
And
Aaron Alan Triguireo
Will wed at 4 p.m.
August 29, 2020
Followed by dinner and dancing
At Serendipity Garden
12865 Oak Glen Road, Oak Glen, CA
Funny Text
Stay true to your personalities. If you like to crack jokes, use cheeky language on your wedding invites.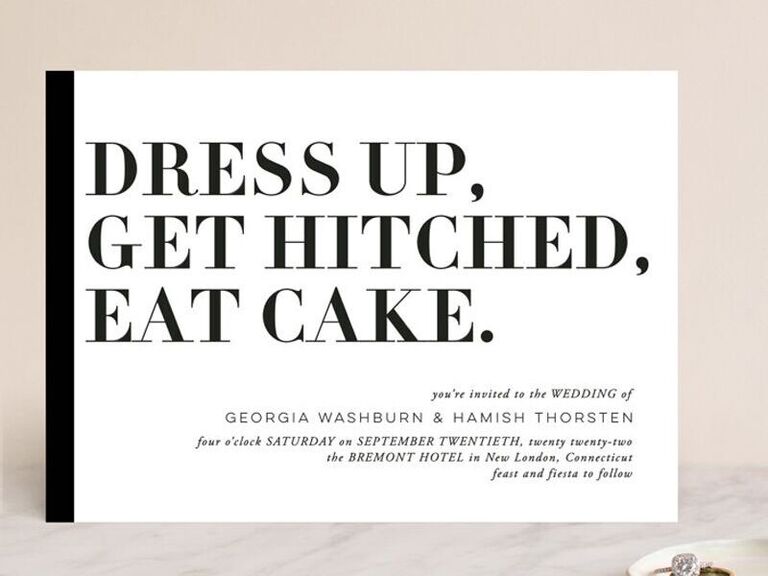 Dress up.
Get hitched.
Eat cake.
You're invited to the wedding of
Georgia Washburn & Hamish Thorsten
Four o'clock Saturday on September twentieth, twenty-twenty two
The Bremont Hotel in New Long, Connecticut
Feast and fiesta to follow
Party Time
Get everyone excited for the festivities with this unique wedding invitation wording.
It's high time that we have a party
Davina & Boon
are getting married
July 28th, 2024
The Lageret
515 East Main Street
Stoughton, Wisconsin
The ceremony will be at 4 p.m. followed by
a glorrious buffet of greasy sliders, cripsy fries
and rich milkshakes.
Dancing shoes & party hats reccomended.
Clever Pun
Who doesn't love a good pun? Pull inspiration from your wedding's theme ("tying the knot" for a nautical celebration, for example) or your venue (such as "love is brewing" for a brewery) for the perfect pun.
We are tying the knot
Join us for the wedding of
Rebecca Morrison
And
Michael Robinson
Saturday November 20, 2018 at 3 p.m.
Beaumont Yacht Club | 282 Seaside Avenue
San Francisco, California
Reception to follow
If Parents Are Hosting the Event
If your parents are hosting the event, that doesn't mean you have to use hyper-formal language. Work together to find something that conveys who's hosting the wedding ceremony and wedding reception (whether it's one set of parents, both sets of parents or both sets and the couple). Then, find a fun way to communicate the vibe of your celebration of love. Is it going to be sweetly semi-formal or totally casual? If you're including step-parents or a deceased parent, adjust the language accordingly. Pull some inspiration from these unique wedding invitation wording ideas, below.
Together With the To-Be-Weds
Many couples who are hosting the wedding alongside their parents use this kind of wording to indicate financial and loving support from their parents.
Drew
&
Jordan
Together with their families
Invite you to their wedding
Saturday | 8.15.24 | 4:30 p.m.
Ole Hanson Beach Club
105 W Avenida Pico, San Clemente, CA
Relaxed Request
Alter the request line to suit the style of your wedding. Many couples marrying in a casual setting pen their invitations with "pleasure of your company," but feel free to get creative.
Mr. and Mrs. John Gadson
and Dr. and Mrs. Heath Anderson
Invite you to the marriage of their children
Brynn + Xavier
The ninth of December, two thousand and twenty-two
At five o'clock in the evening
The Danbury Lodge
1286 NW 5th Ave, Bedford, New Hampshire
Reception to follow
Casual Invitation
List the parents names without the customary surnames for a more laid-back vibe. Use a blank card or customize the text on any invitation template to bring this vision to life.
Jason and Eliza Miller
invite you to the marriage of their daughter
Katie Lynn
to
Tabitha Rose
daughter of
Kanesha and Jevonate Richards