New York City Honeymoon: Weather and Travel Guide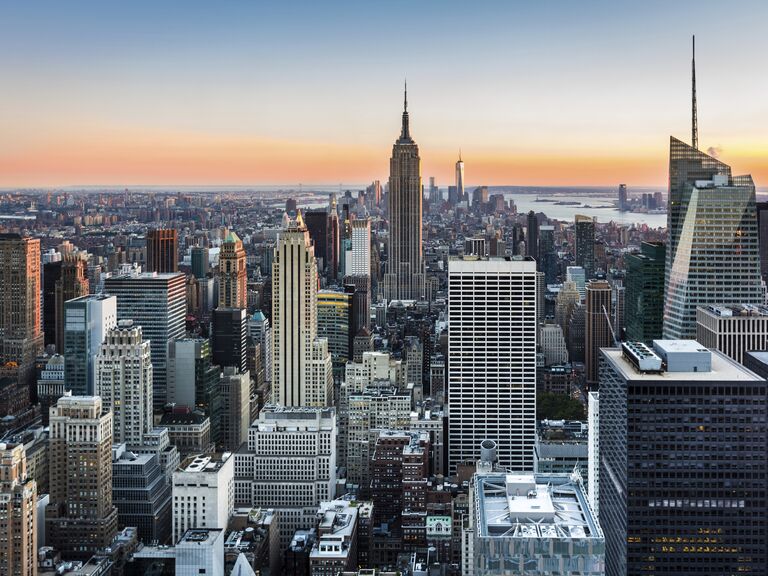 Thinkstock
Whether you've been to the Big Apple dozens of times or are considering your first visit, you'll never run out of things to do. From well-known Broadway shows to hidden wine bars and cafes, you're guaranteed to have an unforgettable experience in New York.
Before You Go: Need-to-know info
Language: English
Flight time: 3 hours from Chicago; 5 hours from LA
Getting around: Taxi, subway and bus
When to Go: New York City at its best
Best weather: Spring and fall.
What to Do:
Culture: In New York you can explore your own culture, or discover something completely new. The peddlers on Canal Street in Chinatown offer a lot of touristy items, but you can also find some hidden gems and authentic meals. Little Italy beckons with aromatic pasta dishes and plenty of wine. The Jewish Museum on the Upper East Side showcases 4,000 years of Jewish arts and culture, and it's free on Saturdays.
Dining: Mario Batali. Daniel Boulud. Thomas Keller. Masaharu Morimoto. It's the age of the celebrity chef and they're all cooking dishes for you in New York (okay, maybe not every night, but you can definitely get a taste of their signature style at one of their restaurants). If you want something more low-key, just turn the corner. Gastropubs and ethnic eateries abound. If the thought seems overwhelming, start asking for recommendations before you go, or pick up a local city magazine when you arrive.
Shopping: Just step out your hotel door and you'll find some serious retail opportunities. Whether you want to go on a serious spree or just browse, direct yourself toward Fifth Avenue, where you'll find high-end retailers the likes of Tiffany & Co., Versace, Gucci and Saks Fifth Avenue. For something a little less congested and more neighborhood-y check out the West Village, where you'll find one-of-a-kind boutiques, nestled within thrift stores, and vintage outposts. There's also SoHo, where the blocks proliferate with national chains, art galleries, cosmetic boutiques and more.
Sightseeing: If you've never been, a trip to the top of the Empire State Building is a must-do. But once you're done, try to see some of the city's less frequented treasures like The Cloisters and the Brooklyn Botanical Gardens. Also don't miss Central Park, Chelsea Market and the Hayden Planetarium at The American Museum of Natural History.