33 Rockin' First Dance Wedding Songs
Find the perfect rock 'n' roll wedding song for your first dance.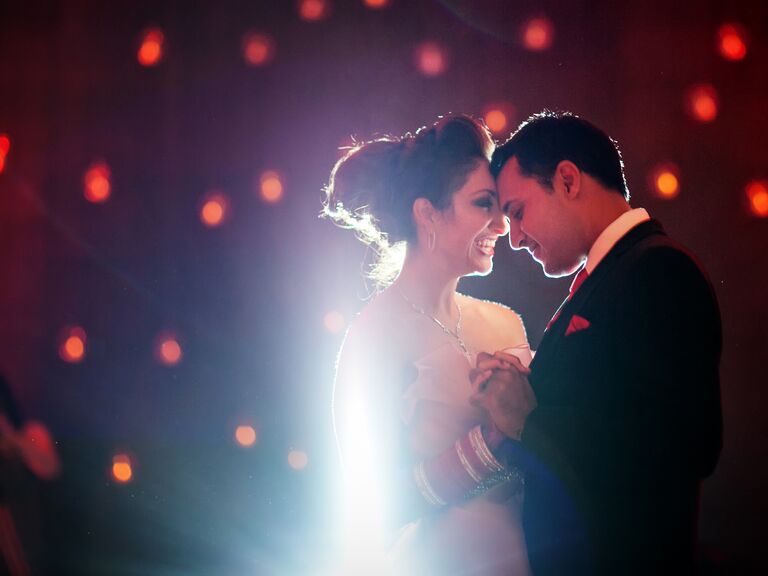 Jared Wilson Photography

If you and your partner are hard-core fans of classic rock, you know it doesn't get any better than a rock 'n' roll ballad. Soft and tender or robust and electric, when the DJ plays these love songs, they always inspire serious slow dancing. Read on and rock on with our list of 33 great first-dance tunes.
1. "All Of My Love" (Led Zeppelin)
2. "Angie" (The Rolling Stones)
3. "Beth" (Kiss)
4. "Feels So Right" (Alabama)
5. "Head Over Feet" (Alanis Morissette)
6. "Hold My Hand" (Hootie & The Blowfish)
7. "Honestly" (Stryper)
8. "How Sweet It Is To Be Loved By You" (James Taylor)
9. "I Am Yours" (Derek & The Dominoes)
10. "I Don't Want to Live Without You" (Foreigner)
11. "I Don't Want To Miss A Thing" (Aerosmith)
12. "I Only Want To Be With You" (Hootie & The Blowfish)
13. "Love Of A Lifetime" (Firehouse)
14. "Love Song" (Tesla)
15. "Love Will Keep Us Alive" (The Eagles)
16. "Maybe I'm Amazed" (Paul McCartney & Wings)
17. "May This Be Love" (Jimi Hendrix)
18. "Open Arms" (Journey)
19. "Release" (Pearl Jam)
20. "Samba Pa Ti" (Santana)
21. "Search Is Over" (Survivor)
22. "Solid As A Rock" (Ashford & Simpson)
23. "Something To Talk About" (Bonnie Raitt)
24. "Sweet Melissa" (Allman Brothers Band)
25. "Thank You" (Led Zeppelin)
26. "Time After Time" (Cyndi Lauper)
27. "Time In A Bottle" (Jim Croce)
28. "True Companion" (Marc Cohn)
29. "We Belong" (Pat Benatar)
30. "When You Love A Woman" (Journey)
31. "Wild Horses" (The Rolling Stones)
32. "You Got To Let Love Rule" (Lenny Kravitz)
33. "You're My Best Friend" (Queen)

New York City professional DJ Nicole Batchelor, who's spun for celebrity clients such as Steven Spielberg, Alec Baldwin, and President Clinton, helped us compile this list. To book her, contact [email protected]