It's OK to Say No to Being in a Wedding Party—Here's Why
Putting yourself first doesn't mean you're a bad friend.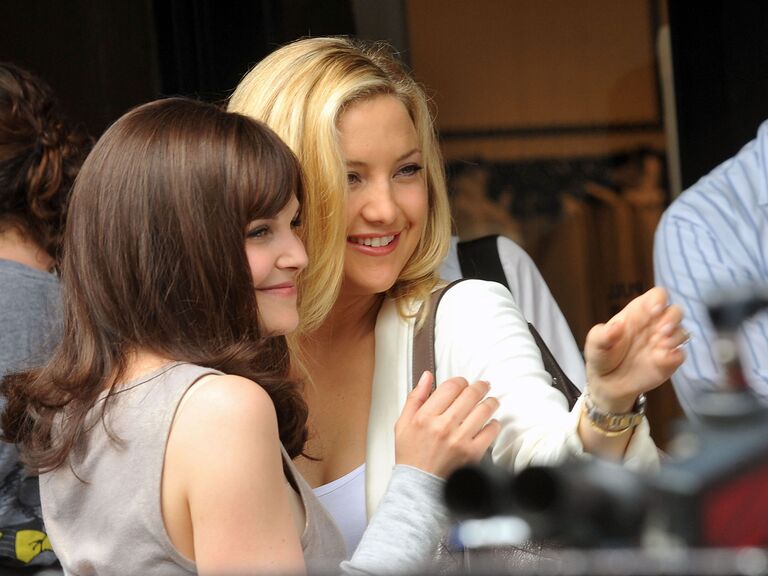 Bobby Bank / WireImage
If your heart has felt a bit heavier after someone has asked you to be a bridesmaid, groomsman or member of their wedding party, then you're well aware of this truth: being in a wedding is a huge commitment. For those wondering how to say no to being a bridesmaid or groomsman, the first step is knowing that it's OK to decline being in a wedding party. In fact, it doesn't make you a horrible person. We have four reasons you're allowed to turn your friend down—and how to do it without ruining your friendship. (But our number one piece of advice? Always be honest.)
In This Article:
How to Politely Decline Being a Bridesmaid or Groomsman
If you're squirming just thinking about how to politely decline being a bridesmaid, groomsman or general wedding party member, the truth is this conversation can be a bit uncomfortable. The cause for discomfort, however, is that most haven't broached this topic previously. To do it with tact and grace, read our tips below.
Consider Your Friendship
Before declining a bridesmaid offer or that of any other role in a wedding party, it's important to weigh your relationship and priorities. Do you see yourself being friends with this person in five, 10 years? Some friends will graciously understand your situation and will convey their relief in transparency. However, others may be upset or disappointed by your decision. Before outright rejecting the offer, thoughtfully consider your circumstances and your friend's feelings before moving forward with next steps. At least you can look back and say you didn't make any brash or reactive decisions or remarks you'd later regret.
Pick Up the Phone
If you reside in a separate state, pick up the phone to tell your friend you won't be in their wedding—though you look forward to celebrating their big day. To smooth things over, consider sending a handwritten card and an engagement gift (a bottle of champagne, a wedding planning book, and The Knot Magazine).
Thank the To-Be-Wed
Gratitude goes a long way, especially in friendships. For reasons personal to you, you've decided to say no to being a bridesmaid. It's your time, money and decision, after all. You'll still want to relay how thankful you are to have been considered for the role by the bride or groom. Acknowledge that they've taken the time to consider you for the all-important role of standing beside them on the wedding day and that you would've been a key part of the flurry of preceding activities.
Take Them Out in Person
Your friend or family member is likely newly-engaged if they're asking you this question. Though you won't be able to partake in the wedding party, treat them to a celebratory brunch or classy cocktails. If you're the type to enjoy hosting mini parties at your place, plan a little celebration at home, which is an extra way to reveal how you value your friendship and their engagement. It's a thoughtful gesture that showcases that you're still supportive of the couple rather than outright refusing to be in a wedding party.
RSVP to the Wedding (On Time!)
There are situations and extenuating circumstances where you won't be able to attend your friend's nuptials. After declining to be in the wedding, however, the very least you can do is RSVP to the wedding—and submit that insert on time. If you're already friendly or close with the other members of the wedding party and feel inclined to attend a prewedding event (like an engagement party or bach getaway), the to-be-wed will appreciate that gesture too.
Send a Gift Off the Registry
Though you weren't able to serve as a bridesmaid or groomsman, the couple can still look back and appreciate all that you did for the wedding day. This includes carefully selecting a gift from their wedding registry—they took the time to curate the honeymoon fund and the Dyson Air Wrap, after all. Don't forget a card that shares and expresses your well-wishes for the couple: you likely know them as a pair and the newlyweds will glow as they read your sweet card.
Can I Say No to Being a Bridesmaid or Groomsman?
If you're mulling over this question, chances are something is preventing you from wholeheartedly accepting that bridesmaid or groomsman proposal. For those who identify with any of the situations below, chances are your friend will be more inclined to understand why.
Your well-being is a priority.
In a time when events are taking place left and right, your personal wellness and health are of tantamount importance. On a daily basis, your mental, financial and relationship wellness should come first. Without these combined forces in place, it becomes challenging to properly become a support system to your loved ones—including the couple. If you feel you're simply not in the place to be a bridesmaid or groomsman due to your general well-being or health, it's OK to discreetly disclose this to the couple. They want to be at their best as they celebrate this life milestone, and naturally want their friends to be there too.
Your schedule is chaotic.
Maybe you have to travel for your job every other weekend. Maybe you're starting a family, anticipating that you'll be expecting soon, or parenting young kids. Maybe you're caring for an ailing family member or moving to an international destination shortly. In whatever scenario, you can't help it that you're booked months in advance, between work, family and other commitments. Being in a wedding party can sometimes feel like a full-time gig, and if your current work-life balance leaves zero wiggle room, the courteous way to convey that is to be honest about it.
Let them know that although you'd love to be able to make time for the wedding festivities, it's simply not in the cards for you right now because you already feel stretched way too thin. Hopefully, they'll understand how important it is for you to not push yourself.
You fear debt.
Being in a wedding party is pricey—between traveling, stays, experiences, gifts and other expenses. Of course, the investment is worthwhile as you share lifelong experiences with your besties. (This editor, for example, has enjoyed several international bach parties and will forever be grateful for the memories.) However, the rumors are true: the average cost of attending a bach party starts at $300 for a single-night event and goes up to $2,000, depending on the length of days and the destination of choice. If you're already in a financial hole and you know being in a wedding would put you back tenfold, you have to be honest with the couple. Talk to the bride or groom about your current budget and the challenges you might face with being in the wedding party. A word of caution, however: If you're facing debt or worrying about incurring costs, be thoughtful about what you post on social media. It could get personal if your friends feel you're prioritizing Balenciaga over bridesmaid duties.
You've grown apart.
Maybe this is an old college friend of yours that you haven't seen in years—or you haven't spoken to in the last year. (It happens!) Some people view relationships differently and yes, as each individual evolves, so do certain friendships. While you were likely close at one point in your life, you may feel like distant acquaintances now. Don't feel like you have to accept the proposal because of what your friendship once was. Instead, consider where your friendship now stands. Simply tell them it wouldn't feel right to be in a wedding party right now, but you'd love to get your friendship back on track in another way.
You've never felt close.
Or maybe you weren't that good of friends to begin with. If an acquaintance inexplicably asks you to be in a wedding party, you can feel put in a pickle. Clearly they didn't have better friends to ask, so should you automatically say yes because you feel bad? Not necessarily. While it'd be a kind gesture, if you're not feeling up for it, simply tell them so in the nicest way possible. Say you're happy you two have started a friendship and you'd love to be a part of the day, but you don't think you could give it your all as a wedding party member right now.