4 Essential Makeup Tutorials You Should Know
Leading up to your wedding, you'll be in the spotlight more than you think. These step-by-step tutorials will ensure you're always photo-ready.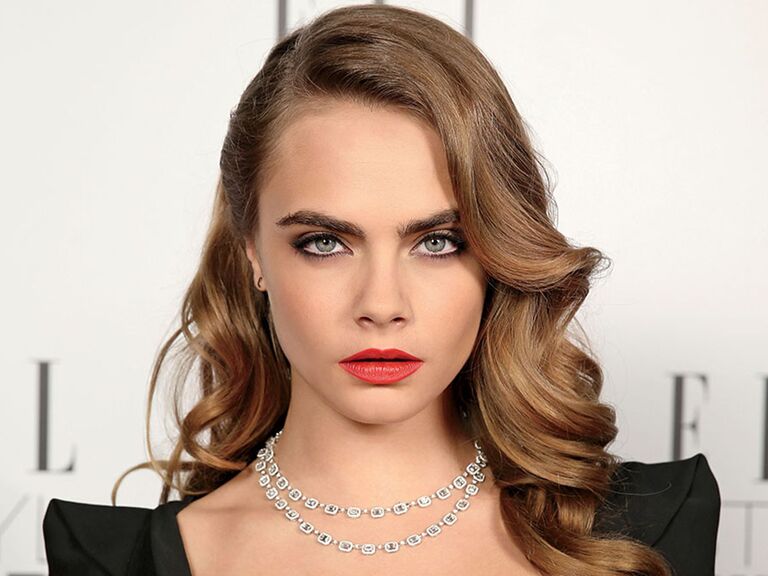 Your wedding day isn't the only party to look forward to after getting engaged. Don't be surprised if your friends and family start tripping over themselves to throw a cocktail hour in your honor or offer up their services for bridal showers and engagement parties. For all those moments when you'll want to be photo-ready (and look smouldering hot in all your Instagram shots), we have a few step-by-step beauty tutorials straight from the experts.
From perfecting a bold brow to defining your collar bones for a sexy strapless dress, here are four essential beauty tutorials that will help you master all the hottest beauty trends.
1. How to Fake Bold Brows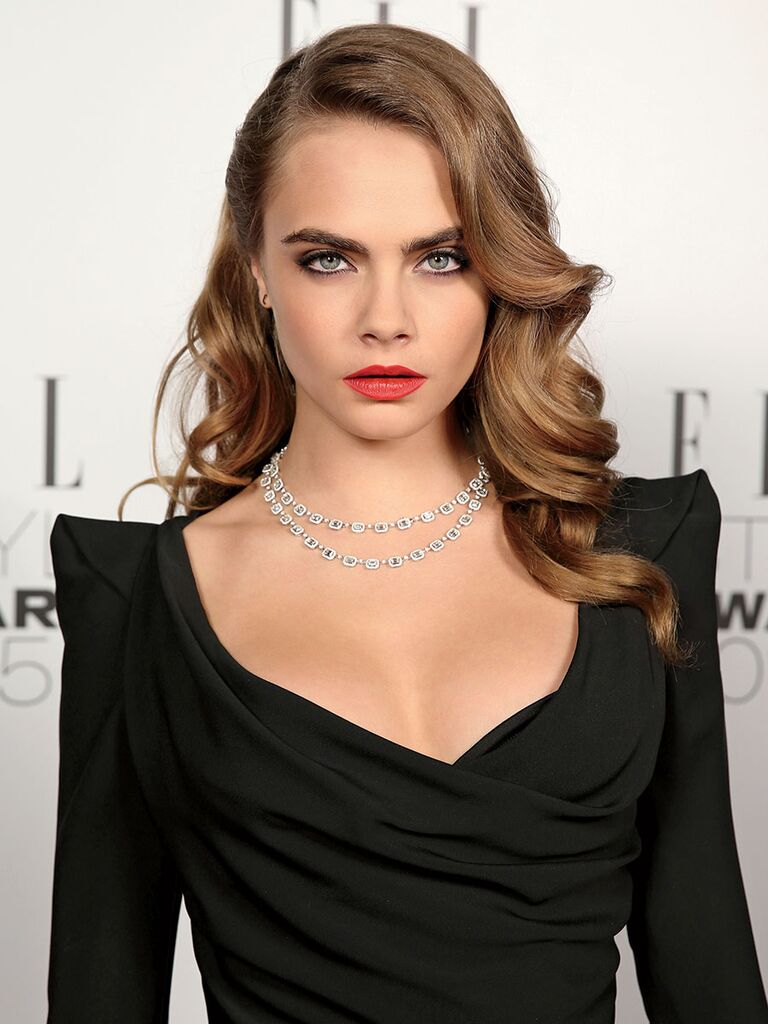 Before getting out any products, visualize the brow shape you want to achieve. The front of your brow (also called the "sprouts") should line up with your corresponding nostril, your arch should hit around the outer edge of your iris and the tail of your brow should end at your temple.
Step 1: Fill them in. Using a brow pencil, fill in your brow starting at the sprouts. Draw short, hairlike strokes and follow your natural brow shape, lling in any especially sparse or bare areas. To create a sculpted arch, hold tweezers at an angle between the front of your brow and your arch and pencil in any extra space. (Try: Make Up For Ever Pro Sculpting brow pen, $27, MakeUpForEver.com)
Step 2: Craft your own volume. After drawing your desired eyebrow shape, use a spoolie brush to groom hairs up for a lift. A little extra volume can dramatically open up your eyes. (Try: Sonia Kashuk spoolie brush, $2, Target.com)
Step 3: Shape. Once you've finished filling in and brushing, remove unwanted hairs with angle-tipped tweezers. Only tweeze below your brow and not above—otherwise, you risk tweezing too much of your arch, which can make your eyes look droopy. (Try: Tweezerman Slant tweezer, $23, Tweezerman.com)
Step 4: Trim to the perfect length. Using a spoolie brush, comb hairs upward then trim any that hang over the edge of the brush with cuticle scissors. (Try: Tweezerman cuticle scissors, $13, Tweezerman.com)
Repeat the same techniques on brow number two. For a symmetrical look, the tops of both of your arches should be at the same point. Don't worry if your brows don't look perfectly identical—it's normal to have slightly different brow shapes.
Step 5: Set your look. Dust translucent powder over your brows to soak up natural oils. Sweep clear brow gel through brows for extra hold. (Try: NARS Light Reflecting loose setting powder, $37, NARSCosmetics.com; Benefit Cosmetics Ready, Set, BROW! clear brow gel, $24, BenefitCosmetics.com)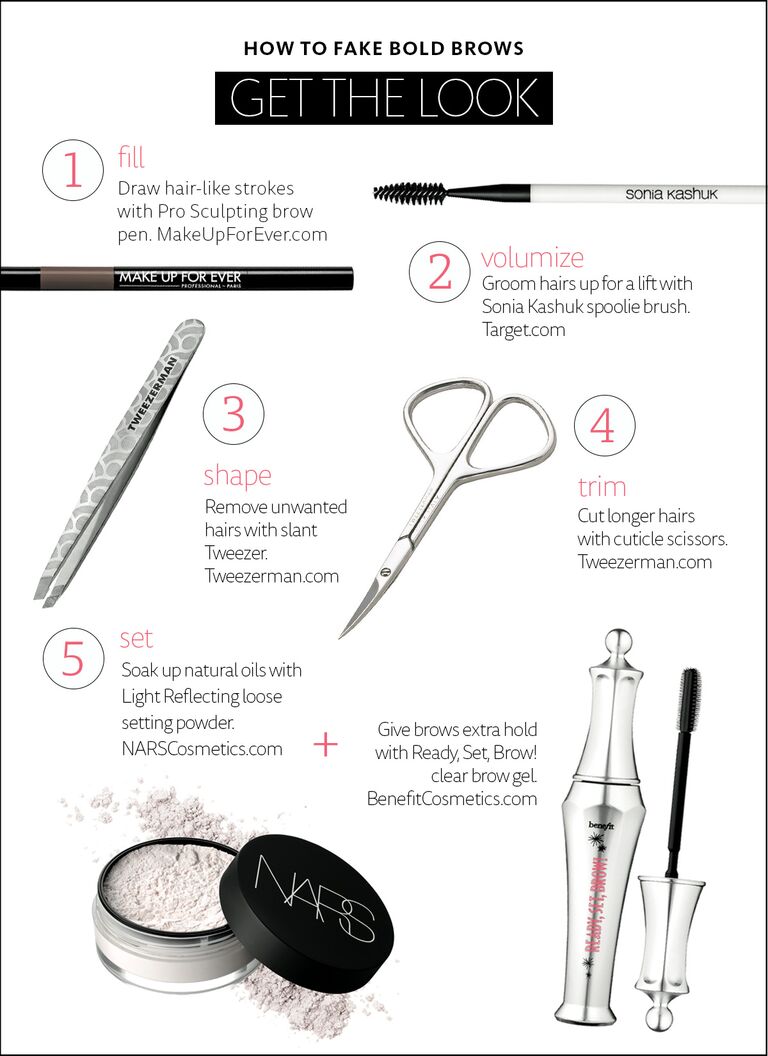 2. The Purr-fect Cat Eye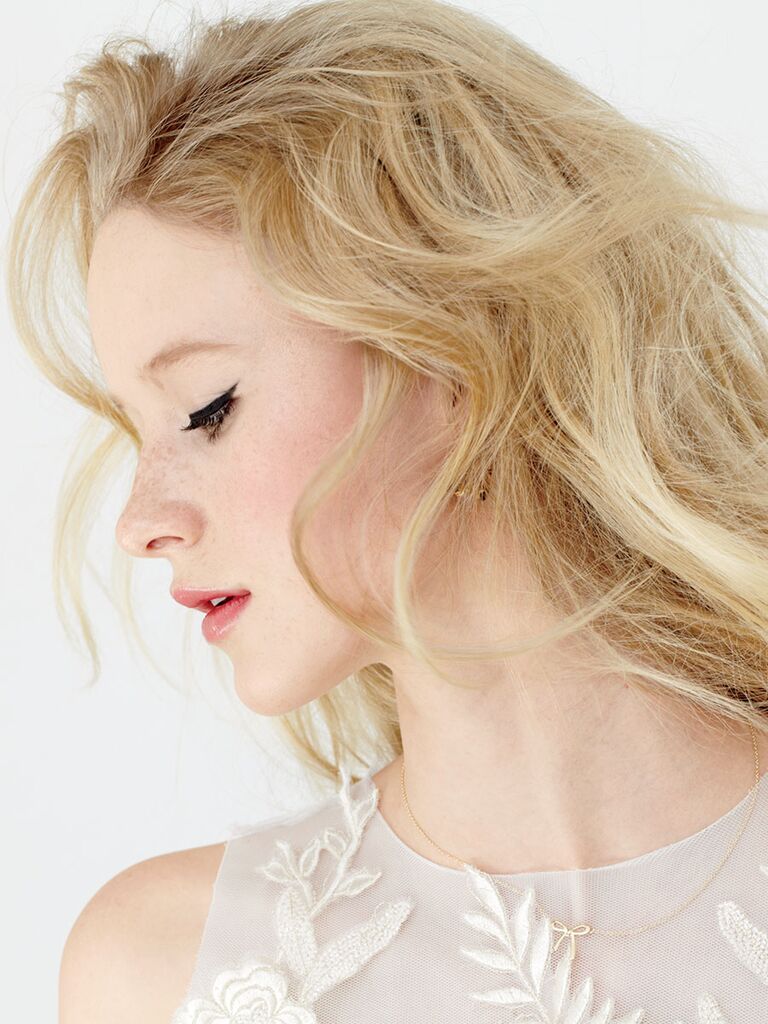 Giorgio Armani's celeb makeup artist Tim Quinn shared his genius how-to with us.
Step 1: Stay Moisturized. Dab and tap a pea-size amount of eye cream around your ocular bone using your middle or ring finger. This will hydrate the skin around your eyes and ensure the other products layer on top of your skin evenly and smoothly. (Try: Giorgio Armani Crema Nera Reviving eye cream, $180, GiorgioArmaniBeauty.com)
Step 2: Address your brows. A strong brow will balance your entire makeup look. Use a brush to apply tinted brow gel to perfect and shape each brow. (Expert tip: Choose a formula that's water resistant, so you won't have any smudging.) (Try: Giorgio Armani Eye & Brow Maestro, $35, Giorgio ArmaniBeauty.com)
Step 3: Outline your lid. Fill in your lash line (the area right at the base of your lashes) with a waterproof eye pencil to make your lashes appear fuller. Then trace a thin line along your lashes toward the outer edge of your eye, gradually thickening the line. (Try: Sephora Collection Contour eye pencil, $10, Sephora.com)
Step 4: Create the "cat tail." Using a liquid liner, start drawing a line from outside the outer corner of your eye and connect it to the pencil line on your lid. Gradually thicken the line to the desired look. Then, go over the rest of the pencil liner with the liquid formula to set it. (Try: Stila Stay All Day liquid eyeliner, $22, Sephora.com)
Step 5: Coat your lashes. If you want to add false lashes, consider trying a combo of strip lashes and individual ones. This will add volume, dimension and a slightly seductive touch. Then, whether you used falsies or not, finish with a coat of waterproof mascara. (Try: Maybelline New York Great Lash waterproof mascara, $7, Drugstore.com)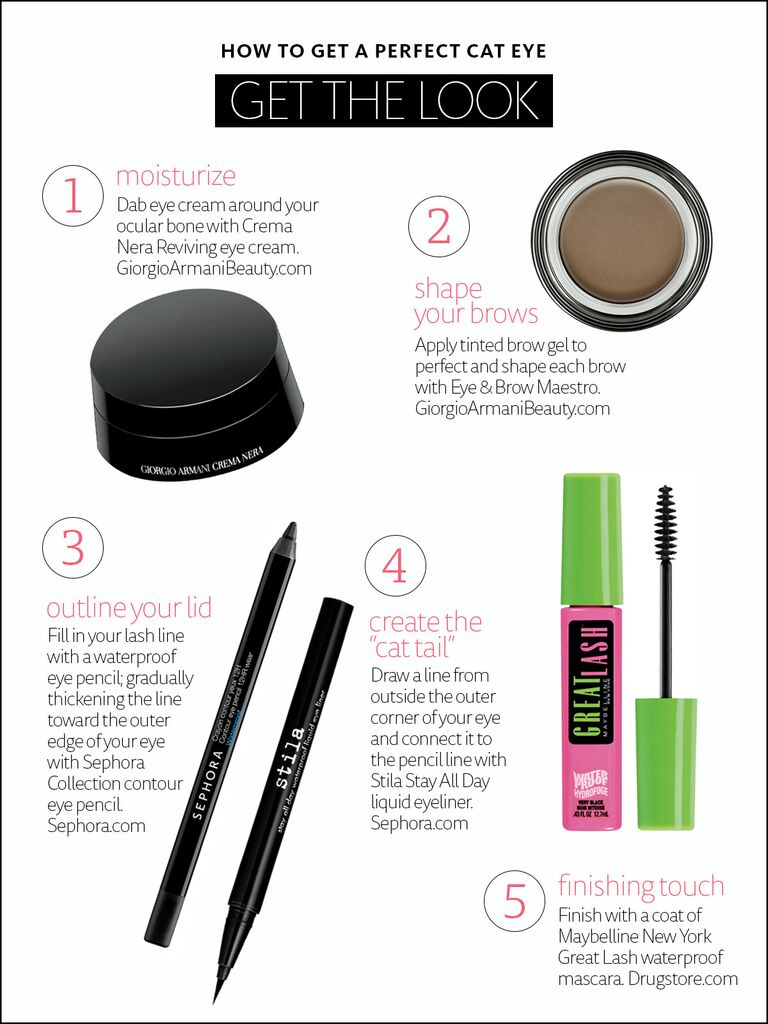 3. A Bronzed Glow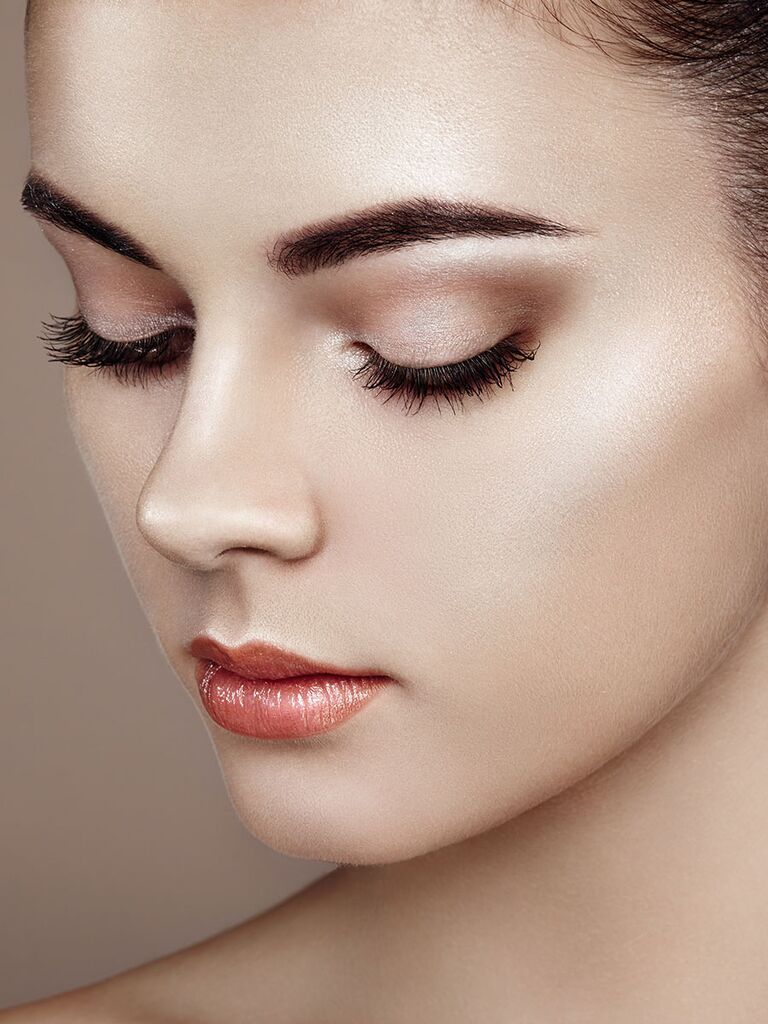 Celebrity makeup artist and founder ofMally Beauty, Mally Roncal, explains how gettinga gorgeous glow is easier than you think.
Step 1: Frame your face. Starting from the back of your ear, bring your bronzer brush down your jawline. That way, if there's too much product on the brush, it won't be as noticeable. Then, continue around your face, under your chin and along your hairline. Choose a dome-shaped brush that pulls double-duty—contouring and highlighting. (Try: NARS Mie Kabuki Brush, $55, NarsCosmetics.com)
Step 2: Light bronzing. To get a sun-kissed finish, gently swirl bronzer across your forehead, over the apples of your cheeks and on your chin. Don't cover your entire face with product—it will flatten out your features and look fake. Pick a bronzer with golden undertones to complement any skin tone. (Try: Laura Mercier Matte Radiance Baked powder, $42, LauraMercier.com)
Step 3: Highlight. A highlighter will give you extra glowing and defined cheeks. To quickly contour your face, use your ring finger to dab a cream onto your predominant features: the tops of your cheekbones, the tip of your nose and your Cupid's bow. A sheer highlighter bounces light off your skin to illuminate bronzed features. (Try: Smashbox Halo highlighting wand in Pearl, $29, Sephora.com)
Step 4: Pop of pink. Smile and sweep a rosy blush across the apples of your cheeks and onto the tops of your eyebrows for a natural-looking flush of color. A silky blush glides on smooth and diffuses for a matte finish. (Try: Mally Beauty Blush singles, $22, MallyBeauty.com)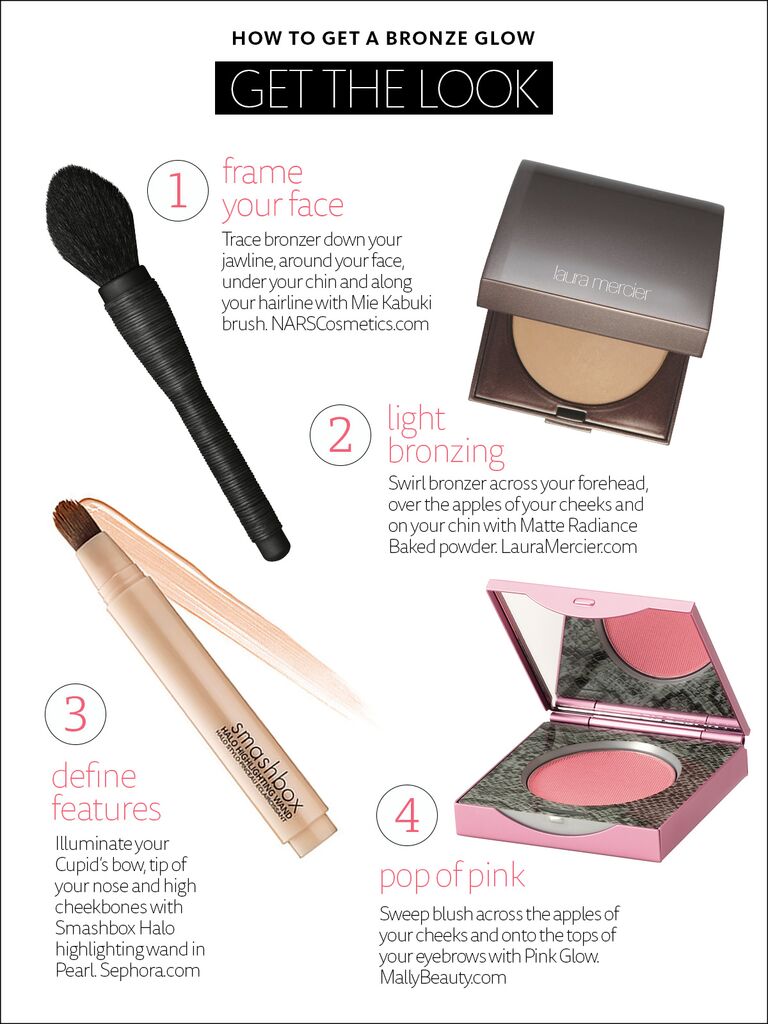 4. Sexy Collarbone Contouring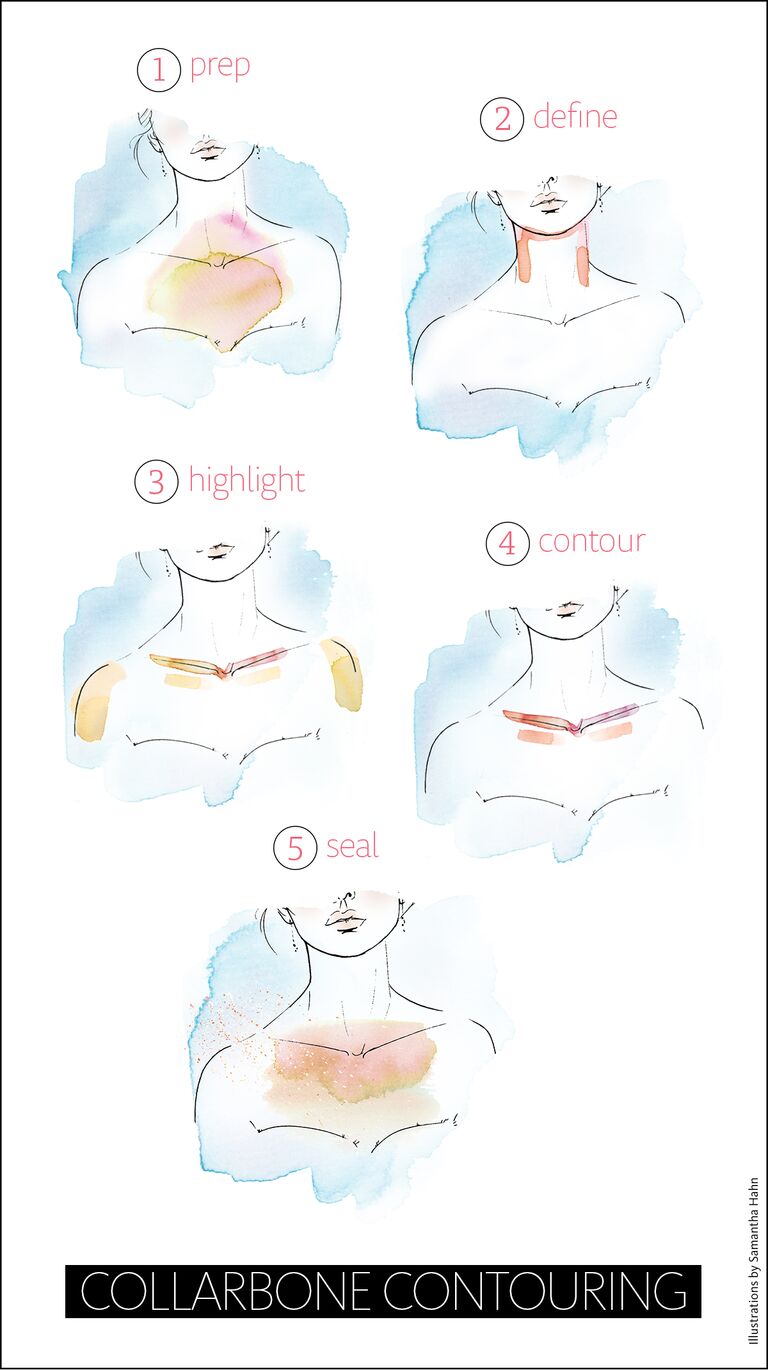 While sculpted cheekbones are all the rage, here's how the contouring trend can be used to define your neck and shoulders too.
Step 1: Prep. Dust your neck and chest with powder before applying a bronzer or highlighter. Powdered products will be more difficult to blend over an unpowdered surface. (Try: Lancôme Translucence pressed powder, $32, Lancome.com)
Step 2: Define. Use an angled brush to softly blend a matte bronzer underneath your jawline and along the sides of your neck for definition. (Try: Smashbox Contour kit, $45, Sephora.com)
Step 3: Highlight. Use a large blush brush to apply a shimmery highlight powder on the collarbone and shoulders. (Try: Make Up For Ever Large foundation brush, $36, Sephora.com)
Step 4: Contour. Take your bronzing powder and dust it lightly just above and below the collarbone. Avoid contour products that contain glitter—they'll look artificial on your skin. (Try: NYX Cosmetics Illuminator, $9, NYXCosmetics.com)
Step 5: Seal. To make sure you don't transfer any makeup onto your white dress, spray the area with a light mist of hairspray. This will create a protective barrier between your skin and your dress. (Try: L'Oréal Paris Elnett Satin hair spray, $15, Drugstore.com)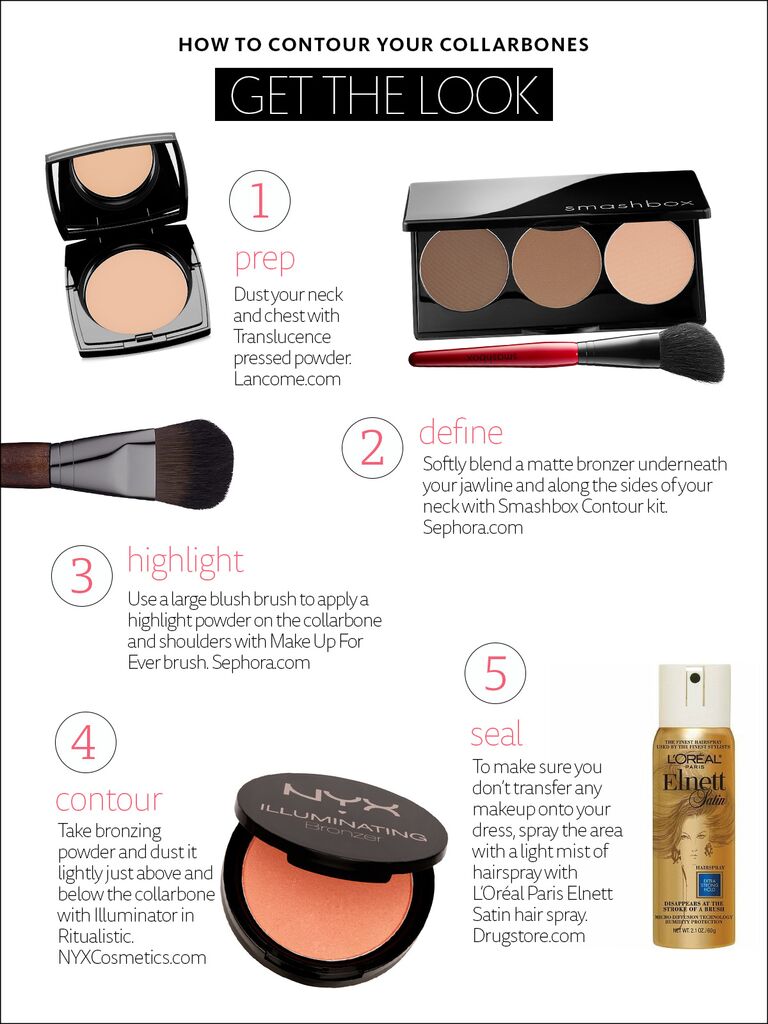 Want more wellness and beauty tips? Right here!