7 Pieces of Advice to Help You Ace Newlywed Life
It's time to have the "big" conversations with your significant other. Here's how.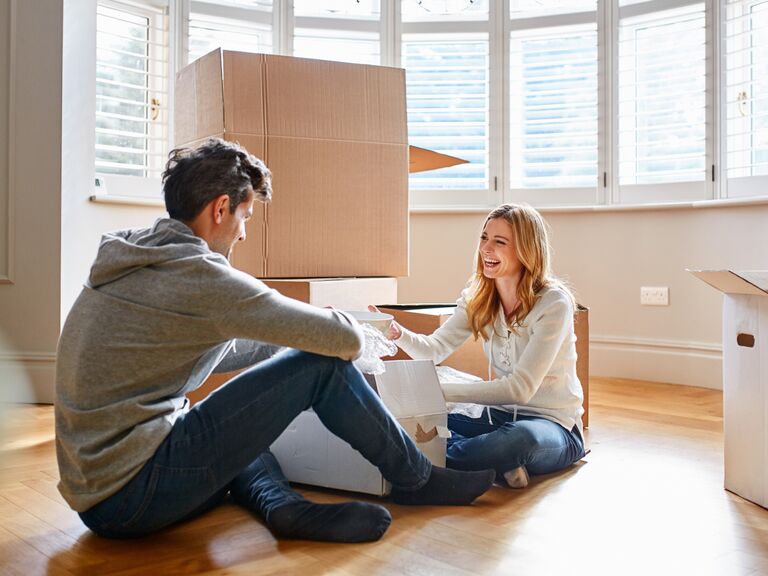 Getty Images
Chances are, you've spent the past year-plus planning every last detail of your wedding, from save-the-dates to hotel blocks. But sometimes the focus on your impending nuptials steals the spotlight from preparing your relationship for beyond the big day. So, what if there was a checklist of all of the things you should consider doing as a couple to prep? That's where we come in. We've tapped a roster of relationship and finance experts for the top pieces of advice they'd give any newlywed to help take on year one and beyond. Keep scrolling, and then share with your S.O.
Have a relationship reality check—and keep checking in.
What does the ideal marriage look like to each of you? "It's important to have open discussions about any and all preconceived expectations that either of you are consciously or subconsciously bringing into the marriage," says relationship expert Alysha Jeney, founder of Modern Love Counseling. Things to think about: Where do the expectations come from? Are they realistic? Most importantly, do they align? Of course, these concepts are subject to change, but it's always worthwhile to make sure your communication is effective and that you're understanding one another. This practice is something you should maintain in the future, so set a time every year to make sure you're still in sync.
Discuss your five- and ten-year goals.
Now's the time to take the "you" out of this and focus on the "we." Your goals can be financial, related to travel, family planning and more. "Couples will often come into counseling who are struggling with being on the same page and who believe they are growing in different directions because they did not discuss these desires," says Jeney. The best way to approach it is to make sure you're aligned about your plans for the next few years. "It's reassuring as a newly married couple to feel like a team working toward the same goals and aspirations together," she says.
Plan for an emergency.
Being prepared for an emergency will add an additional element of stability to your relationship. "You have to talk about all the what-ifs," says consumer finance expert Andrea Woroch. "What if one of you loses their job, gets hurt, or even worse, loses their life?" First, set up an emergency fund with three to six months of living expenses—this will ensure that you can pay your bills on time and without incurring any debt. It's best to put this money into a high-yield savings account, so it will be easy to access when needed. Pro tip: Set up an automatic transfer from your paycheck into the account—out of sight, out of mind.
Preparing for an emergency also includes getting life insurance, on top of home and auto coverage. Also consider any debt you may have, how much cash you have in the bank and in investment accounts, the value of your assets and how many people rely on you financially. An easy way to make the most of your insurance is to use the State Farm Personal Price Plan™, which keeps more money in your wallet by helping you personalize your options at an affordable price for you.
Share your financial past and future dreams.
It's not uncommon for couples to disagree about finances, but if you don't prioritize having those conversations and compromising when it comes to financial values and goals, you could be in for a surprise down the road. Our two cents? Talk about your finances to get your "happily ever after." Start by asking questions about how your parents spoke about or managed money. You can also talk about whether you'd like to keep your accounts separate, how you'll split the bills (if you don't already), the type of home you want, and how often to and how you'd like to travel.
The hallmarks of a healthy relationship are transparency and trust—which includes the details of your financial histories. And if there are topics like debt to discuss, talk openly and honestly, be accepting and tackle them together.
Set a joint budget that works for you.
It's not uncommon for spouses to have conflicting views on spending and saving, so setting a budget can act as a two-tier approach. Determining your budget will help identify your priorities, and maintaining it will then help guide your spending decisions. Make sure the budget is realistic, and remember that you're probably going to need to make compromises. You can (read: should) also set spending rules that you both agree on—for example, any purchase either of you make over a certain amount needs to be okayed by both parties. This type of guideline works well whether you decide to keep separate accounts for your discretionary spending or merge all of your accounts. No matter how you choose to set up your finances, designate joint financial goals for the future and a budget to make sure you meet them.
Call on the pros and keep the conversation going.
Even if managing money is a breeze for you, know when to tap a financial advisor, retirement planner, accountant or estate attorney. Remember that just because you work with an expert—financial or otherwise—doesn't mean you need to work with them long-term. The biggest priority for any topic is to always keep the conversation going. With time, your needs will change as a couple, and you'll want to reassess to make sure you still have the same goals, and ultimately, are still on the same page.
While these steps require hard work, it will likely be some of the most gratifying you will do. "Expect to be challenged by your partner for the rest of your life," says Jeney. And being challenged in this way isn't a bad thing—it just means that you and your significant other are embarking on the most intimate partnership you'll ever have. "Marriage is truly a gift, but one that calls for humility, self-awareness, and a willingness to go deep and look at parts of yourself that you don't normally like to look at," says Jeney.
*Disclaimer: Prices are based on rating plans that vary by state. Options selected by customer, availability and eligibility may vary.
About the experts:
Alysha Jeney, MA, LMFT, is a licensed marriage and family therapist and the founder of Modern Love Counseling and Modern Love Box in Denver, CO. The relationship expert offers counseling services for adult couples, specializing in intimacy building and existential exploration.
Andrea Woroch, is a consumer finance and budgeting expert, writer and speaker with a passion for empowering women to control their financial future.