Everything You Need to Know About Wedding Aisle Runners
Learn the history and get answers to all your aisle runner-related questions.
Wedding aisle runners are a common ceremony decoration at many celebrations. They come in numerous different forms and can work for any wedding theme, venue or season. And like many wedding details, aisle runners have a reason for their presence in modern-day nuptials, even though their origin is actually quite old-fashioned. If you're considering having a wedding aisle runner at your ceremony, read below to learn how long it should be, its proper placement, its purpose and much more.
What Is a Wedding Aisle Runner?
A wedding aisle runner is a long piece of fabric placed on the ground that starts at the entrance or threshold of the wedding ceremony venue and ends at the altar. Typically, the aisle runner splits the (indoor or outdoor) ceremony seating into two sides and is the path the wedding party and to-be-weds walk down during the processional and recessional. There are no rules attached to aisle runners, which means couples can get creative with its fabric, color and pattern.
The Wedding Aisle Runner Meaning
Aisle runners are a favored wedding tradition used by couples from different cultural backgrounds and faiths. The exact origin of this myth isn't known, but it's believed that aisle runners for weddings were invented to protect couples from the evil spirits underneath churches' floors. Gradually, the wedding aisle runner served a different nonspiritual purpose. In the days when roads were unpaved, wedding guests would arrive at the church and track in dirt or mud from the streets. It didn't seem right for the bride to drag the hem of her dress in the mud, so the aisle runner was used to protect her gown. Today, most indoor locations don't suffer from evil spirits or guests tracking in mud, but many to-be-weds use aisle runners as they lend a "regal" touch to the ceremony.
Frequently Asked Wedding Aisle Runner Questions
You've seen aisle runners at many weddings, but you might not know the ins and outs of having one at your celebration. Read below to get answers to the top questions about wedding aisle runners.
How long should an aisle runner be?
First, measure the walkway's length starting at the last row of ceremony seats to the front row––typically, couples have the wedding runner end right before the altar. Even though it's not common for wedding runners to be shorter than the length of your walkway, the final measurement is totally up to you. The width of an aisle runner is usually three or four feet, but there should be some space left between the runner and the ceremony seating. We recommend three-foot-wide aisle runners for couples with smaller indoor venues where space is limited. Four-foot-wide aisle runners are ideal for couples with large wedding venues where the aisle is more spread out and for couples who want their wedding party to walk down the aisle side by side.
Who walks on the aisle runner at a wedding?
Who walks on the aisle runner depends on a couple's wedding ceremony order, but traditionally, it's the to-be-weds, flower girl, ring bearer, bridesmaids, groomsmen and officiant. It's best to keep guests off your aisle runner so it's not damaged or moved before the ceremony starts. If you want the aisle runner set up before the guests arrive, we suggest roping off the aisle and having guests enter their seats from the outer end of each row. Ask your wedding ushers, who are traditionally responsible for rolling out the aisle runner, to escort your guests to help avoid the aisle runner area. If you don't want to risk anyone stepping on the aisle runner, have someone put it out after all your guests have been seated. But remember, you determine who walks on the aisle runner, whether that's all your wedding guests or your pets.
What's the best material for a wedding aisle runner?
Typically, wedding aisle runners are made of polyester, nylon or canvas. Polyester wedding runners are long-lasting and non-slip, which lowers the chances of you and everyone else falling. Nylon wedding runners are another good option but can be slippery depending on the surface underneath. Lastly, canvas wedding runners work well for indoor and outdoor weddings, plus they're non-slip.
Keep in mind that you should purchase an aisle runner that's best for the type of environment where your wedding ceremony is taking place. For example, for outdoor weddings, a cloth or plastic aisle runner over fresh grass should be backed by plywood or something solid. By doing so, no one's heels will go through the aisle runner into the soft ground beneath (a solid surface will also block any moisture coming out of grass or dirt). Ask your wedding planner or venue coordinator for guidance before choosing your final aisle runner so you can have one that withstands all-day use.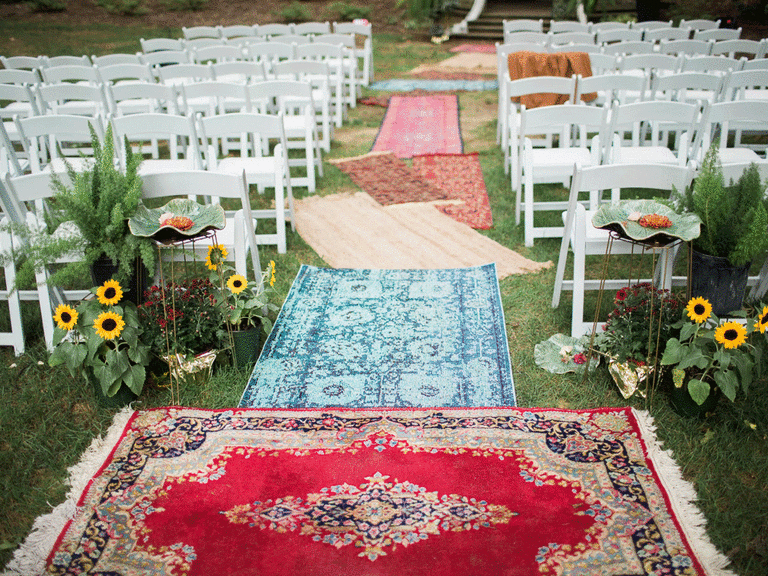 How do I secure the aisle runner for my wedding?
It's important to have someone properly fix the wedding runner to the ground so there are no accidents. For carpet aisle runners at indoor weddings, use strong double-sided tape along the sides of the runner so it doesn't shift. For outdoor wedding runners, use pins or nails to secure the runner to the ground and be sure to level the surface underneath as best as possible. Some runners even have grommet holes to prevent the material from tearing, or you can add them yourself if you want extra protection.
Do you need an aisle runner for a wedding?
Having a wedding aisle runner is optional, but aside from improving the look of your ceremony space, an aisle runner also provides a few practical benefits:
An aisle runner will keep the bottom of your and your wedding party's attire clean, especially if you're getting married outdoors.

Your little wedding attendants (flower girl and ring bearer) will know which direction to go when walking down the aisle.

A wedding aisle runner covers floorboard scratches, gravel or patchy grass that you don't want to see in wedding photos.

An aisle runner adds elegance and flair to any wedding theme.
Are there alternatives to wedding aisle runners?
Make your aisle runner unique by personalizing it with your wedding date, your names or monogram, photos or a meaningful quote. But if you don't want to use the classic fabrics offered, there are other options. Having a rustic wedding? Spread mulch into a rectangular shape as your walkway guide. Planning a romantic garden ceremony? Make an aisle runner out of rose petals. For a boho theme, rent or collect antique rugs and line them up along the aisle. The possibilities are endless, so don't be afraid of being creative when making your wedding aisle runner design.
What do you do with an aisle runner after the wedding?
Depending on the condition of the aisle runner, you may want to save it as a wedding keepsake. To decrease the number of people walking on the aisle runner, ask your ushers to roll up the runner after you and your wedding party recess. For extra measure, have your officiant tell your wedding guests to stay seated until the end of the ceremony.