What to Look for in a Wedding Ceremony Site
Searching for the perfect ceremony spot? Double-check all these details before making your final decision.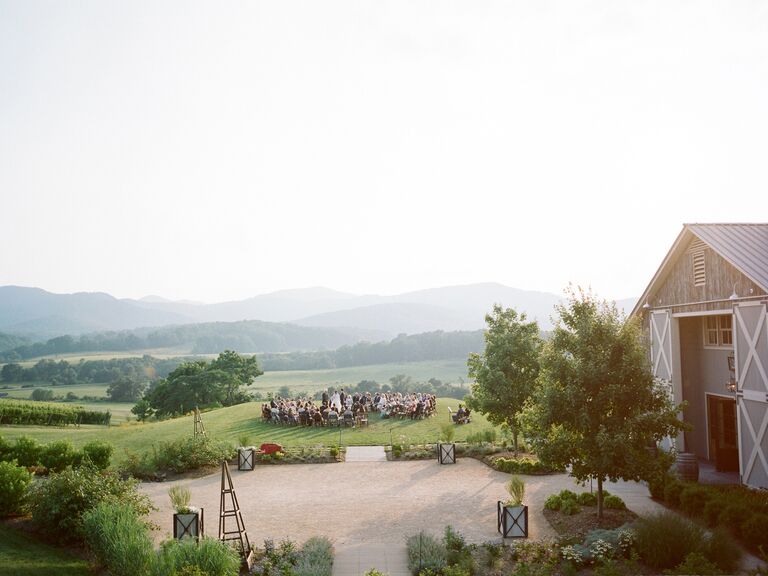 Eric Kelley Photography
Figuring out where to have your wedding ceremony is one of the first steps to planning your big day. A beautiful wedding ceremony location serves as the setting for this important milestone, so there are lots of factors to consider. Whether you're looking for the perfect spot at the same venue as your reception or a different location altogether, your wedding ceremony site should check off all these must-haves.
The venue fees or donations work for your budget.
The venue manager should tell you the cost of renting the space for the ceremony up front. If you're getting married in a house of worship, call and ask about the suggested donation amount or talk to other couples who got married there to make sure it won't throw off your budget. Similarly, if you're getting married on the beach or in a public park, inquire about any permits you might need to get hitched there.
The reception venue is nearby and easy to access.
If your wedding reception venue doesn't have what you're looking for in a ceremony space, or there are other constraints, then it may make sense to have your ceremony in a separate location. Just remember, if you have your ceremony and reception in different spots, you'll end up paying more for several details including transportation, venue fees and even photography and videography, because hosting your wedding in two different places usually takes more time—and more wedding planning logistics. Minimize the added expenses by keeping your ceremony space nearby or close to your reception venue if you can.
It can fit all your guests.
It seems obvious, but we can't emphasize enough how important this point is. The maximum capacity of a space is usually set for fire safety regulations, so this isn't something to take lightly. In fact, it's possible that overfilling the space might lead your ceremony venue to turn you away or stop guests from coming inside (yikes!). If the wedding venue you love can't fit the number of guests you're inviting, you'll need to decide whether your priority is the ceremony space or cutting your guest list. If you're scoping out a spot, a good rule of thumb is to have at least 10 square feet per guest­—that's not factoring in the space you'll need for your aisle, altar and musicians. Also consider the seating arrangement when calculating whether you'll have enough space. A circular or amphitheater setup may require more room than traditional rows. The event coordinator or your wedding planner should know the exact guest count the space can accommodate and help you determine the best layout.
You can use or rent the space for as long as you need—without feeling rushed.
You'll need access to the ceremony space for at least two to three hours so there's enough time to set up and break down without feeling pressured, especially if there's another wedding before or after yours. You may also want access to the space ahead of time for family photos and portraits. On the opposite end of things, some venues may have a minimum amount of time they'll allow you to rent the space, and if the minimum time is way more than you need, you'll likely end up paying for it, which is something to negotiate with the venue and factor into your budget.
It has the must-have amenities.
The average ceremony lasts about 30 to 45 minutes, which may not seem like a long time, but most of your guests will arrive 15 to 30 minutes early, and it takes a few minutes to exit the venue. Altogether, it's enough time that your guests will need easy access to a restroom and shouldn't be sitting in sweltering heat without shade or left out in the cold without heat. Take into account whether there are basic amenities in place for your guests, like restrooms, parking, heating or air-conditioning and what the cost will be if you'll need to bring in, say, portable restrooms, valet service, heaters or umbrellas for shade. "If there are no outlets in reach, you can always use a small, portable generator as a backup," says Annie Lee, founder of Daughter of Design.
Once you've ticked all the basic essentials off the list, think about other less crucial (but still important) details, like whether the site allows candles or other décor you want to include, or if it's possible to set up amplified sound. "If it's an outdoor ceremony, you don't want the officiant to sound like they're screaming at the top of their lungs, or if they can't shout, many won't be able to hear," says Jeannie Savage, founder of Details Details. Also, if your potential venue is outdoors, see if it has backup options in case the weather takes a turn for the worse, and what the costs are.
There's flattering lighting for the time of day you're getting married.
Aside from the walk down the aisle, you'll be standing in one place for the majority of the ceremony, so it's important that lighting is just right for wedding photos—and so your guests can actually see what's going on. If your ceremony will be outside, figure out how the sun will hit at the time of day you're planning to get married. Indoors, the sun can make an impact on the lighting of the space if there are large windows. "Think about the time of sunset and how much light will be coming in. For example, you don't want weird tree shadows cast or guests glaring into the sun," Lee says.
There's a Plan B in case of bad weather.
While we're all hoping for sunny skies on your big day, if you're planning an outdoor wedding ceremony, you'll need to prepare for bad weather, too. While having your wedding ceremony outside is probably your first choice, you should also be happy and comfortable with the indoor option, as well. Have your wedding venue coordinator walk you through the Plan B, whether it's a tented ceremony or a fully indoor event, during your site tour. Also, discuss when you'll have to make the call on whether you're hosting an indoor or outdoor ceremony (usually a few days before the wedding).
There's plenty of peace and quiet.
Having some privacy is important for your reception, but more so for the ceremony—especially if you're hosting an intimate wedding day or elopement. This is the time when you want to be fully present, and any loud noises or unexpected passersby can take away from the intimate, romantic feeling and distract your guests. Ask the venue manager questions about whether you'll have the space to yourselves on your wedding day and how they plan to keep others out if there will be a few special events that day, or if there are public spaces nearby. If you're getting married in a public place, like a park or museum, where it may not be possible to be totally secluded, you'll need to decide if not having a guaranteed private wedding is something you're okay with in order to say "I do" in your dream ceremony space.