20 Aisle Marker Ideas for Your Wedding Ceremony Chairs, Benches or Pews
These petite adornments are the finishing touches for your decor.
With options ranging from carefully designed floral arrangements to simple clusters of candles, using aisle markers for your wedding ceremony is one way to really personalize the space. Depending on the types of wedding chairs or ceremony seating you have, the aisle markers can be tied up with ribbons, suspended from decorative hooks or simply placed on the ground. Fresh flowers are some of the most common wedding aisle decor ideas, but that's only scratching the surface. Whether you're working with traditional church pews, folding chairs, low benches or something else, here are 20 different ways to incorporate aisle markers into your wedding plans and decor.
1. Lantern Wedding Aisle Markers
Fitting for boho and vintage-inspired wedding themes, antique-style lanterns will accent the aisle without the need for additional ceremony decor or flowers (unless you want to include them). Pair lanterns in various sizes and designs for an eclectic look—after the ceremony, they can be moved into the reception space while guests enjoy cocktails.
2. Reserved Sign Wedding Aisle Markers
Elderly guests and loved ones traditionally sit near the front of the ceremony venue. You can use your aisle markers as decorative and functional details by adding "reserved" signs to small bouquets of flowers and ribbons.
3. Potted Trees as Wedding Aisle Markers
We love this creative, eco-friendly aisle marker idea for your wedding day, especially if you're getting married indoors and want to bring a bit of the outdoors in. Use potted trees, like these olive tree saplings, to accent rows of chairs or benches along the aisle. They can be planted after the wedding is over or returned to your florist or wedding planner to reuse for other events.
4. Fresh Flower Aisle Markers on Acrylic Stands
Going for a modern vibe? Acrylic details, like this tall wedding centerpiece stand, remain popular for minimalistic aesthetics. Keep it extra chic with an all-white flower arrangement of anthuriums that look like they're floating on air.
5. Fall Wedding Aisle Markers with Foliage
Autumn is the perfect time to incorporate seasonal foliage into your fall wedding flowers. Add colorful leaves in natural yellow, red and orange tones to your wedding aisle chair decorations for a one-of-a-kind look.
6. Colorful Blanket Wedding Aisle Markers
Here's an idea to recreate if you're having communal wedding ceremony seating on the big day, like benches, pews or hay bales. Woven blankets provide a pop of color and texture when you drape them at the end of each row. And bonus: guests can use them to stay cozy during an outdoor wedding ceremony.
7. Hanging Floral Arrangements as Aisle Markers
If you prefer traditional ceremony aisle markers for your wedding, you can't go wrong with fresh flowers in small hanging vessels. This glass hobnail vase adds a little bit of sweet charm to the arrangement, but you could also use mason jars or mercury glass.
8. Greenery Swag Wedding Aisle Markers
Tie swags of eucalyptus and pampas grass to the chairs along your aisle for a relaxed, undone vibe. We like the neutral green and brown color palette of this combo, but you could use long-stem flowers like delphiniums to add other hues.
9. Wedding Flowers in Stone Troughs
A formal garden ceremony calls for decorative aisle flowers that are equally as elegant and classic. Line rectangular stone troughs along the rows of chairs, then add timeless white and green blooms, like hydrangeas, roses, peonies and eucalyptus.
10. Pineapple Wedding Aisle Markers
Need a no-frills (and non-floral) aisle marker idea for a beach wedding? Turn to fruit and greenery. This tropical combo of pineapples, monstera leaves and palm branches is decorative without detracting from the scenery of an outdoor wedding venue.
11. Candle Wedding Aisle Markers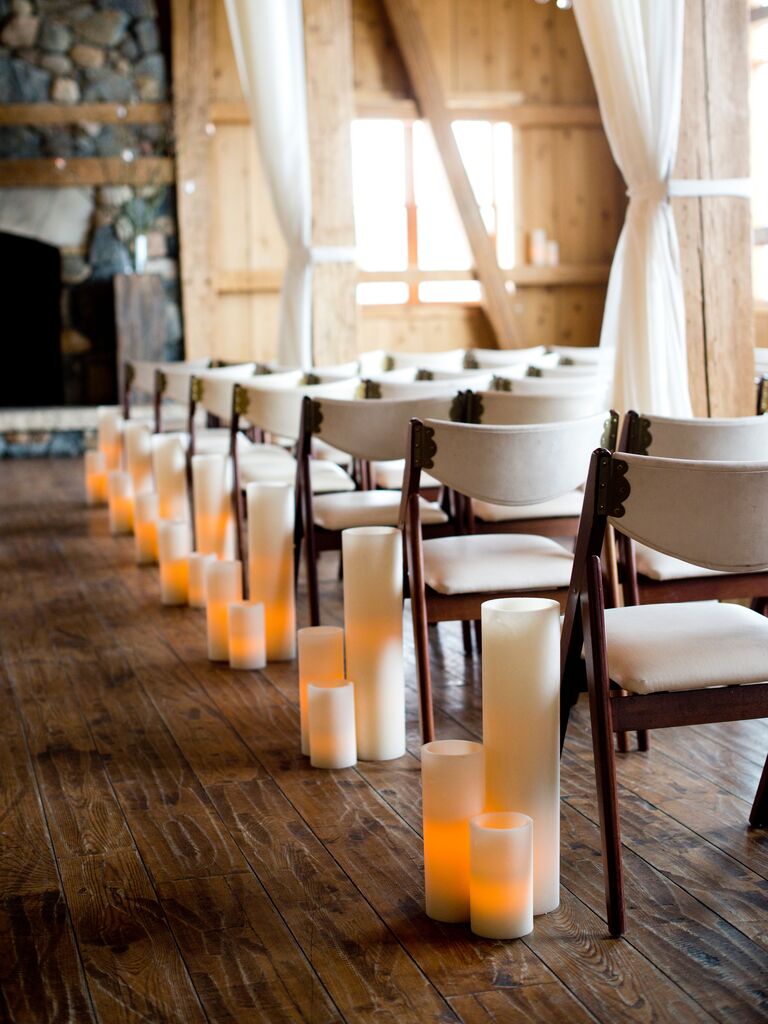 Perfect for both indoor and outdoor ceremonies, basic white candles will never go out of style. Choose pillar styles—either flame-lit or battery powered—in various heights for simple, chic wedding ceremony decorations.
12. Fresh Lavender Wedding Aisle Markers
Lavender bundles are cute and easy for a rustic theme or low-key summer backyard wedding, not to mention the lovely fragrance they'll add to the setting.
13. Terracotta Pot Wedding Aisle Markers
Another garden-inspired aisle marker idea we love: terracotta pots filled with wildflowers. The goal here isn't to make the floral design too neat or perfect—wispy blooms and mismatched arrangements are all part of the charming look.
14. Fern Wedding Aisle Markers
Ferns are a hidden gem when it comes to types of wedding greenery. Contrasting with the boho vibes of eucalyptus, fern fronds are a great choice if you're going for an earthier, forest-inspired aesthetic. They'll also tone down the formality of other details, like the upholstered gold chameleon chairs seen here.
15. Pomander Wedding Aisle Markers
Pomanders, which are rounded floral arrangements attached to ribbons or loops, are among the most classic types of pew markers for weddings. This bundle of ivory roses and greenery is ideal for a sophisticated, traditional ceremony.
16. Wedding Signs with Love Quotes
These chalkboard signs feature a popular Bible verse about marriage, 1 Corinthians 13:4, but you could recreate a similar idea with song lyrics, lines from a poem or other romantic love quotes.
17. Pumpkin Wedding Aisle Markers
If you're getting married in September, October or November, pumpkin wedding decor is one way to embrace the vibes of the season. Use gourds, squash and pumpkins in green, yellow or white hues if orange doesn't match your color palette.
18. Garland Wedding Aisle Markers
Fragrant garlands of evergreens and berries will complement a winter wedding theme. Drape the garland directly onto chairs or pews, or use shepherd's hooks to suspend it along an outdoor aisle.
19. Classic Urn Flower Arrangements
Place fresh flowers in gold chalice-shaped vases to give your aisle a traditional look. For even more visual detail, scatter rose petals as a makeshift aisle runner.
20. Chinoiserie Vase Wedding Aisle Markers
Love the coastal grandma trend? Blue and white chinoiserie vases will bring a stylish, airy element to your ceremony backdrop.