18 Pretty Ways To Decorate Your Ceremony Aisle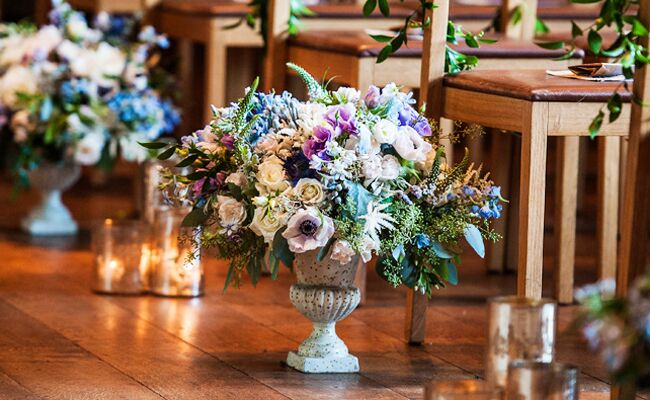 Erik Ekroth
As elaborate as a carefully manicured floral arrangement and as simple as a mason jar with a few stems, aisle markers add serious style to your ceremony. Flower markers not only help to define the space (perfect if you're working without traditional pews), they also add a fresh ambiance to the room. When it comes to adding wedding aisle decor to your ceremony setup, it can be as simple as creating a hanging arrangement for the chairs with herbs for a subtle fragrance or filling a paper cone with petals or confetti for a practical way to share your exit toss materials.
Wedding Aisle Decor Tip: Take the wedding aisle arrangements from the ceremony to your reception to double dip on your flower and decor budget!
For the ultimate inspiration for your special day, check out our wedding aisle ideas and see the different ways you can incorporate aisle markers into your wedding plans in the gorgeous photos below.
1. Pedestal Flower Arrangements
Place your flower arrangements in an eye-catching pot or pedestal to make them really stand out and make an impression along the aisle.

Photo: Erik Ekroth
From the album: A Rustic Elegant Wedding in Pocantico Hills, NY
2. Rose and Rosemary Mason Jars
This charming wedding aisle idea incorporates mason jars for a simple and rustic touch.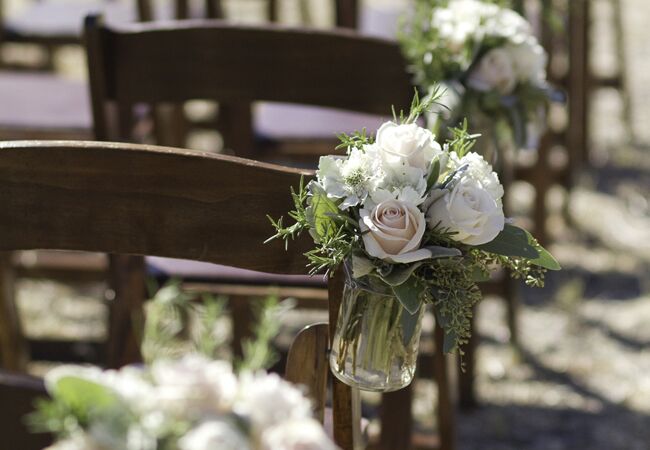 Photo: Isabel Lawrence Photography
From the album: A Rustic Mountainside Wedding in Los Olivos, CA
3. Paper Flower Chair Markers
There's no need to fork over more money for flowers. Simply grab some scissors and paper to construct these floral designs.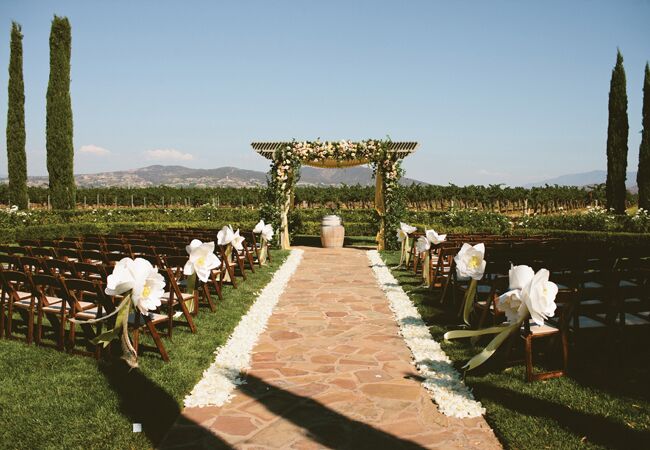 Photo: John & Joseph Photography
From the album: A Summery Vineyard Wedding in Temecula, CA
4. Tall Flowers in Galvanized Buckets
Line up metal buckets filled with flowers in front of each row of chairs for a sweet and stylish touch.

Photo: The Nichols Photography
From the album: A Vibrant Rustic Wedding in Austin, TX
5. Succulent and Moss Chair Ties
These dainty chair ties are a lovely way of creating pretty wedding aisle decor.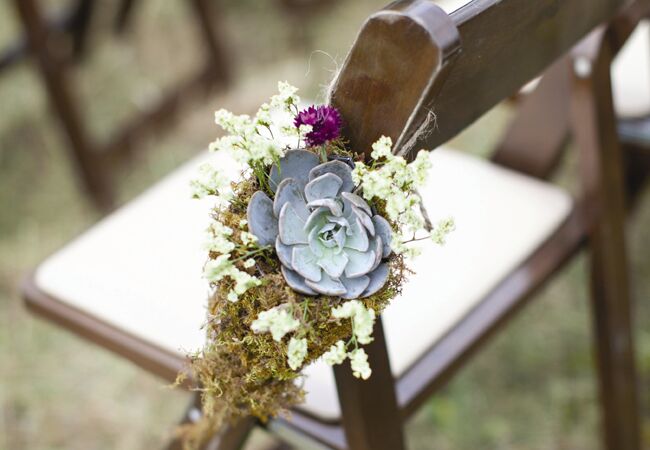 Photo: Peacock Photography
From the album: A Rustic Ranch Wedding in Washington, TX
6. Pedestal and Floating Candle Aisle Decor
Add some elegant drama to your special day with these impressive pedestals and floating candle arrangements along your wedding aisle.

Photo: Bob & Dawn Davis Photography & Design
From the album: A Glamorous Classic Wedding in Chicago, IL
7. Horseshoe and Burlap Markers
This rustic wedding aisle decor with a metal horseshoe charm would be perfect for a barn wedding in the countryside.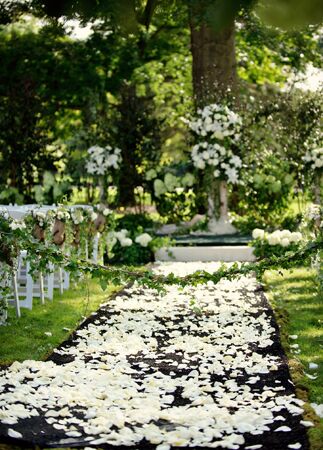 From the album: An Elegant Garden Wedding in Gates Mills, OH
8. Antique Lantern Garden Stakes
For this wedding aisle idea, fill lanterns with clusters of flowers for enchanting vibes.

Photo: Kristine Paulsen
From the album: An Elegant Country Wedding in Darby, MT
9. Cascading Petals Chair Decor
These cascading petal decorations are as pretty as can be. For extra charm, scatter petals along the aisle, too.

Photo: John and Joseph Photography
From the album: A Couture Romantic Wedding in Dana Point, CA
10. Peony Pew Decor
Give the pews some love at your church wedding with these flower arrangements. They're sure to provide the perfect pop of color.

Photo: The Purple Tree
From the album: A Colorful Modern Wedding in Beaver Creek, CO
11. Starfish Aisle Markers
Planning a beach wedding? Keep to your theme by including coastal wedding aisle decorations such as these fun starfish.

Photo: Brooke Mayo Photography
From the album: A Waterfront Wedding in Duck, NC
12. Petal Toss Cones
The flower toss isn't just for the flower girl. Invite your guests to get in on the action when you provide them with containers filled with petals to toss as you exit your wedding ceremony.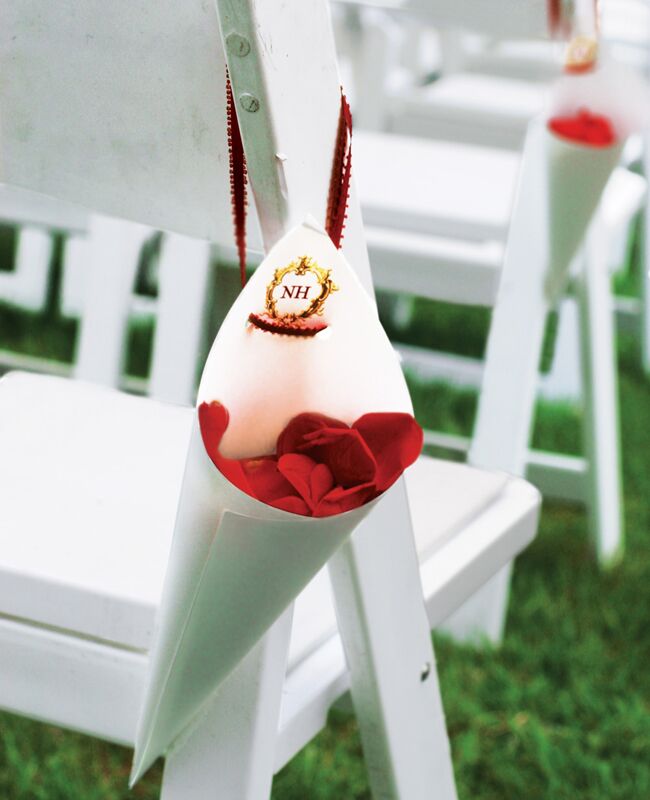 Photo: Sandi Foraci Photography
From the album: An Outdoor Wedding in Washington, DC
13. Modern Vase Aisle Marker
When it comes to wedding aisle decor, vases with interesting designs can go a long way. Pick a handful of neat little vases and fill them with your favorite flowers.

Photo: Angie Wilson Photography
From the album: A Modern Wedding in Englewood, CA
14. Daisy Chain and Floating Candle Decor
Perfect for a summer wedding, this flower and floating candle idea is simple, yet absolutely lovely.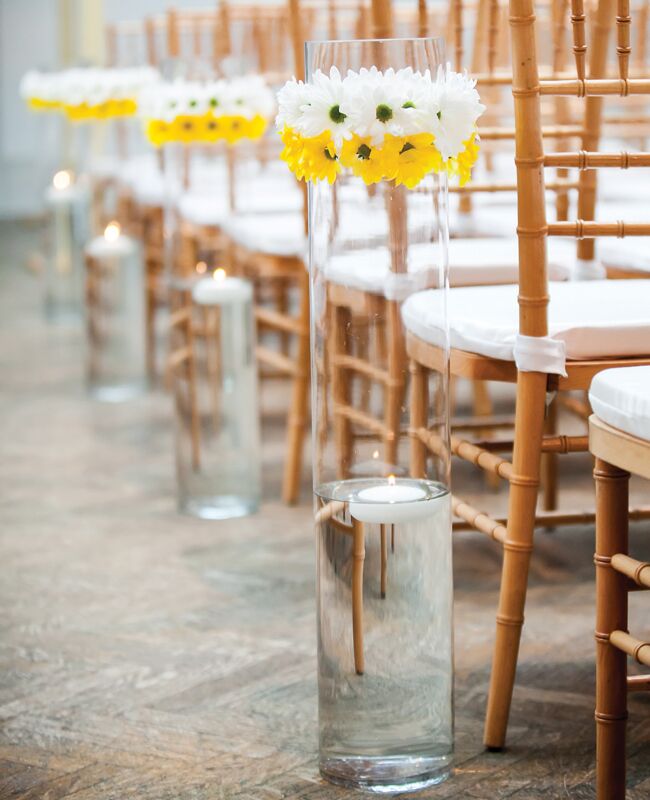 Photo: k. thompson photography
From the album: A Sunny Summer Wedding in Washington, DC
15. Tropical Orchid Chair Ties
Go the tropical route and add an ornate arrangement of orchids to the ends of each chair that lines the wedding aisle.

Photo: Kerry Harrison Photography
From the album: A Modern Wedding in Philadelphia, PA
16. White Pomander Aisle Marker
A sweet-smelling ball of flowers on each chair makes for the most ideal wedding aisle markers.

Photo: Bee Photographie
From the album: A Classic Sophisticated Wedding in Palm Beach, FL
17. Small Arrangement With Garden Decor
Get creative and add garden decor to your flower arrangements. You'll be surprised at what a statement they can make.

Photo: Vero Suh
From the album: A Traditional Outdoor Wedding in Menlo Park, CA
18. Ombre Hydrangea Aisle Runner
It'll look like you planted your own special garden along your wedding aisle when you line up flowers one by one.

Photo: Jocelyn Filley Photography
From the album: A Rustic Elegant Wedding in Chilmark, MA
See more ceremony decor ideas!
> 8 Aisle Runners We're Obsessed With
> 10 Ceremony Altar Alternatives