19 Chic and Creative Ways to Decorate Your Wedding Aisle
No matter what your wedding vibe is, we have some gorgeous ways to decorate your ceremony aisle.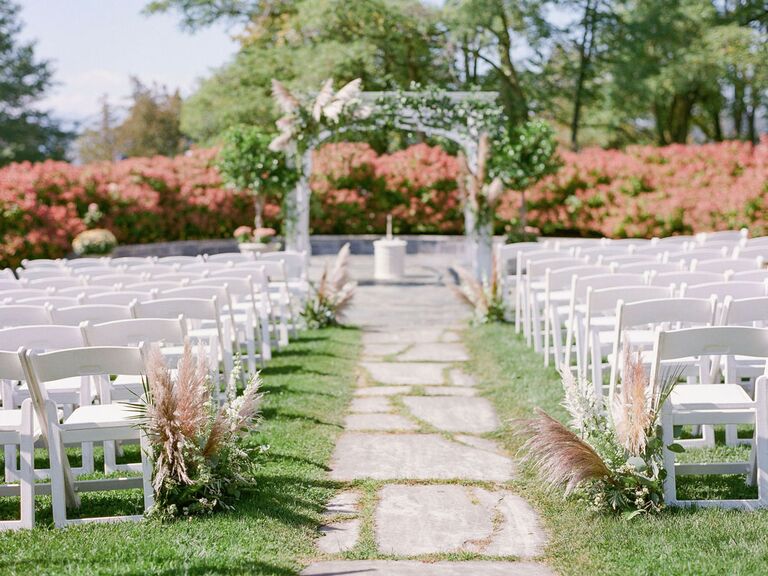 Aisle décor might be low on your list of wedding planning priorities right now, but it's a tiny detail that makes a major impact. And no matter what your wedding style is, there are tons of ways to get creative with it—from fresh vegetables to flowers, there's something romantic, pretty and perfect for your ceremony venue's vibe. Find the chicest aisle inspiration for every type of wedding right this way.
1. Marigold Garlands
Bright pops of color are a fun way to spice up your wedding aisle decor. Amidst a sea of white gowns and dark suits, the bold yellow flowers provide visual interest and a real sense of warmth.
2. Blush and Ivory Roses and Peonies
For a traditional, romantic trip down the aisle, adorn your path with peonies in light colors like pink and white. Greenery helps add freshness to this wedding aisle idea.
3. Vintage Bohemian Rugs
There's no need to roll out the red carpet for your ceremony. Instead, collect your favorite vintage rugs to display. Bring them home to decorate with after the Big Day for a sweet nod to your love story.
4. Green Cedar Wreaths
Who says wreaths are only for front doors? These lush garlands provide true rustic wedding aisle decor. 
5. Sunflowers and Vegetables
Farm fresh decor has never looked so good!
6. Hanging Lanterns With Lush Flowers
Wedding aisle ideas like this have us swooning – there's nothing more romantic than a perfectly curated bouquet in a lantern. 
7. DIY Wooden Hearts
Wedding aisle decor doesn't have to be complicated to be eye-catching. This DIY project could be completed over a weekend with your bridesmaid!
8. Rustic Wooden Signs
Want to shout your love from the mountaintops? These signs are a great way to do just that.
9. Gold Birdcages With Roses and Baby's Breath
Gilded birdcages bursting with florals set the tone for a stunning celebration of your romance.
10. Pink Snapdragons in Mason Jars
A Mason jar is all you need for some of the most gorgeous wedding aisle ideas.
11. Wooden Tree Stumps With Lanterns and Florals
Pair a lantern and a few of your favorite flowers for rustic chic wedding aisle decor that feels both timeless and in the moment.
12. Locally Grown Pineapples
Pineapples were once associated with monarchy. There's no better symbol for your royal affair!
13. Gold Lanterns, Bottles and Candles
Inspiration for wedding aisle ideas can come from anywhere – including your recycling bin. Spray paint bottles a pretty color for a shiny DIY.
14. Recycled Tree Stumps and Flower Arrangements
Simple decor can be remarkably effective, especially when it matches your surroundings. 
15. Light Blue Ribbons
Streamers aren't just for birthday parties anymore! Wedding aisle decor that elevates traditional party elements can feel especially fresh and fun. 
16. Elegant Elephant Statues
Don't be afraid to add a little whimsy to your Big Day. Consider incorporating your favorite animal when looking for wedding aisle ideas. 
17. Lit Lanterns and Rose Petals
Planning on an evening ceremony? Lit lanterns can set the mood in a big way.
18. Autumnal Pumpkins and Gourds
Embrace the changing seasons when creating your wedding aisle decor. Pumpkins and gourds can look surprisingly elegant when chosen carefully. 
19. Greenery With Peach and White Blossoms
If dramatic romance is more your style, consider pairing garlands of greenery with pale pink and white flowers. The effect is nothing short of breathtaking and is sure to make for unforgettable wedding aisle decor.