Our 33 Favorite Ways to Include Your Pet in Your Wedding
Pay homage to your furry friend, even if they didn't make the guest list.
If you and your partner have a pet then you know just how important of a family member they are. Unfortunately, it doesn't always work to have your furry friend in attendance on the big day. But don't fret—there are still some amazingly creative and adorable ways you can include your pet in your wedding.
In much the same way that monograms or motifs can be threaded throughout your wedding design to enhance personalization, so too can pet-inspired wedding decor and details. From stationery items like wedding invitations, cocktail napkins and table numbers to catering details like cake toppers, signature drinks and cookie wedding favors, your options for pet wedding ideas that showcase your pet's personality are limitless. While some couples choose to have their pets walk down the aisle during the wedding ceremony in a floral collar or tux, that may not be the right move for your own wedding. If that's the case, let these creative ideas for including your pet in your wedding inspire you.
In this story:
Pet Wedding Frequently Asked Questions
Before diving into creative inspiration for how to include your pet in your wedding, it's helpful to understand some key considerations. To help you do just that, we're answering pressing pet wedding frequently asked questions.
Should you include your pet in your wedding?
The idea of leaving your pet at home while you and your partner tie the knot may break your heart slightly, but it also might be the wisest thing to do. "You love your pet. You love your partner. And you're getting married! Of course, you want to include your pet in the wedding, right? But wait. Have you considered the fact that your dog or cat might not be comfortable in such a large crowd? Or maybe they hate getting dressed up, and you had plans to walk them down the aisle while they wear a bow tie. The truth is, there are many ways to honor your furry friend at your wedding without physically having them there," explains photographer and wedding expert Hannah Berglund of Hannah Berglund Photography. If bringing your pet to your wedding would cause too much mutual stress, the most loving thing to do may be to have them stay home with a pet sitter.
If my venue isn't pet-friendly, what should I do with my pet?
Even if you want your pet to join you on your wedding weekend, it might not be feasible for them to be present at each and every event, especially if your wedding venue doesn't allow pets. However, most hotels don't allow for pets to be left unattended in your room. Wedding planning expert Ashley Lachney of Alston Mayger Events suggests that couples consider hiring a pet sitter service for the wedding so there is a designated person caring for your furry friend on the big day. "I will get to work with a company called Wags & Garland in Portland Oregon, this year that will come to your home, get your pet ready, and be their VIP sitter throughout the event so you can stay present and enjoy your day. They're all certified pet sitters and well-versed in training and best practices."
Can I take photos with my pet if they aren't attending the wedding?
Your wedding is a momentous occasion and it's only natural that you'd want to have a few pictures from the day with your furry best friend to commemorate the special day. If you've brought them along for the weekend, but they aren't attending the actual events, this is a great time to enlist a pet sitter. Have them watch your pet and also bring them to meet you during wedding photos to snap a few pics before returning to the hotel to hang out for the rest of the evening.
Another great option is to plan to have your pet join your prewedding engagement photos. This session will be much calmer with fewer people present, making it less stressful and stimulating for your pooch or feline friend.
Can I ask guests to donate to an animal shelter in honor of my pet?
Another great way to honor your own pet and the key role they play in your family is to pay it forward by registering for charitable donations to an animal shelter as part of your wedding registry. This is a great way for your cat or dog of honor to have a lasting and significant impact on your celebration without attending the event.
Pet-Inspired Wedding Ideas
If you've come to the decision that your beloved pet won't make the guest list, that doesn't mean that can't still be an integral part of your wedding. Let these pet wedding ideas inspire you to find unique ways to include your pet in your wedding day.
1. Boston Terrier Wedding Cake Topper
In honor of their Boston terriers, this couple had a dog cake topper with pups dressed to the nines in formal wear.
2. Illustrated Dog Wedding Signage
Ari Busch, operations manager and lead planner at Bridal Bliss encourages to-be-weds to create custom signage and cocktail napkins inspired by their pets. "Specialty cocktail napkins have been a huge hit in recent years and there are some great vendors who can customize pieces to incorporate your fur baby's name, picture or both! Similarly, if you choose to do any type of custom signage, bar menus, or place cards, this can be the perfect place to add an homage to your pet that guests can't miss."
3. Wedding Cake With German Shepherd Figurine
Instead of placing their pooch atop their wedding cake, this couple commissioned a figurine that sat at the base of the three-tier wedding dessert and appeared to be mischievously tasting the icing.
4. Custom Crest With Dog Illustration
Wedding expert Stephanie Sadowski of SRS Events encourages to-be-weds to "consider creating a crest with your pup in it! Your crest will be used on your invitation suite, as well as other various day-of details, such as cocktail napkins, menus, signage, a dance floor wrap...the ideas can go on! If your pup is not the most well-behaved (think: jumpers!), you might want to honor him or her in this way to avoid muddy paws on your wedding dress!"
5. Siamese Cat Wedding Bar Menu
This couple's car menu included illustrations of their Siamese cats, with one even donning a top hat for the occasion.
6. Custom Pocket Squares With Dog Silhouettes
All the groomsmen at this wedding were gifted a pocket square emblazoned with a silhouette of their furry friend as their wedding party thank-you gift.
7. Blue Frosted Sugar Cookie Wedding Favor With Dog Motif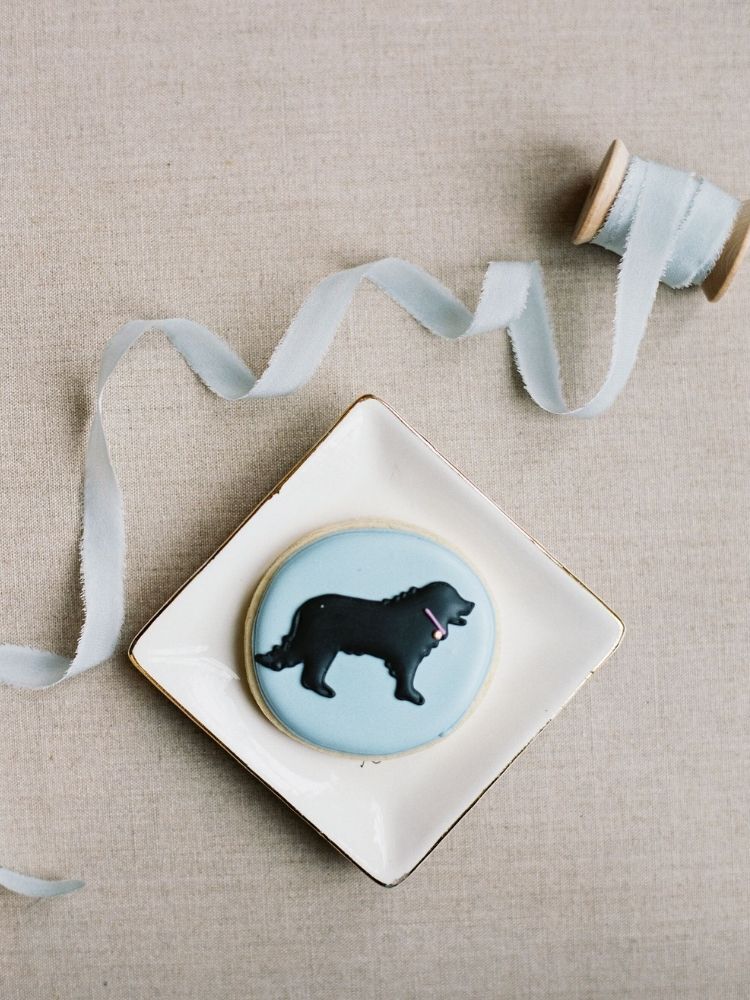 Guests departed this wedding with a tasty cookie wedding favor decorated in honor of the couple's dog.
8. Illustrated Dog Signature Cocktail Sign
Each of the couple's two dogs had a wedding signature cocktail named after them. To showcase the custom drinks, the bar sign included illustrations of the pups.
9. Illustrated Dog Save-the-Date
You don't have to wait until the wedding day to honor your pet. This couple included an adorable illustration of their English bulldog on their save-the-dates.
10. Cat Cutouts
This couple had cutouts of their cats made as dance props for wedding guests to enjoy on the dance floor.
11. Golden Retriever Sugar Cookie Wedding Favor
A sugary representation of this couple's beloved Golden Retriever greeted each guest at their place setting as an edible wedding favor.
12. Cat Cookies
Guests enjoyed cookies made to look like cats wearing veils and bow ties at this couple's wedding reception.
13. Illustrated Signature Cocktail Menu With Dog
Berglund advises that couples can "create a signature cocktail inspired by their name for guests to enjoy."
14. Hand Sanitizer Wedding Favors With Dog Illustration
This couple put an image of their beloved dog on the labels of the hand sanitizer bottles they gifted wedding guests as favors for their beach wedding.
15. Cat-Themed Wedding Welcome Sign
Wedding expert Anna Rodenbeck, co-founder of Whitehead + Co., suggests that couples can have a welcome sign with their pets on it. "One of the most unique and memorable ways that I have seen pets included in a wedding was on a sign at the entryway of the ceremony. The sign read 'welcome to our parent's wedding' and had a beautiful watercolor picture of the couple's dogs on it. It was one of those simple wedding touches that added so much personality and was very meaningful to the couple."
16. Cat Cake Topper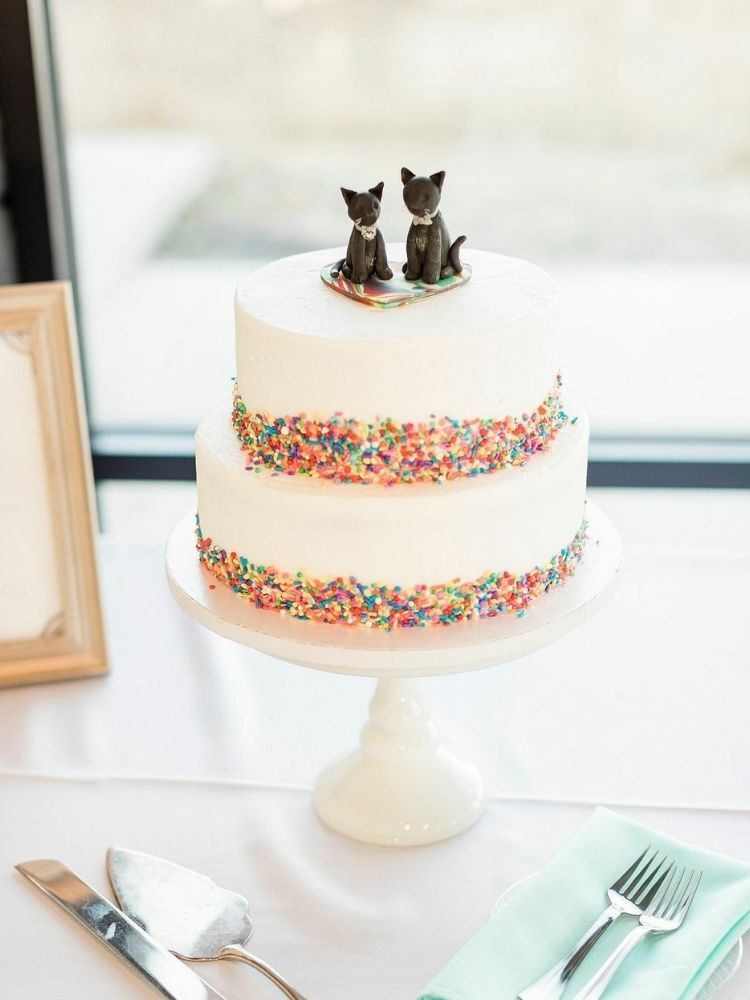 Berglund shares that "if you really want to get creative, have a mini figurine of your pet on your cake—bonus points if they're taking a bite out of it! Including Fido or Fluffy in your wedding can be simple and stress-free, no matter what you decide to do."
17. Dog-Themed Wedding Favor Cookies
Beyond including your pet in wedding decor, having them be part of the wedding favors you gift to attendees is a nice way to make your pet's impact lasting. Guests at this wedding departed with dog-themed cookies at the end of the evening.
18. Family Picture Guest Book Alternative
Lachney suggests that couples can showcase their pet at their wedding in the form of a painted family portrait, as this dup did for their guest book alternative. "I've seen couples commission custom portraits of themselves for their event and include their pet in the family photo," she says.
19. Dog-Shaped Wedding Cake
If you want to go one step further than commissioning sugar cookie wedding favors made to resemble your pet, why not recreate your furry friend in cake form?
20. Pug Figurine Wedding Decor
To hold down cocktail napkins and protect them from the wind, this couple made use of a gold figurine that resembled their beloved pug.
21. Vintage Wagon Bar With Dog-Themed Cocktails
Lachney encourages to-be-weds to name signature cocktails after pets. "My personal favorite way for a couple to tell their story is to name their signature cocktails after their pets," she says. "Another cute alternative to this is a custom cocktail napkin that each guest will receive with their drinks, or maybe having your cake topper be inclusive of your fur babies."
22. Custom Cups With Pet Motif
This couple's Goldendoodle made an appearance in an illustrated form on custom plastic drink cups they ordered for the big day.
23. Cat Wax Seals on Wedding Favors
Wedding guests at these nuptials received bottles of olive oil, decorated with cat wax seals, as favors.
24. Gift Tag With Dog Illustration
Chocolate bar wedding favors were placed at each place setting at this wedding. As a finishing touch, gift tags with an illustration of the couple's dog were tied to each candy bar.
25. Cat Wedding Decor on Dessert Table
A decorative feline figurine guarded mini tartlets at this couple's wedding dessert table.
26. Pug Needlepoint Pillow
The ring bearer at this wedding walked down the aisle holding a needlepoint pillow with the couple's pug's visage stitched into it.
27. Frenchie Signature Cocktail Garnish
This couple had a picture of their Frenchie printed onto edible paper and placed atop their signature cocktails as a creative garnish.
28. Frenchie-Themed Sugar Cookies
In addition to decorating some sugar cookies with a picture of the couple's Frenchie, their baker also created some treats to resemble dog bones.
29. Portrait of Couple With Their Dogs
This couple displayed an illustrated family portrait that included their three dogs as part of their wedding decor.
30. Doggie Bag Wedding Favors
Wedding favors don't have to be only for human guests. This couple set up a station with doggie bags so their guests could bring home treats for their pets.
31. Wedding Cake Topper With Dogs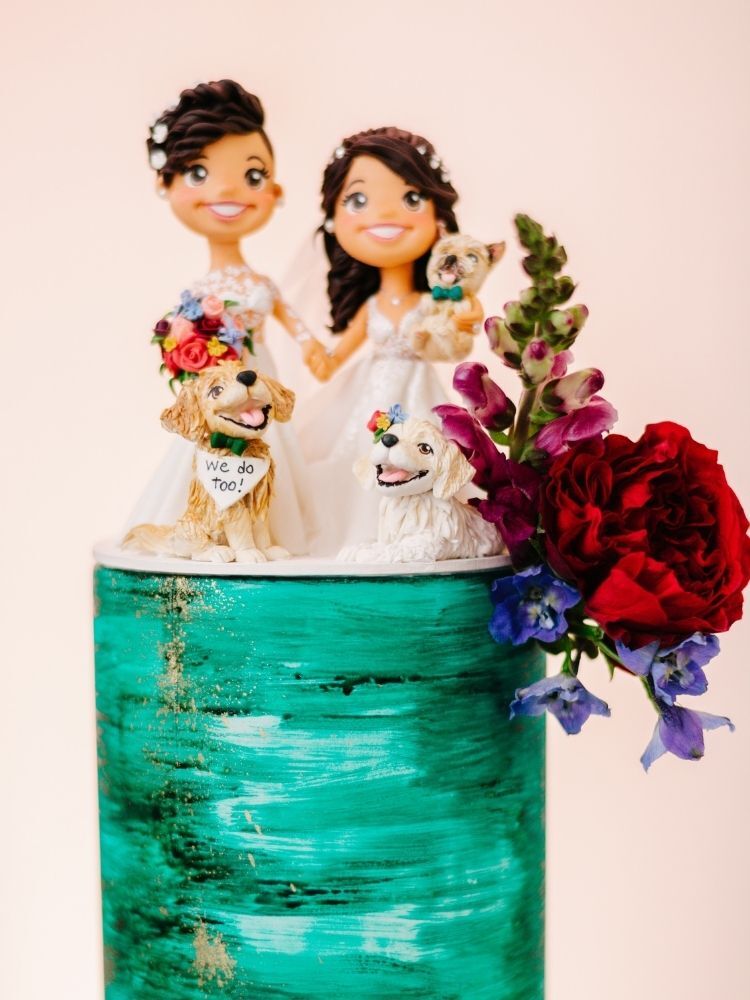 Figurines of the couple were accompanied by models of their dogs atop this wedding cake.
32. Dog Signature Cocktail Garnish
The signature cocktails at this wedding were finished with pictures of the couple's pup printed on edible paper.
33. Bulldog Cookies
The cookie wedding favors for these nuptials were iced to resemble the couple's adorable bulldog.