Your Complete Guide to a Tahiti Honeymoon
Discover the best of the South Pacific when you arrive at this honeymoon haven.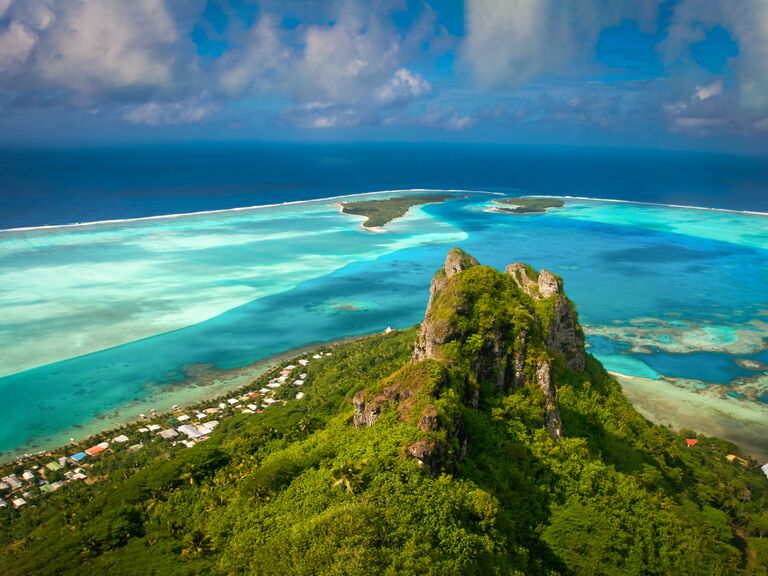 Piotr Gatlik / Shutterstock
We have included third party products to help you navigate and enjoy life's biggest moments. Purchases made through links on this page may earn us a commission.
If you're considering a Tahiti honeymoon, it's a great choice if you ask us. A speedy seven-hour flight time from Los Angeles or San Francisco, French Polynesia is an easier destination to reach and fall in love with. Best known for its too-blue-to-be-real lagoons and popular honeymoon islands like Bora Bora and Moorea, the country actually includes more than 150 islands along its tropical overseas collectivity. These beautiful islands in the South Pacific are truly a dream honeymoon destination.
The ocean (called "Moana" in Tahitian) plays a huge role in everything from culture to food to hobbies in Tahiti. That makes it an excellent destination for newlyweds who want to spend more time in swimsuits than sneakers during their honeymoon. Overwater bungalows, scuba diving, sunset catamaran tours, and whatever water activity you can think of are readily available across the islands of Tahiti. However, if you do want to break a sweat, you'll also find options to hike, mountain bike, and even explore caves throughout French Polynesia. It's a wonderful honeymoon for couples that want the luxury getaway with more than just tanning on the beach all day.
Remember: when you're planning, the country is technically called "French Polynesia," though many people use the name "Tahiti" to refer to the entire country. However, Tahiti is actually the name of the capital island (where you'll find the only international airport and higher activity). Be sure to make note of which island your hotels and activities are on when making plans.
Is Tahiti Good For a Honeymoon?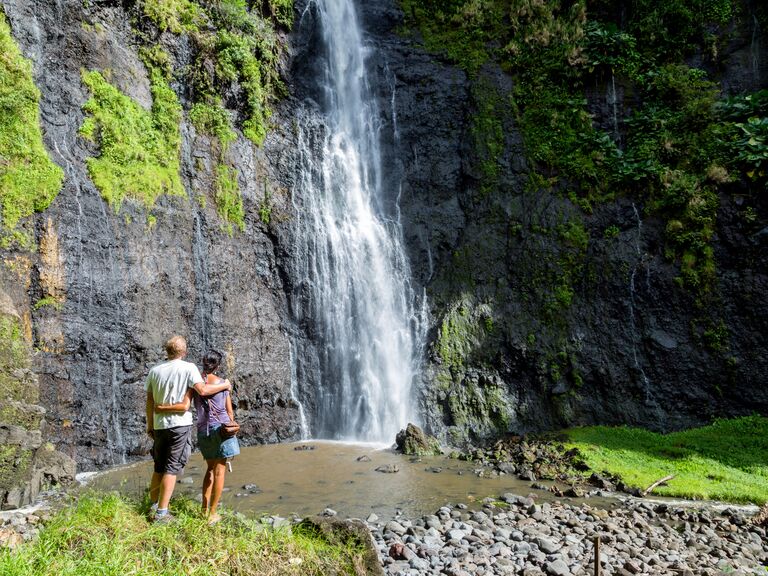 A Polynesian honeymoon is one of the most magical experiences you'll have as a couple. Here's why.
Pros of a Tahiti Honeymoon
Tahiti is quite easy to get to, at least compared to most other tropical destinations. Flying from San Francisco or Los Angeles will take about seven hours on a direct flight. Once you land at Faa'a International Airport in Papeete, you can catch a connector to another island or just hang out on the island of Tahiti.
It's also very casual. Sure, you can get dressed up, but locals often ditch the shoes and shirts. This is a "no shoes, no shirt, yes service" type of place. Sundresses and elegant outfits can be fun for formal dinners, but they're certainly not required.
There's a lot to do for adventure-seeking honeymooners. If you want to scuba dive all day while your partner reads a book in a swaying hammock, you'll both get your wish. Plus, the ocean is beautiful. Lagoons have amazingly clear water that's nearly always warm, and the oceans are healthy and filled with marine life. It's an excellent place for water sports.
Cons of a Tahiti Honeymoon
To be transparent: Tahiti tends to be very pricey. You actually can stay in guest houses and local hotels (called pensions) to save some money, but most restaurants and activities are going to cost more here than they would nearly anywhere else.
The destination also can be hot and muggy. You'll enjoy breezes on the beach. If you head inland to hike or enjoy sightseeing, you may find temperatures in the 90s with close to 90 percent humidity. Skip a summer trip if you hate the heat.
The Best Time to Go On A Tahiti Honeymoon for Good Weather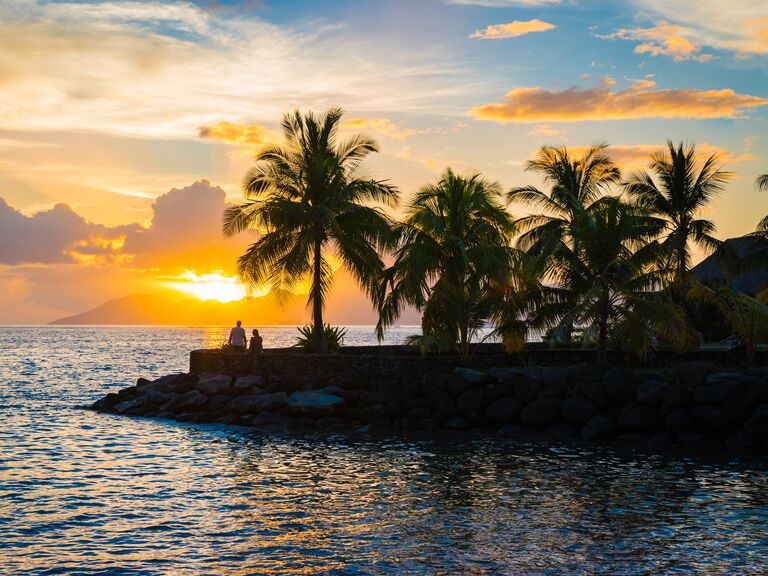 Tahiti has what most people would consider fantastic weather year-round. Temperatures don't vary much during the year. In fact, every month has an average high of between 80 and 86 degrees Fahrenheit, which also creates ocean temperatures warm enough for snorkeling and swimming year-round.
Within that, there are some times that are better than others, especially if you want to be picky. Summers in Tahiti (which is during North America's winter) can be very hot. Temperatures from November to April are often in the upper 80s to lower 90s. And while Tahiti's winter (roughly May through October) isn't much cooler, it is far less humid, which makes those months the best time to visit for good weather. It also rains less between May and October, making it more likely that you'll have sunny days and calm, clear water.
Since, however, most travelers prefer to visit during North America's summer, rates are higher and the islands are more crowded. It's mostly hotels and resorts where you'll notice a big jump; prices can be two or three times as expensive for an overwater villa in the Tahitian winter as they are during the Tahitian summer. If you don't mind the chance of skies being slightly overcast, consider visiting in the "off-season" to save money. You could also aim for the shoulder seasons (roughly, the months of May and October), during which time you'll probably have good weather, and resorts are a bit cheaper than during peak season.
Places to Visit in Tahiti During A Honeymoon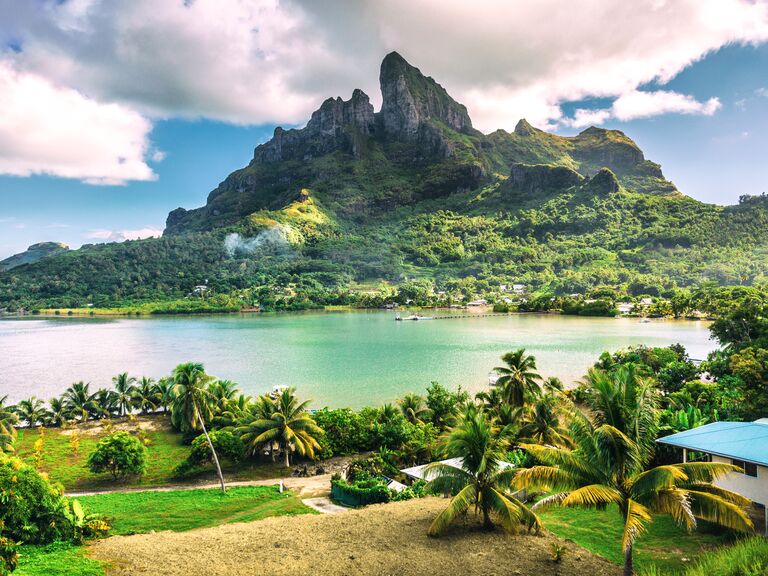 French Polynesia has nearly 120 islands, not all of which are inhabited. They're divided into five main island groups: the Society Islands (which is where most people visit), the Marquesas Islands (the furthest from the island of Tahiti), the Tuamotus (which also have some lovely island resorts and are well-known for snorkeling and diving), the Gambier Islands, and the Australs.
Bora Bora
If you're all about a luxurious, romantic honeymoon, Bora Bora is the spot. Book an overwater bungalow, take a snorkeling trip of the famous lagoon, and admire the views of stunning Mount Otemanu as you enjoy a dinner for two under the stars. Bora Bora is a quick flight from Tahiti.
The Marquesas
The Marquesas Islands are far from Tahiti—three hours by plane—but worth the trek, especially if you have extra time to spare in the country. You can visit the former home of artist Paul Gauguin on Hiva Oa, horseback ride through the surf on Nuka Hiva, or hike deep into the mountains on Fatu Hiva. If you don't want to fly and have an extra 13 days, check out the Aranui 5, an adventurous cruise ship that sets sail several times a year to the remote archipelago.
Tahiti and Moorea
Honeymooners often fly into Faa'a airport and then immediately book a flight to a smaller island, but Tahiti is well-worth a few days of exploration during your honeymoon. Take the 30-minute ferry to explore Moorea, go hiking on the island's interior, or spend an evening browsing the international food trucks and markets downtown.
Rangiroa
Avoid the crowds on tiny and charming Rangiroa. The Hotel Kia Ora Resort & Spa has overwater villas with glass floors above the lagoon, TopDive Rangiroa runs easy scuba diving trips to go underwater with dolphins, and you can look for black pearls when you pick out your own oyster at Gauguin's Pearl Farm. Air Tahiti flies there directly from Tahiti and Bora Bora.
Things to Do During a Tahiti Honeymoon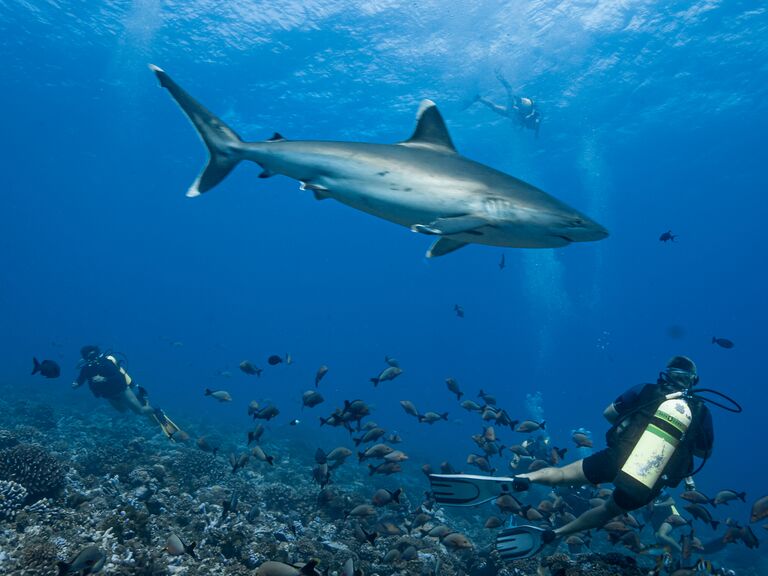 Dive In
If you've never tried scuba diving or snorkeling before, the warm, crystal-clear ocean circling French Polynesia is a great place to test out the waters. Scuba divers should head to Rangiroa to dive with dolphins or Fakarava to dive with sharks. You'll likely see sea turtles, manta rays and stingrays at every dive site in the country. Beginners can get certified in any of the major islands' gentle lagoons.
Want to do some snorkeling? Set off for a lagoon tour in Bora Bora or spend the afternoon on the white sand of Moorea's Temae Beach, which has one of the Society Island's healthiest reefs just offshore. TopDive runs professional dive shops around various islands and most resorts will be able to recommend a local snorkeling tour.
Try Snuba or an "Aqua Trek"
French Polynesia isn't just for sports—it's a great place to try something new, especially if you want to spend part of your honeymoon on the ocean floor. To actually walk on the bottom of a lagoon, try aqua trekking (also known as helmet diving) on the island of Moorea. You'll wear what looks like a vintage scuba dive helmet attached to an air source at the surface while you literally walk past reefs on the ocean floor. Tours last around 30 minutes. You could also try snuba, which is more or less the same, minus the helmet.
Other French Polynesia watersports for honeymooners include underwater scooter tours in Bora Bora or jet ski rentals on Tahiti. You could also learn to paddle a va'a (outrigger canoe) or set sail on a sunset cruise.
Go Deeper Into the Islands
Sure, the white-sand beaches in French Polynesia are nothing to sneeze at. But if you can pull yourself away from the country's luxury resorts for a little more adventure, head inland. On Moorea, you can take a guided tour to a secret waterfall in the jungle or mountain bike through a pineapple plantation. Tahiti offers numerous jungle parks with miles of trails, and you can rent road bikes from most resorts to explore island roads and small towns. Taha'a is famous for its vanilla bean plantations while archaeological sites dot the interiors of many smaller islands. Bring lots of water (and maybe some bug spray) if you're heading too far away from the beach.
Learn to Weave or Play the Uke
French Polynesia has a fascinating culture that blends Polynesian, southeast Asian and French traditions. While on the islands, you'll have plenty of opportunities to take part in cultural activities as Tahitians are generally eager to share their stories and hobbies. Hotels often offer everything from Ukulele lessons (Le Tahaa Island Resort & Spa) and palm-frond weaving classes (Intercontinental Bora Bora) to Polynesian history lectures (The Brando). Ask your hotel in advance what cultural activities are nearby and consider booking a tour to a less-touristy village if you're keen to learn more about the traditional Tahitian lifestyle.
The Best Hotels and Resorts in Tahiti for a Honeymoon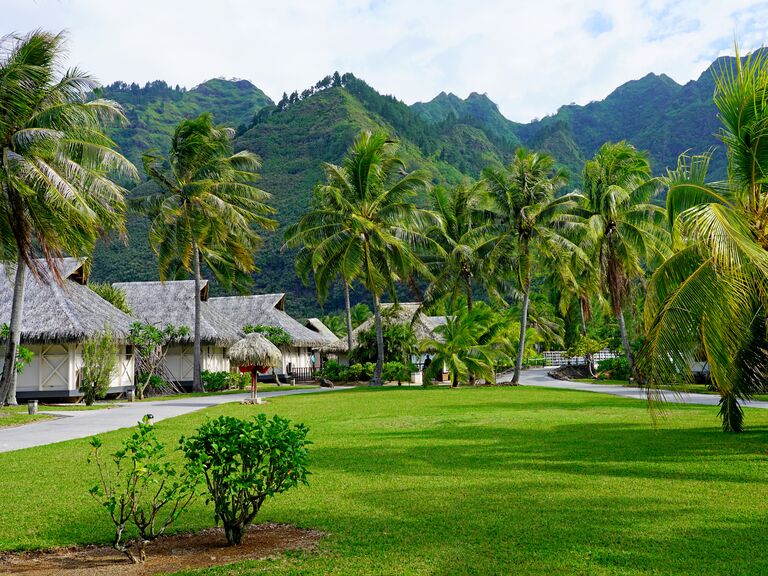 The St. Regis Bora Bora
If you're not extremely concerned about the price tag, book at least a few of your Tahitian honeymoon days at the St. Regis Bora Bora Resort. The overwater bungalows are the largest in the Bora Bora atoll at over 1,500 square feet each, and the resort's Iridium Spa sits on a private island in the middle of a massive lagoon. They don't offer honeymoon packages necessarily, but you can usually snag significant discounts if you book early or stay for at least five nights.
The Sofitel Moorea
On Moorea, the Sofitel Kia Ora Moorea is known for its vast spread of 113 bungalows, spanning tropical gardens, oceanfront views and turquoise lagoons. Every room comes equipped with luxury bedding, comfy amenities and luxurious reminders that you and your honey are, indeed, in paradise.
Le Nuka Hiva
If you want to get a better feel for traditional Tahitian culture before it becomes the honeymoon hot spot, head to the Marquesas Islands. Fortunately, thanks to Le Nuka Hiva, you can still have a luxury experience while explore Nuka Hiva, the capital of the Marquesas islands. The resort can arrange tours to archaeological sites or point you towards trails to secret island waterfalls. At the end of the day, come back to relax on the deck of your Pacific-Ocean-view bungalow, borrow a free bike and cycle to the beach for sunset, or have dinner at the open-air Tahitian-French fusion restaurant. It's an excellent choice for honeymooners looking for something a little different in the South Pacific.
The Intercontinental Tahiti Resort & Spa
The island of Tahiti may be French Polynesia's best-kept secret. It's easy to reach, has plenty to do, and is just a quick ferry ride from Moorea, allowing you to explore two islands without changing hotels. The Intercontinental Tahiti Resort & Spa offers a 60-acre tropical garden, a totally private lagoon, a mix of over-water and on-the-beach bungalows, and two restaurants with a Tahitian brunch each Sunday, complete with traditional music and dance. It's also eco-friendly and partners with local organizations like Te Mana O Te Moana association for marine diversity and The CRIOBE (a local coral reef protection non-profit). (For a more budget-friendly option, check the nearby Manava Suite Resort Hotel Tahiti, which has its own, albeit smaller, snorkeling lagoon.)
Green Lodge Tahiti
Want to stay somewhere with more of a local feel? Try booking a Tahitian pension or guesthouse. They're smaller hotels, usually with under 10 rooms. The Green Lodge Moorea has thatched-roof huts on the beach with comfortable beds, massive custom bathrooms and private decks with loungers, as well as a private pool and complimentary breakfast each morning. Though its beachside location makes it feel remote, it's only about 10 minutes from the ferry terminal, making it a great choice if you're visiting Moorea for just a night.
What to Pack for a Tahiti Honeymoon
Most honeymooners who choose the islands of Tahiti will visit a few different locales, so packing light is key (especially since small planes sometimes have stricter luggage allowances). Most of your days will be spent in swimsuits, so bring at least three or four sets. Sundresses can double as beach coverups or as an evening ensemble, and flip flops or sandals are acceptable everywhere for men and women. You can always buy a pareo (similar to a sarong) from a street vendor if you under-pack.
Some Tahiti-specific items you may want include a power adaptor (Tahiti uses European-style plugs), a large sunhat, water shoes, a mask for snorkeling and lots of bug spray and sunscreen. (A pro tip: it's very expensive to buy either on the islands.) A lightweight waterproof jacket can also come in handy, especially during the rainy season. If you're planning on hiking, sturdy activity sandals will be cooler and more versatile than sneakers or hiking boots. Bring cash when visiting villages or markets as credit cards aren't always widely accepted.