See Temperley London Wedding Dresses From Bridal Fashion Week
Here's the designer's latest collection to hit the bridal runways.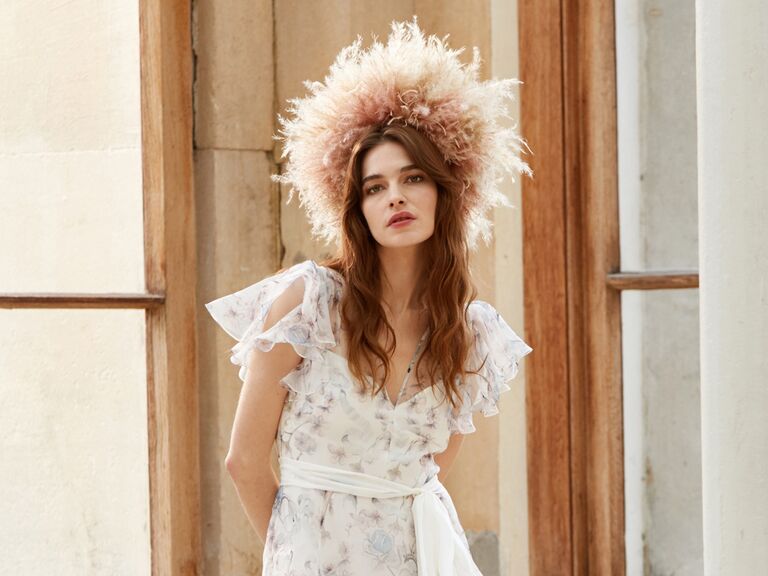 If you're planning a boho-luxe or vintage-inspired wedding and are looking for the perfect dress to match, look no further than Temperley London. Trendy yet timeless, Temperley London wedding dresses strike a balance of luxurious embellishments and an overall carefree aesthetic. A favorite of Hollywood A-listers as well as the British royal family, the Temperley London collection pairs feminine details with classic silhouettes to deliver an elevated aesthetic that evokes the glamour of a bygone era.
See every dress from Temperley London's 2022 collection below.
Temperley London's 2022 Wedding Dresses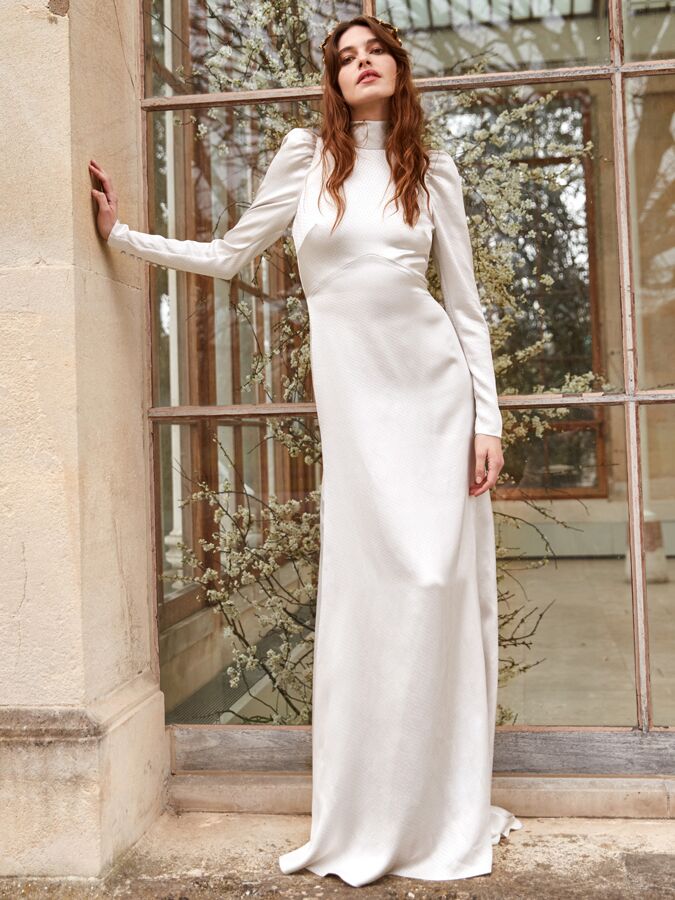 "Aurelie" long sleeve column dress with a high neckline and gathered sleeves in Italian silk lurex.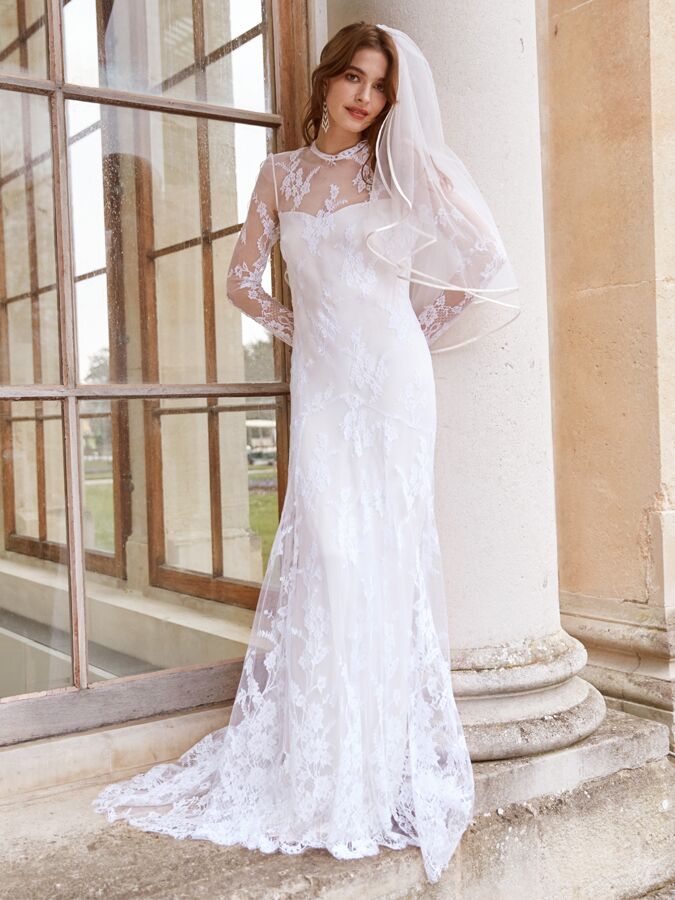 "Amelia" column gown with a high neck and long sleeves in flower vine lace.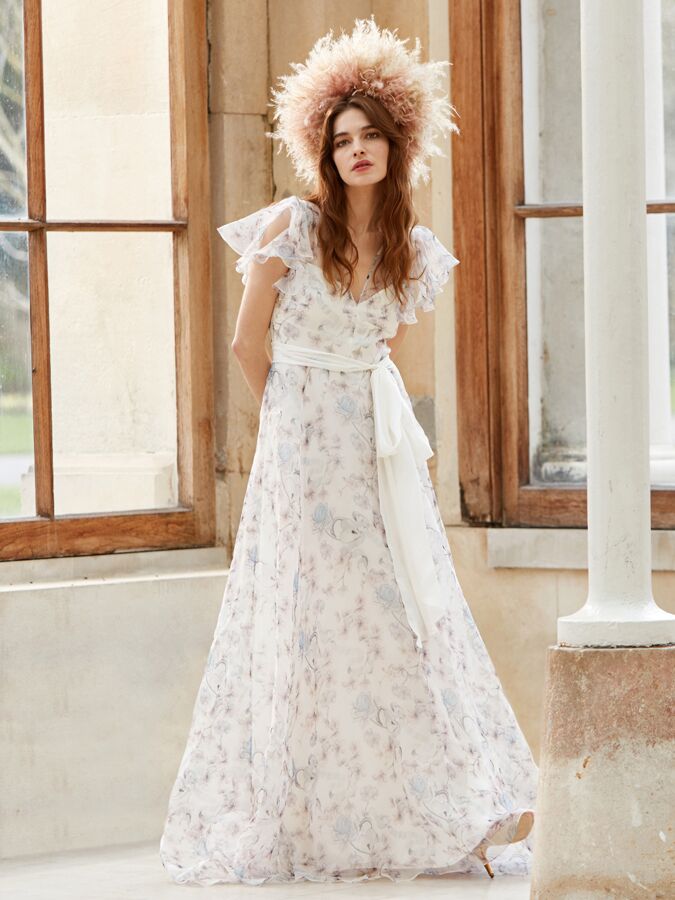 "Poppy Ruffle Sleeve" ruffle sleeve maxi dress in hand-painted silk tulle.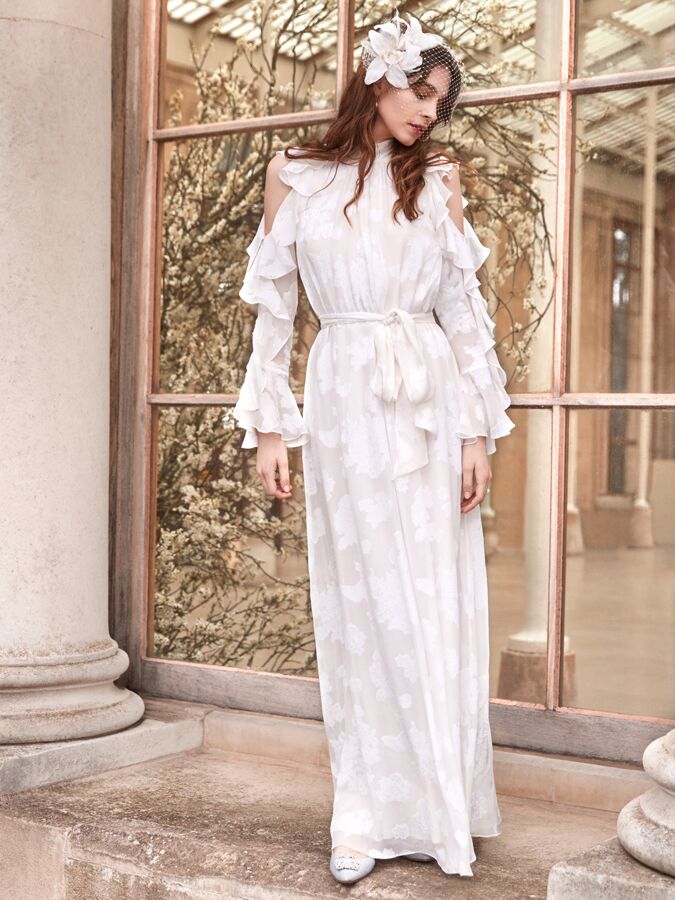 "Liliana" column gown with cut-out shoulder sleeves and a sash tie at the waist in light silk viscose.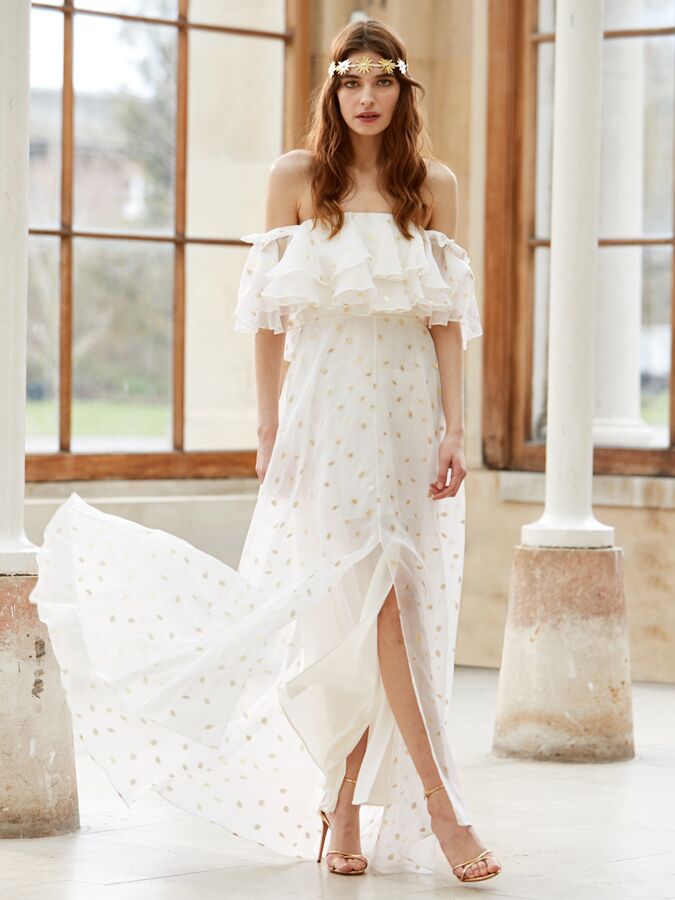 "Juliette" off-the-shoulder maxi dress with a front slit in Italian silk organza.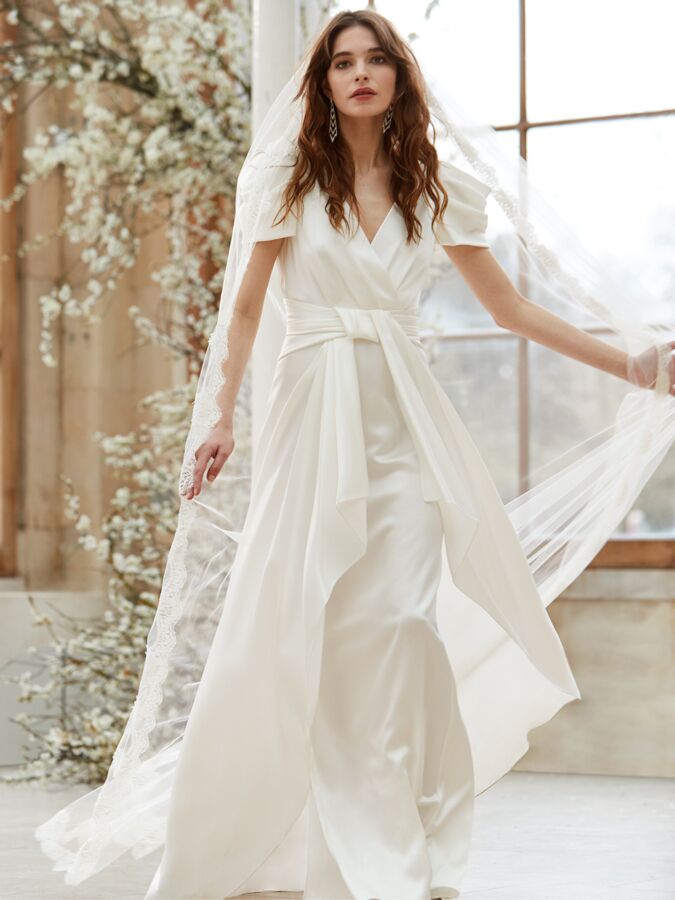 "Clemmie" draped gown with a wrap bodice in Italian crepe and satin.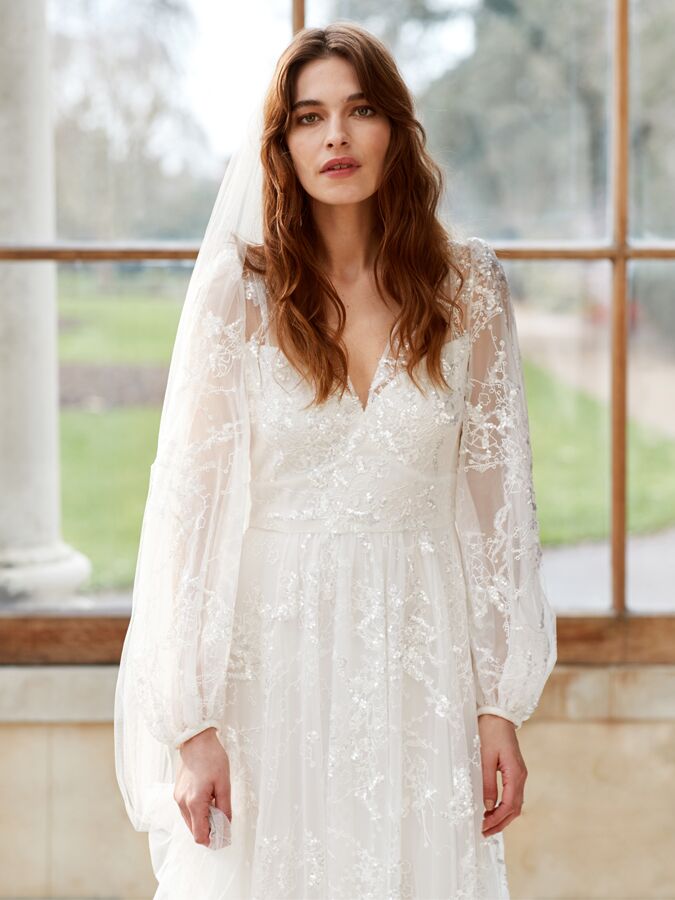 "Evangeline" A-line dress with balloon sleeves and a bow back detail in sheer tulle and silk chiffon.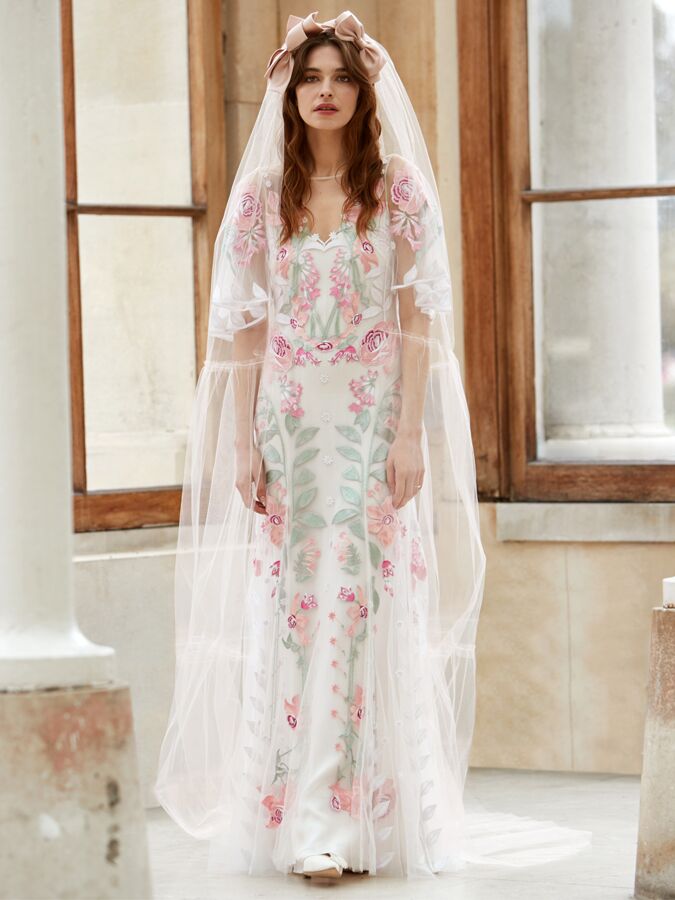 "Isla" short sleeve gown with a train in floral embroidered delicate tulle.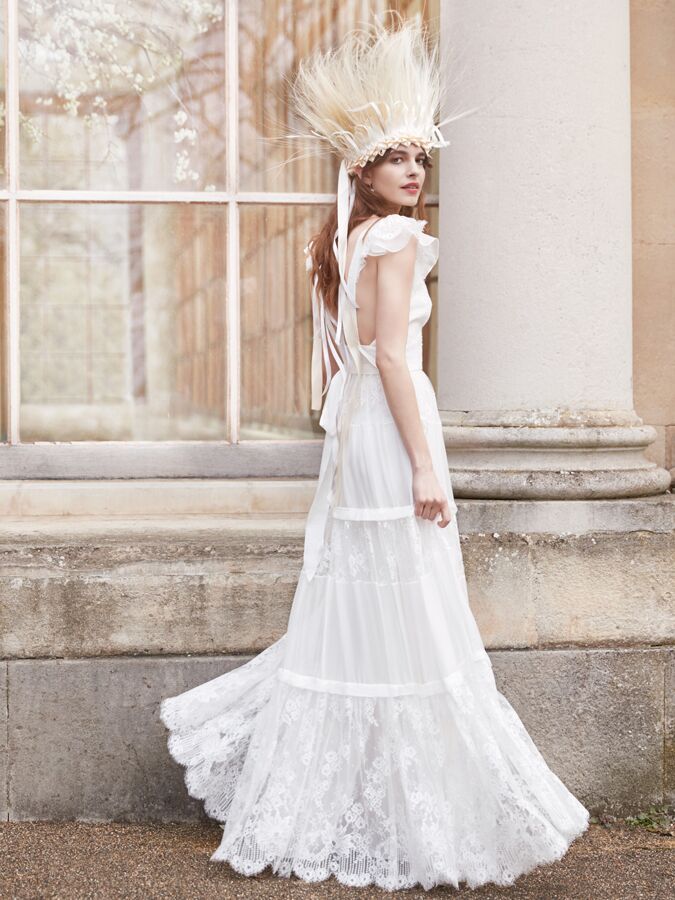 "Gracelyn" A-line gown, with a tiered silk chiffon and lace skirt.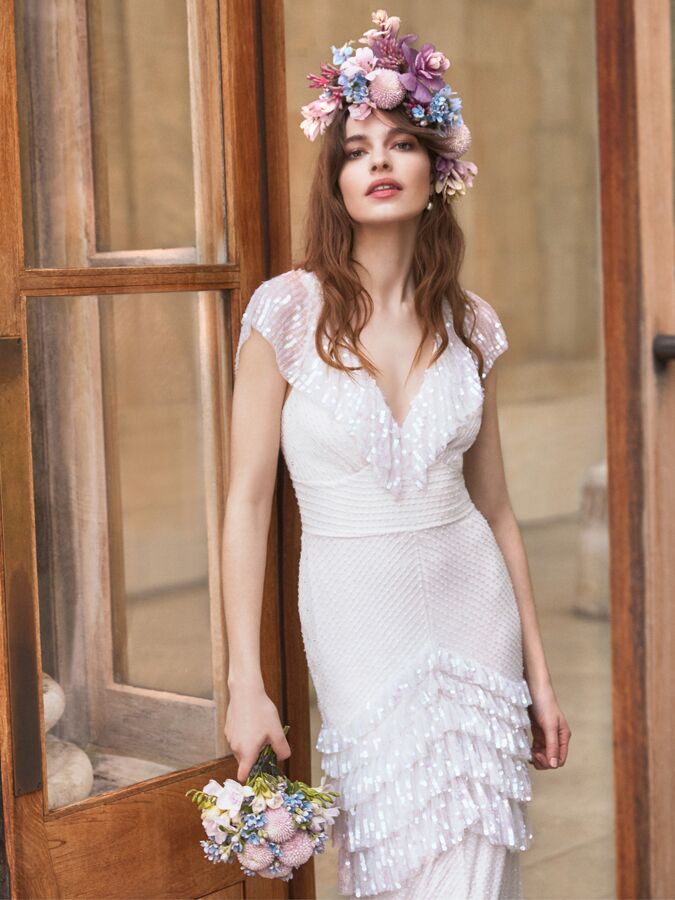 "Mimi" V-neck wedding dress with dotted tulle and tiered ruffles with sequins.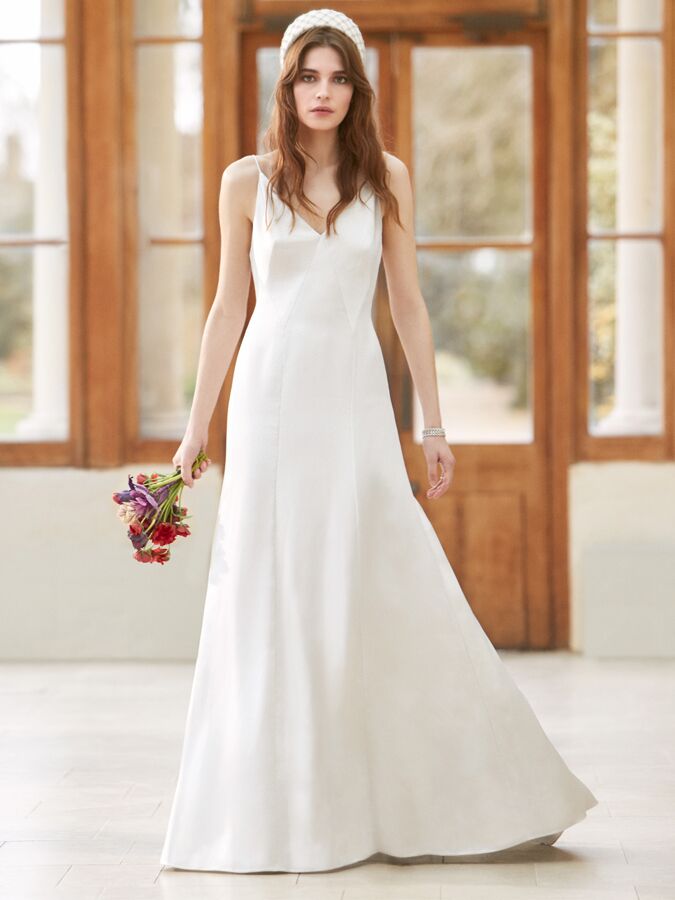 "Nina" slip dress in Italian silk lurex.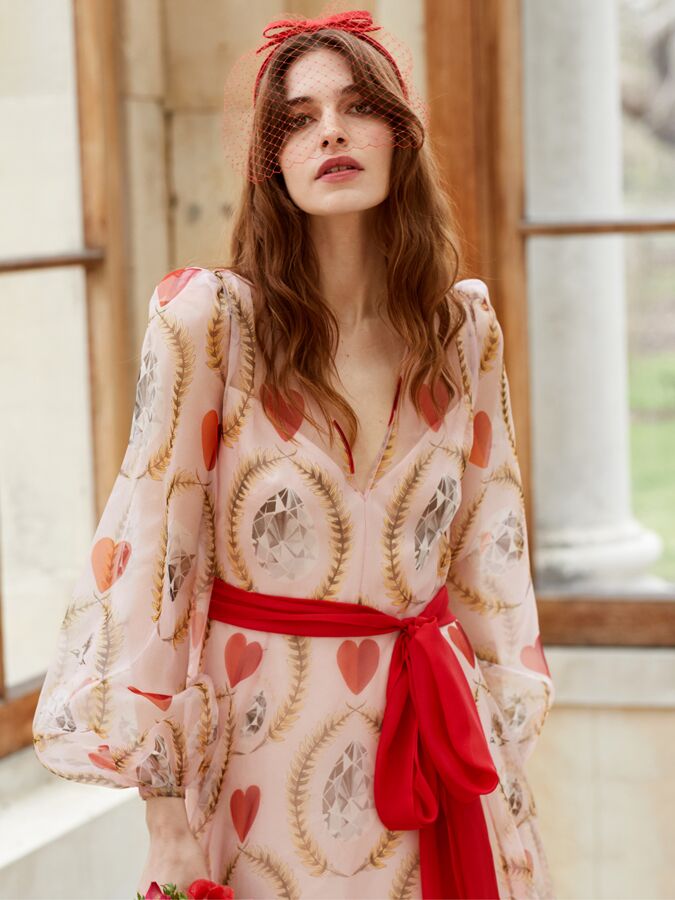 "Poppy Long Sleeve" long sleeve maxi dress in printed silk tulle.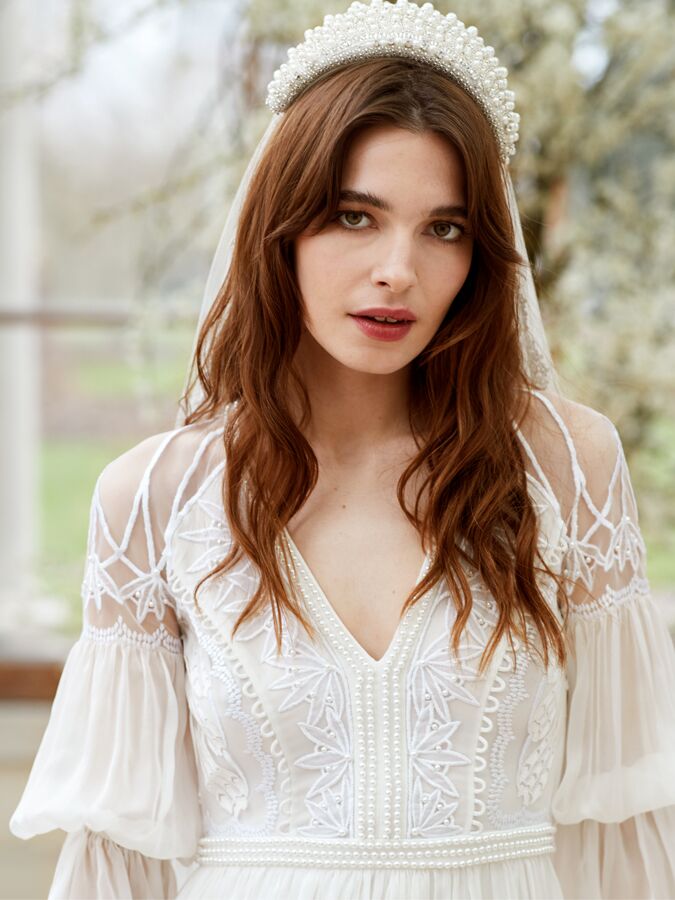 "Luna" open back gown with sheer tulle bodice and silk chiffon skirt and sleeves.
Designer Alice Temperley's Signature Style
The Temperley London bride is the ultimate modern bohemian woman—ethereal, feminine, and confident. Temperely Bridal churns out collection after collection catering to this persona, using the finest fabrics and hand-finished details (think: crystal appliques, glass bugle beads, sequins, crafted organza flowers, and frothy chiffon embellishments). Temperly's attention to detail and extraordinary craftsmanship is unparalleled. Often inspired by the romantic nostalgia of Old Hollywood Glamour and the Roaring Twenties, Temperley Bridal collections typically feature iconic timeless silhouettes paired with fresh and modern embellishments.
A Brief History of Wedding Dress Designer Alice Temperely
Born in the late summer of 1975 in Somerset, England on her parents' cider farm, no one could've guessed Alice Temperley would come to be called the designer "making waves in British fashion" by Vogue Magazine or compared to the likes of Ralph Lauren. It wasn't until Temperley's university years at the esteemed Royal College of Art and Central St. Martins that she began producing and selling clothing. Following the turn of the century, Alice Temperley launched her eponymous line Temperley London just a year after graduating. The brand held its first show for London Fashion Week in 2003 and has since continued to grow in popularity.
Alice Temperley is globally recognized and has received several awards for her achievements in design. Alongside being awarded Elle Magazine's Best Young Designer Award, Queen Elizabeth honored Temperley with a British Excellency Award (also known as an MBE) for her services to the fashion industry in 2011.
Charmed by her charismatic brilliance, it's no surprise people were dying to know more about Alice Temperly and Temperley London's history. Her first Rizzoli book, True British, was written in 2011 and provided a detailed insight into the first 10 years of the Temperley London brand. The most recent release, English Myths and Legends, offers a more intimate perspective on the brand's journey and evolution through the last decade. It features pages of captivating editorials and mood boards from previous collections giving readers exclusive visual insight into the enchanting world of Temperley London.
Other Temperley London Labels
Under the Temperley London umbrella, Alice Temperely has also launched two other labels: 'Temperley Bridal' in 2006 and a highstreet collaboration with John Lewis named 'Somerset by Alice Temperely' in 2012, which was the fastest selling fashion line in the retailer's history.
Temperley London Collection History
Following the brand's launch in 2000, which largely consisted of party frocks, Temperley London has evolved into a deeply rooted British fashion brand that is known for designs that carry an effortless allure with a strong, confident and feminiepoint of view. The brand's flagship store recently relocated to London's posh Mayfair district, housing both Temperley London and Temperley Bridal. Pieces are also available for sale at more than 150 retailers (and counting), including Bergdorf Goodman and London's Selfridges.
Famous Temperley London Brides
Alice Temperley's designs attract women of all types, and that's exactly how she wants it. Temperley London extensive and diverse list of notable clientele include the likes of The Duchess of Cambridge and her sister Pippa Midleton, Penelope Cruz, Halle Berry, Sarah Michelle Geller, Eva Mendez, and Portia Freeman to name a few. Alice has also dressed singer Kelly Clarkson, model Arizona Muse, and actress Millie Mackintosh in stunning Temperley Bridal wedding gowns for their special day.
Fun Facts about Alice Temperley
Viewing fashion as an escape, every year Alice throws a summer party in her hometown of Somerset with hundreds of well-dressed invitees (many of which show up in Temperley London looks) to enjoy a break from the mundane everyday with good food, fashion, and conversation.
Temperley London Previous Wedding Dress Collections
Temperley London's Fall 2021 Wedding Dresses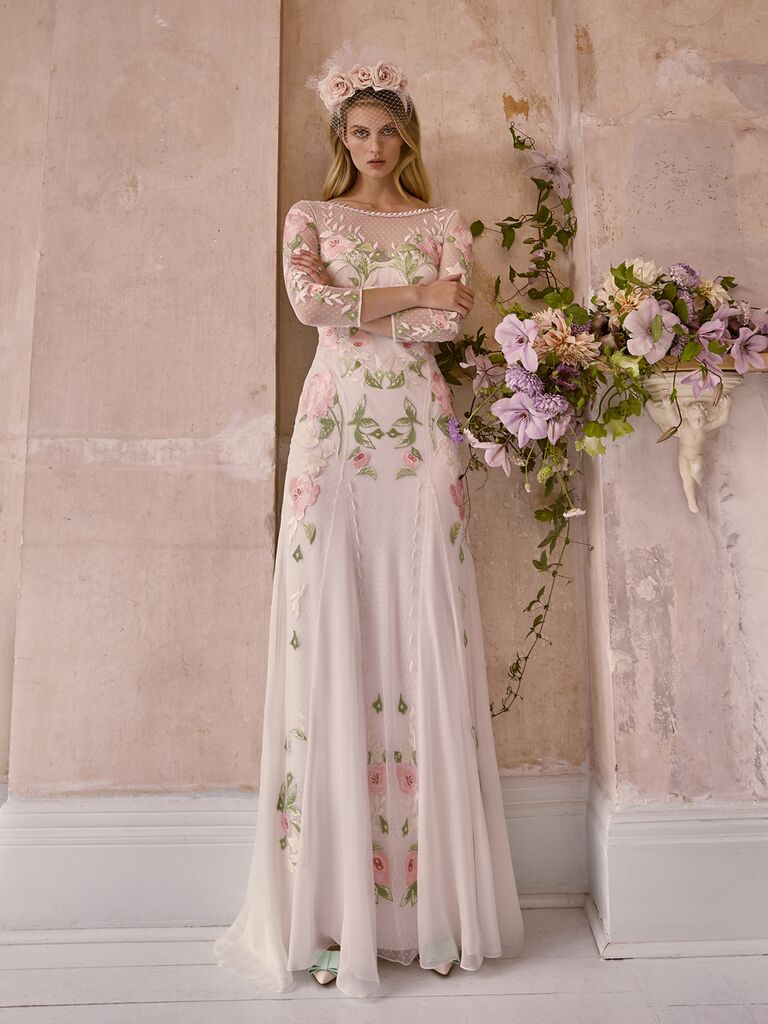 "Aubrey" sheer long-sleeve sheath dress illusion neckline and colored floral embroidery.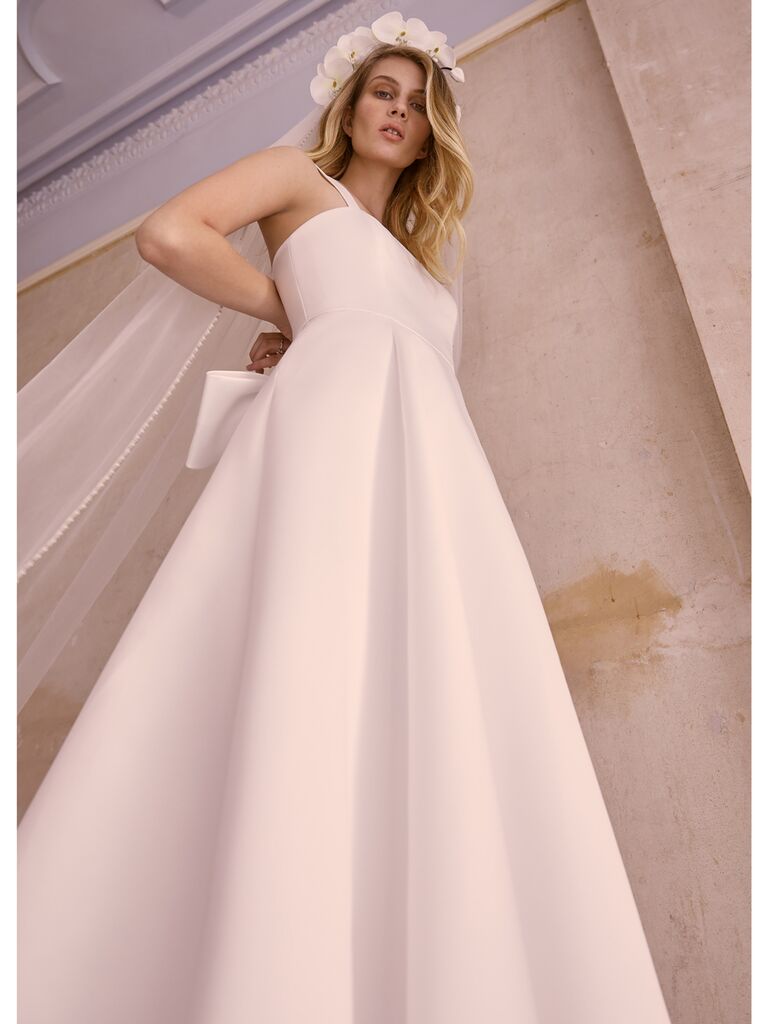 "Clements" square neckline A-line gown with thin straps and bow back detail.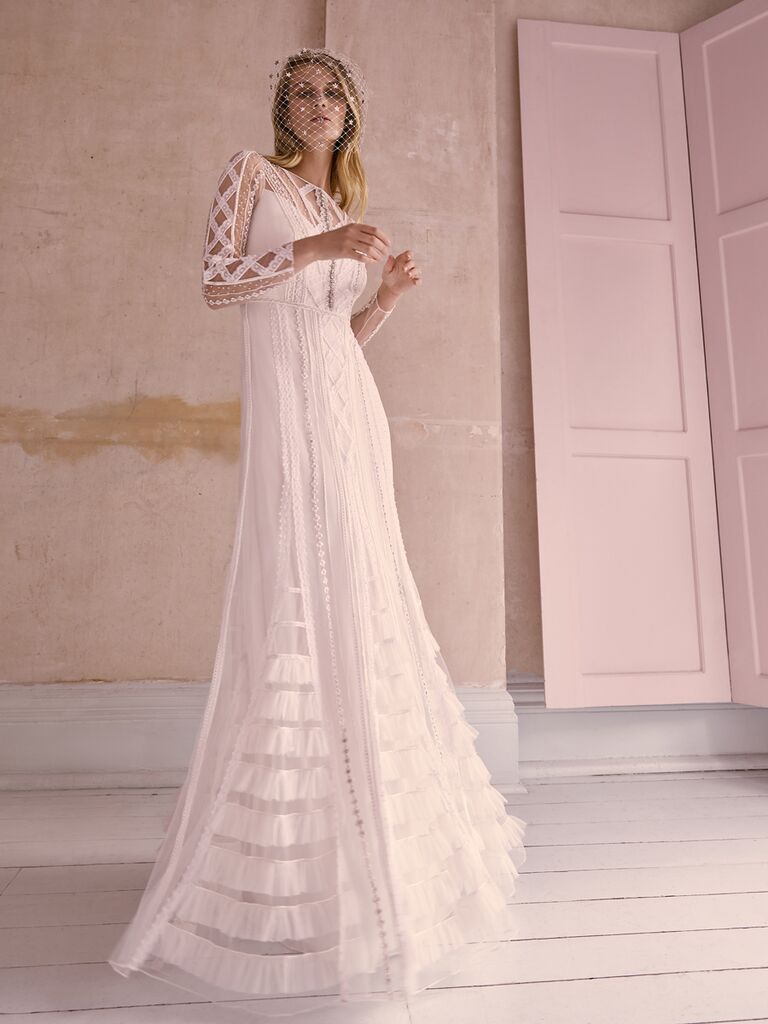 "Constance" long-sleeve illusion neckline sheath dress with beaded, embroidered and ruffled overlay.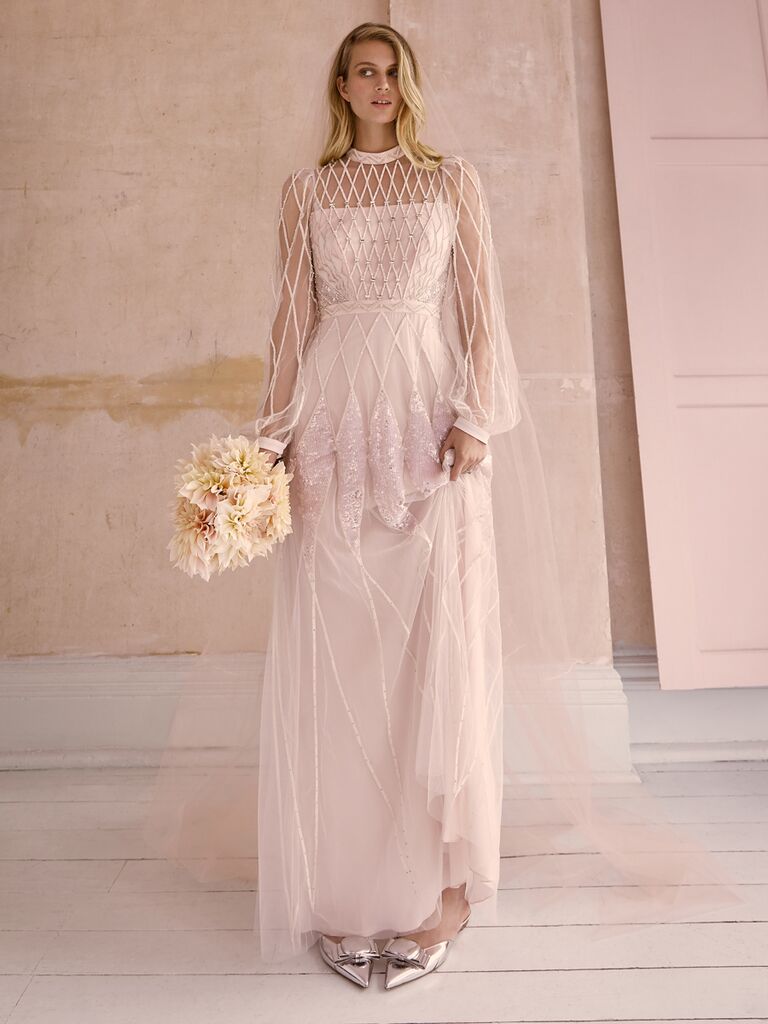 "Gene" bishop sleeve high neck sheath dress with expanding lattice beading and sequin design.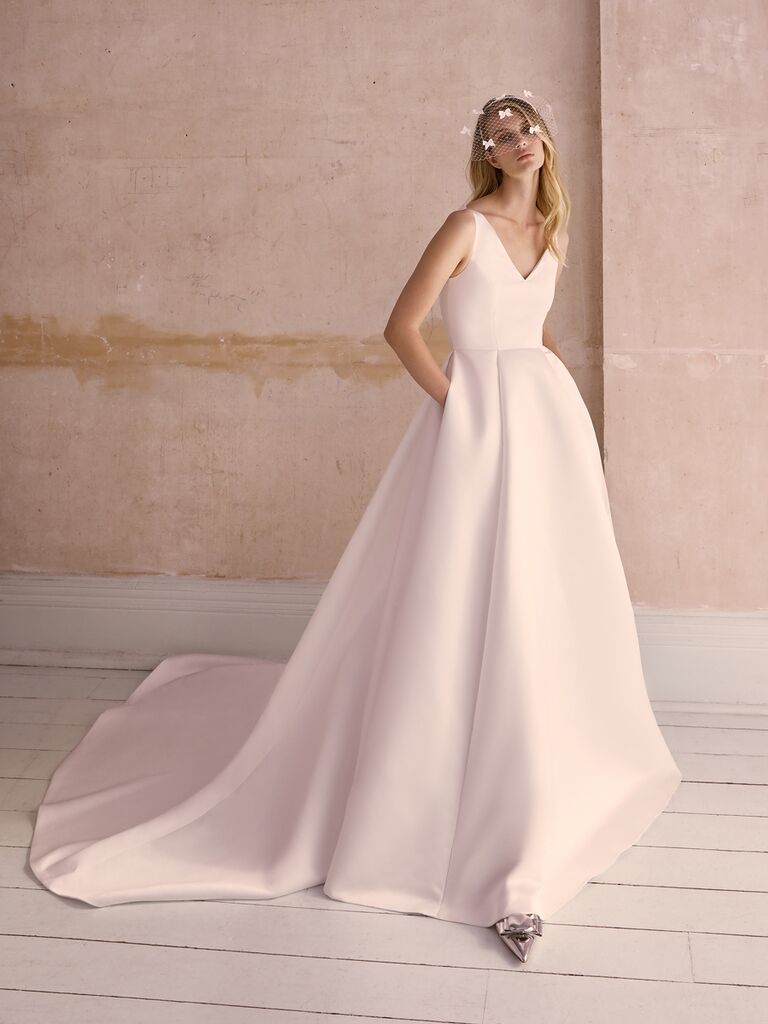 "Ophelia" V-neck pleated A-line gown with pockets and long train.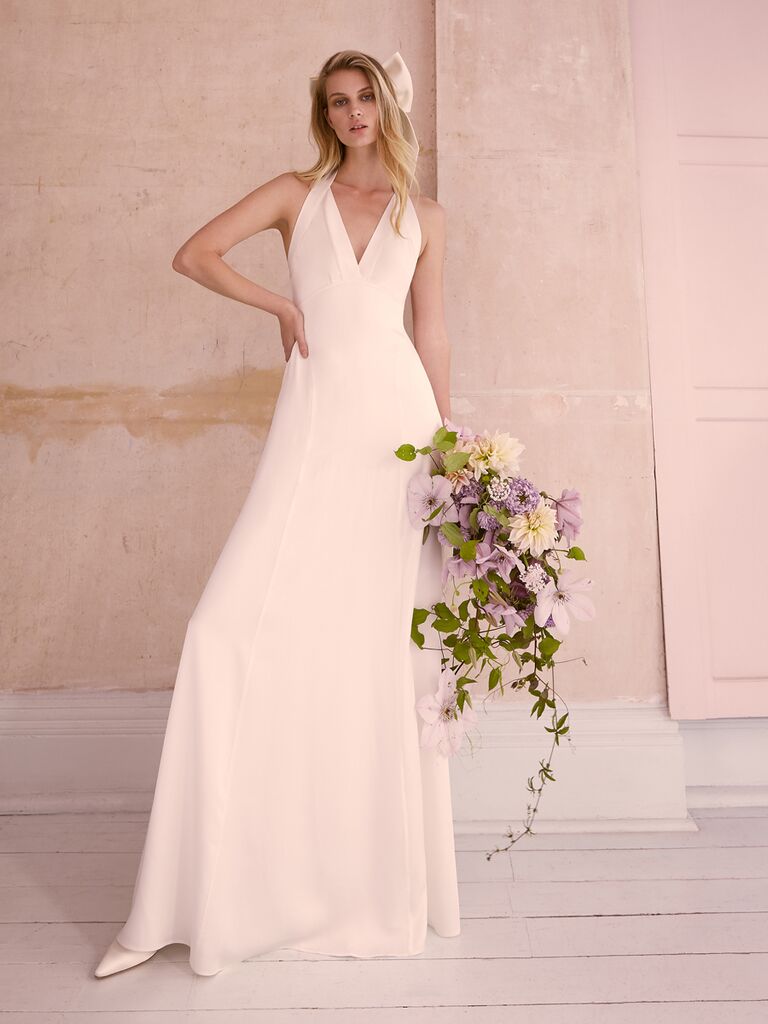 "Pandora" V-neck halter sheath dress.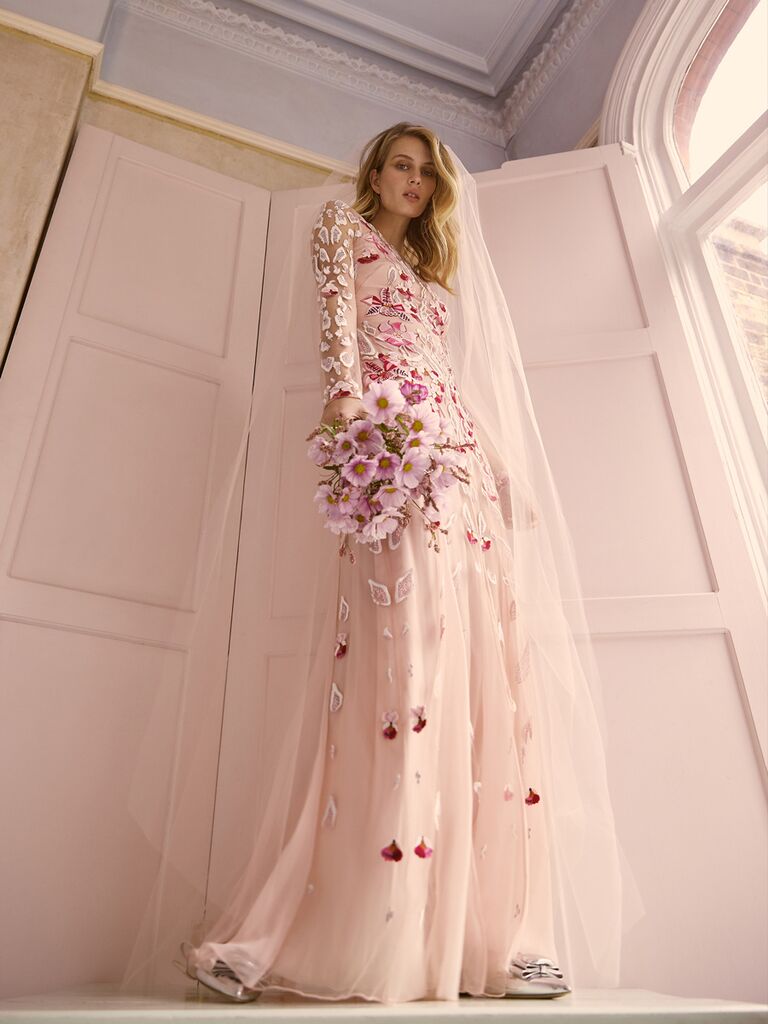 "Pardus" long sleeve sheath dress with sheer overlay covered in colored floral embroidery.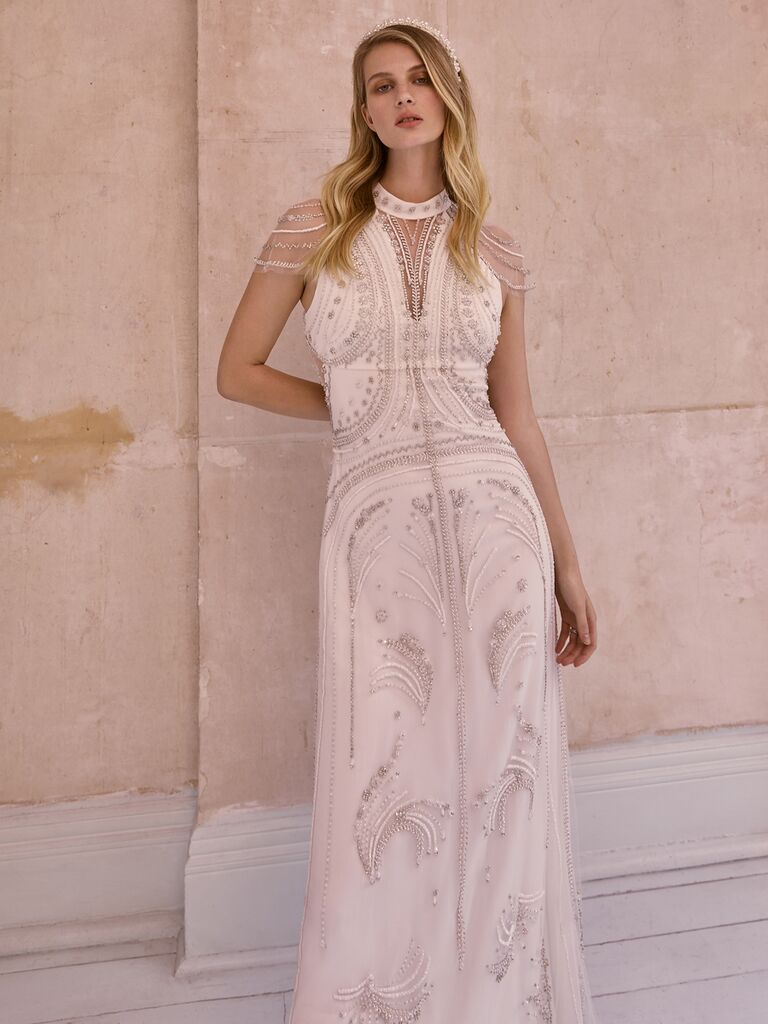 "Serayha" high neck beaded sheath dress with beaded illusion plunging neckline and cap sleeve.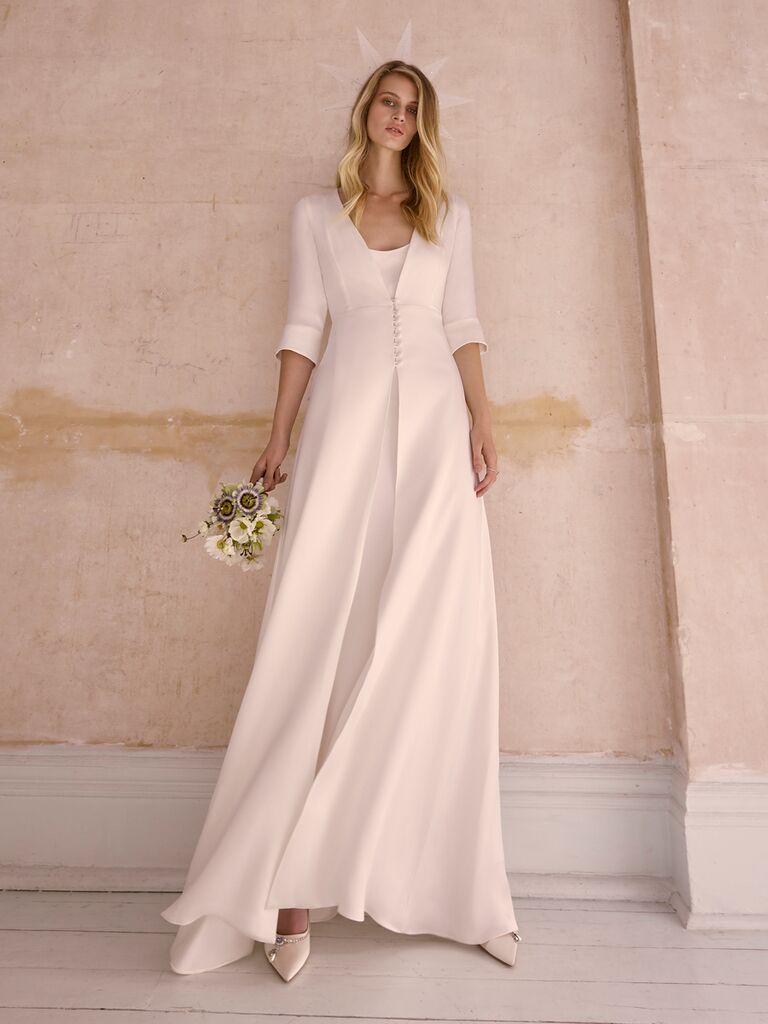 "Arizona" crepe sheath dress with quarter sleeve button-waist crepe jacket.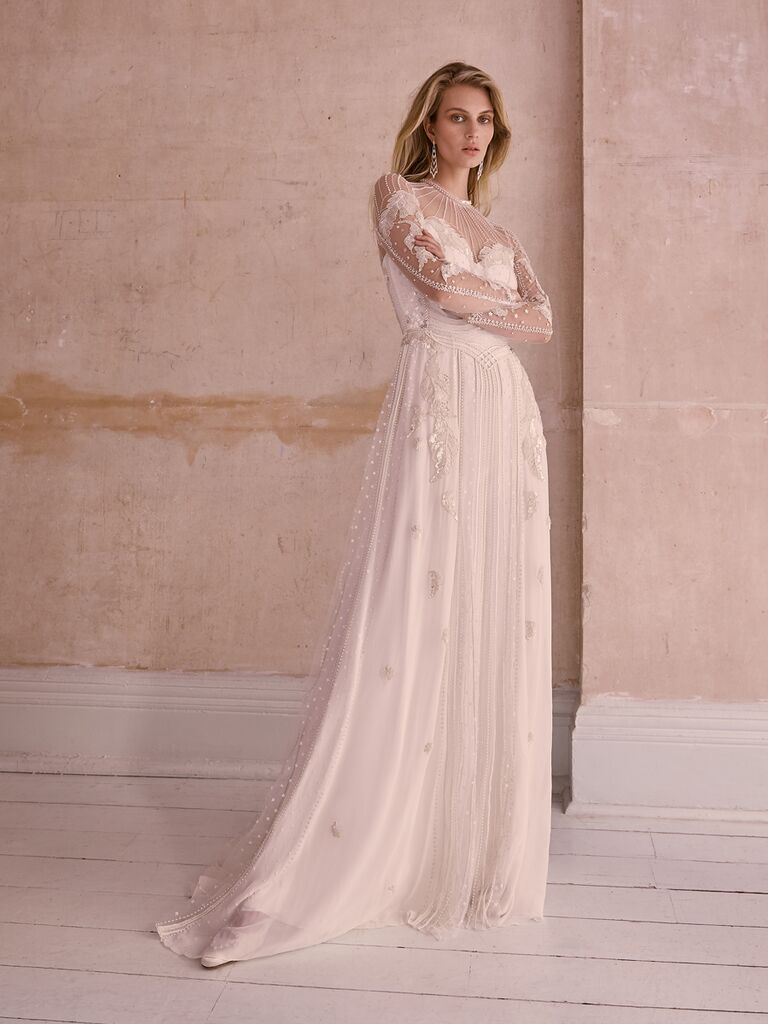 "Bella" illusion sweetheart neckline sheath dress with sheer sleeves and all-over embroidery.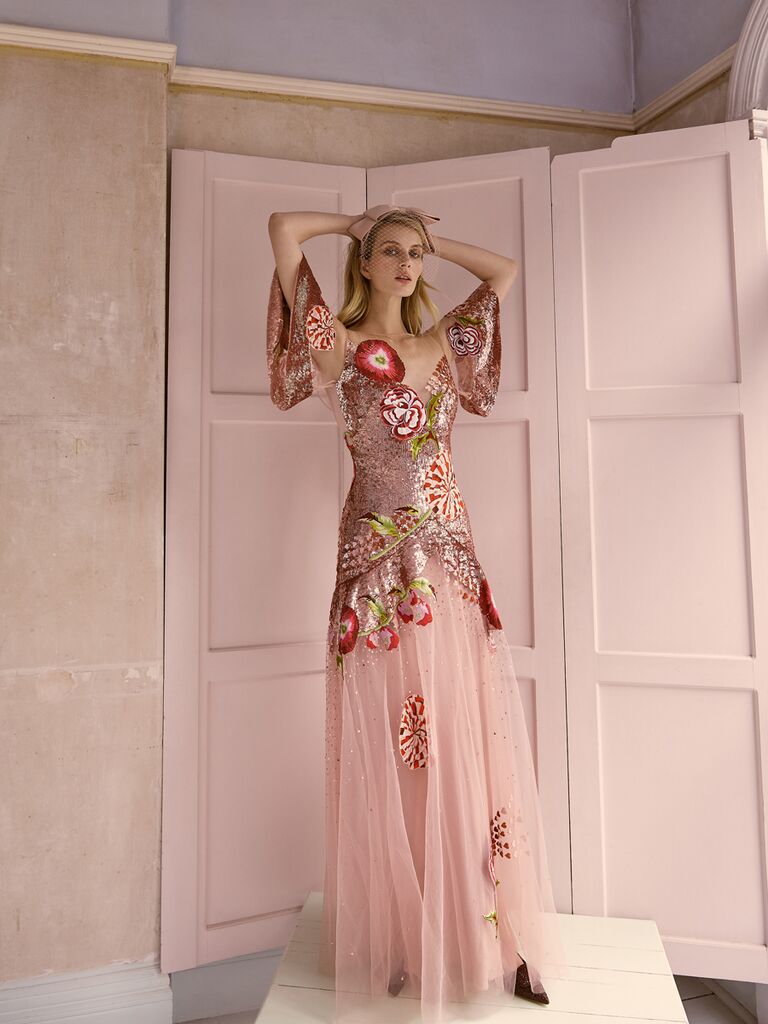 "Carnation" pink tulle skirt dress with floral sequinned bodice and flared sleeves.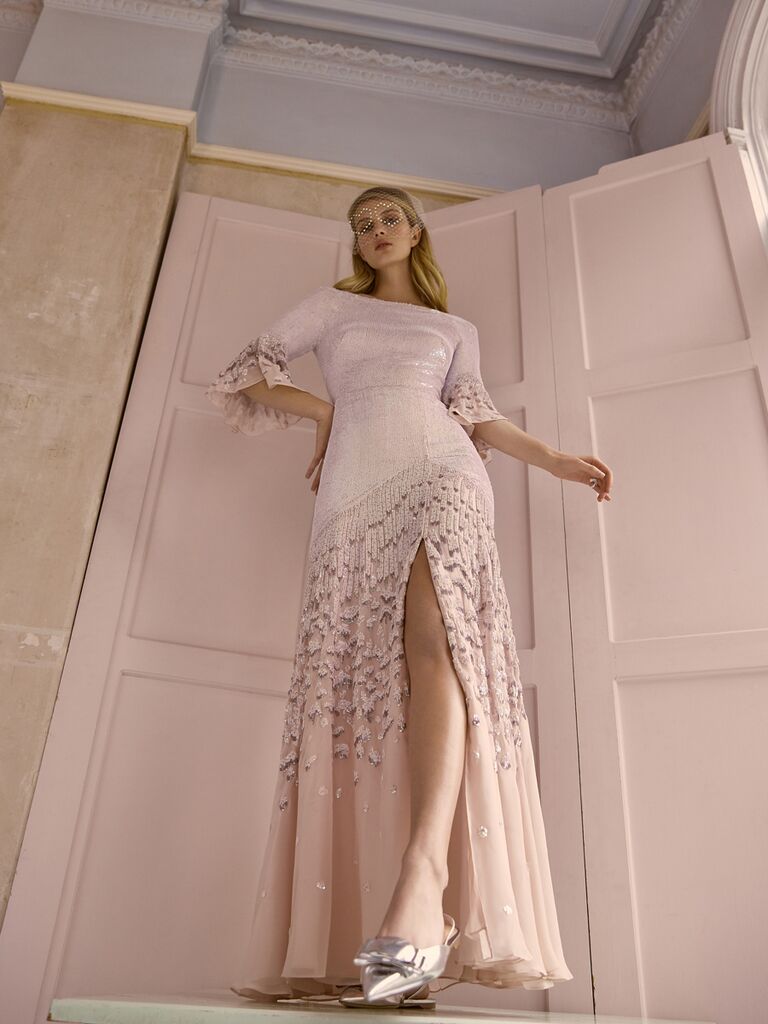 "Celestial" sequin fitted dress with sequin ruffle quarter sleeves and asymmetrical layered chiffon slit skirt.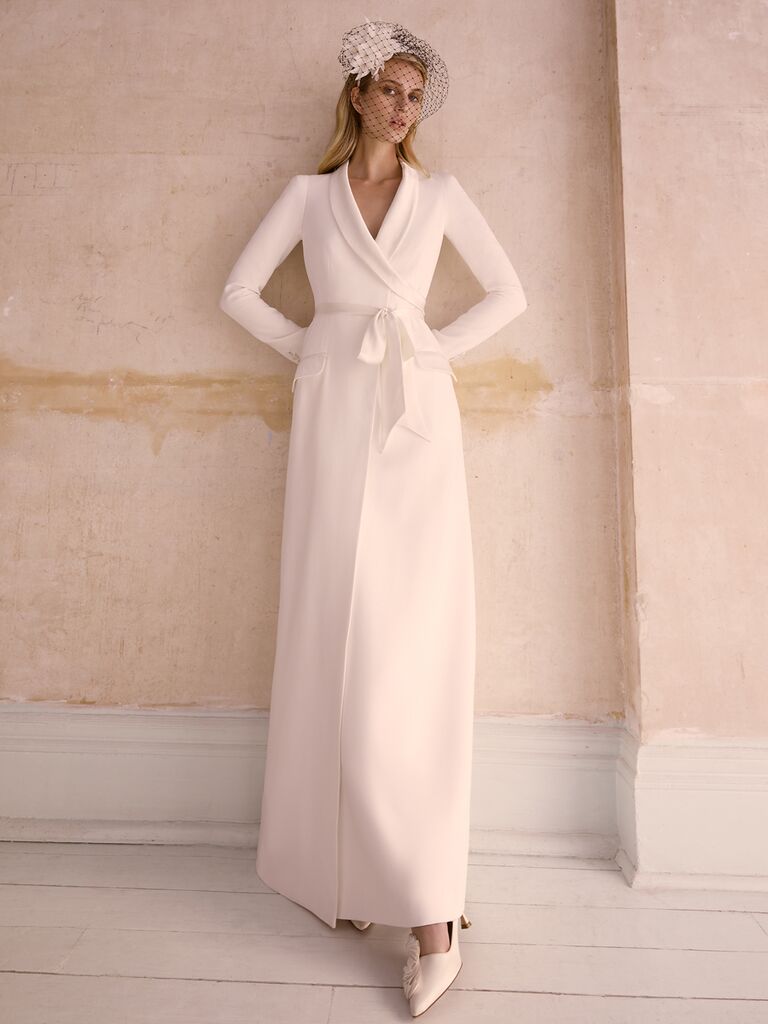 "Garance" long sleeve crepe wrap dress with folded neckline and bow waist accent.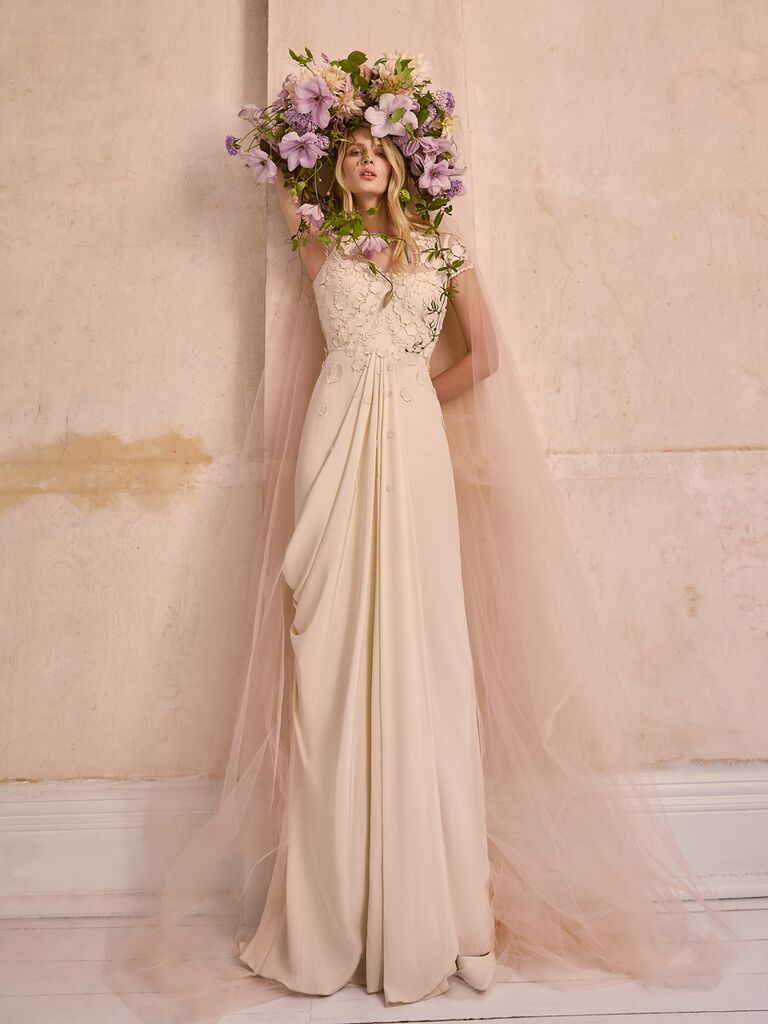 "Laelia" illusion cap sleeve sheath dress with floral applique bodice and dramatic draped skirt.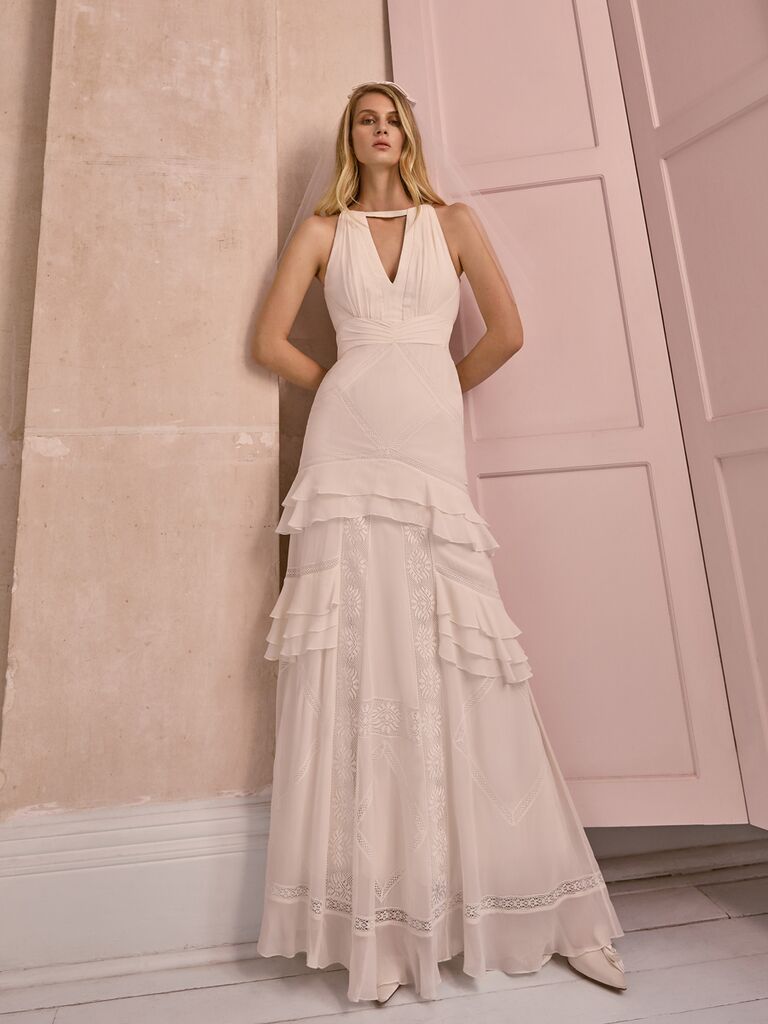 "Marguaerite" V-cut out neckline sheath dress with draped waist and lace ruffle skirt.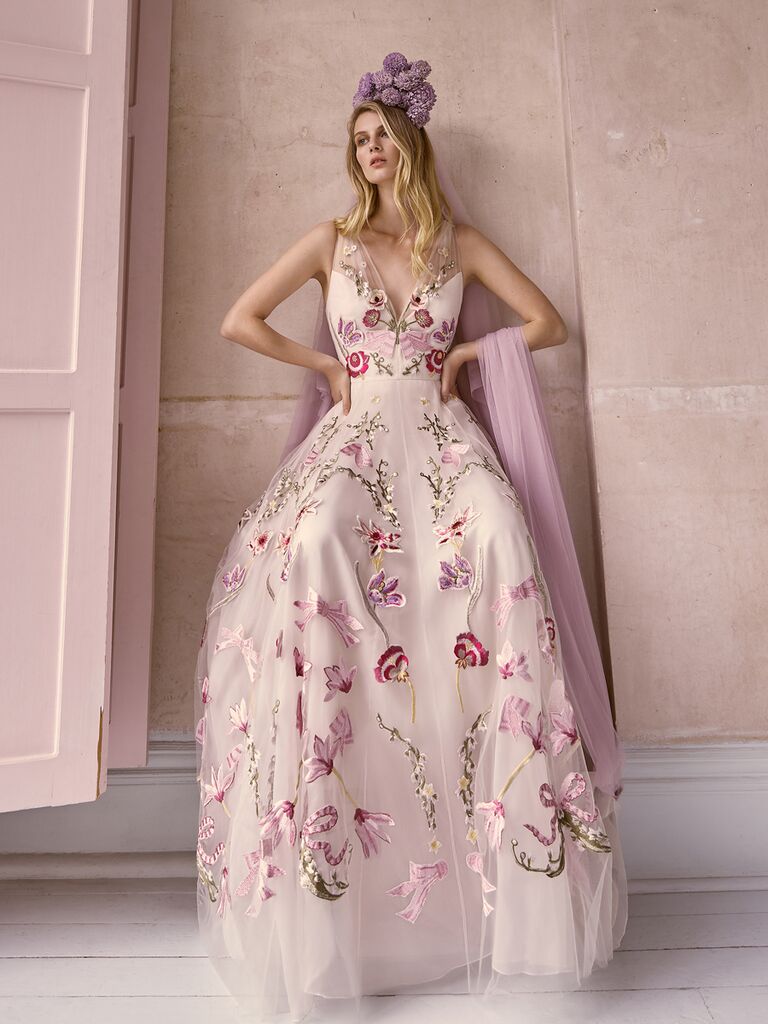 "Bibi" illusion cat eye neckline ballgown with colored floral embroidery and structured skirt.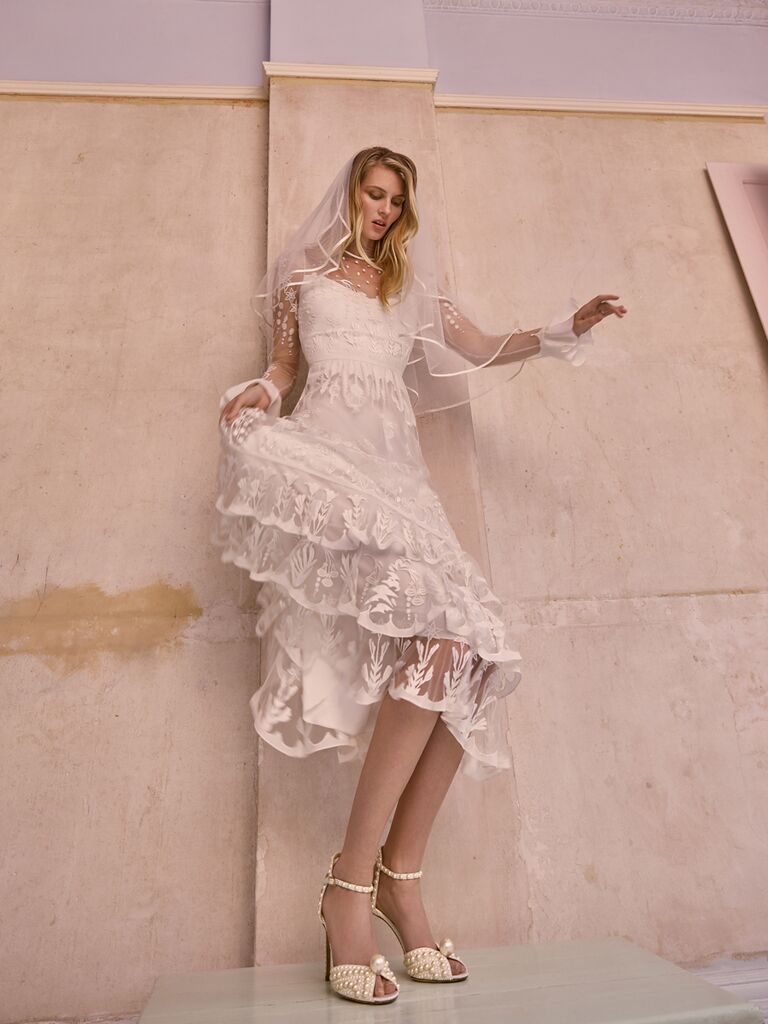 "Florette" sheer sheath dress with illusion neckline and ruffle-hem long sleeves.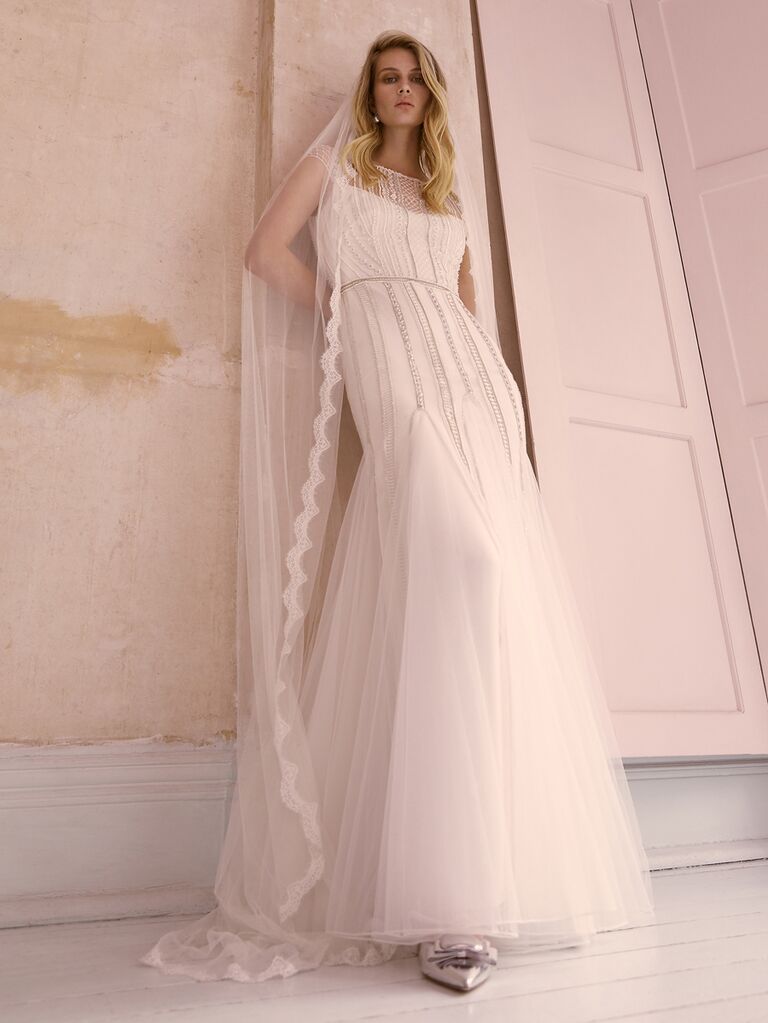 "Francesca" strapless tulle trumpet gown with cap sleeve illusion neckline beaded overlay.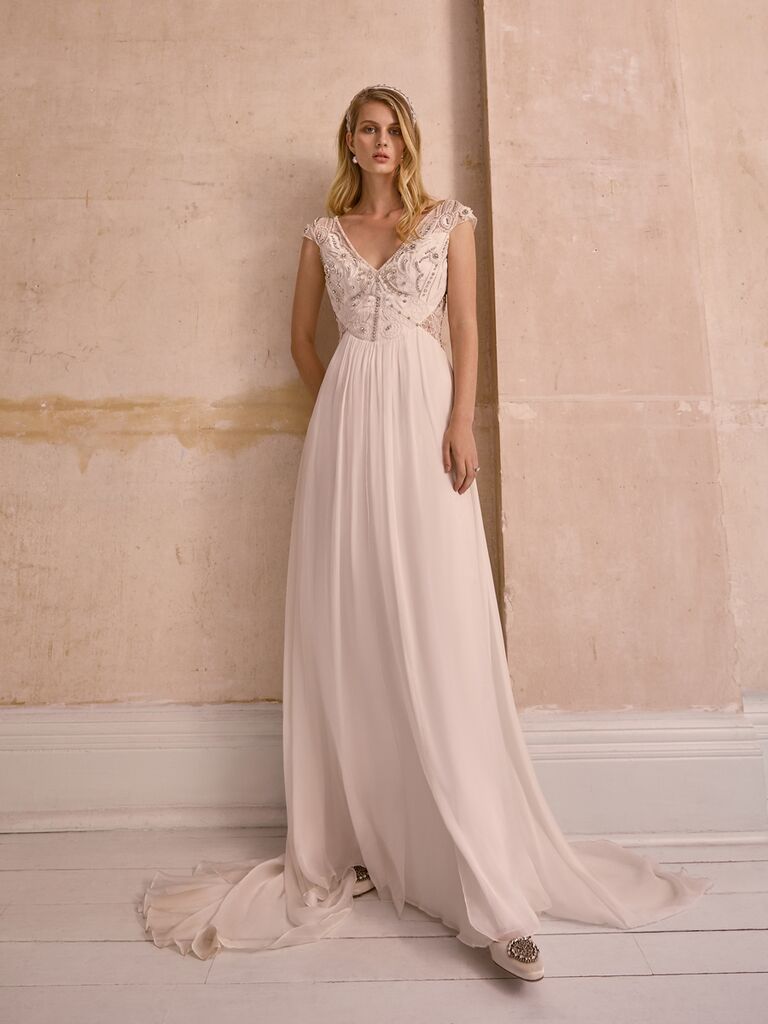 "Temperley" cap sleeve sheath dress with embroidered bodice, chiffon skirt, and illusion side cut outs.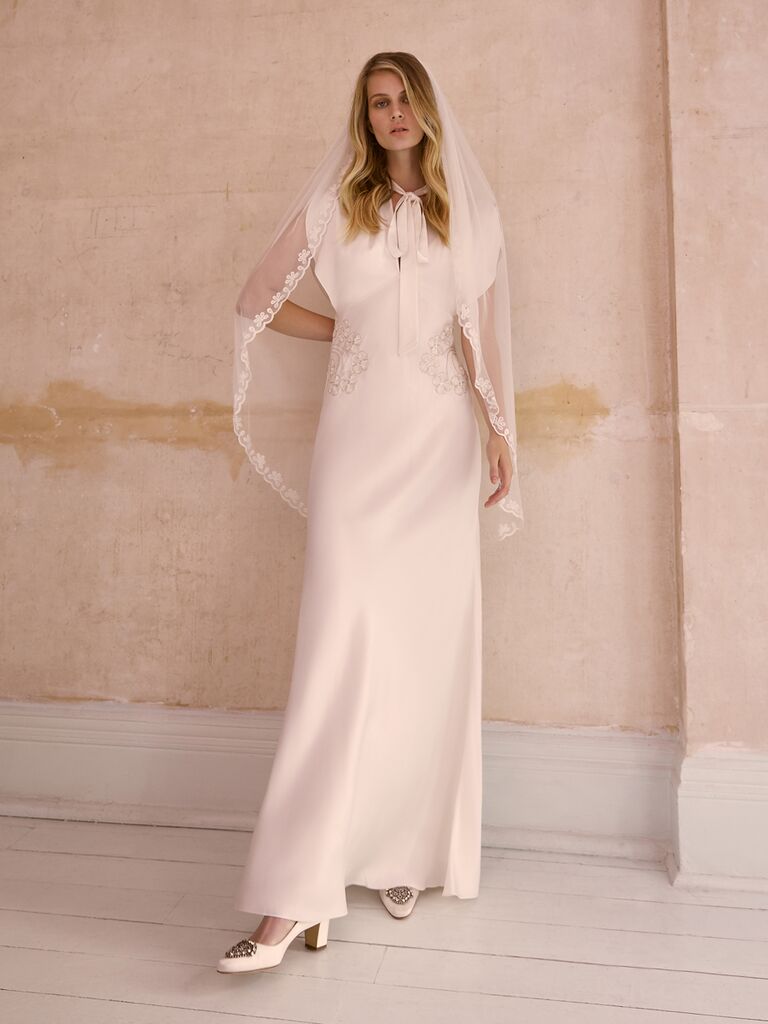 "Violetta" V-neck crepe column dress with ruffle sleeves, tie-neck, and lace applique waist.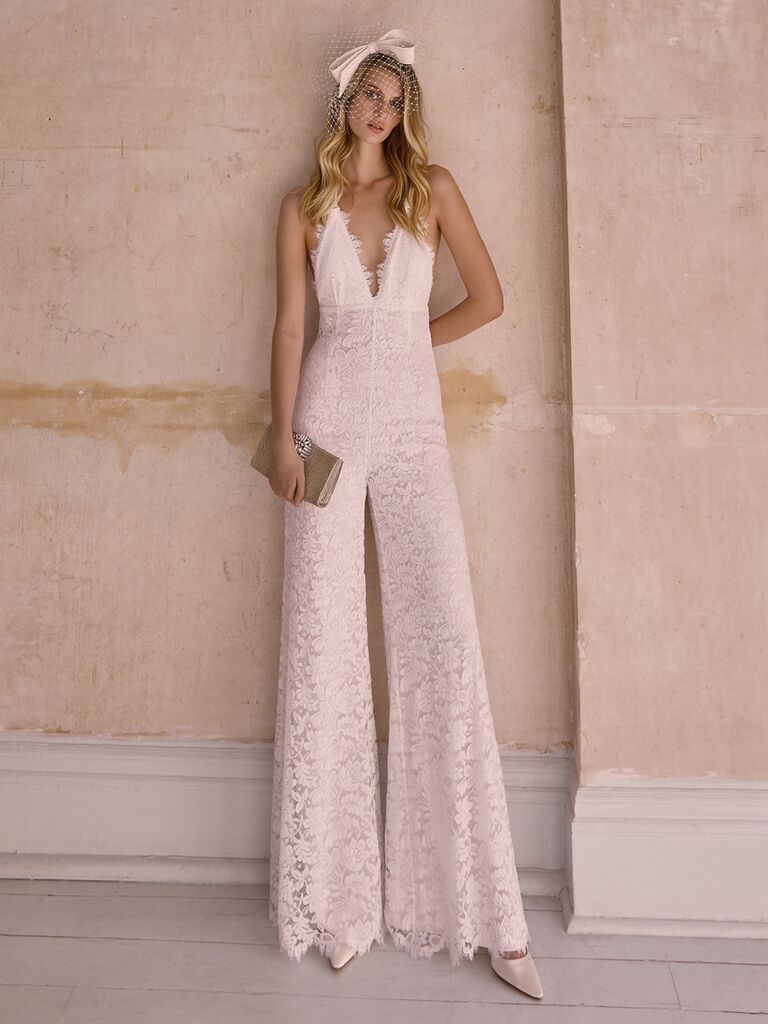 "Rose" fitted lace jumpsuit with halter lingerie straps and plunging neckline.
To check out all the Bridal Fashion Week galleries, plus wedding dress advice and more, go to TheKnot.com/bridal-fashion-week.